BEST 20+ Things to do in Playa del Carmen | 2023 PICKS
---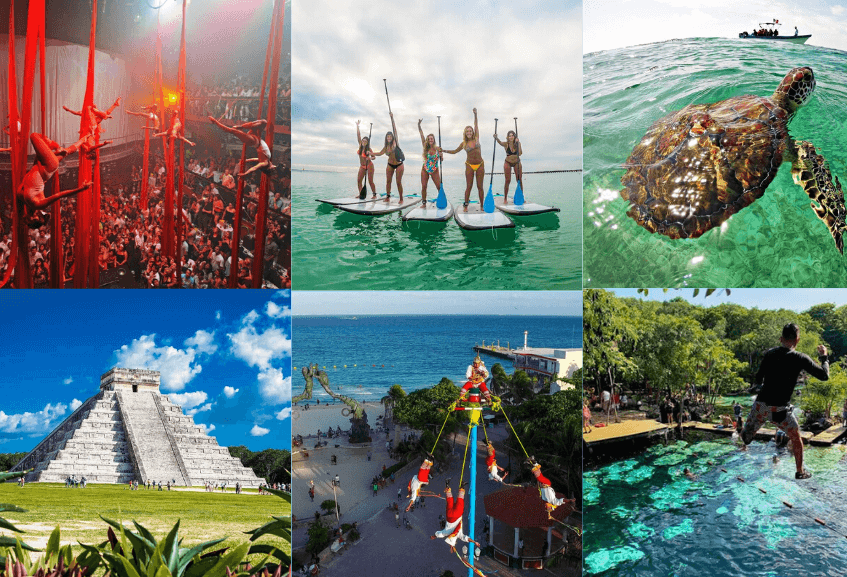 Looking for exciting activities in Playa del Carmen?
You're in the right place. 😉
Living here for almost 3 years… and working at PlayaDelCarmen.com, I've done it all.
I've reviewed all the activities this region has to offer 👏
This is THE LIST… only the best.
Are you ready?
The Best Things to Do in Playa del Carmen:
Best of all most of these activities you can do for FREE. Win!
Only the creme de le creme made it on to this list for you, dear friend. Best of Playa del Camen and the Riviera Maya.
Remember – if you have any questions whatsoever stick them in the comments section below I will get back to you ASAP. 😎
---
1. Stroll Along The Famous 5th Avenue
Price: FREE 
Family-Friendly? Yes
Location: 5th Avenue AKA Quinta Avenida
5th Avenue in Playa del Carmen is undoubtedly the staple of the city.
This street runs right through the heart of the downtown area of Playa.
It costs nothing to stroll down this 5-mile long pedestrian-only walkway dedicated to all of your touristic needs.
However, it's great for shopping, eating, drinking, and souvenirs.
Mexico, on the whole, is cheap no matter where you go in comparison to the states or the UK. Yet on 5th, I should note,  you can expect to pay a little more for places to eat and drink as opposed to the rest of PDC.
If you are looking for somewhere on a budget head a street or two back from the beach and you'll have an endless array of other cheaper options.
It's one of the most typical 'touristy' things to do here, but let's face it if you didn't stroll 5th Av during your time here, did you even visit Playa? 😉
PRO TIP: Read our 5th Avenue dos and don'ts before visiting. 
2. Go Cenote Diving or Snorkeling
Price: varies between 100 – 300 pesos depending on which one you visit ($)
Kid-friendly? Yes (some more than others)
Location: Multiple in the Riviera Maya
Millions of years ago a meteorite hit the area of the Yucatan Peninsula in Mexico creating 100s of natural 'sinkholes' filled with beautiful crystal clear freshwater.
There are so many to choose from!
My favorite cenote in the area which is great for both adults and kids is by far Cenote Azul.
The best part is it's only 15 minutes in a taxi from downtown.
Costing just 180 pesos ($9 USD) to get in.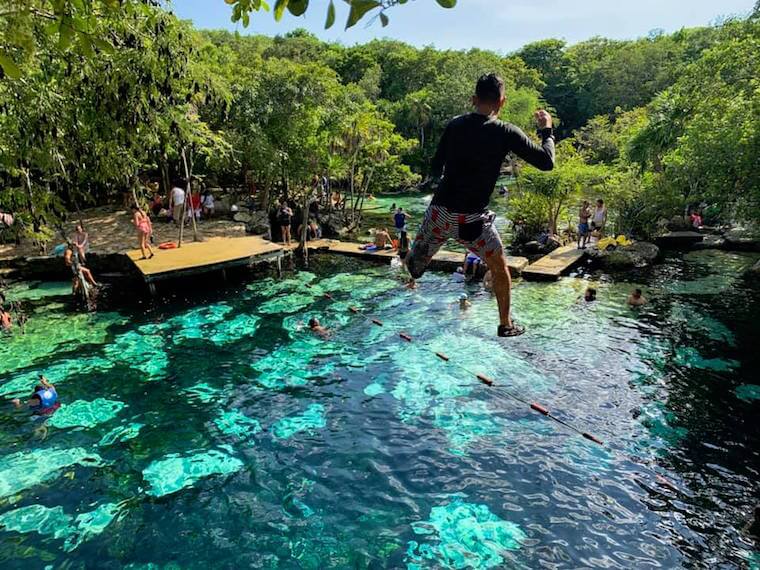 There are lifejackets and snorkeling gear also available to rent for a small extra fee.
This particular cenote has restrooms onsite and a snack hut.
Not only that but it has both shallow areas for children and deeper areas for daring adults who like to dive in.
I'd recommend going during the week Mon-Fri. The weekend is when this place is busiest.
I will note the best and most STUNNING cenotes are private and only accessible via private tours like this in Tulum.
For a full rundown of the best cenotes in the area read our ultimate guide to cenotes in Playa del Carmen here.
PRO TIP: Be sure to take insect repellent. Cenotes are surrounded by lush jungle and mosquitos can be particularly present during the rainy season from July through to October.
3. Enjoy Xcaret or Xel-Ha
Price: $110 – $120 USD ($$)
Kid-friendly? YES
If you came to the Caribe to snorkel, look no further – I got chu!
Hailed as the best snorkeling experience for the whole family this side of paradise…
Yet,  choosing between them can be a little difficult… especially if you've never been before.
There are many key differences between Xel-Ha and Xcaret but what you can expect from both is lots of lush wildlife and crystal-clear waters.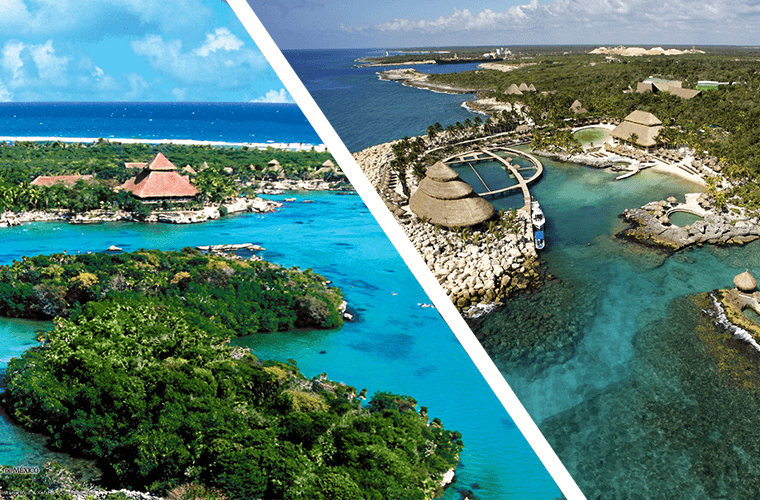 I personally prefer Xel-Ha, largely because it's all-inclusive, which means all food, drink (even alcoholic), and activities are included!
For me, there's just far too much going on at Xcaret at once. I feel like you need 3 days there to see it all. It's definitely more theatrical. So, I guess it all comes down to what you prefer?
PRO TIP: Learn the key differences between Xel-Ha and Xcaret here.
4. Visit Ancient Mayan Ruins
Price: $65 to $280 pesos ($-$$)
Kid-friendly: Yes (although it can be a long day and very hot).
Location: Yucatan, Tulum & Coba
Bit of a history maven?
I mean, coming to Mexico and not visiting the Mayan ruins would just be rude, lol. You have the chance to tick one of the wonders of the world from off your bucket list.
It's absolutely fascinating and provides you with unfathomable insight into what life was like back then.
They were arguably more advanced than even today's civilization.
Take it from me you will be blown away.
It is possible to visit the ruins yourself if you're ball'n on a budget, however, there are incredibly knowledgeable archeologists available to give you the tour which is often coupled along with more fun stuff.
Well worth it, because even I had done my homework before embarking on the tour and they still blew me away with some out-of-this-world and lesser-known facts.
Best Mayan ruins to visit from Playa del Carmen include:
PRO TIP: Take an umbrella and extra water! The ancient Mayan ruins areas are often open with little shade and can be intensely hot during the dry season.
5. Coco Bongo & Playa del Carmen Nightlife
Price: FREE / Entrance Fees / Coco Bongo = $140 USD ($$)
Kid-friendly? No
Here to party?
There are so many live music bars here that are free to enter, it only costs you if you decide to drink.
Which if you're used to UK prices like me, is cheap AF!
'Caiman' is one of my favorite places to go for live music, the drinks are great and it's so cheap.
12th street is where you want to go if you're hoping to club it out to loud music. Most of these clubs do have an entry fee of around 200 pesos or less.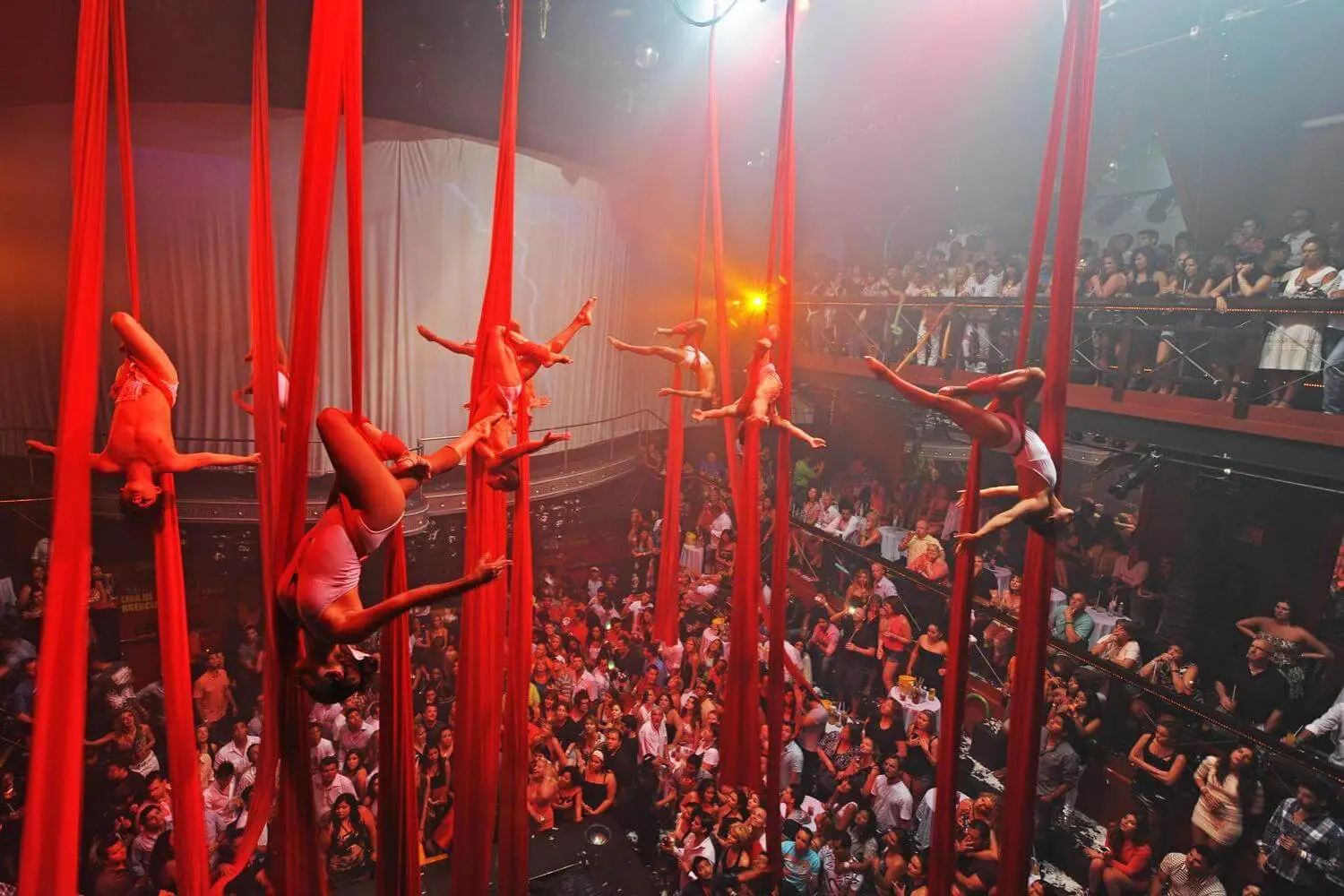 My favorite club is 'Palazzo'.
Coco Bongo seems to be one of the most popular things to do with tourists here.
However, from my personal experience, there are better things going on.
That said, it is the' typical' thing to do here and so much fun if you are here on a group trip.
PRO TIP: Good news! Ladies can drink for free most nights in Playa – find out where.
6. Swim with Sea Turtles
Price: $100 – $200 pesos ($)
Kid-friendly? Yes, as long as your child is a competent swimmer.
I used to hate swimming in the sea but this experience changed me for life!
Working for PlayaDelCarmen.Com and having the amazing opportunity to try and test all the tours I was often thrown in at the deep end and taken out my comfort zone – an opportunity I am super grateful for.
Since swimming alongside sea turtles I've been enchanted by the many wonders of the ocean.
It's a day I will never forget for the rest of my life.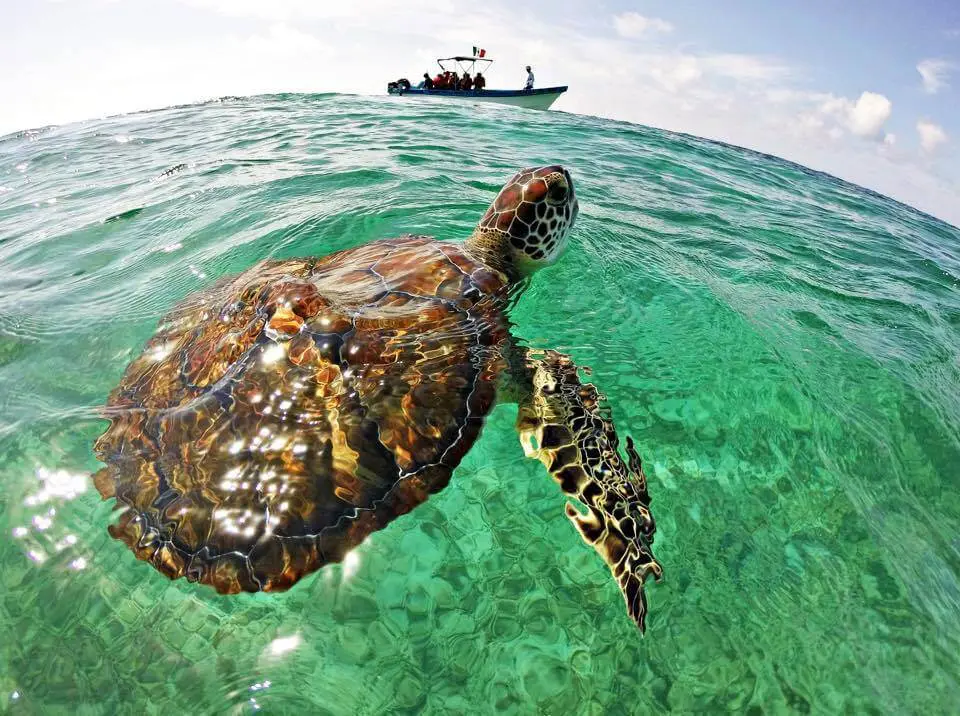 You can try to witness these beautiful creatures for yourself by simply snorkeling in the areas renowned for seeing them often such as:
Akumal (literally means 'place of the turtles')
Cozumel
Puerto Morelos
Tulum
However, your best bet is to do it on a tour. That's where I saw most of them!
Tour guides are well-clued in every day on the whereabouts of these mystical creatures.
Although I should note this is not an aquarium, this is mother nature we are dealing with so sightings are never guaranteed but the likeliness of seeing them is high.
Book your swim with sea turtles experience and couple it with seeing Tulum Ruins and one of the most stunning cenotes in the region.
PRO TIP: Learn 6 things to know before planning your trip to Akumal. 
7. Go Paragliding in Playa del Carmen
Price: $65-$75 USD ($$)
Kid-friendly: Yes, 5+ yrs
This is a super popular activity in Playa del Carmen and for a good reason…It's so fun!
If you're on the main beach in downtown Playa you will no doubt see someone in the air being dragged along the glistening ocean by a boat.
The views are unrivaled up there!
For those of you seeking some thrills from your next trip to Mexico but don't want to go as far as Sky Diving and jumping out the plane, this is the one for you.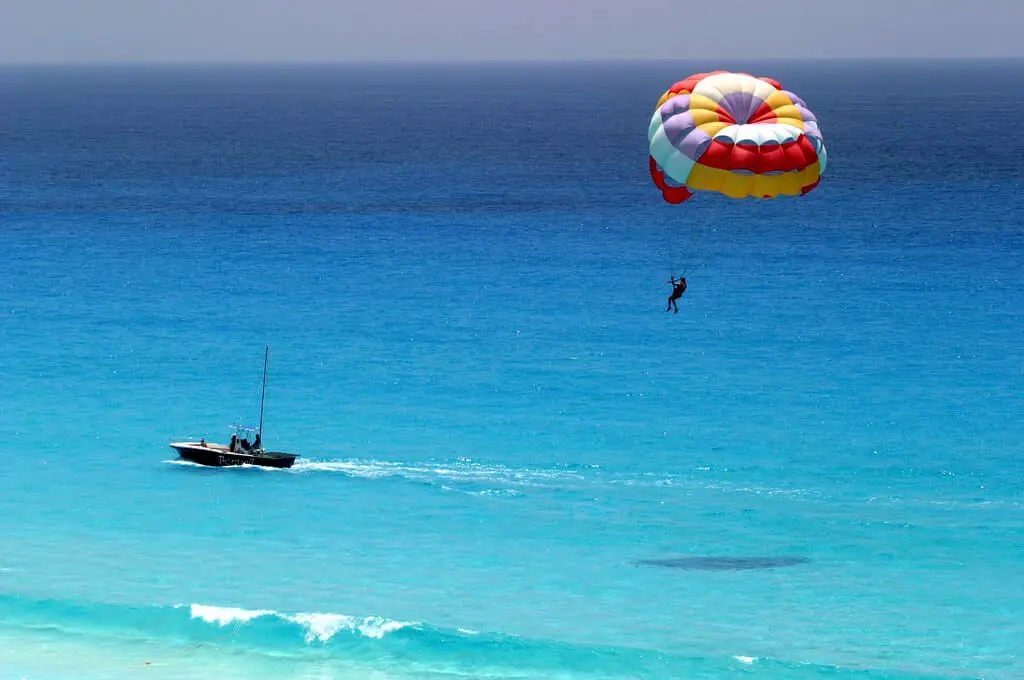 Parasailing is very relaxing once you are up in the air. If you like, they can even dip your toes in the water before rising you up into the sky once again.
PRO TIP: Ask for a "stop and go" if you want your feet to be dipped in the water.
8. Take yourself on a taco tour
Price: $
Kid-friendly: Yes
Location: Spoilt for choice!
You're in Mexico – the food here is great!
Hailed around the world for its wonderfully tasty range of tacos.
But where to start in Playa del Carmen?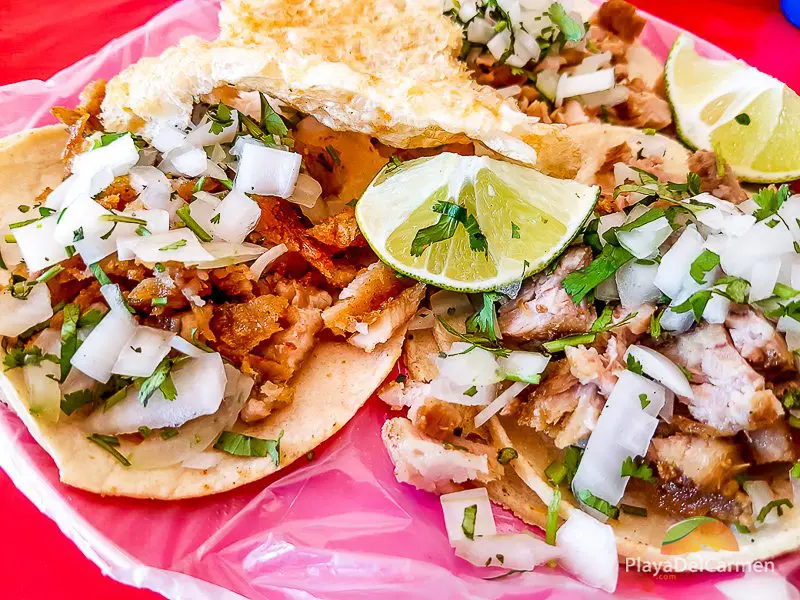 Luckily for you, I wrote the best damn Playa del Carmen taco guide ever.
PRO TIP: Don't judge the small taco food trucks at the side of the road by their cover. They boast some of the best tacos around. Appearance isn't everything.
9. Go Salsa Dancing
Price: FREE
Kid-Friendly: No
Location: Zenzi 
As it states in my author bio if I'm not relaxing in a rooftop pool you guarantee I'm salsa dancing by the shore!
I'm English and when I first came to Playa I'd never salsa danced a day in my life, I somewhat resembled a plank of wood in terms of rhythm, but sure enough with the help of locals, I got there in the end.
Stop thinking about getting up there and just do it! Because before you know you will be old and gray wishing you gave it a go.
The best news of all Zenzi is just the place to start there are plenty of salsa dancing opportunities in Playa.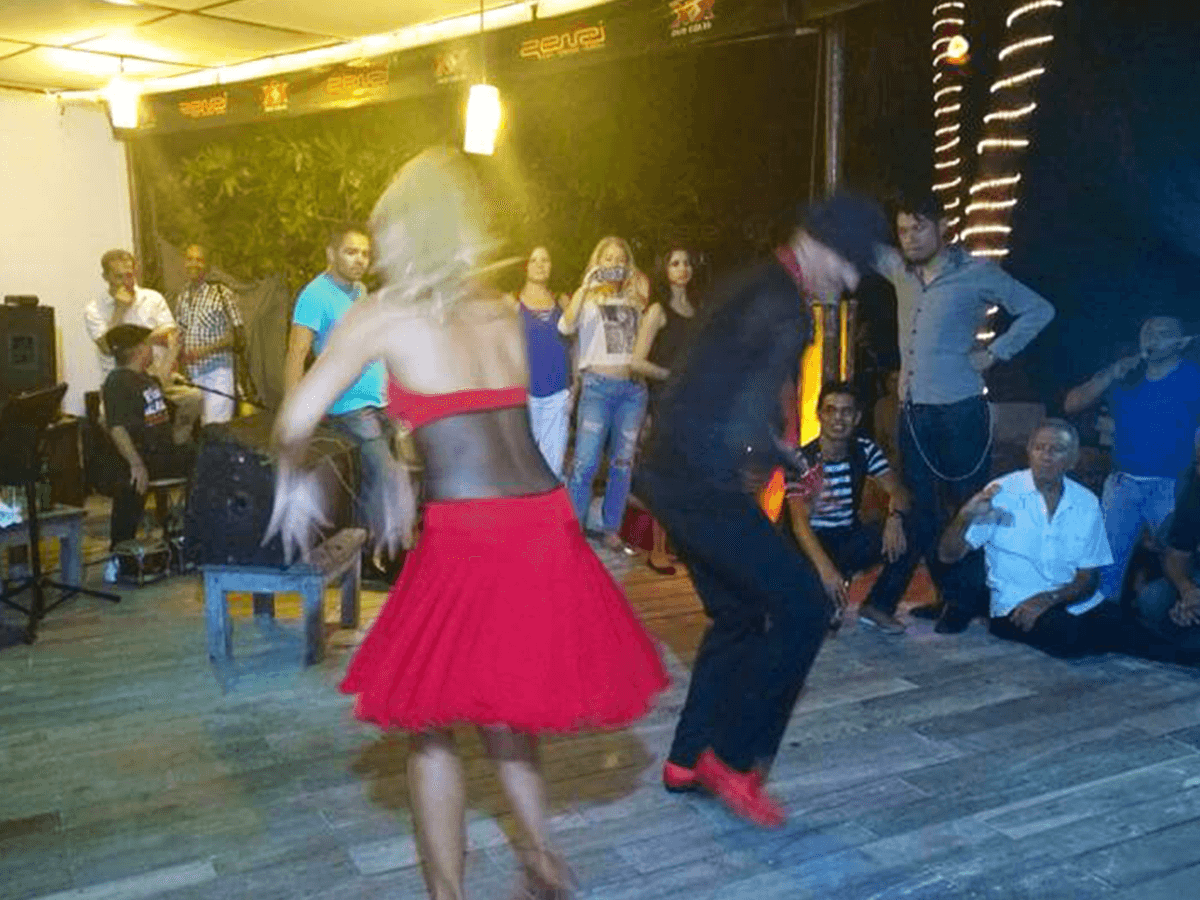 I particularly like Zenzi because it is by the sea.
It costs nothing to take part but you may as well have some food or drink while you're there.
PRO TIP: Discover the 5 best places to salsa dance in Playa del Carmen! 
10. Get the boat to Isla Mujeres or Cozumel
Price: $146-200 pesos
Kid-Friendly? Yes
Location: Isla Mujeres
Location: Cozumel
The ferry for Isla Mujeres (meaning woman's island) leaves from Cancun at Puerto Juarez.
Whereas the ferry for Cozumel leaves from downtown Playa towards the southern end of 5th Avenue – it's super easy to find.
You can buy your tickets in advance online on Ultramar's website.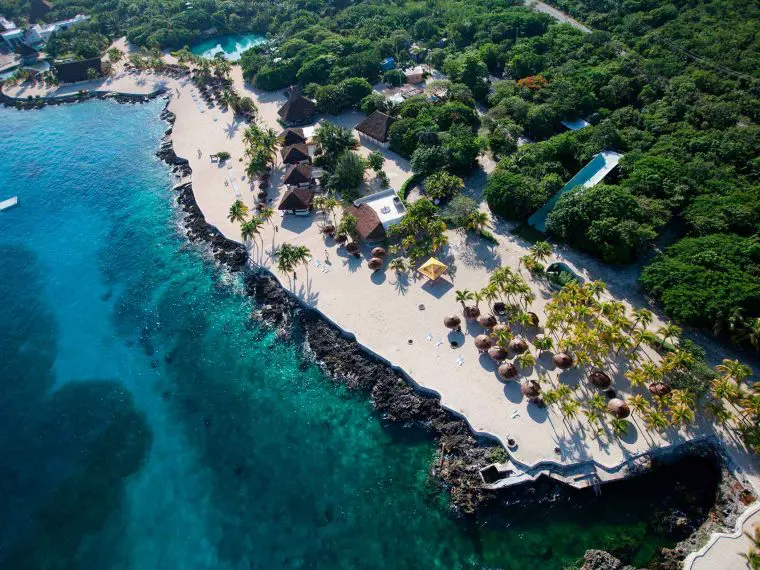 They are equally as amazing as one another but I would say Cozumel appeals more to the people who want to snorkel and see some local wildlife, and Isla Mujeres has a busier shopping town and some nice beaches too.
Check out this 1-day itinerary for each of these destinations:
PRO TIP: There are two ferries you can get Winjet and Ultramar, my top tip would be to go Ultramar it's just a nicer experience.  The boats are way more modern, clean, and comfy.
11. Visit Parque Fundadores
Price: FREE
Kid-Friendly? Yes
Have YOU ever wondered what this huge statue in Playa del Carmen is called? It's Portal Maya inside of Parque Fundadores.
Over 50 ft. high, this arched beachside sculpture depicts men and women in a swirl of water and wind!
Designed by artist Arturo Taravez (from Guanajuato, Mexico) it celebrates the Mayan calendar and the date of December 21st. 2012.
An absolute MUST SEE while here in PDC.
The park here also has a play area for kids, and lots of cute shops and stalls to buy drinks and snacks from.
Hopefully, you get to see the Papantla dancers while you are there, this ritual is performed through the day and showcases five men swinging from a pole on a rope at a great height.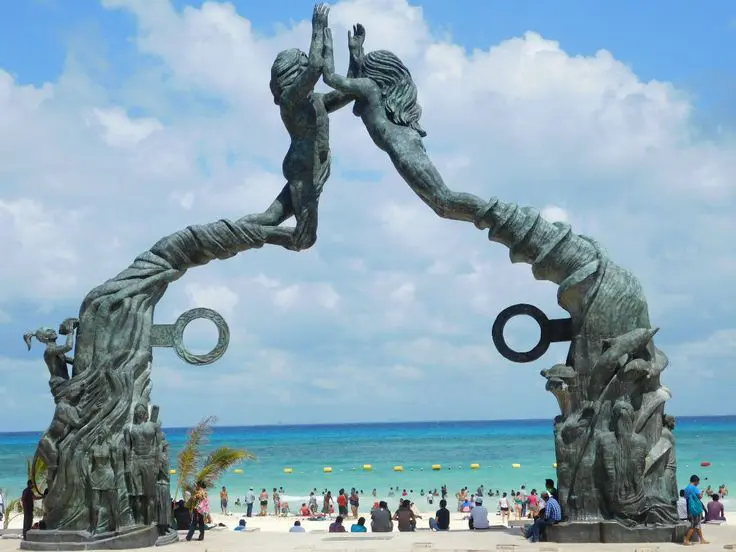 According to one myth, the ritual was created to ask the gods to end a severe drought. This ritual is most commonly associated with the Papantla, Veracruz area of Mexico.
PRO TIP: Save some money and take your own snacks and drinks, it costs nothing to sit there and soak up the sights.
12. Ride in a Collectivo
Price: $ AKA CHEAP
Kid-Friendly? Yes (but I wouldn't recommend it)
Location: Station on 1st street
Something has to be said for Mexico's incredible bus services – they are lightyears ahead of other countries.
Always on time, plenty of them, and so so so cheap.
Not kidding – you can literally travel anywhere in the country using the ADO service if you don't mind sitting on a bus for days.
The ADO bus is a tad more pricey and geared towards tourists, it's comfy and air-conditioned.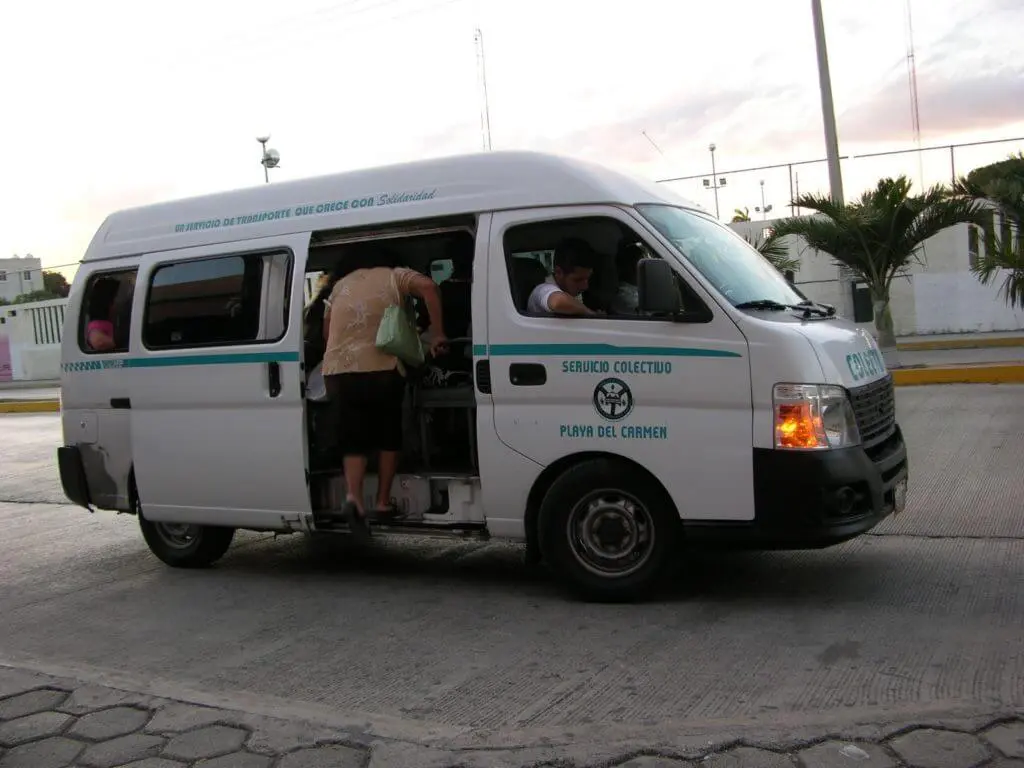 Be a daredevil take a ride in a local collectivo! It's a local experience you will never forget and you can travel with ease between Playa, Tulum, and Cancun for pennies.
PRO TIP: Always carry small pesos cash and change as you pay for your journey upon leaving the bus.
13. Visit the best beaches
Price: FREE
Kid-Friendly? Yes
If you're coming to this side of paradise you deserve your fair share of rest and relaxation.
Of course, you are going to want to see the best beaches this place has to offer.
In my opinion, in Playa del Carmen, there is no beach better than Playacar.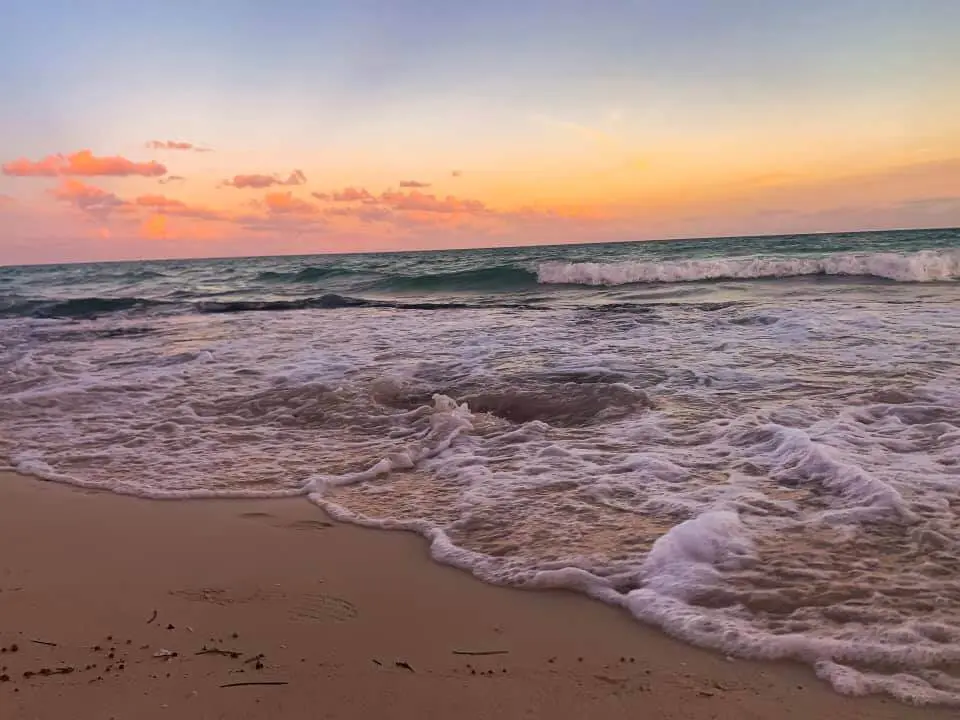 It's super close to downtown but possesses an entirely different charm altogether – it's beautiful.
You can walk to phase 1 by simply exiting 5th Avenue at the south end and turning left. It takes around 10 minutes to get there.
PRO TIP: Read our popular post '6 best beaches in Playa del Carmen'. 
14. Go scuba diving
Price: Starting at around $79 USD
Kid-Friendly? No
Many scuba divers choose Playa del Carmen as their base.
It's a very liveable city with tons of cool cenotes and decent reefs nearby.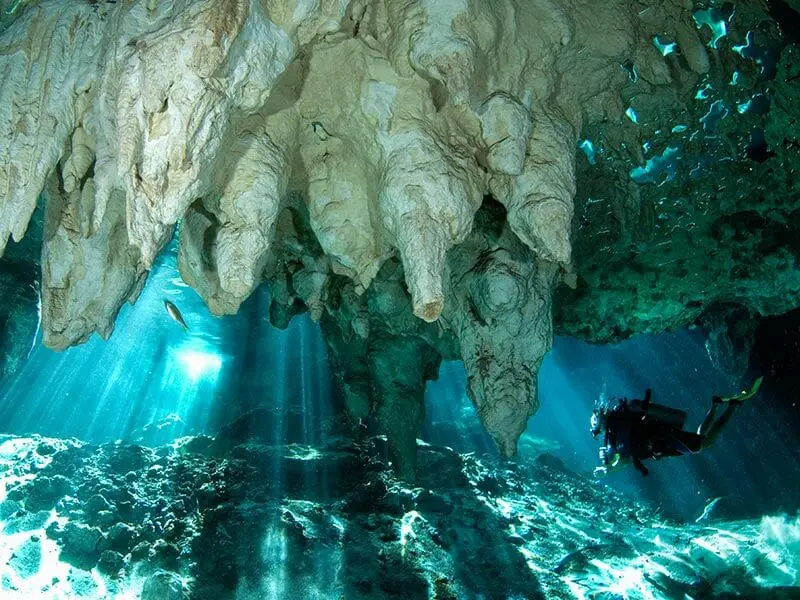 If you want to tick scuba diving in Playa del Carmen from your bucket list there are plenty of dive shops and schools in town. Get PADI certified!
PRO TIP: The best places to scuba dive include Pared Verde Ledge and Tortugas near Playa del Carmen itself, Gorgonians down near Akumal, Palancar Reef and Santa Rosa Wall off the coast of Cozumel.
15. Have a destination wedding
Price: FREE
Kid-Friendly? Yes
Location: Riviera Maya
I know what you're thinking…FREE!?
Yes, it is possible to have a free destination wedding in Mexico depending on the size of your group and how many rooms you want to reserve at the hotel.
Here at PlayaDelCarmen.Com it just wouldn't feel right if I didn't mention the weddings we plan here. They are simply stunning and we take a lot of pride in helping you create memories that last a lifetime.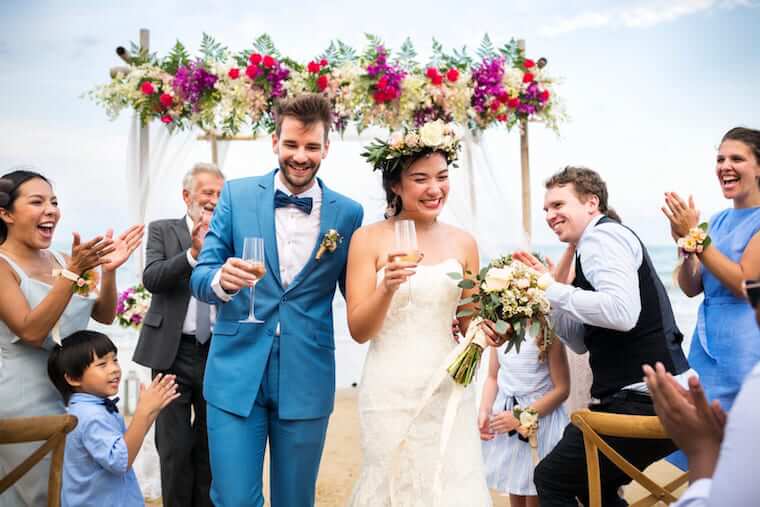 There are 1000s of hotels and packages to choose from, that's why it pays to have a local team on your side. Based on your budget and your vision we can help you choose the right one for you and your group.
It's what we do best.
Speak to our dedicated weddings team call us on our toll-free number Call o 888-537-9797, or get more info on our destination wedding services here. 
PRO TIP: Don't try to plan the wedding alone from afar, choose an expert wedding planner.
16. Relax on a rooftop pool
Price: FREE
Kid-Friendly? No
Location: Multiple.
Sometimes being covered in sand, fighting the rough waves, and dodging that pesky seaweed can just get too much for a person… you long for a nice, calm, clean space, where you can enjoy all the views of the beach, but without the fuss.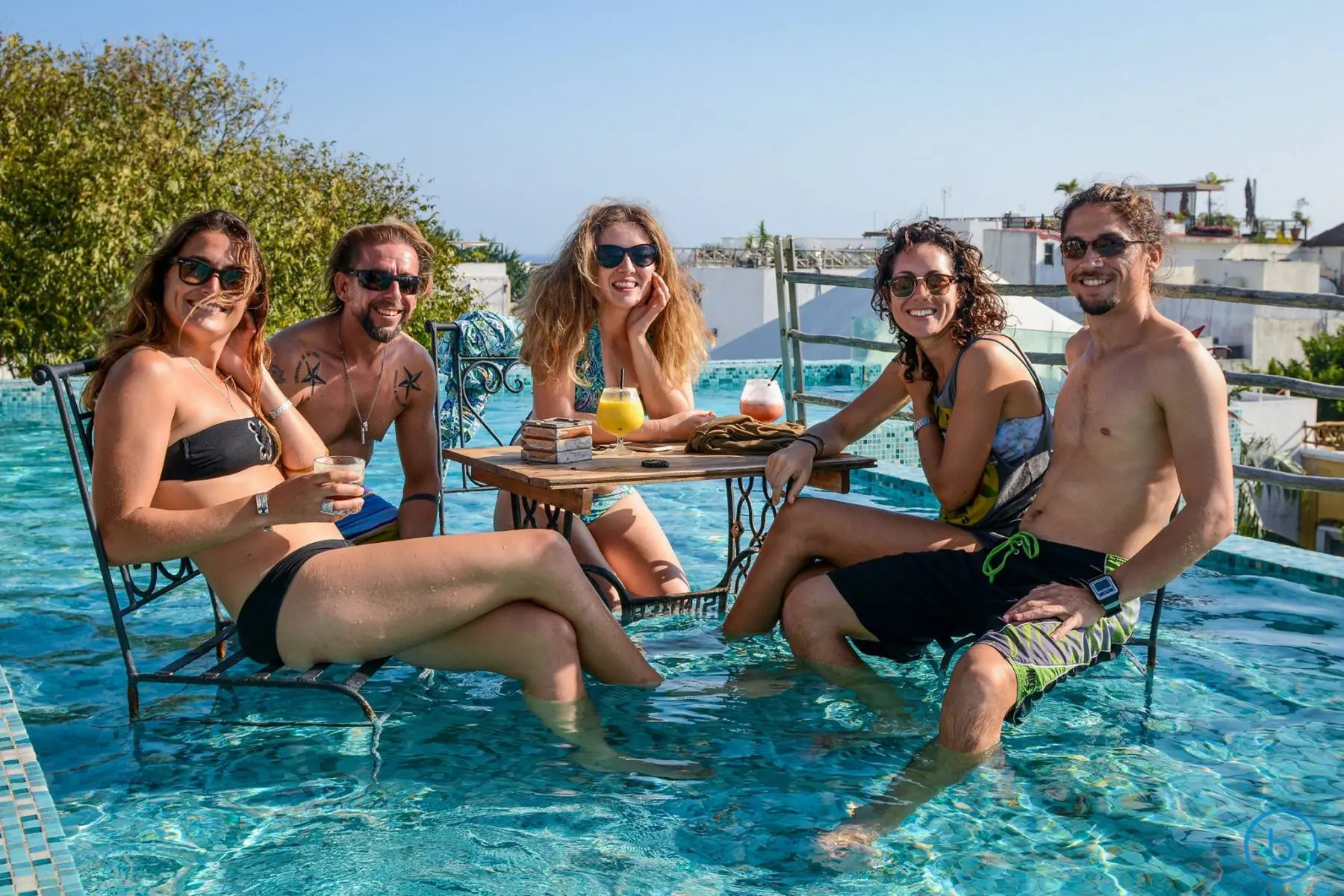 Say hello to rooftop pools, they will be your new best friend.
Boasting great views all you have to do is sit back, relax, and enjoy your favorite cocktail.
PRO TIP: Visit the 5 best rooftop pools in Playa del Carmen. 
17. Eat out
Price: $-$$$
Kid-Friendly? Yes
Location: Endless options
To come to Mexico and simply dine from the comfort of your hotel would be a crime.
This country is bursting with flavor and on the whole, it's much cheaper than what you are used to at home.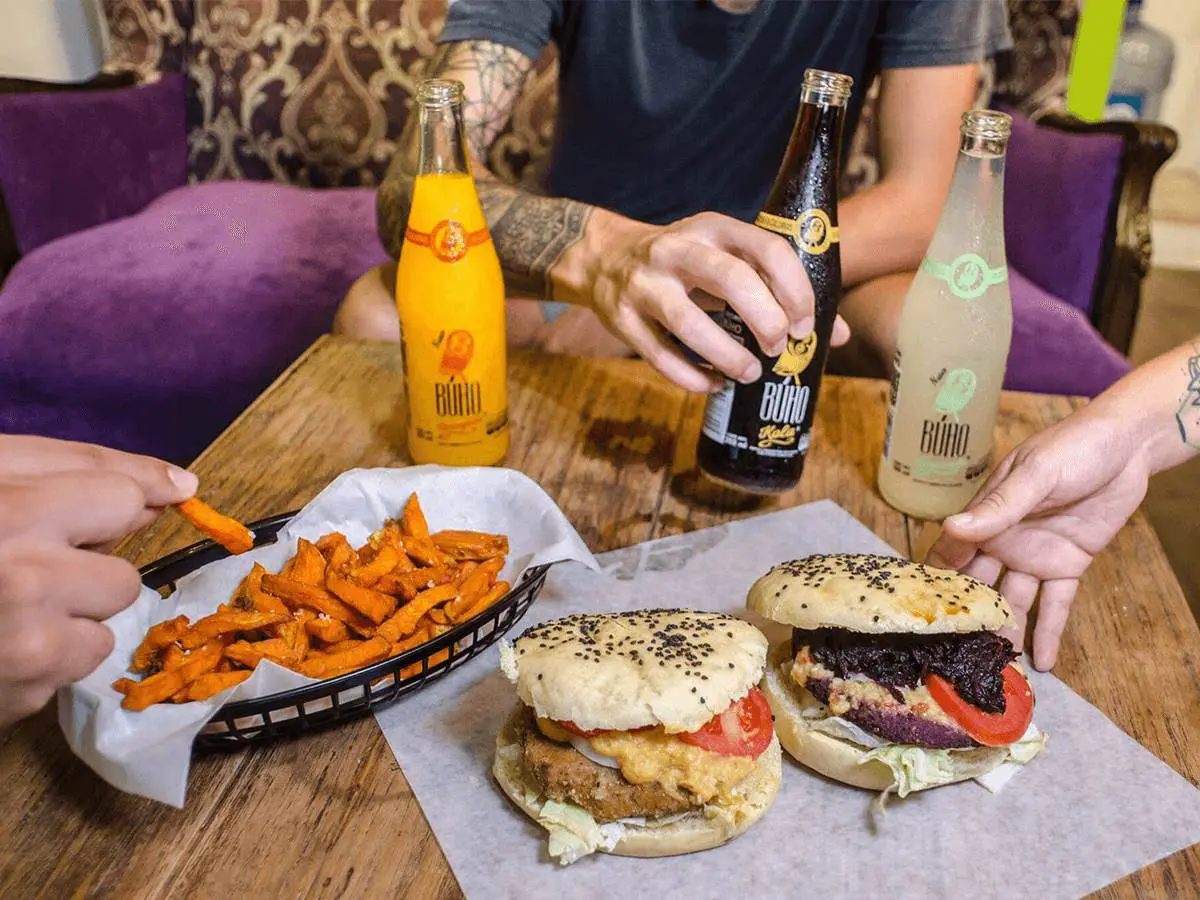 Whether you're craving seafood, steak, lobster, tacos, and much more I've got you covered.
PRO TIP: Read my easy-to-use ultimate guide to eating out in Playa del Carmen here.
18. Visit the Frida Kahlo Museum
Price: $12 USD
Kid-Friendly? Yes
One for the arty folk among you.
You either know who Frida Kahlo is or you don't,  but she is an icon in Mexico.
This museum doesn't contain any of her original art but it does embrace her life and work giving visitors the chance to learn about her controversial history.
It is a small museum so don't expect too much.
PRO TIP: Great thing to do during a rainy day in Playa.
19. Rent a jet ski
Price: $75 for 30 mins
Kid-Friendly? No
Location: Pezcaribe Adventure Tours
One for the adrenaline junkies!
Who needs convincing off this one!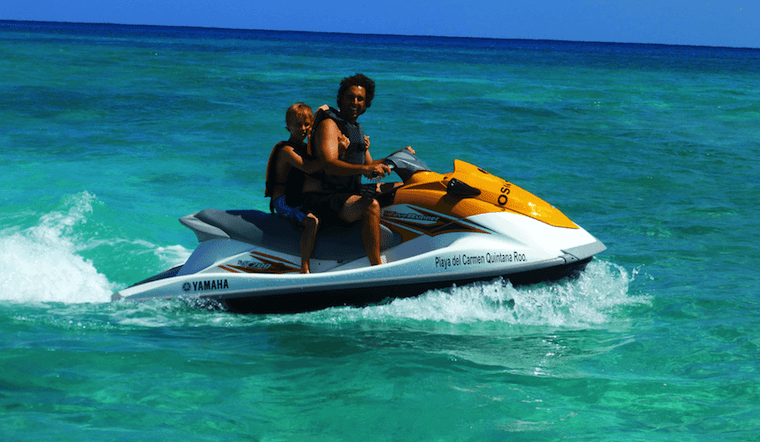 Driving around a jet ski like you stole it – yes, please.
PRO TIP: If you do have a tendency to get seasick just be careful here because the waves can be quite choppy, especially when zooming across them at high speed.
20. Take a sailing or fishing boat tour
Price: $110 – $475 USD
Kid-Friendly? Yes
With Playa del Carmen in such close proximity to the ocean, of course, there an array of sailing and fishing tours to choose from.
My favorites include: 
There's nothing more adventurous than setting off from the mainland into the big blue ocean with your professional guides.
PRO TIP: The fat-cat tour has both family-friendly and adult-only options available. Watch out for the rum punch it can creep up on you.
21. Go Paddleboarding
Price: $20 USD per hour
Kid-Friendly? No
Aloha Paddle Club and Fusion Beach Bar Cuisine teamed up to bring you an awesome beach and water sports experience!
Get ready for a laid-back and authentic Playa-style beach and surf vibe, great food and drinks, massage, shisha and daily live music and fire show.
And of course the fastest growing water sport in the world: Stand up Paddleboarding.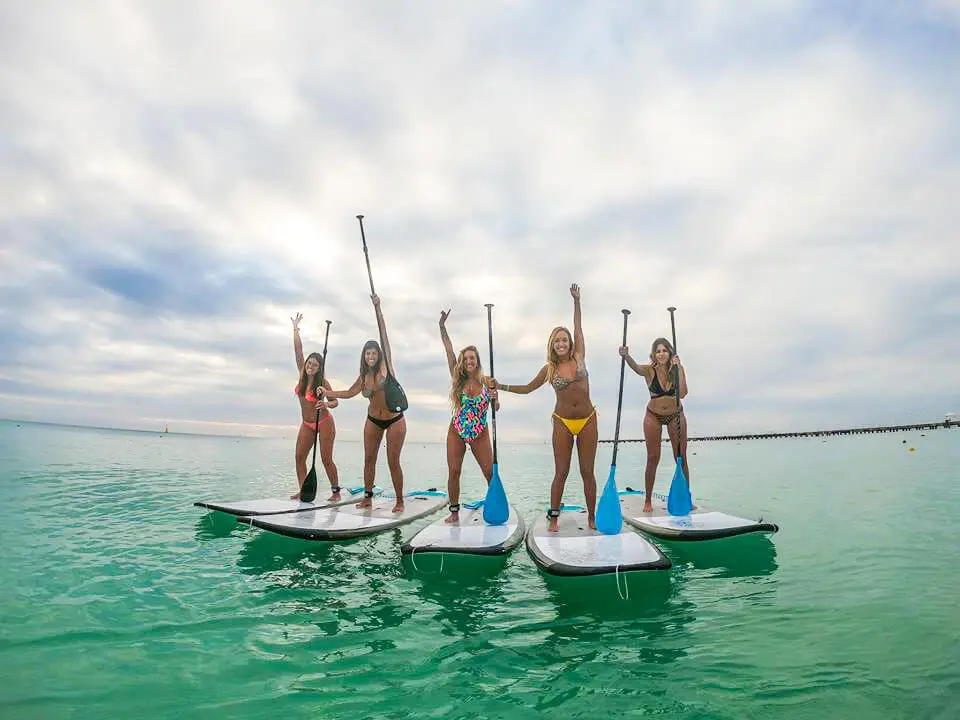 PRO TIP:  Challenge yourself to Paddleboard Yoga! Travel is all about pushing your boundaries.
22.  Additional Resources You May Find Useful
I hope you found this blog useful and have the best time in Playa del Carmen.
Any thoughts or additions leave them in the comments section below this post, we'd love to hear from you.
If you need help planning your trip our team of Travel Liaisons will be here to help.
Don't forget to SHARE this with friends or family traveling to Playa del Carmen soon.
---
Trending Now