The 5 Most Beautiful Rooftop Pools in Playa del Carmen 
---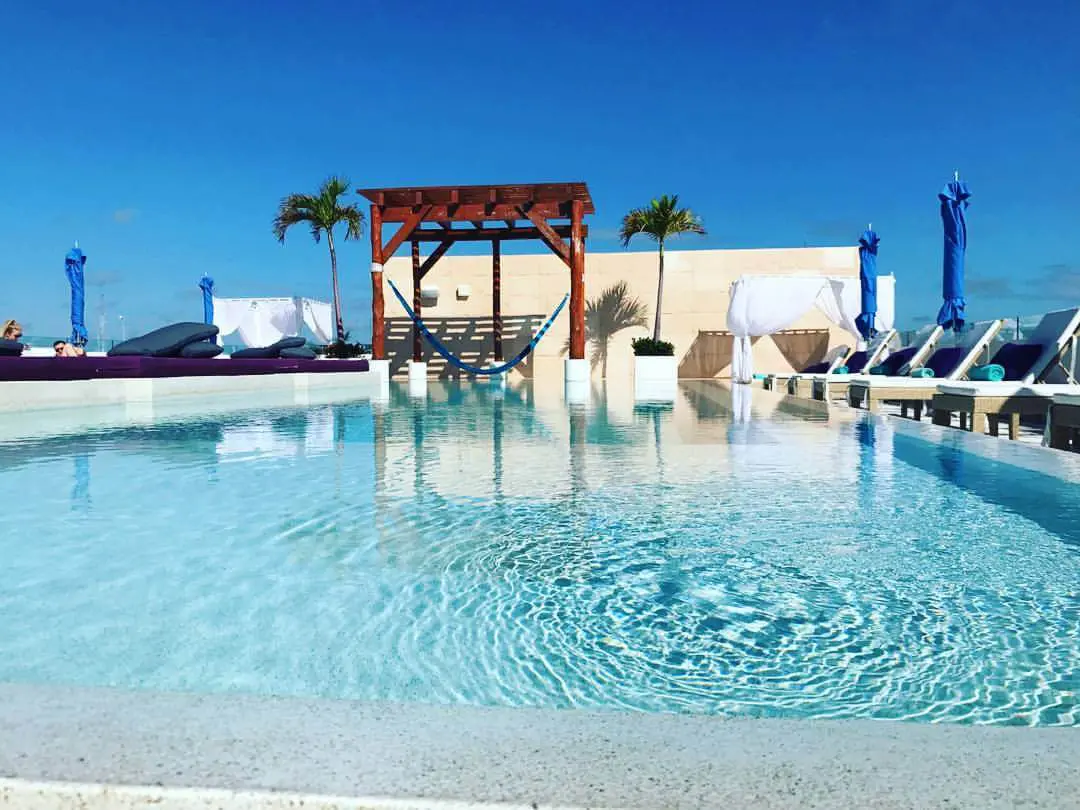 Sometimes being covered in sand, fighting the rough waves, and dodging that pesky seaweed can just get too much for a person… you long for a nice, calm, clean space, where you can enjoy all the views of the beach, but without the fuss.
Say hello to rooftop pools, they will be your new best friend.
Rooftop pools have the most spectacular views, great music, unique decor, and more often than not come with amazing chefs.
The best part? Playa del Carmen has an abundance of them.
Whether you're looking for an Eco-friendly, relaxed place, an ultramodern, party scene, a budget-friendly local hangout, or the epitome of luxury, Playa has the rooftop pool for you.
Not sure where to find your perfect spot? No problem.
Check out my guide to the most beautiful rooftop pools in Playa del Carmen, and you'll be making a splash in no time.
1) Thompson Hotel
This world famous company has done it again.
Thompson Hotel magically appeared on the famous Calle Corazon in 2015 and has been stealing the hearts of rooftop pool addicts ever since.

This ultra-modern hotel takes luxury to an entirely new level.
The rooftop pool is a winding river of palm trees, state of the art sun beds, perfectly placed alcoves, and a view that will take your breath away.
I believe it's safe to say that no other rooftop pool in Playa del Carmen has a view quite like that of the Thompson Hotel.
Imagine lazing by the stunning pool, gazing out over the glittering Caribbean Sea, all the way to Cozumel… and don't even get me started on the sunsets!
Being the luxury rooftop pool that it is, Thomson Hotel also offers some of the most outstanding poolside service imaginable.
You can order from the legendary Catch restaurant menu, try out some delicious cocktails from the resident mixologist, or simply order your own bottle of chilled champagne. Why not?
2) Live Aqua 
Live Aqua is a gorgeous boutique hotel, situated on the famous Quinta Avenida.

Recently refurbished and re-branded, this hotel now boasts one of the most beautiful rooftop pools in all of Playa del Carmen.
The gigantic infinity pool looks like it stretches on forever, and the deep blue of the tiles makes it feel like your swimming in a clear, calm ocean.
Live Aqua went one step beyond with their stunning mix of modern chic and traditional, authentic Mexican elements.
The result is a pristine, and beautifully flowing design that will make you feel totally pampered and relaxed.
Grab a drink at the poolside bar, cool off in the deep blue water, snuggle up with a good book in one of the hovering wicker chairs, or soak up the sun in a comfy bed.
This wonderful hotel also hosts many poolside fashion shows, live DJs, and boutique markets, so there's always something a little bit special to see.
3) BeRoof
This has to be the most popular pool with the locals.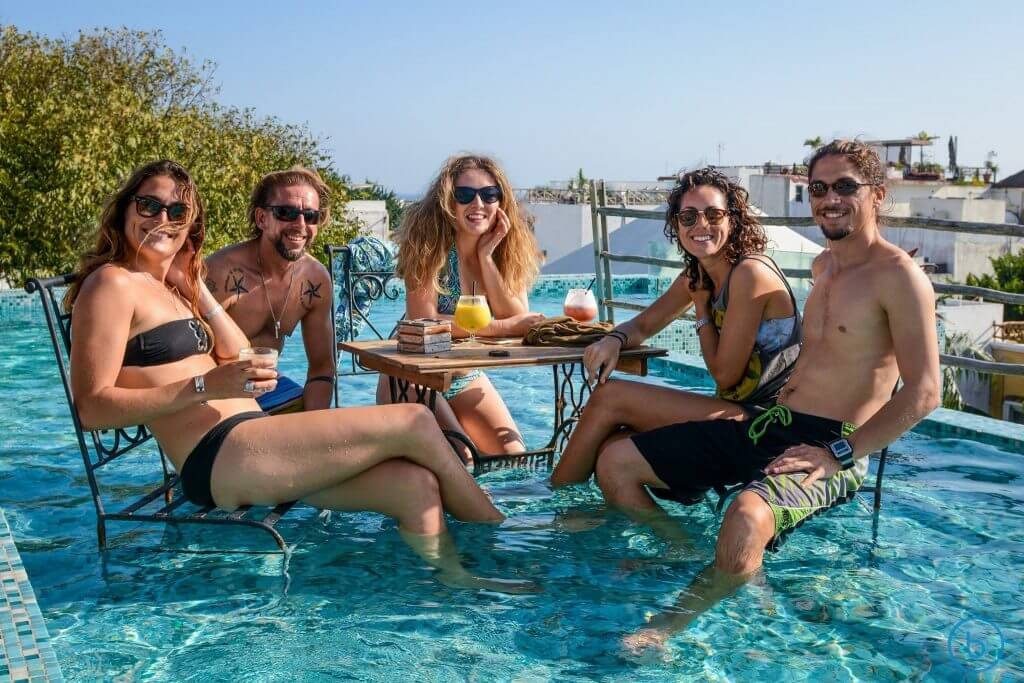 All the coolest, must-see people hand out at this trendy rooftop pool, and they host regular local and international DJs.
If there's a must-go-to rooftop party going on in Playa, you know it will be here.
Albeit small, the pool at BePlaya's BeRoof is perfect for cooling off in after an afternoon of dancing, eating and drinking, and its surroundings are second to none.
The decor in this boutique hotel is reminiscent of the hippy chic look of Tulum. Everything is crisp and white, and there's that beautiful mix of ultra modern and classy vintage.
While chilling poolside, you can order from the rooftop bar, and it's extremely wide selection of drinks, order from the downstairs sushi restaurant, or simply enjoy the panoramic views of Playa del Carmen's downtown.
The best part about BeRoof, is that it's not at all overpriced. If you're looking at the other stunning rooftop pools, and wanting something a little more affordable, then this is the one for you!
4) Soho
This artsy hotel feels like BePlaya's closest rival.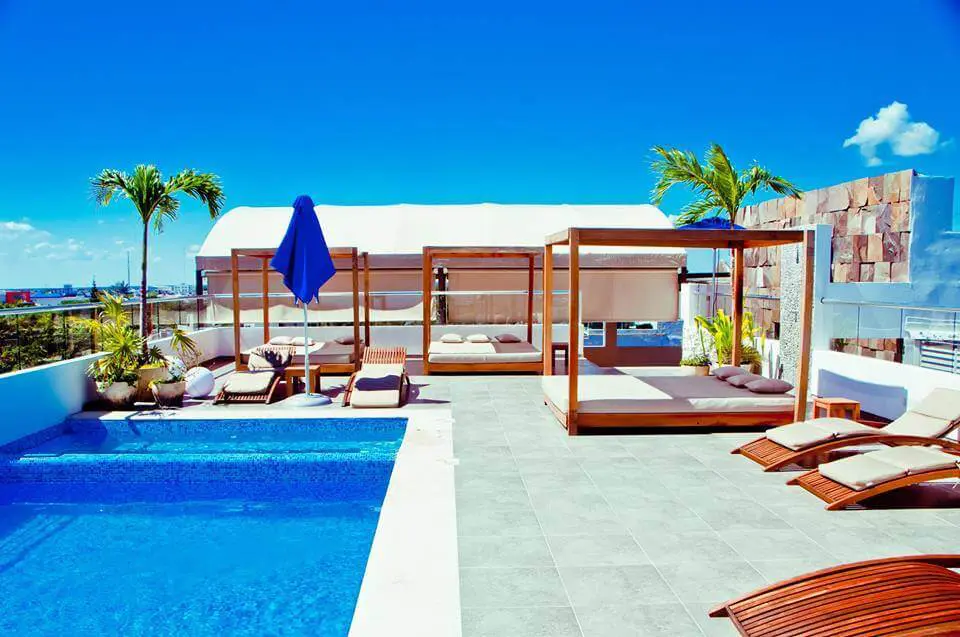 It's situated just one block away, has a similar sized pool and rooftop bar, and around the same sized rooftop overall.
However, it still manages to create a song boundary with it's totally unique and fun style.
Soho is filled with local artwork and brings traditional Mexican decor crashing into the 21st century.
The rooftop is modern and very natural feeling. Everywhere you look, there's natural wood, bright white linen, and beautiful green palms, the contrast of colors is truly refreshing and beautiful.
One of the best things about Soho's rooftop pool is its outstanding Sky Bar.
The menu is extensive, the ingredients are fresh, and they serve a great range of virgin cocktails for those looking to have a more chilled experience.
Soho has also recently teamed up with Yoga by The Sea, and now offers rooftop yoga sessions throughout the week. Of course, all finished off with a dip in the pool.
5) The Palm
How many pools does one rooftop need? Well, The Palm decided that one just wasn't enough.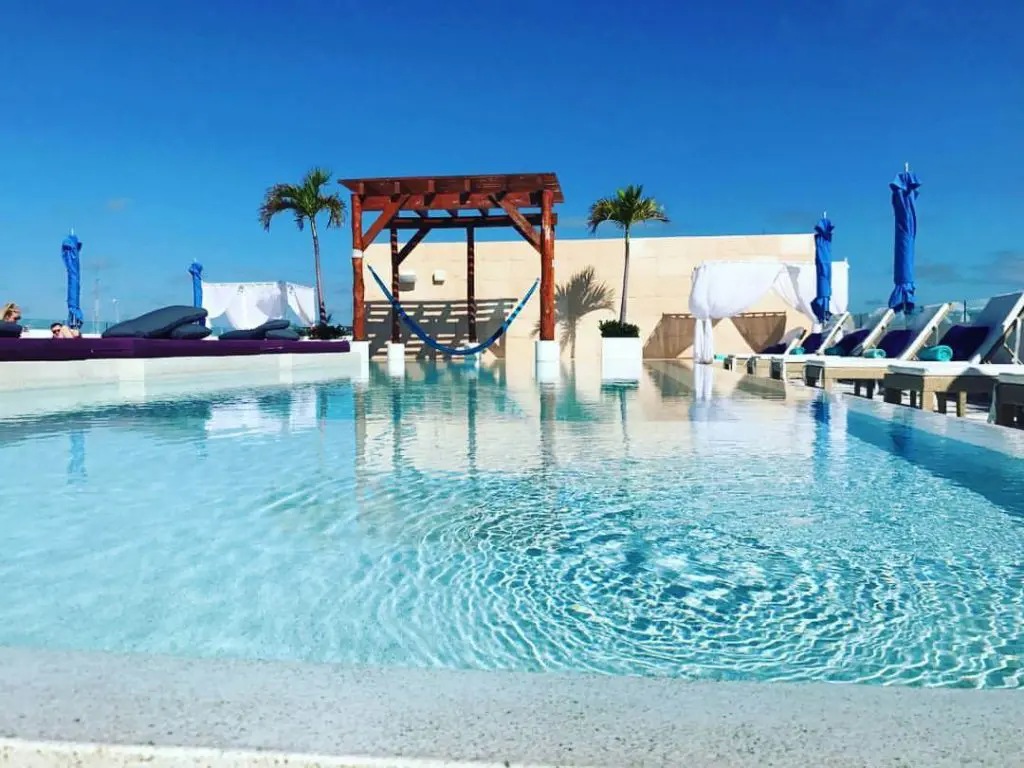 At this rooftop, you are spoilt for choice. You can choose to relax by the main pool, with its luxuriously plush sun beds, or opt for a more simplistic approach, and spend your time eating and drinking by the smaller (but just as refreshing) dip pool.
This is one of the lesser known and more exclusive rooftop pools in Playa del Carmen, so you can guarantee a quiet and relaxed experience.
The Palm does things a little different, instead of basing your stay on consumption, they charge a sort of entry fee, leaving you free to eat and drink as little or as much as you like.
From the over-water hammock, and refreshing drinks, to the abundance of spacious sun beds and gloriously blue pools, The Palm is one rooftop pool that will have you coming back for more.
Have you swum in any of these rooftop pools? Let me know your favorite in the comments below!
---
Trending Now
You may also like