Ladies Night: Drink For FREE Every Night in Playa del Carmen
---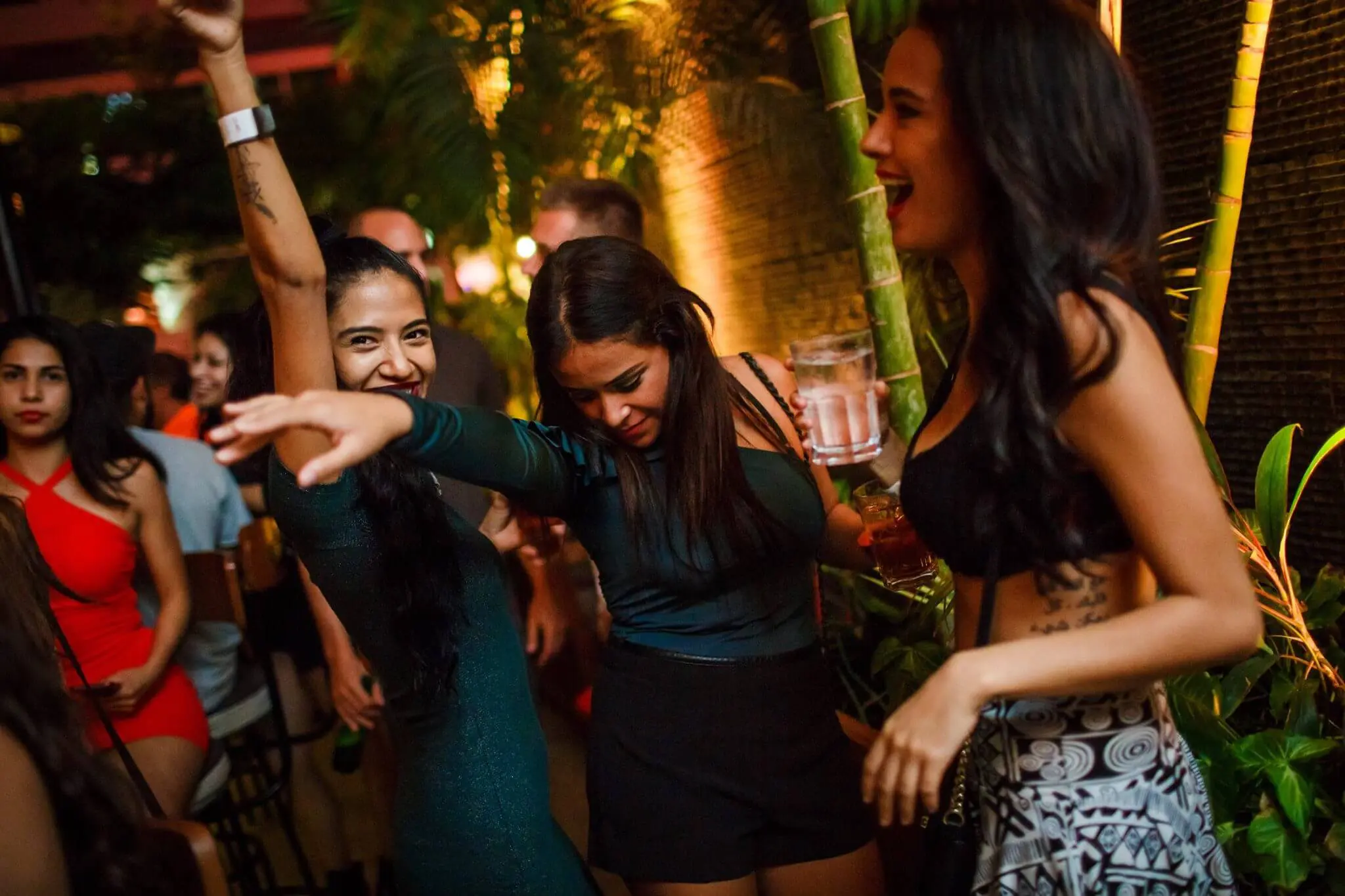 With all its amazing bars, clubs and restaurants, Playa del Carmen is becoming somewhat of a party destination.
But after buying your plane tickets, paying for your hotel and daily expenses, who's got dollar left for drinking?
Well, if you're lucky enough to be of the female persuasion, then you can leave your purse behind and still have an amazing night any day of the week!
So, pop on those heels, grab your girls and check out my guide on the ladies nights of Playa del Carmen.
Monday

La Choperia
Yes, even on a Monday the amazing town of Playa del Carmen has got you covered.
La Choperia is a great cantina style bar and restaurant right on 5th Avenue.
They have live rock and salsa bands, incredible DJs, a designated dance floor for all you movers and shakers, and even a pool table on the second floor.
Tuesday
Lucky Luciano
This cute little Italian restaurant is the perfect place to have a chat with the girls, enjoy some delicious pasta, and of course, some free drinks.
The bartenders at Lucky Luciano pride themselves on their fresh fruit cocktails, and you can choose from a whole variety of amazing mixers during their ladies night.
Pura Vida
After enjoying the earlier ladies nights, you can then head on over to Pura Vida where the party really gets started.
This surfer style bar has live DJs and an absolutely infectious energy, especially on a Tuesday.
Their ladies night runs from 10:00pm – 1:00am, so you can party into the early hours without spending a dime!
Wabi Hostel 
This stunning boutique hotel now hosts a ladies night on their picturesque rooftop, but there's a twist.
Wabi decided to shun the usual drinks menu, and offer up a special ladies menu full of specialty mojitos!
You heard that right, free mojitos every single Tuesday.
What woman wouldn't want to spend the night sipping away on fresh and fruity mojitos?
Wednesday

Diablito Cha Cha Cha
One of the most popular ladies nights in Playa is hosted by Diablito Cha Cha Cha. Once you step into the giant palapa, you start to feel the funky music of the live DJ, the lights start to twinkle, and all your troubles melt away.
Diablito put on a special cocktail list every Wednesday for all the lovely ladies, and it changes each week.
So, no matter how many Wednesday nights you spend in this amazing bar, you'll get to sample some new and exciting drinks every time.
Burro Playero
Famous for its live sporting events and beer, Burro Playero decided to dedicate at least one night to the ladies.
Rumbero is the name of their ladies night, and they serve up unlimited Mojitos and Margaritas.
So you can have a few giggles with the girls, while he is enjoying the footie, win win.

Almirante Pech
In the true Santanera Group fashion, Almirante likes to do something a little different for their ladies night.
You can sip on some of their finest, most expensive wines, and enjoy a whopping 40% off your bill.
What makes this deal even sweeter, is the amazing service, the relaxing music played by the live DJs, and of course, the simply stunning nautical themed restaurant itself.
Thursday

Canibal Royal
You've got to love Canibal Royal, when they move a ladies night to the day!
You can sit in one of the best beach clubs in Playa del Carmen, soak up the sun, listen to the tropical sounds of the DJ and sip on some refreshing cocktails for absolutely nothing!
Much like Diablito, Canibal Royal create a special tropical cocktail list to choose from, which changes each week.
Be Roof
This ultra trendy rooftop bar just got even cooler.
At the very top of the Be Playa Hotel, you will find a hippy chic rooftop complete with huge beds, a pool and a well-stocked bar.
Every Thursday, Be Roof opens this bar up to female kind with their fantastic ladies night.
You can choose between vodka, rum or tequila mixers, and dance the night away to their live DJ sets.

Caiman Tugurio
Listening to the best bands in Playa while sipping on free drinks? Yes please!
Caiman is a laid back bar located on a nice, quiet strip of 5th Avenue, where you can get together with friends and enjoy some amazing live music.
There's nothing too fancy about this place, but the food is good, the atmosphere is inviting, and the drinks are free.
Don Mezcal
After you've enjoyed a day of free drinks, it's time to move the party into the night.
Don Mezcal is a small bar that packs a big punch.
They host both local and international DJs, who keep the party going until sunrise. During their ladies night, you can choose from a whole host of mixers, including mezcal, for absolutely free.
If you're looking for a place to party with the girls on a Thursday night, then this is it.
Friday

Bronze
Gin, gin, and more gin. Their slogan "girls don't need boys they need gin" says it all.
At Bronze, there's no watered down mixers and no cheap versions of the known brands.
They pride themselves on the flavor of each and every cocktail they make… even if it's free.
Located on the sought after 38 street, Bronze is definitely the place to be seen on a Friday night.
The Palm
One of the most stunning rooftops in Playa del Carmen opens its doors to all you beautiful ladies every Friday night.
But this luxury hotel offers more than just a bar.
At The Palm, you can relax poolside, look out at the panoramic sea views, and sip on a refreshing cocktail all for free.
The perfect end to a long week.

Blue Gecko
Did someone say free wine?
I don't know about you, but the offer of free wine will get me out of the house any night of the week.
Blue Gecko are making all our dreams come true by giving away free wine from 7:00pm – 9:00pm every Friday night.
Their bar is a small, beach-style cabana, and it's the perfect spot to spend a quiet Friday night.
Have you been to any of these ladies nights? Let me know your favorite in the comments below!
---
Trending Now