Ladies Night: Drink For FREE (Almost) Every Night in Playa del Carmen (2023)
---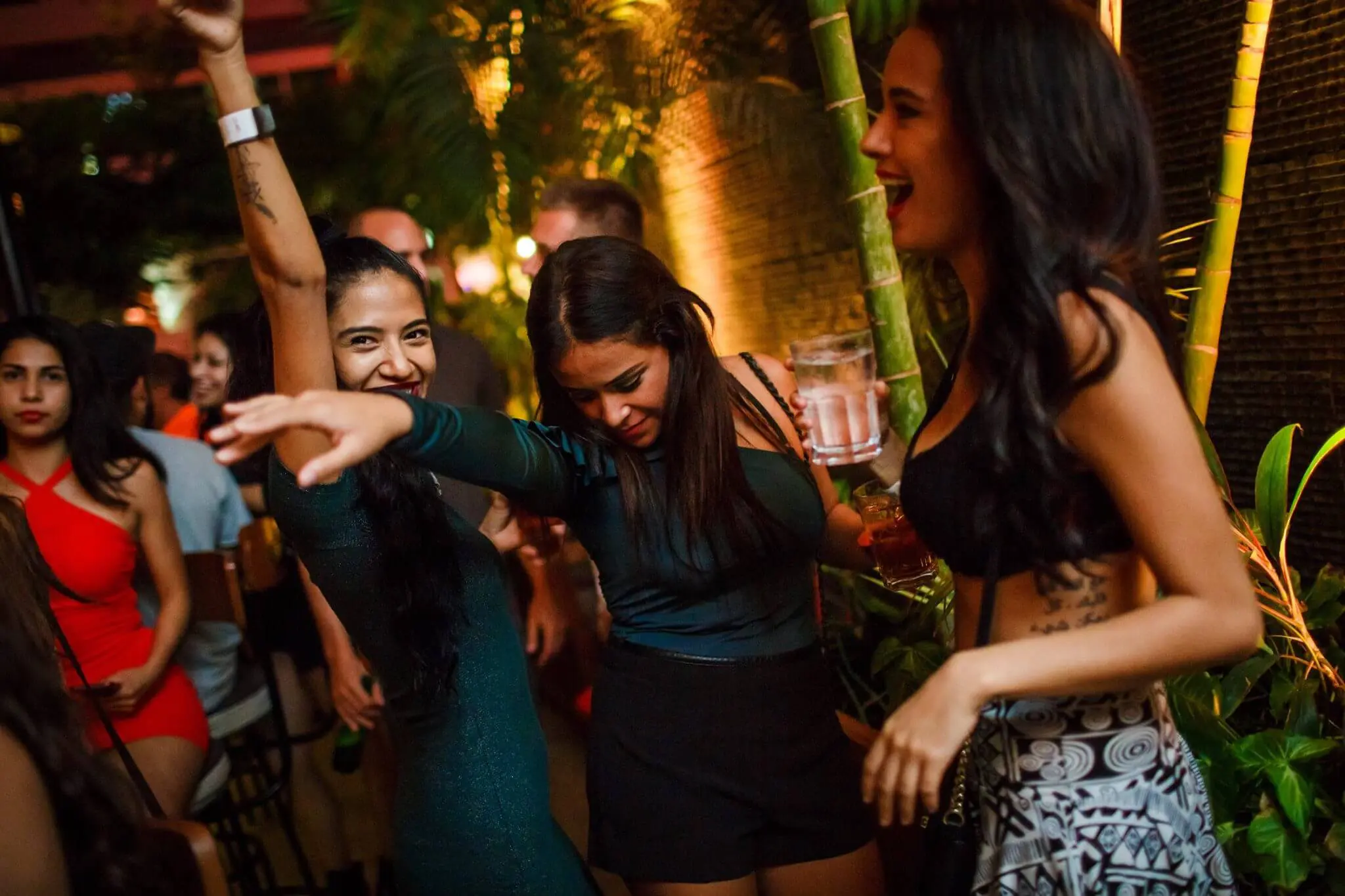 Did you know you could drink for FREE (almost) every night in Playa del Carmen if you're a woman?
Why do you think I moved here (kidding, not kidding)?
I actually didn't know about it till I arrived, so safe to say, when I found out there was an abundance of gin to be drank for FREE, I was in my element. 💃
Ladies night is ERRRRYTHAAAANG!
Being a woman is no easy feat…trying to tame curly hair in this humidity, and not sweating your makeup off, pffft, it's only RIGHT we be rewarded with a free mojito every now and then.
Ladies put on your best lippy, grab your girls, leave your purse behind,  and head out for a great day/night any day of the week.
You deserve it! 
Drink for FREE (almost) any night of the week:
---
*The locations and offers mentioned in this post are accurate as of Feburary, 2019. Things move FAST in Playa del Carmen, so if somewhere has changed their ladies night, or closed down please let us know in the comments section below!
1. Monday
Shhhmonday's suck.
The one day of the week we probably most need a free gin no one is offering one. Gah!
We're still searching for free drinks on a Monday in Playa del Carmen!
If you've been lucky enough to stumble across a watering hole selling free beverages on Monday's let us know in the comments section so we can add it! 🙂
…And if you're a business in Playa del Carmen reading this, you've found your calling, you know what to do! 😉
I will personally hug you.
2. Tuesday
Wabi Hostel 9 pm – 11 pm (FREE)
Whether you are looking for a place to stay for a few nights on a budget or just want a new setting to enjoy a few free drinks on a picturesque rooftop Wabi Hostel is the place for you.
It's located in an excellent location just 0.7 miles from the ADO bus station, and 750 yards from Quinta Alegria Shopping Mall. It's super central!
Wabi decided to shun the usual drinks menu, and now offer up a special ladies night menu full of specialty mojitos.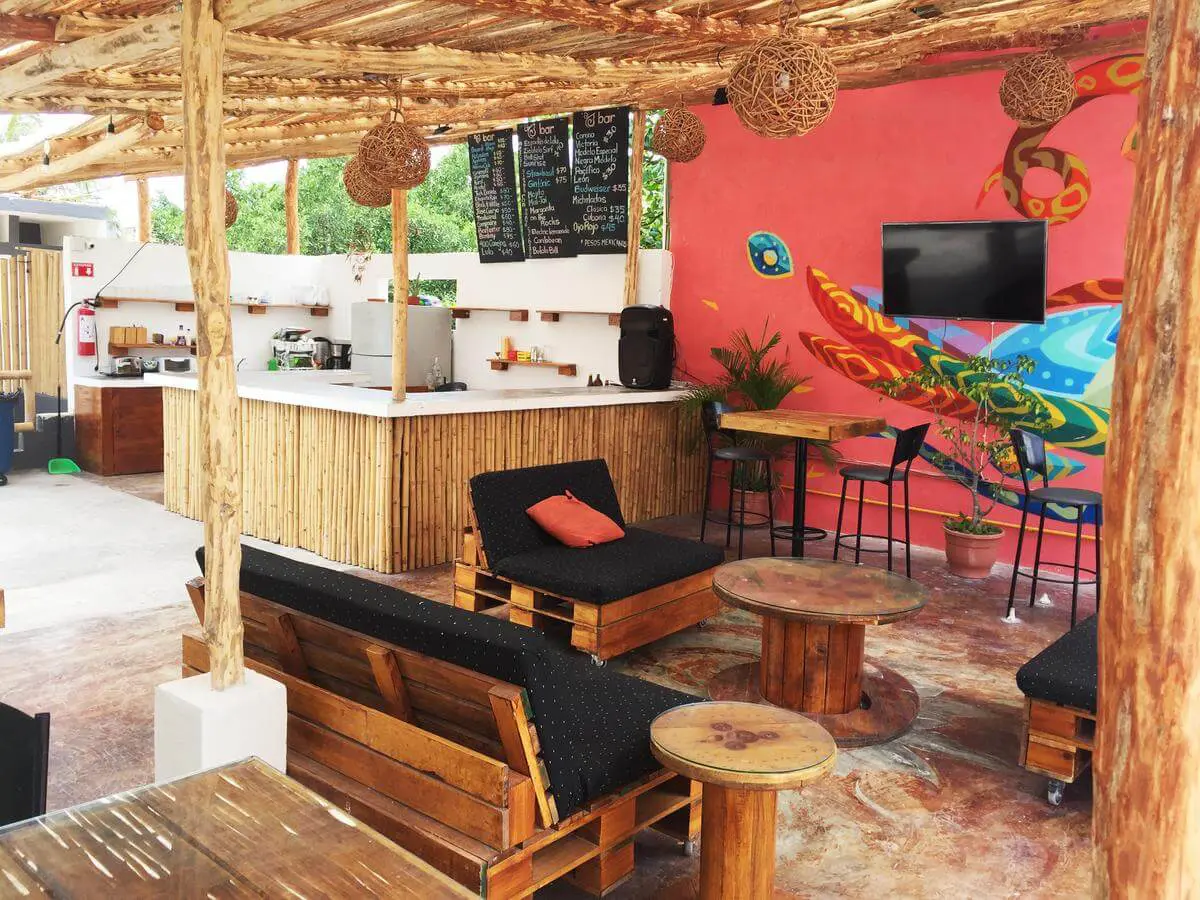 Can I get a hell yes!? See you there?
The perfect setting to meet new people, mingle, and enjoy a fruity cocktail.
3. Wednesday
Selina 7 pm – 12 am (FREE)
Selina is an awesome setting with chic interiors and something for everyone.
They offer accommodations, co-working spaces, yoga & wellness activities, surfing, and lively nightlife.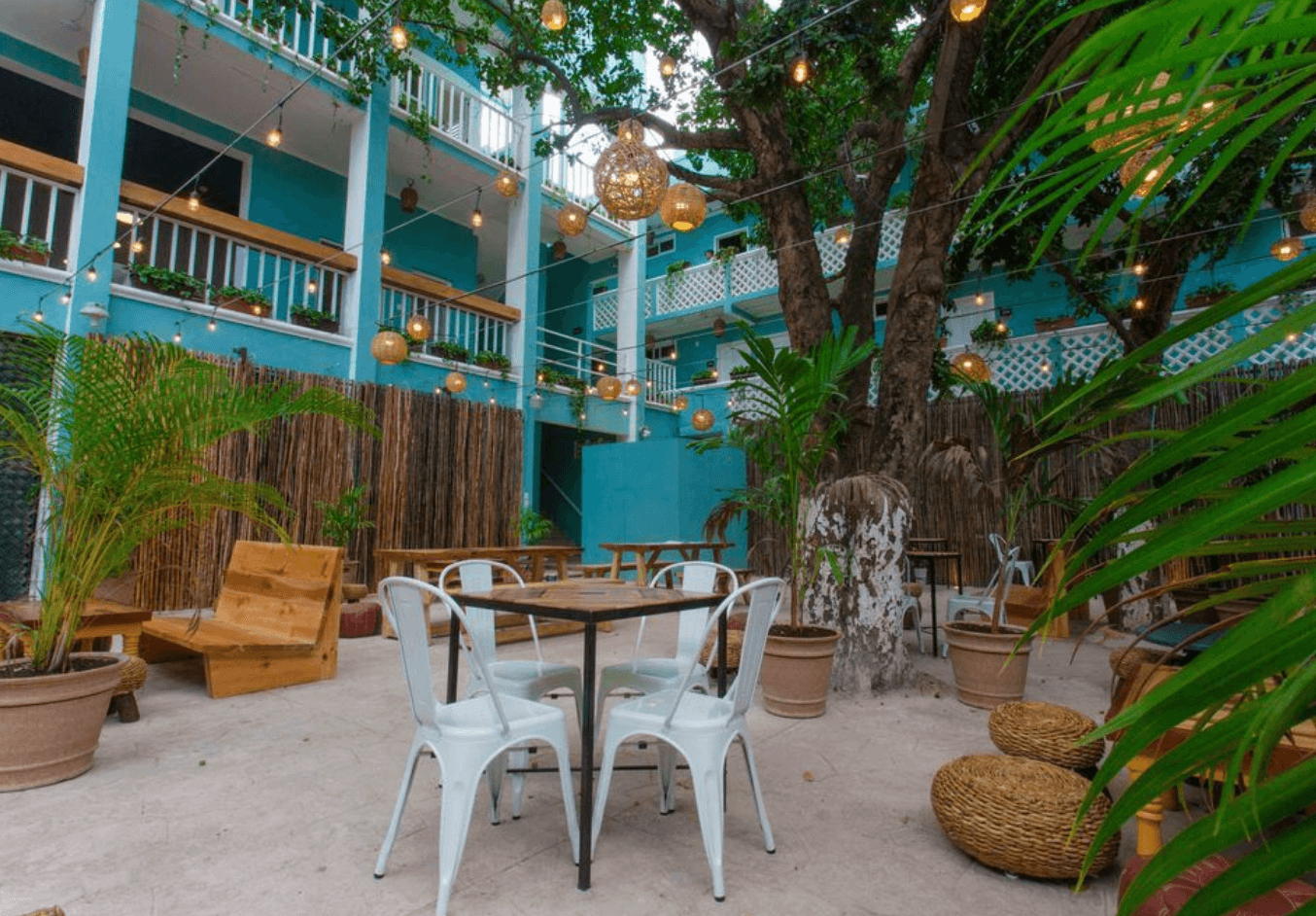 During their ladies night, they often host musicians and DJs to come and play to give the ambiance a little extra pizzazz.
If you have the time Selina should definitely be on your to-do list.
The Tiny Tiki Hut  (almost FREE) *cash only
What better way to plunge yourself into the Caribbean vibes of Playa than to visit the amazing Tiny Tiki Hut!
Here's the deal – if you are feeling hungry then you can enjoy complimentary free house cocktails with the purchase of any menu item. 
Located in the heart of downtown this place offers up delicious food blending the tastes of Asia and Mexico perfectly!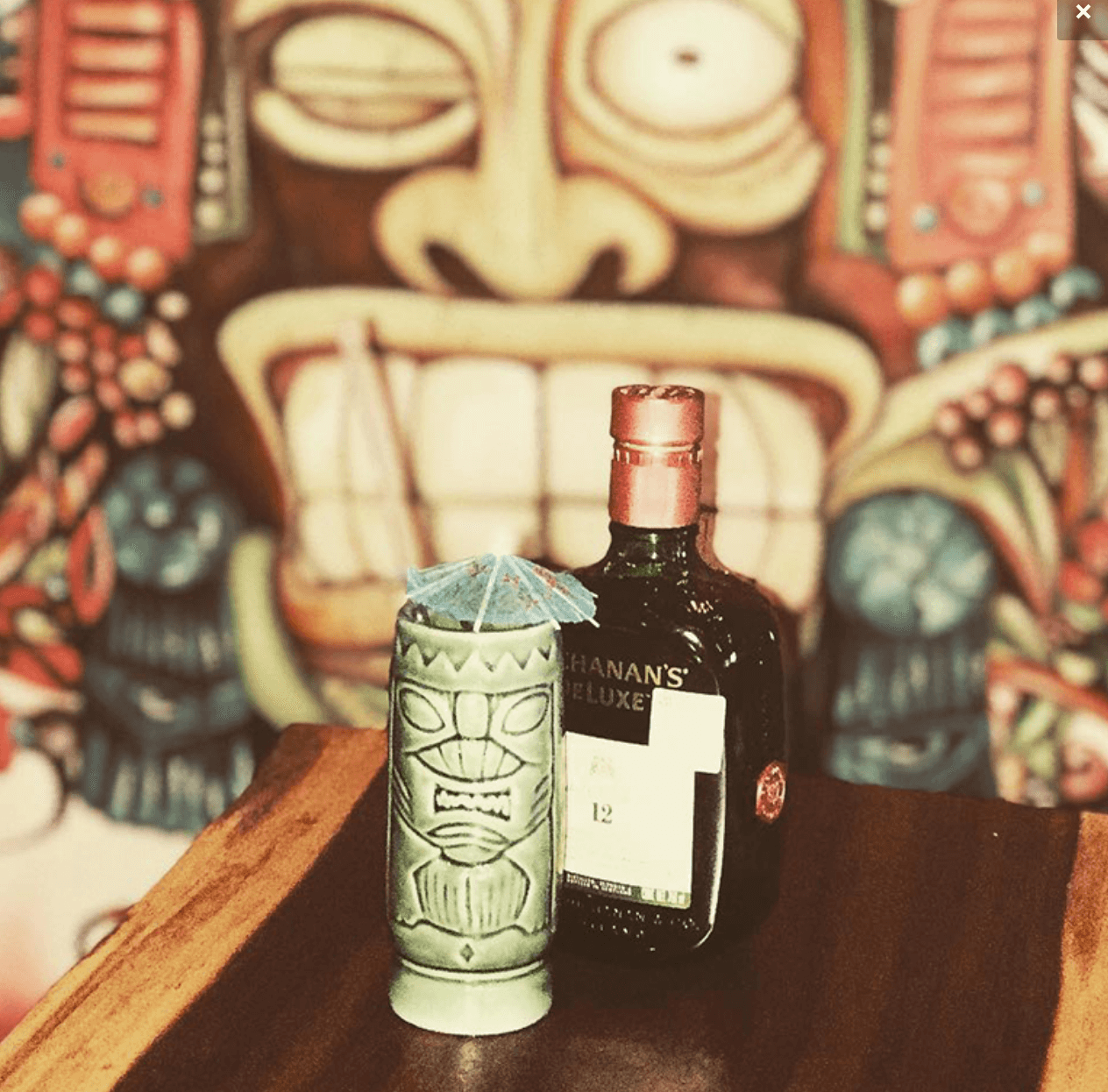 Mouthwateringly good.
They also boast other great deals such as:
$7 beer buckets all day & $3 house cocktails all night
Special mention: this is one for the guys! Dudes day is every Saturday at 4 pm – 7 pm you will find special food and drink options for the men (I mean, we can't have them feeling TOO left out).
Burro Playero 
Famous for its live sporting events and beer, Burro Playero decided to dedicate at least one night to the ladies.
Rumbero is the name of their ladies night, and they serve up unlimited Mojitos and Margaritas.
So you can have a few giggles with the girls, while the men enjoy the gaming events, win-win!

Mexican Caribe 8 pm – 12 am
Love Vodka, tequila, and rum? You're in luck! Every Wednesday Mexican Caribe gets lit for the ladies.
Mexican Caribe's bar and grill knows how to keep its guests entertained. They have a range of specialty drinks made with mezcal and fruits of the region, Mexican food is their passion and if you visit you absolutely MUST try the world-famous shrimp tacos.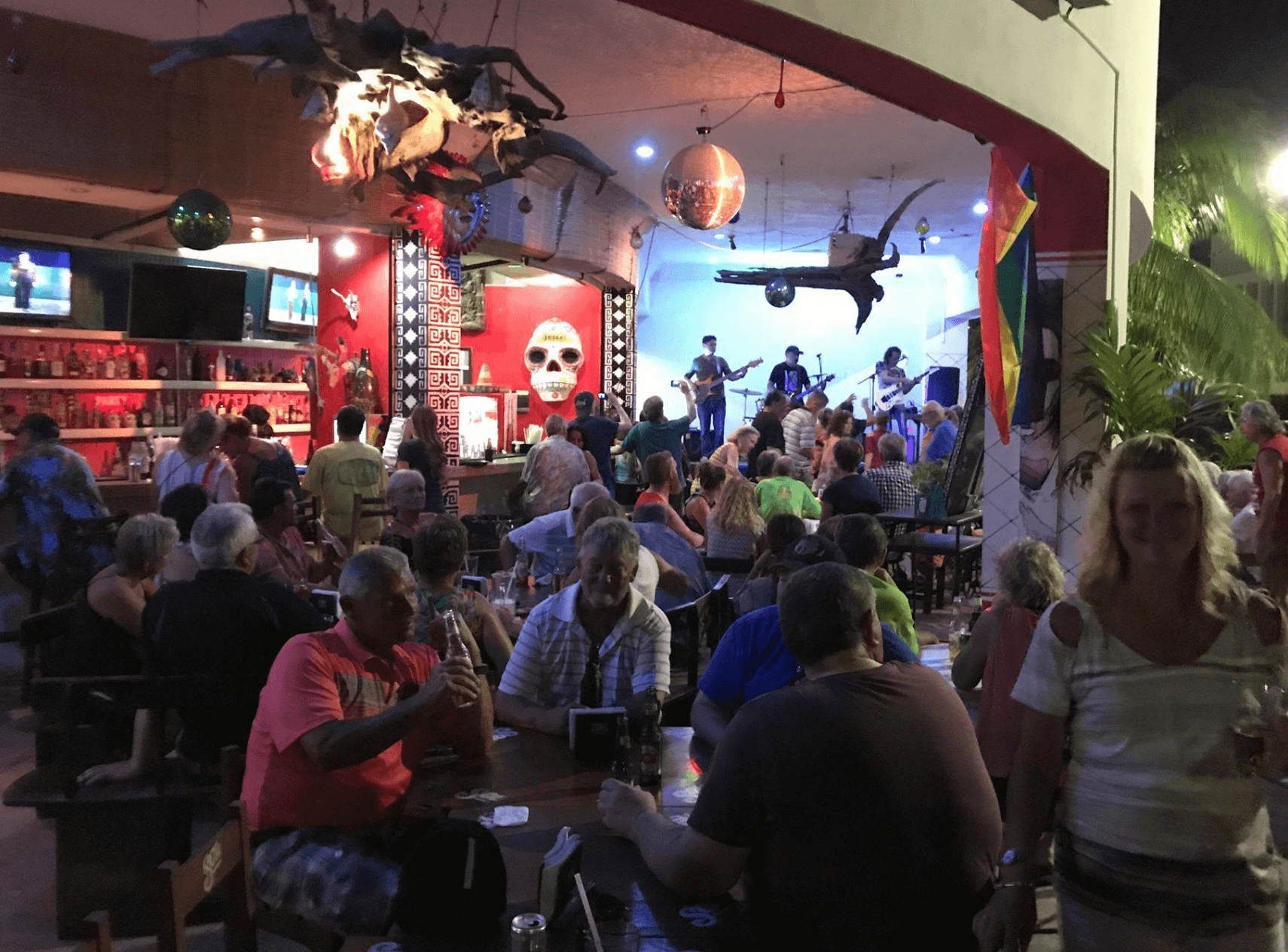 They have live music every weekend, and special events every week.
Deck 5 @ The Carmen 5 pm – 7 pm (FREE)
What would your ideal evening look like? Gorgeous rooftop pool, sunset, and an open bar?
Look no further, Deck 5 at the Carmen Hotel is where you need to be. It has the most stunning views of Playa 5 stories above the beach. Enjoy your cocktails with a refreshing sea breeze.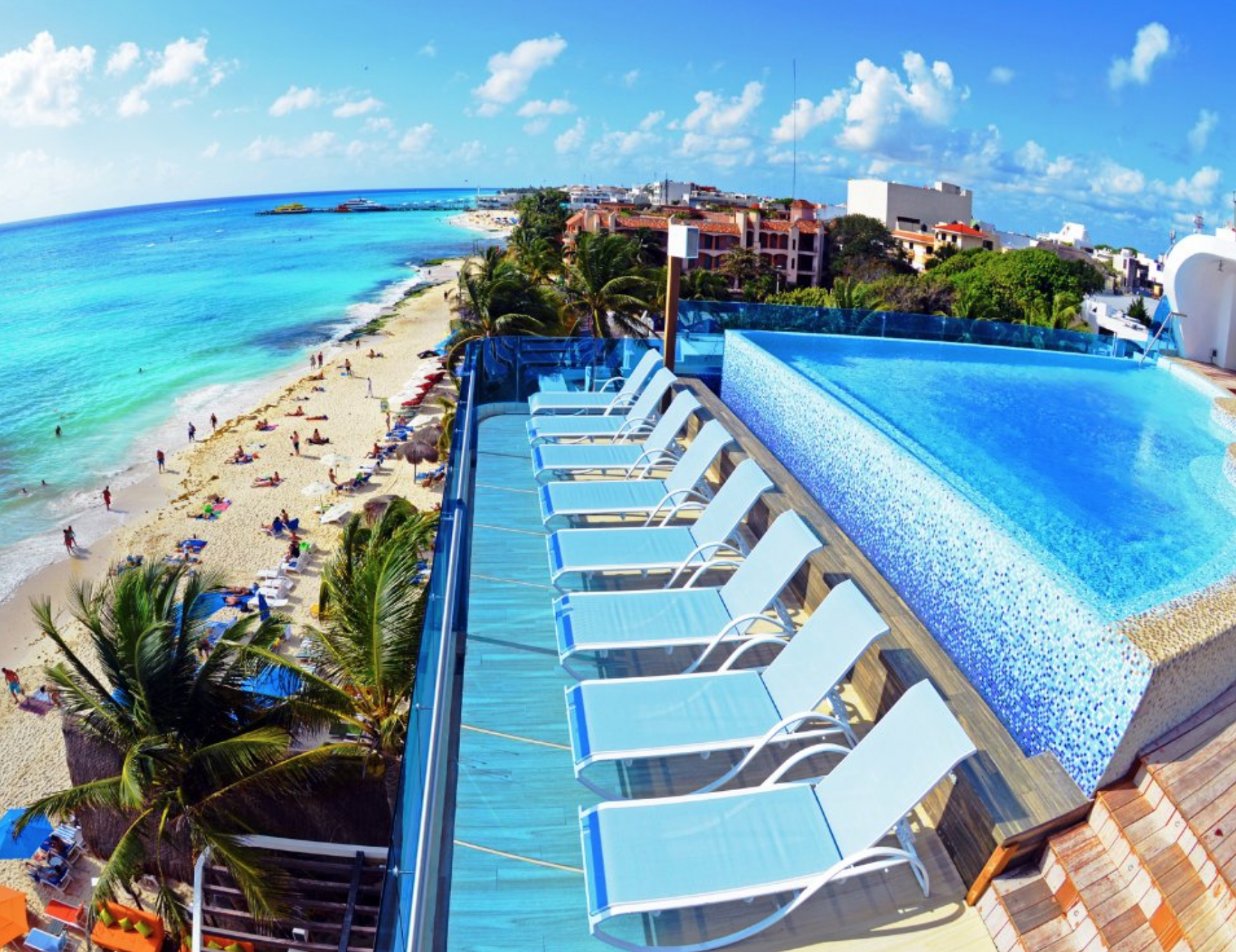 Wear your best bikini because you're GUARANTEED to meet a few fitties here! 😉
La WALL 9 pm – 11 am (FREE)
Fun friendly gay bar open to all!
On the 16th of  June 2015, Trump announced he would build a Wall between Mexico and USA.
Well, this bar has built its own wall – LA WALL! One that includes, protects, and accepts.
What a slogan! We LOVE this place.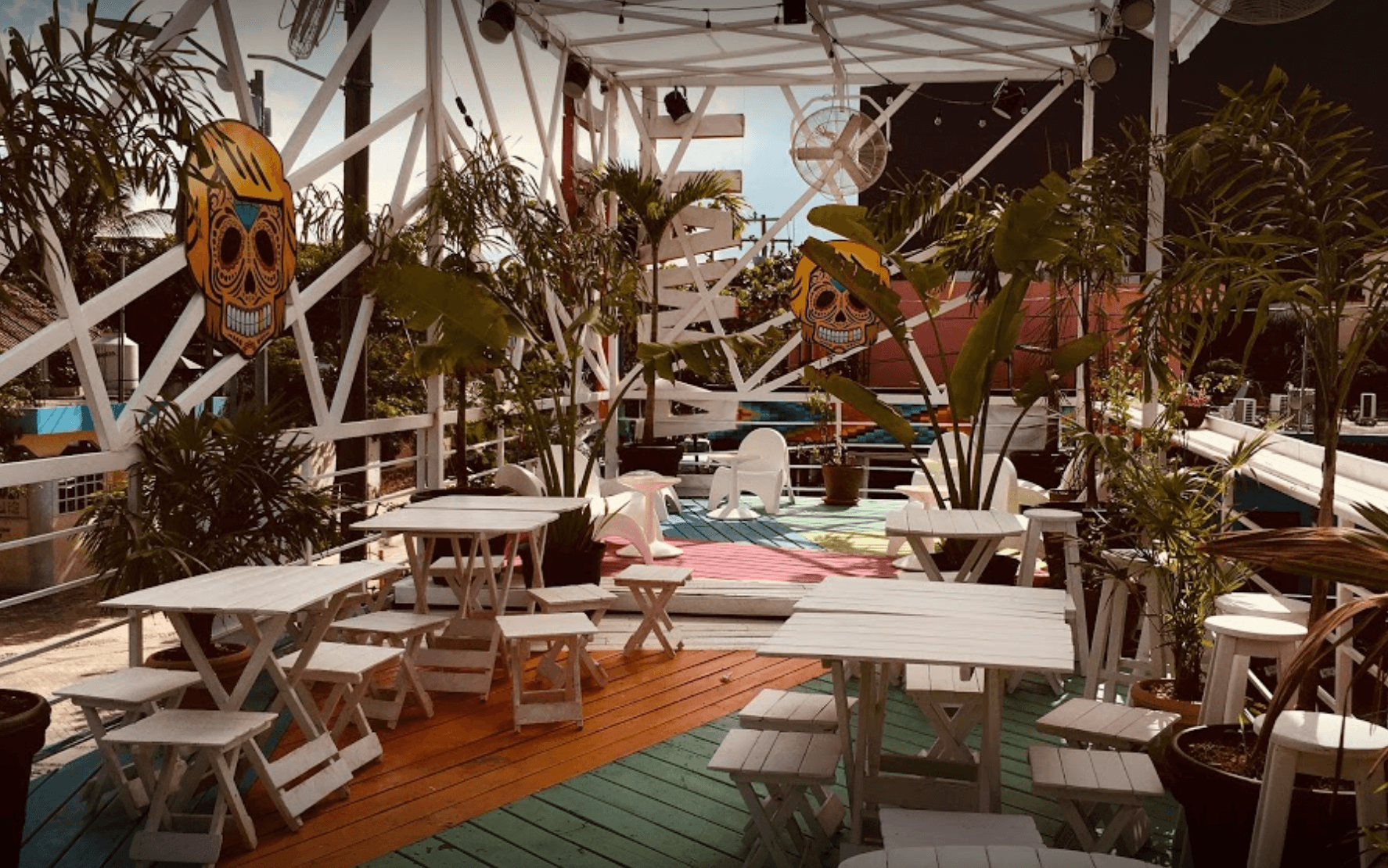 A Wall made of the love of life and the love to party!
Be welcomed to the fiesta every day of the week.
Happy hour is 6-8 daily!
For the men: 1 L of beer is $60 pesos every Wednesday!
4. Thursday
Lobo de Mar 7 pm – 12 am (FREE)
Arrive early here to grab your seat.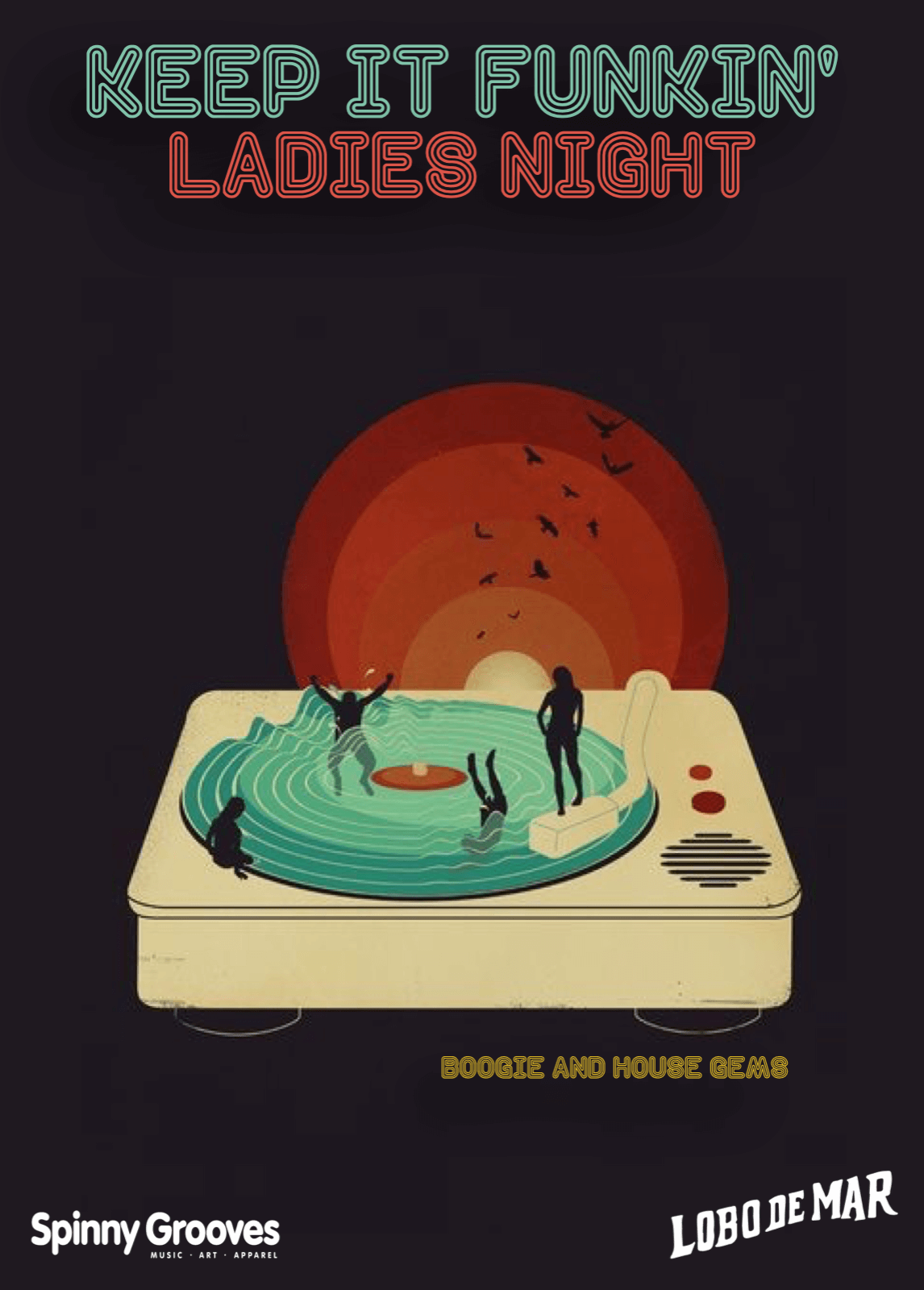 GIN, VODKA, TEQUILA AND RUN FREE from7 pm to 12 for all the girls!
One of the most fun rooftops in Playa!
SOMA Urban Sushi 10 pm – 12 am (FREE)
This place has rave reviews from the foodies of Playa if sushi is your thing you absolutely must stop by here on your next vacation.
However, the food isn't the only reason this place is worth a trip.
Resident DJs, free drinks, and a good vibe, what more could you ask for?
Be Roof 7 pm-close (FREE)
This ultra trendy rooftop bar just got even cooler.
At the very top of the Be Playa Hotel, you will find a hippy chic rooftop complete with huge beds, a pool, and a well-stocked bar.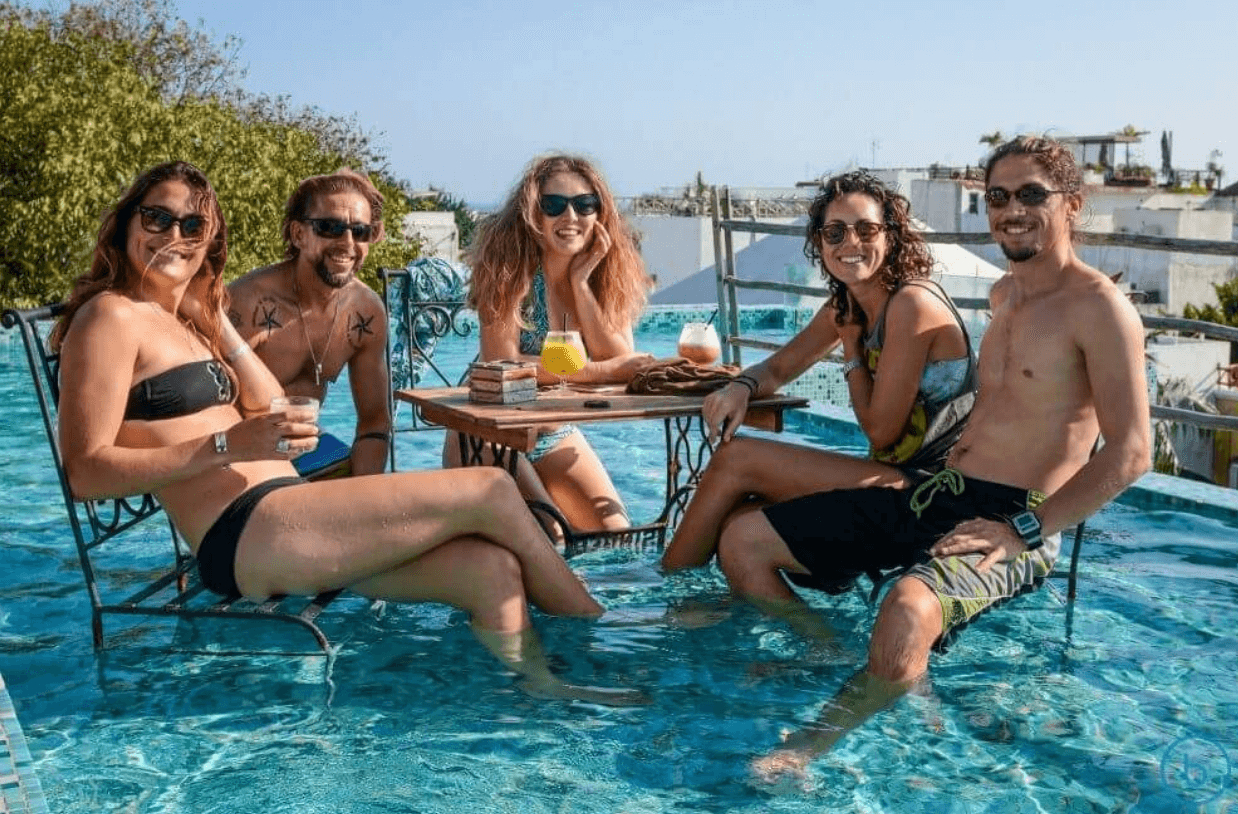 Every Thursday, Be Roof opens this bar up to female kind with their fantastic ladies night.
You can choose between vodka, rum or tequila mixers, and dance the night away to their live DJ sets.
Las Hijas de la Tostada Constituyentes 8 pm – 10 pm (FREE)
The offer includes an open bar and half-price tostadas from 8 pm – 10 pm. 
If the open bar is not enough motivation Las Hijas is known for its seafood and the tostadas are SO good they simply cannot be missed.
Trust me, you won't regret it.
5. Friday
Bronze 8 pm – 11 pm (FREE)
Gin, gin, and more gin. Their slogan "girls don't need boys they need gin" says it all.
At Bronze, there's no watered down mixers and no cheap versions of the known brands.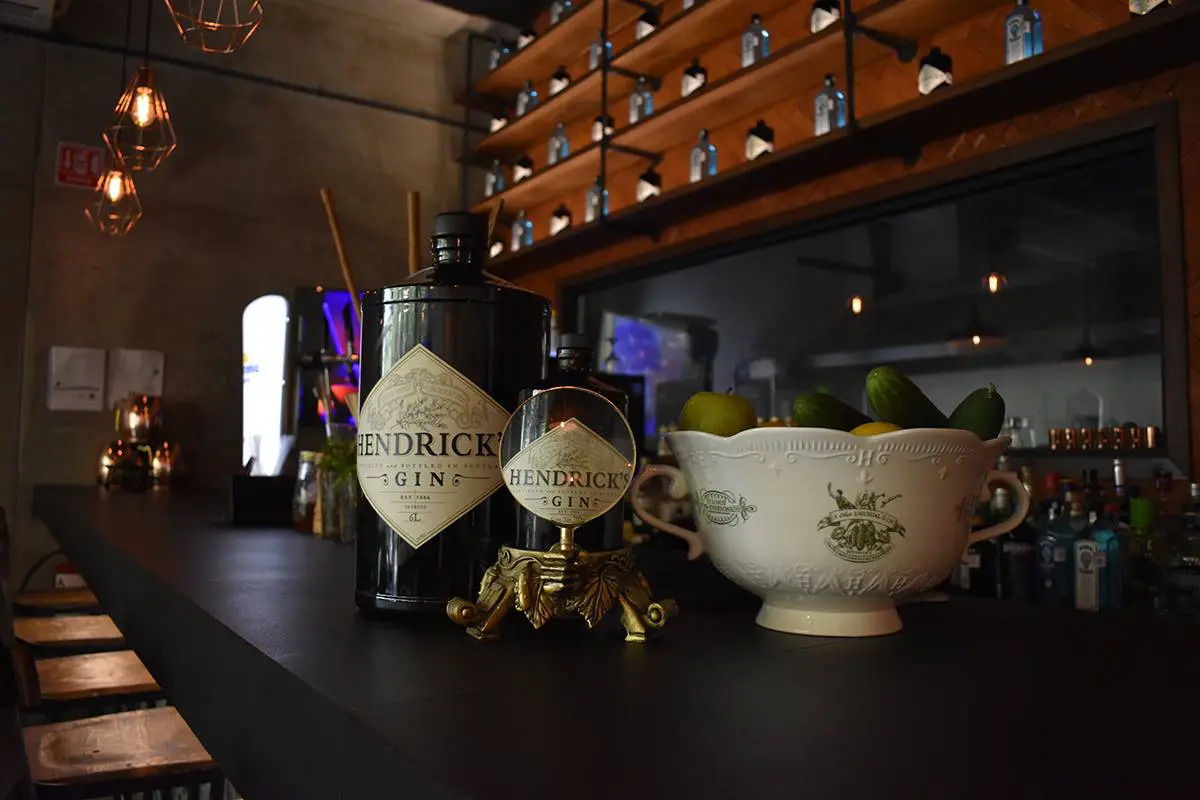 They pride themselves on the flavor of each and every cocktail they make… even if it's free.
Located on the sought after 38 street, Bronze is definitely the place to be seen on a Friday night.
Roof Club at The Palm 8 pm – 11 pm (FREE)
One of the most stunning rooftops in Playa del Carmen opens its doors to all you beautiful ladies every Friday night.
But this luxury hotel offers more than just a bar.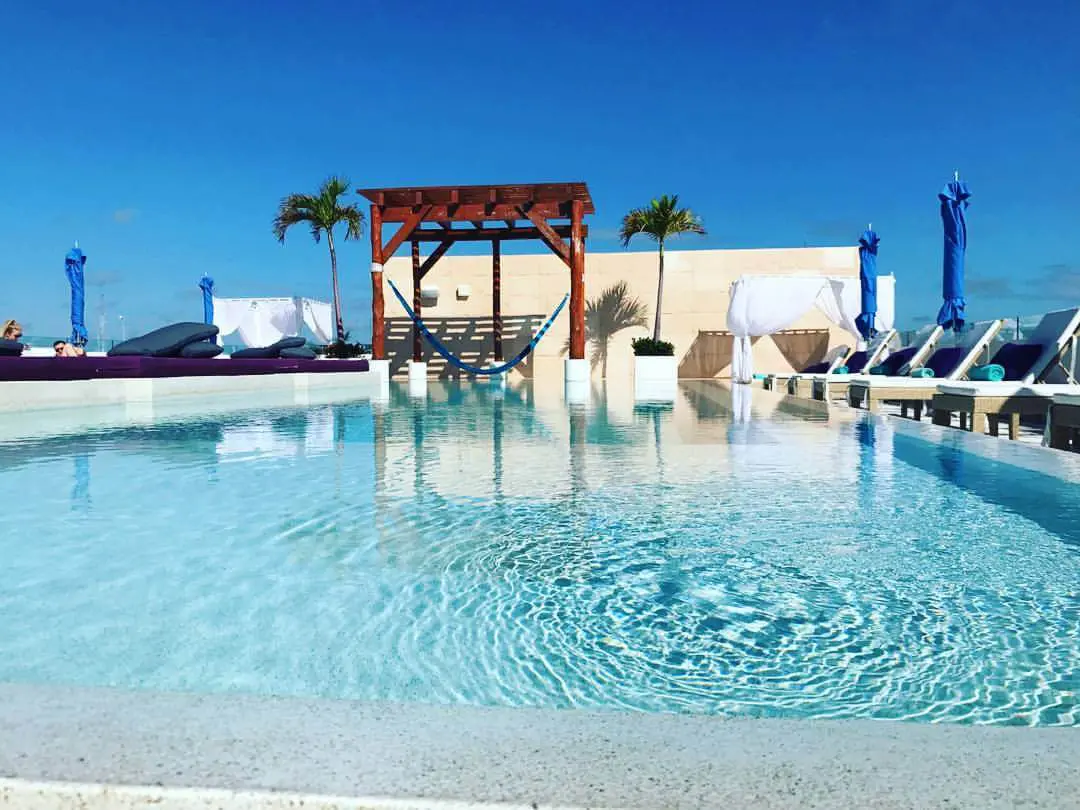 At The Palm, you can relax poolside, look out at the panoramic sea views, and sip on a refreshing cocktail all for free.
The perfect end to a long week.
Keel Restaurant & Beach Club 5pm – 8pm (FREE)
The Keel Restaurant & Beach Club is located on the beach in the award-winning The Carmen Hotel, which features an exquisite variety of innovative specialties.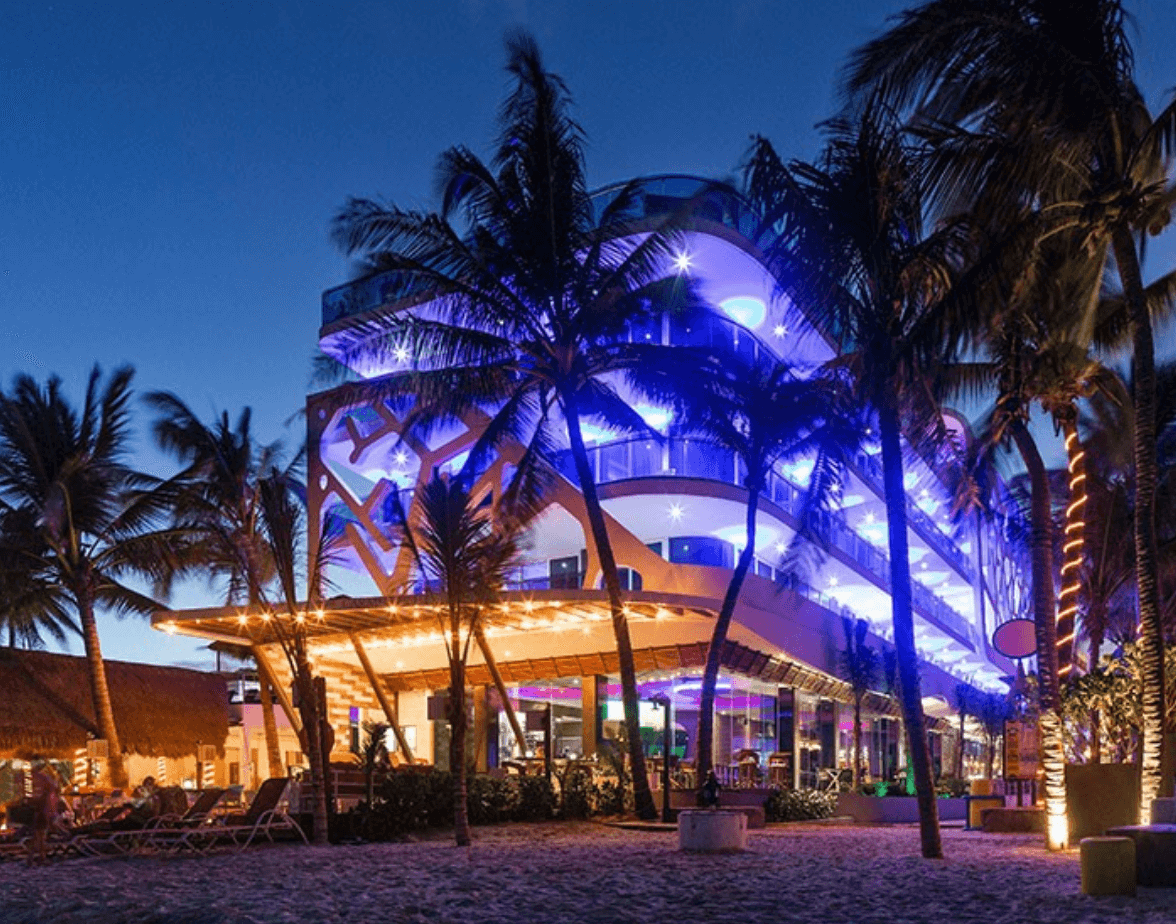 As if ladies night wasn't enough to tempt you they serve up the freshest seafood, sushi, steaks, pizza, pasta, and open-fire grilled specialties, as well as sensational Mexican cuisine and daily specials all prepared with local and organic ingredients.
6. Saturday
Soma Urban Sushi 11 pm – 1 am (FREE)
Listed above.
SushiClub 8 pm – 11 pm (FREE)
SushiClub's ladies night offer only applies to Martini's but it's one HELL of a martini!
Plus, the sushi rolls here are too good for you to miss out on. A Saturday spent here is a Saturday well spent.
There's also a rooftop pool if you wanted to spend the afternoon topping up your tan.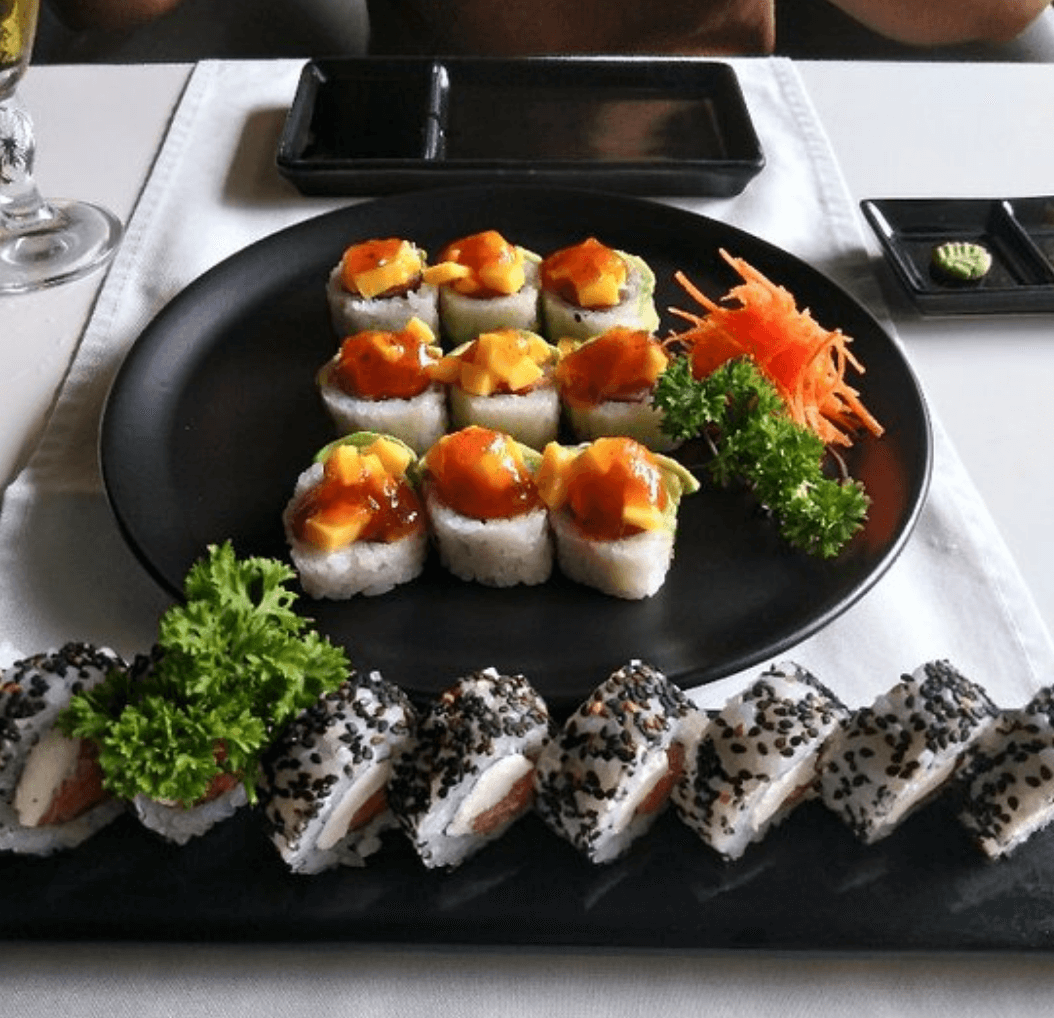 7. Sunday
Hostel 3B 2 pm – 8 pm (almost FREE)
See the weekend out with a bang!
Hostel 3B boasts a lively rooftop area with a pool, bar, and even barbecue from 3 pm.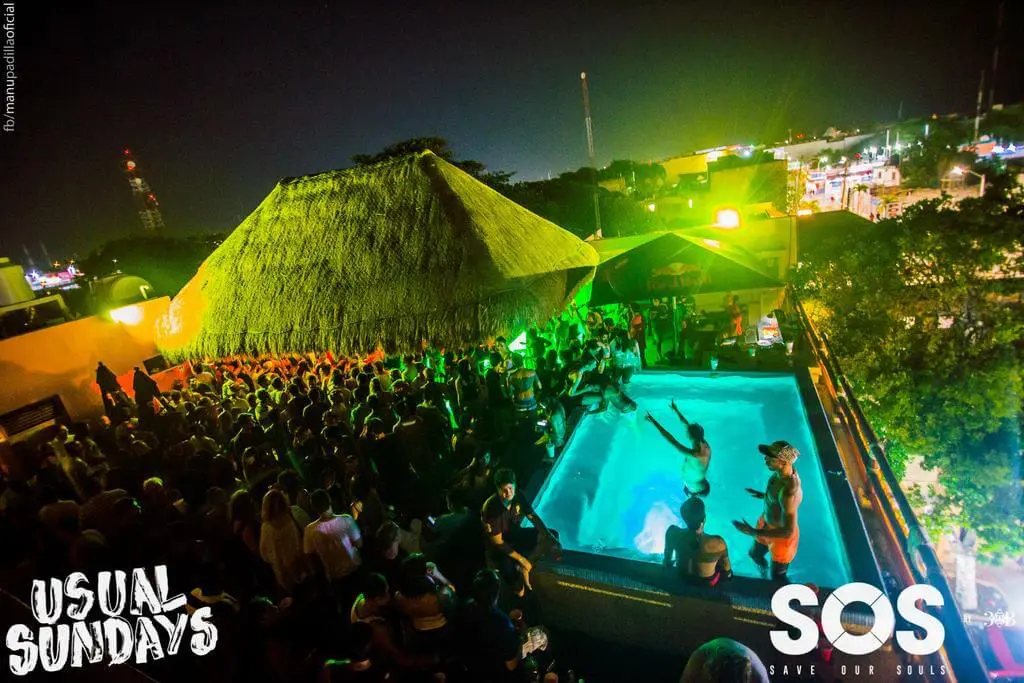 It's not quite free but for a small fee of 50 Mexican pesos you can enjoy an open bar till 8 pm, so it really does depend on how much rum you can drink between 2 pm – 8 pm.
Safe to say it's good value for money.
$50 entry buys you open bar
BBQ starts at 3!
I hope you found this blog useful be sure to SHARE it with friends and family on Facebook.
May your next trip to Mexico be magical. If you need help regarding hotels and tours be sure to get in touch with us via customercare@playadelcarmen.com to get the best perks and discounts.
Have you been to any of these ladies nights? Let me know your favorite in the comments below!
---
Trending Now
You may also like