10 Resorts With Unique Wedding Locations in the Rivera Maya
---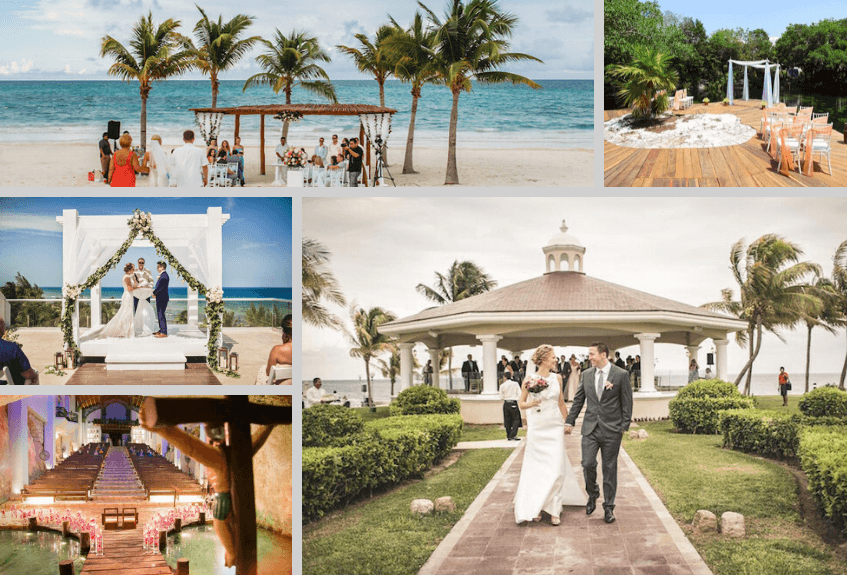 Introducing the most unique destination wedding locations (you may not have known about) in the Riviera Maya.
Stunning cenote settings
Catholic chapels 
Classic beach locations
Rooftop wedding venues
Gazebos overlooking the ocean

For each style of wedding, I've included two resorts that host this kind of setting as an example.
Hopefully, it saves you time and inspires your vision for one of the most special days of your life.
10 Resorts With Unique Locations:
Cenote Weddings
Chapel Weddings
3. Dreams Tulum
4. Hotel Xcaret
Beach Weddings
Sky Terrace Weddings
7. The Royalton Riviera Cancun
8. Azul Fives
Gazebo Weddings
9. The Hilton Playa del Carmen
10. The Moon Palace
---
1. Stunning Cenote Wedding Locations
When you first dreamt of your destination wedding in Mexico I'm confident you envisioned a pristine white beach.
Am I right?
Of course! While the signature Caribbean beach wedding is a great choice I want to present you with all the best options.
First up, we have cenotes (my personal favorites)!
Not sure what a cenote is? Read my full guide  –> here.
These beautiful crystal clear pools adorned with lush fauna and million-year-old stalactites and stalagmites make a stunning backdrop for your wedding ceremony.
I've still got to convince my boyfriend to get down on one knee but when he does this is where I'd have my wedding.
There are a few resorts and locations that have onsite cenotes in the Riviera Maya, my favorites include:
Sandos Caracol Eco Resort
At the Sandos Caracol Eco Resort, your wedding guests will be immersed in the Mexican jungle and natural scenery on the Cenote Cristalino deck.
In terms of getting the most bang for your buck, this family-friendly resort is up there at the top of the list.

For guests with and without children, they will have the choice of different room categories to suit their needs.
Other bonuses to have your wedding here include:
You can organize to plant a tree to honor your special day.
You can have live Mayan drum music during the ceremony.
Temazcal ritual available for the newlywed couple in the Sandos Spa.
Wedding packages for 30 people start at $3150 USD (prices subject to change slightly year on year).
For more info on this hotel read my in-depth hotel review on the Sandos Caracol here.
Hacienda Tres Rios
Tres Rios is a family-friendly option that can make all of your destination wedding dreams come true!
Their basic wedding package includes an officiant for the ceremony, the bride's bouquet and the groom's boutonnière, a gazebo and chairs for guests, a centerpiece for the wedding table, music, a microphone and speakers for the ceremony, a champagne toast and the wedding cake.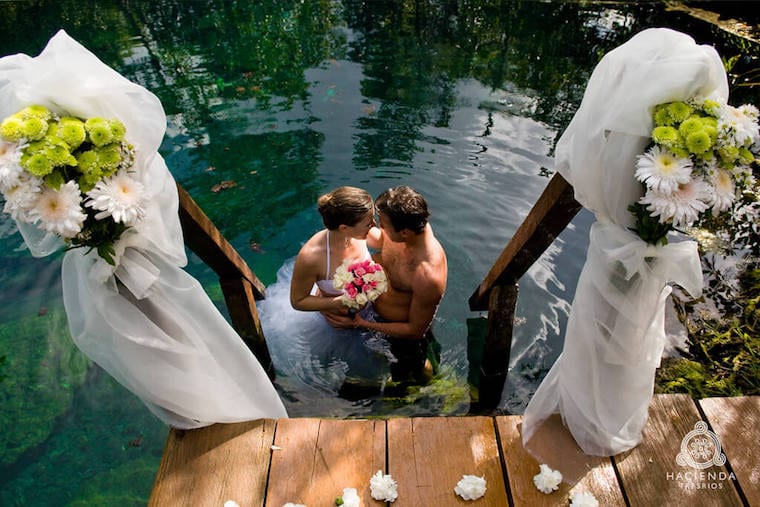 Couples also receive an upgrade to a Casa Grande One-Bedroom Suite.
Great value for money!
The cenote location here is a smaller the Sandos Caracol but still just as magical.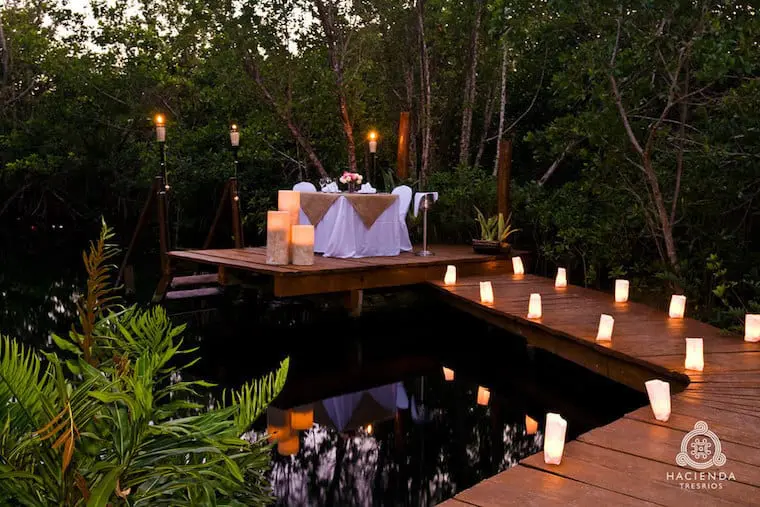 Providing the perfect and most unique photo opportunities for your wedding album.
A wedding package for a maximum of 20 people at Tres Rios starts at around $3000 USD (prices subject to change).
2. Gorgeous Religious Chapels – Riviera Maya
If you want to enjoy the climate and surroundings of the Caribbean without compromising on the religious aspect of your wedding, you'll be pleased to know there's an array of gorgeous chapels to choose from in the Riviera Maya.
This region of Mexico is home to a strong catholic community,  so it's no wonder the best resorts incorporated chapels into their design.
Dreams Tulum
This 5* family-friendly resort possesses a unique Mexican Hacienda vibe without compromising on all of the modern luxuries we've become accustomed to while on vacay.
In regards to food, activities, service, and lush grounds it exceeds all expectations.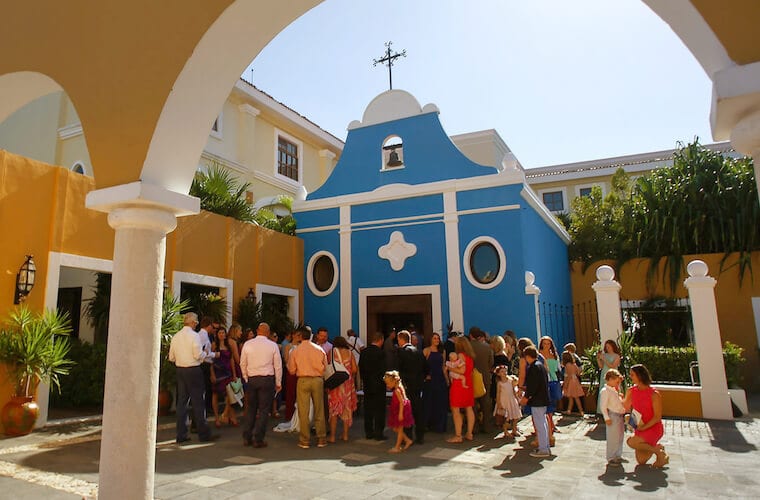 Boasting 6 restaurants, 24-hour room service, and 7 bars rest assured there will be something for everyone.
Only minutes from the famous Mayan Ruins, it puts you in a perfect position to explore the best the area has to offer.
Wedding packages at Dreams Tulum for up to 20 guests start at around $3000 USD (prices subject to change).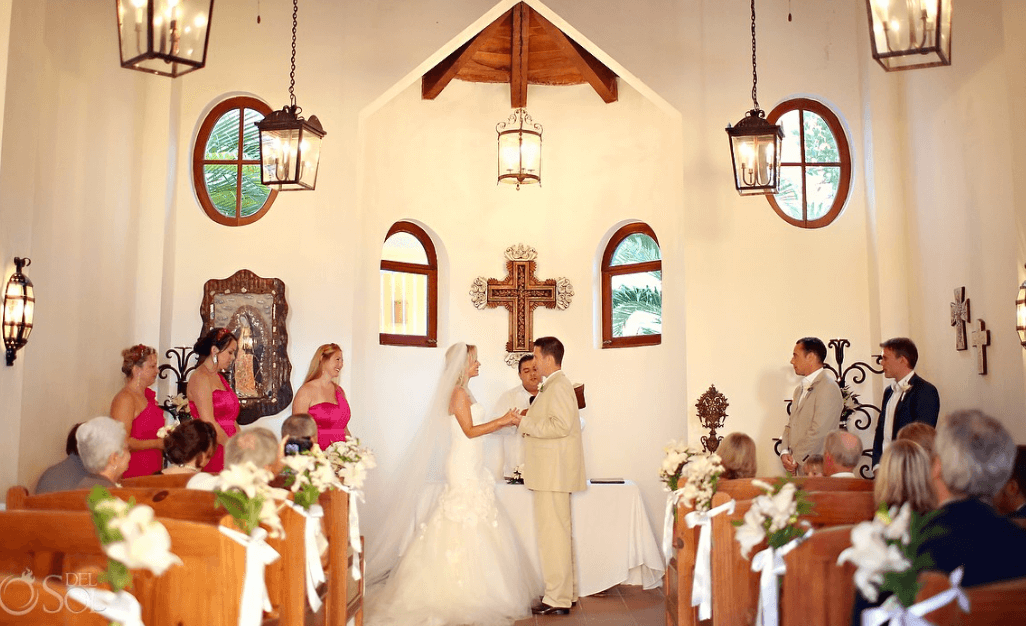 Hotel Xcaret
For the ultimate cultural wedding considering the chapel of Our Lady of Guadalupe at Xcaret is a must.
Here you will find a vast collection of images of the Virgin that came from all over Mexico.
Near the entrance, you'll testify your devotion of Mexico for the Virgin of Guadalupe, and as you approach the altar, you will notice the figure of the Virgin of Guadalupe, magnificently carved on a 12-meters (39.3 ft) tall log.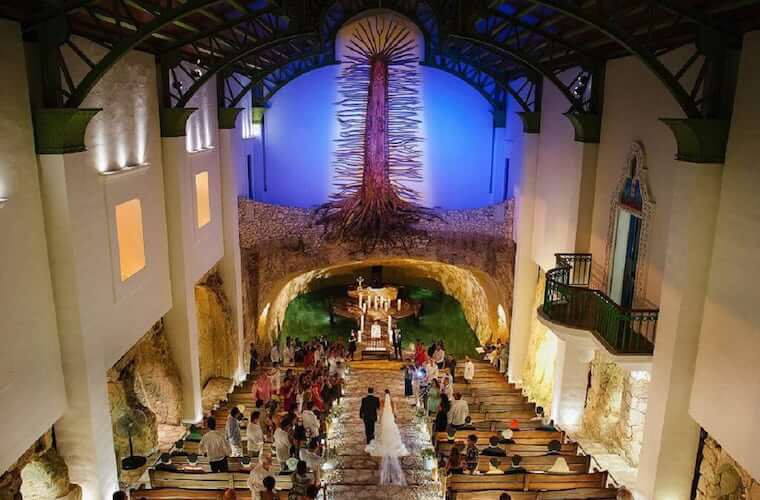 Looking down, in a small cave below the statue of the virgin, you will see a stone altar that seems to float on the waters of a cenote. It's a cenote and chapel all rolled into one. What more could you ask for?
Xcaret is every nature-loving couple's dream – and it's family-friendly too.
There is a wide range of cocktail and reception locations too.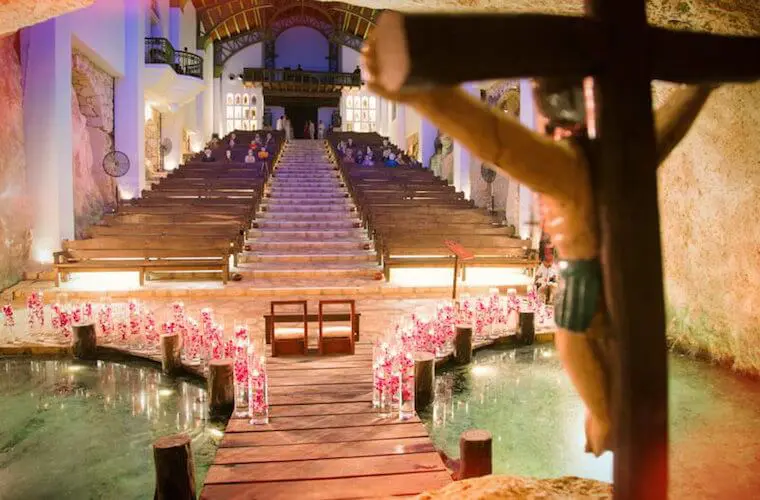 Prices to book this particular chapel start at  $1,714.00 USD and it has a whopping capacity of 200 people!
Both chapels listed above mean your wedding will have a degree of official recognition to the Catholic church.
3. Best Beach Wedding Locations
Let's be real here, the whole reason you decided on a destination wedding in the first place is probably that you saw a gorgeous picture of a couple on a picturesque beach, and thought "I want that".
Well, let me tell you…YOU can have that!
Less is more in my opinion. However, not all beaches were created equal and luckily you've got me here guiding you down the path of the creme de la creme.
Secrets Maroma
Behold, some adults-only luxury! Hallejuah.
Secrets Maroma Beach Riviera Cancun is tucked away on secluded Maroma Beach, voted the World's Best Beach by the Travel Channel four years in a row.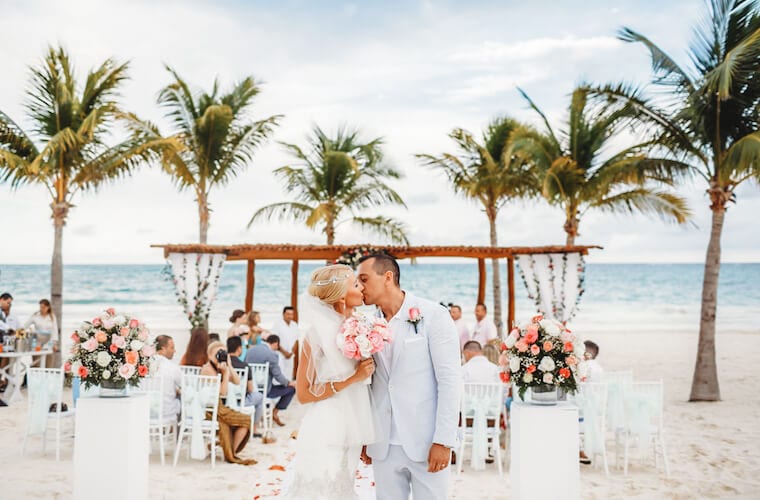 It's perhaps the widest stretch of sand I've yet to see here in the Riviera Maya, making it the perfect backdrop for your wedding.
Beach packages include beach pergola, wedding drapery, and decorations to suit your tastes.
Secrets Maroma offers South Asian Weddings too.
Read my in-depth review of this hotel –> here.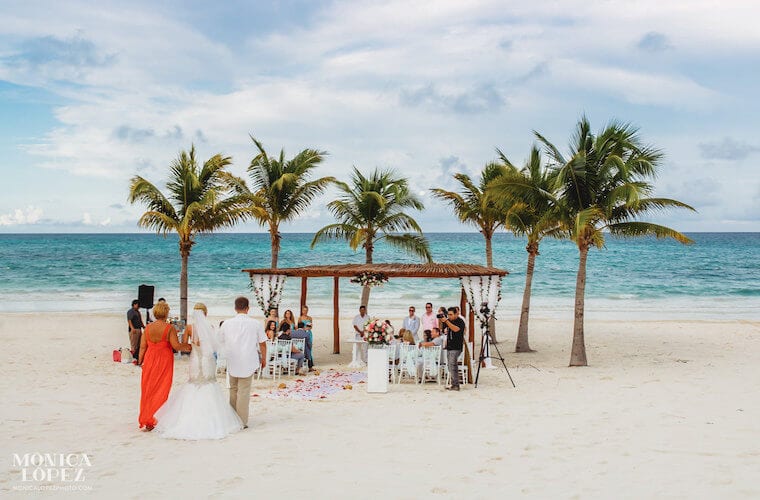 Wedding packages for up to 30 guests start at around $3339 USD (prices subject to change year on year).
Grand Palladium
Grand Palladium Riviera Maya is a gorgeous family-friendly option with 800 meters of stunning oceanfront beach.
It's extremely well maintained and very naturally beautiful!
I rate this beach an A+ which puts it at the top of beaches at all-inclusive hotels in this region.
This resort offers flexibility to tailor every detail to your wishes.
Grand Palladium partnered with wedding designer Karen Bussen to create collections to suit your vision.
Do you envision a breezy, barefoot celebration, or something more glamorous and sparkly? They've got it all.
Once you've chosen your collection you can mix and match colors, bouquets, chairs, and fabric to create a one-of-a-kind wedding style.
Expect an eco-friendly attitude, 5* luxury, and unmatched amenities at this hotel!
Wedding packages for up to 25 people at this resort start at $2300 USD (prices subject to change).
4. Sky Terraces & Rooftop Venues
If your love makes you feel like you can touch the sky, then consider a sky terrace for your wedding ceremony.
These locations are often much more breezy, boast stunning panoramic views,  and feel incredibly elegant!
A popular choice amongst brides / grooms-to-be.
The Royalton Riviera Cancun
This sky terrace, in my opinion, is unrivaled.
You can add it on to any wedding package at The Royalton Riviera Cancun for just $1500 USD.
It's accessible via elevator and complete with private washrooms.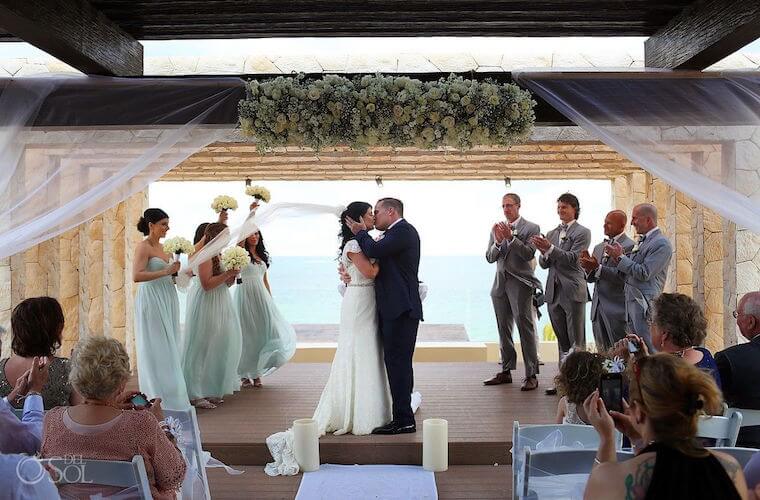 If you're planning a sky wedding at The Royalton Riviera Cancun I'd recommend selecting the Signature Mexican Experience as a unique add-on package.
Give your guests a true taste of Mexico! You won't regret it. 
Plus, this hotel has adult-only and kid-friendly options to suit all of your guests.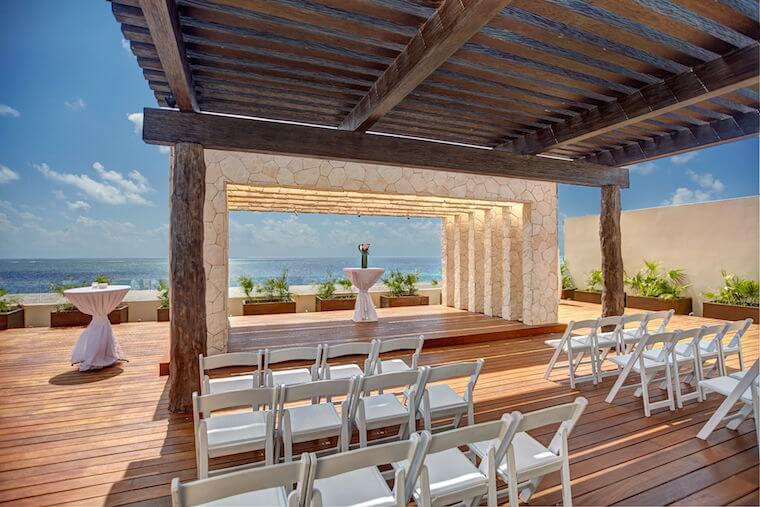 Wedding packages at the Royalton Riviera Cancun for up to 20 guests start at $4900 USD (prices subject to change).
Azul Fives
Another option available with both adult-only and kid-friendly sections.
If you want breathtaking ocean views when you say the words "I do", look no further because Azul Fives delivers!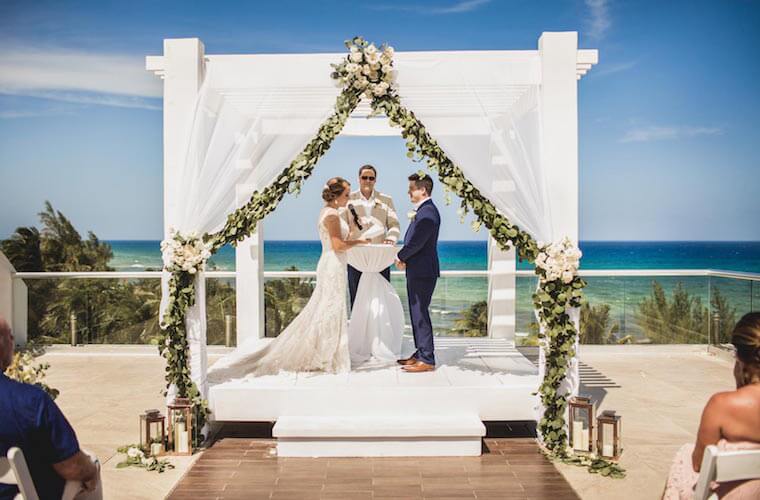 You can add the sky terrace location on to any of their packages for just $1800 USD.
Rooms range from $150 – $230 per person per night.
Azul leaves no detail unturned, you can relax knowing everything will be just as you envisioned.
Best of all children under 3 stay free!
The base package at this hotel costs just  $1250 and includes up to 40 guests (prices subject to change).
5. Oceanfront Gazebos
Oceanfront Gazebos offer welcome shade from the sun and often provides completely private or semi-private locations for your wedding ceremony.
The Hilton Playa del Carmen
One of my all-time favorite oceanfront Gazebos is right here in Playa del Carmen.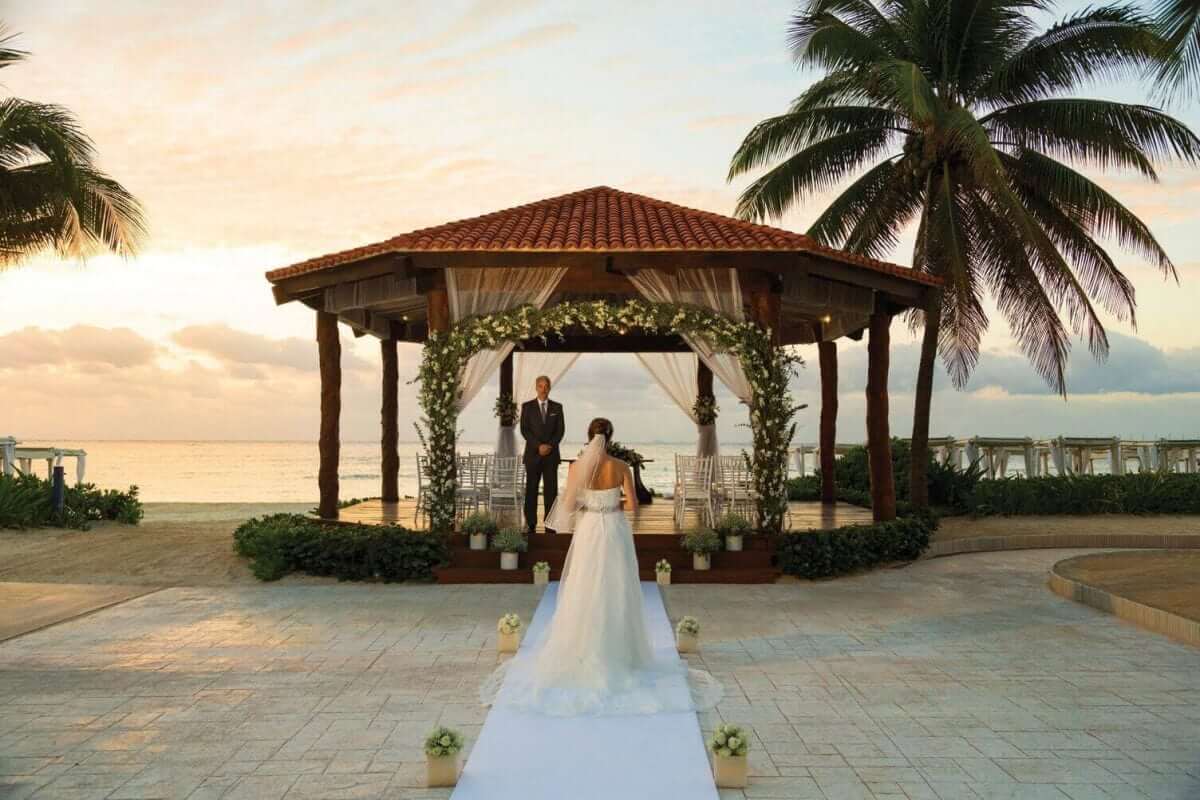 This particular hotel does an extremely decadent and stylish job of adorning and decorating the structure so it looks like something out of a fairytale.
Situated in the heart of Playa del Carmen this adults-only hotel is just footsteps away from 5th avenue.
Having your wedding here would put you in the heart of all the action.
With a wonderful array of shops, restaurants, and bars just seconds away.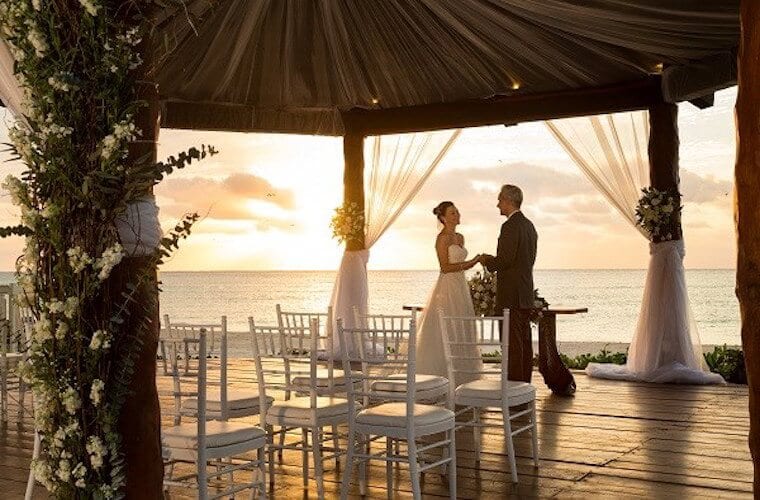 The Gazebo offers a semi-private location for your wedding ceremony directly overlooking the ocean.
Wedding packages at the Hilton in Playa del Carmen start from $4245 USD for up to 20 guests (prices subject to change slightly).
Read my full in-depth review from my stay at the Hilton here. I even made a video for you to enjoy.
The Moon Palace
The Moon Palace Cancun has to be one of the largest resorts in the Riviera Maya and Cancun area.
With over 2000 rooms and 4 complexes, it offers something for everyone.
Sunrise
Nizuc
The newly re-opened and more luxurious Grand.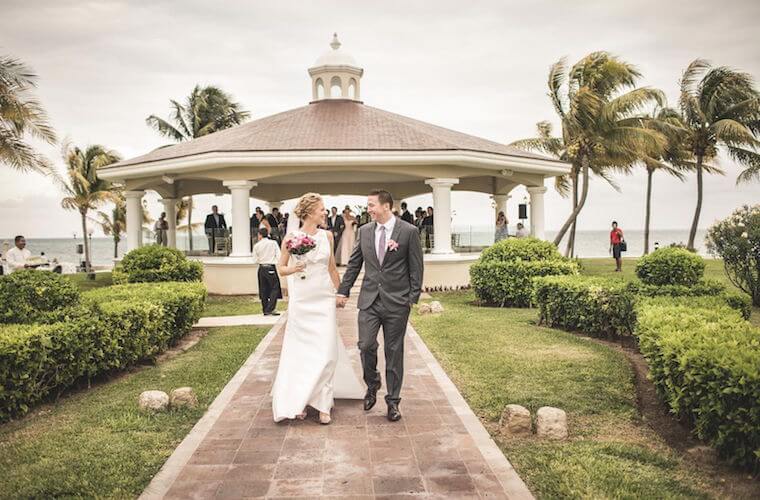 Forget the incredibly stunning oceanfront gazebo for a minute and consider that they even have a horse-drawn carriage and other options you cannot find at other all-inclusive resorts.
One of the reasons this hotel is so popular is because they offer great group discounts and perks.
The resort credit can be used towards your wedding package.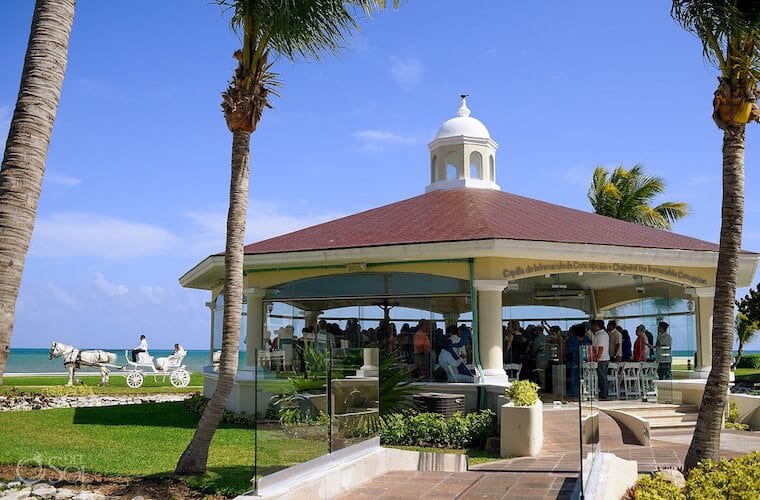 Wedding packages at the Moon Palace Resort in Cancun start from $2115 USD for up to 30 guests (prices subject to change slightly).
Start Planning Now!
Choosing the perfect location is meant to be fun, not exhausting!
We're here to help 🙂 and love nothing more than curating dream destination weddings.
Our incredible team here at  Playa del Carmen Wedding can help you get organized.
We know the location and the resorts better than anyone.
Get the experts on your side and bring your vision to life.
Connect with us at weddings@playadelcarmen.com
Or
Call us on our toll-free number 888-537-9797.
---
Trending Now