AKUMAL 2023 | 10 Things to Know When Planning Your Trip
---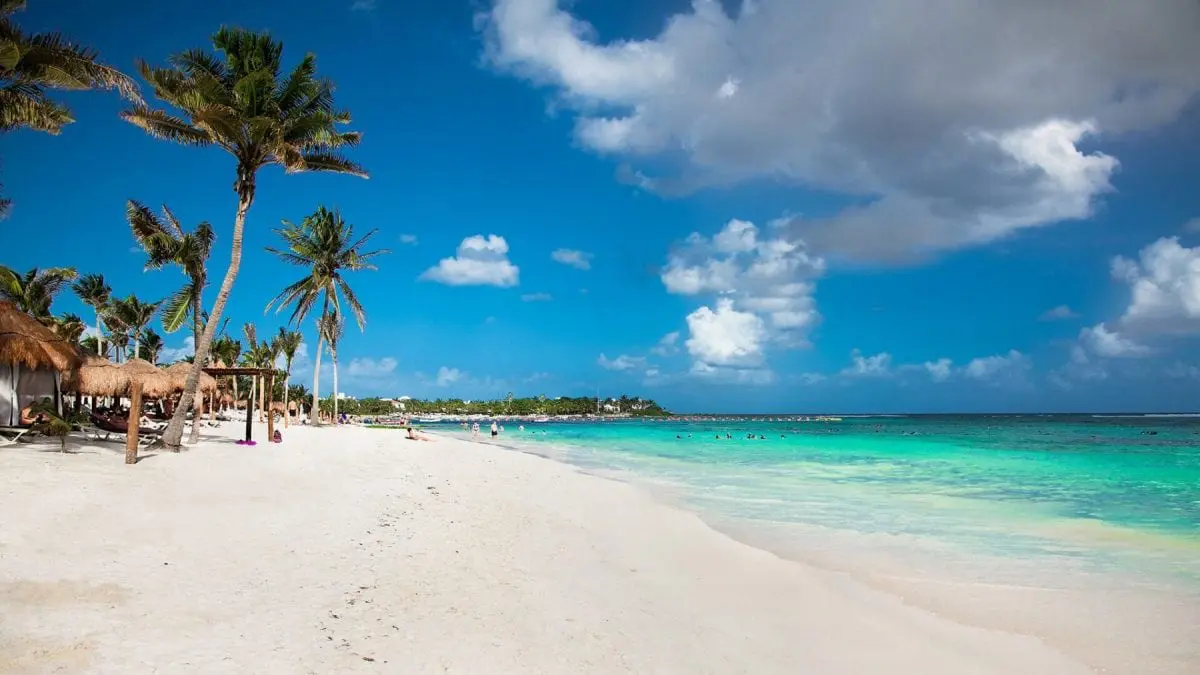 So, you want to visit Akumal…
Who can blame you? I mean, have you SEEN the pictures?
It's paradise epitomized.
Akumal (or Place of the Turtles as it's locally known) is one of the Yucatan's oldest coastal resort areas.
Characterized by sublime beaches, stunning accommodations, and an array of natural wonders, it's the perfect place to visit during your next vacation.
You don't want to miss it!
Here at PlayaDelCarmen.Com, we're the experts when it comes to navigating this region.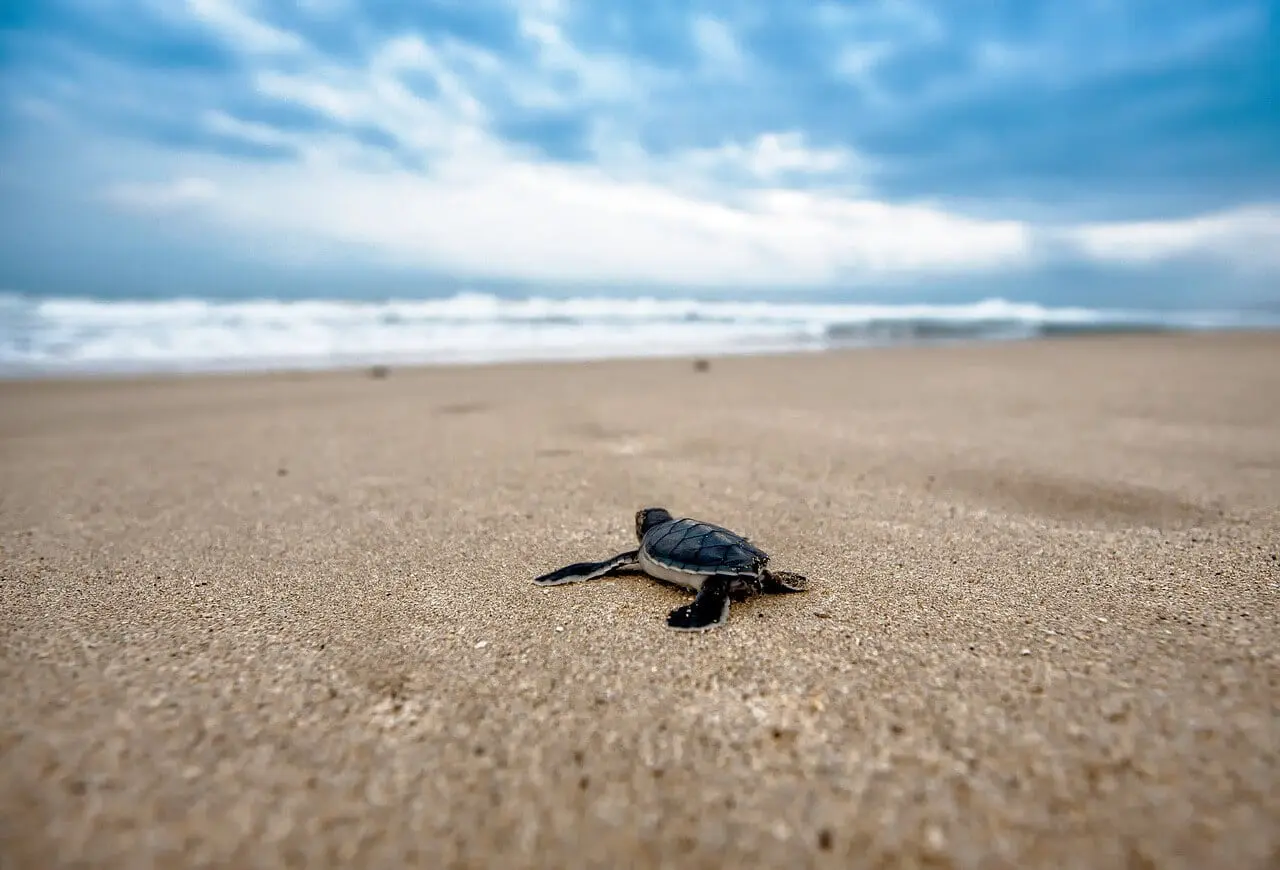 10 Things to Know When Planning Your Trip
Don't forget to share this post with fellow travelers, and leave your thoughts in the comment section below, we would love to hear from you. 🙂
---
1. Where is Akumal?
Akumal is located on Mexico's Riviera Maya, at the heart of the Yucatan Peninsula.
Celebrated for its white sands, coral reefs, warm water and rich marine life it's popular with tourists from around the world.
Located 100 km south of Cancun, between the towns of Playa del Carmen and Tulum it's a prime location for your next vacation.
Choosing Akumal means that you will be within close proximity to all of the regions top attractions.
If you are worried about how to get there, fear not, we're here to help!

How to get to Akumal
Private Shuttle or Transfer – we can arrange this for you and ensure you get the best deal. See our price list here.
Take a Taxi – price to be decided with the driver before you get in to avoid any unexpected surprises.
Rent a Car – we've hand selected the best company to best company to rent cars from in the region (you're welcome).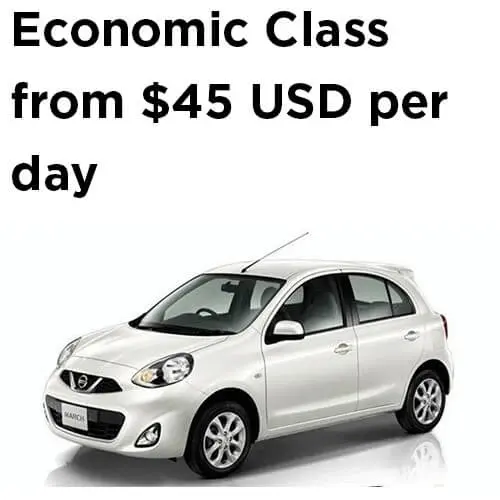 It is possible to get the bus to Akumal by taking the ADO to Playa del Carmen and then jumping in a collectivo.
However, this is not something we recommend when carrying luggage.
Collectivos are very small and aren't always air-conditioned.
2. Beaches and Bays in Akumal
There's an 80% chance that those idyllic photographs of the Caribbean that you've stared at in awe over the years were taken in Akumal.
It's no wonder the sugary white beaches and beautiful bays entice 1000s of tourists like you each year.
Even during the development of the town, the beaches remain as glorious as ever.
The best bit?
Beaches are big and wide meaning there's room for everyone without it feeling overcrowded.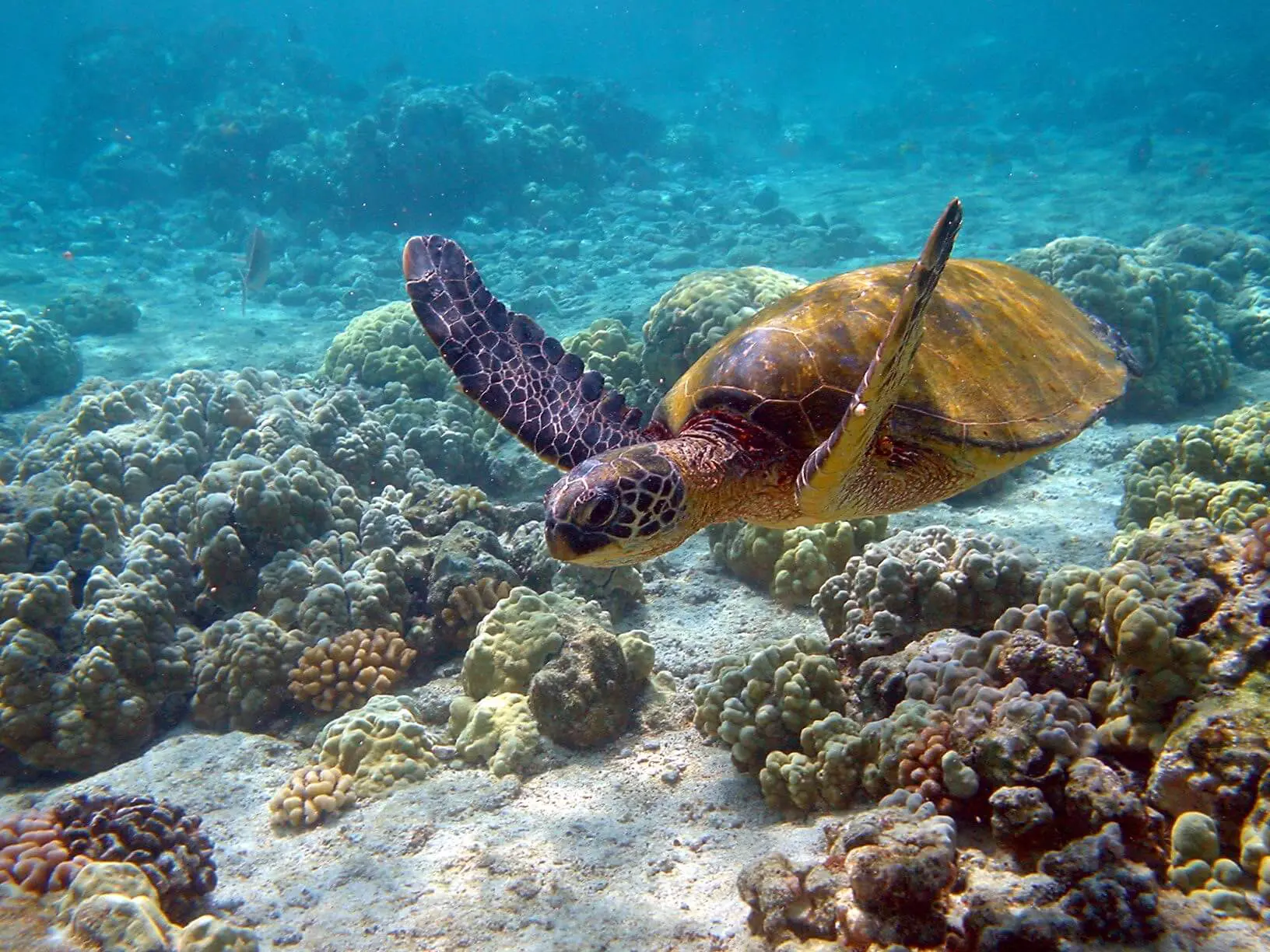 For the most part, Akumal's gorgeous beaches laregly encompass "Las Bahias de Akumal", a series of five bays starting to the south of Yal-Ku Lagoon (teeming with colorful tropical fish, plus stingrays and barracudas),  with North Akumal Beach and ending at Aventuras Akumal to the south.
 Inland, Aktun Chen Parque Natural is known for its caves, cenotes (freshwater pools) and underground river.
1. Central Akumal Beach
Central Akumal beach is at the heart of all other beaches. These pristine sands are lined with beachside shops, restaurants, dive shops, and homey beachfront accommodations.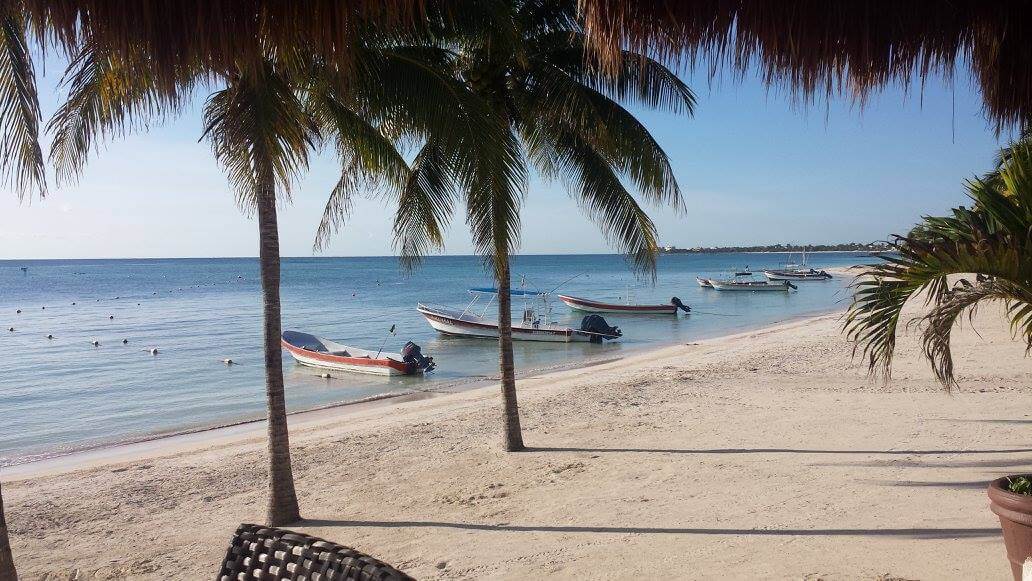 A local favorite is Lol Ha Restaurant and Beach Bar. Here you can watch local sports and enjoy a delicious dinner by the water.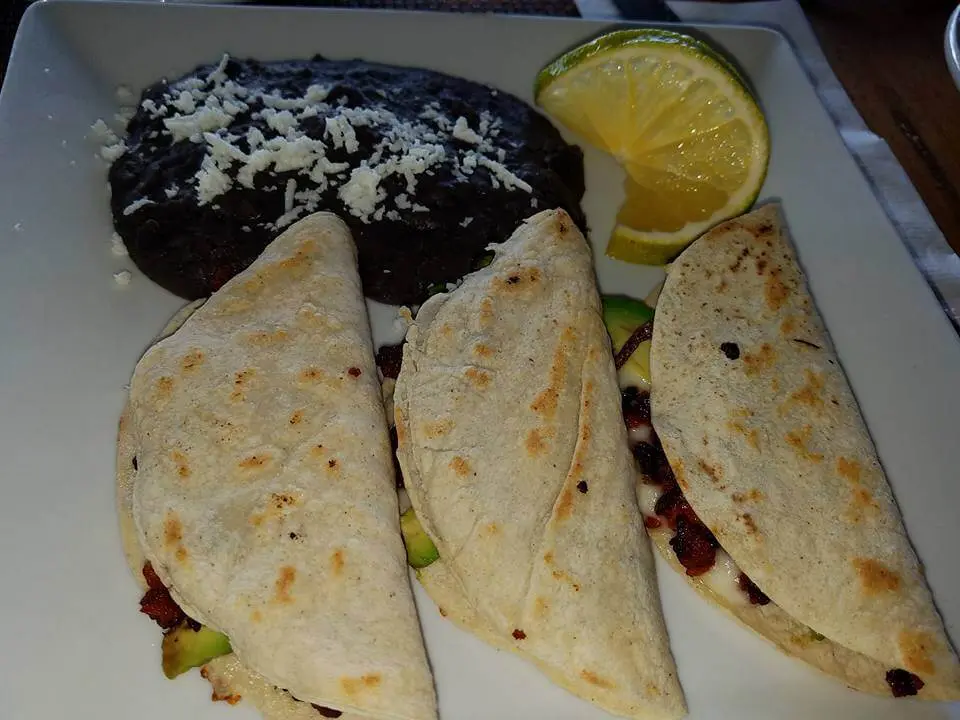 2. North Akumal Beach
This particular beach is close to Yalk-Ku Lagoon.
It's still technically 'Akumal', but the North Beaches stretches around Half Moon Bay. The bay waters are perfect if you have children as they are shallow and calm, protected by a reef break.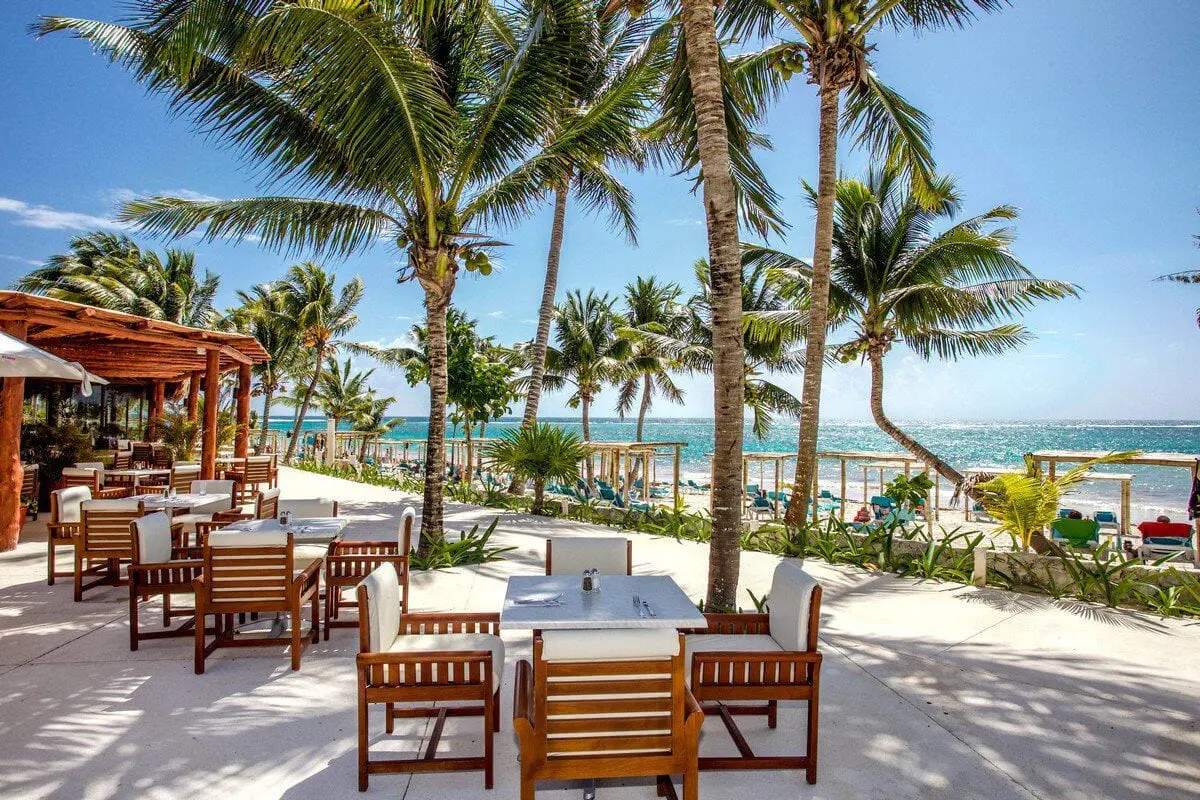 Because it's so close to Yal-Ku (a freshwater river that runs out to sea) North Akumal is a haven for snorkellers and scuba divers searching for tropical fish, turtles, and coral beds.
3. Jade Bay
South of main Akumal you will find a number of residential communities nestled along the shoreline of Jade Bay, South Akumal, and Akumal Aventuras.
These beautiful 3 bays feature beautiful beachfront villas and stylish condos.
There's nothing quite like walking the curve of the bay admiring the beachfront properties and their front yards.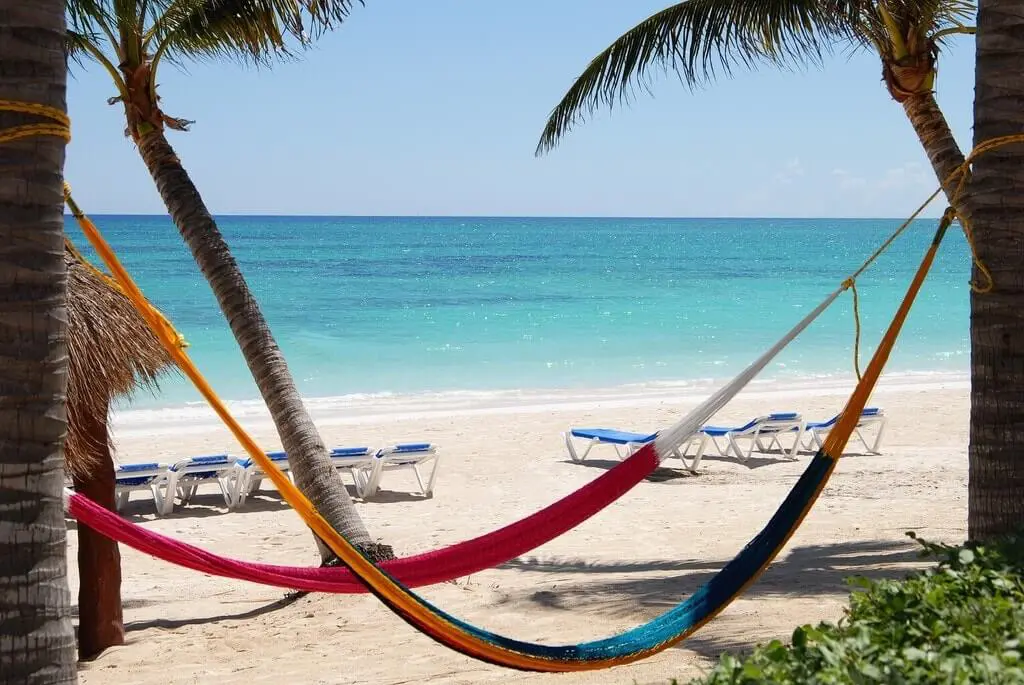 Getting to The Different Beaches in Akumal
So, you may be wondering how you get to each of these different beaches?
Each beach can be accessed through different entrances on the highway.
To get to Central Akumal take the Akumal exit sign on the highway, go through the arch and follow signs to Lol Ha Restaurant.
If you want to head to North Akumal beaches take the same exit but instead of following signs to Lol Ha bear left at the arch and follow the windy road to Yal-Ku.
For South Akumal, the entrance from the highway is different. It has a large gate indicating the entrance into this more remote beach destination.
Our Top Tips When Visiting Akumal Beaches
Foot protection is recommended in some areas so you may want to take water shoes.
Snorkeling and swimming are recommended in Akumal.
Do not trample any raised mounds of sand (they could be turtle nests).
Have your snorkel gear handy so you can see Akumal turtles.

3. Hotels
There is a multitude of hotels and condos in the area that our Expert Travel Planners here at PlayaDelCarmen.Com would be happy to discuss with you. 🙂
Obviously, we can't cover them all in this post. However, I've hand-selected my top 3 all-inclusive hotels for you to take a look at.
1. Secrets Akumal
Adults-Only | ★★★★★
Secrets Akumal is one of the newest hotels in the area. The grand opening was unveiled in November of 2015 and boasts an adults-only all-inclusive, luxurious environment.
Overview:
✓ 434 suites
✓ 3 swimming pools
✓ 9 restaurants
✓ 6 bars and lounges
✓ Spa
✓ Fitness Center
✓ Group Events
✓ Destination Weddings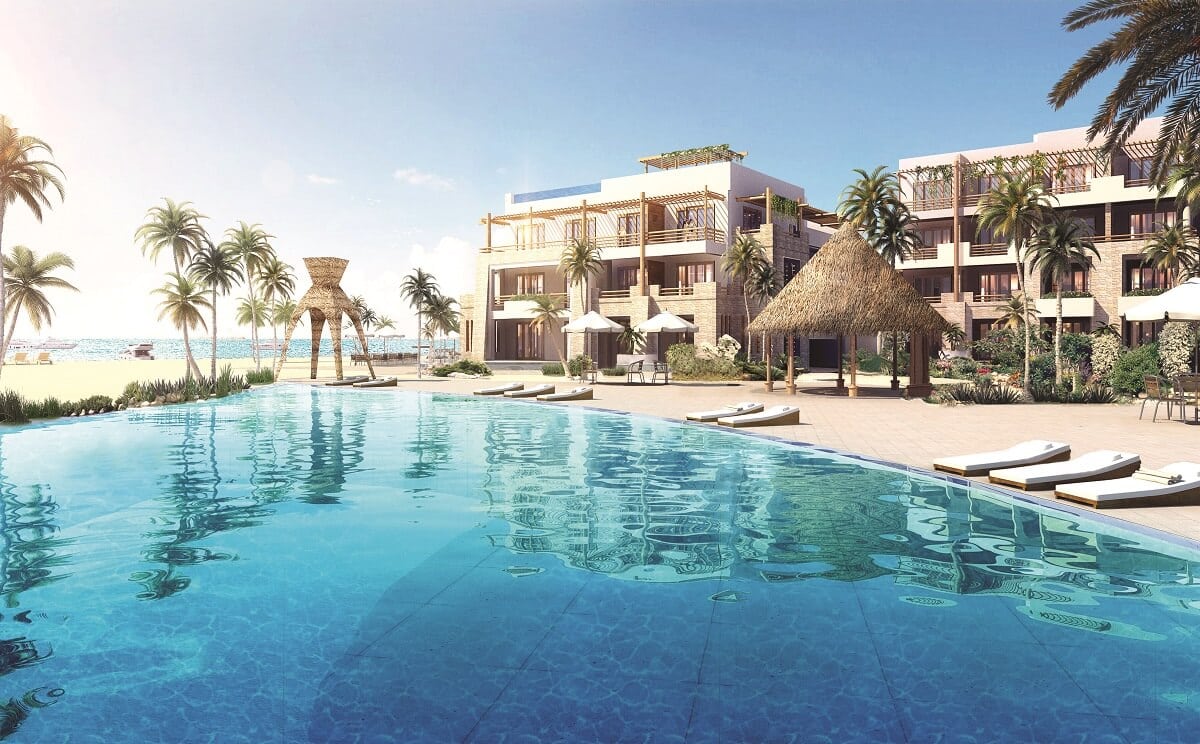 Each of the suites come with a balcony or terrace, one king bed or two double beds, and a double Jacuzzi. You can enjoy plush amenities such as a mini-bar, 24-hour room service, FREE Wifi, and more!
Different views are available depending on which room category you can book. This is something our expert Travel Planners here at PlayaDelCarmen.Com can help you with.
There are 9 restaurants on-site offering everything from Italian food to Asian.
This hotel boasts an array of daily activities, games, sports, and nightly entertainment such as:
Yoga
Paddle Boarding
Snorkeling and sailing
Beach and Water volleyball
Cocktail making classes
Archery
and much much more!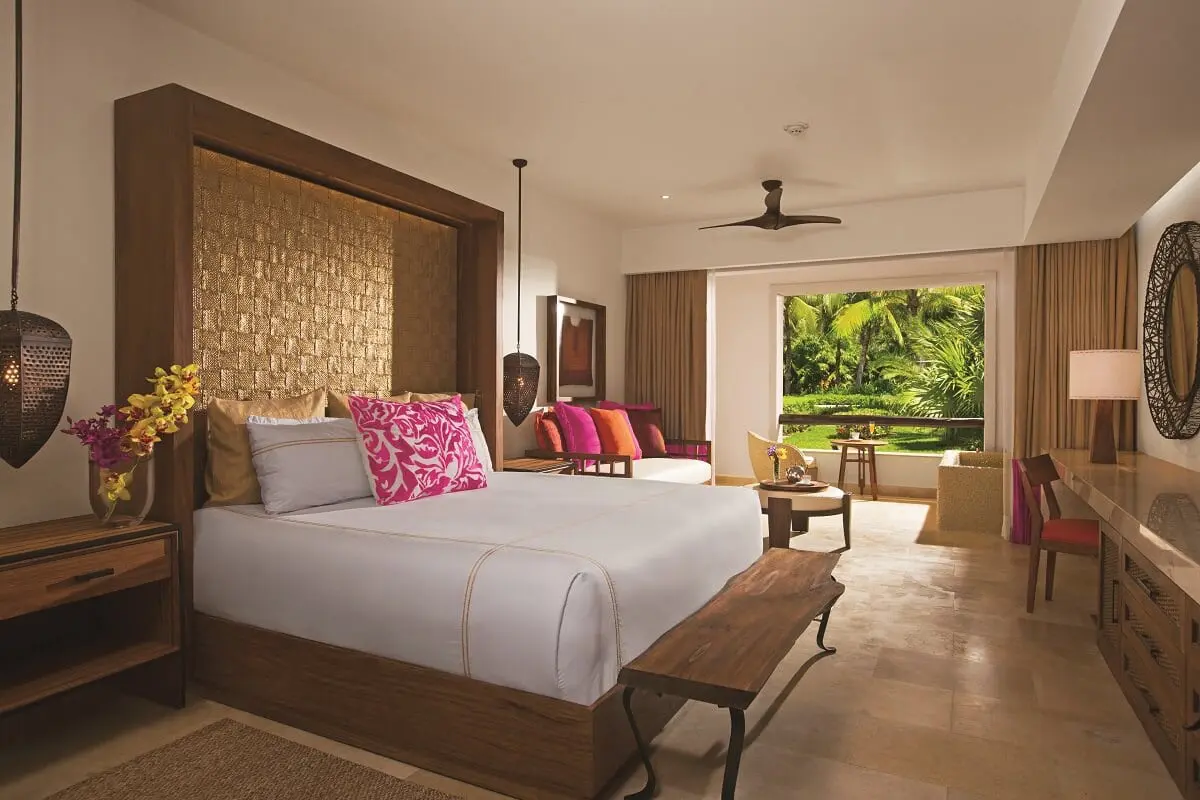 2. Grand Bahia Principe Akumal
Kid-Friendly | ★★★★
At the Grand Bahia Principe expect world-class service, lavish accommodations, and endless entertainment activities the whole family can enjoy!
Overview:
✓ 630 rooms
✓ 2 pools
✓ 4 restaurants
✓ 9 bars
✓ Spa
✓ Golf
✓ Waterpark
First off this hotel is HUGE! Fear not,  golf buggies are always on hand to quickly whisk you off to where you want to go.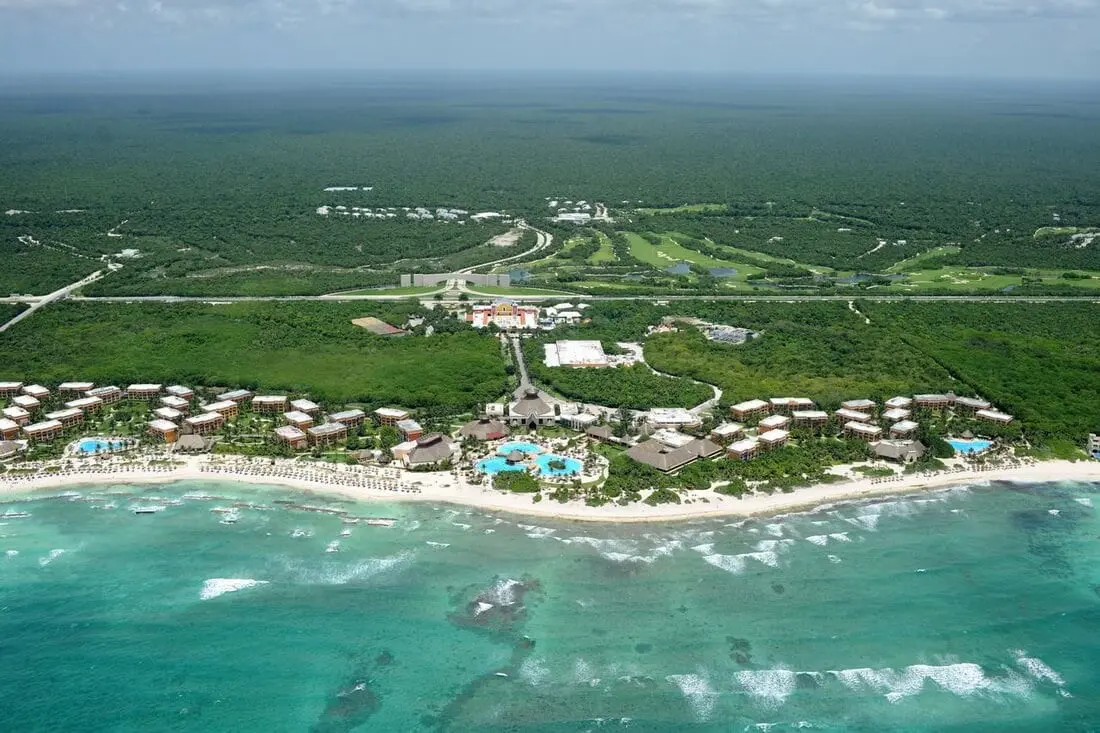 This hotel is perched neatly on the pristine sands of your very own private beach.
It offers a serene tropical getaway with all the luxury amenities you've become accustomed to while on vacation.
Refresh in one of the many pools, or take the kids over to the nearby water park! We all know how kids slides can often make or break a vacation!
You can even test your skills on the open water with a catamaran, kayak or snorkel gear.
Golfers can indulge in a round of golf, or if you feel like a little pampering treat yourself to a mud massage at the spa.
And if that's not enough to do, jump on the mini-train to explore and take advantage of the facilities at the other resorts located take in the Bahia Principe Resort Complex.
Junior suites come as standard.
Expect butler service, indulgent pillow menus, and mini-fridge always fully stocked for the kids. Other amenities include air conditioning, a mini-bar, satellite television, balcony or terrace, iron, safe and a hairdryer.
 Book an Oceanfront Suite for striking sea views.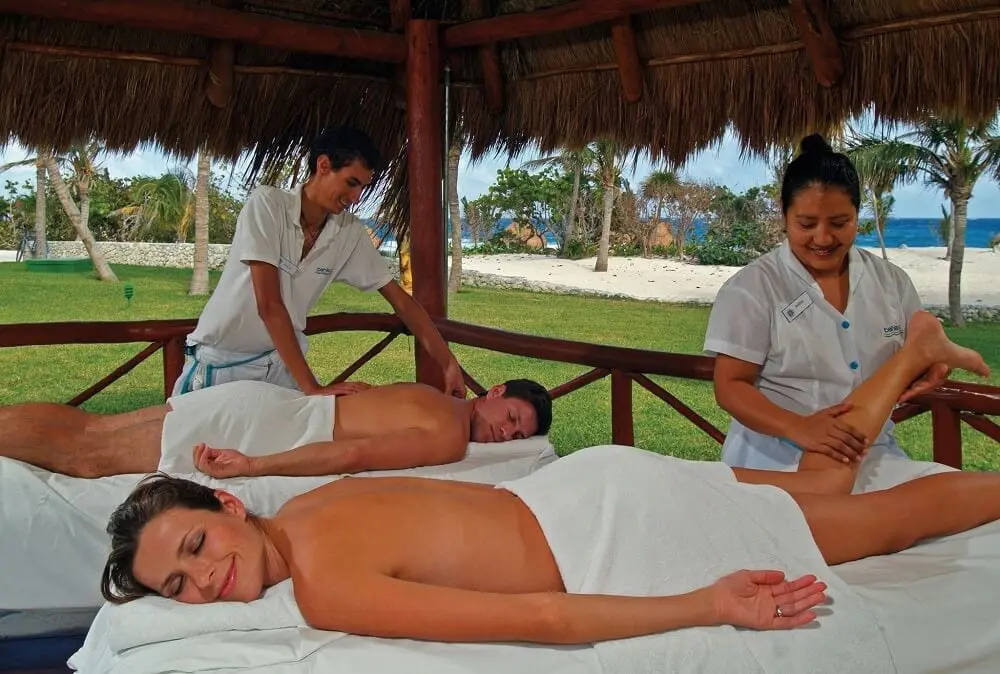 The 4 restaurants offer an array of choices from steak to seafood to chicken to pasta. Whether dining buffet style or a la carte, the menus at each restaurant offer something for everyone. A 24-hour snack bar is also available to satisfy the late night cravings.
Sports and activities at this hotel include things like:
Kayaks
Catamarans
Windsurfing and boogie boards
Snorkeling
Soccer
Basketball
Volleyball
Tennis
Table Tennis
And much more!
3. Akumal Bay Beach & Wellness Resort
Kid-Friendly | ★★★★
The Akumal Bay Beach and Wellness Resort offer world-class snorkeling, swimming and dining options in a quiet and laid-back beach community.
Overview:
✓ 310 Rooms
✓ 6 Restaurants
✓ 5 Bars
✓ 3 Pools, including a kid's pool
✓ Fitness Center
✓ Kids Club
✓ Spa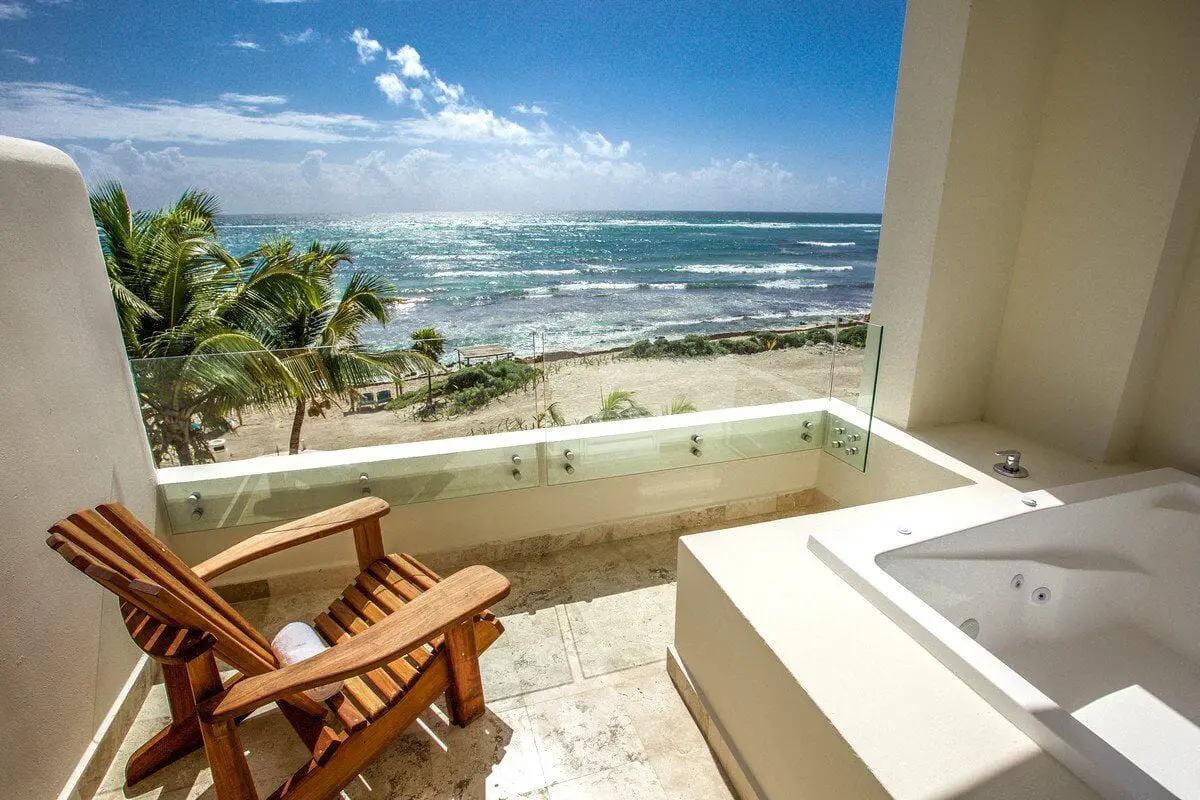 Recently renovated this all-inclusive resort is made up entirely of ocean-front junior suites, so you are guaranteed a great view along with your private terrace or balcony.
Family-friendly activities and services at the resort include bike-riding, a kid's club and kid's pool and organized entertainment and games.
There are a number of pools and restaurants, plus a large wellness center, but the resort is still small enough to maintain its charm and personalized service.
Suites all come with a private living area, terrace or balcony, king bed or two double beds,  air conditioning, ceiling fan, 24-hour room service, minibar, bathrobe and slippers, a pillow menu, hairdryer, cable TV and an in-room safe.
In addition to the 24-hour room service, there is an international buffet and several a la carte restaurants that offer up Mexican, French, Asian and Brazilian flavors, plus a snack bar.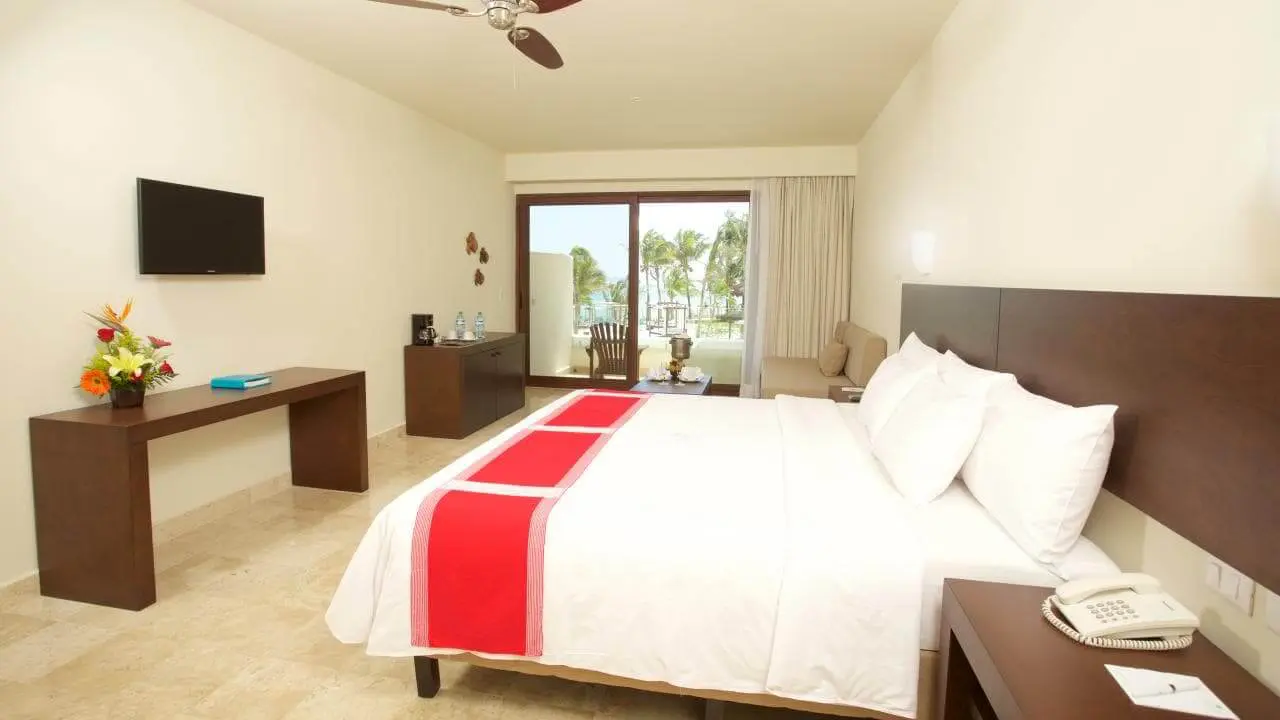 Sports and activities at this hotel include things like:
Snorkeling
Paddle Boards
Beach Volleyball
Yoga
Meditation
Archery
Ping Pong
4. Destination Weddings in Akumal
Thinking about planning a destination wedding in Akumal?
We can help! Our expert Wedding Planners here at PlayaDelCarmen.Com organize 100s of weddings in the region each year.
Contact us at Playa del Carmen Weddings for more details.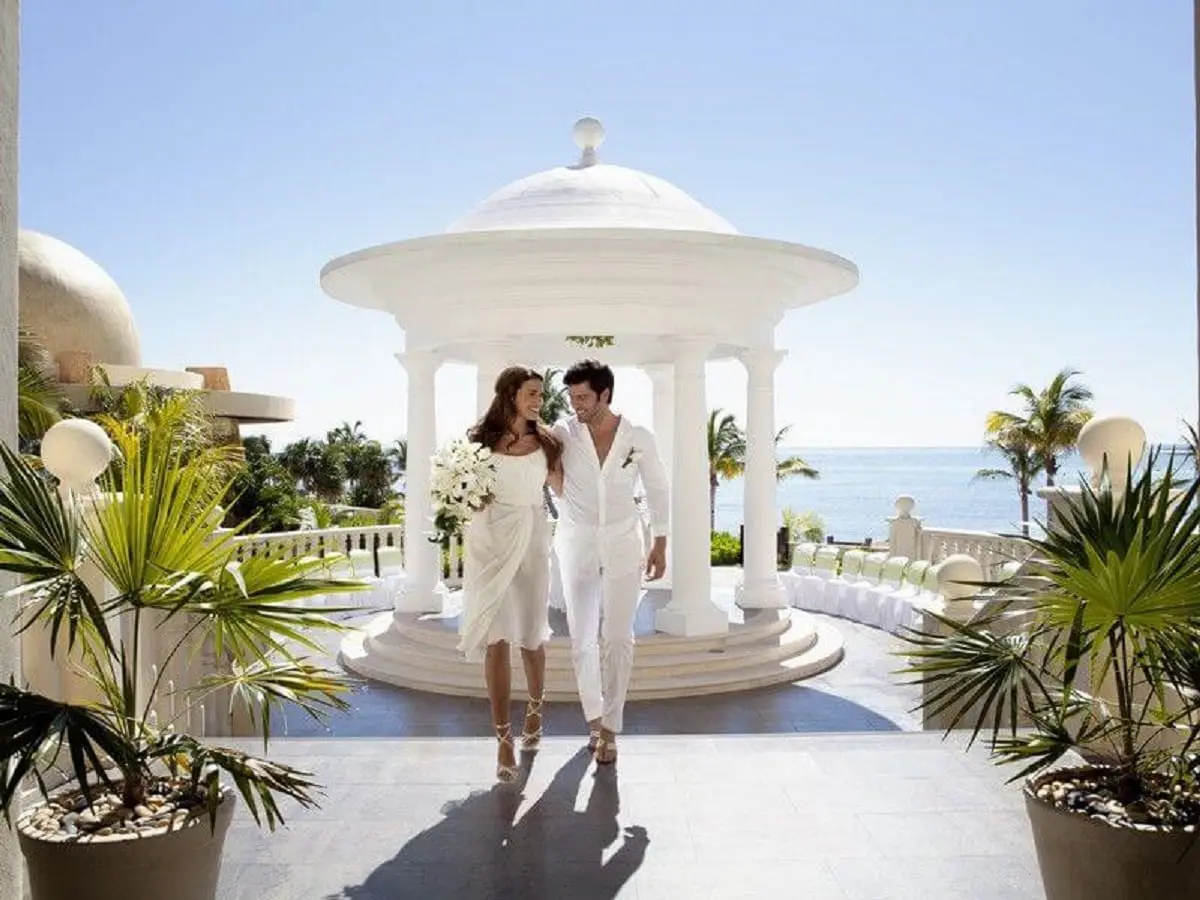 Additional Destination Wedding Resources for Mexico
How to bag yourself a free destination wedding in Mexico – Yes, you read that correctly FREE! Depending on the number of guests you have and how long they plan on staying you may be entitled to a free wedding package in the Riviera Maya.
Your guide to Catholic, Symbolic & Legal Marriages in Mexico – learn the difference between the three and the paperwork involved.
Our Youtube Channel – get a sneak peek inside many of the hotels in the region and the different wedding locations available.
5. Akumal Town
Sleepy Akumal does have a small downtown area for you to explore!
Be careful though or you might miss it! It's very small and made up of a supermarket, a few restaurants, taco stands, and small shops that sell Mexican handicrafts (perfect for souvenirs).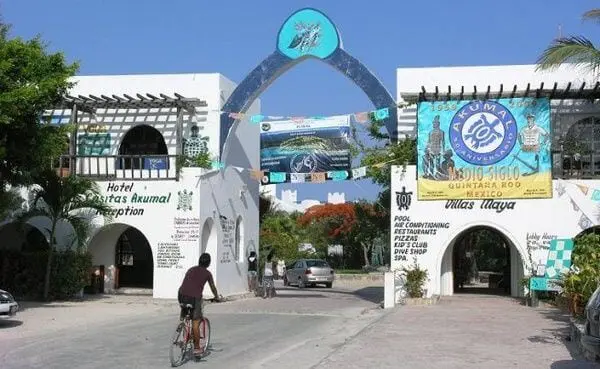 Top Tip: look out for the small stand that sells homemade ice cream (it's delicious)!
6. Things to Do in Akumal
There is an abundance of activities for you to enjoy in and around Akumal!
The Riviera Maya is a treasure trove of natural wonders and impressive tourist attractions.
Our expert Travel Planners here at PlayaDelCarmen.Com have lived and worked in the region for many years. We're the best people to ask if you have any questions.
1. Tulum Ruins, Cenotes, and Snorkel Explorer Tour
If you're a history maven, this is the tour for you!
On the Tulum Ruins, Cenotes, and Turtle Explorer tour you can combine 3 of the regions top attractions into one action-packed day of adventure.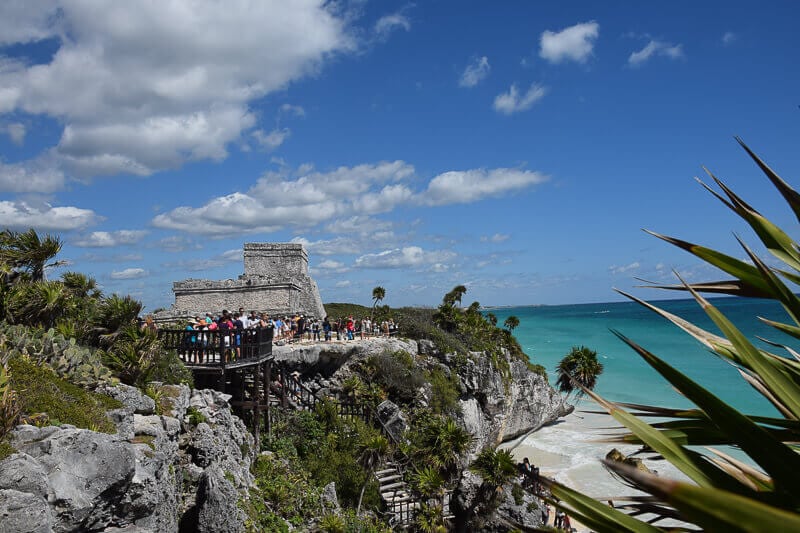 While here in Akumal it would be criminal not to venture into the sister town of Tulum, it's stunning!
While you're there you can discover the ancient ruins by the sea, swim the colorful reefs making friends with marine life, and explore magical caves and cenotes.
What the tour includes: 
Professional guide and driver

Air-conditioned transportation

All Entrance fees (Tulum ruins & cenote)

Snacks & Lunch

All equipment for the activities
Our Hints and Tips
Bring a towel, change of clothes, hat, sunglasses, comfortable sandals, and additional money for souvenirs, pictures, and tips.
Be sure to wear a swimming suit under your clothes and spare clothes if you want to dry off after.
Only use biodegradable sunblock (should be applied at your hotel before boarding the transportation).
Don't touch the coral or marine life.
Bring money for souvenirs, pictures, and tips (cash only).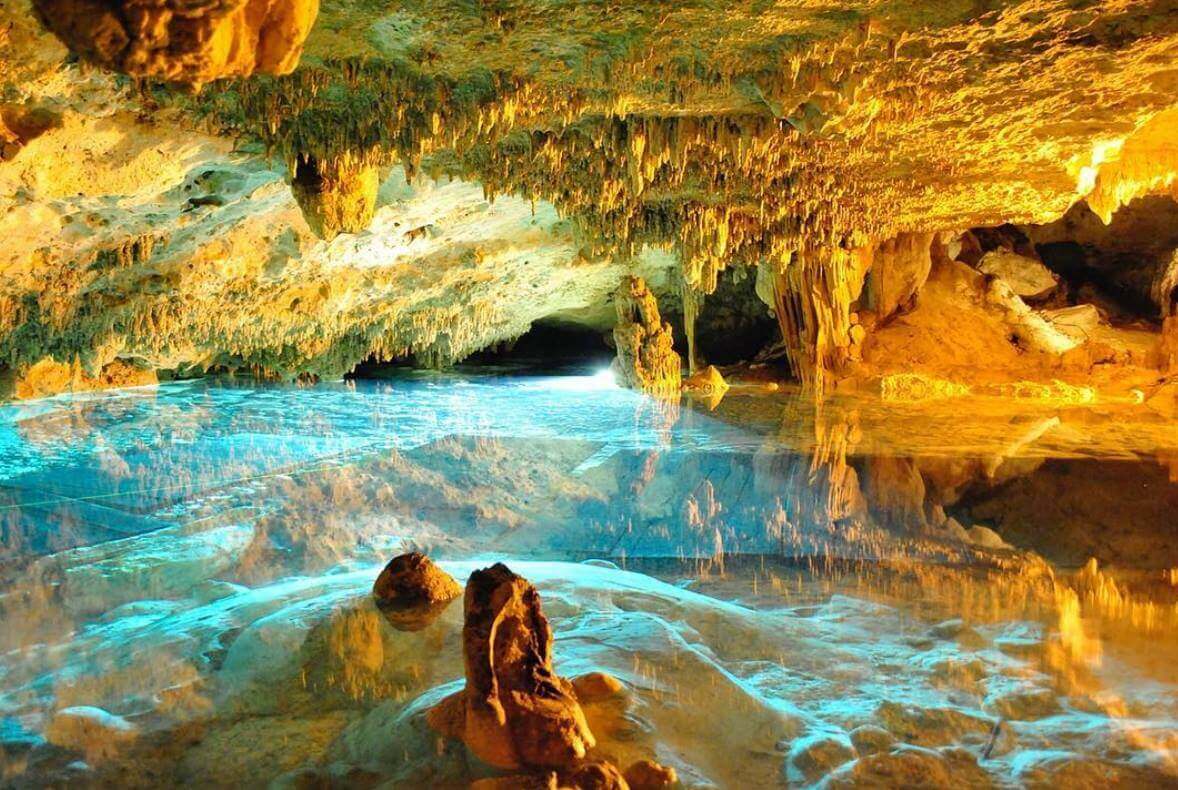 Is this Tour Suitable for Kids?
Yes!
Perfect for adventurous children who have at least basic swimming skills.
Price of Tulum, Cenotes, Snorkel Explorer Tour
Adults: $109 USD
Kids: $89 USD (ages 4-11)
For more inspiration of things to do in the area contact one of expert Travel Planners today. We would be happy to help.
2. Visit Playa del Carmen
Akumal is simply beautiful but if you're staying in the area for over a week it's likely you're going to feel the need to explore.
Playa del Carmen is just a short drive from the small town of Akumal, and here you have the option to stroll down the pedestrian-walkway known as 5th avenue! 
We're bias 😉 but it's definitely worth a visit!
Stretching over 5 miles this gorgeous street is lined with consecutive hotels, shops, cafes' restaurants, bars with live music, and clubs!
You will feel as if you have returned to civilization momentarily. It's the perfect location to eat out one night, or to get your souvenir shopping done!
Towards the south of 5th Avenue, you will find Parque Fundadores and Portal Maya (the epic bronze statue that has become somewhat a symbol of the city).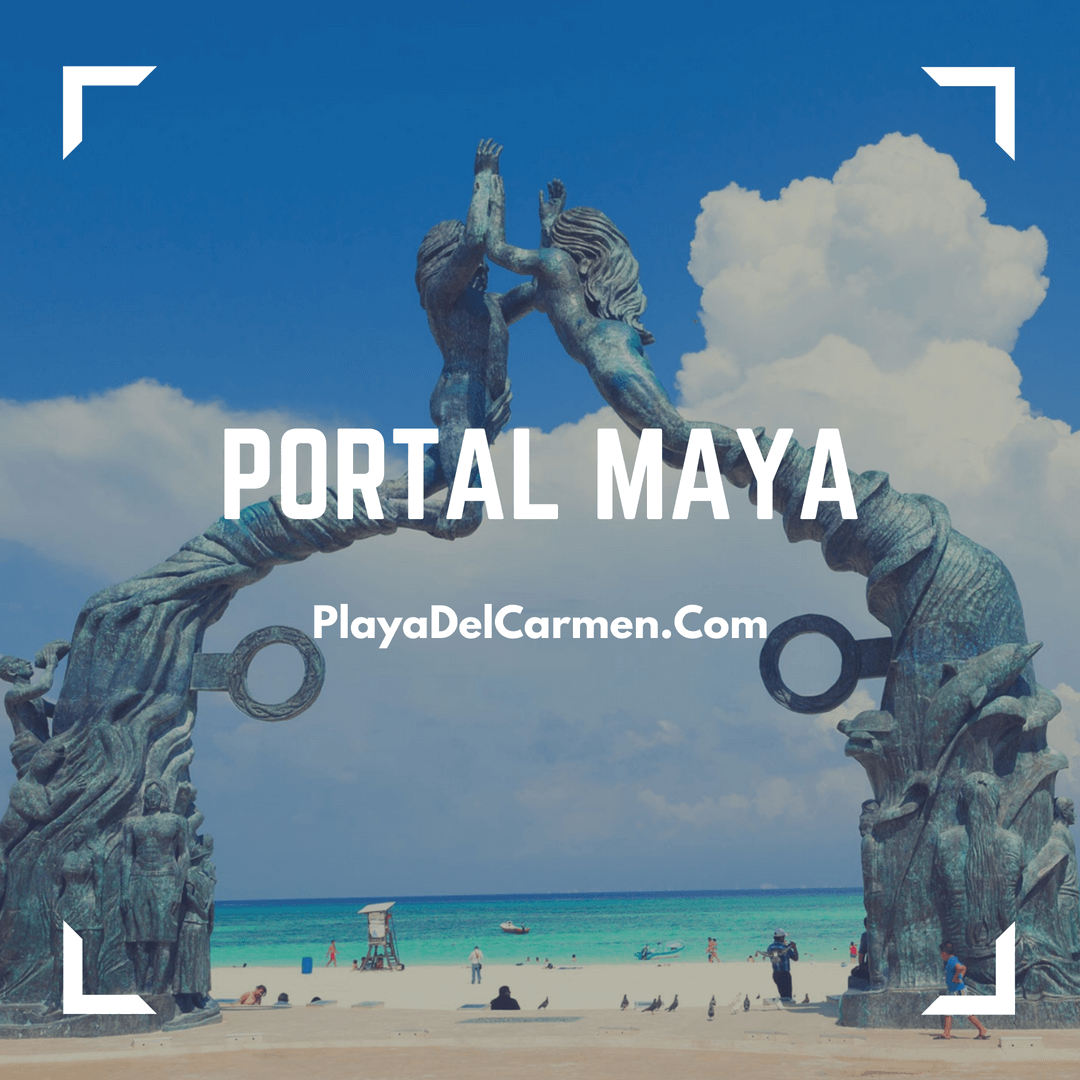 3. Turtle Night Watch
If you care about giving back and looking after nature and the wildlife in this area, then this Turtle Night Watch is the evening option for you!
Head to the stunning and untouched beach of Xpu-Ha to partake in a turtle night watch conservation project.
Begin the tour by arriving at Xpu-Hay Bay 21.15 pm at night.
Here your guide will fascinate you with their knowledge and expertise in the field of sea turtles.
From there you will join the staff on the beach as they patrol the area.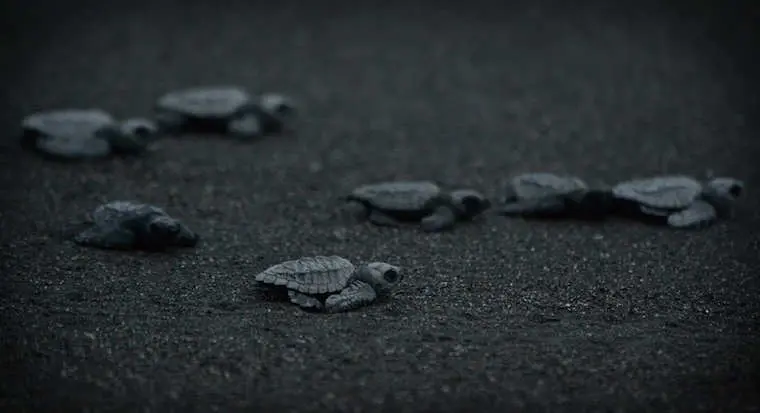 Keep your eyes peeled as you scour the sands in search of turtles if you are lucky enough to find one watch in awe as you witness the turtle making the nest, delivering the eggs, covering the nest back up and returning to the sea.
A magical opportunity.
It takes 60 days for mother nature to work her magic. After this time the baby turtles are born!
There is even the chance to observe turtles hatch from their eggs and fight their way into the ocean for the first time (not guaranteed, but definitely a possibility, it happens).
This tour makes a huge difference in the preservation of these wondrous creatures.
What the Tour Includes
A professional and passionate tour guide that will be with you throughout the tour.
Airconditioned and comfortable transportation.
Guided patrol at the beach.
Our Hints and Tips
Partake in this tour with a positive attitude. Turtle sighting is not always guaranteed.
Wear suitable shoes and dark clothing.
Is Turtle Night Watch Suitable for Kids?
Kids can partake in this tour just please be aware of the late finish as you won't be getting back to your hotel or resort till 00.30 – 1.00 am.
Turtle Night Watch Prices
The season runs from June – September.
Tour runs on Monday's and Wednesday's and is an evening event lasting 3-4 hours.
Approximately returning at 00.30 am.
$79 – 10% = $71 Adult pp
$79 – 10% = $71 Child (ages 7-11)
Save 15% on Turtle Night Watch Tour Here
7. Bars in Akumal
Although Akumal is a small town there are a variety of delicious eateries and bars to choose from. Enjoy some delicious seafood and wash it all down with a cocktail or two.
Turtle Bay Café & Bakery -$$
Love breakfast? Look no further.
This cafe sells a wide variety of comfort food ranging from breakfast burritos to eggs Benedict (M$125).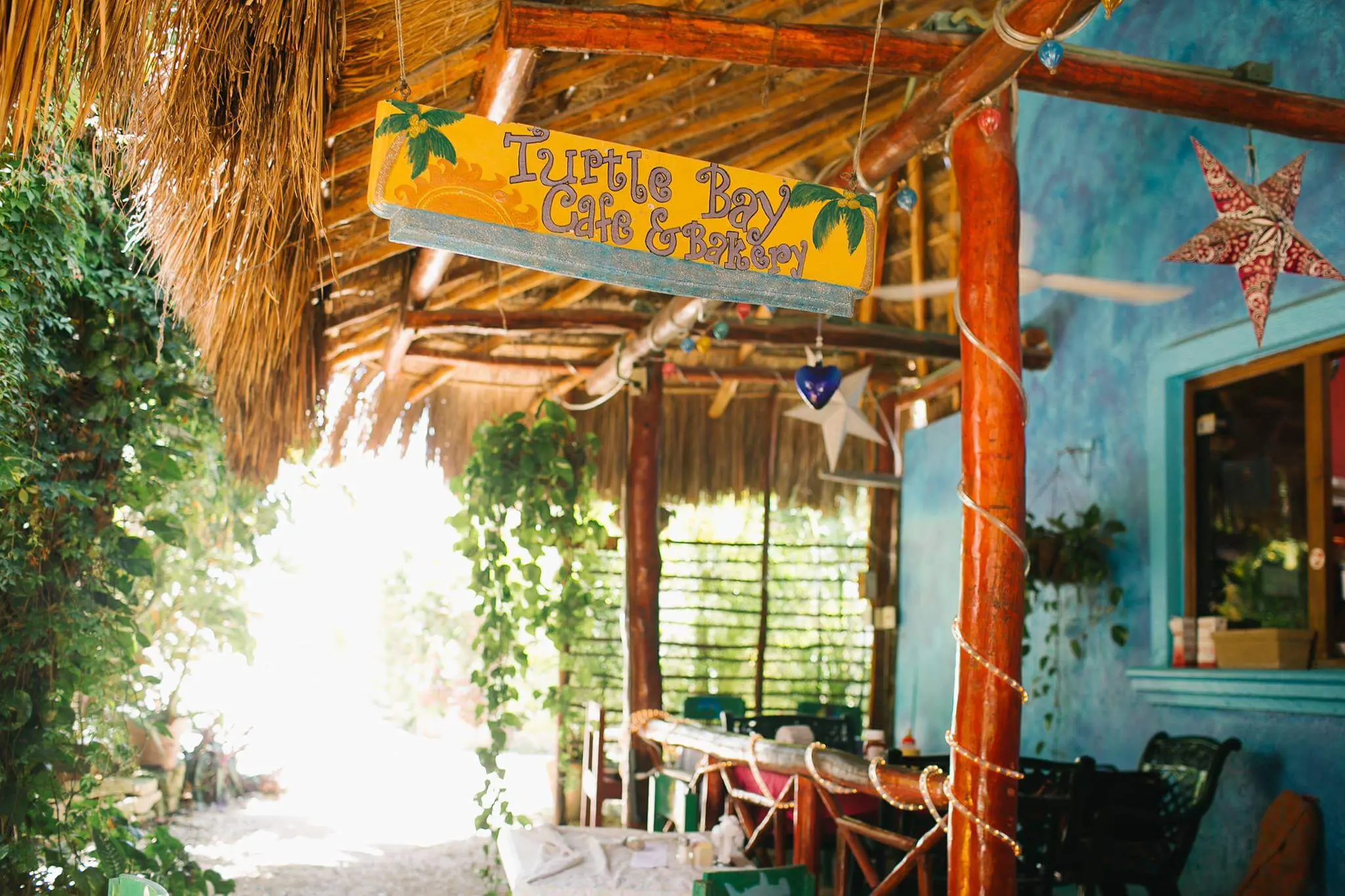 Lunch and dinner menus include sourdough flat-bread pizzas, burgers, and seafood options. It's near the town entrance.
There's also a full bar.
Beached Bikini – $
If you are a fan of a good Margarita this is the place for you!
Although Beached Bikini also offers a wide range of other drinks too.
If you want to escape the confines of your hotel and want somewhere non-touristy to hang out that sells authentic Mexican food you have got to visit this place.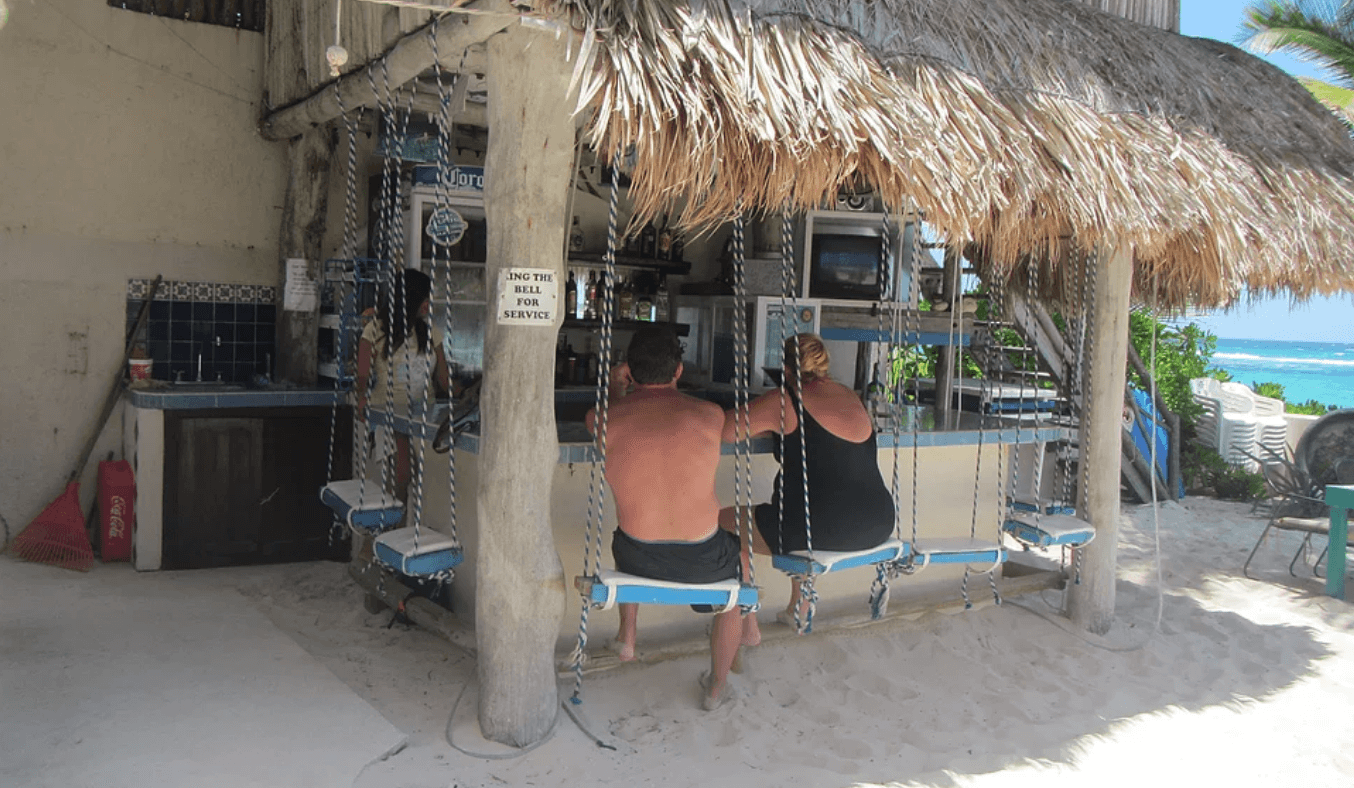 They sell a variety of tasty food including tacos and tostadas.
The atmosphere and service are what make this place great.
La Buena Vida – $$
Head up to the beachside treehouse for incredible views.
At La Buena Vida expect tasty food served up by friendly locals.
The best part?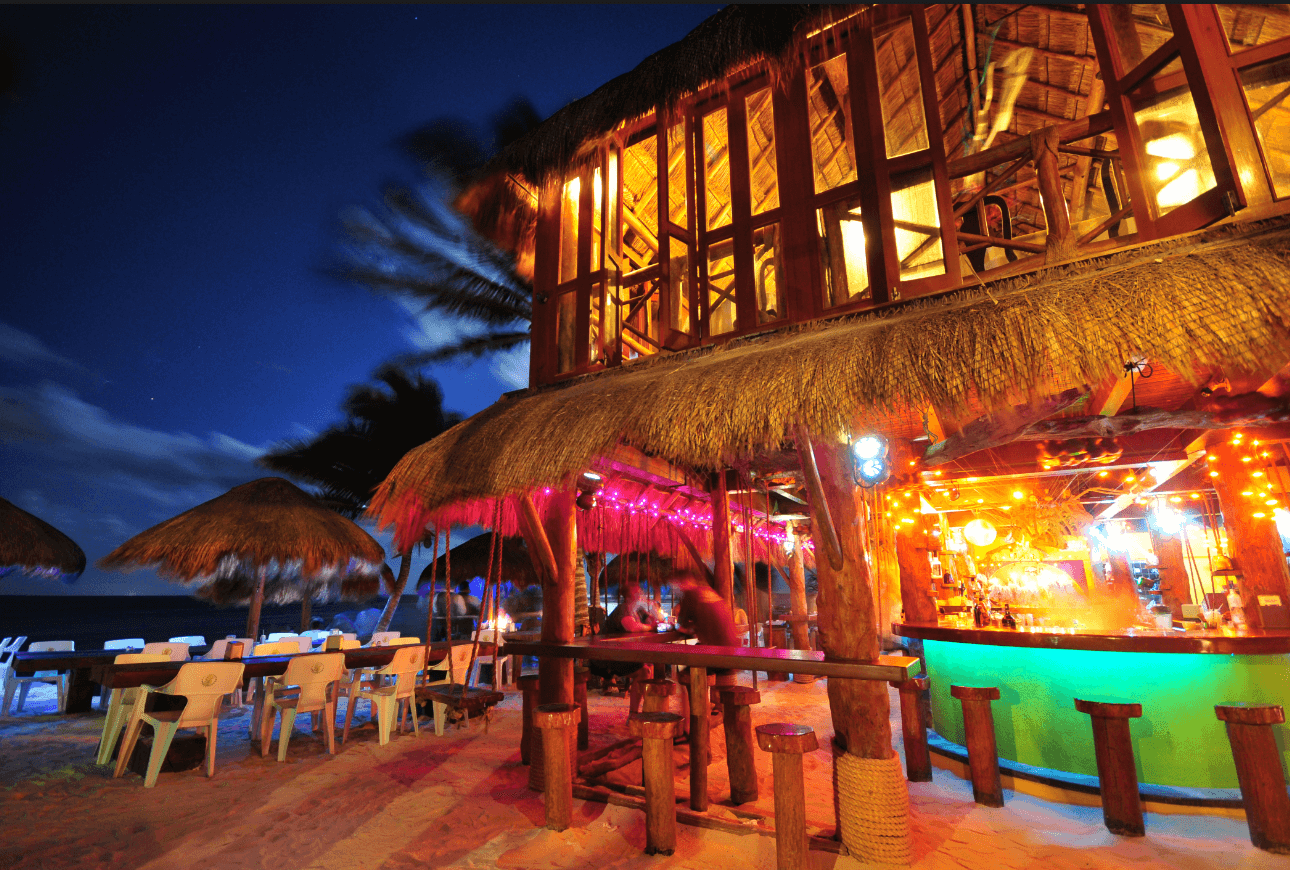 The tequila section is outstanding.
For those inclined to taste local flavors, try their tequila flights! An excellent way to try multiple different tequilas you may not have even heard of before.
Not to be missed!
8. Nightlife in Akumal
If you want to rave the night away every night then Akumal simply isn't the place for you.
It's a very sleepy, relaxed beach town.  It doesn't get much crazier than enjoying a few cocktails after your snorkeling session.
If you are looking for something a little more upbeat, my advice would be to head into either Playa del Carmen or Tulum.
In Playa, you can find tons of clubs such as Coco Bongo, Palazzo, and Mandala located within a close proximity of one another on 12th street.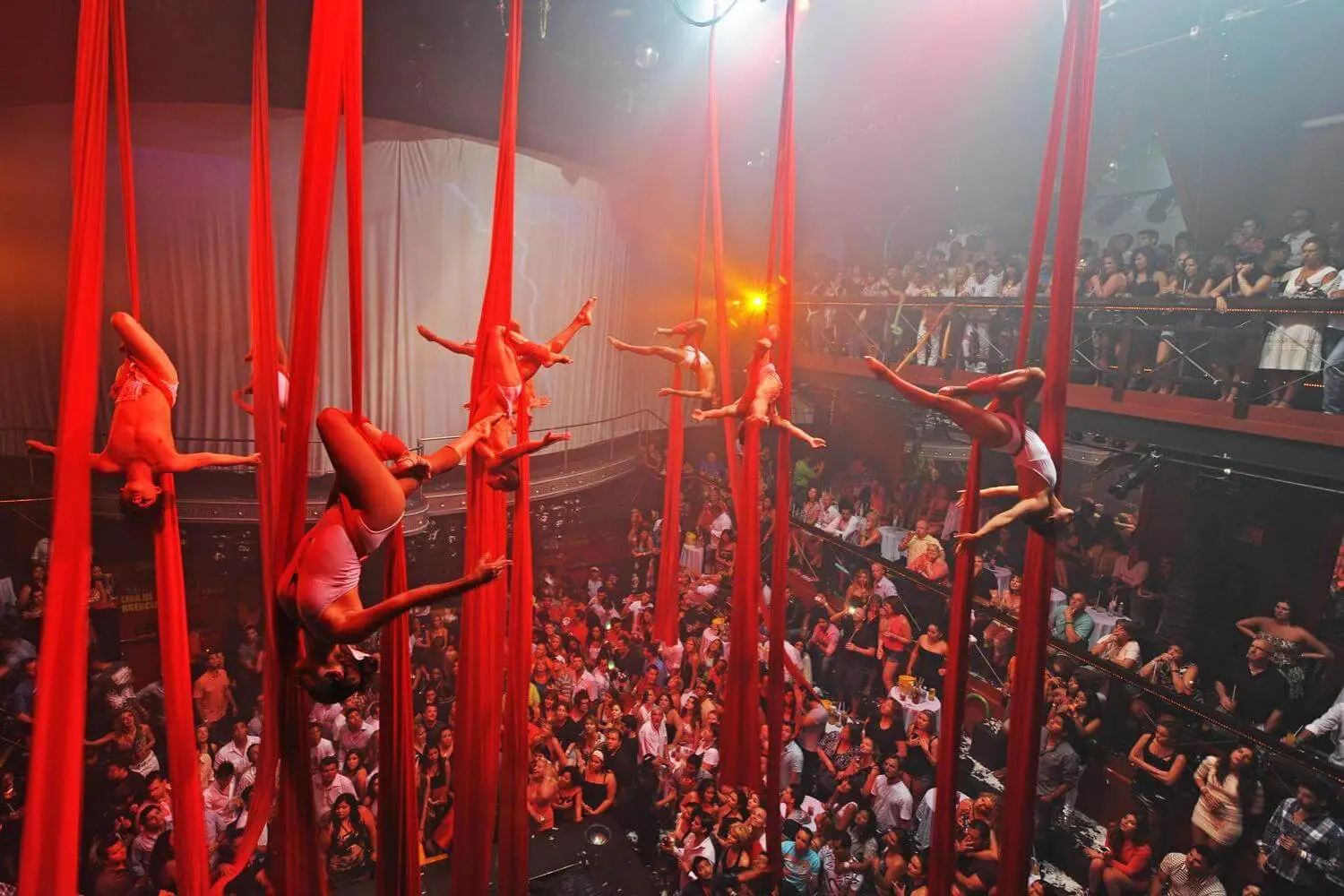 For more information read our guide to nightlife in Playa del Carmen here.
9. Restaurants in Akumal
Foodies,  rejoice! You're in Mexico, so it goes without saying that you're in for a treat in terms of the flavors you are about to experience in Akumal.
Delicious food at great prices, what more could you ask for?
Loncheria Akumalito – $
Don't judge a book by its cover!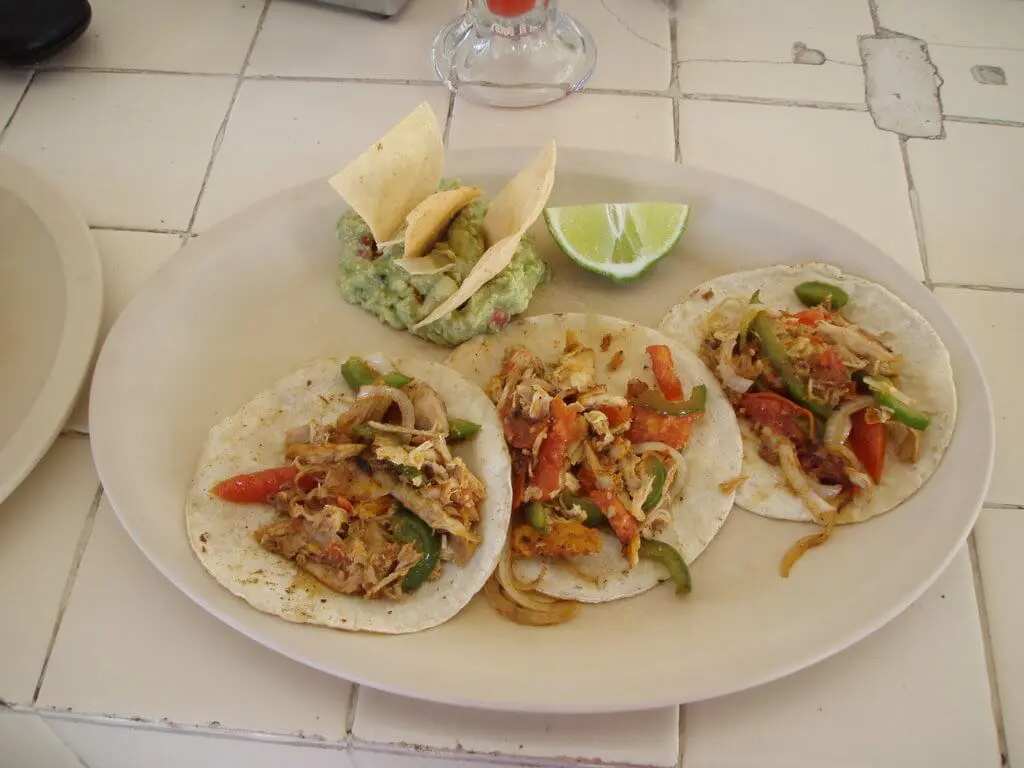 You'll find this little shack on the path towards Akumal and Yal Ku. You can expect authentic food at great prices! Service here is second to none.
Tequilaville – $$
Located on the pueblo side of Akumal this is a perfect opportunity for visitors to experience authentic Mexico.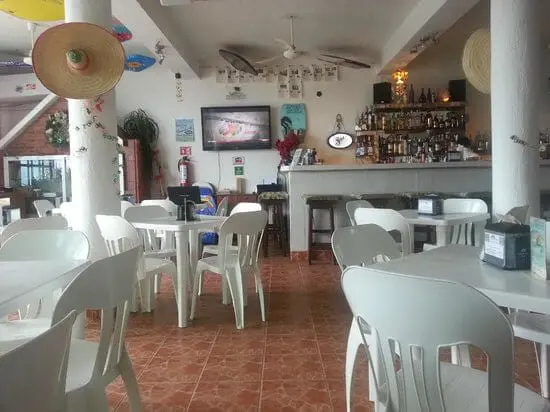 Tequilaville offers a variety of different foods from Mexican cuisine; such as shrimp tacos and empanadas and 'international' cuisine like homemade burgers and homemade fries to chicken wings!
Restaurant Maiko – $$$$
Expect beautifully presented and delicious tasting Japanese food. The service and setting are both wonderful.
Be sure to try the beef teriyaki and ice cream tempura for dessert.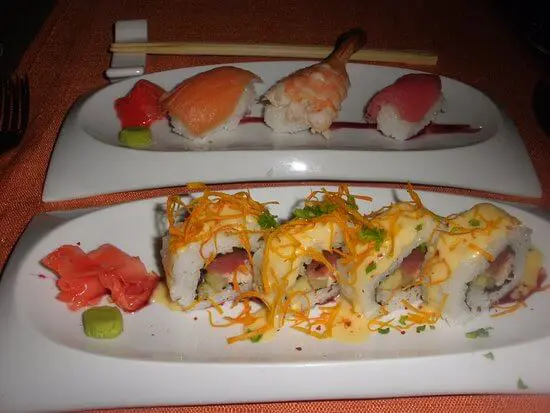 10. Safety in Akumal
Is it safe? We get this question a lot here at PlayaDelCarmen.Com
Akumal's crime rate is very low! It's a small beach town. Most of the hotels in the area have a security at each entrance to ensure visitors feel safe.
My advice would be to take the same precautions you would take back home.
Essential Safety Tips:
Extra Precautions:
For transport (if you are really worried about navigating your trip), you can always book private from a trusted provider with us.
Rather than roaming the region by yourselves, 

book as part of a tour

 / small group. Your expert tour guide will take care of all the logistics and will be on hand should you need anything else.
Get Discounts on Everything!
We, PlayaDelCarmen.com, are a team of travel agents based here in the Riviera Maya.
Need our advice or want to book? Get in touch today, or leave us a comment in the section below, we would be happy to help. ?
We can help you get the best prices on hotels and tours in Akumal.
Call us at 888-537-9797 or email us at customercare@playadelcarmen.com we look forward to hearing from you!
Paradise awaits…
---
Trending Now
You may also like