The Best Damn Playa del Carmen Taco Guide Ever
---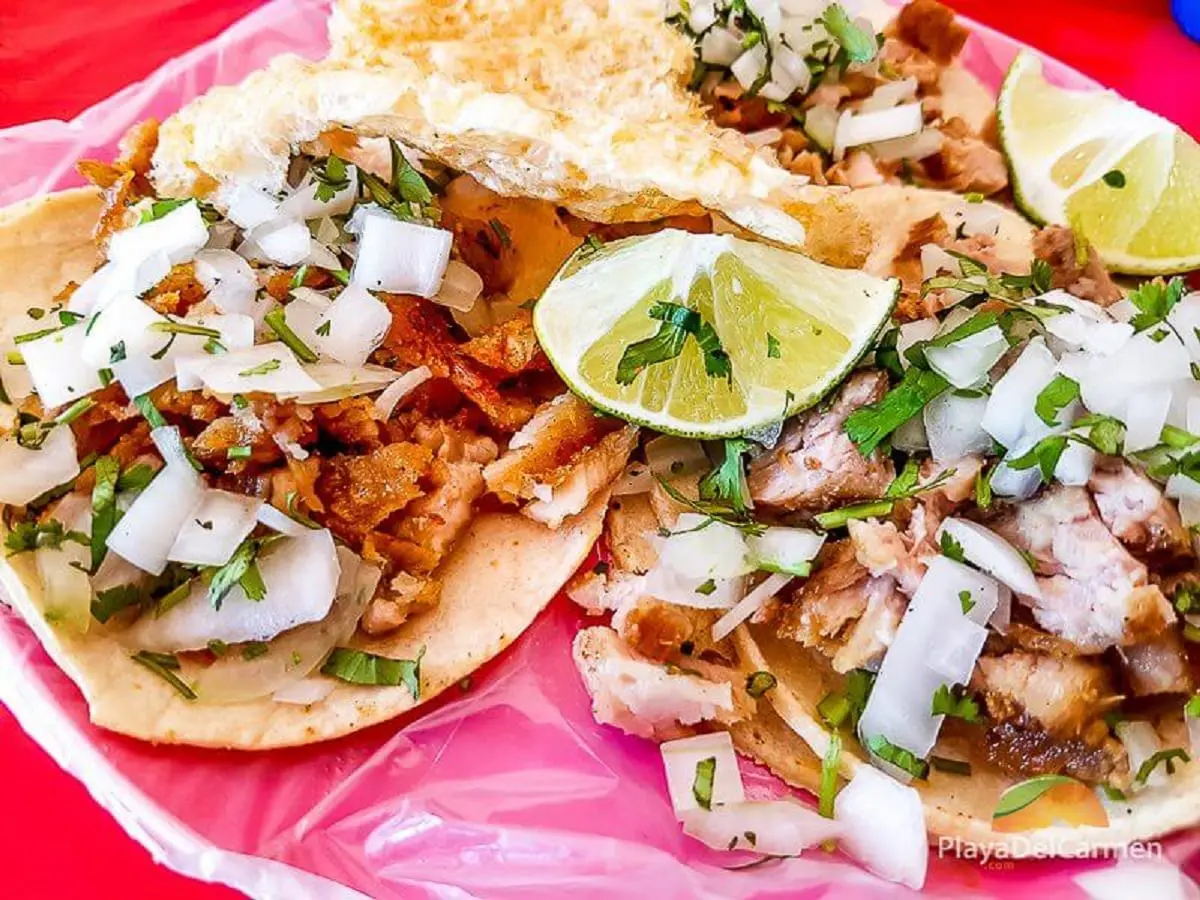 Everybody loves a good taco.
They're not too expensive. They're quick. They can taste damn deliscious and come in a wide variety of flavors and toppings.
In short, tacos are awesome.
But let's be honest. Most of us are in the dark about what amounts to authentic Mexican tacos.
Try this.
Close your eyes and imagine a taco on a plate. What did you see? I would bet your imagination led you to see a hard shell taco, filled with ground beef, tomatoes, shredded cheese, and sour cream.
Am I right? I'd bet I am for most of you.
But that mouth-watering taco occupying your imagination is actually Tex-Mex, not authentic Mexican food.
There are many great Playa del Carmen restaurants where you can find the real deal.
But what are authentic tacos like? Let me count the ways…
Best Playa del Carmen Tacos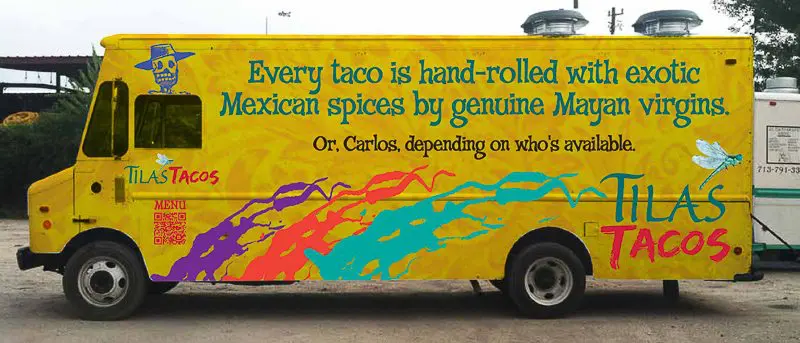 As any smart person would do, I consulted my culinary guru and personal chef, Luis Farfan.
Our mission?
To make the best Playa del Carmen tacos article ever created.
No small feat, no doubt.
Our approach?
Highlight the different styles of tacos you can find in Playa del Carmen and recommend the restaurant where you can go and find them.
We're dividing this article into the following taco categories:
Is your head spinning or mouth watering?
Let me explain, taco for delicious taco.
Tacos de carnitas / Carnitas tacos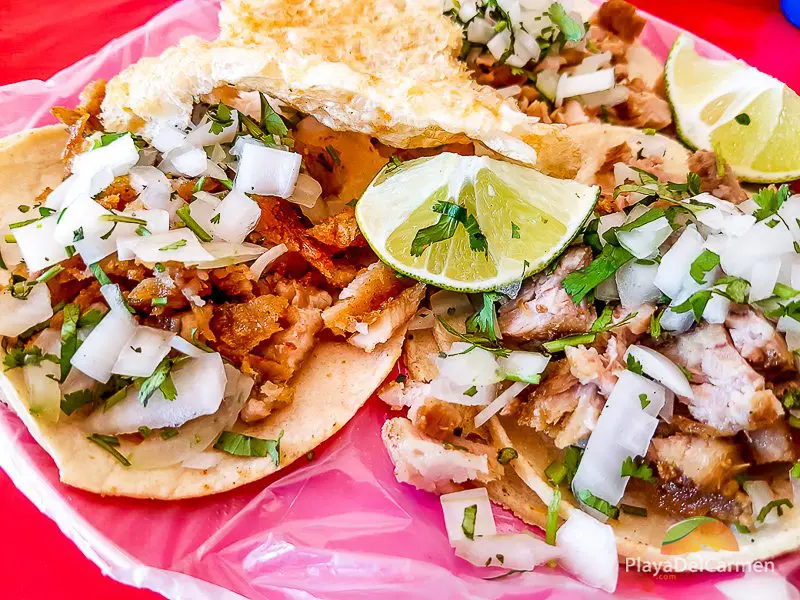 Carnitas. These are some of the most famous tacos in all of Mexico. And that's saying something.
Imported from the culinary traditions of Michoacan, carnitas are braised or roasted pork shoulder served finely chopped and serve either maciza (without cheek, intestines and the like) or surtido (with the works).
Beware, 'cause they're damn good, especially when topped with cilantro and raw onions.
Recommended restaurant: Carnitas Teresita
Address: Juarez Avenue & 20th Street South
Hours: Monday-Sunday 9 a.m. to 11 p.m.
Price: $90 pesos for an order of three tacos
---
Tacos de barbacoa / Lamb tacos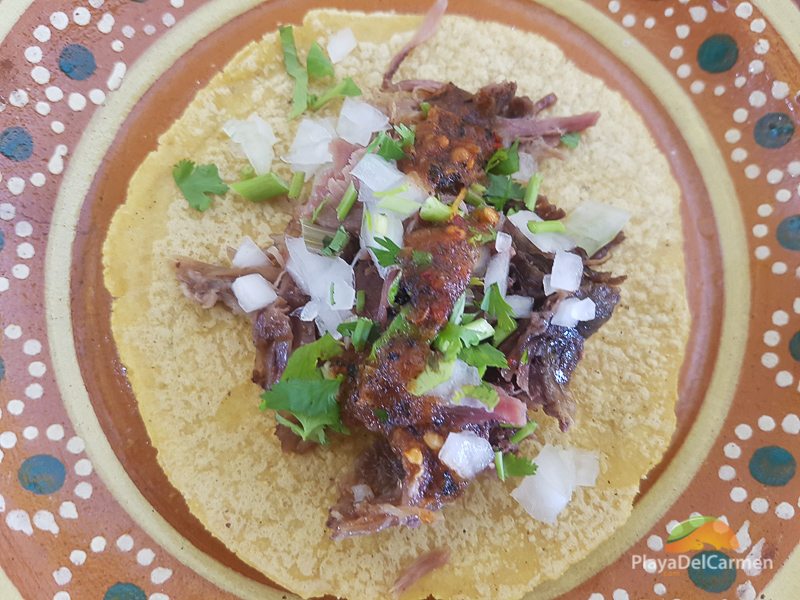 Barbacoa tacos: barbecued tacos. But not like you're thinking.
We've recommended this gem before, right?
It made our list of the top 10 off-the-beaten-path restaurants in Playa del Carmen. It actually came in 11th as a last-minute addition by travel and kitchen guru Luis Farfan. He made me try it the following weekend after we published the article, and all I can say is this: Hallelujah!
I love lamb, and this amazing barbacoa is slow-cooked over mesquite wood. Succulent, perfectly spiced, and so good I just wanted more and more and more.
Recommended restaurant: Silao Barbacoa & Carnitas (next door to Diavolos Pizza)
Address: Av. Petempich and 115th Street (across the street from Punto 115)
Hours: Monday-Sunday 7 a.m. to 6 p.m.
Price: $18 pesos a taco
---
Tacos de alambre / Grilled meat tacos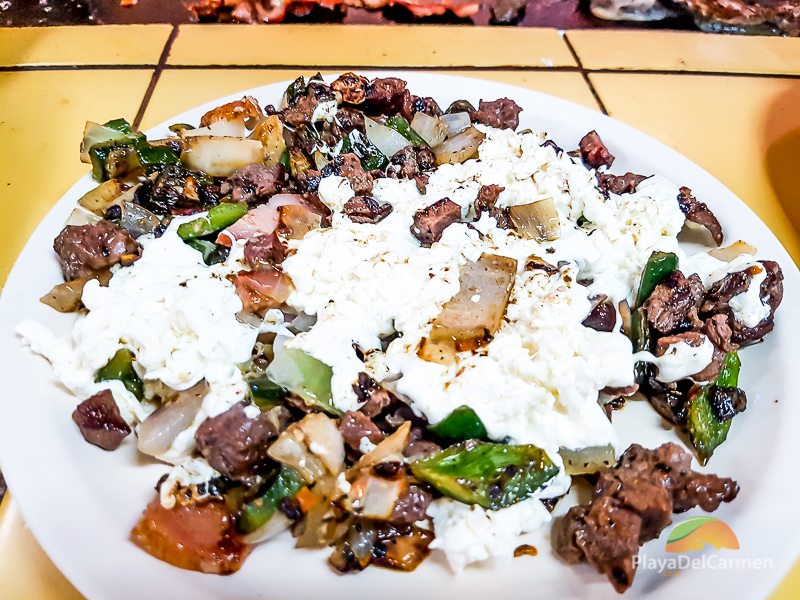 These are perhaps the most well-known of all the tacos, and the place we recommend just so happens to be the most well-trodden taco joint in Playa del Carmen.
Open all hours, friendly service, and of course abundant portions of grilled beef, chicken, and pork to keep you happy and bloated for days.
This place is good and deserves its place among the recommended places to get a taco in Playa del Carmen. Plus, it's a great place to get some grease after a night out of drinking.
Recommended restaurant: El Fogon
Address: 46th Street one block before the highway
Hours: Monday-Sunday 1 p.m. to 6 a.m.
Price: Expect to spend around $100 pesos
---
Tacos de Mariscos / Seafood tacos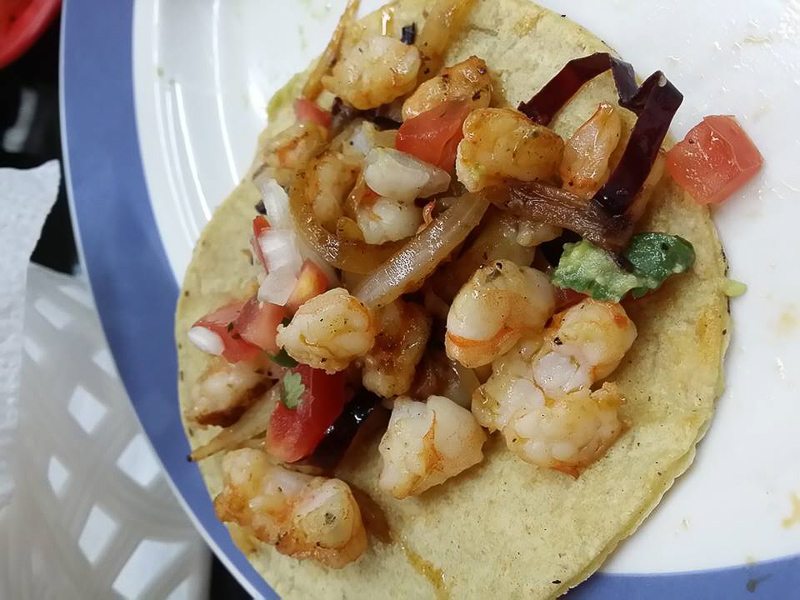 There's a saying that life is better at the beach. You know what? It's true.
A more relaxed vibe, the tropical breezes and, of course, seafood tacos. Filled with succulent portions of shrimp, fish or squid prepared in a variety of fashions, these handheld havens of culinary delight are best enjoyed with hot sauce, lime juice, a really cold beer and, when possible, a view of the Caribbean Sea.
Recommended restaurant: Chac Pel
Address: Juarez Avenue & 1st Street (around the corner from Hostel 3B)
Hours:
Price: $90 pesos for an order of three tacos
---
Tacos de cecina / Cecina tacos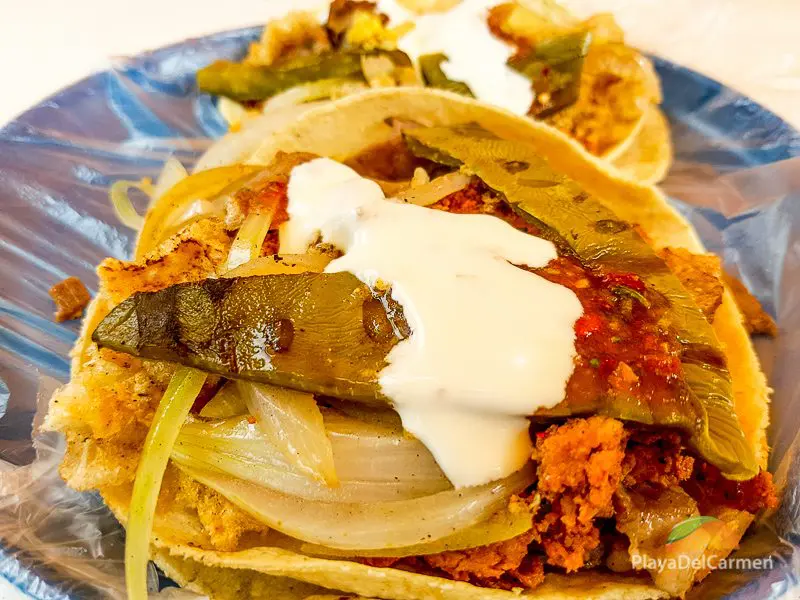 Of all the taco stands and restaurants I frequent, no place in town has such a steady crowd as this place.
No matter what time of day you decide to go for your tacos de cecina, which are filled with thin cuts of beef, salted and partially dried, expect to wait at least 10 to 15 minutes to get your food before fighting for a place to sit.
The owners are extremely friendly as is their staff, and the quality of these tacos are pretty hard to beat.
Recommended restaurant: Tacos De Cecina Estilo Yecapixtla
Address: 6th Street and 30th Avenue
Hours: Friday-Wednesday 8 a.m. to 2 p.m.
Price: $17 pesos a taco
---
Tacos de canaste / Basket tacos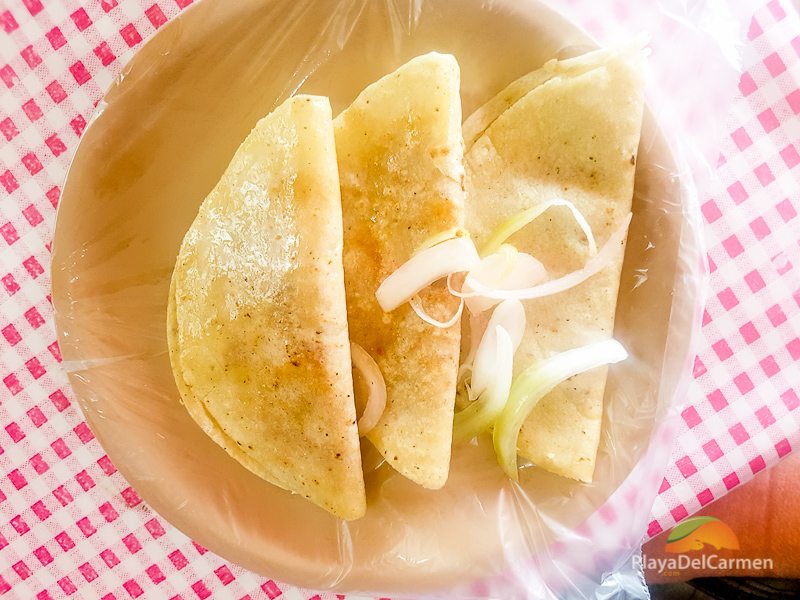 Mexico is a country full of creative and entrepreneurial spirits. One fine example? Tacos de canasta, or basket tacos.
These portable treats are basically steamed tacos filled with a variety of ingredients (meat and vegetarian options are available) and served hot from the basket. My only beef with them is that they are small, so I always wind up eating way too many.
Recommended restaurant: Tacos de Canasta Doña Blandi
Address: 30th Avenue between 20th and 22nd streets
Hours: Monday-Sunday 8 a.m. to 4 p.m.
Price: $8 pesos a taco
---
Tacos de suadero / Flank steak tacos
These flank steak tacos are more commonly found in Mexico City.
The meat, once tough, is cooked to perfection until becoming somewhat smooth before being fried a golden brown.
It's hard to find good suadero tacos due to the fact that keeping them juicy yet a bit crispy on the outside is not something everyone is good at.
Luckily for you, they are at the taco joint we recommend, which only opens in the evening.
Recommended restaurant: Tacos El Ñero
Address: Juarez Avenue and 45th Street
Hours: Monday-Sunday 5 p.m. to 2 a.m.
Price: $16 pesos a taco
---
Tacos al Pastor / Pastor-style Tacos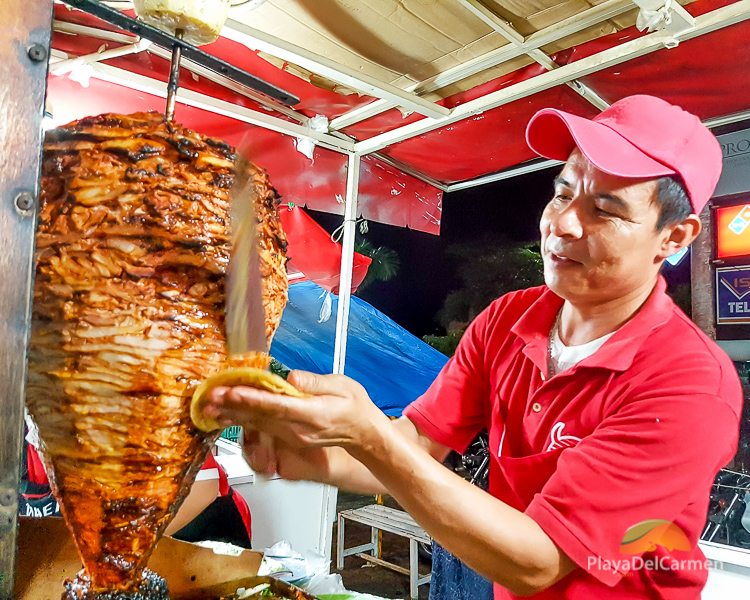 Arab migration in the 20th century did culinary wonders for the world. In few places did their cuisine have such a large impact as in Mexico.
Namely, the spits of beef or lamb slow-cooked and served up in delicious slices known the world over as shwarma, proved to be a big hit in the land of Emiliano Zapata.
In fact, as with so many other cultural elements from around the world, the shwarma was adopted and transformed, substituting the lamb for pork and placing a pineapple on top for good measure. And so the tacos al pastor were born.
Where to find them in Playa del Carmen? Tacos El Ñero gets the nod here as well, but you won't go wrong at El Fogón either.
Recommended restaurant: Tacos El Ñero
Address: Juarez Avenue and 45th Street
Hours: Monday-Sunday 5 p.m. to 2 a.m.
Price: $16 pesos a taco
---
Tacos Vegetarianos / Vegetarian Tacos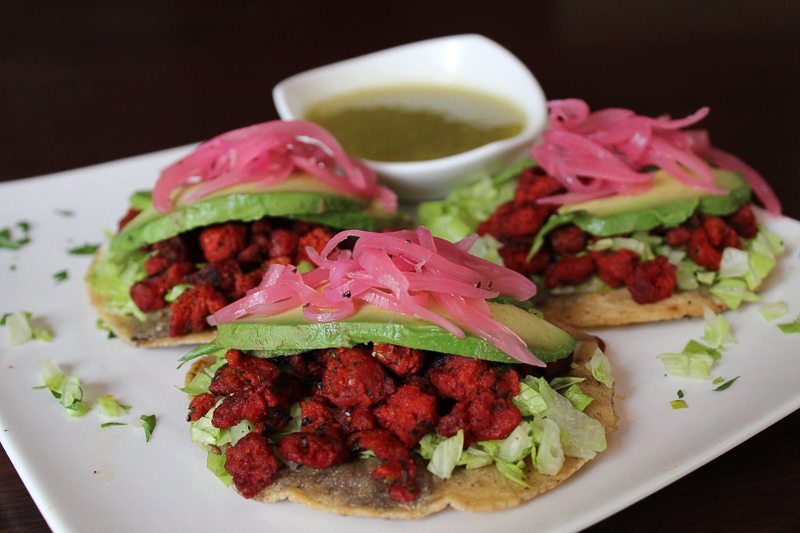 I'm sure I've lost any vegetarian readers of this article by the time I started praising carnitas, right?
BUT
It if any of you vegetarians are still reading, or if you simply enjoy some tasty vegetarian food once in a while, you can also get some good, wholesome vegetarian tacos in Playa del Carmen.
Not only that, our restaurant of choice is also a great place to hang out and chill while you take in the Playa del Carmen night and people watch as you sip on that organic smoothie.
Recommended restaurant: Bio Natural
Address: 10th Street between Constituyentes and 16th Street
Hours: Monday-Sunday 8 a.m. to 10 p.m.
Price: Expect to spend around $150 to $200 pesos per person
---
Tacos de Guisado / Stew-filled Tacos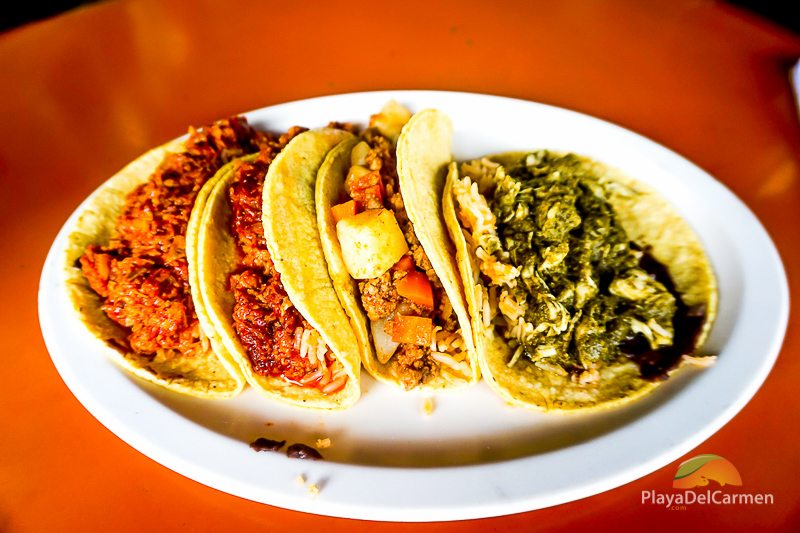 I've praised these tacos on several occasions on our blog.
For those of you who read my articles, you know I am a huge fan of El Gran Taco.
Paty, the owner, is the 4th generation of women entrepreneurs in her family who dedicate their love and wisdom passed down from mother to daughter to create some of the most incredible stews I've ever eaten.
The flavors and spices, the quality and the cooking time, she always gets it right, even if day in and day out she makes around 15 different stews, several of which she rotates in and out on a daily basis. This place is simply too good to miss.
Recommended restaurant: El Gran Taco
Address: 41 Street South (across the street from Centro Maya)
Hours: Tuesday-Sunday 8:30 a.m. to 3 p.m.
Price: $16 pesos a taco
---
Tacos de Cabeza / Beef Head Tacos

Brain. Tongue. Cheek.  Yes, you can eat most body parts of a cow.
Good brain tacos, or beef head tacos if you want to keep it sounding more palatable, are not easy to find. In fact, to find them in Playa del Carmen you have to go further off the beaten path than usual.
Nevertheless, if it's brains you're after, brains you'll find in this hyper-clean and comfy taco joint on the outskirts of your tourist experience.
Recommended restaurant: Tacos Díaz 100%
Address: 115 and 3rd Street South
Hours: Tuesday-Sunday 8:30 a.m. to 3 p.m.
Price: $16 pesos a taco
---
Tacos Àrabes / Arab Tacos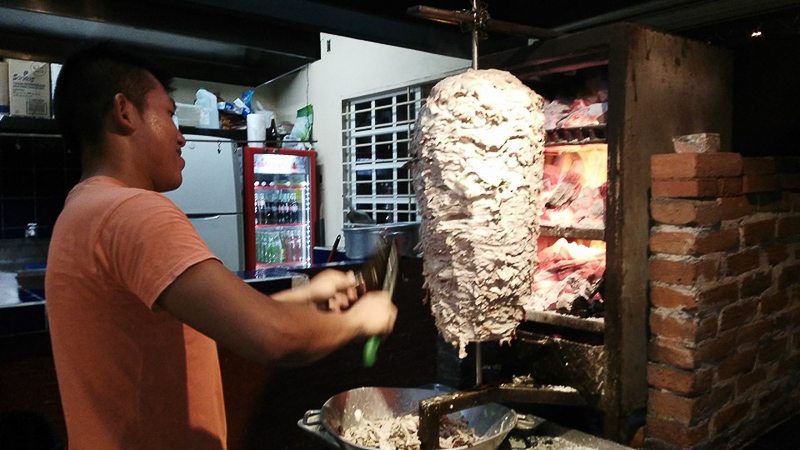 What would we do without the influence of Arab culture?
From mathematics and philosophy to hummus, falafel and Fairouz, this region's contributions to humanity are endless.
Among the great feats, what people here in Mexico called tacos árabes or Arab tacos.
Basically, just take the tacos al pastor, return them to their beef and lamb roots, add in some delicious sauce with a sesame seed base (tahin), and voilá. Delicious, oh so meaty, and a tribute to the great cultural heritage of our Middle Eastern brethren.
Now if we could just find some good Arak to wash it down (anis liquor)…
Recommended restaurant: Bait Lajam
Address: 32nd between 5th and 10th Avenues or Av Luis Donaldo Colosio 12, Bosque Real (see map)
Hours: Monday-Sunday 3 p.m. to 1 a.m.
Price: Ranging from $19 to $42 pesos a taco
---
Tacos de Chile Relleno / Stuffed Chili Pepper Tacos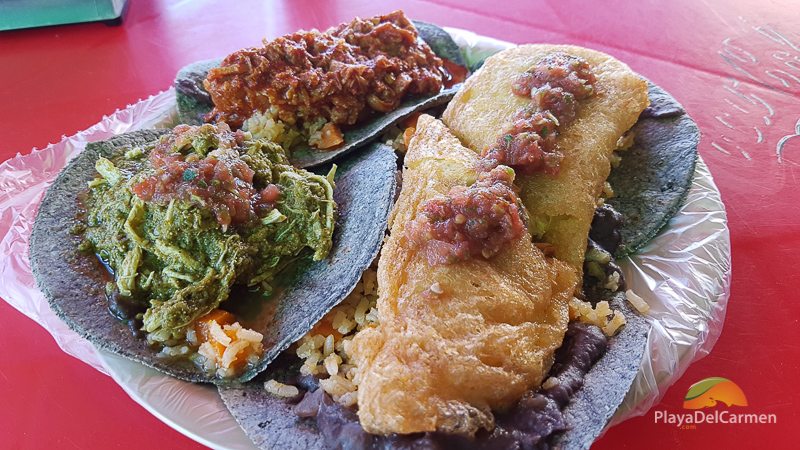 Some people may say I'm biased, and you know what? It's true.
I should probably become a spokesperson for El Gran Taco. Will work for food… But I couldn't help but mention them one more time.
A taco filled with a chile relleno is other-wordly. Words can't describe it.
And on Fridays you can even get "Xcatic" (pronounced Eeesh-KA-tik), which is an axcatic chili pepper (slightly spicier than the poblano peppers normally used for chile relleno), filled with shrimp and cheese. Yes, that's why they've made the list twice.
Normal chile rellenos are sold daily, and the Xcatic just one day a week. Think culinary bucket list then thank me after you've tried it.
Recommended restaurant: El Gran Taco
Address: 41 Street South
Hours: Tuesday-Sunday 8:30 a.m. to 3 p.m.
Price: $20 pesos a taco
Oh me, oh my. If we've whet your appetite with food, wait until you hear about all the great deals and discounts our travel consultants at PlayaDelCarmen.com have in store for you! Contact them today toll-free at 888-537-9797.
What Now?
Did we miss a taco joint, have questions? Comment below.
---
Trending Now
You may also like