Top 6 Gorgeous Beaches to See in Playa del Carmen
---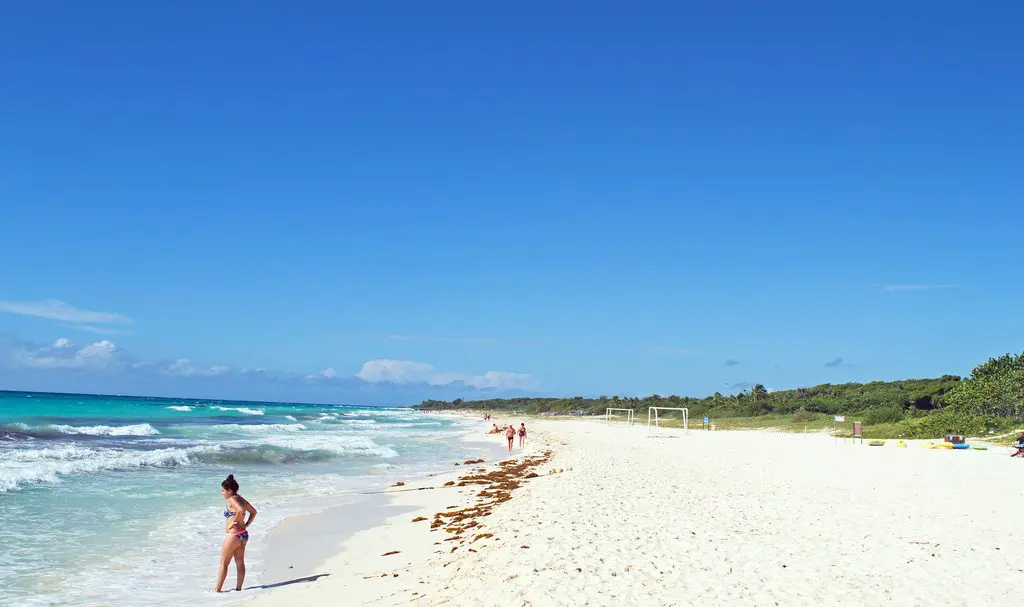 Hands up if you came to Playa del Carmen because of the amazing museum culture… no one?
Ok, hands up if you came to Playa del Carmen on a very important business trip… still no one?
Yeah, we know why you're here.
The beautiful, turquoise water, palm tree-lined, white sand beaches!
You are absolutely spoiled for choice with picturesque, holiday brochure-worthy beaches in Playa del Carmen.
Everyone you ask will have a different favorite beach and for very different reasons.
If you're sitting there with your beach towel and sunscreen at the ready, but aren't sure which direction to head in, check out this Playa beach guide.
6 Top Beaches in Playa del Carmen:
1) Parque Fundadores
This is probably the most iconic beach in Playa del Carmen.
Simply walk down Juarez until you reach 5th Avenue, and you will see the gigantic 'Playa del Carmen Arch' right in front of you.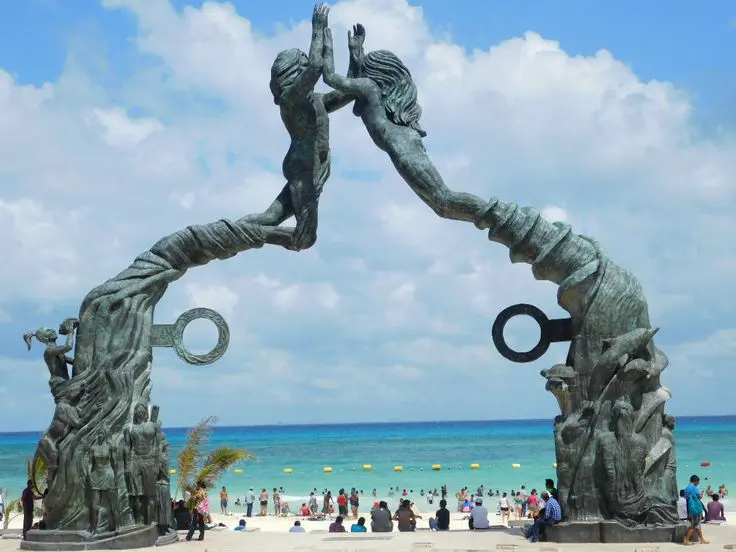 Here you'll find a real mix of people, from tourists to local families.
As it's so well known, this area can get pretty busy and a little noisy. However, as this beach is the widest in Playa del Carmen, it can fit all those extra beach towels and loungers, while still having nice quiet spaces to relax.
The extra room also makes space for a full-sized volleyball court, which anyone can rock up and use. Create your own game, or join in with some of the locals, it's a great way to meet new people.
The most unusual thing about this stretch of beach is that there are no beach clubs, so you get a true community feel, with everyone spreading out onto the sand.
If you get a little bit peckish after an afternoon in the sun, there are plenty of bars and restaurants lining the Parque Fundadores for you to choose from.
2) Calle 10 Beach
There isn't really anything special about the sand or the sea in this area of Playa del Carmen, but it's the bountiful beach clubs that make the beach here so special.
You'll be absolutely spoilt for choice on Calle 10 beach.

Check out Lido, a hip, budget beach club, listen to live music in Zenzi, tuck into some delicious seafood at El Pirata, or simply lay out on the cool white sands and watch the world go by.
Because of the abundance of beach clubs on Calle 10, the actual public parts of the beach are usually fairly empty and quiet. So, why not pack up a lunch, grab your cooler, and enjoy your very own spacious beach club.
Calle 10 attracts both locals and tourists but maintains a very laid-back, tropical vibe throughout the day.
3) Mamitas Beach
You know me, I like to throw in a controversial curve ball every now and again… and today, that ball is Mamitas.

I know, there are more humans than grains of sand on this beach, but it will always be the most famous of all the beaches in Playa del Carmen.
You may not want to head to Mamitas if you're looking for a nice, tranquil beach experience, but if you're looking for energy, alcohol and electronic music, then this is your mecca.
Between Kool and Mamitas, this beach is definitely party central.
The DJs play all day long, the drinks flow freely, and there are plenty of sun loungers to go around.
Mamitas has recently refurbished, and now has a refreshing pool to cool down in, if you don't feel like tackling all that pesky seaweed.
4) Playacar Beach
This is my personal favorite of all the beaches in Playa del Carmen.
It's part of a residential area, so it's quiet, clean, there are no sneaky rocks under the waves, waiting to stub your feet.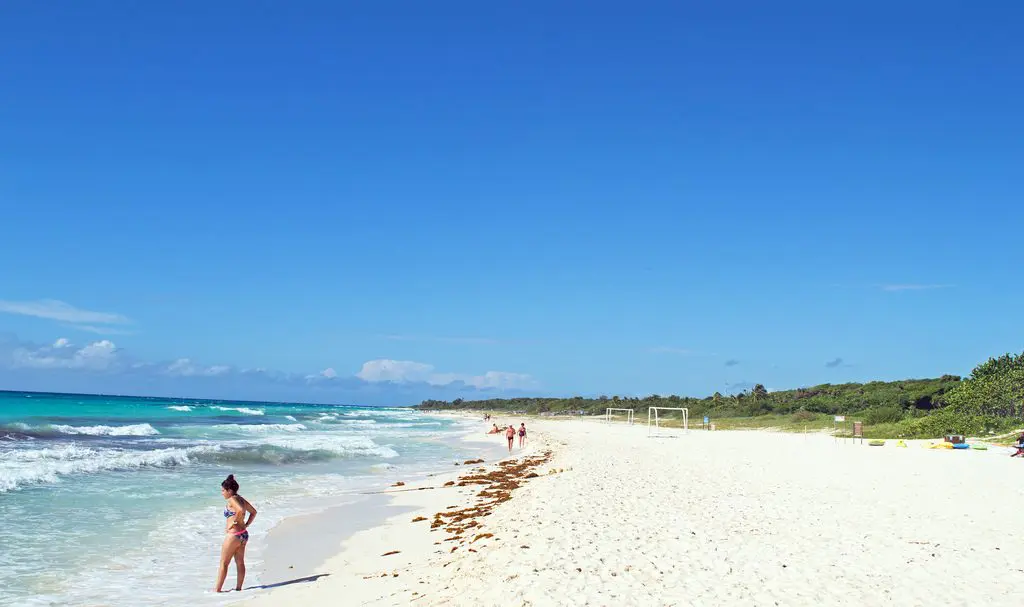 As this stretch of brilliant white sand is wishing the protected confines of Playacar, it is generally better managed than some of the other public beaches in Playa.
Seaweed is rarely a problem, as the private counsel in Playacar usually have it cleaned up before you've even laid out your beach towel.
I don't know what it is about the sea in this area, but it always seems to be that little bit clearer, and a little bit bluer than the sea close to the center of Playa del Carmen.
Playacar beach is also dotted with cute little palm trees, that offer some much-needed shade throughout the day. But get there early, the locals know this little trick, and take full advantage of it.
5) Coco Reef
Once upon a time, Canibal Royal had one of the most beautiful and exclusive beaches in Playa del Carmen. However, a sad combination of time and erosion have almost completely destroyed this area.
But fear not…

I put on my explorers' cap, and headed little ways around the corner, towards 48 street, and discovered a little gem.
Coco Reef is the only beach in Playa del Carmen that you can describe as secluded.
There are no restaurants, no beach clubs, and no bars. Just the sound of the waves lapping against the shore, and the birds singing in the nearby jungle. Paradise.
Coco Reef is also the best place to snorkel in Playa. So be sure to bring your snorkel and fins!
This beach club is a little difficult to reach, as the usual access has eroded, but you can stroll along 5th avenue until you hit 48 street, then turn right and head on down to the sand.
The few extra blocks are absolutely worth it.
6) Calle 2 Beach
This wide stretch of sand is home to one to some of the most loved beach clubs in Playa del Carmen such as Lido.

Access is super easy, and this beach is the perfect distance from the noisy ferry terminal and the somewhat smelly boat anchoring area.
Because of the popular beach clubs, this beach is usually more 'westernised', where you'll meet lots expats and tourists from the States and Canada.
The vibe here is friendly and fun, there are daily games of horseshoes and racquetball, and you will be lulled into a state of full relaxation by live country music.
Anyone looking for a little taste of home comforts, while enjoying the full splendor of a fantastic Caribbean beach will love the one on Calle 2.
Need some Help?
Have you booked your hotel yet?
Tough to choose right?
We, PlayaDelCarmen.com, can help you decide on the perfect fit and find you the best deals.
Our team is based in Playa and we visit every single hotel every year so we know our stuff.
Call us at 888-537-9797 or email us at customercare@playadelcarmen.com.
It's that easy!
Have you visited any of these gorgeous beaches? Let me know which was your favorite in the comments below!
---
Trending Now
You may also like