The Ultimate 1-Day Guide to Cozumel – What to Do in 24 Hours
---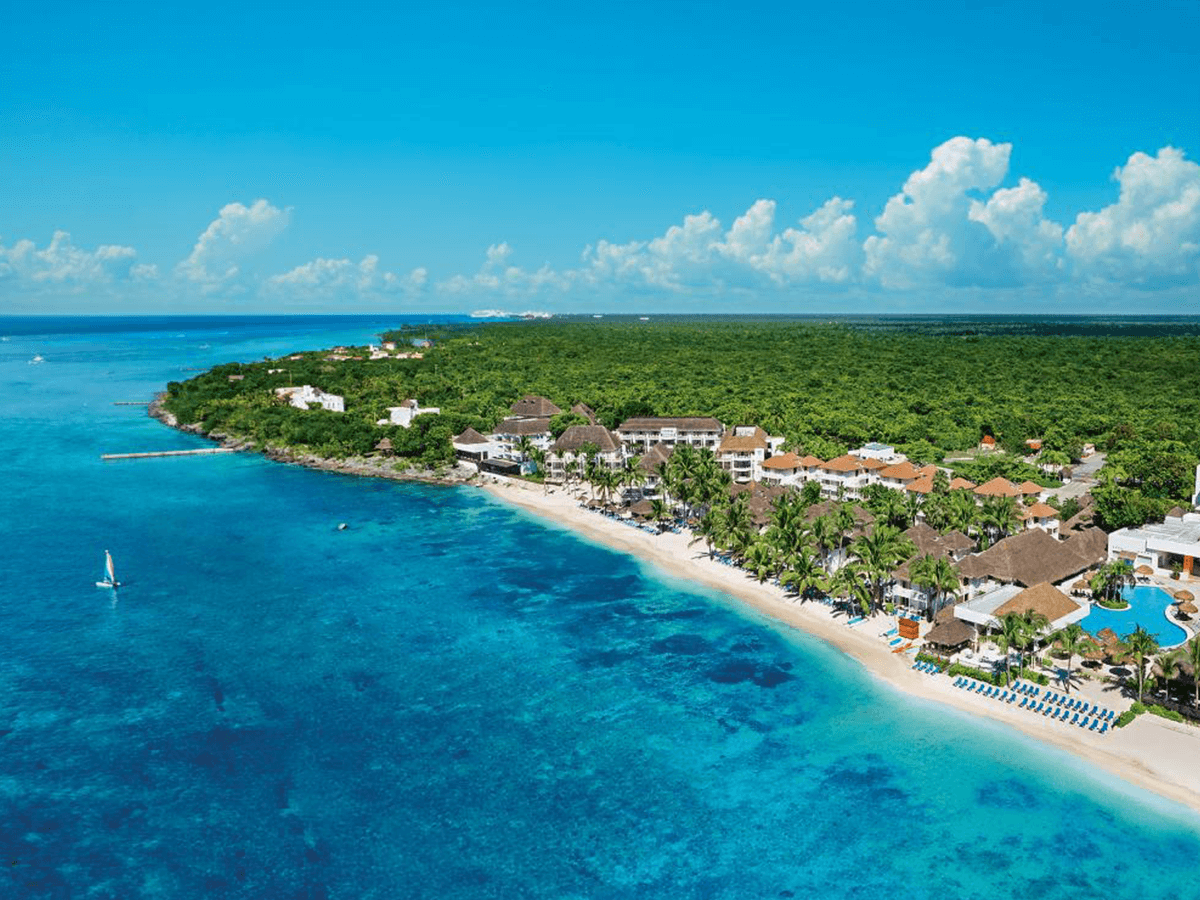 Behold, your ultimate guide to Cozumel!
Are you ready to sink into the true rhythm of the tropics?
It's time to escape the hustle and bustle of the mainland for 1 day and discover the postcard-perfect paradise floating on the horizon.
Cozumel is a mostly undeveloped island. It's world-famous for its unspoiled beautiful nature, vibrant reefs, and pristine white beaches.
There's no better place to rekindle your spirit, reignite your soul, and reconnect with nature.
After all…that's what vacations are all about, right?
This 1-Day Guide to Cozumel will include:
If you like this post be sure to bookmark it on your phone so you can revisit it at any time.

---

1. Why Cozumel?

On a clear day, standing on the sands of Playa del Carmen, you can see Cozumel sitting pretty in the distance.

It's a MUST while you're here!

…And it's never been easier to get there.

Thanks to the regular ferry system (more on that later) it's possible to venture across to the island just for the day and not even stay the night (although if you can, you should).

Cozumel possesses a quiet, cool, authenticity unlike no other.

Famed for its scuba diving, it's a haven for nature and adventure lovers alike.

The island is largely undeveloped and is a lot less commercialized than Playa del Carmen.

Consequently, it boasts a much more tropical vibe, with unique hotels, restaurants, and stores.

Although you are removed from the heart of the action (who knows you may even like it more), there are lots of things to do on the island.

All you need to know right now is that it is the epitome of Caribbean bliss, and everyone should experience it at least once.

If diving is your thing, or you would like to be able to finally tick it off your bucket list this is the perfect opportunity to see some of the world's most famous reefs.

At Arrecifes de Cozumel National Park, there are diving spots around a section of the Mesoamerican Reef and the Museo Subacuático de Arte's submerged sculptures that are definitely worth checking out.

There's also an eco-park called Chankanaab surrounding a lagoon with underwater caverns, home to dolphins, manatees and sea turtles.

2. Here's What the Perfect 1-Day in Cozumel Would Look Like:

Follow this express itinerary step-by-step to ensure you get the very best out of your 24-hours in Cozumel!

At the end of this itinerary, I'll leave an easy breakdown of tours available on the island, places to eat or drink, and shopping attractions that you can choose from at your own free-will.

It's all the information you will ever need in one place.

With my local knowledge, you'll experience only the very best of Cozumel.

Expect to be intoxicated by unspoiled landscapes, meet new interesting people, and delve out of your comfort zone by trying new things.

Happy islanding!

*Take cash with you to Cozumel as credit cards are rarely accepted. 

Prepare for Caribbean BLISS!

Time starts to slow down the minute you step aboard the ferry…

Once you step foot on to Cozumel you will be met by vendors at the port trying to sell your different tours, so if you didn't do any research beforehand, chances are they will try and rip you off.

Luckily, you're here reading this, so follow my plan and I guarantee you an amazing day on the island! 🙂

Morning (6 am – 12 pm)

9.00 am – Breakfast at Burrito's Gordito's

Fuel up for the epic day ahead by stopping off at Burrito's Gordito's for breakfast!


For just $5, you get a burrito (generous serving) and you can choose from a range of accompaniments and sauces.

10.30 am – Shopping in Downtown

While you're in the area, take a brief look around the bustling shopping port of San Miguel. This is the only dense area of shops you will find on the island.

If you like the look of something you can always come back later. 🙂

Afternoon (12 pm – 6 pm)

12.00 am – Explore the Island…by Car, Scooter Rental or Taxi

If you have the means and feel confident I would say it's time for you to hop on a scooter and take a leisurely ride around the island to soak up the incredible views!

You'll notice that there are two roads to follow, one is narrower and sits closer to the coast consequently providing better views.

It is supposedly reserved for use of bicycles.

However… it is in practice used mostly by scooters, and we also encountered cars and jeeps on the same road.

There are also cars for rental for a very reasonable price. I was shocked to discover car rentals actually worked out cheaper than taxis.

Although it is possible to navigate the island via taxi just make sure you budget for it. For example, it will be around 400-500 pesos one way from downtown to the opposite side of the island.

1.00 pm  – Lunch and Snorkel at Money Bar Beach Club

This little eatery is famous for its snorkeling.

The food is super tasty and inexpensive, plus you can snorkel and sunbathe there too!

You can borrow snorkeling gear for free, and use the shower, bathrooms, and changing rooms. Pretty sweet! 😉

The water in the sea is crystal clear! As soon as you take a dip you'll see a lot of fish even without wearing a mask.

3.30 pm –  El Cedral

This Maya ruin, a fertility temple, is the oldest on the island. It's the size of a small house and has no ornamentation.

El Cedral is thought to have been an important ceremonial site.

Evening (6 pm– 12 am)

7.00 pm – Drinks at Coconut Shack

Round off your day with some well-earned cocktails.

Don't judge a book by its cover this small shack on the side of the road backs up to the ocean, it's very simple and unpretentious.

It boasts gorgeous ocean views and amazing drinks! They don't use mixers, everything is made fresh with real fruits and veggies.

Try the mojitos or dirty monkeys, trust me,  you won't regret it. 😉

3. Food & Beverage Recommendations.

Italian:

Guido's Restaurant – Owned by chef Yvonne Villiger, this successful eatery draws on recipes from her father.

She's created a menu ranging from wood-fired pizzas and homemade pasta to prosciutto-wrapped scallops. Wash it all down with a pitch of Sangria, it's delicious!

Mexican:

Kinta – Prepare for a twist on tasty Mexican classics, this chic bistro is one of the best restaurants on the island.

The Midnight Pork Ribs (M$340 or roughly $18 USD) are a tried-and-true favorite, and they've added a wood-fired oven recently…not to be missed!

Seafood:

Camaron Dorado –  If you're headed to the windward side of the island or just want to see a different aspect of Cozumel, drop by the Camarón Dorado for a bite.

This food is highly addictive and will leave you wanting to come back for more!

Steak:

Pepe's Grill – for all you meat lovers out there, this place was traditionally hailed as Cozumel's first finest restaurant, and the prices reflect its reputation.

It's mostly Angus steaks, pasta, fresh fish and charbroiled lobster (available at market prices).

4. Accommodation Recommendations

Choosing where to stay can be tricky, especially when there are so many options, to help you out a little I've listed my top 3 choices!

Low Budgets

Save money on fancy hotels and stay at the coolest hostel on the island, 2 Tank Dive Hostel and School!

It's Cozumel's #1 boutique hostel and is the only PADI Dive Resort on the island which is specialized for backpackers and travelers.

The hostel is centrally located just 180 from the sea and ferry pier on the main square, and in close proximity to all the main attractions.

They offer the best quality and value backpacker stay and dive packages, daily boat dive trips to Cozumel's world-famous reefs and drift dives.

If you're ready to tick diving off your bucket list (which you definitely should while in Cozumel) they will take you to a life-changing safe and fun try dive if you never tried it before, they teach the full range of PADI certification courses from our their in-house PADI Dive Shop and diving school.

Medium Budget

Casa Mexicana Cozumel boasts comfortable rooms with an ocean view for great prices! It enjoys a privileged position close by to all the amenities and attractions you could ever want and need.

The staff are extremely helpful and will even assist you with arranging tours or advising you different tours on the island.

Within walking distance of splendid shops, attractions, and restaurants, Hotel Casa Mexicana Cozumel is one of the city's best-located downtown hotels. Truly in the heart of it all, it's the perfect place to relax and enjoy the best of Cozumel.

Luxury Budget

For those of you who enjoy your creature comforts in life, and an all-inclusive hotel may be the way to go.

The Secrets Aura Cozumel is a gorgeous adults-hotel luxury resort set on a wonderful stretch of beach with mesmerizingly tranquil azure waters.

The spacious 266-suite hotel boasts a variety of ocean view and garden view room options, all with private terraces and balconies offering spectacular tropical views of the property.

5. Activity Recommendations.

Cozumel may be a small island but there are SO many things to do!

Here are just a few of my favorites

You'll find that some tours I've listed are full-day tours lasting up to 8 hours. Please keep this in mind if you are hoping to see and experience other things while on the island.

However, they are SO worth it (they combine a lot of the highlights that Cozumel has to offer).

Have a read and be sure to check them out if they interest you. Trust me, you won't regret it!

1. Playa Mia & Coral Reef Snorkeling

Playa Mia & Coral Reef Snorkeling is the perfect tour to practice your snorkeling skills whether you're a beginner or advanced.

After making friends with the local marine life in the sublime crystal clear waters, you will head to an incredible Starfish Sanctuary before enjoying all the amenities and attractions Playa Mia has to offer, including, kids play area, hydro massage tub, kayaks and more!

It's an action-packed day but you still have plenty of time for some rest and relaxation on one of the best beaches in the entire Caribbean.

2. Pantera The Eco Tour

Explore Cozumel's highlights on this half-day Eco Tour!

Get ready to buckle up and roll around in Pantera's impressive Jeeps and Hummers as you explore every inch of this celebrated island.

Come and see for yourself what all the fuss is about. Snorkel the world-famous reefs of Cozumel, sample the island's finest blends of tequila, and marvel at stunning wildlife in its natural habitat.

Nature lovers will never want to leave!

3. Playa Mia Day Pass Experience

Playa Mia is famous for its transparent waters,  lush reefs, and idyllic white sands, this place really is heaven on earth!

You'll learn about the fascinating ancient histories that surround the Mayan culture, and make a splash at the best water park in the Caribbean!

It's the perfect day if you are traveling with children, but really, let's be honest who doesn't love waterslides?

What are you waiting for?

6. Transport

1. Getting the Ferry

Getting across to Cozumel from Playa del Carmen has never been easier. The crossing takes around 45 minutes and the ferries run every day, hourly.

View our updated ferry schedule here. 

The first one being at 6.45 am and the last one at 11.00 pm.

They are all roughly the same price but Barcos Caribe is the cheapest. Adults pay just $8 and the child's price is $4.

2. Where to Rent a Scooter/Car in Cozumel

To be 100% free to roam the island we would 100% recommend renting a car or scooter.  The prices are almost the same everywhere.

You can rent a vehicle starting from $25 per day. I paid $30 (including third-party insurance $5) for our Honda Dio 110.

It was powerful enough, very comfortable and spent just a little bit of fuel for all the trip.

3. Taxi

If your destination is too far away to walk or ride a bike the only other option is to hail a taxi as there is no public transport system in Cozumel.

The average one-way fare between the hotel zone (central Cozumel) and San Miguel is $7.

7. Shopping

Cozumel's most concentrated shopping area centers around San Miguel's zócalo (Plaza del Sol) and extends for about 8 blocks along the waterfront and for several blocks back into the town.

Downtown Cozumel has everything from high-toned waterfront jewelry stores like Van Cleef & Arpels to little holes in the wall crammed with hand-painted batik hangings, carved wood crafts, and papier-mache animals.

The downtown area is lovely, but it can be expensive.

You'll have a far more rewarding shopping experience both in terms of prices and ambiance if you avoid what the locals call "the sidewalk shuffle" and head off on your own.

Venture up the backstreets of downtown where you'll find more one-of-a-kind items.

Good luck! 😉

8. Hospitals and Medical Care

During my time on Cozumel, I couldn't hear through one of my ears, and it was extremely uncomfortable.

We headed to the nearest hospital to get it looked at and taken care of ASAP.

I went after hours during the night time and the service was amazing. I didn't have to wait at all and the doctor was very professional speaking perfect English.

The price was $100 USD to have it unblocked which at this point I was very willing to pay. The doctor noted prices were a little inflated because of the time of day around 10 pm.

As soon as he completed the procedure I could hear again straight away and had no problems following that.

It was actually (and thankfully) my first time using medical care in Mexico since being here and I was very very surprised at the quality of service. 

If I was back home in the UK it would have taken me two weeks to get an appointment to see my GP.

My point is, if you have medical concerns during your trip or you're of a certain age, you can rest easy knowing that the options here are plentiful and that you will be taken care of by professionals.

Always be sure to have insurance or enough funds to be able to pay.

Both Costamed or Amerimed are good options should you need any assistance.

9. Additional Resources You May Find Useful

10. Get Organized

That's what we are here for.

Call us, PlayaDelCarmen.com, today at our toll-free number  888-537-9797

Or, you can email us at customercare@playadelcarmen.com 

We hope to hear from you soon.

Cozumel is a beautiful place, we hope you enjoy it as much as we do.
---
Trending Now