The Most Beautiful Cenotes in Playa del Carmen: The Ultimate Guide
---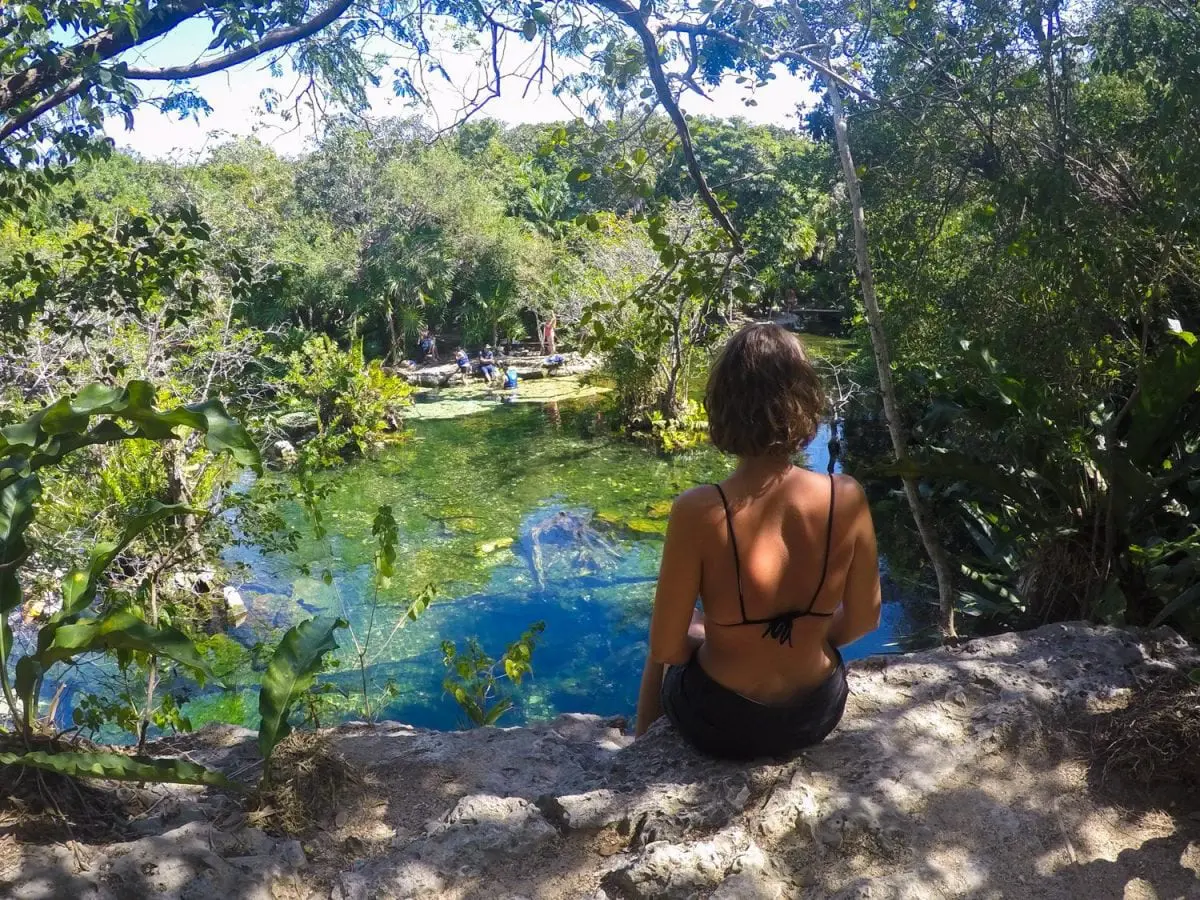 Playa del Carmen is very fortunate to be slap bang in the middle of an area in Mexico that is filled with natural wonders not found anywhere else in the world.
One of the most impressive of these phenomenons are cenotes! The Yucatan Peninsula is the only place you can find these mesmerizing wonders, and it's home to over 7,000 of them.
These majestic bodies of water are formed when a cave collapses, creating a magical world of aquatic life and wondrous underwater rock formations.
Ancient Mayan civilizations thought of cenotes as sacred and often made sacrificial offerings to their gods in them.
Back to modern times, and the glittering blue waters are now enjoyed by people of all ages, looking for a unique underwater experience.
The only problem is, many of these amazing cenotes are situated a very long distance from Playa del Carmen, and can be quite costly to travel to.
That's where I come in. I have visited each and every cenote in the area.
This is my ultimate guide to the most beautiful cenotes, all within a 30 minute driving distance from Playa del Carmen.

Azul
Opening hours: 9:00 – 22:00
Price: $80
Cenote Azul shall always hold a special place in my heart as it was the first cenote I ever visited in my life. Even the walk to the main pool is magical!
A little winding path leads you through a beautiful Mayan jungle, passed smaller pools filled with cute little catfish, bright tetra and friendly mollies, and then out into the bright sun.
Then you reach the main pool, which is absolutely breathtaking. It's split by a wooden walkway straight down the middle. The left side forms a shallow pool with smooth rocks to sit on, and the right side serving as the main swimming area, with depths up to 26 meters.
Cenote Azul is also home to some amazing wildlife. Tropical birds call from the trees, iguanas pop out from time to time to check out all the fun and games, and the water is filled with the amazing Garra rufa fish that gently clean your feet… a built-in spa!
So, Whether you want to sit back and sunbathe in the middle of a stunning jungle, explore the magical underwater rock formations, or let out your inner dare devil and jump from the 10 foot high cliff into the fresh, cool water, cenote Azul has something for everyone.
How to get to Cenote Azul?
You can access cenote Azul from the main highway heading towards Tulum. It will take you around 20 minutes to see the sign on your right hand side.
From there, you can drive straight into the purpose built car park, and you're ready for your Cenote adventure.
You can also access cenote Azul by using the public Colectivo vans, and hopping off on the highway. They can be found in Playa del Carman on Calle 2 and 15th Avenue.

Jardin del Eden
Opening hours: 8:30 – 18:30
Price: $100 pesos
This stunning cenote, also known to the locals as Ponderosa, is second in the line of three cenotes found on this stretch of highway. It sits nestled between cenote Azul and Cristalino.
Although these cenotes are all in very close proximity to one another, Jardin del Eden has a charm all its own.
Once you arrive to the site, you have around a 10 minute walk through the jungle ahead of you. After this scenic stroll, you'll reach the main gate where you can rent any equipment you may need, and pay your cover fee.
After this checkpoint, the fun begins! Cenote Jardin del Eden is absolutely breathtaking at first sight. It is sunken far into the ground, with cliffs all the way around.
Scattered along these cliffs are little picnic benches, wooden seats and fixed barbecues for cooking up a delicious afternoon snack.
You can make your way down to the crystal clear water using the purpose built wooden steps, or you can throw care to the wind and jump right in from the marked cliff jump areas.
Once in the refreshing water, there's still so much to see. Cenote Eden is much deeper than its neighbors, so the rock formations there are so much more impressive.
Huge slabs of limestone create mini caves and caverns, giving shelter to the amazing marine life. The large rocks also form little seats and standing areas for you to rest on between your swims.
After a morning of exploring the Cenote, you can sit back on the huge wooden platform that stretches out over the cenote, explore the surrounding jungle paths, or cook up a delicious BBQ in your own jungle paradise.
How to get to Jardin del Eden?
Just like cenote Azul, you can take a taxi, car or Colectivo to reach cenote Jardin del Eden. Once you see the Barcelo hotel on your left, you will find Cenote Eden immediately to your right.
Either hop off the Colectivo and cross over the highway (carefully), or turn at the "Retorno" a little further up the highway, and then pull over to the parking area at the cenote entrance.

Cristalino
Opening hours: 8:00 – 18:00
Price: $100 pesos
When heading out from Playa del Carmen, this beautiful cenote is the first in the line of three cenotes, along with Azul and Jardin del Eden.
Cristalino is probably the most equipped of the three, as it has not only has dedicated toilets, snack shop and gear rental, but it also has handy changing rooms close to the cenote.
After you pay for your entrance, you will be given a life vest. You don't need to put this on, it's just a courtesy to help out any of the younger or less able swimmers.
As you shimmy down the little gravel path, you will pass a smaller pool, don't get disheartened, this isn't the main attraction.
Keep on walking a few more meters, and the jungle path will open up to the highly impressive main pool.
Much like the other cenotes, Cristalino also has its very own cliff jump, sitting an impressive 12 meters high, friendly local wildlife and perfect, crystal clear water. However, one thing it has over the rest, is a magical, if not slightly scary, cave!
You can easily swim up to this fascinating cave and either free-dive down and through it, or explore the amazing fish that hide in the shadows.
Deeper into the cave it does get very dark, so if you're not very comfortable with enclosed spaces, stay near the entrance or bring an underwater torch.
How to get to Cristalino?
Like the other cenotes, you need to jump on the highway in Playa del Carmen and head down toward Tulum.
Once you pass Puerto Aventuras, keep on going for around 5 minutes, and you will see the cenote sign pop up on your right hand side.
You can take a taxi, car or Collectivo van found on Calle 2 and 15th Avenue.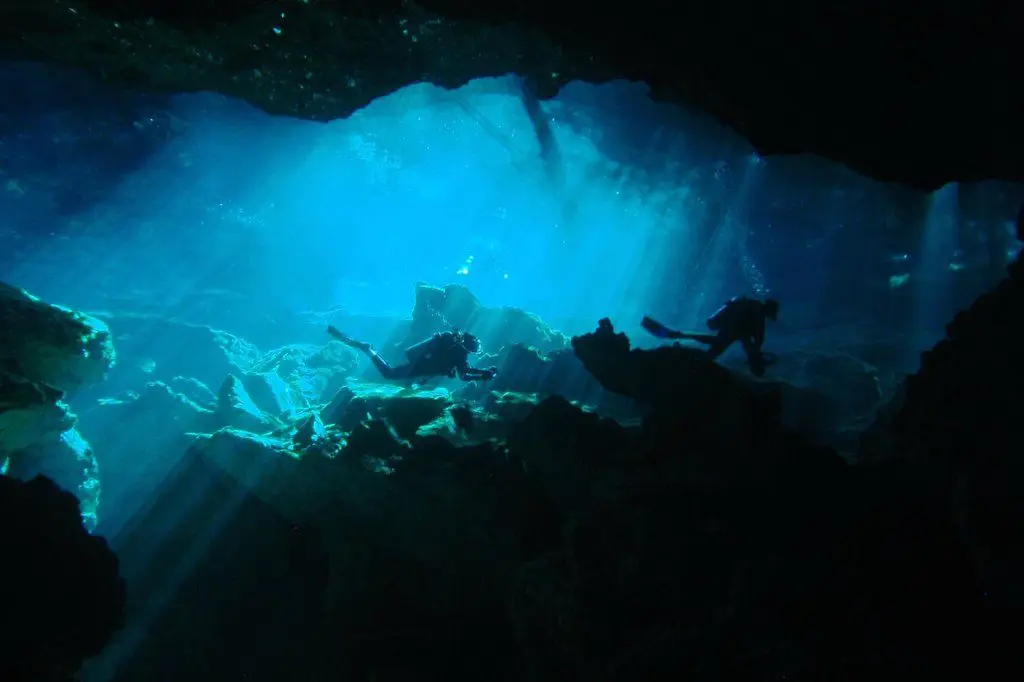 Tajma-hál
Opening hours: 10:00 – 18:00
Price: $50 pesos
This cenote is the only one near Playa del Carmen not suitable for snorkeling. So if you're more into the casual splash and swim places, it's best to leave this cenote to the more advanced divers.
Cenote Tajma-hál is classed as an intermediate to advanced dive, and is a fantastic test on your buoyancy skills.
The actual cenote is separated by intricate tunnel and cave systems, that open up to magnificent open air caverns.
In each of these open halls, you can see the lush jungle above you, and the bright rays of sun slice through the dark water, creating a jaw dropping rainbow light display.
Through each of the tunnels you can see fossils, many stalactites and stalagmites and a haunting, undead forest of manglar and jungle remains.
At its deepest, cenote Tajma-hál reaches an impressive 15 meters, and has a mixture of both salt and freshwater, creating some fantastic haloclines.
How to get to Jajma-hál?
Tajma-hál can be found a little further down the highway from the three neighboring cenotes, Azul, Jardin del Eden and Cristalino.
After around 30 minutes you will see the Under the Jungle store on your right, and a small road to the left of it. Take this road, and follow it up away from the highway. At the end, you'll reach Cenote Tajma-hál.
If you are traveling by Colectivo, then you will have a long, 20 minute walk ahead of you from the highway. Wear strong walking shoes, or opt for a different mode of transportation.
Top Tips
Be sure to bring biodegradable sunscreen to the cenotes. The ecosystems in these amazing areas are extremely delicate and can be irreversibly damaged by the chemicals in everyday sunscreen.
Some of the cenotes can be home to a few mosquitos, especially Jardin del Eden, so be sure to bring some insect repellant. Again, a natural, non-chemical version is preferred.
It is advisable to bring your snorkel or swimming goggles to fully enjoy the cenotes. However, if you don't have your own don't worry. At each of the cenotes you can rent or buy all of the gear you may need, including fins, snorkels, life jackets and even biodegradable sunscreen.
All of the cenotes have bathrooms and a first aider on site, so you can feel comfortable and safe during your trip.
Have you visited any of the cenotes close to Playa del Carmen? Let us know what you thought in the comments below!
---
Trending Now
You may also like