How to Get a FREE Destination Wedding in Mexico!
---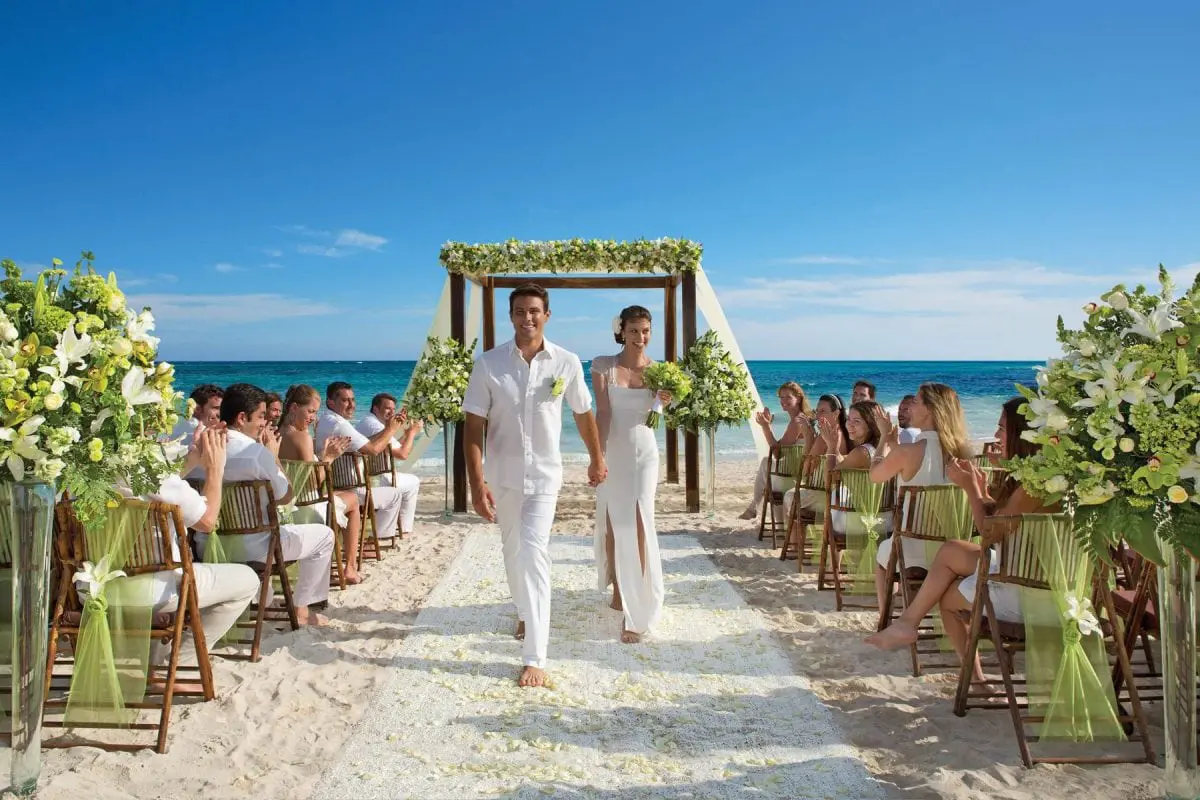 SO…you're looking for an affordable or cheap destination wedding?
You know what's better than an affordable destination wedding? A FREE destination wedding.
Yes, you read correctly, FREE.
"HOW?", I hear you say…
Here at PlayaDelCarmen.Com, we've organized 100s of weddings in the Riviera Maya, so rest assured we know our stuff.
Depending on how many guests plan on joining you
+
 how long they wish to stay…
=
 YOU could be entitled to a free wedding package at one of the best hotels in the region!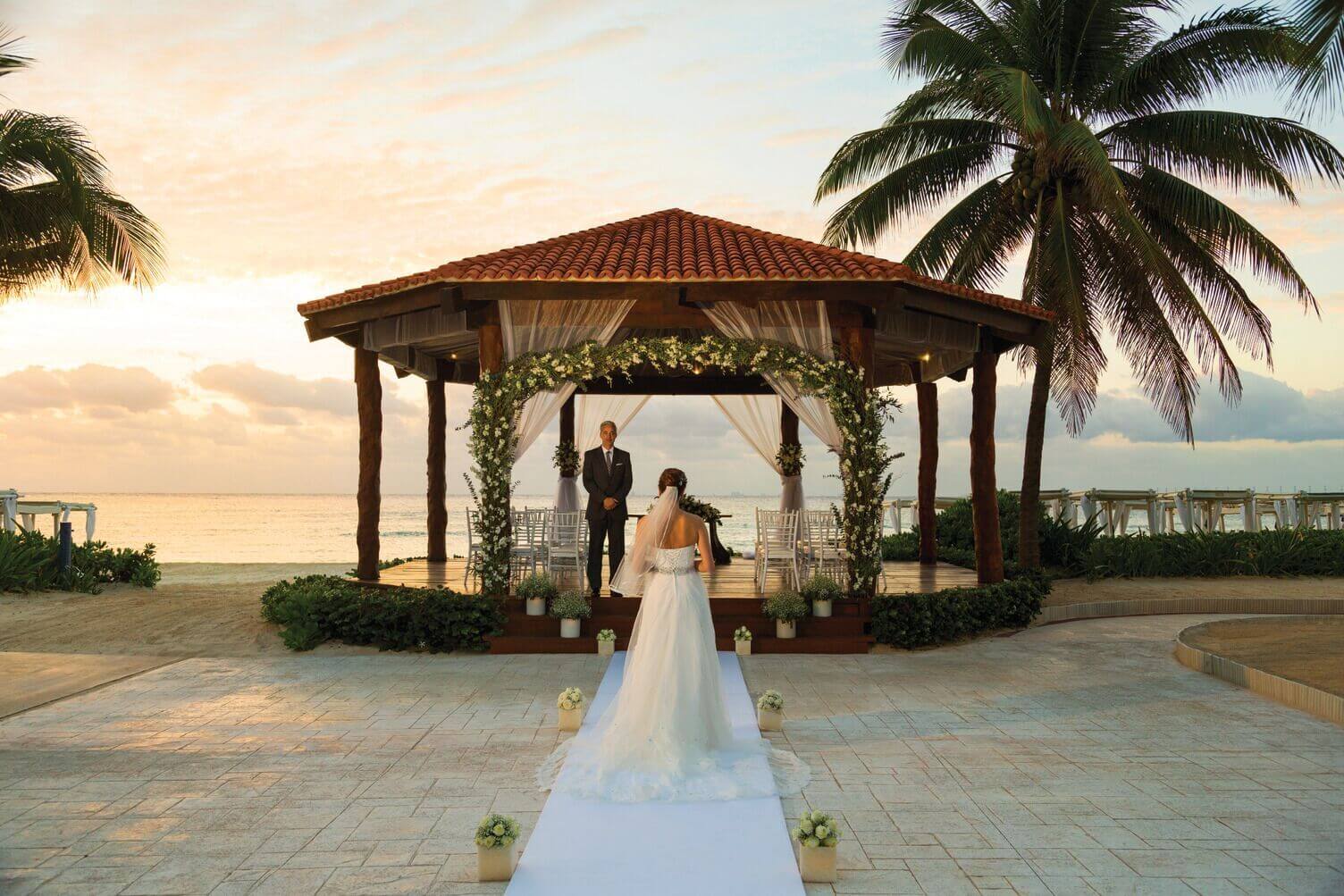 But shhhh!
This little-known secret is golden information, so share it wisely.
---
5 Hotels that Offer Free Destination Wedding Packages in Mexico
Complimentary wedding packages are the hotel's way of saying thank you for choosing to have your big day with us.
Many of the top hotels in the region offer this kind of deal, it's just that nobody really knows about it…YET!
But because of my good-nature, and my fear of you missing out, I've brought you my round-up of the 5 best hotels offering a complimentary wedding package for your big day!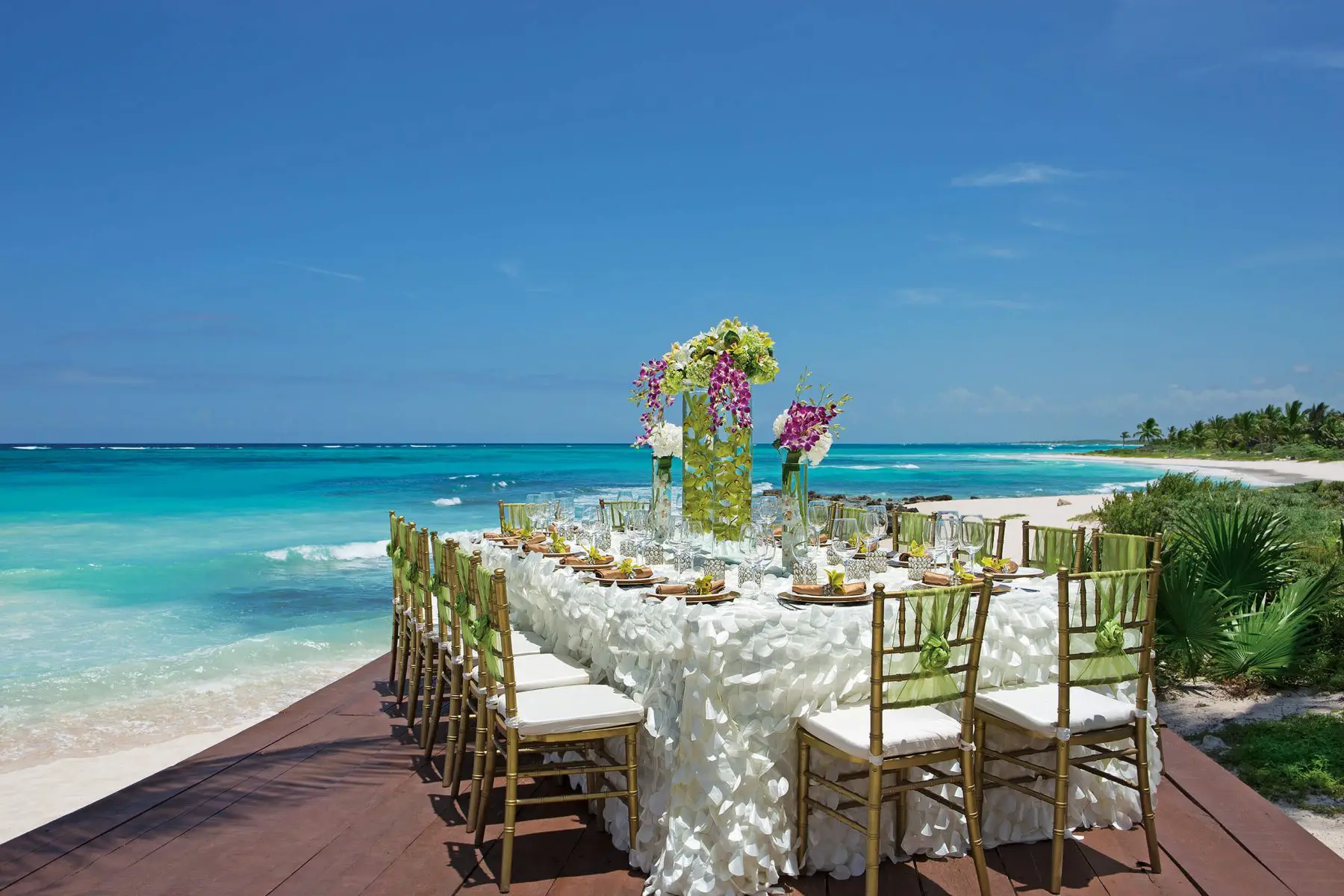 Below you will find all the information you need to know in regards to how to qualify for the 3 complimentary packages. 

Plus, useful information about the selected hotels/resorts.
You can thank me in the comments section below later. 😉
In this post we will cover: 
(Please note, all of the 'Dreams' Hotels offer the same complimentary package which I will detail after I've discussed the differences between all 3).
---
1. Dreams Tulum
★★★★★ | Adults-Only + Kid-Friendly |
If authenticity is something you desire Dream Tulum boasts a traditional Mexican feel encouraged by the extremely beautiful and untouched surroundings of Tulum.
This resort separates you from the masses of tourists that visit the region each year. It's relaxed, beautiful, and romantic!
Offering the perfect blend of seclusion and 5* luxury amenities.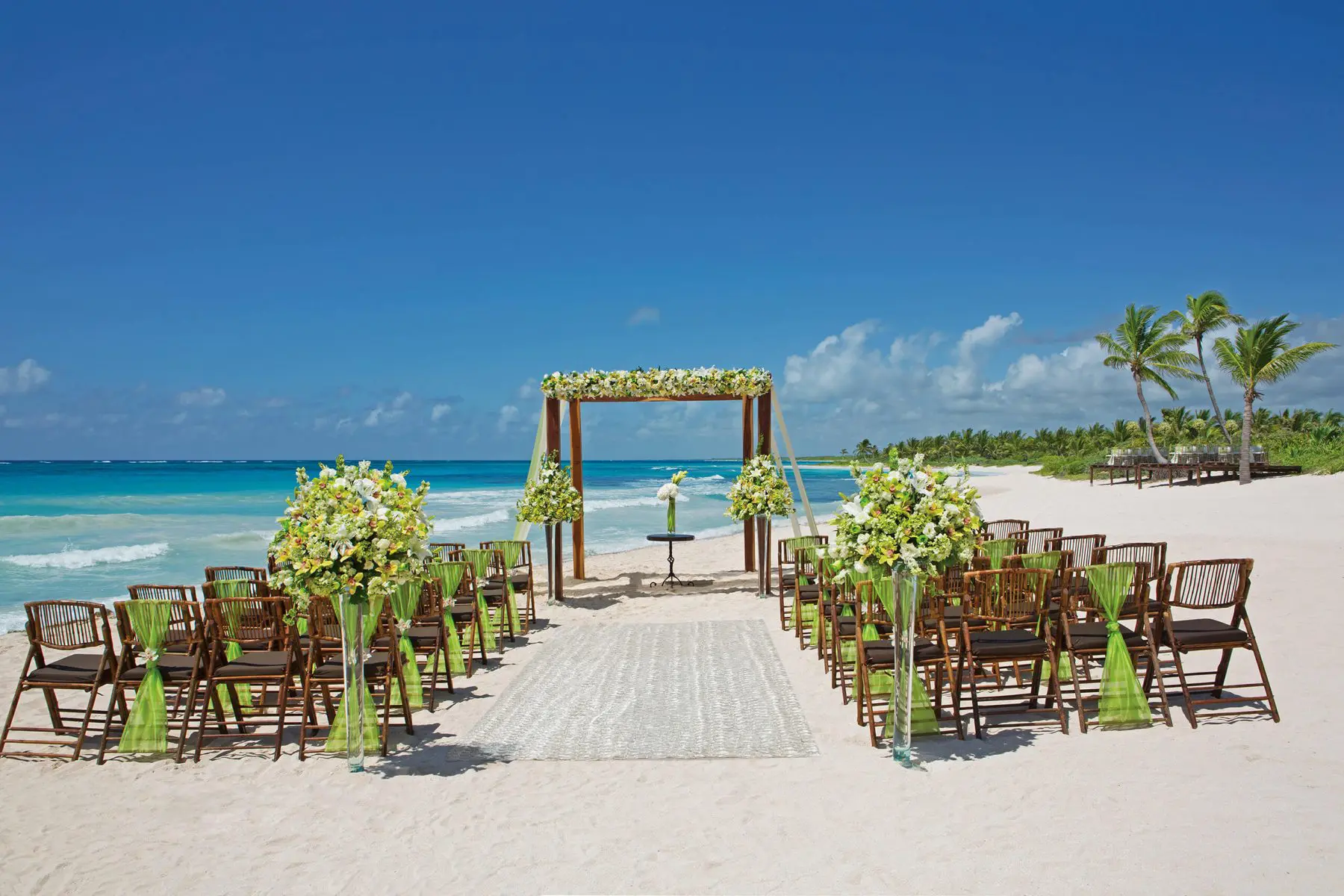 The Dreams Tulum Hotel offers families, couples, and singles the perfect accommodation options for your wedding. There is something for everyone.
With a multitude of stunning locations to choose from such as a chapel, garden areas, idyllic stretches of beach, and indoor function rooms, you will be spoilt for choice!
Although you will feel in a world of your own at this hotel you will only be minutes away from the regions top attractions such as the famous Tulum Mayan Ruins!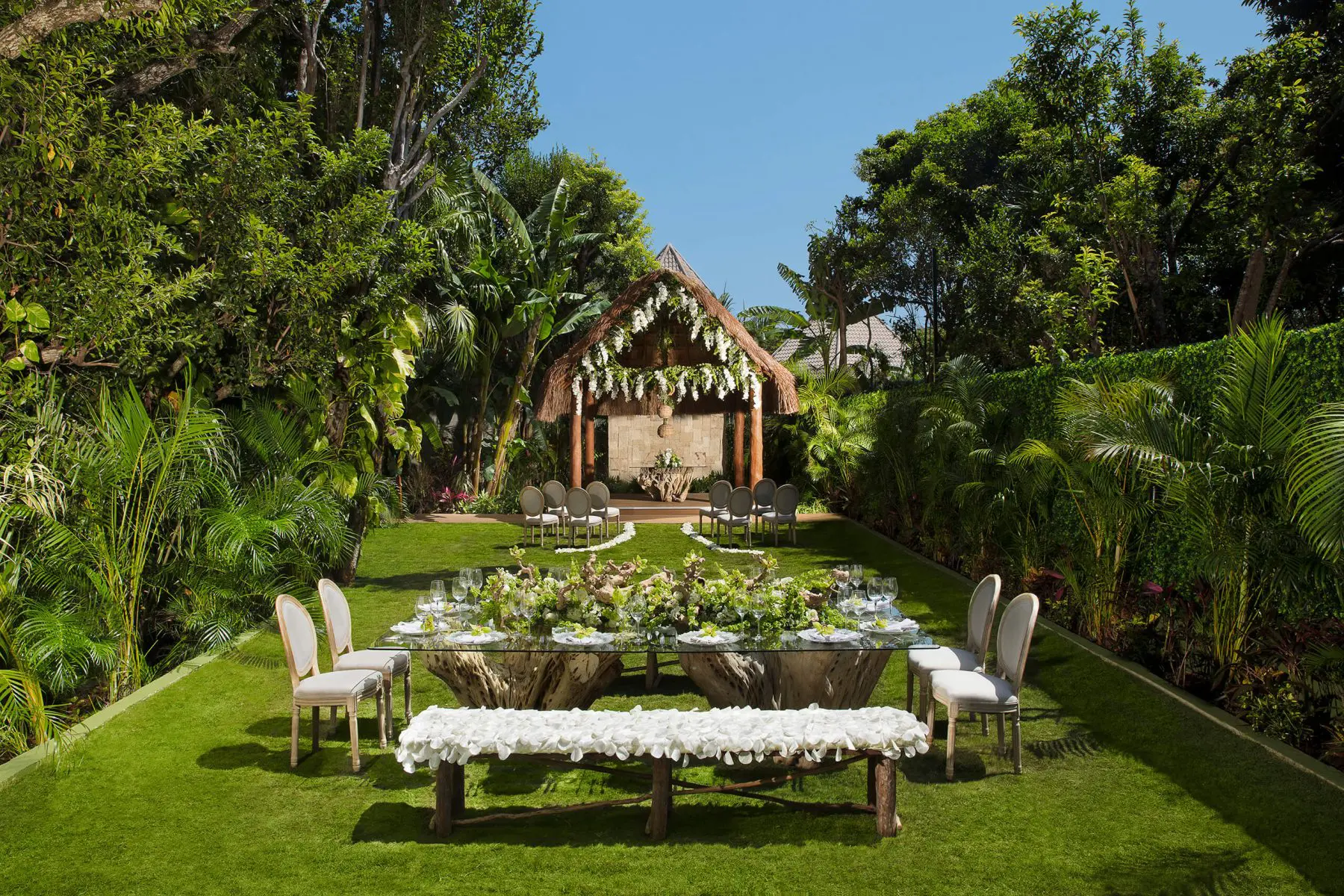 Hotel Overview: 
✓ 432 guestrooms
✓ 3 swimming pools
✓ 7 restaurants
✓ 24-hour room service
✓ 7 bars
✓ Kid's Club
2. Dreams Puerto Aventuras
★★★★ | Kid-Friendly |
This resort enjoys a gorgeous position between Playa del Carmen and the ancient Mayan ruins of Tulum.
At this hotel, you will be away from the hustle and bustle of tourists and enjoy the quaint village of Puerto Aventuras.
The hotel sits neatly amidst the beauty and mystery of the Mayan coast on a private beach in a marina community.
This feeling of exclusivity is only amplified by the unlimited-luxury that awaits you at Dreams Puerto Aventuras.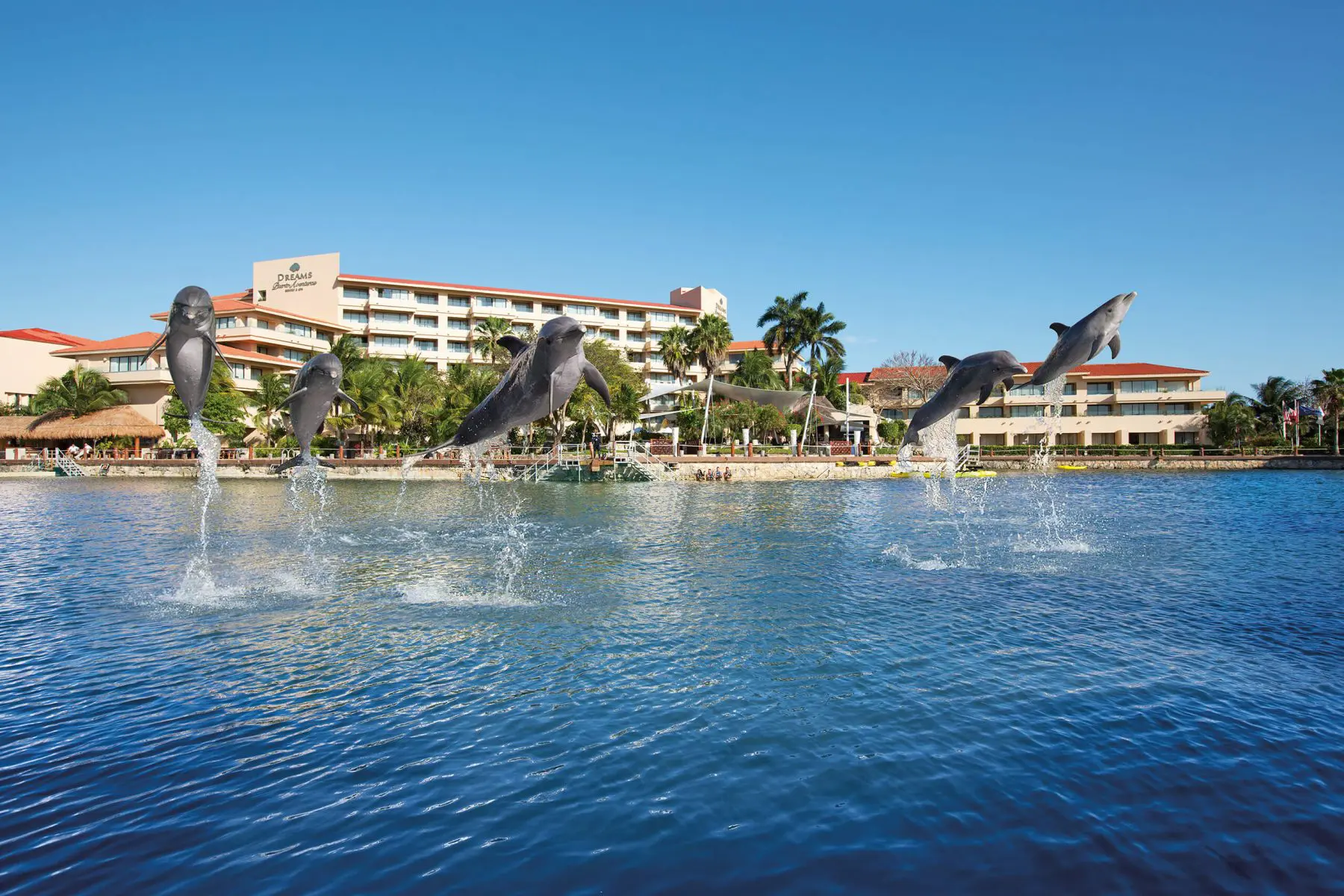 All guests rooms and suites are utterly luxurious with private balconies or terraces boasting brilliant views of the dazzling turquoise yacht-filled bay.
Rooms also include a wealth of amenities such as 24-hour room and concierge service, satellite TV, mini-bar, and full-size baths with separate showers.
Spend your days poolside topping up your tan or get involved in the watersports.
Choose among five restaurants offering sumptuous à la carte dining, five exquisite bars, and lounges, a full-service
Dreams Spa by Pevonia, fully-equipped fitness center, and an Explorer's Club for kids.
Dreams are celebrated for their incredible weddings team so you can rest assured you will be taken good care of them if you choose one of their hotels for your big day.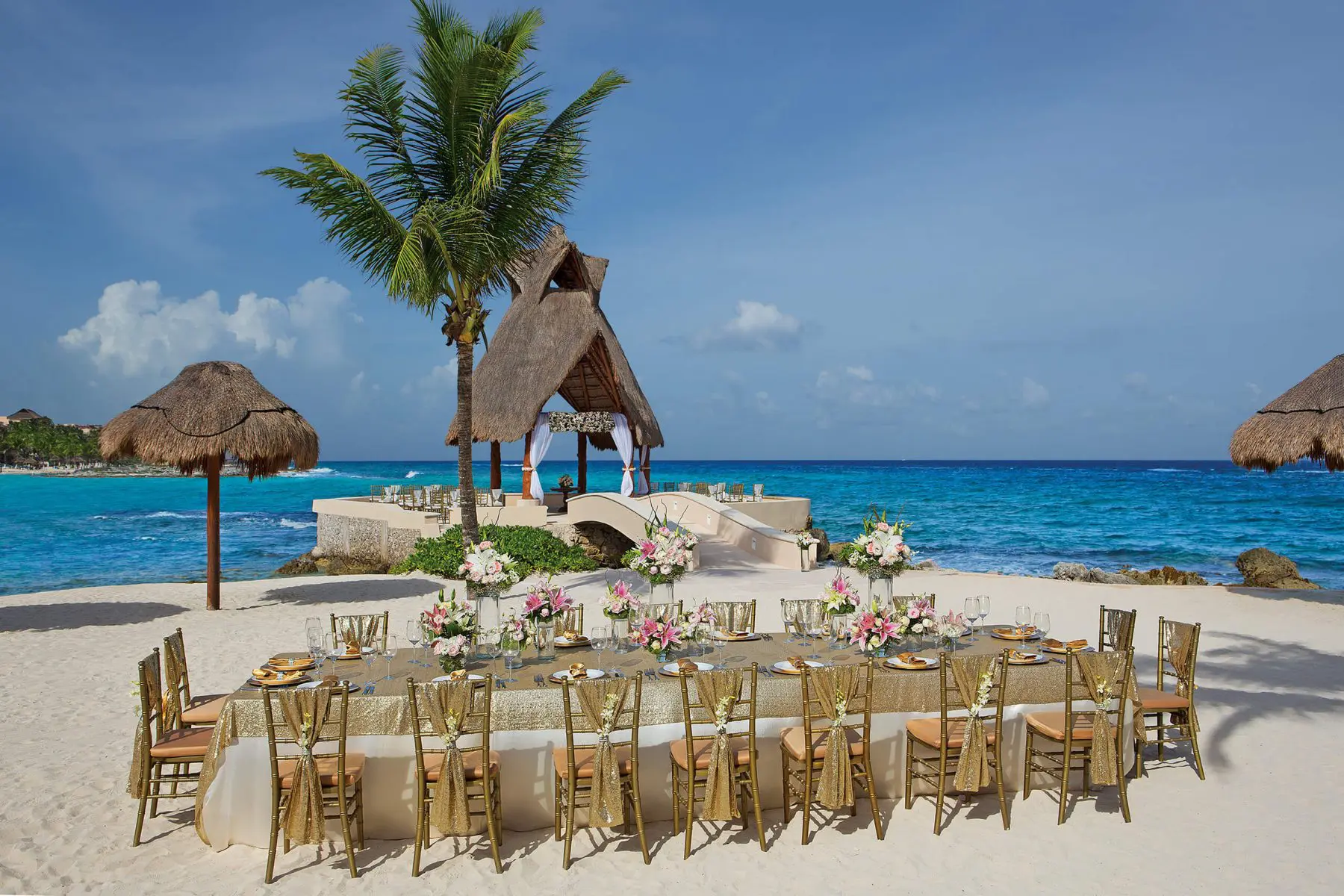 Hotel Overview:
✓ 305 rooms and suites
✓ 2 swimming pools
✓ 6 restaurants
✓ 5 bars
✓ Kid's Club
✓ Activities for Teens
✓ Swimming with Dolphins on site
✓ Golf Nearby
3. Dreams Riviera Cancun
★★★★ | Kid-Friendly |
Dreams Riviera Cancun Resort & Spa has been meticulously designed to reflect the charm of the Mexican Caribbean.
This resort epitomizes tropical bliss. Surrounded by glistening pools and spring-cenotes, lush gardens, and a palm-studded beach, you will be spoilt for choice when it comes to choosing the perfect location for your wedding.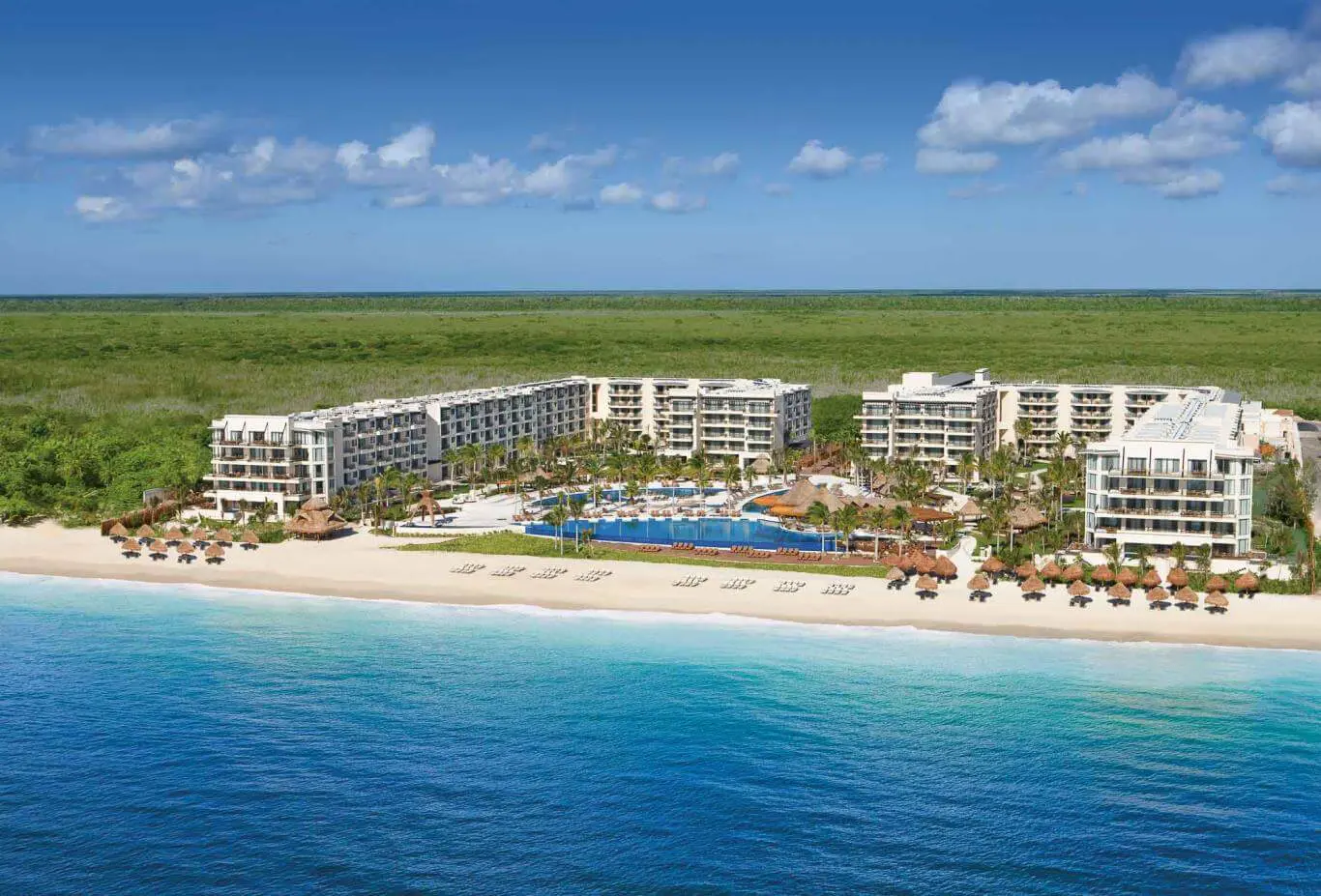 Dreams Riviera Cancun is an intimate resort with just 486 premium octagonal rooms and suites, that allow guests to luxuriate in spacious accommodations.
Rooms feature a Jacuzzi, daily refreshed mini-bar, full marble bathrooms, and a wealth of VIP amenities.
The resort offers seven à la carte themed restaurants without reservations, as well as Coco Café and the Barefoot Grill, six fabulous bars ranging from elegant to swim-up, plus a fully equipped fitness center and lavish Dreams Spa by Pevonia.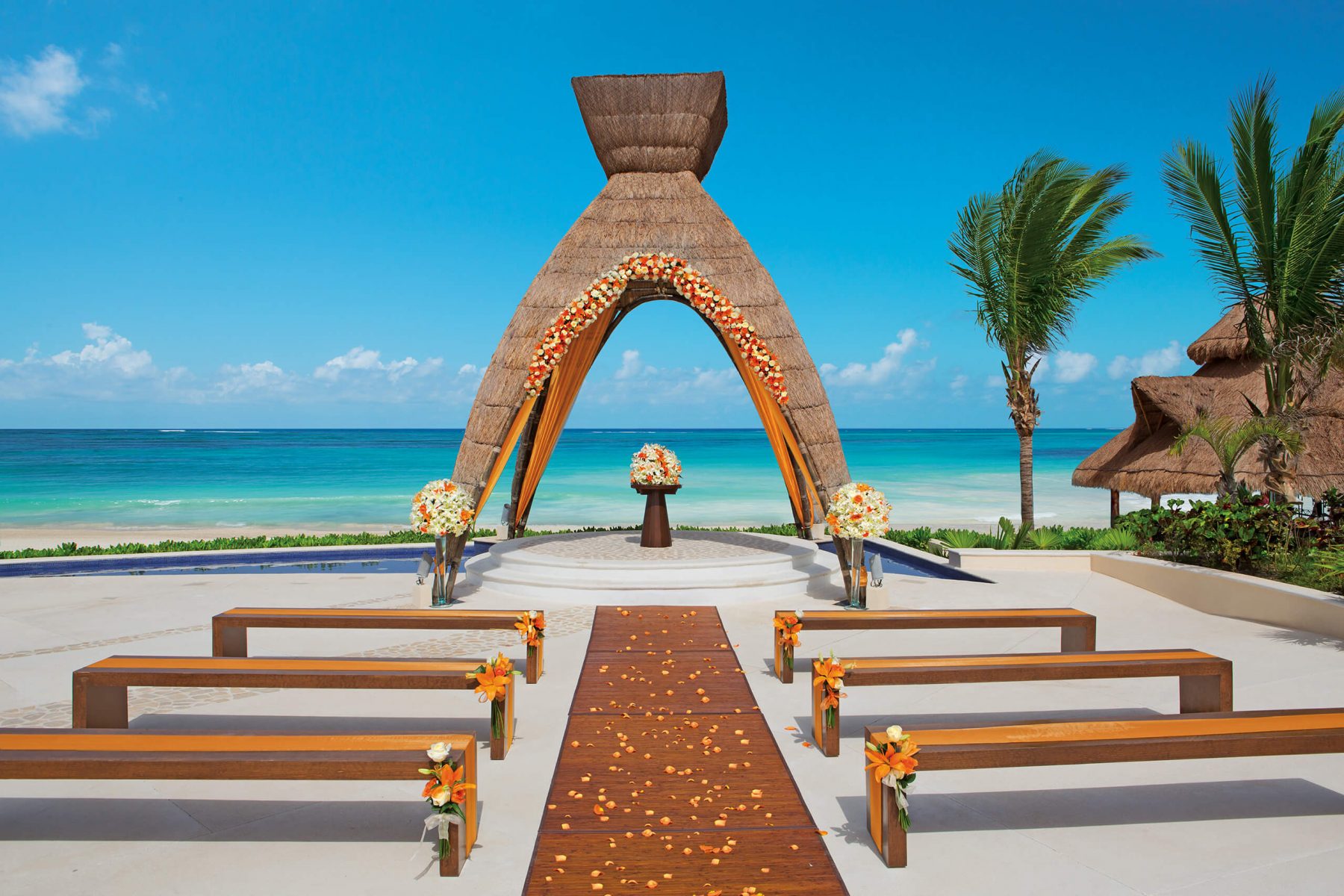 Hotel Overview:
✓  486 suites
✓  Multiple Swimming Pools
✓  9 restaurants
✓   6 bars
✓   24-hour room service
✓   Waiter service at pool and beach
✓   Daytime Activities
✓   Nightly Entertainment
✓   Kids Club
✓   Free WiFi
✓   Spa
The Free Destination Wedding Package at 'Dreams'
How to qualify for the "Paradise Package":
This wonderful package is complimentary when booking at least 7 night in the Preferred Club Junior Suite Ocean Front or if any 5 rooms in a higher category are booked for at least 3 nights.
This package also applies for renewal of vows ceremony.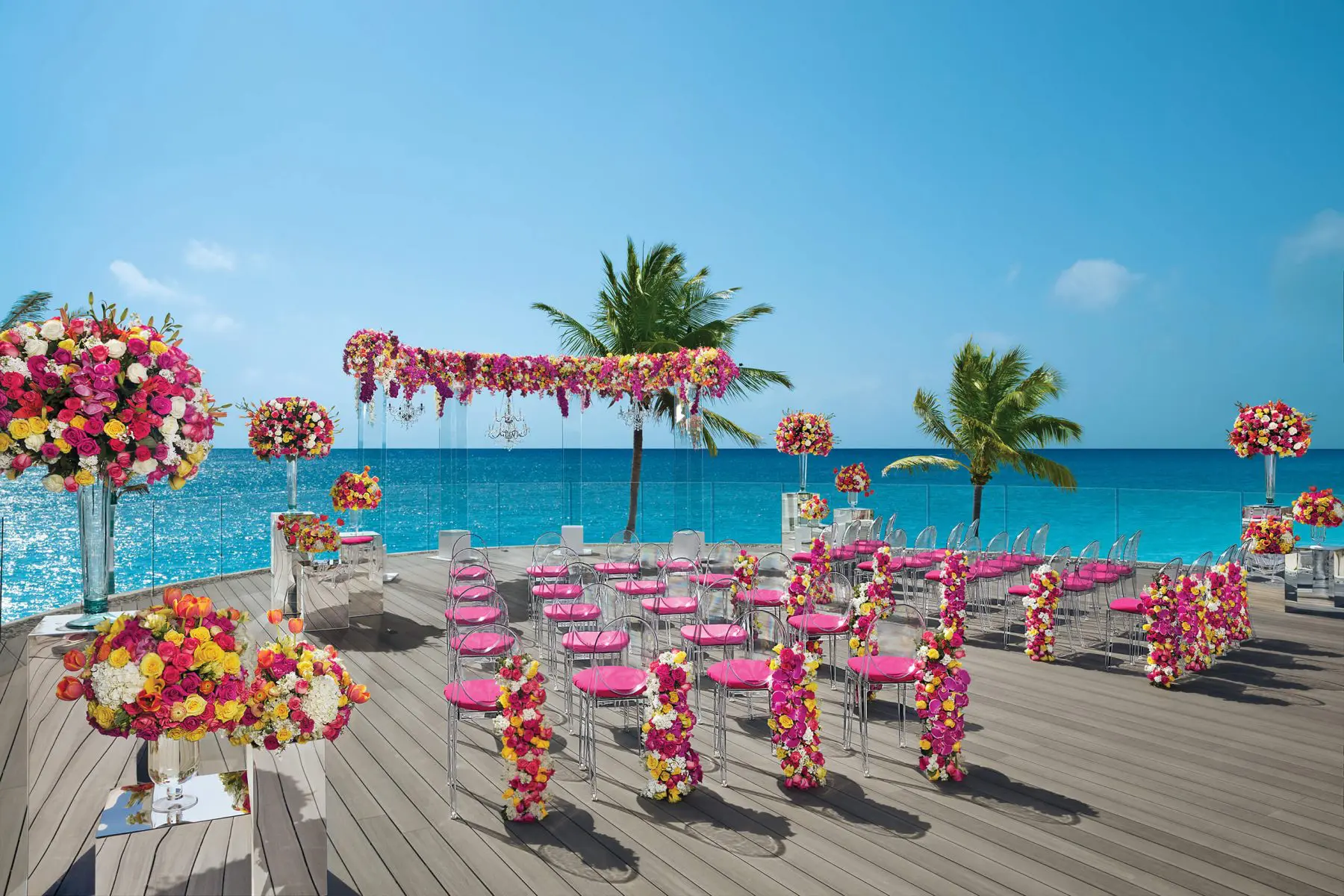 The 'Paradise Package' includes:
Ceremony Inclusions
Symbolic Ceremony – with friends and family.
Wedding Coordinator – organization and personal touch of on-site wedding coordinator.
Preparation and Ironing –  of couple's wedding day attire.
Complimentary Room – for one member of the wedding couple the night before the wedding (based on availability and upon request).
Bouquet(s) and/or Boutonniere(s) – for the wedding couple.
Reception Inclusions
Wedding Cake –  and sparkling wine toast (for up to 10 guests).
Special Turn-Down Service – the night of the wedding.
15% Discount – on all spa treatments (Boutique purchases not included).
Newlywed Package.
Late Check-Out for the couple (based on availability and upon request).
Free 'Anniversary Nights' depending on availability.
2023/2024 Selling Price $ 999 USD or Complimentary.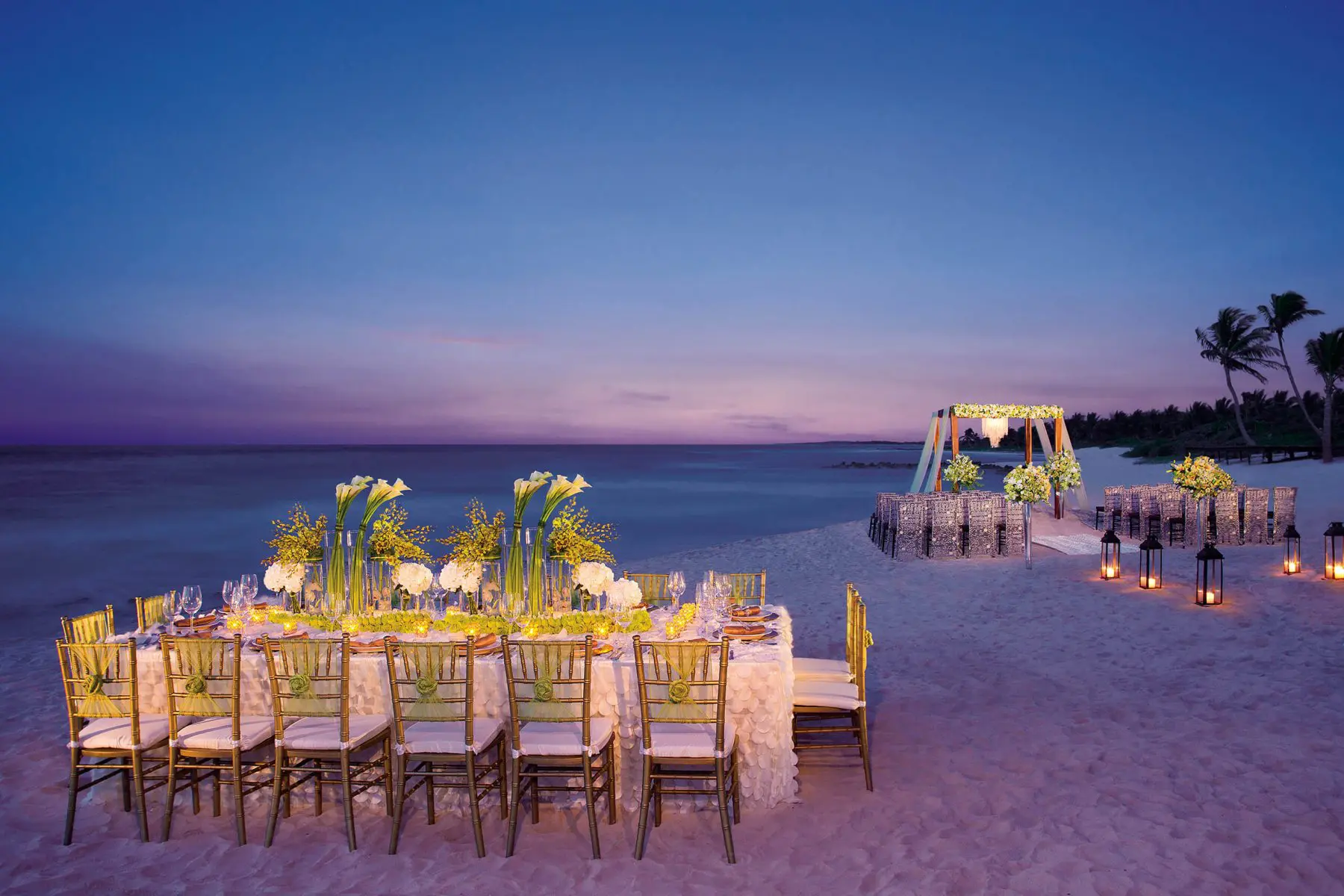 If you wish to upgrade or add anything on to the complimentary package you can do so for an additional charge.
Do you have a question?
Contact our team at Playa del Carmen Weddings today and get asking!
4. The Royalton Riviera Cancun
★★★★★ | Adults-Only + Kid-Friendly |
If an impressive, world-class resort is something you seek the huge Royalton Riviera Cancun is a luxury resort with 24-hour, all-inclusive service.
The hotel boasts accommodations to suit all guests so whether they want an adults-only boutique section or a family-friendly area, there's something for everyone.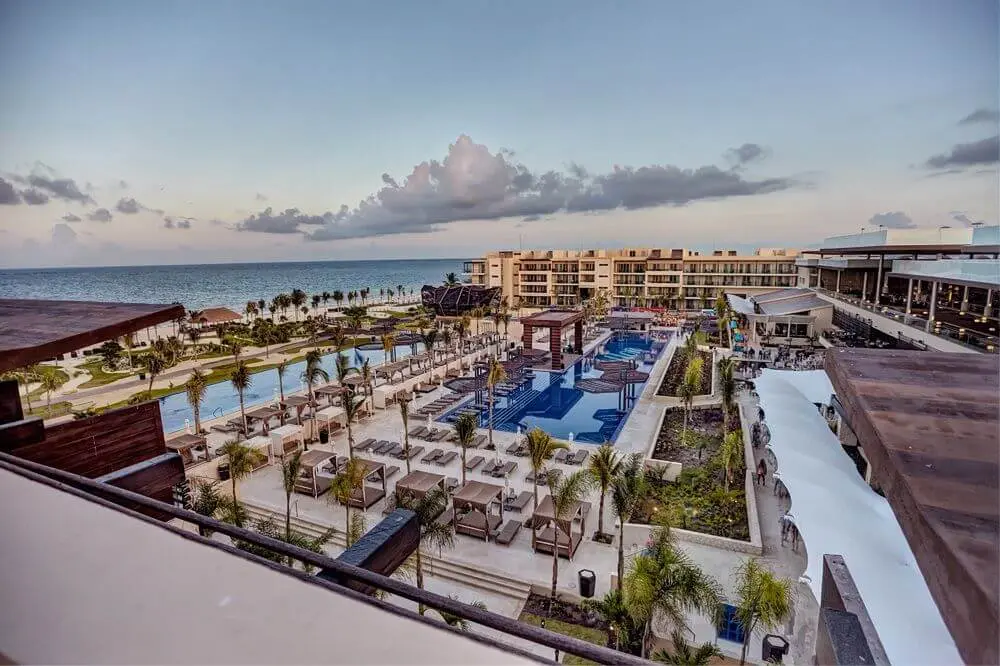 Tantalize your taste buds at any of the 9 onsite restaurants, or cool off with a cold beverage in 1 of the 13 bars!
Other amenities include things like a casino, a gelato bar, kids waterpark and more.
Located in Cancun you will be close to the international airport and all of the region's highlights.
You will never want to leave.
The hotel offers an array of stunning locations for you to choose from, and the staff working here go above and beyond to make your wedding at The Royalton Riviera Cancun extra special.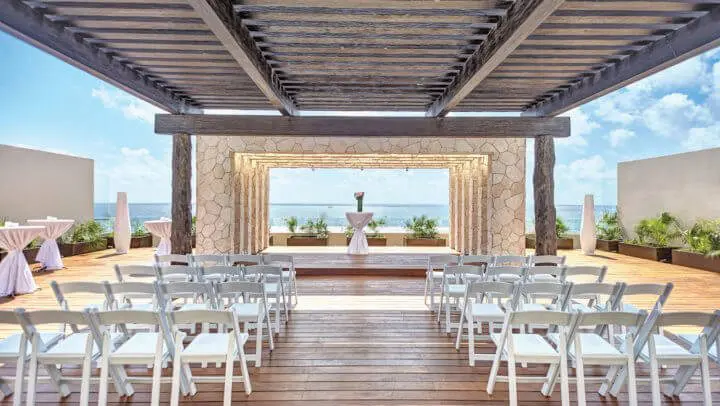 Hotel Overview: 
✓  840 rooms (+343 in the Hideaway section)
✓  12 restaurants
✓   13 bars
✓   11 swimming pools + Splash Park for kids
✓   Fitness Center
✓   Spa
✓   Kid's Club
✓   Teen Lounge
✓   Free Wi-Fi
✓   Wedding Department
✓   Golf Nearby
Watch our video about what you can expect from a Royalton Riviera Cancun Wedding below, don't forget to hit SUBSCRIBE to see more videos like this: 
The Free Destination Wedding Package at The Royalton Riviera Cancun
How to qualify:
If you and your guests have a combined booking of 35 room-nights (for example if 5 people booked for 7 days) you would be entitled to a complimentary wedding package at the Royalton Riviera Cancun.
This would include: 
Up to 10 Guests – The FREE wedding option includes up to 10 guests and any additional guests may be added for an additional cost (enquire with us).
Wedding Coordinator –  Access to a professional on-site wedding coordinator who will be there with you every step of the way to ensure you plan the perfect day.
Room Upgrade – Bride and groom room upgrade, upon availability. You check in, and the hotel does everything in their power to work their magic. The fancy suit here you come!
Late Checkout – Late checkout for bride and groom, based on availability. So can relax and enjoy your final moments in paradise.
20% Spa Discount – Get a 20% discount on spa treatments. A good reason to book your mani-pedi and bridal beauty treatments in advance. You want to be looking flawless for your big day.

Ceremony inclusions:
You can enjoy a symbolic ceremony with friends and family (performed in English).
Personalized vows.
You can choose from a number of wedding locations, including the beach, or Gazebo (all of which can be decorated to suit your tastes).
A bridal bouquet (a beautiful, tropical bunch of flowers to compliment your wedding vision).
Boutonniere (A "matchy-matchy" buttonhole).
 Ceremony sound system (an iPod compatible system with a microphone so everyone can hear those beautiful vows you've prepared).
Reception options: 
Continue the celebrations with a semi-private dinner at one of the hotels fabulous restaurants (set menu).
Sparkling wine.
Wedding cake (one-tier, pick your favorite from their flavor offerings).
Please note, all of the wedding options at the Royalton Riviera Cancun can be upgraded with the addition of fees.
Inquire with our Wedding Planners in Playa del Carmen for a quote.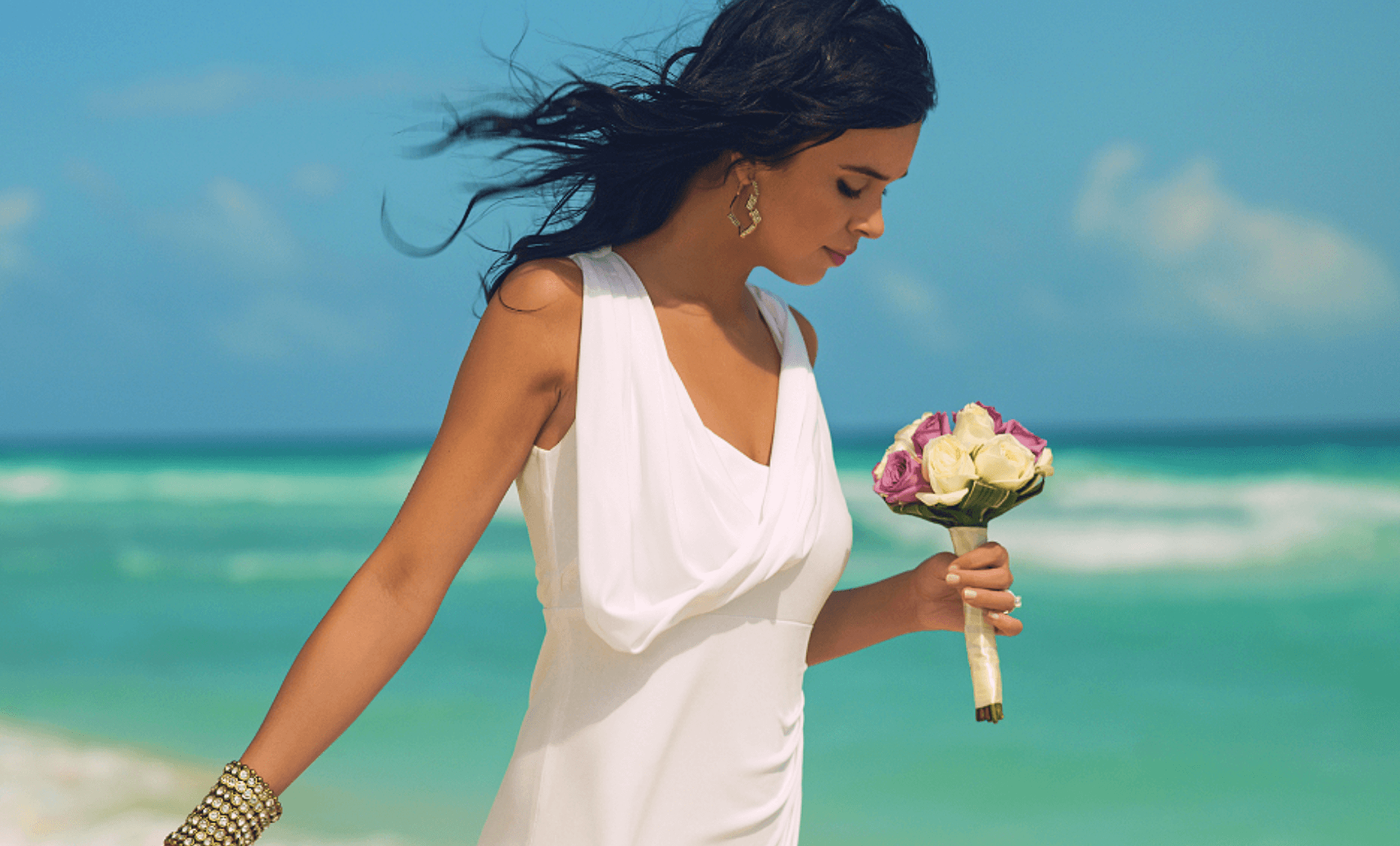 How Much Does a Wedding in Mexico Usually Cost?
Weddings in Mexico are significantly cheaper than they are back home. So, even if you didn't qualify for a free package or you wanted to upgrade the average cost of a wedding in Mexico is just:
$5000 USD wedding with 30 guests (4.5★ resort)
$7000 USD wedding with 60 guests (4.5★ resort)
When you compare it to staggering $35,329 USD you'd pay back home, it really is a no-brainer!
You would be saving a lot of money.
If you see yourself getting married with a tropical picturesque setting as your backdrop and the cool ocean breeze brushing by, Mexico is worthy of your consideration.
Its idyllic scenery, pleasant climates, and a guaranteed unforgettable experience for everyone involved make it a popular choice for people like you.
We understand that planning anything away from home may be a little overwhelming or daunting, but it needn't be, we are here to help.
Find out how to plan a destination wedding in Mexico from start to finish here.
Ready to Get Married in Paradise?
There's no need to feel overwhelmed about which hotel to choose.
Discuss and finesse all the details with us.
Here at PlayaDelCarmen.com, we are remarkably skilled at organizing destination weddings. 
We'll make sure you choose the right one for you!
Plus, get you and your group the best package price and perks available.
Call our destination wedding experts at 888-537-9797, weddings@playadelcarmen.com, or get more info on our Playa del Carmen Weddings.
---
Trending Now
You may also like