11 Things to Do in Playa del Carmen for Free
---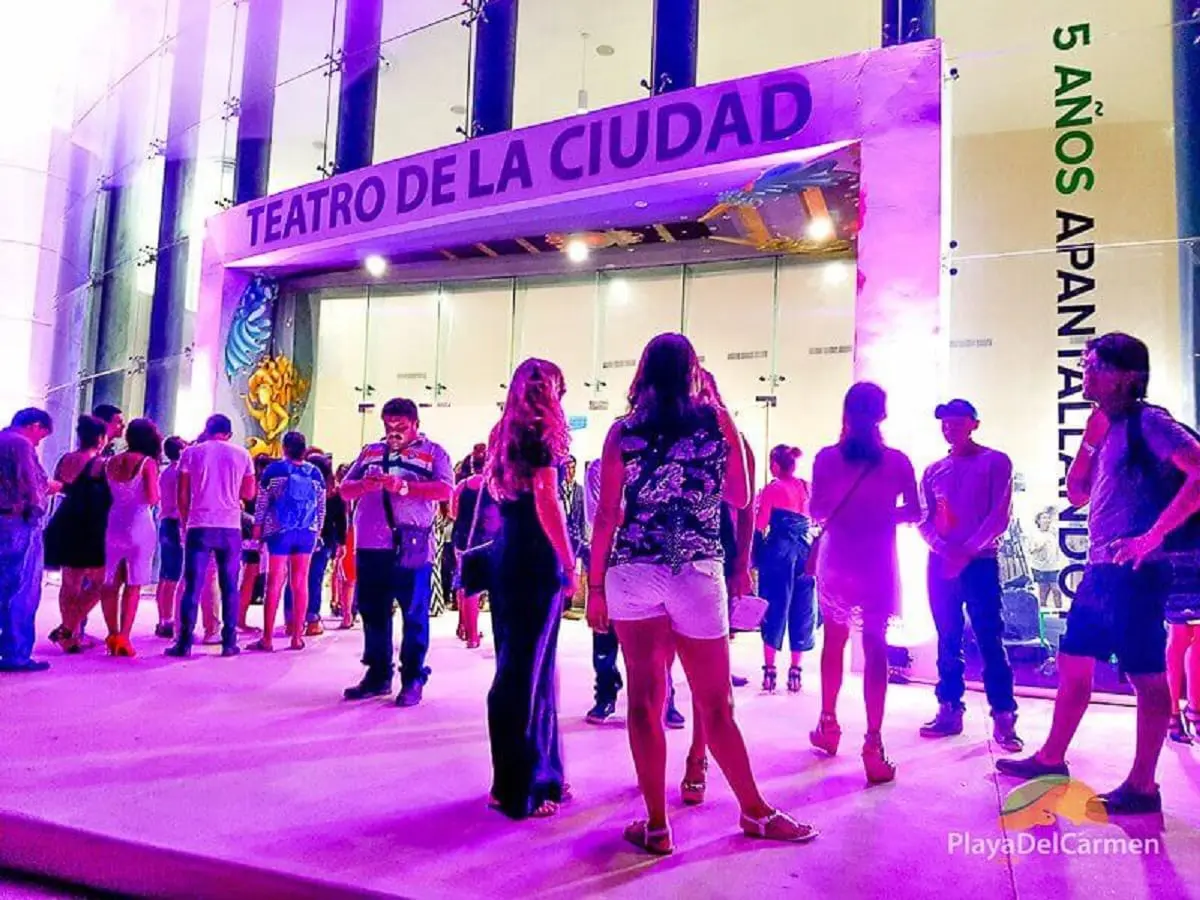 We often talk the many activities and things you can do in Playa del Carmen.
This article is about the top 11 things to do in Playa del Carmen for FREE.
Not cheap or almost free. Just free.
You know I'm talking to you.
Vacations are expensive, so too is living in Playa del Carmen.
While they say nothing in life is free, there are some things you can do in our beautiful town that won't cost you any money to actually be there.
Just don't forget to tip 😉
11 Things to do in Playa del Carmen for Free
Oh, is this list large and illustrious.
Yep, an all-in-one guide at no cost to you and yours.
So what's there to do in that won't cost you a dime?
Here are some of my favorite things to do in Playa del Carmen for FREE.
Recreate a romantic scene
See where a cenote meets the sea
watch a movie under the stars
See the Flying Daredevils of Papantla
Be a mentor for a day
Puppysit at local dog shelter
See a function at the city theatre
Experience Local Nature at La Ceiba Park
Explore the Playacar Ruins for FREE!
Work Up a Sweat
Flea Markets
1) Recreate those cheesy Hollywood romance scenes
Let's just get the obvious free thing to do out of the way first.
Want to do something that reconnects you with nature and doesn't imply having to drink an overpriced smoothie while being overwhelmed by the smell of incense and the sight of so many mandalas in one place?
Go for a walk on the beach with the one you love at sunrise and ask some to take a short video of you being all romantic like.
It'll do wonders for your relationship and definitely won't break the bank.
---
2) See Where a Cenote Meets the Sea

You don't have to leave Playa del Carmen or wear one of those bright orange life jackets to visit this cenote located on the northernmost edge of 5th Avenue near Paradisus Hotel.
Here, in Punta Esmeralda, you can visit one of the few beaches where you're likely to find more locals than sunburnt snow birds escaping the northern winds.

---
3) Watch a Movie Under the Stars for FREE
I'll admit this one is more borderline.
It's free activity, technically.
But you should still consume to support the local businesses or venues that make the fascinating world of international cinema available to a wider public.
I'm talking about El Cine Club, a small group of dedicated cinephiles who have been showing great movies at no cost to the general public for the past 5 years.
Venues include Inti Beach Club, El Pueblito Mayakoba, and La Ceiba Park, among others.
Note: El Cine Club does charge a symbolic fee of around $25 pesos at some venues to recover their costs of operation.

Check out the El Cine Club Facebook page for movie times and venues.
---
4) Witness the Flying Daredevils of Papantla
This activity is free and it will amaze.150 feet above sea level, with an unrivaled view of the Caribbean Sea, 5 brave men sit atop of a thin post performing a pre-Hispanic ritual associated with fertility.
150 feet above sea level, with an unrivaled view of the Caribbean Sea, 5 brave men sit atop of a thin post performing a pre-Hispanic ritual associated with fertility.
One man, known as el caporal or the chief, performs a ceremonial dance while playing a flute and small drum atop an extremely small wooden platform.
Then, the four other men, representing the cardinal direction, slowly descend in a circular motion heads down while the chief sits on the platform and continues to play the instruments.
You can witness these amazing daredevils, known as Los Voladores de Papantla, a.k.a. the Papantla Flyers, daily at Parque Fundadores, located just north of the Cozumel ferry terminal.
Oh, and by the way, the show itself is free but your generosity through tips is always appreciated.
---
5) Be a Mentor for a Day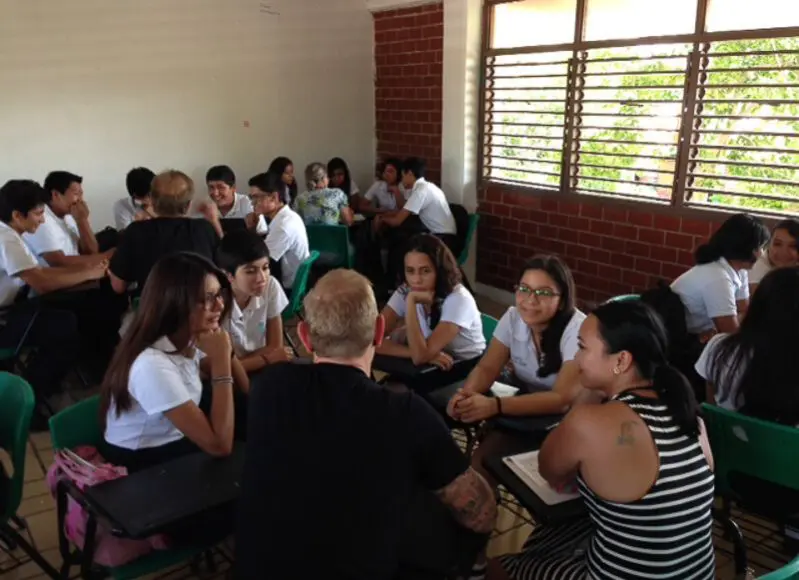 Mexico is a country full of bright, resourceful people.
In fact, while Mexican immigrants are often outrageously vilified in the U.S., students from Mexico are not only standing out at international academic competitions, they're winning them (speaking of best and brightest).
Most recently, students from the U.N.A.M. university in Mexico City beat out over 24 universities from Canada and the United States to win the 2017 Petrobowl.
Unfortunately, however, economic difficulties and a lack of funding for public education leave many of these brilliant kids behind.
In Playa del Carmen, the Keeping Kids in School Program (K.K.I.S.) organizes weekly English conversation classes and scholarships for local schools.
Why not take advantage of your time in Playa for a meeting of minds and cultures?
This is one free activity you can participate in that will fill your heart a soul.
Find out more about this great project as well as their upcoming comedy fundraiser on March 15th, on the K.K.I.S. website.
---
6) Or Spend Some Time as a Puppysitter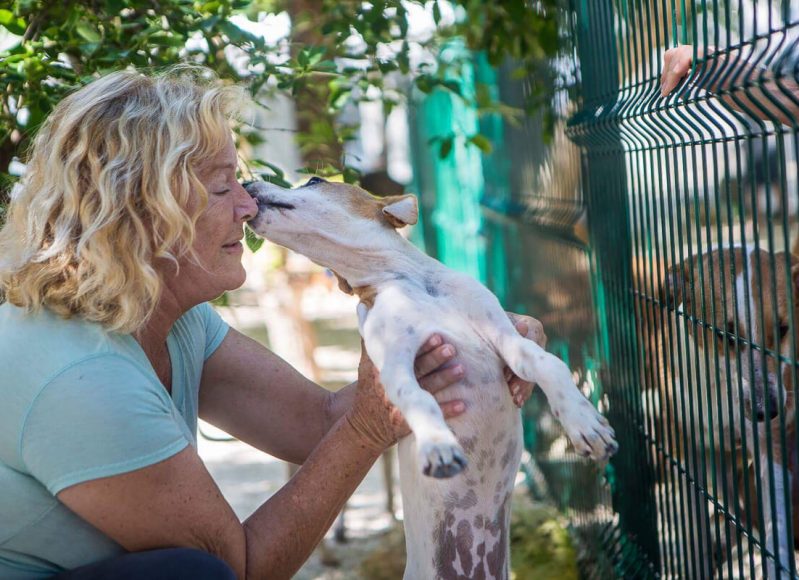 Does that word even exist?
Dogsitter? Doggiesitter?
It doesn't really matter because what does exist is the S.O.S. El Arca dog shelter in Playa del Carmen.
These wonderful people have saved thousands of dogs from either being killed or spending their entire lives on the streets.
The staff at their new, large, and beautiful facilities invites visitors to spend some time at the shelter and get to know the project.
While you're there, you can help out bathing the dogs, playing fetch, taking one or two out for a walk, or simply giving these sweet canine friends some loving attention.
Entrance is free, donations are welcome.
Check out the S.OS. El Arca website for more information.
---
7) See a Function at the City Theater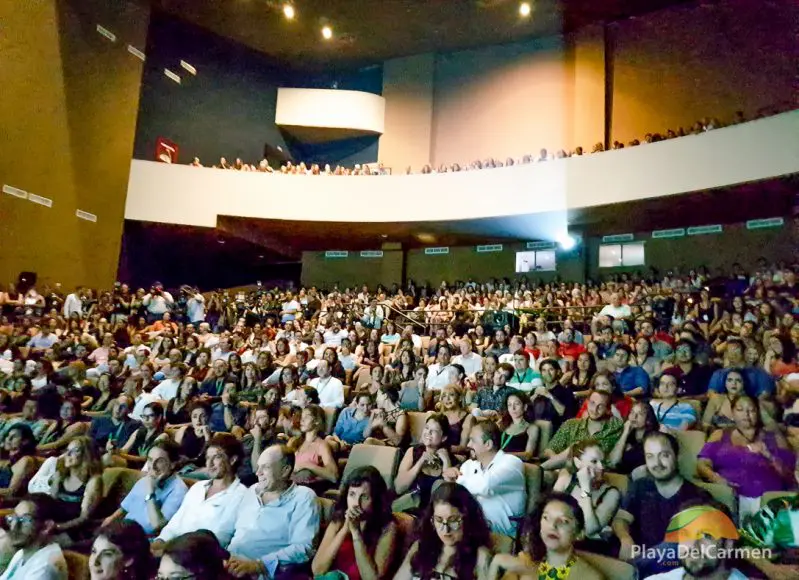 Inaugurated in 2015, el Teatro de la Ciudad or the City Theater is a modern, spacious venue that hosts a variety of local and international productions.
From the Riviera Maya Film Festival to the International Theater Festival and regional dance performances, this is a great place to experience Playa del Carmen like a local.
Plus, the majority of the great events at this wonderful venue are free and open to the general public.
Check out the theater's Facebook page to find out what's happening.
---
8) Experience Local Nature at La Ceiba Park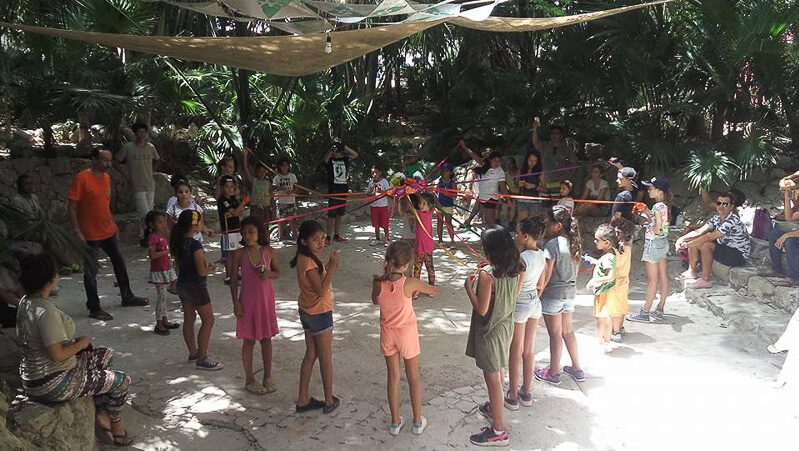 This isn't Chapultepec Park in Mexico City or Central Park in New York.
La Ceiba is a small, community-based park which is an awesome place to spend a couple of hours in Playa del Carmen.
Of course, it's free too.
Covering approximately a city block, the park is a natural oasis filled with a variety of local plants and trees.
In addition, the wonderful park keepers organize a variety of great events for all ages.
In fact, there's even a cool little eatery inside the park that sells fruit juices, coffee, and light meals.
This is one of the venues for the El Cine Club free movie showings, and there are frequent markets and workshops held at this park every week.
Plus, just opposite the main entrance is Playa del Carmen's only real book exchange shop with titles in English, Spanish, German, and other languages.
Check.
---
9) Explore the Playacar Ruins for FREE!
You likely won't need your Indiana Jones hat for this expedition.
It's true.
But what a cool place to come into contact with the ancient culture whose descendants still call this place their home, even if they've long ago been outnumbered by the hordes of immigrants from the rest of Mexico, the United States, and Europe.
These small Mayan ruins in the Playacar residential area also provide a great backdrop for a tropical photo session.
Once you're done, you can head down to the nearby beach, which locals know as one of the best stretches of beach in town (wink, wink).
---
10) Work Up a Sweat
The ancient Romans used to say Veni, Vedi, Vici.
George W. Bush said, "mission accomplished" (where's that facepalm emoticon when you need it).
We say you can say you've come and conquered Playa del Carmen until you combine eating, drinking, and being merry with a little sweat.
After all, you don't have to wait until you get back home to work off some of those vacation-induced calories.
Go for a jog on the beach or down 5th Avenue (beginning around 42nd is the ideal spot).
Run after the taxi driver who took off with your change.
Just kidding. Don't do the last one.
Or, if you're tired of all these freebies and want to pay to look great, check out Inti Beach Club for some yoga courses or their partners at Aloha Paddle Club for some morning stand-up paddle boarding.
Open to spending $10??? Read our 10 things to do in Playa del Carmen for under $10.
11) Visit the Flea Markets
Get to know the real Mexico and check out one of the local Sunday markets.
You're not likely to find any priceless treasures, but it's a great atmosphere and a lot of fun. You'll get to see the REAL Playa del Carmen and the local people who live here.
Mexican flea markets are great for purchasing authentic souvenirs, pure vanilla for baking and of course silver.
It's always good to ask around when you get here because flea markets tend to pop up all over the place. However, you can definitely find one every Sunday at Calle 54 between Avenida 10 and 30.
You know what else is free?
The always sage advice and tips from our travel specialists.
Call them today toll-free at 888-537-9797!
---
Trending Now
You may also like