25 Most Breathtaking Wedding Venues in Mexico (2023)
---
Let's talk wedding venues in Mexico…still searching for THE ONE? 😍
You could be browsing for days 😩, weeks 😢  MONTHS 😭…
Fear not!
Your expert insider just arrived (ahem, me). 😏
As award-winning destination wedding specialists on this side of paradise, we've seen them all…and some of them, through sheer STUNNING design,  stick with you…
Discover the creme de la creme of Mexican wedding venues in one place so you can set the date and plan your dream occasion.
Breathtaking Wedding Venues in Mexico
---
Here are the best wedding venues in Mexico with us! Enjoy.
1. Sky Wedding Gazebo at Secrets Moxche
Set on the 10th floor, the Sky Wedding Gazebo at Secrets Moxche has the highest viewpoint in the entire municipality of Playa del Carmen, offering UNRIVALLED views of the sweeping coastline.
Our team adores this resort, so much so we actually had our Christmas works party here (lucky us)!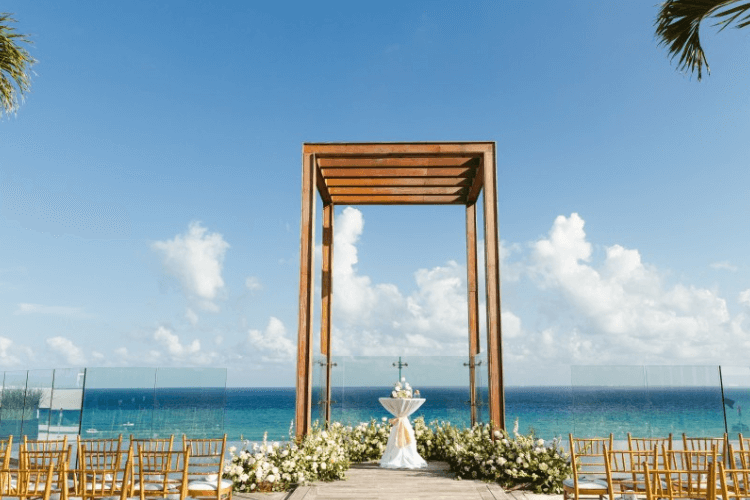 Expect the highest level of style, sophistication and service at this hotel. Plus, it's located on one of Mexico's most beautiful white-sand beaches.
Contact us to learn more about this adults-only haven! Secrets Moxche delivers all the opulence you wish for your special occasion: lavish, luxurious suites, rooftop pools, gourmet cuisine, and unparalleled ocean views.
Entertainment: Allowed until 10:00 pm
Capacity: 60 for ceremony, 80 for cocktails hour, 60 for reception
Entertainment: Allowed until 10:00 pm
Capacity: 150 people
3. Infinity Pool at Dreams Natura Resort & Spa
The first time we saw Dreams Natura all of the venues took our breath away!
The infinity pool stood out.
Located on the rooftop, this infinite pool melts into the horizon, providing heavenly photo opportunities and 100% privacy!
You can customize it however you wish, but one of our favorite set-ups is the see-through acrylic platform. So dreamy!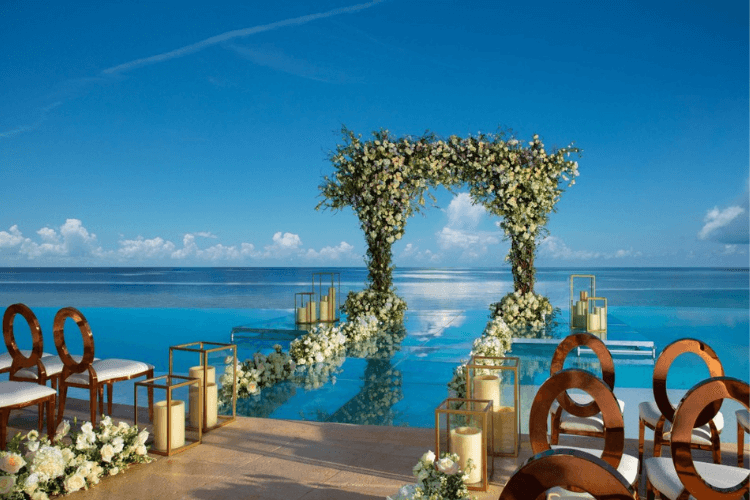 Boasting beautiful decor inspired by nature, this resort perched perfectly on a white-sand beach is renowned for its all-inclusive yet luxurious weddings.
Entertainment: Allowed until 10.00 pm
Capacity: Ceremony 200 (minimum of 50 guests)
4. Cenote Poolside Terrace at Secrets Tulum
Surrounded by lush vegetation, award-winning architect Michael Edmonds honed in on this naturally occurring gem,  making a feature out of it by creating a sophisticated terrace where guests can truly marvel at its beauty.
At the time of writing, this resort isn't even open yet; however, we just got back from our site visit, and its sheer beauty and design knocked me off my feet, I HAD to include it.
Tulum is dotted with beautiful crystal clear cenotes – and this hotel boasts its own!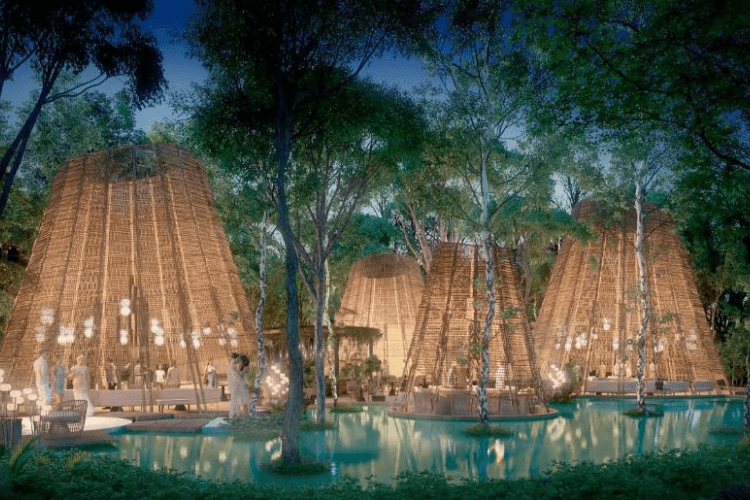 Opening Oct 12th 2023, Secrets Resorts has garnered a reputation in this part of paradise having some of the best resorts and hosting some of the best destination weddings!
After seeing the resort for ourselves, there is no doubt in our mind that this hotel will be the one to watch in 2024.
Other standout venues also included the beach and beach club villa!
Be the first to experience it!
Contact us to learn more.
5. Beach Gazebo at Sandos Caracol Eco Resort
An ornate and elegant beachfront gazebo so close to the sea you can hear it lapping the shore!
It provides the perfect shade for you and your guests, which is especially significant if your ceremony is earlier in the day.
This venue is included in the Seaside Bliss wedding package; however, can be added to any other packages for an extra fee.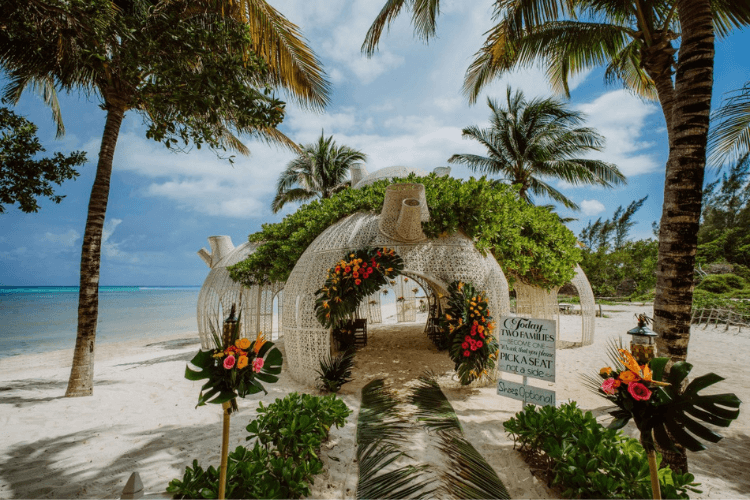 The resort and its wedding venues are surrounded by mangroves and natural lagoons, with a crystal-clear cenote in the centre – another perfect option for nature lovers.
It's an affordable, family-friendly option for anyone who is eco-minded or enjoys nature.
Contact us to learn more.
6. Terra Nostra Terrace and Lower Deck at Nizuc Resort & Spa
An alfresco open-air terrace that gives off all the vibes of Italy in the Mexican Caribbean, coupled with festoon or fairy lights, screams sophistication.
We love this venue for intimate dinner receptions because the creative possibilities are endless if you're big on aesthetics.
Nizuc is a luxury 5-star resort offering a secluded oceanfront paradise and gourmet dining.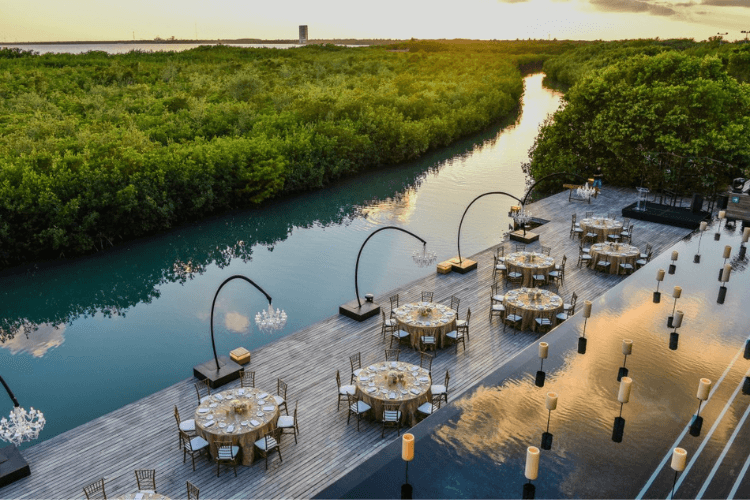 FYI, no wedding packages are available at this resort, as the hotel prides itself on delivering 100% tailored occasions.
Entertainment: Allowed until 11 pm
7. Sky Terrace at The Fives Hotel & Residences
A sophisticated terrace that can hold up to 100 people, offering 100% privacy and unobstructed views of the glimmering turquoise ocean.
It comes with an additional fee as a premium venue, but it is SO worth it!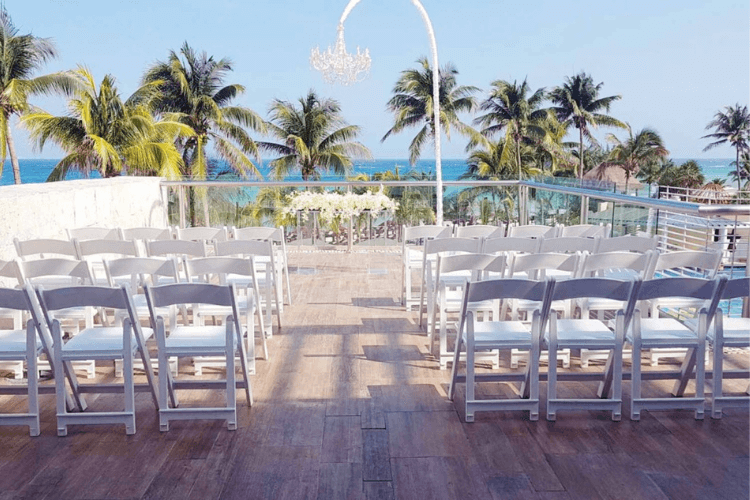 You may be pleased to know that The Fives Beach Hotel & Residences is a AAA Four-Diamond all-inclusive resort – indicating that the hotel isn't just any hotel.
It has an upscale style and amenities enhanced with the right touch of service,  and we can certainly attest to that.
Our clients also love that this resort has 1, 2, and even 3-bedroom suites – perfect for large groups!
Contact us to learn more.
Entertainment: Allowed until 10 pm
Capacity: Ceremony 100, cocktail hour 150, reception 80
8. The Pier at Generations Riviera Maya
The Pier Deck is a unique semi-enclosed enclosed venue boasting breathtaking views.
With enough open air blowing through to keep you cool but not enough to mess your hair up – it's perfect if you're seeking a balance of incredible views, shade, and incredible decor possibilities.
Think barn vibes…but make it tropical.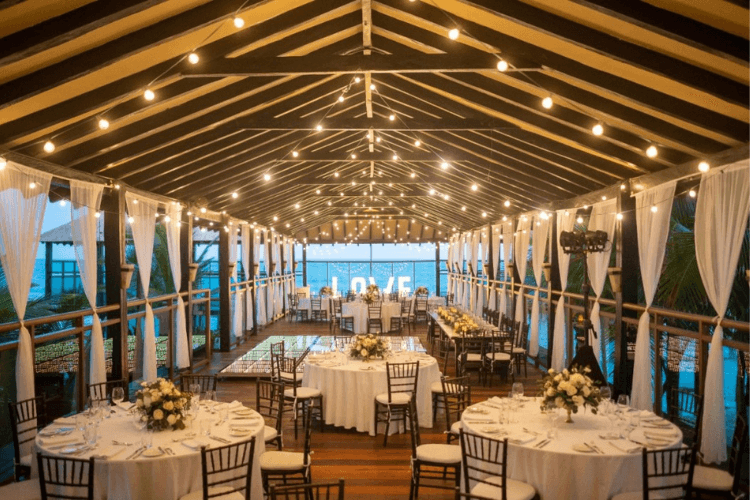 For some glamour, we love it when our couples add fairy lights and white drapes!
As you've probably guessed by now, the best venues are at the best hotels, and Generations is no exception!
This 5* all-inclusive was specifically built with large groups in mind.
Contact us to learn more.
Entertainment: Allowed until 11 pm
Capacity: Ceremony 200, cocktail hour 200.
9. Garden Gazebo at Majestic Elegance Costa Mujeres
This newly-built 5-star resort on the idyllic shores of Costa Mujeres is sure to impress all guests with its contemporary sophistication, gorgeous modern suites, stunning ocean views, and gourmet dining.
It's an all-inclusive tropical escape where you'll be able to relax in total luxury while enjoying elevated experiences like VIP pools, a private beach, and personal butler service.
10. South Maroma Beach at El Dorado Maroma
Not all beaches were created equal; some are postcard-perfect, others aren't.
South Maroma Beach is one of our favorites!
South Maroma Beach is a powdery white-sand beach framed with lush greenery and palm trees – perfect for your ceremony, cocktail party or even your reception dinner.
It's everything you could ever want for a tropical destination wedding!
11. Beach Palapa at Dreams Tulum
Boho bride? Listen up! Organic elements combine to provide a show-stopping set-up at the Beach Palapa at Dreams Tulum.
It is an excellent choice for a ceremony and can hold up to 130 guests comfortably.
This location is not included in the wedding packages and incurs an additional fee to reserve.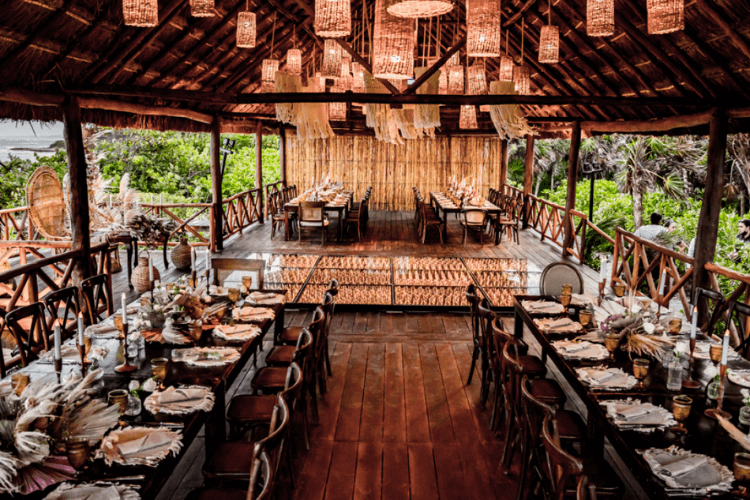 It's a venue that works particularly well for South Asian weddings, too!
Located on the peninsula, the resort is surrounded by the turquoise-blue Caribbean Sea on three sides.
The beachfront bridge offers solid flooring with ground-level beach and ocean views.
Plus, this hotel offers both an adults-only and kid-friendly side, which is ideal if you or your guests plan on bringing children.
Barcelo Gran Faro Los Cabos is a romantic all-inclusive resort in Los Cabos, located on the shores of the Sea of Cortez, just a stone's throw from San Jose's lovely main city.
Its bright and cheery hues complement the beauty of the blue colors of the ocean, pools, and sunshine sky that surround you.
Perfect for both ceremonies and cocktails hours for up to 120 people.
The design of the hotel pays careful homage to its beautiful natural surroundings.
Haute cuisine and stylish bars are highlights here, as is the personalized, attentive service.
Grand Velas Los Cabo is a AAA Five Diamond resort offering an all-inclusive destination wedding in Cabo that includes Michelin Award-winning dining, ocean-view suites, and an indulgent spa.
19. Gabi Sky Bar at Paradisus Los Cabos
The Gabi Sky Bar at Paradisus Los Cabo is surrounded by the ocean breeze and resort views.
You could host your ceremony, cocktail party, and dinner reception here.
Perfectly situated between two of the most celebrated cities of Cabo San Lucas and San Jose del Cabo, the Paradisus Los Cabos offers a luxurious and relaxing getaway on the Sea of Cortes.
20. Lovers Meadow at Pubelo Bonito Sunset Beach Golf & Spa
This exclusive 5-star mega-resort will take your breath away with its service and wedding venues.
It's sure to impress all your guests with its award-winning spa and access to a Jack Nicklaus signature golf course.
21. Secrets Lobby at Secrets Vallarta Bay Puerto Vallarta
Finally, let's talk about Puerto Vallarta resorts and venues.
We adore this set-up and venue for sunset ceremonies!
The lobby boasts refreshing vistas with ocean breeze and can accommodate up to 75 people.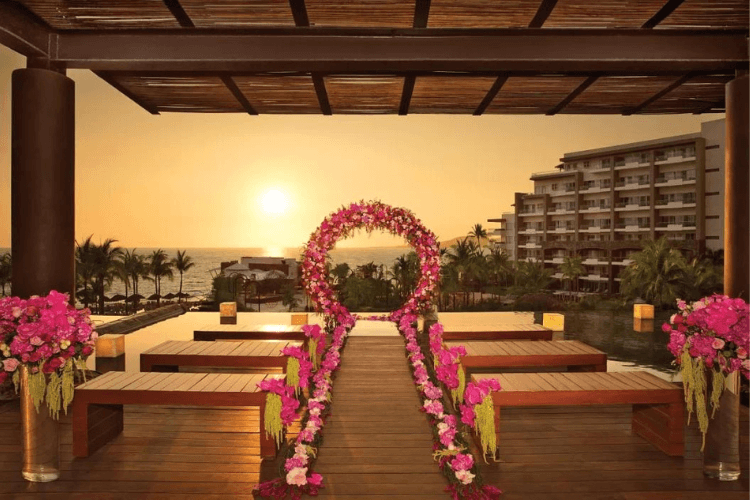 Located on the shores of the Pacific Ocean on a gorgeous white-sand beach, this brand-new luxury adults-only resort offers personalized service, an expansive spa, and romance at every turn.
22. Garden at Marival Armony Luxury Resort & Suite
With garden fields and ocean views, The Garden at Marival Armony Luxury Resort is ideal for gathering your ceremony for up to 120 guests.
It balances both blue and green, producing stunning wedding photos every time.
It can also be personalized with your preferred decor, but bright colours work best.
23. Gazebo at Hyatt Ziva Puerto Vallarta
Vows can be exchanged in an oceanfront gazebo placed on a seashore terrace where the views will take your breath away.
It's the perfect option for smaller groups who want a more intimate ambience.
24. Terrazza la Vista at Dreams Vallarta Bay Resort And Spa
We recommend small to medium size groups for ceremonies at this venue.
Located on a golden-sand beach just 5 minutes from Downtown Puerto Vallarta, this AAA Four-Diamond resort is a dream wedding destination in Mexico.
Expect lavish suites, breathtaking ocean views, gourmet dining, and a luxurious spa!
25. Bougainvillea Terrace at Grand Palladium Vallarta Resort and Spa
The only downside is that the only access is via stairs so if you have guests with mobility issues, this venue won't work for you.
Did You Enjoy Browsing Destination Wedding Venues With Us?
Like the sound of any of these breathtaking wedding venues in Mexico?
Call the team at PlayaDelCarmen.Com on 888-537-9797 and we'll help you plan your wedding at any of these locations.
We're here to help you whittle down the options with our expert insider advice.
We've seen all the venues in Mexico, The Dominican Republic, and Jamaica first-hand.
Just make that call or send an email to weddings@playadelcarmen.com.
We look forward to helping you create your wedding story.
Have questions or comments about Mexico wedding venues?
Did you enjoy browsing wedding venues with us?
Share your thoughts with us in the comments below. We would love to hear from you.
Other Blog Posts About Wedding Venues You May Find Useful
---
Trending Now
You may also like