Seaweed in Playa del Carmen
---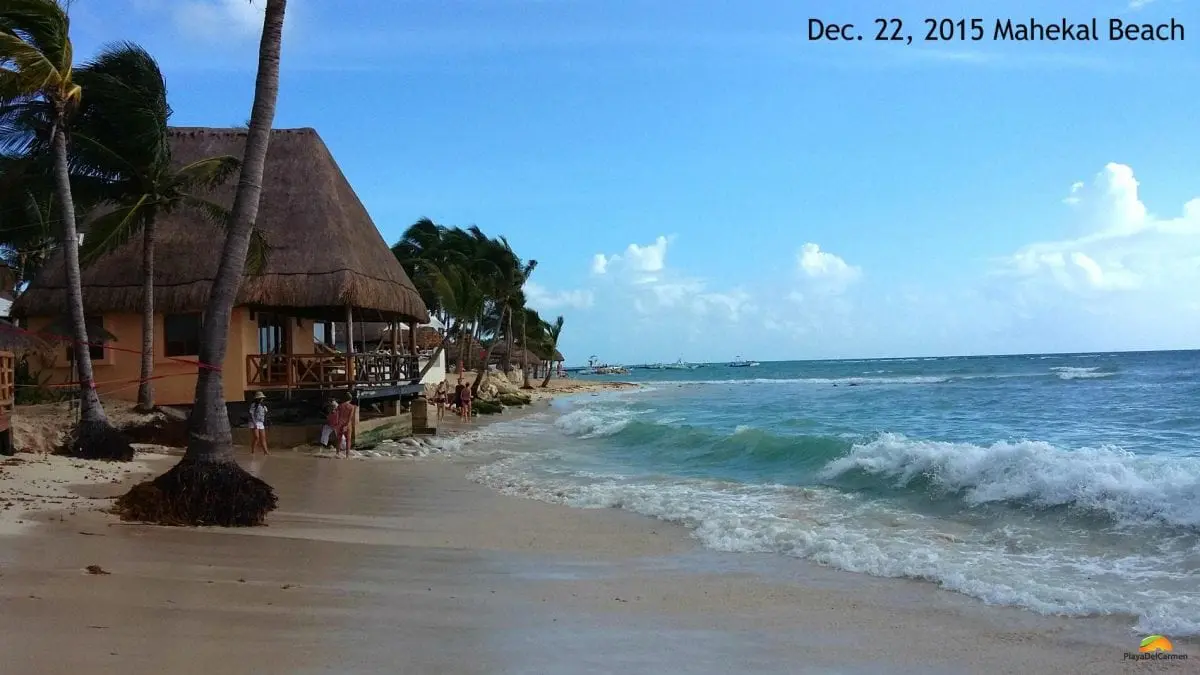 Note: Seaweed in Playa del Carmen isn't near the issue that it was just a few months ago. The current article was written at the end of 2015, a year in which the amount of seaweed reaching the shores of the Riviera Maya set records. So far, 2016 has had much less seaweed washing ashore. However, it is a natural phenomenon and does still happen, just not in the massive quantities of 2015. The article contains helpful information and links, so give it a read and feel free to reach out to us if you have any further questions!
---
Playa del Carmen is known for white sand beaches, beautiful clear turquoise waters, but in 2015 it is also becoming known for record-breaking amounts of seaweed.
Small amounts of seaweed are always to be expected when you visit the beach, but this year especially, massive amounts of sargassum seaweed have been invading beaches throughout the Caribbean from as far south as Trinidad and Tobago, to Jamaica, Puerto Rico as well as the Riviera Maya area and Cancun and reaching as far north as the beaches of Texas.
Why is there seaweed in Playa del Carmen?
Researchers have suggested that this may be due climate change.
The Caribbean has been dealing with higher than normal temperatures as well as low winds, both of which can affect ocean currents. It is also suggested that it may be due to increased amounts of fertilizer runoff.
The Sea of Sargasso, located just beyond the Bermuda Triangle in the Atlantic Ocean, is a vast area with free-floating seaweed, known as Sargassum.
This seaweed is a shelter and habitat for many types of sea life.
Other seas are defined by some land boundaries, while the Sargasso sea is not. It is only defined by the ocean currents, which means its borders are dynamic.
This year, the Sea of Sargasso is releasing seaweed. The giant floating mats of seaweed can sometimes be miles long. They are so big, that they are visible from aircraft coming into land. Where the seaweed lands is only determined by the currents at that time.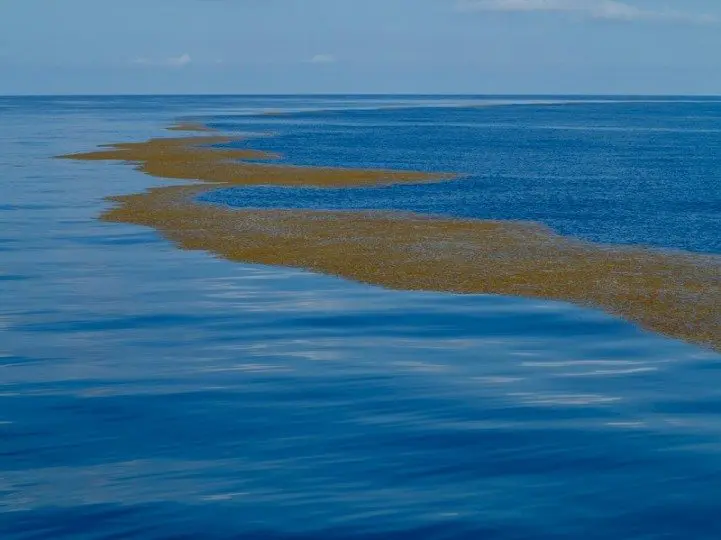 Will there be seaweed during your visit to Playa del Carmen?
There is no easy answer to this. Nature can humble us and she is hard to predict.
Lately, we have had days that have been seaweed-free and the water has returned to its crystal clear state. There are days where only some parts of the beach are affected, while others remain relatively clear of seaweed.
3 ways to check for seaweed
1) You may want to consult the Sargassum Early Advisory System for a forecast. Check the Yucatan Passage 18 for a forecast of seaweed.
2) Another handy option is to check out our live webcam. See for yourself in in real time what the beaches look like today in Playa del Carmen.
3) Here is another live webcam from the Playacar Palace.
This photo was taken at the beach of the Riu Yucatan, on December 21, 2015.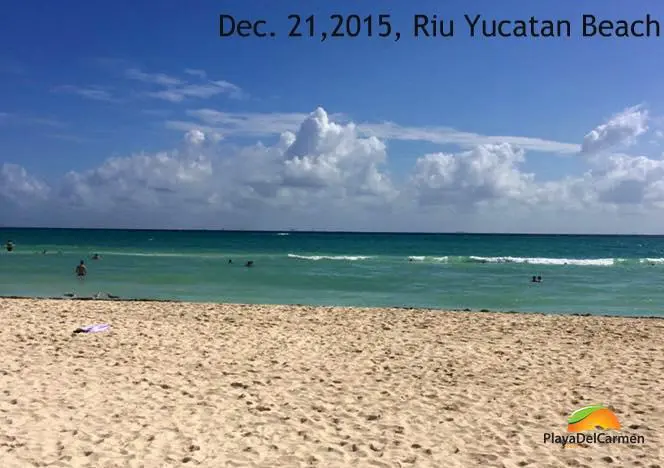 Does anyone clean up the seaweed?
Many hotels have invested in tractors in order to remove seaweed from the shores that line their properties. The government has also invested millions in the seaweed removal through several means including teams of people to help clean and maintain the beaches.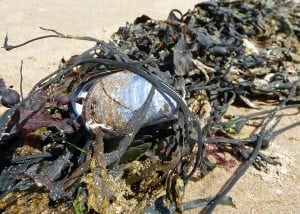 What can we do in Playa del Carmen if the beach isn't great that day?
Although Playa del Carmen is known as a beach town, there are many awesome alternatives to the beach. Keep informed of the forecast and know what to expect by reading up on our blog posts on Riviera Maya weather. You can also check out our suggestions for rainy day activities.
1) Visit a cenote. There are hundreds of cenotes in the area. You can opt for a guided tour or simply explore on your own. Here is our experience with cenote Azul, only 20 minutes from Playa del Carmen town. See our blog post to find out more about what are cenotes for more information.
2) Explore the culture. You are in an area rich in culture and history. You can visit some Mayan ruins, explore the colonial towns of Valladolid or Merida.
3) Isla Mujeres is a charming island near Cancun. Since the area has been experiencing the sargassum invasion, this area has remained unaffected. You can take a day trip to Isla Mujeres quite easily or arrange for a Cancun catamaran to Isla Mujeres.
4) Xel-Ha Park is a natural inlet where you can swim and snorkel. It's seawater but protected from the sea with a natural barrier so it is relatively seaweed-free.
5) Check out our guide to the top 30 Playa del Carmen tours for a complete list of things to do in Playa del Carmen and the Riviera Maya.
Have you had experience with seaweed while in Playa del Carmen or the Riviera Maya?
Tell us what you thought and how you made the best of it! Comments below.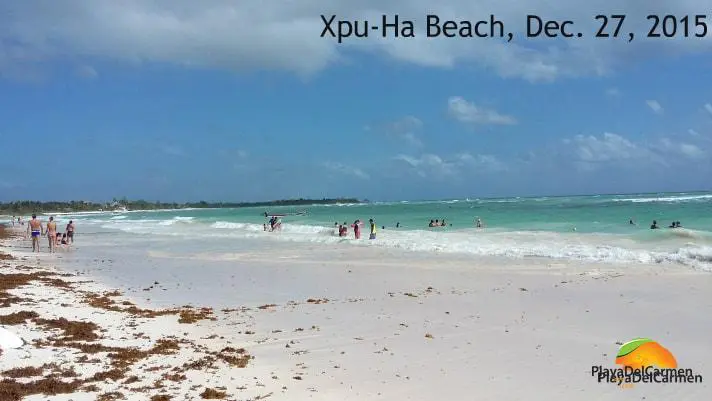 Don't forget to SHARE this post with other travelers who may need some reassurance during their visit.
---
Trending Now
You may also like