Top 13 Things to do with Kids in Playa del Carmen
---
Traveling with kids changes vacations forever.
Why?
You're no longer taking a vacation….you're now on a family vacation and these are 2 very different vacations!
Believe me, I get it.
So finding fun things you can do with your kids while on vacation in Playa del Carmen is mission-critical.
With so many things to do in Playa del Carmen and family-friendly tours to choose from, it can be daunting.
Fear not!
We've put together an awesome list of the most amazing activities in and around Playa del Carmen for KIDS.
Get ready for some mind-blowing, family fun in paradise!!!
13 fantastic activities for kids around Playa Del Carmen
1) XCARET ECO PARK
Star Rating:  ★★★★★
Location: South of Cancun
Price: $109 Adults |  $55.98 Kids | Free under 5
Discount: Save up to 15% here
Xcaret Park is a great option, even for toddlers and babies. This massive eco park is great because you can set your own schedule and pace.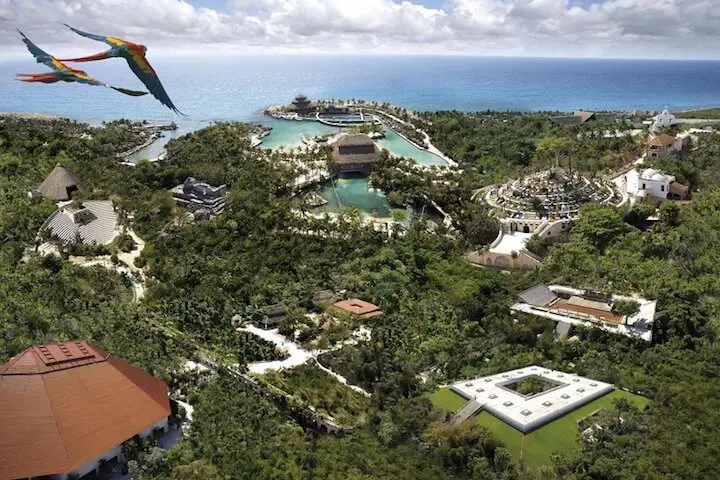 Kids under 5 are free!!! and kid's from 5-11 pay 1/2 price. Make sure you bring ID. If you do not have a stroller, you can rent one at approximately $15 for the day.
The eco-park side of things includes…
jungle trails
aquariums
giant turtles
birds
monkeys
jaguars
regional wildlife
a butterfly sanctuary
you can also observe dolphins, sting rays, manatees and nurse sharks.
underground rivers
lagoon, beaches and natural pools
etc etc etc
On the cultural end, throughout the day there are various shows from the Flying Men, to a Mayan show and a Charro (cowboy) show with horses.  The colorful costumes and live music will keep the kids interested.
The buffet has lots of choices and kid-friendly options for the pickier eaters.
The Xcaret at Night show known as Mexico Spectacular starts as soon as it gets dark, so 6 p.m. in the winter and 7 p.m. in the summer and lasts approximately 2 hours. The show is visually interesting for the younger ones, and even if you can't stay for the whole thing, it's worth trying to experience a little bit.
Xcaret Discounts
You can save up to 15% when you book the Xcaret tour here or discover more useful tips for your day at Xcaret.
Have questions? We can help! Call us, PlayaDelCarmen.com at 888-537-9797.
2) XEL HA
Star Rating:  ★★★★★
Location: South of Playa del Carmen
Price: $144 Adults |  $72 Kids | Free under 5
Discount: Save 10% here
If your kids love the water, this is an awesome option.
Snorkel to your heart's content at this natural aquarium. Kid size equipment is available, and there are fish in every corner. The water is calm, great for beginners to try snorkeling.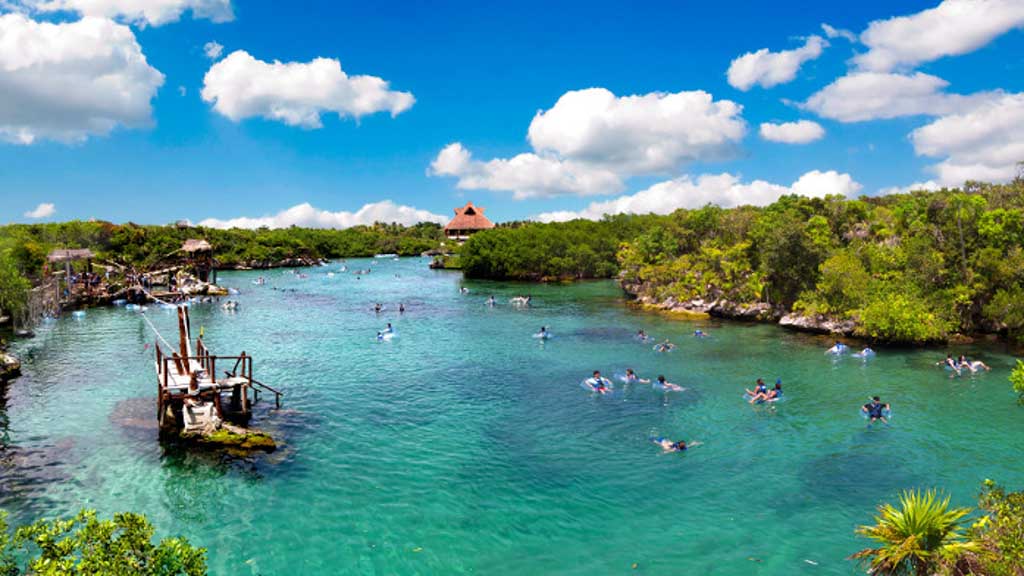 The lazy river offers double inner tubes, so you can pair up with your kid and float down the river together. If you're traveling with a baby, you can enjoy the glass bottom boat.
Xel Ha also has a kid's park on site, a treehouse type area, and a splash pad for the little ones.
The buffet offers lots of options and has an ice cream machine which is a big hit. Kids under 5 are FREE, and kid's from 5-11 pay 1/2 price. Bring ID.
* Helpful Tip: Start your day in Tulum. Tulum is an ancient Mayan city with majestic ruins to climb and explore. Very cool. After about 2 hours, then head over to Xel Ha for the remainder of the day with this Xel Ha / Tulum combo tour.
Xel Ha Discounts!
Book a day at Xel Ha at 10% off, transportation included!!
Have questions, call us, PlayaDelCarmen.com at 888-537-9797
3) CROCOCUN ZOO
You will find animals native to the area such as monkeys, crocodiles, lizards, birds, deer, and coatis.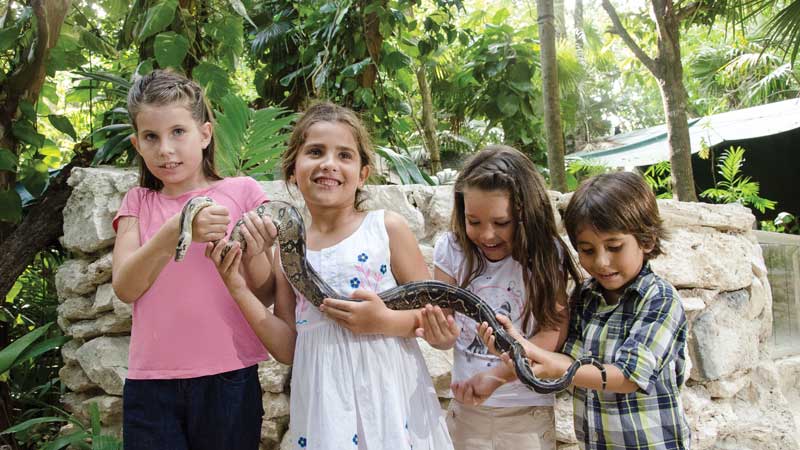 Kids under 5 are FREE, kids 6-10 are $18 and 11+ is 28$. You can save 10% if you book online.  It is recommended to get a feeding bag. They do charge a little extra but it is fun and exciting for your kids to get to feed the animals.
To get there, you can grab a taxi from your hotel lobby. Check out the Crococun Website.
4) SNORKEL XTREME
Star Rating:  ★★★★★
Location: South of Playa del Carmen
Price: $116 Adults |  $71 Kids
Discount: Save 10% here
(Age 2+) If your children are fearless and willing to zip line and snorkel, this is a great option.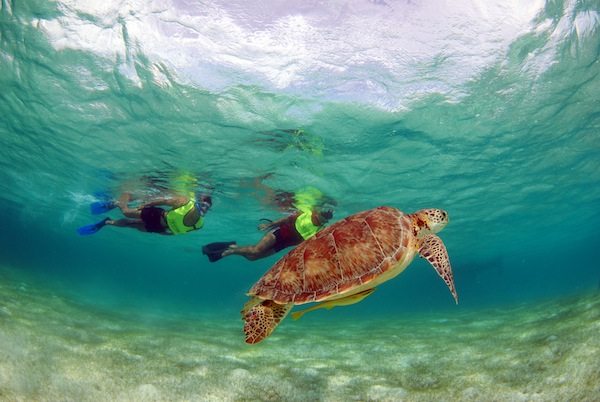 At the Xtreme jungle ranch, you have the chance to zip line and rappel. Head into an impressive cenote for a snorkel and swim.
You will even get two additional snorkels at Akumal beach, one to see the reef and one to see the sea turtles.
Child-sized equipment is available and activities are optional so you can opt in and out depending on your interests. Buffet lunch and non-alcoholic drinks are included.
Save on Snorkel Xtreme!
Book Snorkel Xtreme at 10% off and you can read our review of Snorkel Xtreme for more information.
We can help, call us, PlayaDelCarmen.com at 888-537-9797
5) TULUM & TURTLE SNORKEL EXPLORER
Star Rating:  ★★★★★
Location: South of Playa del Carmen
Price: $76 Adults |  $58 Kids
Discount: Save 15% here
This tour is a much shorter day and easier to manage with kids. Plus, the price is family-friendly with the adults coming in at $76 or $58 if you book before you arrive and kids aged 4-11 coming in at $50.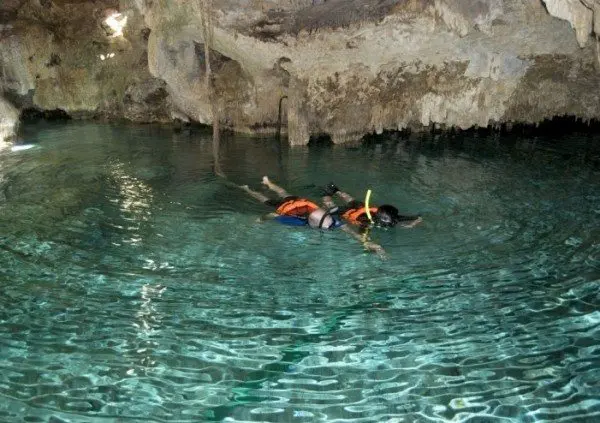 Your children will have the chance to experience a few of Mexico's natural wonders.
3 cenotes in total:
dry one.
closed one for swimming and another open one for swimming.
a calm bay for snorkeling with fish and sea turtles.
Round-trip transportation is included and the tour includes a snack as well as non-alcoholic drinks. For more info, read our Turtles & Cenotes blog post.
Turtle and Cenotes Tour Discount
Save 15% when you book the Turtles and Cenotes online before you arrive.
Have questions before booking? Call us, PlayaDelCarmen.com, at 888-537-9797
6) Captain Hook Cancun
Star Rating:  ★★★★★
Location: Cancun
Price: $70 Adults |  $35 Kids
Discount: Save 10% here
A dinner cruise with a difference!
All aboard the legendary Captain Hook Spanish Replica Galleon ship (specially adapted with modern amenities such as a kitchen, lights, and sound systems).
Watch entertaining pirate antics, play swashbuckling games, engage in ship-to-ship battle, dine on steak, lobster, or chicken and enjoy open bar during an epic evening of adventure.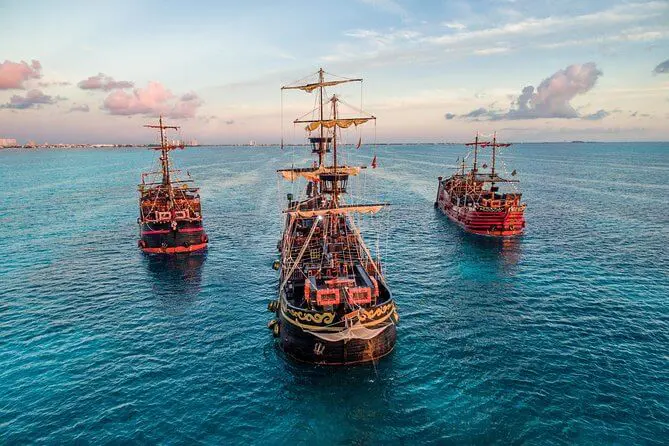 Oodles of fun for the whole family and great value for money!
Keeping the kids entertained in the evenings is sometimes difficult – but fear not, Captain Hook is here to entertain! 
Captain Hook Cancun Discount
Save 10% when you book Captain Hook Cancun online before you arrive.
Have questions before booking? Call us, PlayaDelCarmen.com, at 888-537-9797
7) PLAYACAR AVIARY XAMAN-HA
Within the Playacar complex, you will find a nice but small aviary.
There are tropical birds indigenous to the area. Flamingos, egrets, parrots,  pelicans, toucans and more.  The adults pay over 20$ per person, but children under 12 are free.
8) CANCUN WET N WILD
The largest water park in the area is Wet n Wild.
If you are staying in the Cancun hotel zone, it is easily accessible with the local bus. If outside the Cancun hotel zone, enquire about the taxi fare.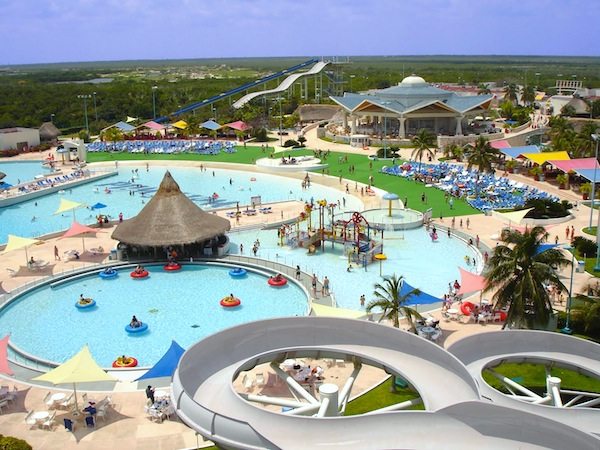 The 18-acre park offers water slides, a wave pool, a lazy river, a kids park and an all-inclusive plan with unlimited drinks and food. Kids 0-3 are free, kids 4-11 are $43, 12+ is $49. However, they often have discounts available.
To buy your tickets you can contact us.
$4 cost for locker rental or inflatable rental, $3 cost for towels (or bring your own). Bring a $10 deposit and ID for locker rental.
9) CITY CENTER PARK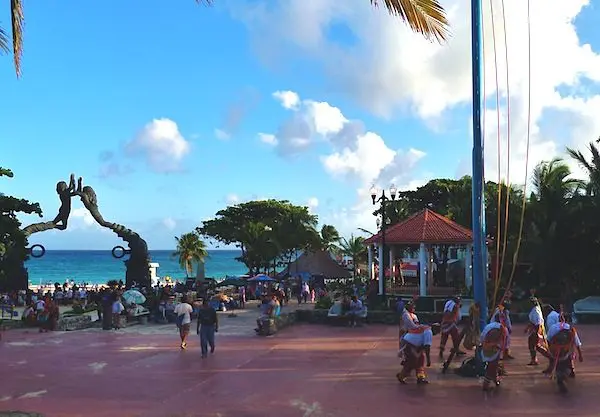 In the heart of Playa del Carmen you'll find a park known as Parque Fundadores (Founder's Park).
This park Note that the beach here is all-inclusive but not in the sense of what you eat and drink, but due to the fact that it's wheelchair-friendly!
10) PARQUE LA CEIBA
(Calle 1 Sur / Diagonal 60) This park run by a non-profit organization is a local cultural hub.
With educational programs in place, the park itself is a conservation area and greenhouse and offers different types of classes to the community.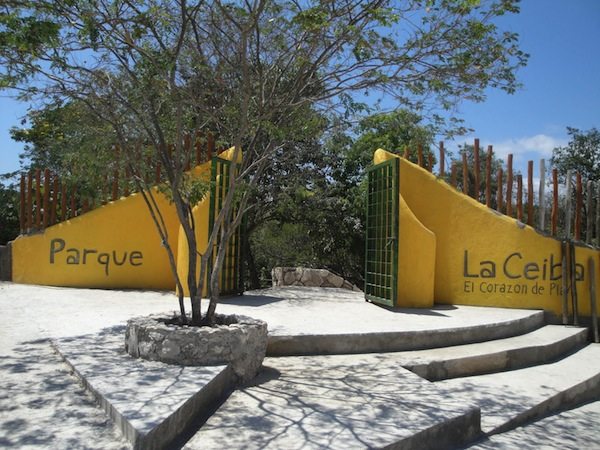 The playground is made of recycled materials. There are many types of birds and an area with turtles. The cafeteria has snacks and drinks. Every second Saturday of the month there is a local market, with crafts, homemade goods, natural products and more.
Entrance is free unless there is a special event and donations are accepted in the cafeteria. Bring biodegradable insect repellent or buy some at La Ceiba.
See La Ceiba website for more information.
11) MOVIE THEATERS IN PLAYA DEL CARMEN
There are 2 movie theaters in the area.
Cinemex is in the Centro Maya shopping mall and Cinepolis is in Plaza Las Americas.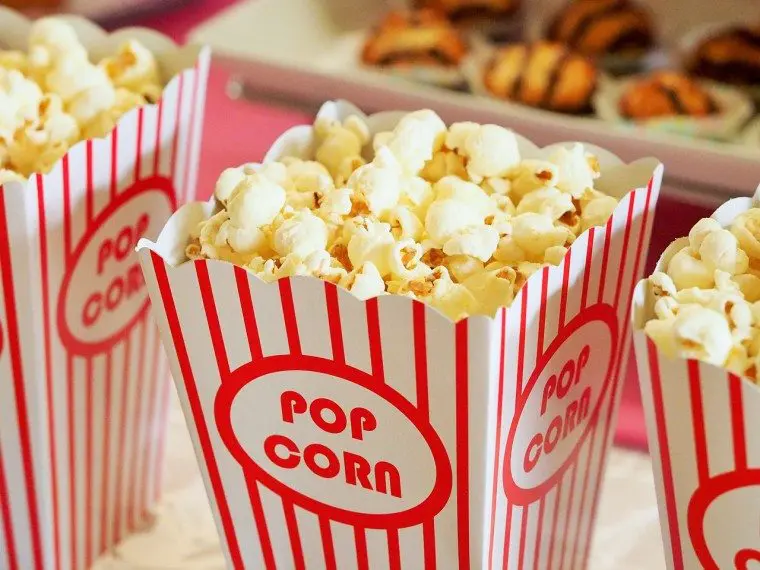 All cartoons are dubbed into Spanish, but the non-cartoon movies are often available in English with Spanish subtitles. A fun, inexpensive rainy day activity.
12) CIRQUE DU SOLEIL
Few things in a child's life are more magical than the wonder and amazement of a quality circus.
Cirque Du Soleil opened its first theater in Latin America in front of Vidanta (Mayan Palace), located about halfway between Playa del Carmen and Cancun.
This intimate dinner theater fascinates young and old with a beautiful story of a young girl and her somewhat mad scientist of a grandfather.
An exquisite fusion of Mexican culture and Cirque Du Soleil pizzazz, the Joya show at Cirque Du Soleil Riviera Maya will leave attendants with a slight hole in their pockets but a big smile on their face from having had such a mesmerizing experience.
Children under five are not allowed. Unfortunately, there are no special prices for kids.
Get Your Tickets!!
You can get Cirque Du Soleil tickets here and also check out our review of Joya.
13) 3D MUSEUM OF WONDERS
Believe it or not, Playa del Carmen is now home to the largest 3D museum in the world. Artist Keith Wenner has brought his larger than life 3D art to the Mexican Caribbean.
Guests can walk around and admire the quality of his works while taking pictures in funny poses in front of his artwork.
This is not only fun for all ages, it's one of many great rainy day activities in the Riviera Maya for when the sun doesn't allow you to be out on the beach or walking up and down 5th Avenue wondering how you will fit everything you want to buy in your suitcases.
Save with Us
We, PlayaDelCarmen.com, are a team of travel agents based here in Playa del Carmen.
Need help choosing the perfect hotel for your family vacation? We got you covered.
We'll get the best price on your resort including family-friendly activities.
Want some advice? Call us at 888-537-9797 or email customercare@playadelcarmen.com.
We hope this has given you more ideas about activities to do with kids in Playa del Carmen. Have you enjoyed other activities in Playa del Carmen that were great for kids? Have we missed any? Please share in the comment area below.
---
Trending Now
You may also like