JOYA – Cirque du Soleil in Mexico!
---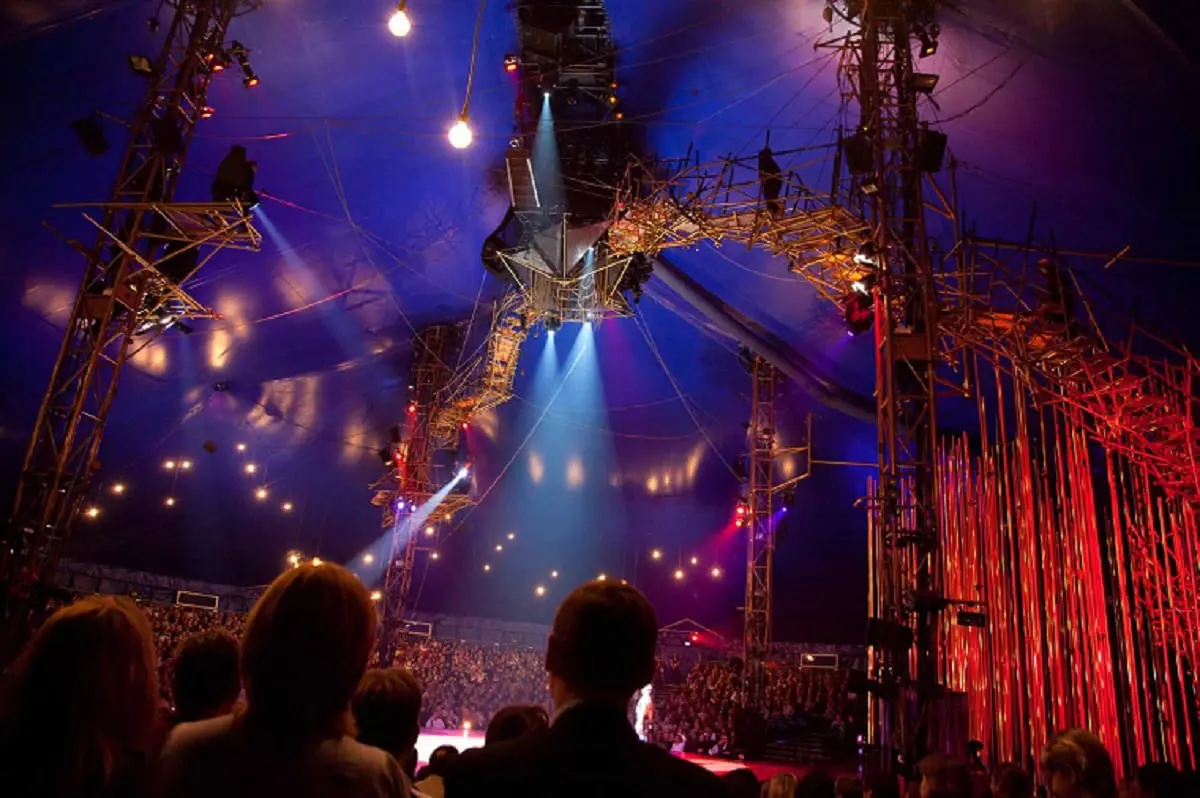 Whether you are honeymooners, spring breakers, a family with children, or a 30-year-old Los Angeles native, admitted hipster, and arts and culture snob like myself, JOYA Cirque de Soleil of the Riviera Maya is for you!
Please hear me when I say, we are talking about some of the world's best trained and most talented contortionist, acrobatic gymnasts, dancers, jugglers, and musicians, to name a few.
I promise, you will not only be mesmerized by the perfectly executed performance, but by the storyline, the food and drink experience, the breath-taking theatre, and well, even your fellow audience members!
Having experienced the touring Cirque de Soleil in both San Francisco and Los Angeles, California, I was eager to attend this event, though I did not expect to be surrounded with such elegance!
My Cirque du Soleil experience – from the beginning…
After a private transfer from Plaza Playacar (right in front of the Starbucks), in a comfortable and spacious JOYA coach bus, we were off to the show. The driver was extremely friendly and made sure the air-conditioning and music were to our liking. Okay, it was only my boyfriend and myself on the bus, but still.
What I experienced upon arrival was beyond any and all expectations! Having only been to the touring Cirque de Soleil shows, I was completely stunned by the astounding palapa shaped theatre and beautiful grounds.
Fire dancers were even floating in canoes across the lake while a lovely costume coordinated jazz trio played the classics. As an audience member you will not simply walk into the theatre; you will take a mystic tour through numerous walkways, glistening water, and the beautiful Mexican jungle until you finally reach the theater.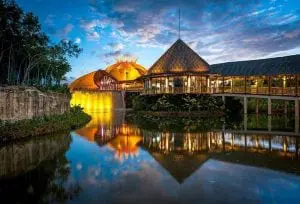 Your chance to dress up (if you want to – Cirque-Chic!)
As I continued across the beautiful surroundings, I must admit I felt a bit underdressed.
While getting ready for this event I recalled my last Cirque du Soleil experience; a transportable tent on the beach of Santa Monica, California where flip flops and tank tops seemed to be the dress code. Well, I must say this is not that crowd!
Though I arrived in a pair of Doc Martins and corduroy pants, it brings me joy to report I was treated as no less than royalty! But please, I encourage you to dress up! Ladies use that duty-free perfume! Men wear that tux! Feel great! You will be amazed at the lavishness of your fellow audience members, and even more so by your delightful hostesses who will serve you throughout the night!
Cirque du Soleil in Mexico – 1 year Anniversary
What was more exciting was that I was fortunate enough to go on the 1 year anniversary of JOYA Cirque de Soleil!
Though I don't drink, free drinks were provided all night, a free bottle of Champagne was neatly placed in an artistic glass design on the table, and amazing appetizers and desserts were provided throughout the evening. The staff was extremely helpful, and the music was fantastic.
As an even bigger music snob than I am arts and culture snob, for me to Shazam most the tracks played by the DJ was exciting!
There was also a group of young (and handsome) musicians, playing authentic Mexican music while women were dancing bachata in front!
It felt nice to tell myself, "now this feels like Mexico," which isn't always easy in heavy tourist destinations.
A culinary experience to remember!
I must admit that the culinary experience was almost as impressive as the show!
Though I was fortunate enough to be dazzled with free food and drinks the night I attended, the extravagant culinary experience is a creative new direction for Cirque. For the first time, this event is combining their shows with a food and drink adventure put on by a world-class team of culinary experts!
Though guests can still purchase a basic ticket to the show (starting at $70 USD), there are now additional packages. Whether you choose a "Champagne and show" package, or upgrade to the "dinner and show" experience (starting at $165 USD), you will not be disappointed! The dinner consists of an appetizer tray, one of two entree options, and a dessert course, and if you can believe it, even the menu is edible!
It's show time!
From the beginning, this show was thrilling, and the inside of the theater was no less impressive than the grounds!
Additionally, there are truly no bad seats in the house, which always makes for a joyful experience! There show began with fireworks to captivate the eye and intricate sets were used to change the story line from a library, to sailing a pirate ship, to swimming in the deep sea.
he scenes just kept changing! Audience members were even stimulated with aromas to tantalize the senses and transport guests deep inside the jungle! There were so many wonderful things to look at, and the angelic voice of the event's stunning singer was mesmerizing.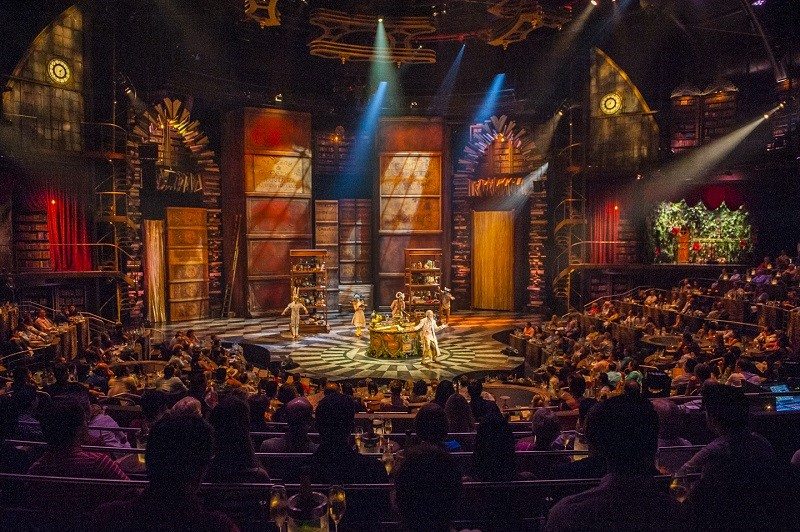 The story line of a rebellious young girl sent on a fantastical quest defying space and time will touch your heart and make you laugh! The costumes will captivate your imagination, the story line will captivate your mind, and the interactive dialogue with the audience will keep you on your toes! Don't worry if you don't speak Spanish, much of the dialogue is in English, and the story line is made to be easy to follow!
In conclusion
This was truly a night to remember, and an excellent opportunity for beach bumming vacationers to dress up and be dazzled! This is truly a once in a lifetime experience, and I promise you will be nothing less than delighted!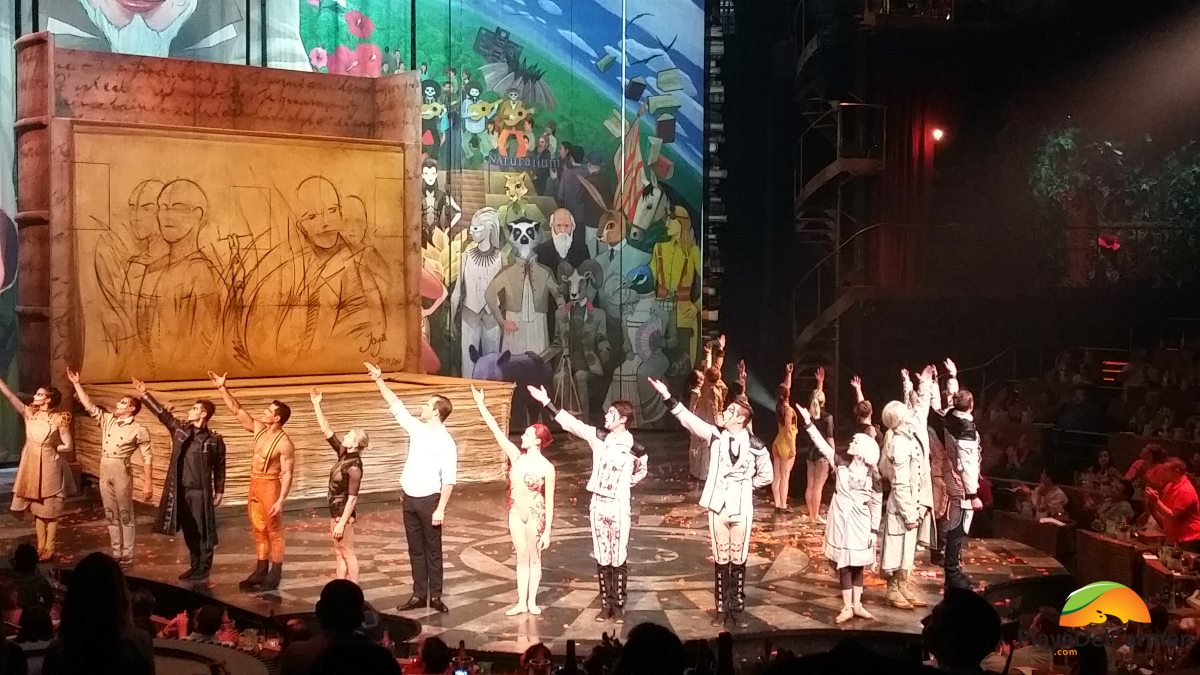 ---
Want to see Cirque du Soleil in Riviera Maya?
Have YOU been to Cirque du Soleil? Give us your feedback in the comments below?
 Have a question for Travel Blogger Specialist Kristina? Get in touch!
---
Trending Now
You may also like