My Day Exploring Cenote Azul!
---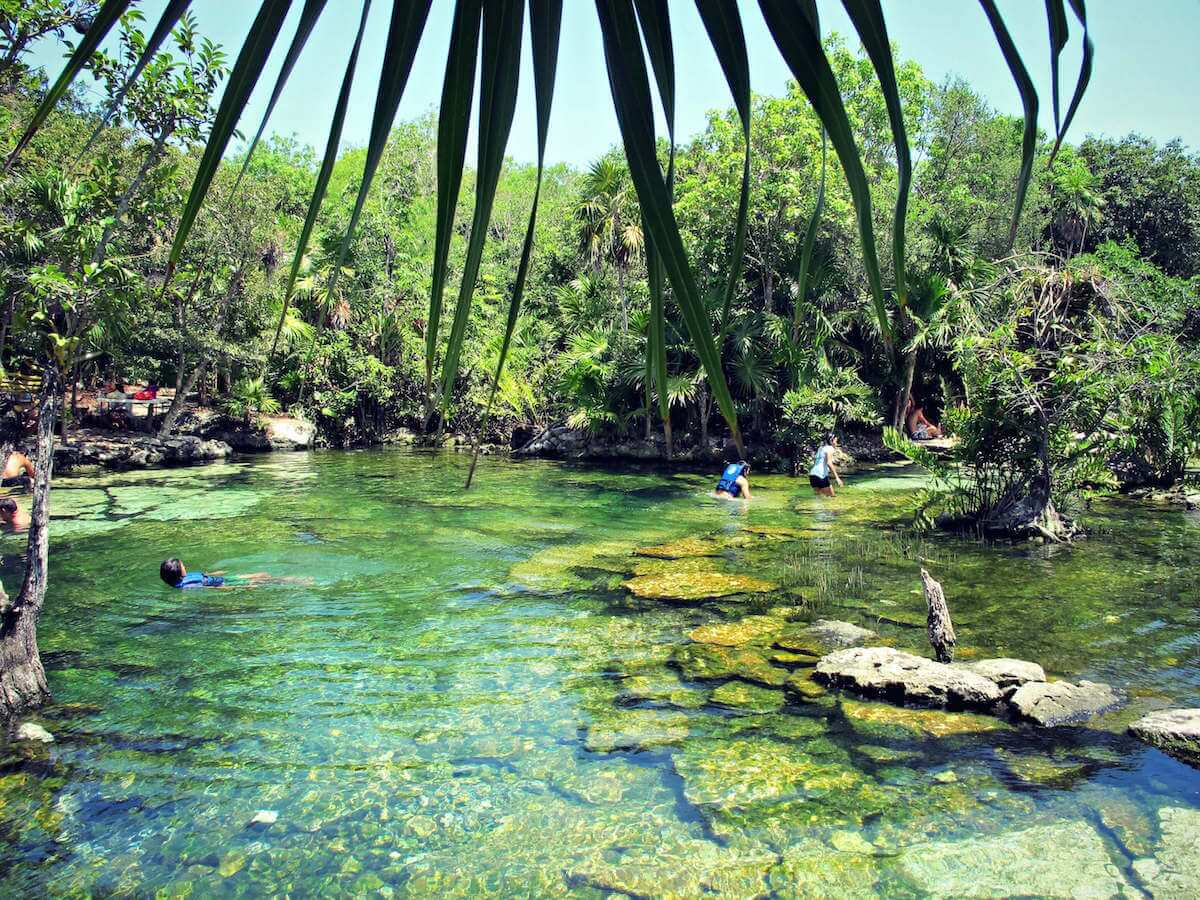 One of the top attractions in this area are the cenotes, pronounced: Seh-no-tays.
You'll find 100's of miles of this underground river system in the Riviera Maya.
You can learn more about these fascinating bodies of water on our blog post: What are Cenotes?
Some parts of these caves are completely underground, some are partially covered and some even sit on the surface like a lake.
You can find really impressive stalactites and stalagmites, some are just fun to swim in, and almost all are absolutely beautiful.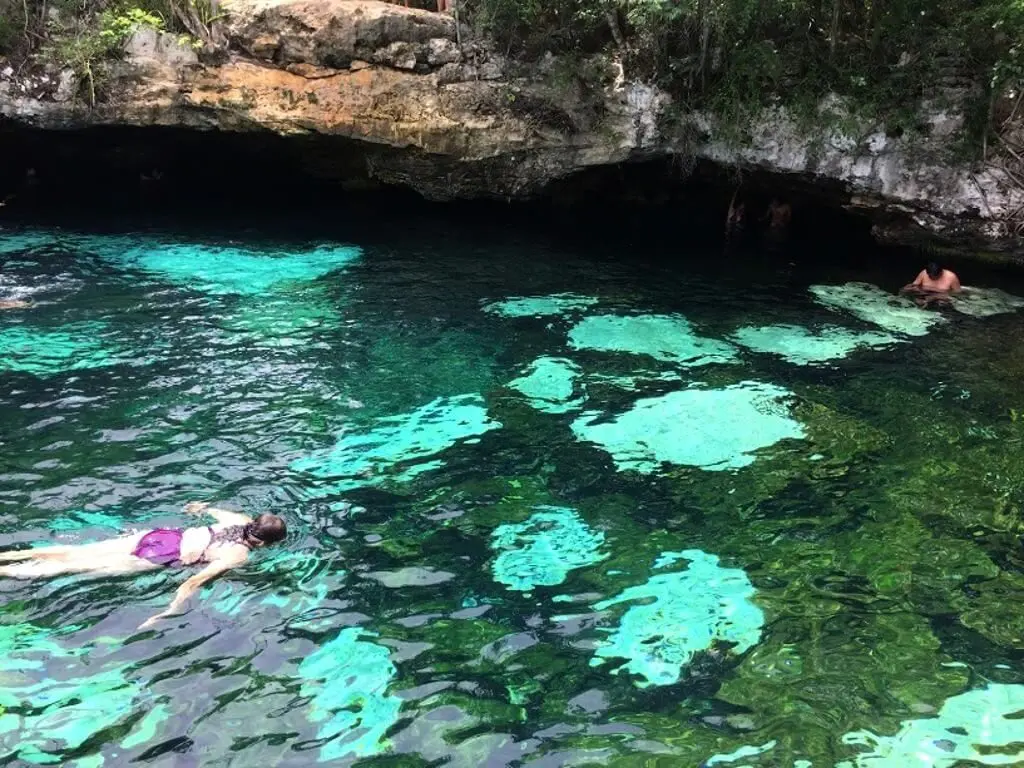 The water in these cenotes is rainwater that has been filtered through limestone found in this area, resulting in crystal clear fresh water.
We decided to spend our Sunday at Cenote Azul (Blue Cenote).
It's located just south of Puerto Aventuras in the Riviera Maya, about a 20 minute drive from Playa del Carmen.
This is just one of the many things to do in the Playa del Carmen area, and one of our faves.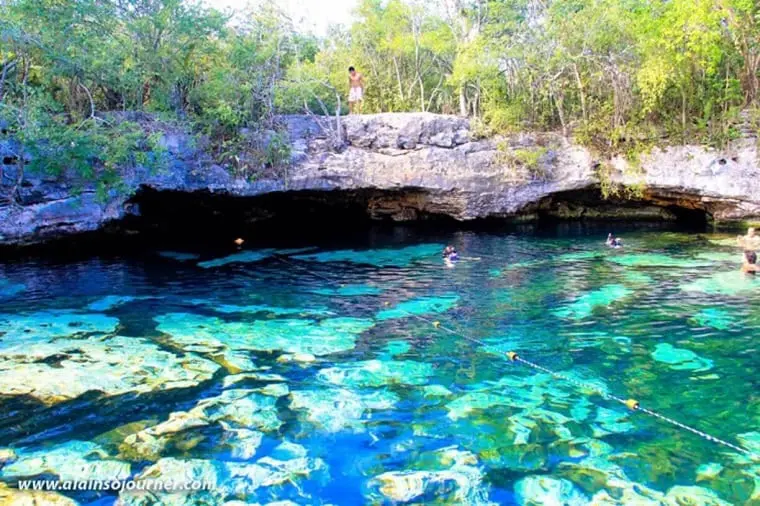 Cenote Azul is quite large.
There are several different areas with various depths, so if you are not a strong swimmer you can bring a lifejacket or rent one on site for a minimal fee.
You can bring snacks and drinks or there is a small "shop" that sells bags of chips.
The main cenote area has a cliff you can jump from.
Just as entertaining is the people-watching as they try to convince themselves to do it.
Not a fan of heights? No sweat, there's dock if you want to be able to jump without the height factor.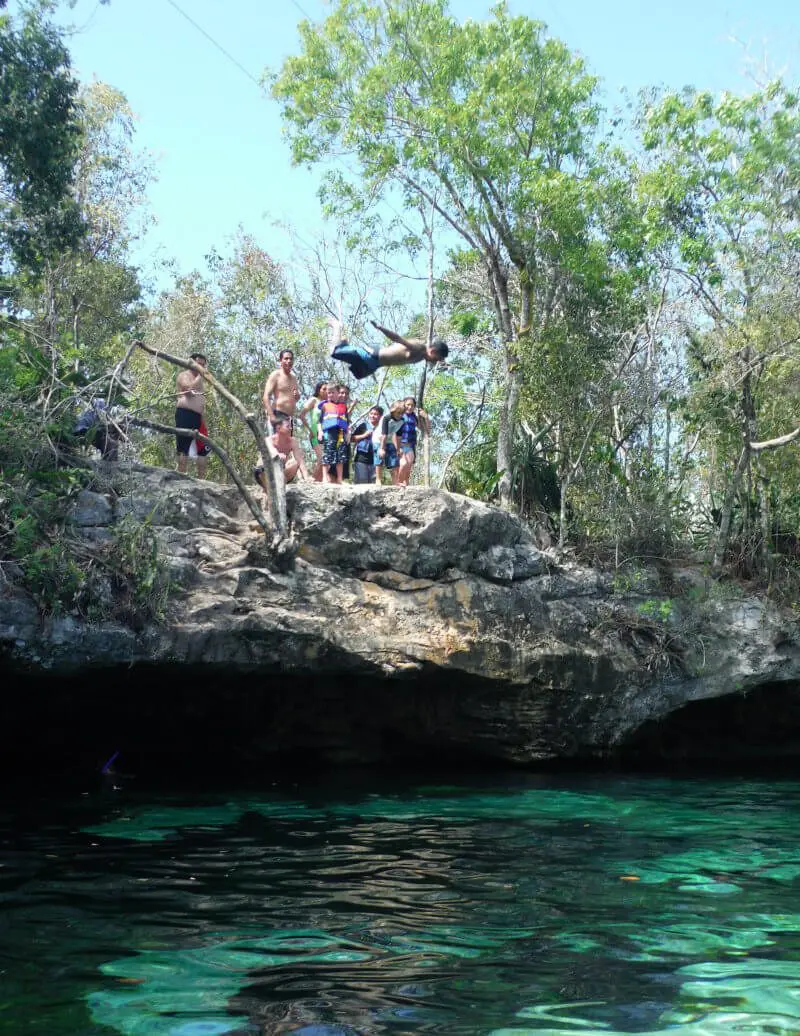 While we were there, people of all ages were having fun jumping from the cliff.
There was even a taxi driver… in full uniform!
Undershirt, shirt, long pants and socks – he did take his shoes off but he had a great time giving us all a show with his jumps and dives.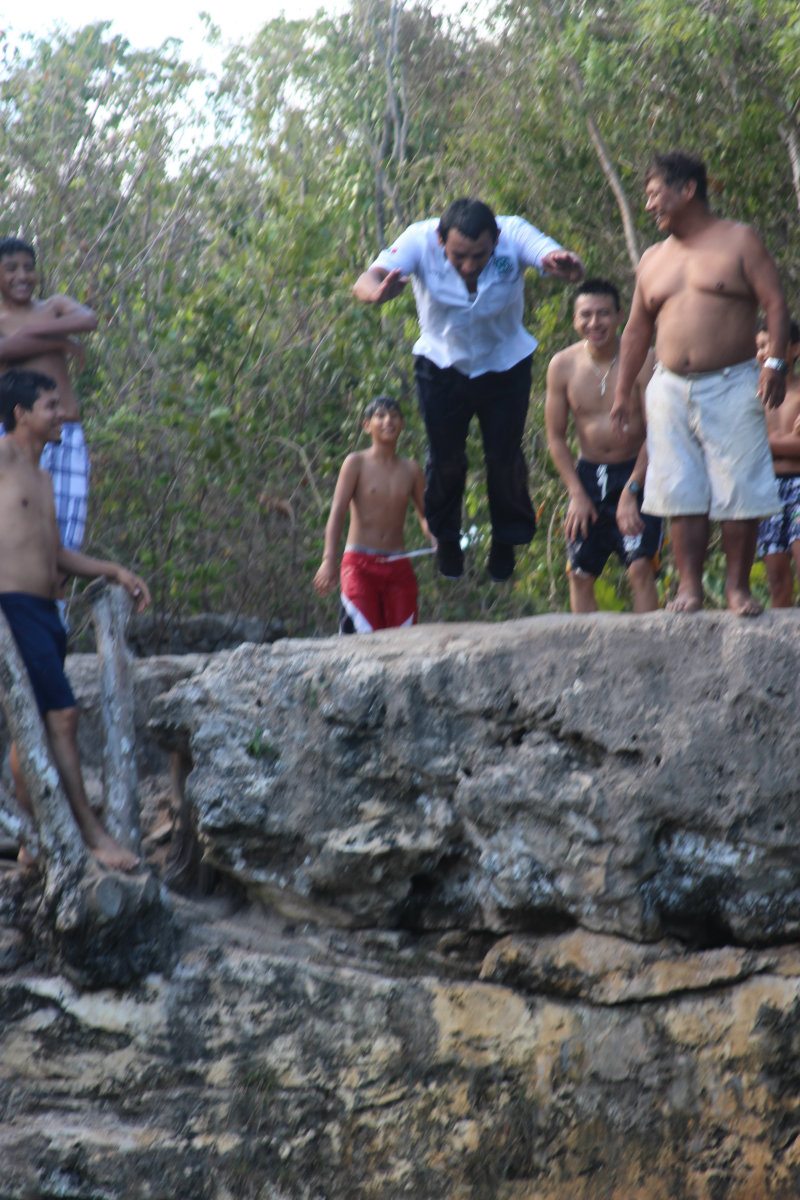 Fish of All Sizes
There are many fish in this cenote in varying sizes. Many like to nibble at your feet, and I even had my own fish spa going on.
The shop does sell little bags of food for the fish if you want to feed them. There are catfish-like ones, some that kind of look like trout and then some smaller minnows.
You can either bring your snorkel gear, or get some on site for a small fee. You'll see a few fish as well as the rock formations under water.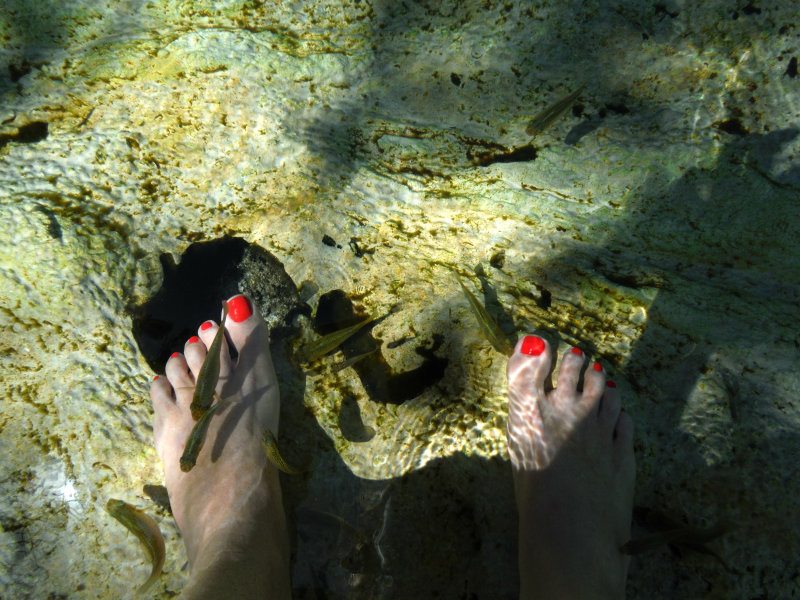 We spent a good part of the day swimming, checking out the fish and relaxing around the cenote.
Your Options To Visting Cenote Azul
If you want to visit some cenotes independently, this area is a great choice. You have 4 different cenotes, all next to each other.
You can pay the entrance fee at the door and enjoy. The Cenote Azul is right next to Cristalino, Kantunchi and Jardin of Eden.
Entrance fees start at about $7-8 per adult at the Azul and Cristalino up to about $30 at the Kantunchi.
They are all a little different.
If you are staying at the Barcelo Hotels (Barcelo Maya Beach, Palace, Colonial, Caribe, Tropical) you can actually just cross the highway (VERY carefully!) and walk over to any of them.
If you heading out from Playa del Carmen, you can take a taxi for roughly 200 pesos ($16) or if you are really going "local" you can grab the colectivos (group vans) that run down the highway. See Cenote Azul on a map.
I Can Help
If you want help choosing the best and tours and hotels for your vacation us, at 888-537-9797.
You can also see our list to the top 50 Playa del Carmen tours and things to do.
Have you experienced Cenote Azul? Share your feedback below.
---
Trending Now
You may also like