My Honest Review of The Royalton Riviera Cancun (2023)
---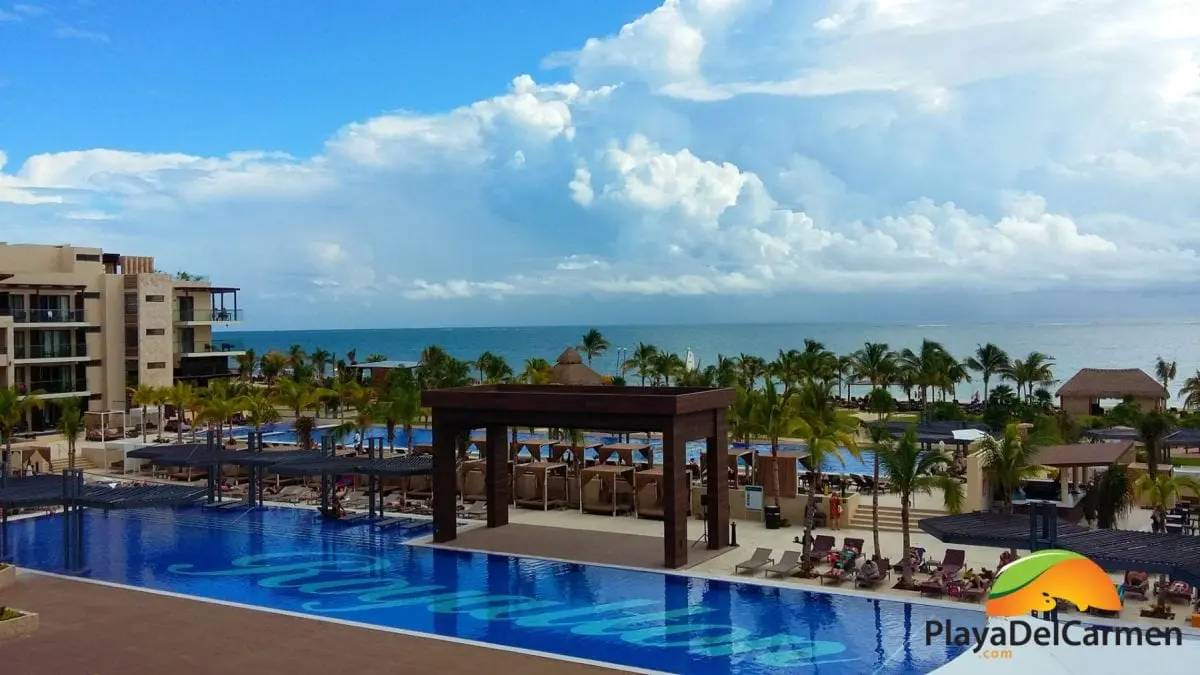 The Royalton Riviera Cancun is celebrating its one-year anniversary this week.
The 1200 room resort offers a multitude of dining options, a wide range of bars and even more activities to keep the whole family entertained.
To be honest, as you drive up the very long drive, it's unimpressive and actually looks penitentiary-like.
However, as you get closer, you get the full view and as soon as you set foot into the lobby, the stunning view of the ocean takes over.
The hotel is quite modern, but still retains a tropical feel, with the use of lots of wood and warm colors.
I recently stayed here (hard life!) so here is my Royalton Riviera Cancun Review and the full scoop 🙂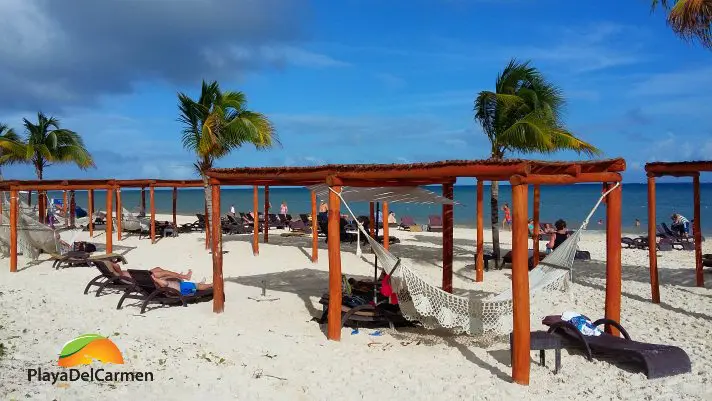 Beware of Timeshare
Or vacation club, or members club, or privileged membership, or whatever garbage line they are using now to make it not sound so bad.
This was by far my biggest beef with the hotel.
The FIRST person that came up and introduced themselves and accompanied us to the reception was a 'concierge'. The man said that the front desk would check us in, and that afterward, he would sit down with us to explain the activities and services available at the hotel. THIS IS ONLY CODE FOR HE WILL TRY TO ROPE YOU INTO A SALES PRESENTATION.
Do yourself a favor and head straight back the bellman so they can bring you to your room. The television gives you all the information you need on the resort, as does a binder in the room. It is also posted hotel-wide on boards and TV screens.
If you really want the help of a real, live person that will not try to manipulate you, there are actual concierges there onsite to help. The way to tell the difference is the stripes. The uniform is exactly the same except the time share pushers have a beige shirt with one thick blue stripe and the actual concierges that will help you with any issues have two thinner blue stripes.
The time share pushers will also befriend as you walk around the resort. Just look for the stripes – one mean runs (away fast). You're welcome 🙂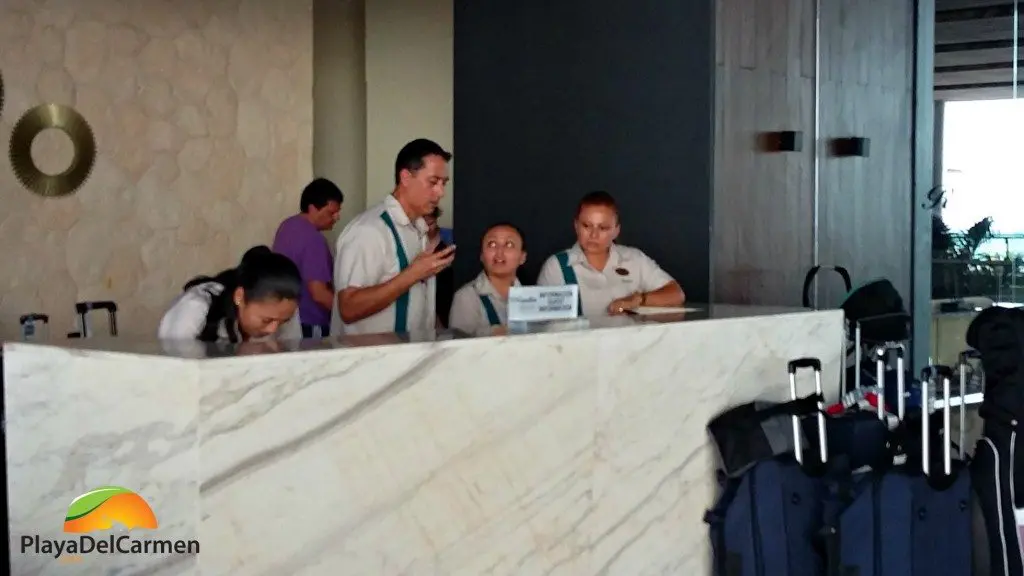 Ok – that was the bad news first.
Now for the good news and a few more icks (but more good than bad).
The Royalton really is a fabulous resort. It is separated into 4 horseshoe shaped buildings, each with its own unique set of services.
The thing to remember is that the rooms, regardless of the section they are in, are the same. It's the services that vary.
The Layout of the Royalton
3 Sections to the Royalton
1) The one furthest to the south is the HIDEAWAY.
This is an adult's only section within the larger hotel. It has its own restaurant, bar, pools and is in a child-free zone. If you stay at the Hideaway, you do have access to the rest of the resort, but not the other way around.

2) Next is the DIAMOND CLUB.
If you want a little extra pampering, this is the way to go. Private check-in and check-out, exclusive lounge, 24 hour concierge service, upgraded bar and room service menu, and more. Sometimes the price difference is minimal but the difference in service is huge.
The diamond club section also has its own exclusive pools and restaurant / bar.
3) The next 2 U's, are the 'REGULAR' section.
Regular is where we were. The first has an enormous swimming pool in the center as well as the chapel area, used for weddings. Interested in a wedding? See prices on our Rivierea Maya Weddings Packages post.
This is part of the main plaza, where many of the a-la-carte, specialty restaurants can be found, as well as the buffet restaurant. It also features an outdoor bar and lounge where live music and entertainment happens nightly.
We had what the hotel calls a luxury junior suite. This is the 'lowest' room category available and we also had the 'lowest' view available, which is a view of the mangroves.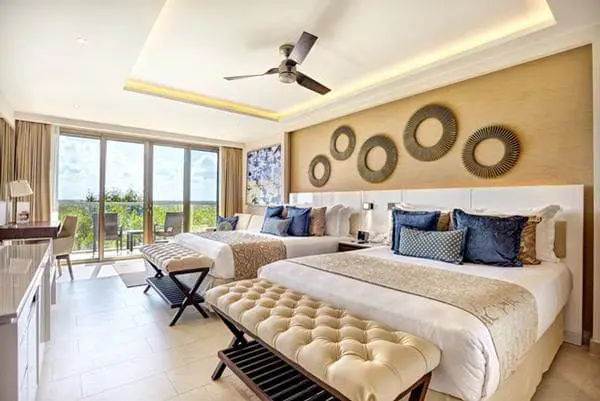 In all fairness, the room was spacious. It has two queen beds and a full sized pull out couch.
The bath and shower area are open to the rest of the room, which could be a little strange if traveling with friends, but otherwise, the size and layout of the room was great.
The mangrove view was pleasant enough, we really didn't want to spend any extra on a view, as we spend very little time in the room. The room did have a mini-bar included with the basics and room service.
They do have ocean-view rooms (from the balcony) and ocean-front rooms (full frontal – not the rude kind) available when booking if you do want a room with a view.
This hotel allows for families of 6 to share the same room which can help save big time on a family vacation.
Maid service was spotty. Some days they knocked really early, before 9am, wanting to clean and some days we had to chase them down to ask for cleaning. Turn down service happened 3 nights on 6.
Food
On your way in every restaurant hostess asks if you have any food allergies and if you have any restrictions.
In this day and age with more and more food intolerances, this is important. They have vegetarian options and gluten-free options in every restaurant!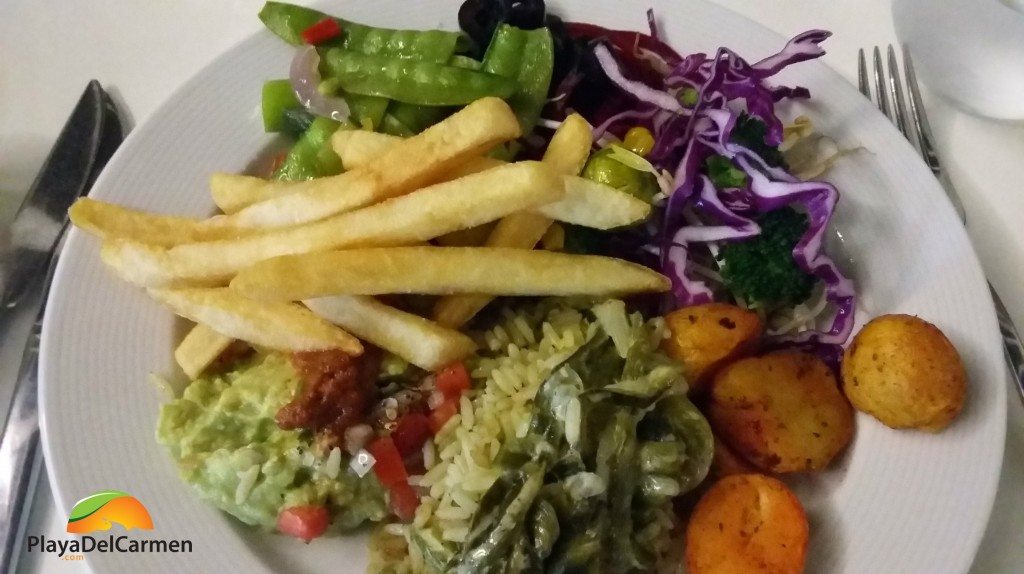 The buffet has to be one of the most extensive buffets I have seen (and doing what I do, I have seen my share!).
There are stations for every type of food you would want as well as a separate kids section.
The kid's section generally means junky food (hot dogs, fries, chicken nuggets etc.), so if you want your kids to have anything healthy, they'd better get food in the regular buffet.
There are LOTS of options for meat lovers, with separate sections for poultry, beef, pork, seafood and chicken.
The vegetarians also have a lot of choice – I loved the salad bar, with a great variety of fresh options.
There was Mexican food, a bread station, a dessert bar – you name it, they had it.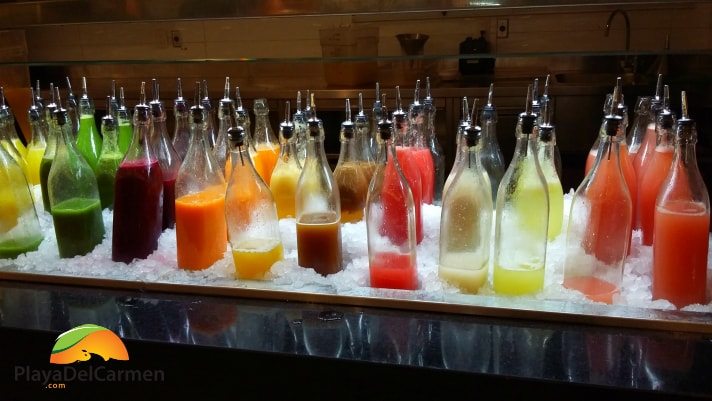 In addition to the buffet that is open breakfast, lunch, and dinner, there are quite a few specialty restaurants to choose from.
You do not need to make any reservations, you can choose from the following options and just show up for whatever you are craving. Mexican, a Steakhouse, Asian (with Tepanyaki show cooking tables), Italian, Mediterranean, and even a Sports Bar featuring 'pub grub'.
Once all that is said and done, you also have a café on site and a gelato bar. Hungry, yet?
I am a lover of buffets, I love the idea of having all these choices available and being able to put together my 'perfect' meal. They had so many veggies in the salad bar I was one happy girl!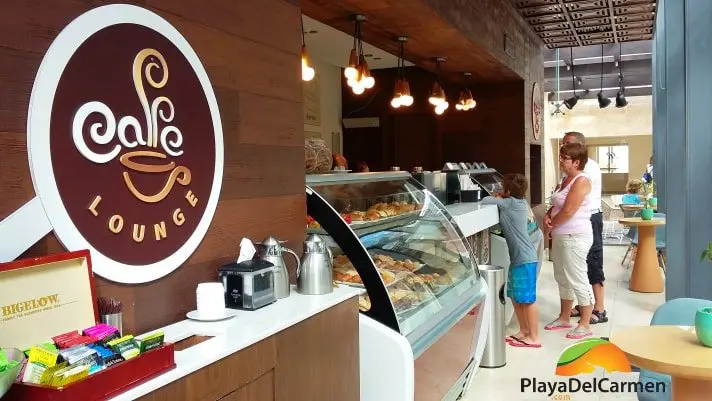 Again, service was touch and go. It really depended on the waiter you got at any given time. Shift change is at 3 (when the buffet closes after lunch) so if you go past 2:30 seems like everyone is just itching to get going.
A weird thing was that there were no spoons on the table. Not to stir coffee, not for dessert. It was hard to get spoons (1st world problem!). You could get gelato as dessert but if you ask for a spoon there, they refer you to the waiter, and then it takes a while to get a spoon.
On our last day, I was chatting with the hostess at the main desk and saw that they have a very deep drawer and someone delivered at least a hundred spoons. I should have asked why, but got distracted (Squirrel!).
We did head to the Mexican restaurant one night and I have to say, the food was amazing. The décor was beautiful, Authentic Mexican that was also tourist-friendly.
The service in the a la carte restaurants was MUCH better in general, but then again the staff there are not nearly as rushed as in the buffet.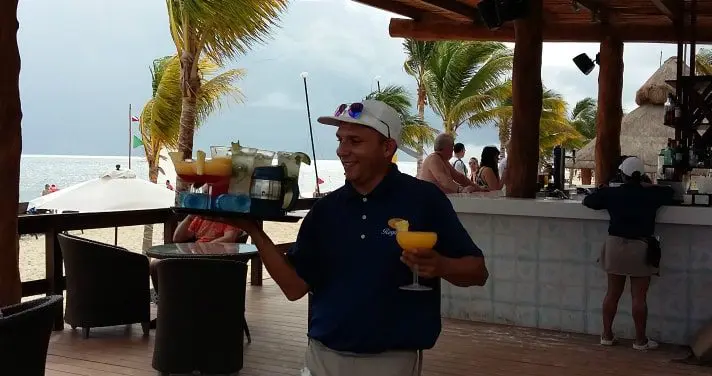 Activities
There is an extensive list of activities, sports, games, and entertainment.
Activities for Babies and Toddlers
The water slide area does have smaller slides that are appropriate for toddlers.
Activities for Kids
The kids club accommodates for kids 4-12 and is available daily from 9am to 9 pm. If you need a break, you can sign the kids in. They have a variety of activities.
My 9 year old ASKED to go on a daily basis. If you want to have fun with your kids head to the waterslide area. There are ones for bigger ones as well as the little ones.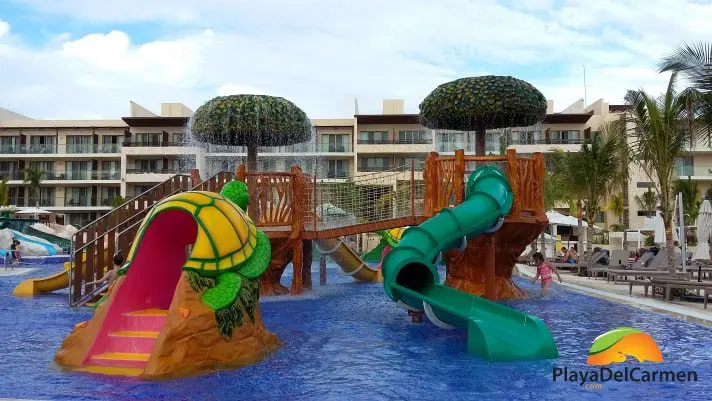 Activities for Teens
If the teens need a break from the adults, the 13-17-year-old lounge may the right escape.
Pool tables, ping-pong, foosball, air hockey and more. For the more tech savvy, there's Wi-Fi in the room as well as the variety of video games for endless entertain.
Activities for Adults
Every section, (Hideaway, Diamond Club and regular Royalton) has a list of activities that vary per day. If you want to keep active, there is always something to do.
Activities for the Drinkers
Well, swim-up bars, sports bar, mini-bar, beach bars AND they have wine tasting and tequila tasting. Cheers!
Nightlife
Ok, so nightlife for me is anything that happens around 9pm, but in all fairness, the hotel has live music of some sorts almost every night as well as a show that changes every night.
The nightclub on-site is open daily, but the ambiance of the nightclub will really depend on who is there on any given night.
Other Things You Need to Know
Location
You are in the middle of nowhere.Ok, well maybe
Ok, well maybe not nowhere, but if you are the type of tourist that likes to head into town a few times during your stay, you may find the location difficult.
The hotel is only 20 minutes from the airport, but a 40-minute drive from Playa del Carmen town and also 40 minutes from Cancun.Most tours will pick up here, but there is nothing around the resort.
Most tours will pick up here, but there is nothing around the resort.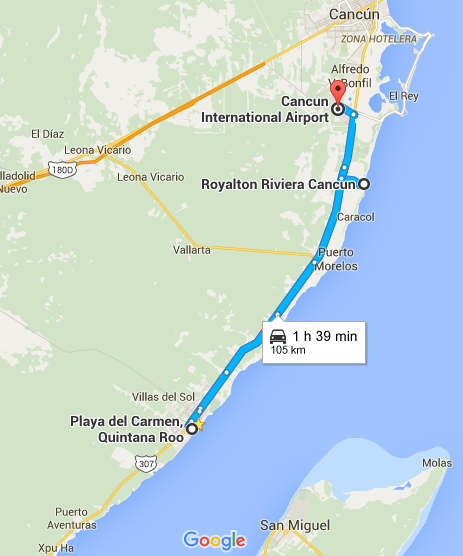 Spa
They have an incredible spa. Just the hydrotherapy circuit alone makes it worth a visit. Ask for discounts as there are often specials that are not necessarily advertised. Diamond Club guests have an included discount.
The Gym
The gym has a variety of new equipment and extended opening hours. It is located right next to the spa. Now you can't say you couldn't find out (no excuses!)
Shortage of Loungers / Shade / Towels
There are a lot of loungers in all areas. There are also a lot of tourists that stop by the pool and/or beach on their way to breakfast to reserve their spots. I won't get into how wrong this is here – please read post 'how not to be an #AssOnVacation'.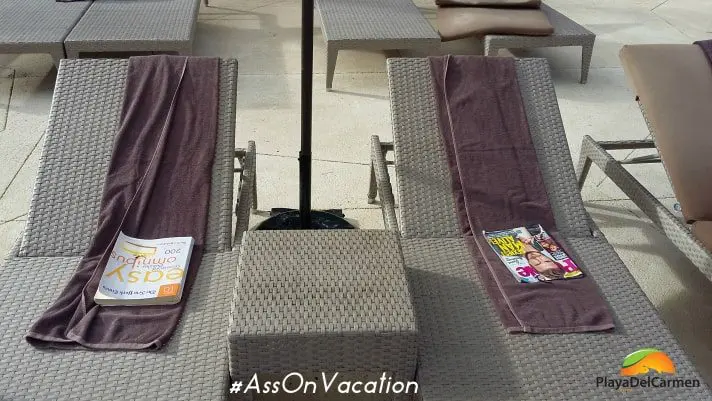 Nexus – The Tour Company
They are owned by the same company that owns the Royalton hotel (and a few other companies including the Canadian tour operator, Sunwing). SO – they will push tours on you.
There are staff in the lobby, by the pool, at the beach and all of them sell tours.
I would, however, suggest that you research your tours well and read reviews as the ones being 'pushed' may not necessarily be the best tours, but rather pay the best commission to the seller.
If you want some honest feedback and discounts on the many tours in Playa del Carmen, you can contact us at PlayaDelCarmen.com.
2 Tours You SHOULD Book on Site
1) Snorkeling trip
They have this tour DAILY, 3 times per day. The cost is $40 for adults and $20 for kids (at the time I am writing this) and this is for a 1.5-hour trip. The pick up at the beach.
2) Catamaran trip
They also have this trip on a regular basis and it also leaves from the beach. A 3-hour tour with drinks runs at $65 for adults and $40 for kids. This is very inexpensive for a catamaran tour.
Water sports that are included
If you head to the beach, there are certain sports that are included. Stand-up paddle boards (Yes, for real), kayaks, and a small catamaran for 2-3 people.
You DO have to pay a reef conservation fee of $3 per person for these activities or the water tours lists above, BUT the bracelet you get for $3 is valid for your entire stay, providing it doesn't fall off. The included catamaran is a quick 20-minute jaunt and you get a guide. Well worth it.
Casino
They have a casino. This is one of the only hotels in the Riviera Maya that has one. It is open daily from 6pm to 2am and offers 50 slot machines, roulette, and blackjack.
Shisha
You can smoke shisha here! Right outside the sports bar located near the lobby area. It does have a nominal cost but check it out!
Destination Weddings
Want to have a destination wedding? Well, this may be the spot for you.
If you want your guests to have a lot of choice in terms of rooms, services, and pricing, the Royalton does allow you to accommodate a range of guests with their adult's only section, family section, and the Diamond Club VIP section.
Now that the guests are taken care of, here is the info for your wedding! They have a contemporary chapel near the beach, the choice of a beach venue or a rooftop venue for a sky wedding.
Wedding packages are quite reasonably priced which is always a good thing!
Plus, we can help you organize your destination wedding with incredible group pricing 😉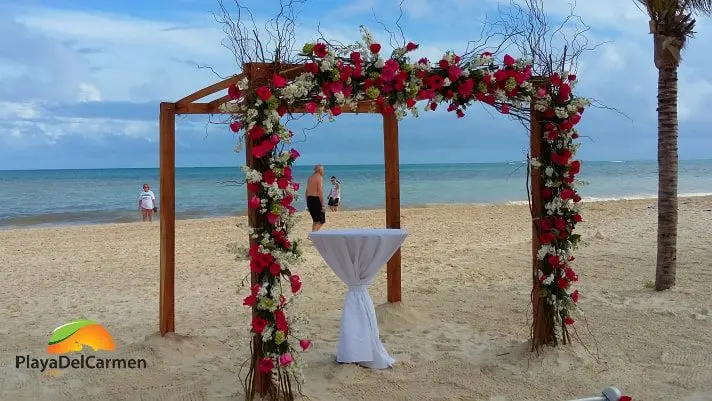 Beach
The beach is long, wide and the sand is fine and beautiful. The water is turquoise, except right off the shore, where it is darker and brownish.
The thing with all these new hotels popping up in the Riviera Maya is that they are removing jungle, mangrove and natural eco-systems in order to build.
If you look around the Royalton (outside the compound), all you can see is mangroves which is nice.
Well, the area the hotel was built on, as well as the area near the beach had mangroves. And one of the results of removing mangroves is that the water in that area will remain murky and darker (especially after rainfall). It is still turquoise, it is still beautiful and it did not seem to stop any of the tourists from swimming as far as I could see. But, if your brain is programmed to expect crystal clear water, change it now to avoid disappointment and we can help with that.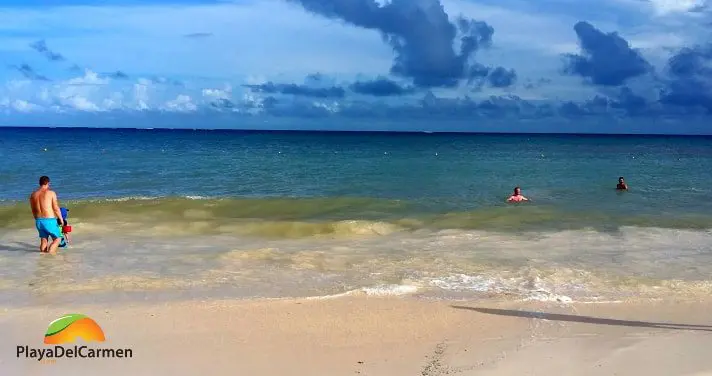 Conclusion
The Royalton is a great hotel for those seeking a quality 4.5* hotel for a reasonable price.
It is a fabulous hotel for people wanting a large resort (1200 rooms) with a wide variety of activities, dining and drinking options.
The Royalton accommodates families of 5 or 6. It would be my recommendation for a family getaway or reunion.
Although there were a few hiccups and not-so-stable levels of service, I can honestly say that this hotel is one of my favorites in the area.
Have You Booked Yet?
You're in Luck! We can SAVE you a ton on the Royalton.
Our team at PlayaDelCarmen.com get preferred rates at this hotel!
Contact us directly at 888-537-9797 or customercare@playadelcarmen.com for details.
Have YOU stayed at the Royalton? What did you think?
Share your comment below.
---
Trending Now
You may also like