TOP 10 Kid-Friendly Things to Do in Cancun | 2023
---
Looking for the best things to do in Cancun with kids?
You're in luck!
We're local and here to give you the inside scoop. 👏
Keeping your kids entertained on vacation is no small feat.
With our help, we guarantee that you won't hear the treacherous words "I'm bored" 😱 once during your next trip.
Yes, it's quite a promise, but follow our wisdom and I assure you, you can't go wrong!
The good news?
Some of these activities are completely FREE!  You're welcome. 😉
The Top 10 Things to Do:
---
1. Captain Hook Dinner Cruise.
Due to the given privileges of glorious sunshine and impeccable beaches in this region, it is somewhat easier to keep the kids entertained during the daytime.
Cancun has become synonymous with relaxing on the beach or enjoying the fun activities included at your all-inclusive hotel. But what about when the sun goes down? What do your kids do then?
Captain Hook Pirate Dinner Cruise is an evening of epic adventure that the whole family can enjoy!
All aboard!
Once you've made your way to the pier the adventure begins when you board either El Bucanero or El Galleon!
These impressive ships are exact replicas of 18-century galleon vessels, 93 feet in length they have been specially adapted and upgraded to feature modern amenities such as a kitchen, lighting, and state-of-art sound systems.
Aboard the ship, you will be able to admire views of the Nichpte Lagoon and Mexican coastline.
As the sun sets amidst an explosion of tropical hues in the sky your adventure upon the seas just begins. Captain Hook himself will share his famous backstory of how he came to claim the Caribbean ocean.
Canons will fire and you'll be plunged into the rhythm of old pirate life.
When you've worked up an appetite you can enjoy a delicious meal of either lobster, chicken, steak, or Surf & Turf (a dinner fit for a pirate), accompanied with cooked vegetables, salad, baked potato, rice, and dessert.
Wash it all down with soft drinks or alcoholic beverages from the open-bar.
Watch entertaining pirate antics, play swashbuckling games, and take center stage on the dancefloor!
Before your return, an enemy ship will approach, and you'll witness the ensuing battle between the two boats, complete with dramatic sword fights.
You will spend around 3 hours at sea and it is oodles of fun for the whole family.
Things we LOVE about Captain Hook's Dinner Cruise:
Open-bar for adults.
The different games and activities for children.
The Surf n Turf dinner option!
2. Day Pass to Another Hotel with More Activities.
If you're staying in Cancun for over a week mix things up a bit and make use of the amenities and activities at other hotels.
Did you know you can access a 5* luxury hotel and utilize all of their facilities and activities for just a fraction of the price?
Traveling with kids sometimes means that you have to compromise on luxury hotels for something a little more doable, especially in high season.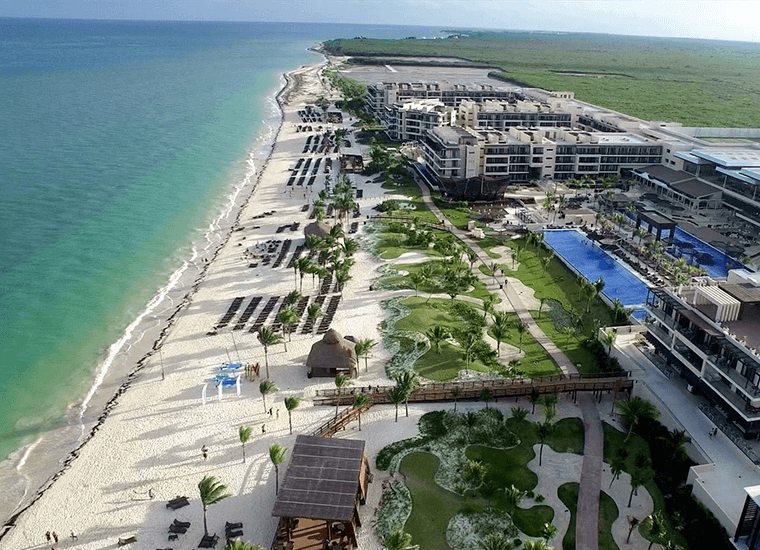 Day passes to other hotels range between $1,000 pesos to around $2,000 pesos equivalent to  $56 – $113 USD.
For this price, you can be treated like royalty and make use of facilities you may have ordinarily missed out on.
Read more about hotel day passes here.
Things we LOVE about day passes: 
If the beach at your hotel is not looking so great or you're just a bit bored of it you can enjoy a different stretch at a new hotel for the day.
More food options (variety is the spice of life)!
Different activities for the kids to enjoy.
Good value for money.
3. Ventura Park.
Ventura Park is made up of 6 entirely different worlds all on the same grounds.
The best part about this attraction is that it is within the hotel zone of Cancun, so if you're staying in the city you won't have to travel far to access it.
We all know what it's like traveling with children no one wants to waste time on vacation being cooped up in a warm transfer van.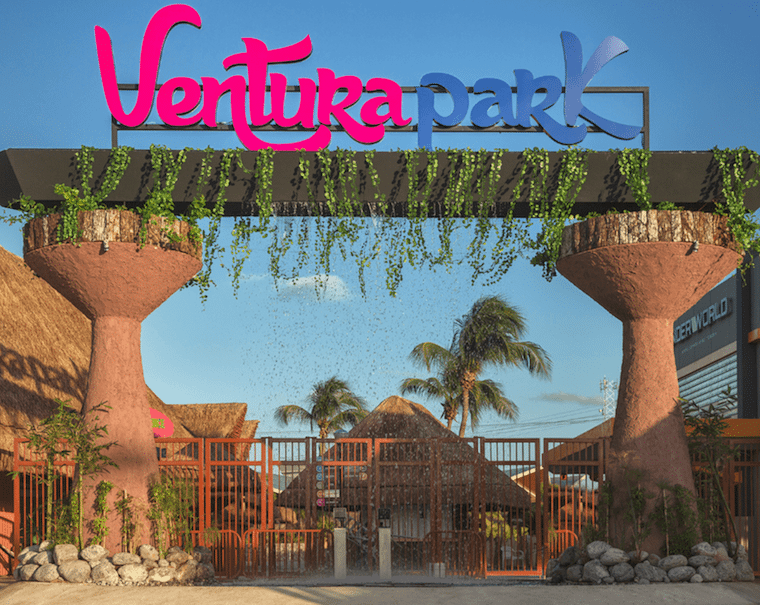 Not only Ventura Park home to the only major waterslide attraction in the region kids can zip line, swim with dolphins, go-kart, ride a roller-coaster, and enjoy state of the art games like Laser Tag (think bumper carts meets lasers), plus much much more.
The value for money at this attraction is insane so if you're hoping for a full day of different activities but don't want to pay big bucks for the whole family this is the attraction for you!
It's important that you plan your day here accordingly as many of the attractions don't permit entry unless you and the children are completely dry.
Therefore I would recommend doing the water activities last, after all, they are the perfect way to cool off!
Things we LOVE about Ventura Park: 
An awesome range of waterslides!
The zip line adventures at AaahVentura.
Oceanfront go-karting track.
4. Isla Mujeres.
Plunge yourself into the true rhythm of the tropics by putting yourself on island time!
Vacations are all about escapism! Women's island is the ultimate chance to disconnect from the chaos and monotony of your everyday life and spend time with the people you truly love most.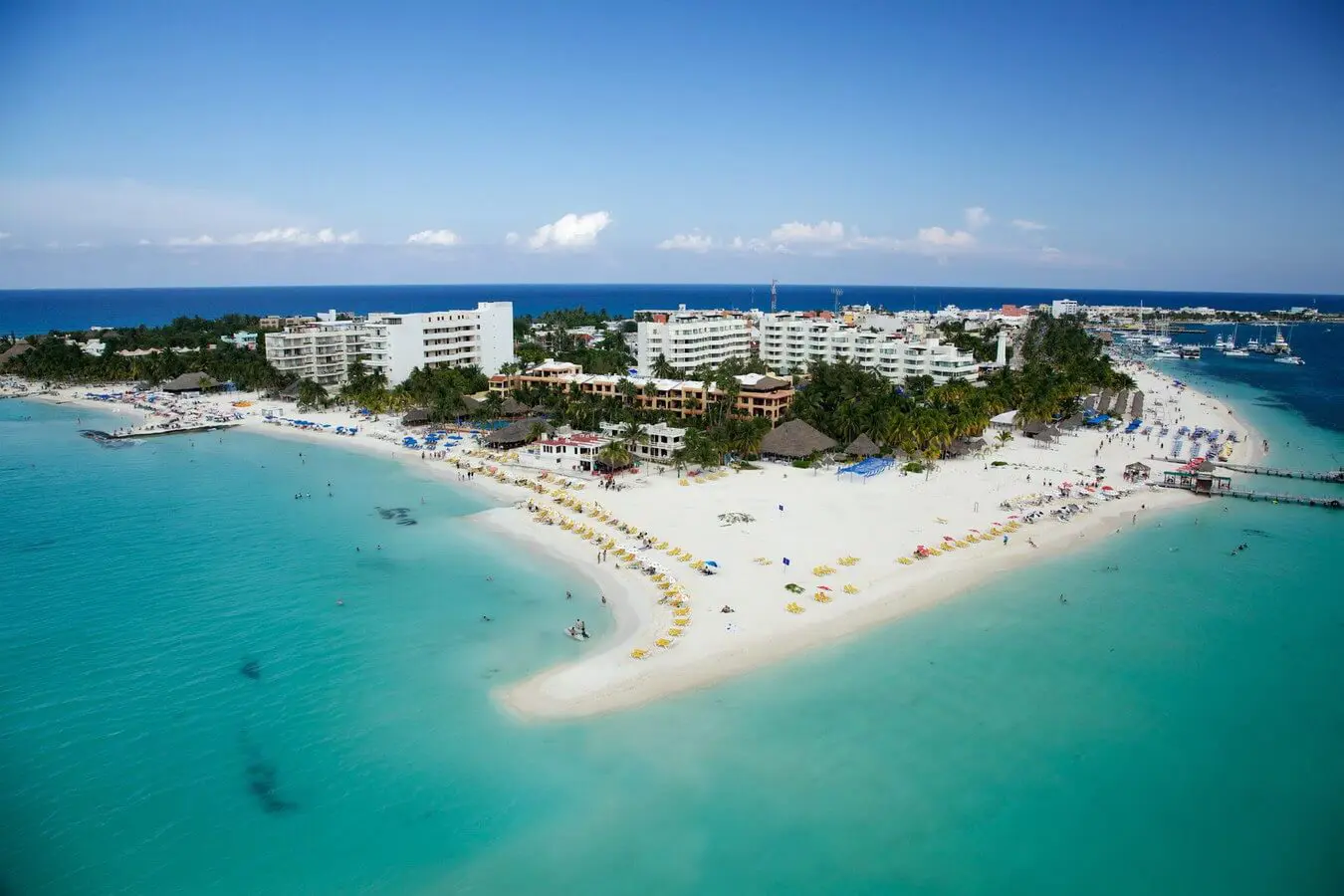 In Cancun, you have the privilege of being close to the pier of Puerto Juarez,  just a few minutes from downtown Cancun.
From here you can catch the Ultramar ferry which leaves every half hour from 5.00am until 9.00pm taking around 15 minutes and costs $4 each way.
For more inspiration of what to do when you get there be sure to check out my 1-day guide to Isla Mujeres, I wrote it especially for you. 🙂
I would highly recommend hiring a golf cart for minimal cost and exploring every inch of the island by yourself,  you will love it!
Things we LOVE about Isla Mujeres: 
The chilled-out island vibe.
Golf carts. 
Snorkeling!
5. Parque Las Palapas.
Get a taste of local life in Cancun by visiting the lovely Parque Las Palapas.
This public area boasts ample seating, a variety of different stalls offering up delicious and cheap snacks, plus live entertainment.
The best news of all? It's completely free to visit.
Recently renovated it's the ideal spot for families to hang out together. I'd recommend getting there in the afternoon and staying for the beautiful sunset.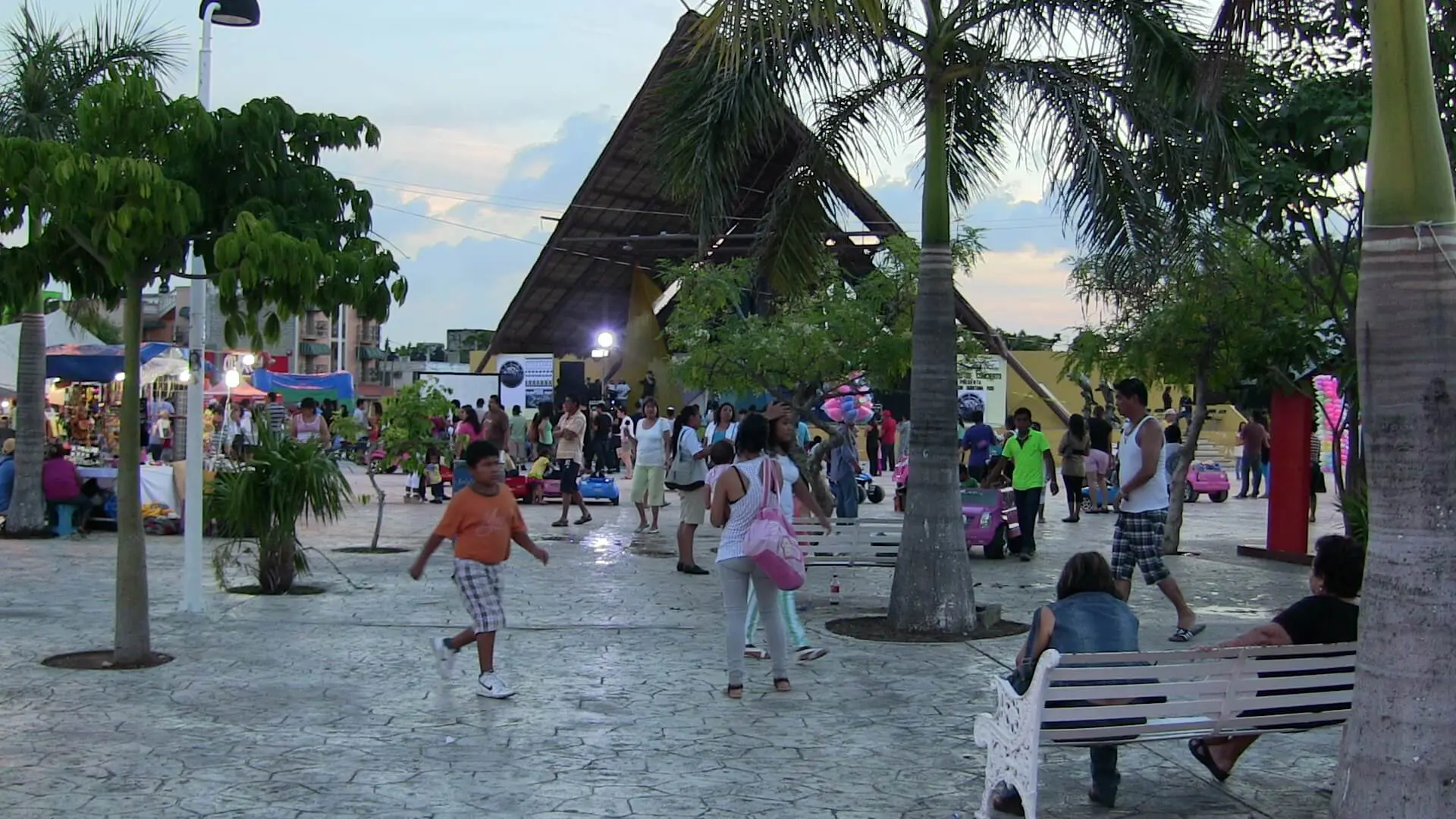 You can enjoy local delicacies such as corn on the cob, fried plantains, and quesadillas. You won't spend a lot of money here but it doesn't mean you have to compromise on delicious flavors.
Foodies will never want to leave.
Kids can enjoy games like soccer while adults can browse local stalls selling handicrafts.
Live musicians often perform here so if you're lucky you will also get your dose of free entertainment.
Things we LOVE about Parque Las Palapas: 
It's FREE!
Cheap food.
Live entertainment. 
6. El Rey Ruins + Museo Maya de Cancun.
Mexico is celebrated for its rich history and culture. While you're here it would be criminal of you not to immerse yourself in the country's enchanting Mayan secrets.
You don't have to trek with your kids all the way to Chichen Itza or Tulum to get your slice of the action, for just a few dollars you can visit some of the greatest wonders of the world right here in Cancun. You don't even need to leave the hotel zone!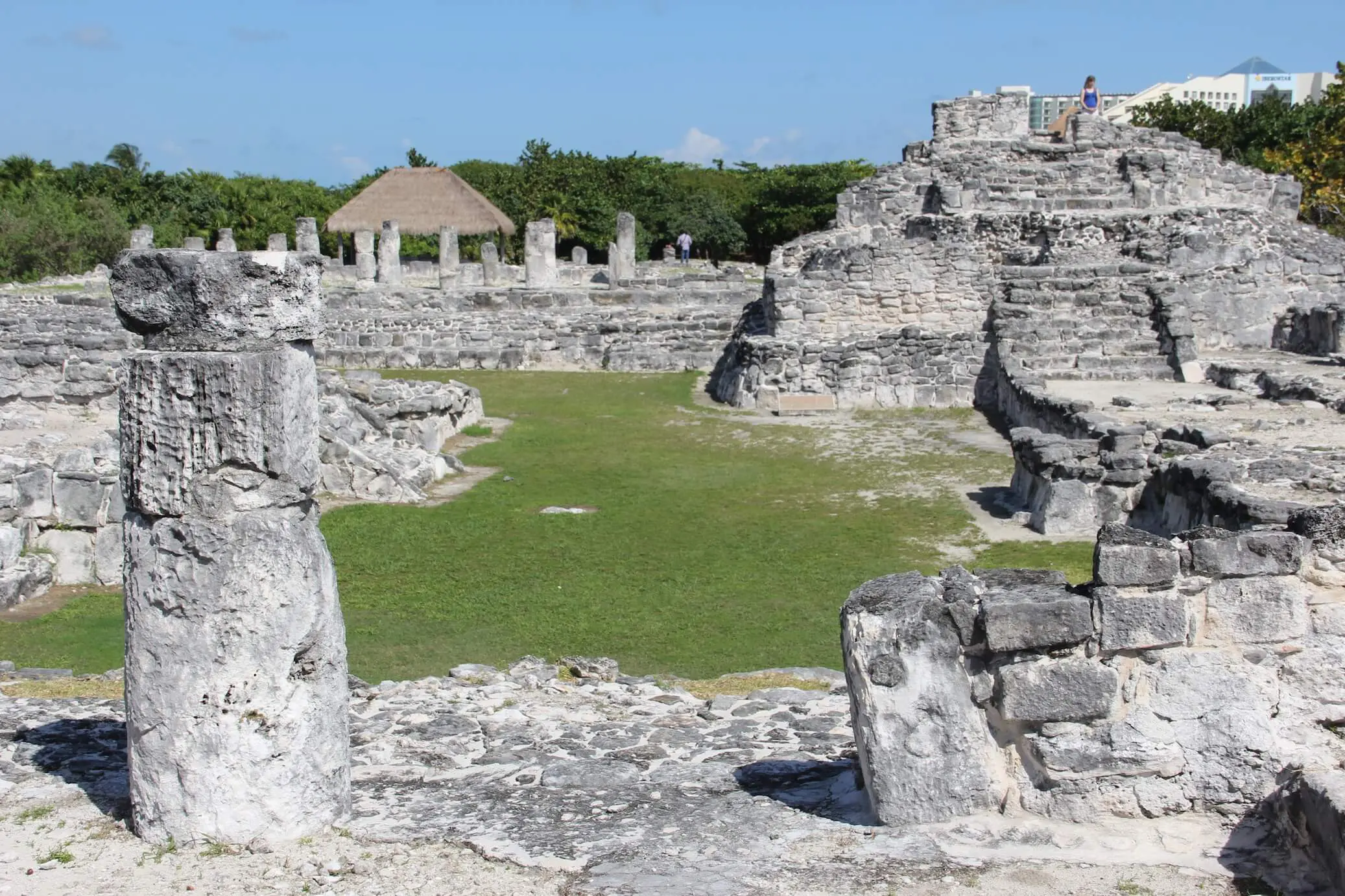 The El Rey Ruins are located in the Hotel Zone and El Meco Ruins are found just north of Cancun.
Both cost just 50 pesos to visit which is the equivalent of $2. Bargain!
That's not all, for just $4 you can also visit Museo Maya de Cancun where you can find an extensive collection of Mayan artifacts. It's the perfect rainy day activity, here you will also have access to the San Miguelito ruins included in the price. These ruins are located onsite at the Museum.
Things we LOVE about El Rey Ruins + Museo Maya de Cancun:
Great rainy day activity. 
Educational and fascinating for kids interested in history.
Located within the hotel zone. 
7. Plaza Las Americas.
When you plan to come to Mexico you plan for sun, sea, and sand. Am I right?
However, like everywhere in the world the weather is subject to change.  If you are visiting during the rainy season which starts from June till October it's possible that you may experience some rain.
That's why it is always good to come with a plan B. Keeping kids entertained in the rain is no easy feat, believe me.
However, the modern Las Americas Mall in Cancun is large enough to keep the whole family entertained and allows the kids to burn off some energy.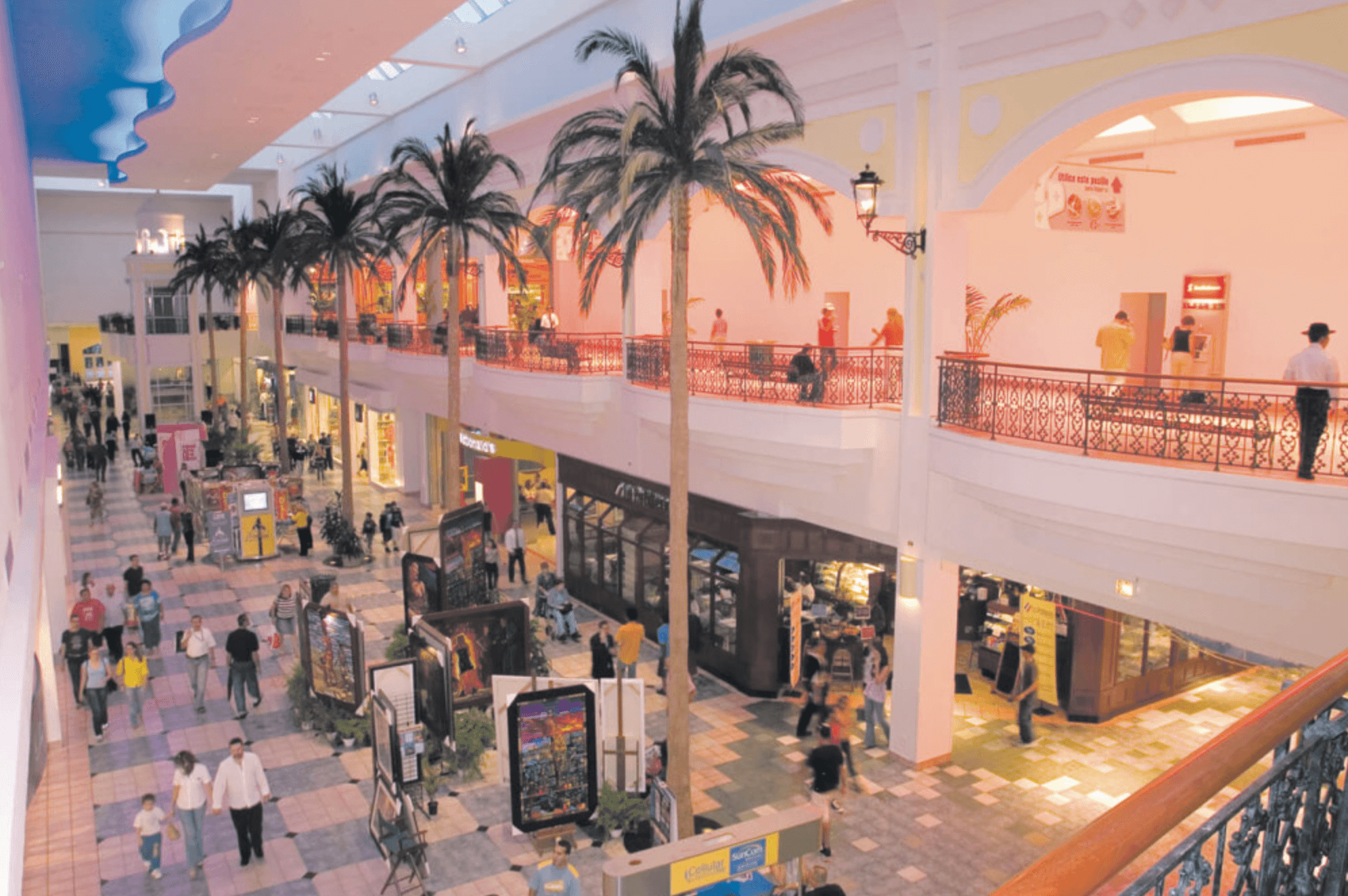 At Plaza Las Americas you will find a food court, movie theater (though kid-friendly movies are usually only in Spanish, with English subtitles), and an arcade where kids can play.
If you have smaller kids who don't particularly like walking there are these things called 'Zooriders' where they can scoot around on a stuffed animal.
Things we LOVE about Plaza Las Americas: 
Zooriders. 
Movie Theatre.
Food Court.
8. Catamaran Tour.
While in Cancun set sail on a family-friendly catamaran.
This full-day tour will take you from Cancun across to Isla Mujeres.
You'll have fun aboard the catamaran listening to music and enjoying lunch, before exploring the charming island of Isla Mujeres.
Your expert sailors will take you to a beautiful spot where you can snorkel a portion of the world's second-longest barrier reef: the Mesoamerican Reef.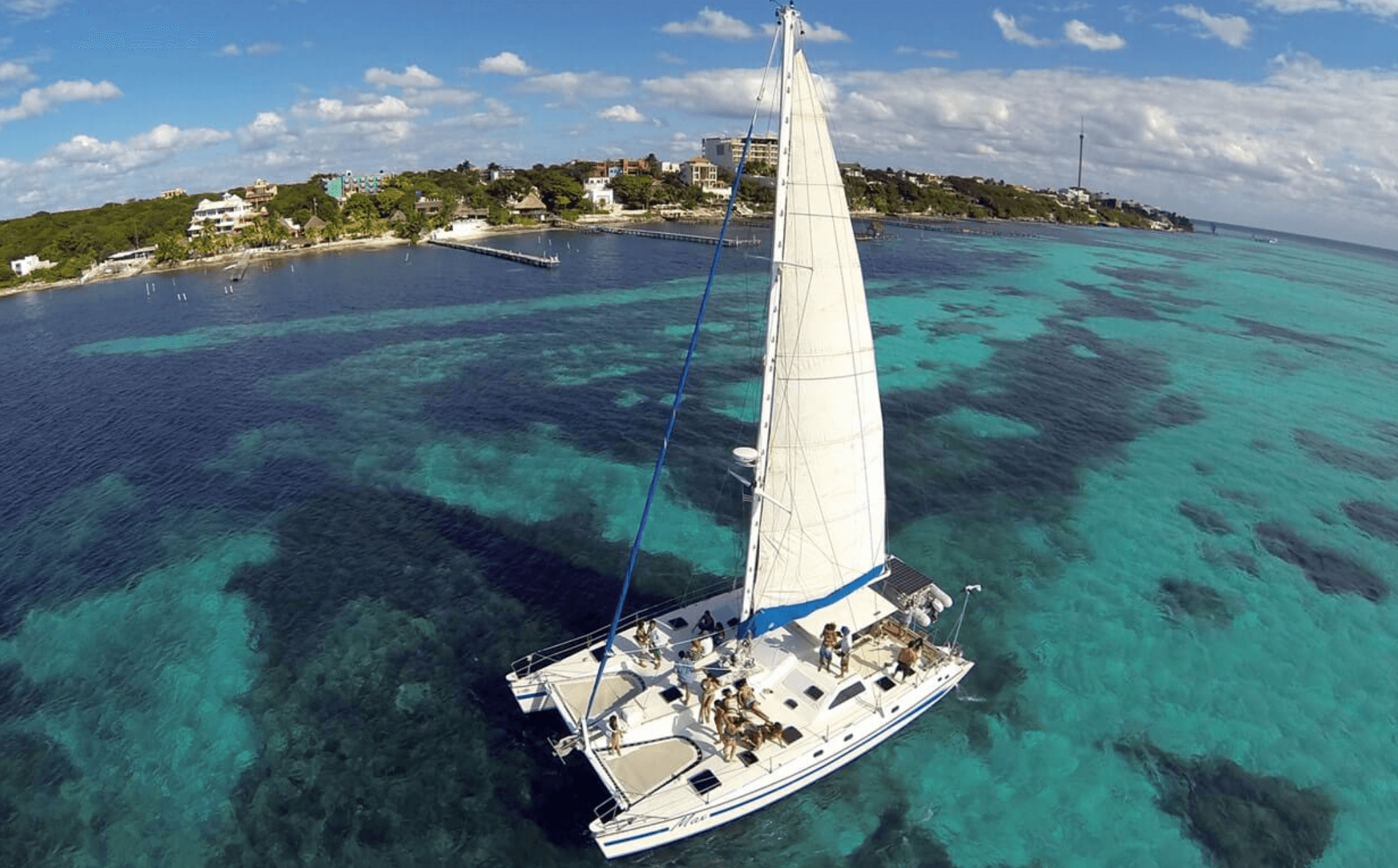 Once your snorkel adventure comes to an end after 30 mins, you will head across to Isla Mujeres.
You'll be greeted by the smiling staff at the local beach club, where you'll be able to take in some drinks, lounge around on the white sand beach, swim in the bay and take in a typical lunch buffet.
You will have some free time on the island to do as you please. Adults even have the option of adding an open bar for an additional $15 pp.
Things we LOVE about the Catamaran tour: 
The catamaran experience.
Snorkeling. 
Open-bar option.
9. Selvatica.
Selvatica is the ultimate outdoor adventure for you and the kids!
I should note that children have to be at least 8 years old to participate in this tour. It is suitable for older kids who like to keep active.
Selvatica offers a range of full-day and half-day tours that you can check out on our website, so depending on your schedule and budget you can choose the right one for you and your kids.
Selvatica is famed for its innovative range of different zip lines, state-of-the-art off-road Polaris ATVs, and a beautiful onsite cenote.
The 5 types of zip line include:
Tarzania –  AKA the human rollercoaster.
Superflight – fly like a superhero headfirst through the jungle.
Glove Control – control your own speed with your hand.
Upside Down  – fly upside down through the air for an even more thrilling experience.
Cenote Splash – make a splash as you enter the cenote from the air.
Things we LOVE about Selvatica: 
The different range of zip lines. 
Cenote Selvatica.            
Off-Road Polaris experience.
10. Hit the Beach!
One of the best beaches in the Cancun area is undoubtedly Playa Delfines which translates to "Dolphin Beach".
It's the perfect place to enjoy the sun with your family, if you're really lucky you may even get the chance to spot these majestic creatures in their natural habitat.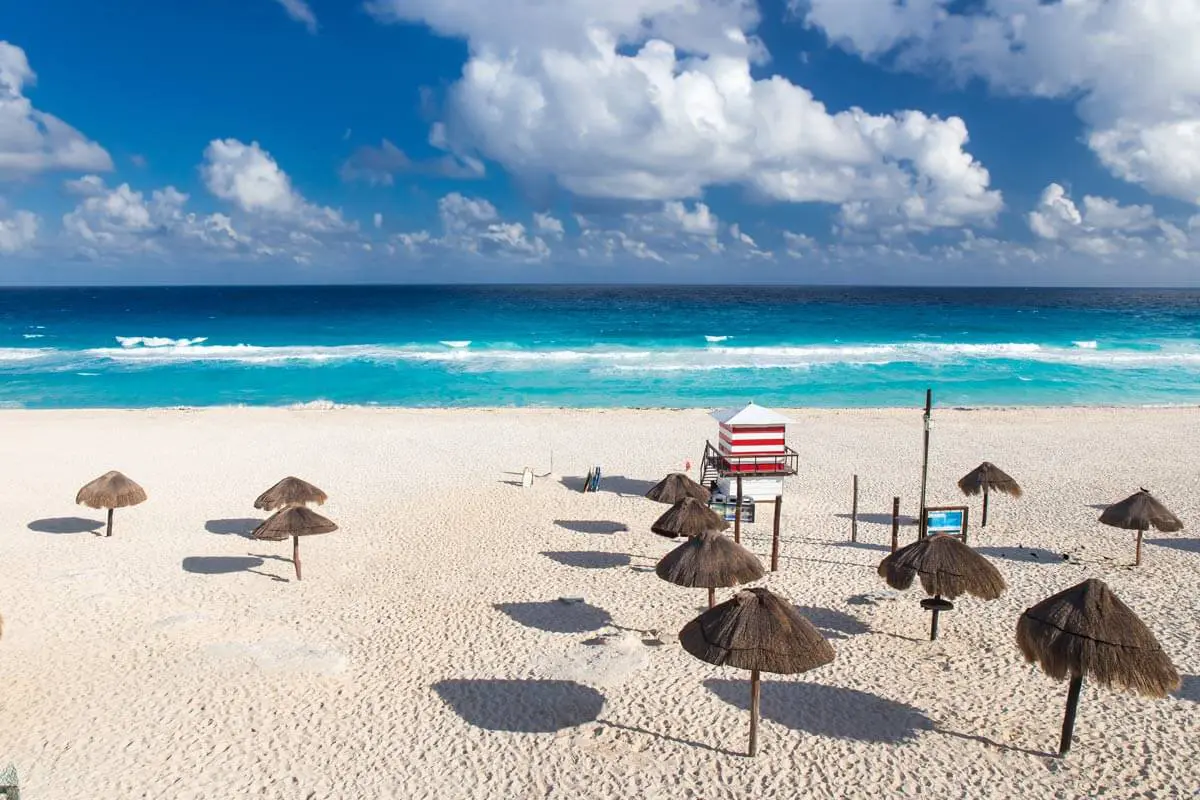 Many people spot them from the shore when they are sunbathing but if you would prefer to get a little more up close and personal with the dolphins there are providers on the beach offering boat trips.
Things we LOVE about Playa Delfines: 
How quiet it is.
Lifeguard patrols.
Kid-friendly/ gentle waves.
No hotels in the immediate vicinity.
Get Discounts on Everything!
By ticking off two or three of these activities during your next trip we guarantee you will make memories that last a lifetime!
We, PlayaDelCarmen.Com, are a team of travel agents based here in Mexico!
Our team understands the importance of keeping kids entertained on vacation (many of us have children of our own).
Need our advice on figuring out which activities are the best for you and your family?
Get in touch today or leave us a comment in the section below, I would be happy to help. ?
We can help you get the best prices on family-friendly hotels and activities in Cancun, Playa del Carmen, and Tulum.
Call us at 888-537-9797 or email us at customercare@playadelcarmen.com we look forward to hearing from you!
Paradise awaits…
---
Trending Now
You may also like