Playa del Carmen Day Trips to Valladolid, Yucatan
---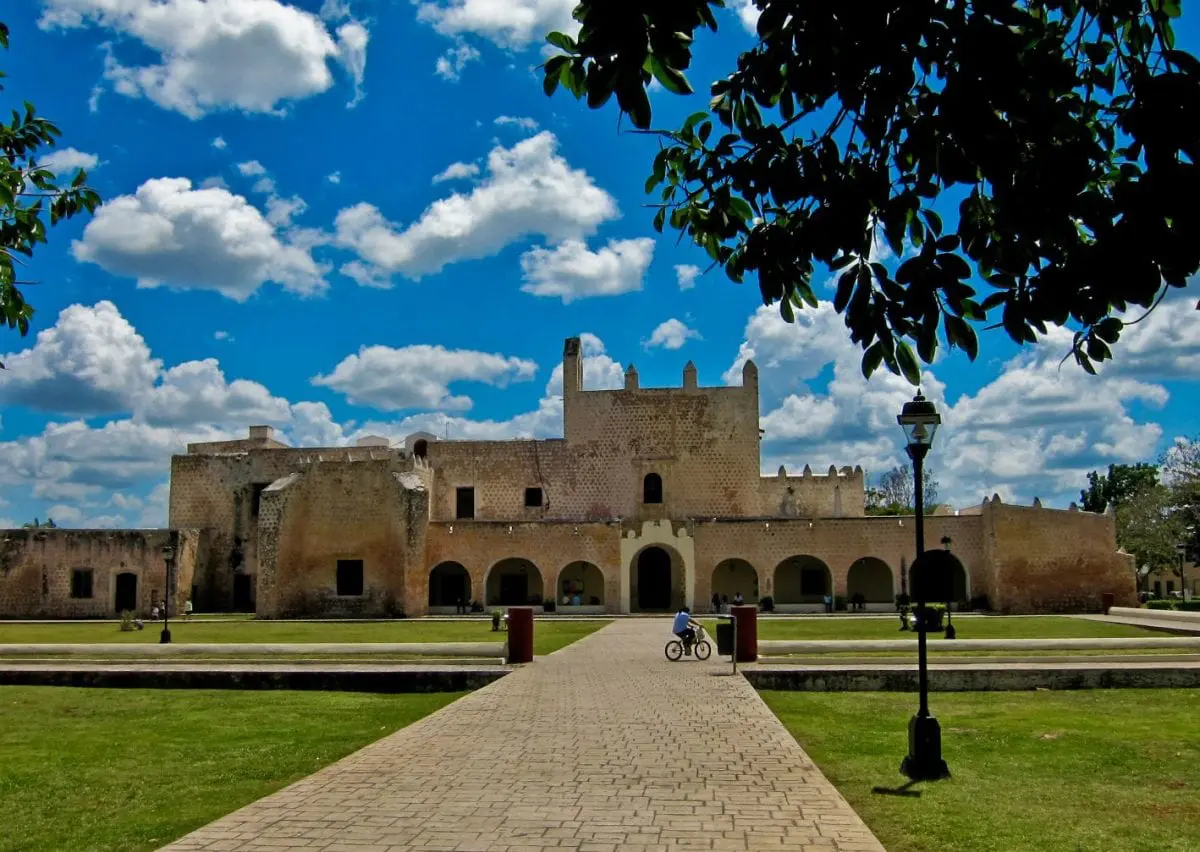 Playa del Carmen is a vacationer's paradise. But what gives this Caribbean town so much flavor is not just it's bustling downtown area, but the region in which it is located. To discover the real Playa del Carmen, step outside the confines of the city and explore the surrounding paradise.
Have you ever heard of Valladolid?
This small town filled with colonial-style buildings has several wonderful attractions that make it a great day trip from Playa del Carmen.
But what is there to do you say?
Well, follow us!
Playa del Carmen Day Trips to Valladolid
Located in the state of Yucatan, Valladolid is a quaint colonial town set in the heart of the peninsula. Since the time of the ancient Maya, Valladolid acted as a gateway between the diverse ceremonial sites and population centers. Today, it's is the halfway point Merida and Cancun, Holbox Island and the Mayan Riviera.
 Breakfast in Valladolid
There is a lot to do and see in Valladolid, so definitely make sure you get an early start. Whether you rent a car, take the bus or go on a private tour with PlayaDelCarmen.com, your best bet is to leave Playa del Carmen around 8 a.m. If you do drive, save yourself some time and take the toll-road, which will have you in Valladolid in a little over one hour. Once there head over to the municipal food market right next to the main square for a typical Yucatan-style breakfast and some delicious natural fruit juice. And don't even hesitate about where to go. Foodie heaven has a name in Valladolid,  and it's Lonchería El Amigo Casiano!
https://www.instagram.com/p/yblancp4B7/
Casa de los Venados
Once you've filled up your stomach head over on the opposite side of the main square until you reach the Casa de los Venados. Have your camera ready, because this amazing colonial-style house is a colorful feast for the eyes. Note: You must arrive at 10:15 a.m. sharp, which is when the guided tours take place!
Casa de los Venados is the largest private collection of quality Mexican folk art in the country. With more than 3,000 pieces in their collection, you'll have the opportunity to explore fascinating artwork brought in from all over Mexico.
The museum is the work of John and Dorainne Venator, who renovated this amazing property and turned it into a stunning piece of cultural heritage and tribute to the beauty and creativity of Mexican folk art.
Visiting this place is like participating in a visual search exercise. Both eyes and mind become overwhelmed by the experience. So once you've perused around the museum head back to the main square, buy a liter of cold bottled water at one of the stores, and find a piece of shade to sit under while you people watch and rest your feet.
Now that you've recovered some energy and are ready to continue your exploration, head out and explore the streets of the colonial city. Make sure you take a few minutes to admire the historical murals within the municipal office at the main square.
Valladolid Cenotes
With the glaring heat of a Valladolid afternoon, your main interest at this point is likely to find a place to cool off. Forget A/C. You're in the land of the cenotes, and Valladolid has several great options for those wanting to explore the underwater world of the local sinkholes.
If you're asking yourself what is a cenote, make sure to check out our blog post on cenotes here.
At this point, however, it's time to make a decision. Either go for lunch because you're already hungry and don't want to wait until after the cenotes, or take a swim in one or more cenotes and then head out for a delicious Yucatan-style meal.
If you don't want to venture too far away, and perhaps prefer to combine food with cenote, the Zaci cenote located in the center of town is within walking distance and it has its own restaurant. It's a popular site, but popular also can sometimes mean populated, so that may be something to consider when making your decision.
The other cenote options require you take a taxi (or drive there if you have rented a car). One great alternative is a pair of adjacent cenotes called Sambula and Xkeken (pronounced ISH-keh-ken). Words can't do justice to the beauty of these cenotes and the privilege to swim in them. It's an amazing experience and one you won't want to miss.
If you're looking for more adventure, there is one other cenote that is more than worth a visit. Located on the former plantation of Hacienda San Lorenzo Oxman, the cenote is similar to the famous Ik Kil cenote just outside of Chichen Itza. At some point in time a hole in the ground opened to expose the crystalline waters of the cenote below. High walls surround this sinkhole, creating one giant opening at the Earth's surface.
Whichever cenote you visit, make sure to keep an eye out for one of the region's most iconic birds: the Motmot. Also know as Pájaro Toh, it is a legend of Mayan lore. These beautiful birds can always be found around caverns and sinkholes.
So now you've had a refreshing swim at a cenote. What next? There are several options. If you decided to visit the Sambula and Xkeken cenotes, nearby there is a small blue agave farm that demonstrates how artisan tequila is made (and of course free samples). At the end of the demonstration and tasting, you'll end the walk through in the store where you're free to purchase some tequila, or not.
It is an interesting thirty minutes, but actually nothing outside of the tequila-producing region of Central Mexico can be called tequila. It's the same product with a slightly different taste. Not bad, but you can find better and ones that have the Certificate of Origin.
Lunch in Valladolid
Ready for some well-deserved lunch?
The food is so good and so affordable at the municipal food market that one very valid option is to return there for an awesome and affordable Yucatan-style meal.
If you're looking for something a little different, however, don't think twice and head to the Taberna de los Frailes for a delicious traditional meal in an incredible setting. In fact, you'll enjoy traditional Maya cuisine at a site of utmost historical importance for southern Mexico and Central Mexico.
Taberna de los Frailes overlooks the Convent of San Bernardino de Siena. Built in 1552 over the Sisal cenote, this fortress-like convent stands as a testament to Spanish colonial power in the region.
Of course, you should follow up your delicious meal with a peak inside the convent.
Afterward, most of you will probably want to head back to Playa del Carmen. For the adventurous among you, there's still a lot more to see. If you decide to stick around for a few more hours, simply wander the streets and plazas taking in the colors, aromas and sites of this relaxed colonial town.
Chichen Itza Night Show
And if you still have some batteries left and are not too tired, treat yourself to the icing on the cake that has been your day in Valladolid: the Chichen Itza Light and Sound Show.
Once the sun goes down, the story of Chichen Itza is projected onto the Kukulkan pyramid as a narrator explains the rich and fascinating history of the Mayan people.
One of the best things about this amazing experience is that it's free, so never pay for it if someone tries to offer you tickets. In order to attend, however, you do have to go to the city's tourism office to request tickets and then register online. If that's the plan, try and go right before or right after your visit to Casa de los Venados.
You'll need to decide if you plan to stick around for the show or not, which will mean either getting back very late to Playa del Carmen or spending a night in Valladolid, but we promise that it's more than worth it.
Note, however, that the show is still undergoing a testing phase, so for the moment the narration is only in Spanish.
Have we left anything out? Of course we have! Valladolid is rich in history and its people are extremely friendly. There are much more things to see, do and eat in this crossroads of Mexican history.
But we'll leave that for another day.
Would you like to arrange a private, customized tour to visit Valladolid or anything other town or region in the Mexican Caribbean? Contact our travel specialists toll-free at 888-537-9797 to receive a free, personalized travel consultation.
Feature photo: Michael (a.k.a. moik) McCullough from Klamath Falls, Oregon, USA – Monastery of San Bernardino de Siena, Valladolid, Mexico, CC BY 2.0, https://commons.wikimedia.org/w/index.php?curid=15132987
---
Trending Now
You may also like