My Honest Review of the Generations Riviera Maya Resort (2023)
---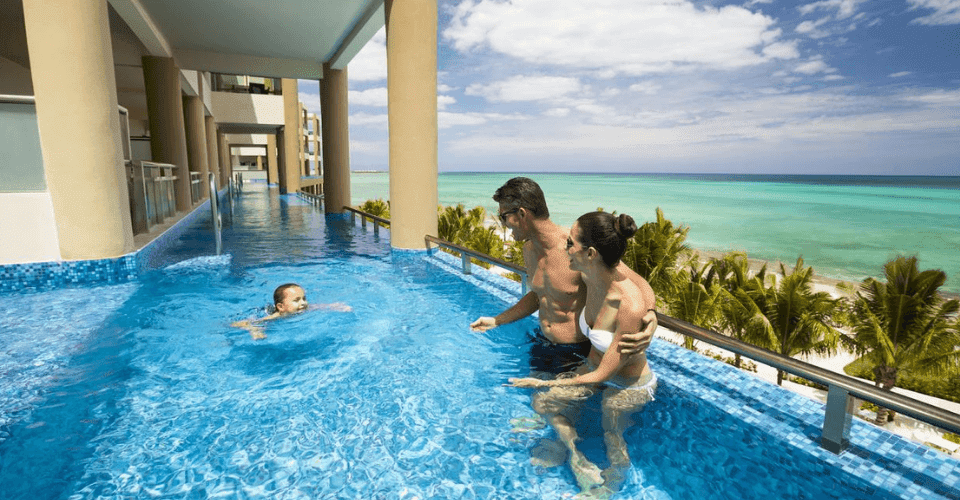 Generations Riviera Maya resort is 5 star, family-friendly resort located in the heart of the Riviera Maya.
Until recently, I actually didn't know much about this hotel (crazy, I know)!
It got my attention when it was featured 2020 in Conde Nast's Reader's Choice Awards as one of the top places to stay in Mexico.
Naturally, as a keen hotel reviewer, I needed to know more.
My Honest Review of Generations Riviera Maya Resort:
---
I did some digging and discovered that in comparison to most resorts, Generations Riviera Maya are pretty low-key when it comes to their marketing.
My first thought?
Why!
Little did I know…
1. Location
A few miles south of Puerto Morelos is where you will find this hotel, perched neatly on the powdery white sands of the Mexican Caribbean.
Most travelers have never even heard of Puerto Morelos.
I always joke and say that it is Cancun's little-known sister.

If you want to escape the hustle and bustle of Cancun but still want to be in a prime position to enjoy the best of what the region has to offer, look no further.
This little known gem was once an old fishing town and consequently, it's still permeated by an old-world ambience.
If you enjoy charming towns that feel like travelling back in time you have to visit at least once – plus the beach is great here (more on that later)!
The best part?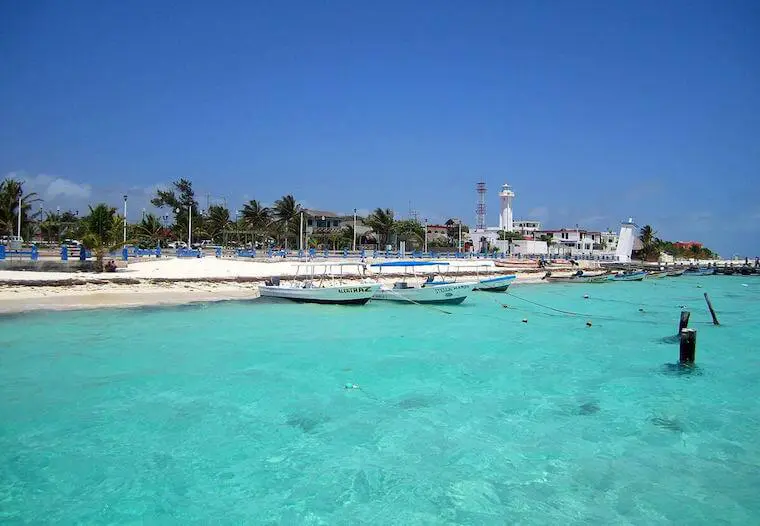 You will still be just 30-35 minutes away from neighboring towns such as Tulum, and Playa del Carmen if wanted to visit there (which I'd highly recommend).
And just 15 mins away from the heart of Cancun.
What's not to love about that?
2. Decor and Layout
I have so much to say on this part so let's just dive right in.
Firstly,  the thing I'm most excited about …
This resort has a GIANT on-site greenhouse (which you can actually take a tour of) where the hotel grows all of its own fruit and veg.
How cool is that?
The stand-out USP for me at this hotel is how dedicated they are to giving back to the earth and the environment.
Recently, they built a manmade reef just off their shoes to help encourage the growth and health of the local marine life.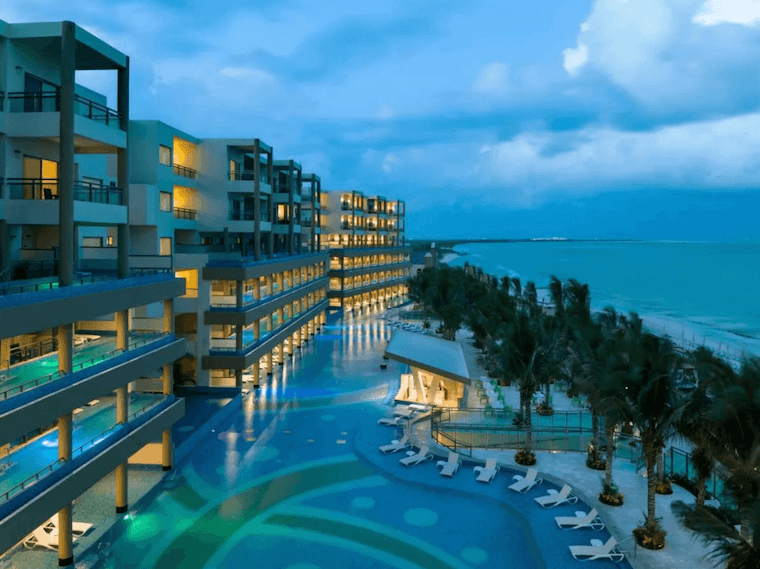 For me, I think this is one of the key reasons the resort doesn't have to do lots of marketing.
People who stay here tend to come back time and time again. Almost everyone I spoke to had been here before.
I think that just says it all…
The hotel is owned by Karisma and in their signature true style, the resort is contemporary, modern and chic.
Expect clean modern lines in all of the rooms accented with Walnut headboards and chocolate-colored bed runners.
I also noticed lovely decorative elements too such as floral leathery anthuriums and beautifully selected art pieces around the resort.
Due to the layout of the property, all suites are oceanfront with most of the restaurants looking out onto the sea too. Win!
What I noted for families was that the suites were oversized with 1, 2 and even 3 bedrooms!
Great if you're a family of 5+… you'd be surprised how many hotels in the region don't sufficiently accommodate larger families.
Rooms
The one thing everybody wants when they come to Mexico is an oceanfront suite.
Due to Oceanfront suites often being in short supply at most hotels this allows resort owners to drive the prices up.
It can get pretty ridiculous.
What I love about this resort is that EVERY suit is an oceanfront suite.
I mean if you're gonna build a hotel, build it right, huh?
Generations Riviera Maya knocked it out of the park on this front.
Not only that but the first 4 floors of the resort all have their own swim-out pools.
So, you can cool off from the balcony and enjoy ocean views from your own private pool.
Epic.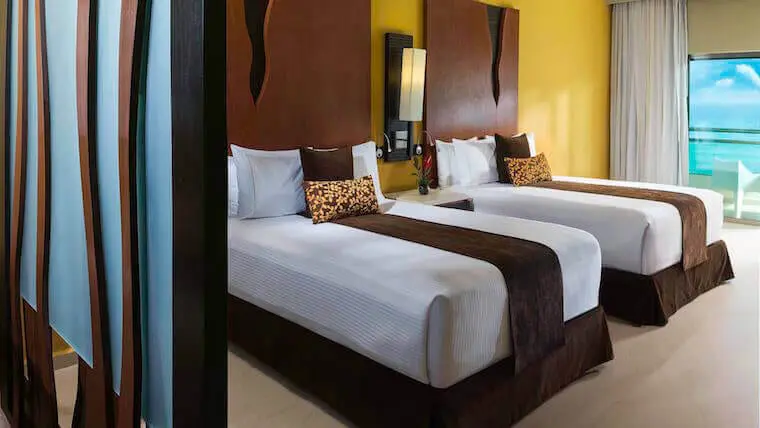 In total there are 9 room options to choose from.
Based on your budget, your wants, and desires our team here at Playa Del Carmen can help you get the best room, at the best price for you.
To top it all off you get your very own butler service with every room.
There are just 144 suites at Generations Riviera Maya and each one includes deluxe amenities including:
Jacuzzis
large flat-screen televisions
in-room customizable drinks and snacks
air conditioning
a balcony or terrace
24-hour room service
iPod docking stations
bathrobes, hairdryer
safety deposit box
and a coffee maker
Average Cost Of a Room Per Night:
Right now as of January 2023 room rates are around $160-170 pp.
Extremely great bang for your buck – usually this hotel is much more expensive so it's a great opportunity to steal a great deal at an incredible hotel if you were thinking of traveling.
Beach
Then, I encountered my first downfall at this hotel…
There is no food or drink service on the beach.
However, after mentioning it to staff this is simply because of COVID restrictions at this time and is likely to change in the very near future.
Investigating on TripAdvisor the beach service previous to COVID receives rave reviews.
So, if you stay here when there is a beach service again please let us all know in the comments section about your experience.
We would love to hear from you.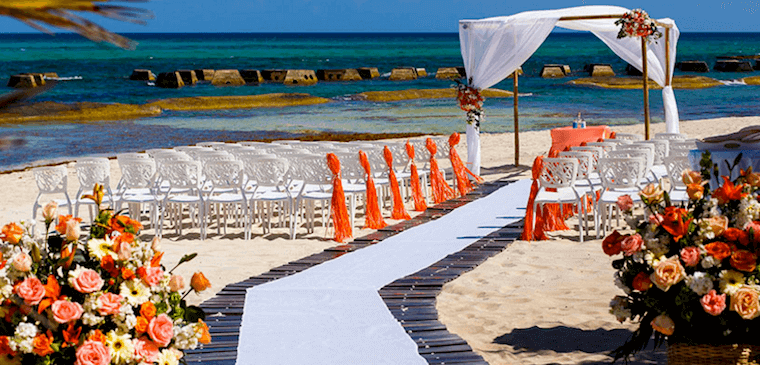 On a purely aesthetic level, the beach is everything you could hope and want for…
It's pure bliss, turquoise hues, white sands, beautiful shaded cabanas, and comfortable beach beds…what's not to love?
There are activities for all ages on the beach happening daily.
Everything from yoga, volleyball, snorkelling and more!
Food & Drink
You'll be able to taste the home-grown freshness in the dishes you consume at Generations Riviera Maya resort.
Whether you're savouring authentic flavours in the signature à la carte restaurants, grabbing a casual bite at a poolside grill or enjoying in-suite themed dining, every dish is a showcase of the culinary arts.
Eateries Include:
International Gourmet Chef Market Grand Cafe & Deck
HABB Indian
Jade Pan Asian
Mexican Palms Gourmet Terrace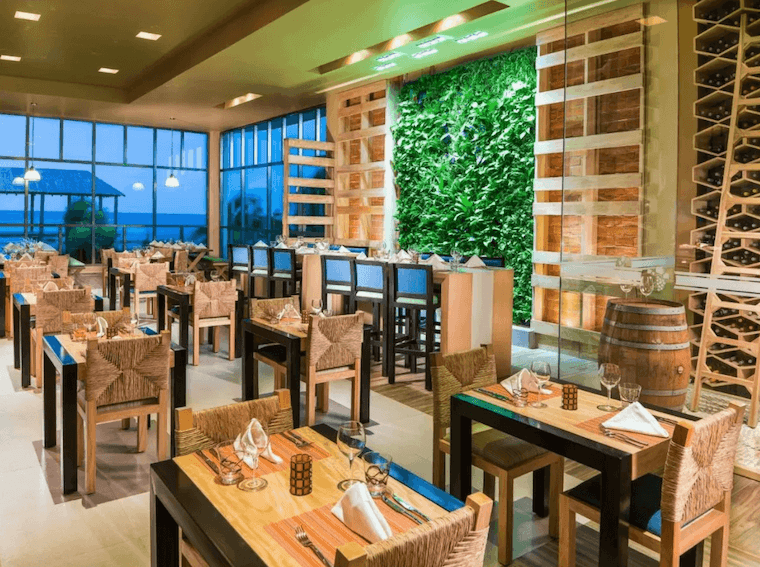 Wine Kitchen Restaurant & Tasting Room
Sling Cocktail Bar & Lounge
Swell Swim Up Bar & Lounge
Tamarind Lobby Lounge
Or for those not wanting to leave the room, the 24-hour room service includes gourmet a la carte food baskets for the whole family delivered to your room or balcony.
Three bars, including one swim-up bar, serve up premium liquors, wines and beers.
Additionally, the restaurants and bars at neighbouring El Dorado Royale and El Dorado Casitas Royale are open to guests of Generations Riviera Maya ages 18 and up.
Pools & Activities
The experiences at Generations Riviera Maya have been designed to "help expand your horizons".
You will be able to grab a mask, snorkel, and explore the man-made eco-booster reef just steps from the shore, or venture out a little further on one of the resort's kayaks.
Adults even have the chance to enjoy some grown-up time, while the kids enjoy hours of supervised fun at Eko Kids Club.
Early birds can find their zen on the beach for sunrise yoga.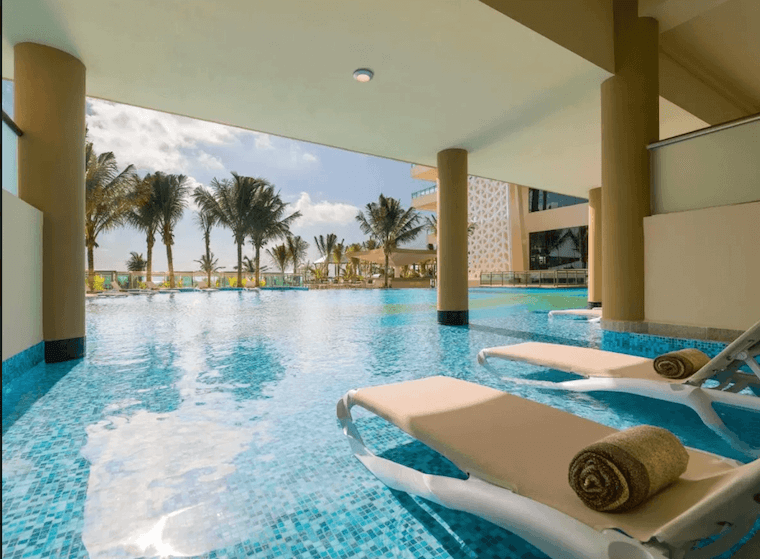 Or for late risers enjoy a refreshing aqua aerobics session in the middle of the day, and a state-of-the-art Fitness Center for whenever you want to get in a quick workout.
For a more cerebral workout, there are cooking classes, wine tastings and dance lessons.
Other Activities Include:
Aqua gym
Basketball
Cocktail class
Darts
Ecotour
Kayak tour
Ping pong Soccer
Spanish lessons
Stretching
Tennis clinic
Towel decoration
Water polo
5k Run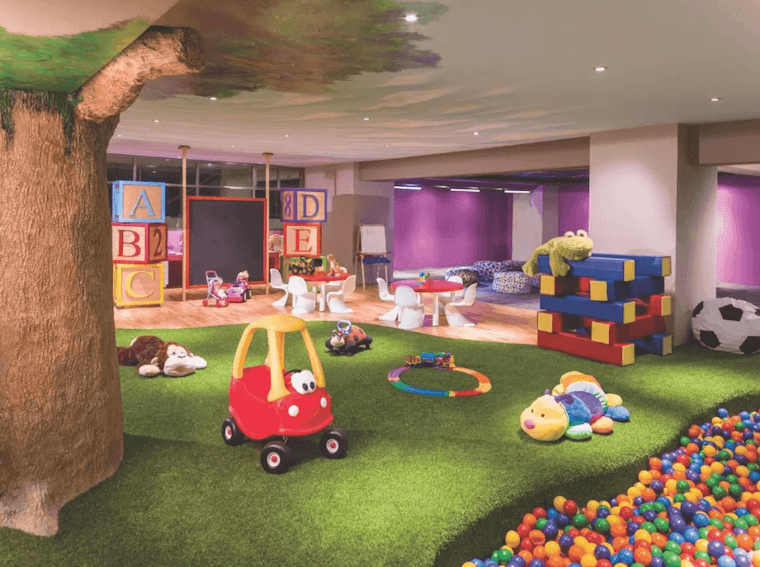 Nightlife
For kids, there is plenty of "nightlife" entertainment.
For adults…not so much.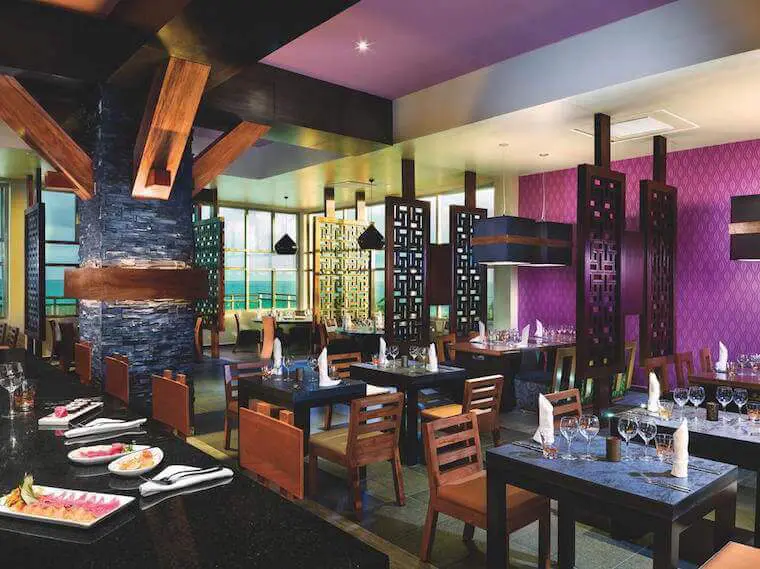 There is a small bar on the second floor of the resort but apart from that, the hotel does feel very family-orientated.
However, fear not… adults seeking something a little more lively can walk right next door and enjoy all the adults-only fun that El Dorado has to offer! 🙂
Spa
A stand-out selling point for this hotel is its spa.
It receives rave reviews!
Many of our clients claim they give some of the best massages they have ever had.
Náay Spa offers treatments and therapies for the mind, body and soul.
Massages, facials, body wraps and other salon services incorporate techniques both traditional and those inspired by the Mayan culture.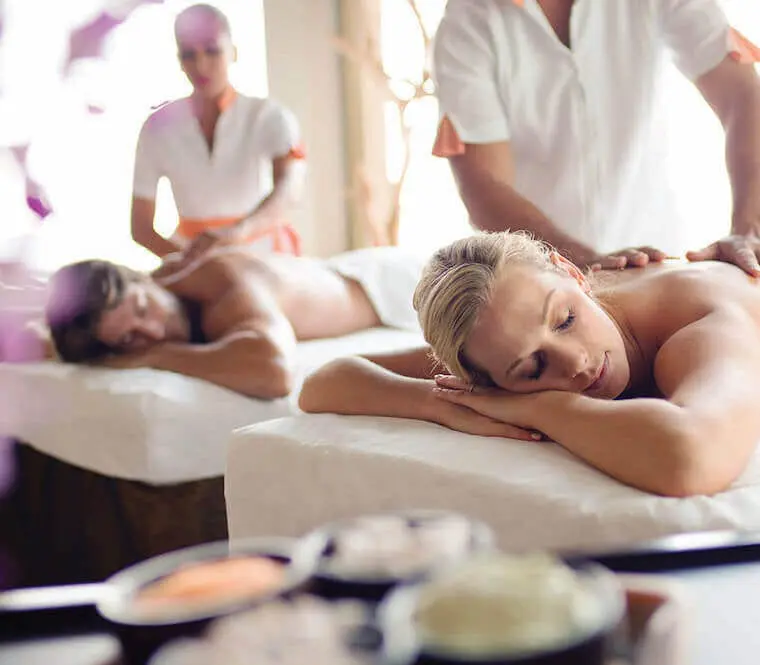 So, you can take a break from the constant exhilaration of excursions and balance the thrilling moments on vacay with blissful serenity.
This oasis of pure relaxation is the ultimate retreat after the adventures you will experience in the Riviera Maya.
If the past year has taught us all anything, it is that we need to make self-care a priority.
Weddings
When it comes to destination weddings this resort knows how to do them in style!
It's incredibly popular with wedding groups and the hotel is extremely experienced in handling wedding parties of all sizes seamlessly.
The base Generations Riviera Maya wedding package is $950 and includes up to 40 guests – epic bang for buck.
It is complimentary in the North American market for guests staying in a qualifying room category for 7 nights or more, or booking a minimum of 5 rooms for 3 nights.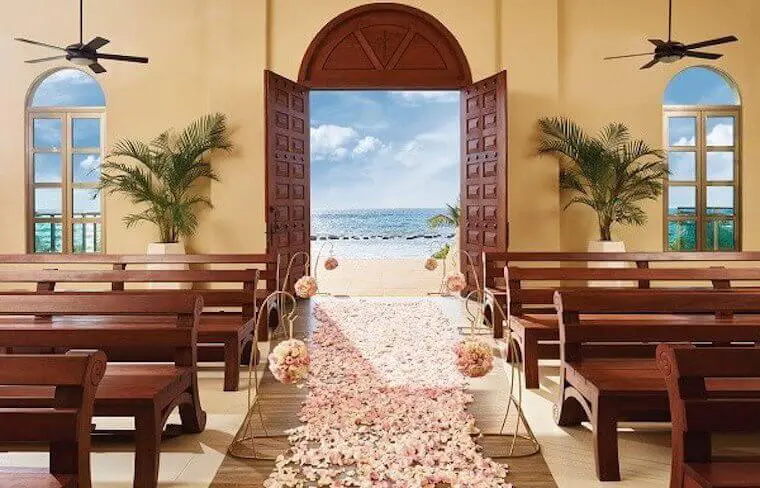 Upgraded packages, additional guests, and add-ons are available for an additional cost. 🙂
The beauty of Generations Riviera Maya Resorts wedding packages is that you can customize the entire thing from start to finish to your liking.
Stunning Wedding Locations Include:
the beach
beachfront palapa
beach pier
chapel with sea view
Not sure where to start or which one to choose?
That's where our experienced team of wedding co-ords from around the world come in.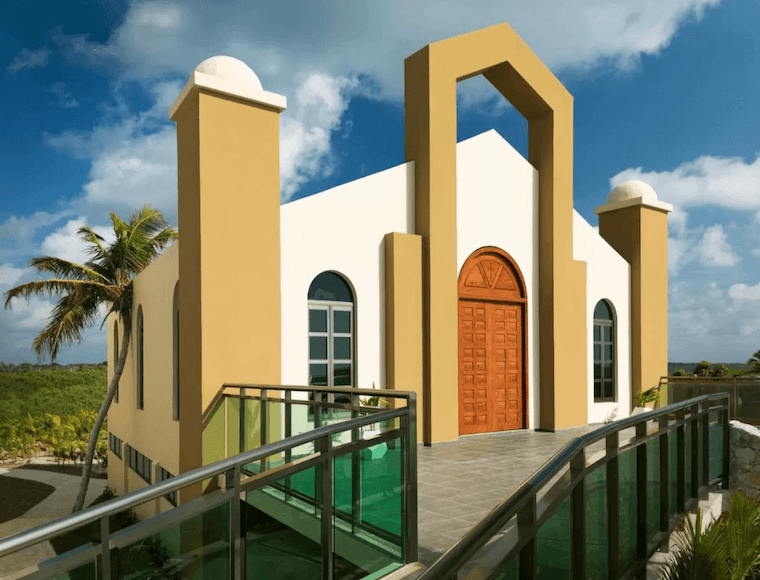 We're all here on the ground in sunny Mexico and we know the hotels better than anyone because we've seen the setups for ourselves.
Living and working in Playa del Carmen, we are in constant communication with all the hotels, regularly doing site inspections to ensure they meet our standards and working with their teams 1-on-1.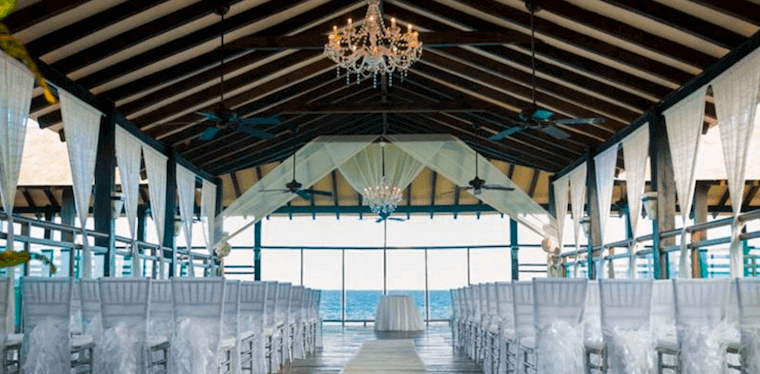 We cover the entire Cancun and Riviera Maya region for weddings.
If you are interested in learning more about this resorts full range of packages and add ons contact our wedding team today at wedding@playadelcarmen.com to receive their brochure and talk through the details with our experienced teams of co-ords.
We will offer you honest and unbias advice because ultimately our goal is to make sure you have the best experience possible.
We plan 100s of events in the region each year and we will ensure you get all the best perks and discounts available to you, as well as ensuring that all of your group are well looked after too.
10. Save On This Hotel
If you would like to discuss this hotel further with one of our expert travel consultants here at PlayaDelCarmen.com be sure to give us a call on our toll-free number +1 888-537-9797
Or
Alternatively, contact us via email at customercare@playadelcarmen.com
Have you stayed at this hotel before?
Don't forget to leave your thoughts in the comments section, we would love to hear from you.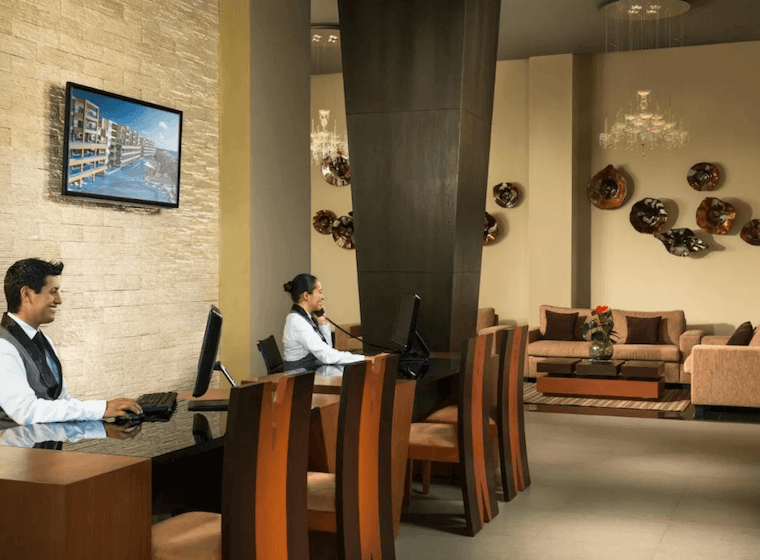 Additional Resources You May Find Useful
And so much more! Head over to the home page of our blog and search your keyword in the finder.
I can guarantee you I've probably blogged about it.
If not, drop me a comment below and I'll get on it right away.
Thanks for reading, I hope you found it useful. If you could drop me a comment down below to tell me you dropped by I would be forever grateful.
Thank you! 🙂 Safe travels and have fun.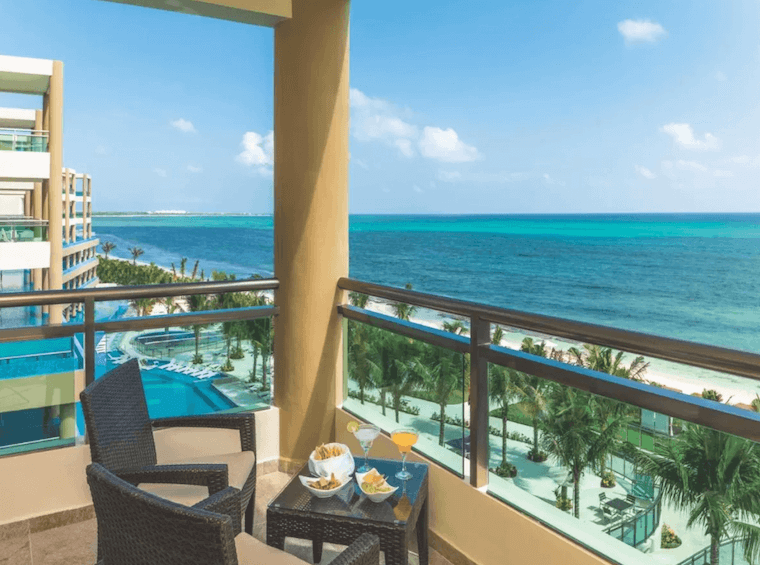 ---
Trending Now