My Honest Review of 'The Hilton' Hotel in Downtown Playa Del Carmen
---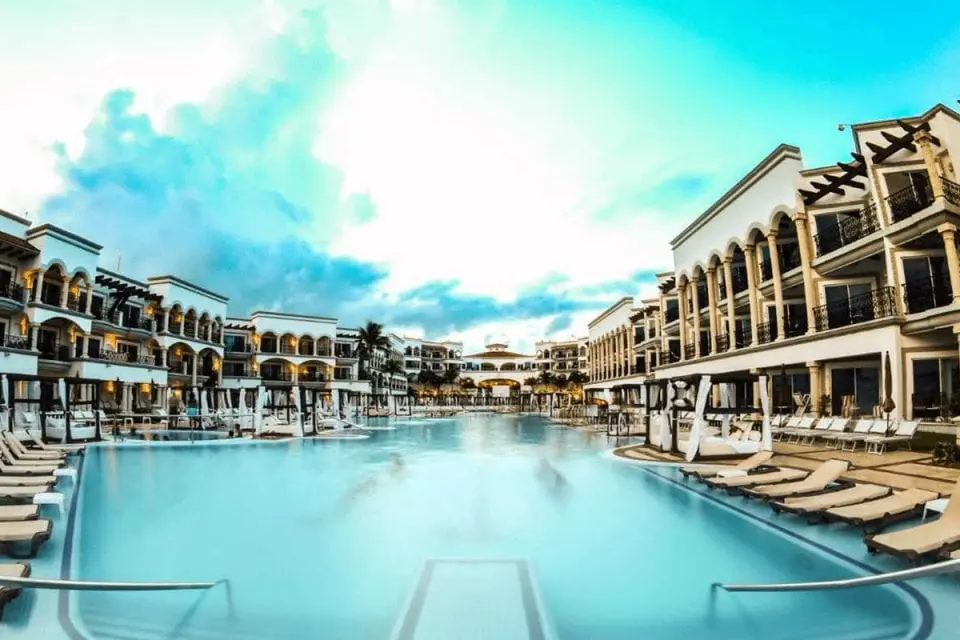 Please note: Yes, a few of you may previously know this hotel as 'The Royal', but in late 2018 this luxurious hotel was bought and took over by the wonderful Hilton Resorts. Fear not, the amenities, concept, and even staff are all the same! Nothing has changed but the name (and branding). Ready to take a peek inside?
---
Living like a King intuitively means spending like one, right?
Wrong. 
In these hard economic times, even flamboyance is seeking some economy.
There are places on this earth where a $100,00 paycheque is as good as nothing but in other places (like Mexico) as little as $1,500 per person means you can live in complete luxury for a week.
So, if you've always wondered what it's like to live like royalty, keep reading!
I was recently lucky enough to spend some time at The Hilton adults-only hotel in downtown Playa del Carmen.
Undoubtedly, one of the most popular resorts in the area, I was keen to find out whether this place would live up to its slogan "Expect the Exceptional".
The Hilton Playa del Carmen Resort Review:
Location
Rooms
Food
Drink
Coffee House
Gym
Spa
Beach
Nightlife and Activities
Weddings
---
We even made a video!!!
1. Location
Just footsteps away from the famous 5th avenue this hotel enjoys a privileged position in downtown Playa del Carmen.
You may have noticed (if you have ever visited this part of paradise before), that many of the resorts here in the Riviera Maya are spread out and often secluded.

This hotel is different.
The Hilton is a renowned 5*, all-suite, all-inclusive adults-only hotel in the heart of town. 
I don't know about you, but if I am stuck in the same place for a prolonged period of time, I get cabin fever. I like to roam free.
A lot of the grand, and impressive structures that dominate the coastline of Quintana Roo, are encapsulated by lush tropical greenery, which is beautiful, however, it means you can't go anywhere without getting a taxi or booking a tour.
Rather than feeling like a captive in your hotel, The Hilton offers you the option to explore the vibrant streets of Playa del Carmen.
Just a stone's throw from the lobby of the hotel you will find the 5th avenue, a famous street that boasts incredible restaurants, bars, and shops. A stroll down here is often the highlight of many people's trip.
Read our "Do's and Don'ts for Shopping on 5th Avenue" here. 
The location of the property allows you to experience the charm of a tropical city by the shore, while still being in a great position to explore the many natural wonders (unique to this part of the world) hidden within Mexico's jungles.
Superbly designed, this hotel isn't too big or too small. The size of the property is extremely desirable. It felt cozy and comfortable yet, impeccable and luxurious.
2. Rooms
The Hilton prides itself on boasting lavish all-suite accommodations, all with private balconies or terraces and whirlpool tubs, plus special options such as swim-up suites and beachfront walkouts.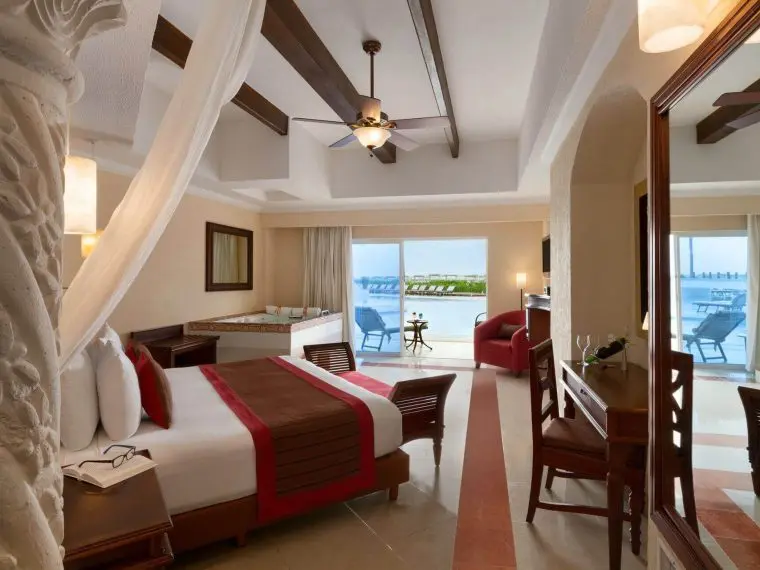 Room categories at The Hilton
Presidential Suite
Master Ocean Front Suite
Junior Beach Front Walk-Out
Junior Garden View
Junior Ocean Front
Junior Swim Up Suite
In terms of decor, and amenities, generally, all of the rooms are very similar. They never falter from anything less than perfect. What differs is the view.
They are extremely spacious, all of them feature a double jacuzzi and a fully-stocked fridge with snacks.
I stayed in the Junior Suite with a garden view,  it was glorious stepping out onto my balcony each morning and smelling the freshly cut grass.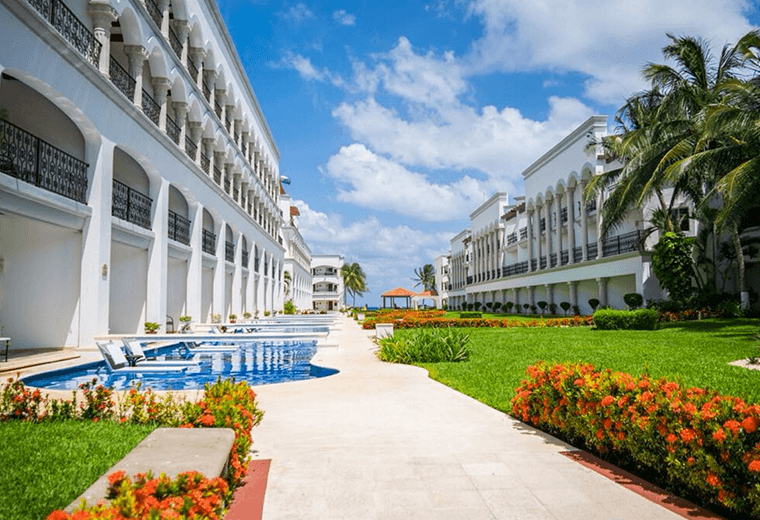 The ocean was in view, it was quiet, relaxed, and peaceful on this side of the hotel.
However, if I had my pick of the rooms, I would highly recommend the Junior Swim Up Suite.
This is not the most expensive room category, but for me, if you value your privacy, I would say that these rooms are the best.
You can still enjoy the close proximity of the beach as it is less than a minutes walk away, however, you would be able to relax in your private pool in peace.  Surrounded by the gardens, these rooms feel a lot more exclusive.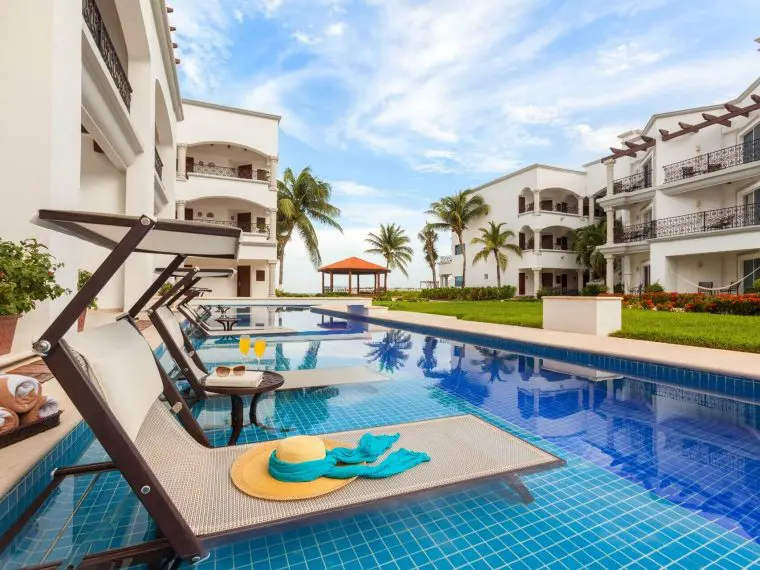 The highest room category is the Presidential Suite, which is an impressive 1959 sqft in size, featuring a spectacular terrace, with private pool and comfortable patio furniture and hammock.
3. Food
Unlike many all-inclusive hotels, the food impressed me.
Each of the seven elegant restaurants felt like an elite dining experience.
Innovative techniques, fresh ingredients, and inviting, attentive service definitely surpassed my expectations. With a wide range of cuisines inspired by flavorful and exotic locations all over the world, there is definitely something for everyone.
My personal favorites were:
Asiana – Asian fusion
El Mediterraneo – Mediterranean specialties
Maria Marie's for French-Mexican fusion
It may be dependant on the season, but I didn't have to queue for a table, the restaurants had a nice ambiance, and it never felt overcrowded.
Residents at The Hilton, also get the added bonus of enjoying restaurants at the neighboring property Panama Jacks. These additional options include a sushi bar, Italian specialties, beachside grill and more.
4. Drink
Expect nothing less than top-shelf premium liquors at The Hilton. There are a total of 5 energetic lounges, where you can sit back, relax and enjoy your favorite drink.
At the Tequileria you can truly immerse yourself in an authentic Mexican experience. This bar offers a wide selection of world-renowned Mexican tequilas for you to savor at your leisure, along with exceptional hand-rolled imported cigars worthy of the most selective aficionado.
Cigars and some tequilas do carry a surcharge.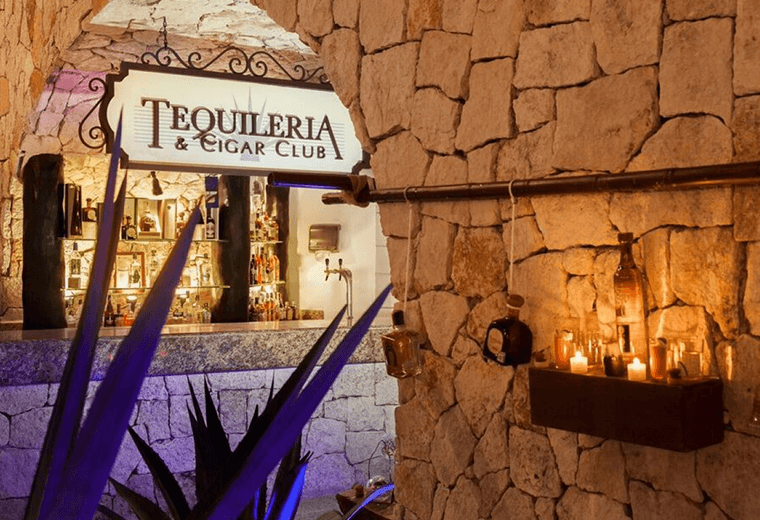 5. Coffee House
For those of you who can't function without a good cup of Joe in the morning,  The Hilton has it all.
If you consider yourself a bit of a coffee connoisseur, you'll be in your element at the Coffee House at The Hilton. Savor the rich, flavorful coffee at this gourmet European-style café.
You can even pair your premium espresso and cappuccino drink with a scrumptious dessert if you're craving something sweet.
Sugar-free menu options are available for those with special dietary needs.
6. Gym
If you like to keep your fitness goals alive while on vacation you can make full use of the recently upgraded, fully equipped Life Fitness Center. Here they offer spin classes, aerobics classes, and even Stott Pilates.
There is grand rooftop tennis court which is perfect for a few matches, and water activities like volleyball and aqua aerobics are offered around the clock.
7. Spa
If you're partial to some pampering, head down to the SPAzul.  Here you can indulge in ancient restorative rituals, and holistic therapies, in a calming environment.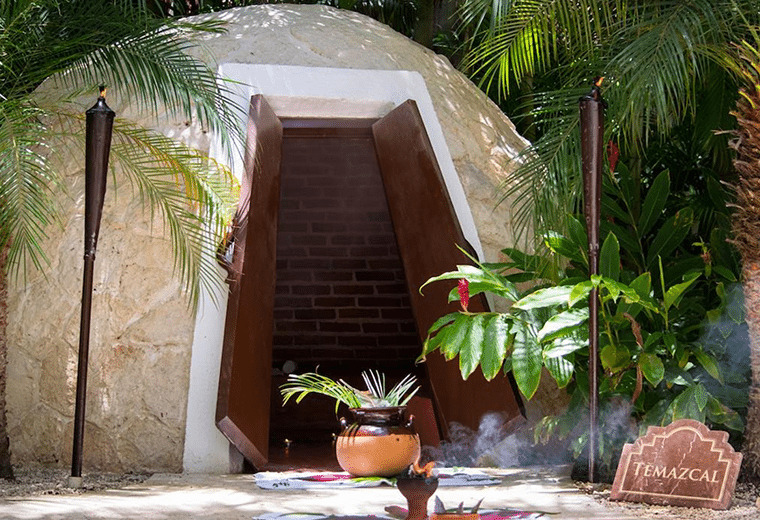 There is a Temazcal stone steam bath and luxurious salon, making The Hilton the perfect place to rejuvenate and invigorate your body.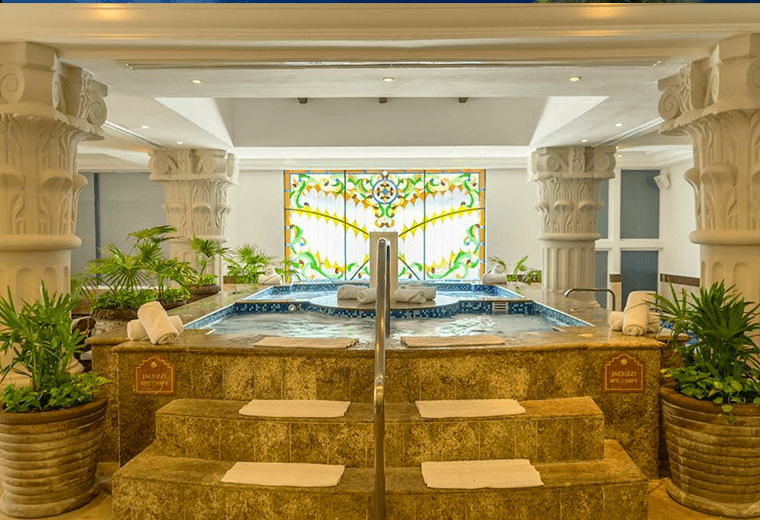 8. Beach
I think it's important for customers to know that the beach here at The Hilton doesn't always meet expectations. If you're not from Playa del Carmen, many people expect it to look like one of those beaches you see on postcards.
Don't get me wrong, some days it does.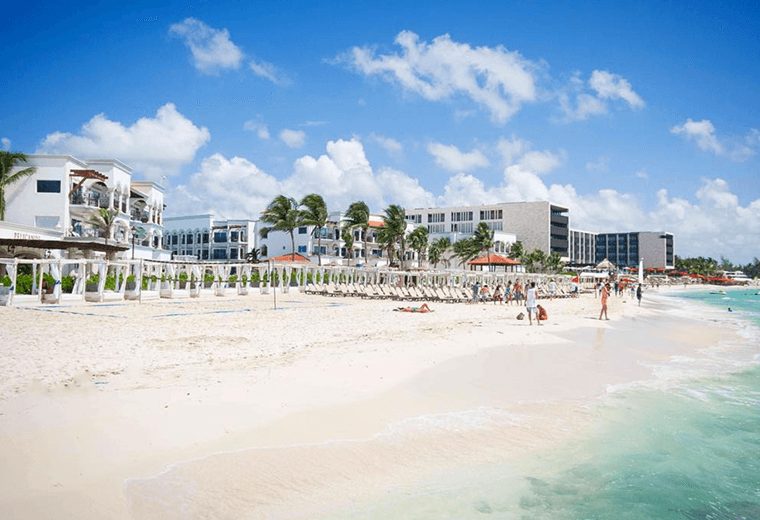 But out of the all the beaches in the area this one is my least favorite. However, this shouldn't discourage your decision to stay here, you should just be aware of it. There is a sublime beach at Playacar just a short walk away.
9. Nightlife & Activities
Whether you prefer to relax or awaken your sense of adventure on vacation, there is something for everyone at The Hilton.
There is even the opportunity to take an introductory SCUBA lesson, learn to dance or expand your palate at one of the exquisite culinary classes.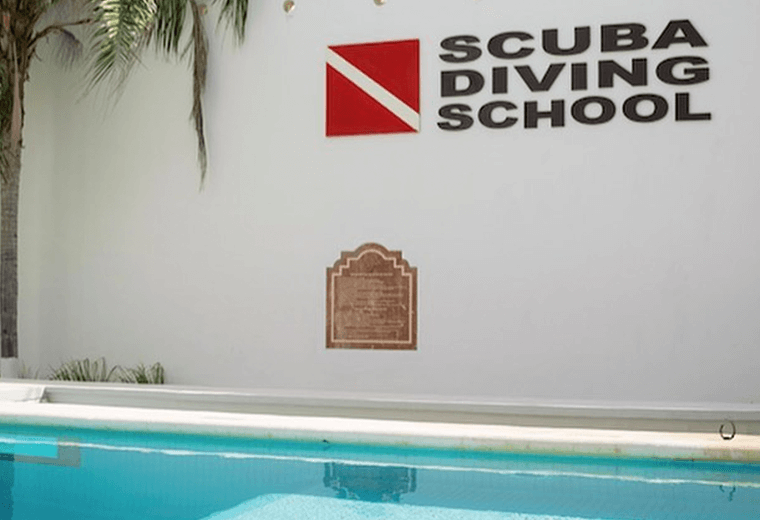 At night, it's never a dull moment, you can feast your eyes on one of the spectacular nightly performances.
10. Weddings
If I was planning a wedding in the Caribbean The Hilton is definitely somewhere I would consider for me and my guests.
It's the perfect location for the wedding of your dreams. The Hilton offers great wedding packages with options to customize every detail of your day.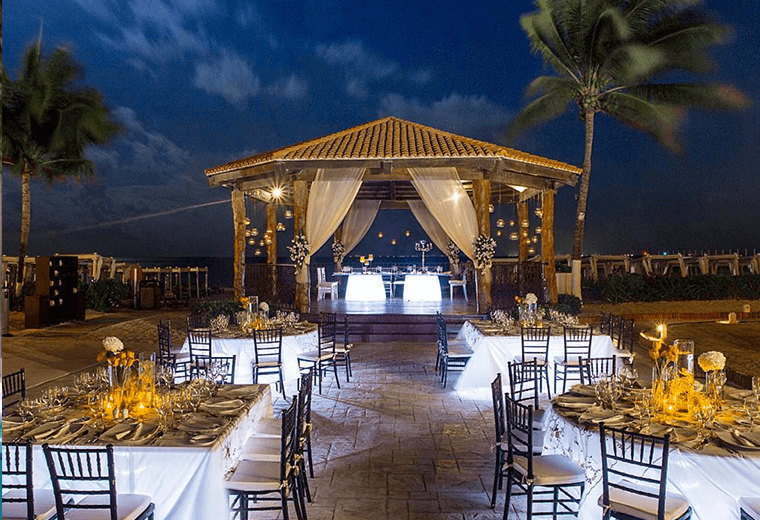 They have a number of breathtaking venues to choose from, all-inclusive luxury, and free celebration packages, what more could you ask for?
If you are planning on inviting guests with children, it's no problem whatsoever, they can stay at the sister property Panama Jacks and will be allowed access to The Hilton for the wedding ceremony.
If you would like to speak to one of our expert wedding planners about your dream destination wedding in Playa del Carmen then call us today on our toll-free number +1 888-537-9797
Or
Alternatively, contact us via email at weddings@playadelcarmen.com.
In conclusion, The Hilton did exceed my expectations, everything other than the beach was exquisite. I would highly recommend this hotel for a couples escape or family getaway.
Interested in booking?
If you would like to discuss this hotel further with one of our expert travel consultants here at PlayaDelCarmen.com be sure to give us a call on our toll-free number +1 888-537-9797
Or
Alternatively, contact us via email at customercare@playadelcarmen.com
Have you stayed at this hotel before? Don't forget to leave your thoughts in the comments section, we would love to hear from you.
The Hilton Hotel Playa del Carmen Review
Location

Beach

Rooms

Food & Drink

Weddings & Groups
Summary
An incredible resort in one of the BEST locations around. At this hotel, you will be in the heart of town close to everything!  Everything from the rooms, service, and food is world-class. The only thing that lets it down for me is the beach. It's only very small and can sometimes feel overcrowded. However, with so many incredible beaches close by it's still amazing and shouldn't hinder your decision to stay here.
---
Trending Now