Your Ultimate Guide to The Best Beach Clubs in Tulum 2023
---
Are you looking for the best beach clubs in Tulum?
You're in luck!
…Because when I'm not blogging about all things Riviera Maya you will likely find me beachfront in Tulum sippin' on my favorite mango margaritas.
Hard life, right? 😉
Top 10 Best Beach Clubs in Tulum:
---
1. La Eufemia
Kid-Friendly | $ |No Minimum Spend
Tulum is hot right now with visitors, which I'll be honest, surprised me in the aftermath of COVID-19.
But hey, what better place to socially distance yourself than Tulum, right?
First up on the list is, of course, one of my personal favorites La Eufemia!
Cheap, cheerful, and high-quality food, and drink…you can't ask for much more than that.
This place is widely regarded as THEE best taco spot in the area, with the amazing perk of being beachfront.
You can stuff your face with Tacos al Pastor while looking out over the ocean…#thedream
What I love about this spot is the quirky eco-inspired decor, the chance to sit at the table with Amy Winehouse (they have some epically cool seating at this place), and of course, the beach!
There's a funky bench located at the beachfront of La Eufemia that is 100% insta-worthy!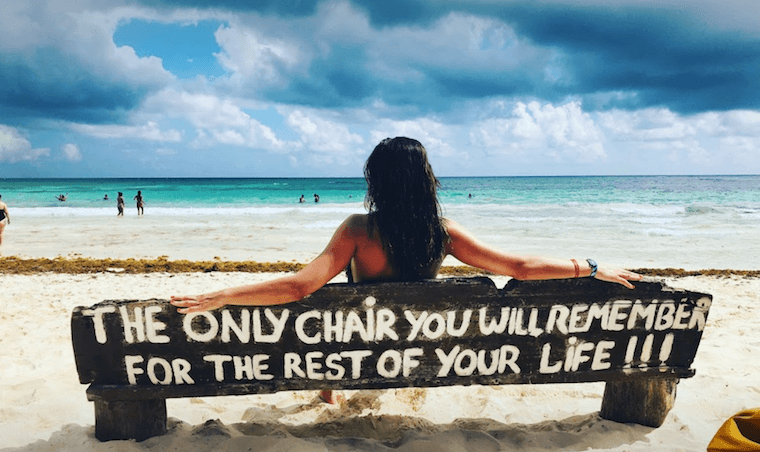 Plus, lot's of beach beds, umbrellas, and space for towels.
So sit back, relax,  and enjoy the soft sounds of live music while you watch the ocean waves roll onto the shore.
La Eufemia is located on the far side of the Tulum beach club strip, closer to the hotel zone.
So, if you're coming from Playa it may cost you a little extra if arriving in a taxi, but trust me, it's so worth it and the affordability of this place makes it a no-brainer.
Highlights of La Eufemia Beach Club:
Quirky celebrity-inspired themed furniture
The delicious food and drink options
Laidback vibe and music
2. Paraiso Beach Club
Kid-Friendly | $$-$$$ | Minimum Spend = 5 USD (for basic loungers)
Visiting the famous Tulum ruins?
Good call! But let me tell you….there isn't much shade at the ruins and it's HOT HOT HOT.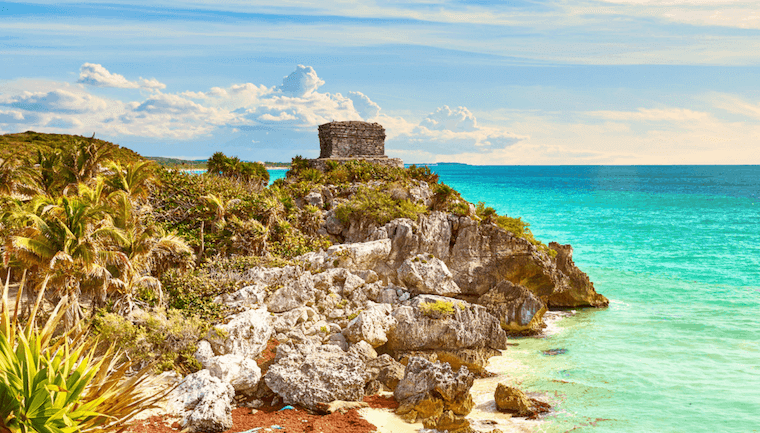 You're going to want somewhere to cool off and enjoy some delicious food and drink.
The good news? From the ruins, you are just minutes away from one of the best beaches the region has to offer, Playa Paraiso!
Perched neatly on its sands you will find Paraiso Beach Club.
In comparison to most of the other beach clubs in the area, the oversized beach beds are incredibly comfy,  inviting you for an irresistible lazy day in the sun with palm trees casting natural shade.
To add to this beach club's appeal the food here is to die for.
You'll have the choice to snack on small flavorsome plates, or even feast on larger dishes such as freshly caught lobster.
…If you enjoy snorkeling just off the shore this is a great place to do just that.
Paraiso beach club accepts credit cards (Visa, American Express & MasterCard) and all the staff are bilingual so you can guarantee someone speaks your language.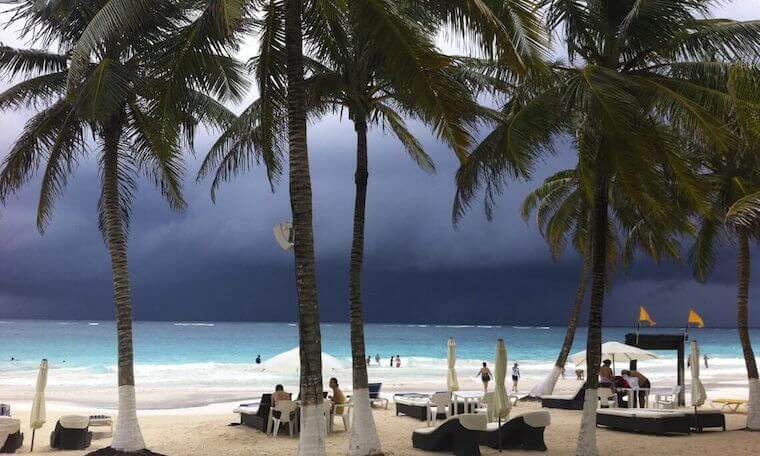 The beach club's response to COVID-19 has also been impressive.
Our team member Nadiya recently visited with her family and noted how impressed she was with all the precautions they were taking to keep guests safe.
This included socially distanced beach beds, staff wearing masks, and sanitizing beach beds and tables before you sit down.
Highlights of Playa Paraiso Beach Club:
The incredible food.
Comfiest beach beds ever!
Vibrant marine life can be found just off the shore.
3. Hip Hotel Tulum
Kid-Friendly | $$-$$$ | Minimum Spend = 25 USD Per Person
When I was last in Tulum this is where I spent most of the day and night (there just so happened to be a full moon party happening).
Me and my boyfriend kicked back on the soft beds (that were free once you opened up a tap) and lay under the white drapes and gorgeous dream catchers in between taking a swim in the ocean and relaxing.
It was dreamy…
And the decor of this place certainly captures the essence of the Tulum lifestyle.
Think all-white, turquoise blue, and of course, nautical rope swings to rock back and forth on at the bar before ordering your next round of drinks.
The staff here were quick, polite, and attentive… serving up the best mango mojitos I have ever tried.
I can't wait to go back!
Everything you've heard about Tulum is materialized in Hip Hotel Beach Club – it's a must.
As the sun went down the twinkling fairy lights wrapped around the palm trees all lit up, and the DJ arrived to play cool electronic beats into the night for the full moon party, it was awesome!
Highlights of Hip Hotel Beach Club:
Mango Mojitos.
Comfortable lush beach beds.
Cool DJs daily and full moon parties.
4. Mia Beach Club
Kid-Friendly | $$-$$$ | Minimum Spend = 64 USD
If you want the ultimate beach club experience without compromising on delicious restaurant-quality food, then Mia is the place for you!
They serve breakfast, lunch, and dinner and have plenty of options for vegans and veggies alike.
Wine lovers, rejoice here at Mia!
There are over 200 exquisite labels from around the world for you to enjoy.
Strategically positioned in the best area of the hotel zone, you can expect the perfect blend of great service, stylish decor, and relaxed beach vibes.
Considering its upscale appearance,  I love this beach club because it is reasonably priced, however, there is a minimum spend of 20 USD which is a little pricey by local standards but for tourists its what you expect to pay in these parts – and totally worth it.
Once you open up that bar tab the beach beds are free – win!
There's even a pool onsite for children and adults if you're not a fan of the waves or want to keep a closer eye on your kids as they enjoy the sunshine in paradise with you.
There's plenty of shade inside to escape the blazing heat of the Caribbean sun and kick back on the cushioned sofas.
Highlights of Mia Beach Club:
The extensive wine list.
World-class service.
Stunning almost hotel-like decor and design.
5. Coco Tulum
Kid-Friendly | $$-$$$ | Minimum Spend = 25 USD
All-white errrrrythang!
When I first went to Coco Tulum my first thoughts were that it was a beach club for the good-looking elite, so if you were blessed with looks you will fit right in. 😉
All jokes aside this place is definitely worth checking out for the fish tacos alone.
By day,  it's a hip hangout with rope swings, insta-worthy shots, and an exciting lunch menu…
By night, the gradual crescendo of electronic beats transforms this beach club into the hottest party spot on this side of town.
It is definitely worth sticking around for if you can.
Sit softly in the hammocks, beanbags, and beach chairs as you watch the world go by.
This beach club even has its own car park which can come in handy if you do have a rental or you're making your own way here.
However, again, it can fill up quickly so be sure to arrive earlyish if possible to guarantee your spot.
Highlights of Coco Tulum Beach Club:
Insta-worthy swing spot with ocean backdrop!
Great music.
Tasty fish tacos.
6. Ziggy's Beach Club
Kid-Friendly | $$-$$$ | Minimum Spend = 50 USD Per Person
A simple google search on the best beach clubs in Tulum will quickly show you Ziggy's appear in the top results, and although it didn't make my top 5 it is definitely worth a mention.
Expect well-groomed sands and ample indoor seating/shaded areas.
There are even solar chargers for your phone which is 'very Tulum' if I do say so myself.
Sit back and savor the flavors of rum-spiked coconuts while you enjoy some of the best of what this area has to offer.
Ziggy's host daily special events which they keep updated on their website if you wanted to check in advance:
Monday – Spanish flamenco and guitar.
Tuesday – Tequila tastings of course!
Wednesday – Offering up a grilled Caribbean seafood menu.
Thursday – Mexican wine tasting.
Friday – Mexican folk music.
Saturday – Caribbean Latin rhythms.
Sunday – Mezcal tasting.
Open from 7 am till sunset this spot is a chill hangout spot more than anything else and it's open 7 days a week!
New COVID-19 measures at this beach club include staff face masks, hand sanitizer stations, regular temperature checks for staff, socially distanced tables, and regular disinfecting.
Highlights of Ziggy's Beach Club:
Daily events.
Private event space.
Early open time and breakfast menu.
7. The Papaya Playa Project Beach Club
Kid-Friendly | $$-$$$ | Minimum Spend = 50 USD Per Person
Hats off to Papaya Playa!
During the lockdown period as a result of the COVID-19 instead of shutting their doors and waiting for better days they rolled up their sleeves and got to work.
In their own words, they were preparing for the "new earth" and have emerged "reborn".Back with a bang, they have a completely new space, menu, cocktail, and wine list – and boy was it worth waiting for!
It's true what they say long roads often lead to beautiful destinations.
This is now one of my favorite spots in Tulum.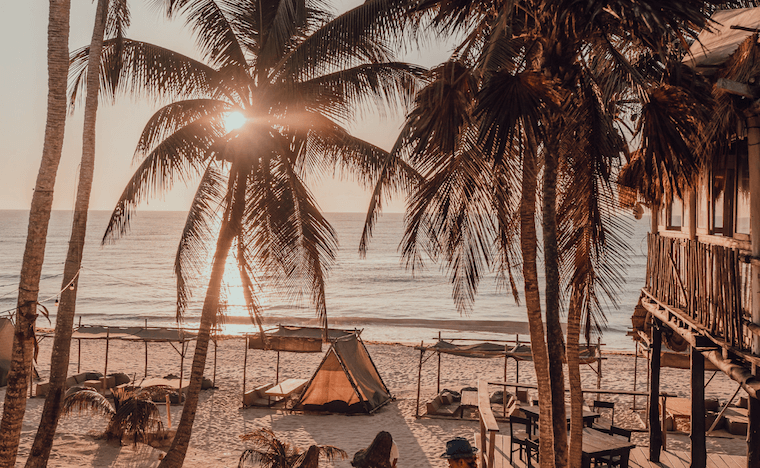 Located on the northern stretch it's one of the closest beach clubs to Playa del Carmen and boasts unobstructed views of the magnificent shore…
Papaya Playa's new space's interior and exterior design is the perfect blend of nature and the sea.
If you love music the tunes to go along with the new setting have been curated by guest artists and resident DJs.
Impressively,  the kitchen is now full of fresh, sustainable, and rich flavors that work in harmony with the new mixology menu.
COVID-19 definitely pushed them to raise the bar, and Papaya Playa has done exactly that.
If you check it out be sure to let us know about your experience down in the comments section below we would love to hear from you. 🙂
Highlights of Papaya Playa Beach Club:
Renvisioned space and food/drink menu.
Location.
Large shaded eating and drinking area.
8. Ahau Tulum
Kid-Friendly | $$-$$$ | Minimum Spend = 50 USD
Looking for a luxuriously rustic beach resort in Tulum, then look no further!
At Ahau Tulum, you can unplug, unwind, and enjoy barefoot sophistication amid the soft powdery white sands of Tulum.
This beach club has been designed with the eco-conscious traveler in mind everything from the Cabanas to the beach huts on the oceanfront.
You can even keep your fitness goals alive at this beach club as Ahau tutu offers yoga lessons and sunrise meditations.
Oh, and did I mention the entrance is work of art?
No, really it is!
It's for this reason alone that many tourists flock to Ahau Tulum, I mean, who wouldn't want to get a picture in front of this architectural/artistic masterpiece?
If you want a sun chair to relax on at this beach club there is a minimum spend to secure your spot, and the bummer is, that the restaurant is not included in this spend but all the more reason to drink, right?
However, all in all, I'd say it's worth it if you want excellent, food, and ambiance!
The view of the ocean is breathtaking!
Highlights of Ahau Tulum Beach Club:
The entrance.
The tempura tacos.
Pet-friendly.
9. Mina
Kid-Friendly | $$-$$$ | Minimum Spend = 50 USD
If you're searching for some Argentinian standard steak, then you HAVE to check out Mina Beach Club.
It's a part of the Maria Del Mar hotel (Casa Banana group), and it's open every day from 7.30 – 10.30 pm.
The main pro about this beach club in Tulum is, without a doubt, the view!
It's cozy, casual, and good for groups.
Drinks also get a solid 10/10 from me as they are strong, flavourful, and fresh!
If you have kids over the ages of 12 they are certainly welcome here at Mina too, which is always good to know because not all beach clubs were created equal in Tulum.
Let your kids enjoy playing on the beach while you sip on your favorite cocktail and savor the flavors of the delicious food on offer.
Highlights of Mina Beach Club:
Cocktail menu.
The servers were very attentive.
Ocean and beach view.
10. Zazil Kin
Kid-Friendly | $ | Minimum Spend =  9 USD 
Finally Zazil Kin is perfect for those who are ballin' on a budget and don't want to spend too much at the beach.
You can either rent a sunbed for 150 pesos or if you spend 200 pesos at the restaurant (easily done) it's free!
The food is also delicious and I recommend trying the ceviche if you like your seafood.
It's noticeably cheaper here than most beach clubs…it's on a public stretch of so the beach isn't as nice as in other part but c'mon this is Tulum, obviously, it's still beautiful.
The best part? You get a million-dollar view of the Tulum Ruins!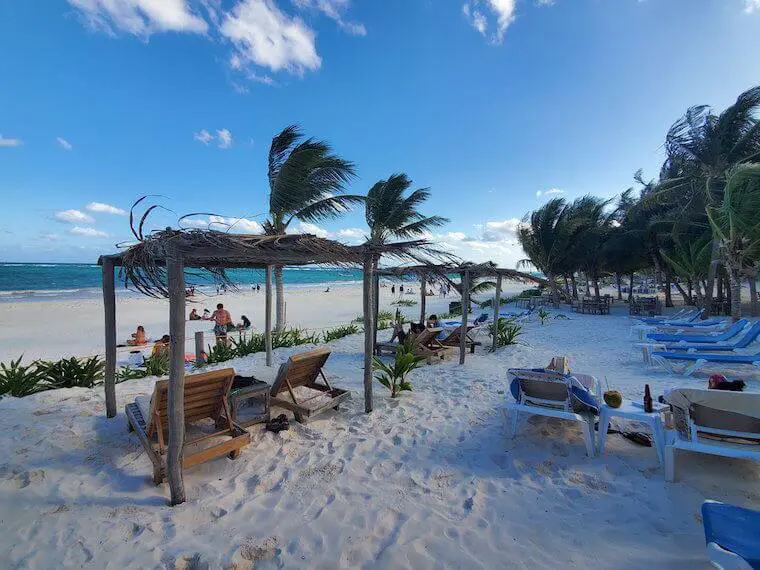 Plus, there's plenty of shade from the looming palm trees.
The service is pretty hands-off, but when they stop by, they are friendly.
For those of you, planning a beach day with small kids: There's a great playground on the attached hotel site!
However, for all those digital nomads out there, like myself: there is no wifi!
Highlights of Zazil Kin Beach Club:
The view of the ruins
The kid's playground
More than affordable pricing
Why Tulum?
Lastly, let's talk about Tulum itself and why it's worth a visit.
Trust me, once you're here you will never want to leave.
Tulum in parts is largely undeveloped and untouched – and that's my favorite thing about it!
It's very different from Playa del Carmen and Cancun, but no doubt as tourism stretches its grip along the coastline it will gradually build up over time – (with some conscious effort, hopefully not) – but the point is, the time to visit is NOW!
The beaches here are unrivaled and there's a boho vibe that permeates the entire region.
Popular with influencers, eco-warriors, nomads, and backpackers you're guaranteed to meet interesting people along the way.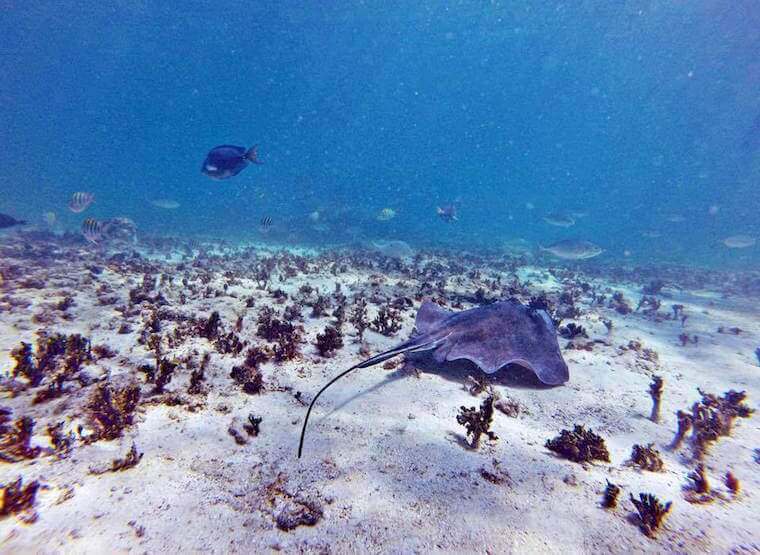 I hope you enjoyed my round-up of the best beach clubs in Tulum 2023, and you enjoy ticking them off one by one even more.
If you've found another beach club in Tulum that's worth a mention drop it in the comments section below and we will add it to our blog.
Have fun in Tulum.
TOP TIP: Beach clubs in Tulum fill up quickly! 
To upkeep the awesome experience, a lot of them even have a cap on how many people they allow in at a time, probably even more so now as the new normal surrounding COVID-19 plays out.
You'll often find that the beach clubs offer private events too!
So, to avoid disappointment phone up to check availability, book your seats in advance where possible, or arrive earlier in the morning to secure your spot.
Adventure Awaits…
Time to plan your next vacay?
The beach, ocean, and mojitos are calling your name!
For the best deals, perks, and discounts on weddings, hotels, tours, and transport call us on our toll-free number (888) 537-9797. 
Or email us at customercare@playadelcarmen.com 
---
Trending Now