Riviera Maya Resorts with the Best COVID Safety Standards
---
Are you looking for resorts with the best COVID safety standards?
I've got you covered! 🙂
After months of quarantine, it's no wonder we're all desperate for a vacation. I know I am.
What better way to socially distance than on a tropical beach, right?
As the world begins to travel again we understand that as we all adapt to the new normal you want to feel as safe as possible.
Here's my round-up of the hotels and resorts in the area with the highest standard protocols (often third-party verified).
Because you deserve a worry-free vacation.
Best Resorts With New Health & Safety Plans
Here's everything you need to know…
Getting Here:
---
Riviera Maya Resorts with the Best COVID Safety Standards
Everything from cleaning all surfaces, including linens, walls, windows, beds, shelves, and other installations,  YUP – there are new protocols for handling all of those. One thing is for sure… that resorts are going above and beyond to reassure their visitors.
They want their guests to continue enjoying the type of worry-free vacations they've come to expect…
Here's how're they're stepping up and addressing the ongoing threat of the current COVID-19  pandemic as people begin to travel again.
The hotels I have listed here in this blog are the ones that have my approval.
I have personally received in-depth documents from each of these hotels that detail the extent of the new health & safety measure now in place as of June 2020.
1. Playa Hotels & Resorts
Playa Hotels & Resorts announced its Playa Safe Stay initiative on May 4, 2020, focusing on preventive anti-viral measures aimed at reassuring guests.
"With Hyatt and Hilton, our guests are assured new standards of cleanliness while enjoying Playa's unmatched experience of all-inclusive, worry-free, luxury," said CEO Bruce Wardinski.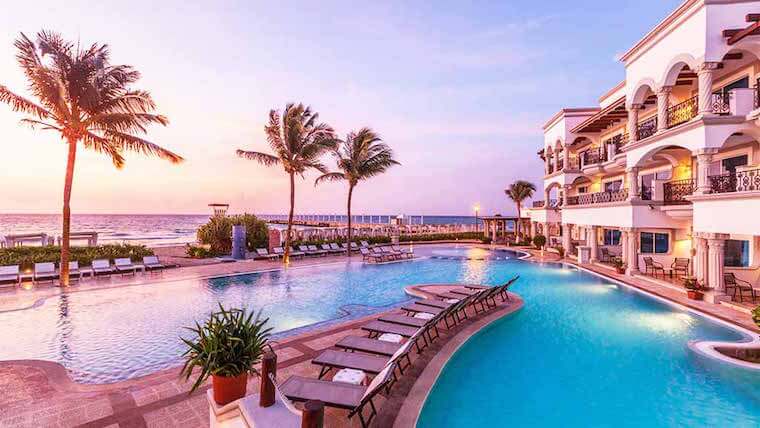 ** please note these new protocols encompass and include safety standards at the Hyatt and Hilton hotels**
The Hilton has actually collaborated with RB, the maker of Lysol and Dettol, and the Mayo Clinic for its new safety protocols, Hilton CleanStay.
Hyatt hotels also recently announced new Global Care & Cleanliness Commitment that includes an accreditation process by the Global Biorisk Advisory Council (GBAC), at all hotels around the world.
What to expect: 
Employee care and personal protective gear
2 meters of social distancing of guests and associates
High traffic areas cleaned hourly
Reimagined seating arrangements in dining areas, pools, common areas
Trusted partnerships with transport and excursion companies adhering to the same safety protocols
Read Playa Resorts full in-depth Stay Safe promise here.
Playa Resorts Includes (Cancun & Riviera Maya):
The Hilton Playa del Carmen
Hyatt Zilara Cancun
Hyatt Ziva Cancun
Panama Jack Resorts Cancun
Panama Jack Resorts Playa del Carmen
2. Palladium Hotels
A Task Force Team, formed by Palladium Hotel Group's executives and associates, conducted an exhaustive analysis of both back- and front-of-house hotel operations to compile new guidelines for the hotels before they reopened.
These health and safety measures are stand-out in my eyes and have even been certified by external laboratories.
Palladium never fails to deliver and if they do something, …ANYTHING- they do it well!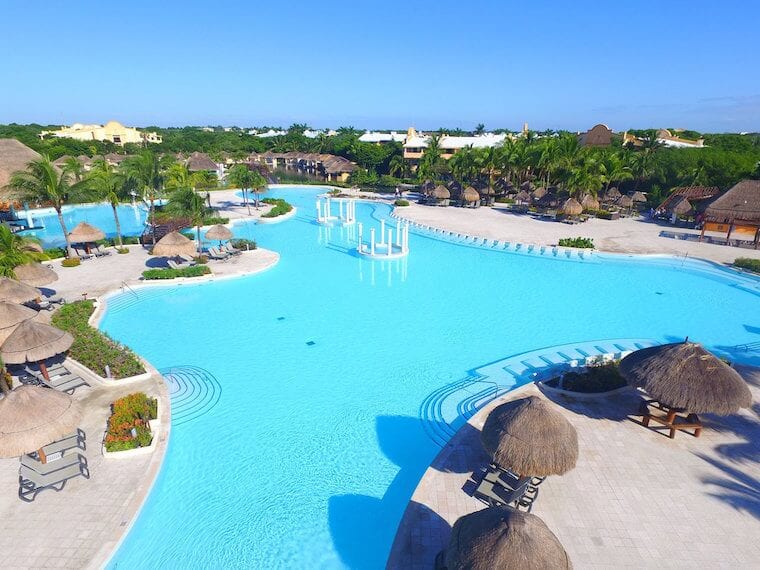 To ensure compliance with the new directives, the company has also formed the 'Palladium Hotel Group Global Customer Experience and Safety Council', comprised of chief operating officers, commercial directors, quality directors, and food-and-beverage directors chosen from among all Palladium brands, as well as independent expert advisors.
They are ready to take care of you.
If you want the best quality of traveling after quarantine Palladium is the way to go!
What to expect:
Hand-sanitizer dispensers around the property as well as in guest rooms
Temperature checks using infrared thermometers when entering enclosing areas
Required masks and gloves for employees at all times  (also provided for guests in rooms)
Expanding onsite medical services
Social distancing and capacity control
The hotel is encouraging making dining reservations in advance as limits are in place
Disinfected tableware and napkins
Prioritizing room service
Online check-ins and check-out
Eliminating unessential in-room printed materials. Everything is online.
Staff training
Check out their official statement here. 
Palladium Resorts include (Riviera Maya):
Grand Palladium Colonial Resort & Spa
Grand Palladium Kantenah Resort & Spa
Grand Palladium White Sands Resort & Spa
TRS Yucatan Hotel
3. AIC Hotel Group
The AIC Hotel Group includes all-inclusive such as:
Hard Rock Hotels
Unico 20
These hotels have all developed enhanced cleanliness and sanitation plans that consist of added precautionary measures throughout all aspects of the guest and team member experience.
To put this together they are following the best practices and guidelines put forth by the World Health Organization and the Centers for Disease Control.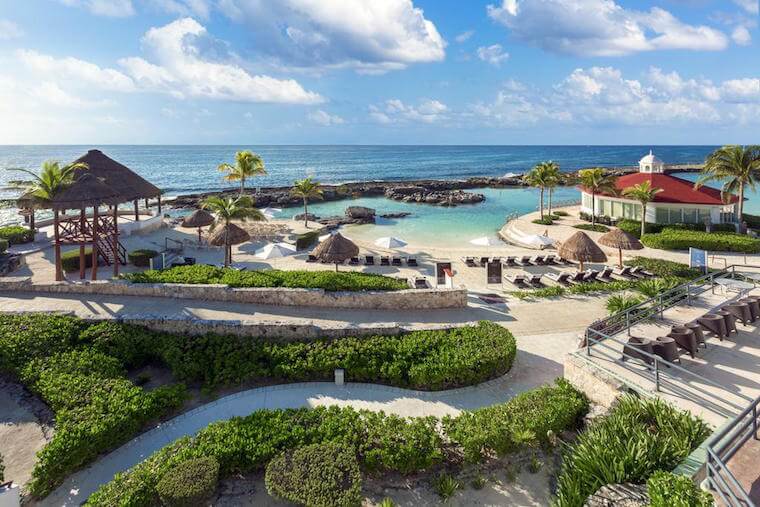 "As our industry gears up for its return, it is imperative we take every necessary additional precaution to keep our guests and employees safe," said Frank Maduro, Vice President of Marketing at AIC Hotel Group. "Our hotel teams have worked hand in hand with local and national authorities while adhering to globally recognized guidelines to devise a number of added measures to provide a world-class vacation experience."
What to expect:
Hand-Sanitiser stations throughout the hotel
Additional reminder signage for social distancing and hand-washing
24/7 onsite doctor
Staff training on global standards of sanitation
Ecolab cleaning products
Increased frequency of deep-cleaning and disinfecting in common areas
Physical distancing
Transport sanitation
Luggage disinfection
Non-invasive temperature checks
No-buffet
In-room dining is contactless
AIC Hotel Group Includes (Cancun & Riviera Maya):
Hard Rock Hotel & Resort  Cancun
Hard Rock Hotel & Resort Riviera Maya
Unico Riviera Maya
4. Riu
Riu has also stepped up their A-game in a bid to fight COVID-19.
They have developed an entirely new instruction manual to manage the reopening of the hotels.
It dictates exceptional hygiene and disinfection measures to ensure maximum safety for you and the employees.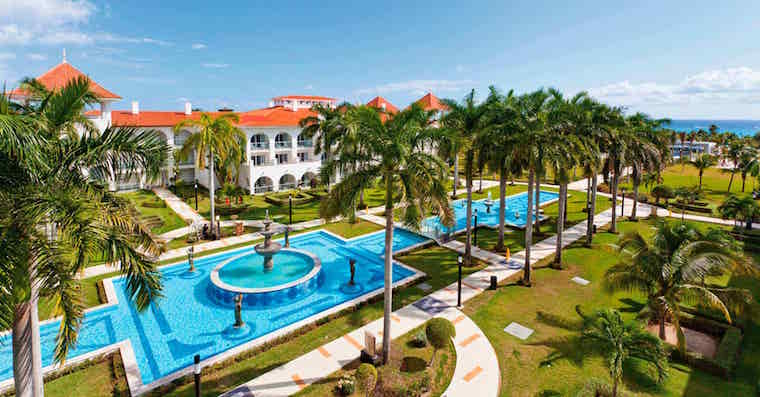 Here's what to expect: 
Hotel occupancy will be limited to 50% or 60% (or to local restrictions, if lower)
Guests' temperature will be checked upon arrival
Web check-in will be gradually implemented to reduce the handling of physical documents as much as possible
Checkout time will be moved up to 11:00 and check-in will be delayed until 16:00 to allow time for new room cleaning measures
All non-essential items will be removed in guestrooms such as coffee machines, magazines, leaflets, and laundry bags
Hand sanitizer gel will be included in every room
Frequently handled items like television remote controls, telephones, handles, doors, and curtains will be disinfected every day
All surfaces will be sprayed with a virucidal product upon checkout
Employees will clean rooms with three cloths of different colors, which are changed for each room and are used to clean the terrace, room, and bathroom separately, in that orde
A 'disinfection team' will be created for each hotel, specializing in cleaning rooms occupied by people with confirmed or suspected cases of coronavirus
A specific area of the hotel will be reserved for potential patients who cannot be transferred to a hospital
Restaurants' seating capacity will be reduced and it will be compulsory to disinfect hands upon entry
All guests must wear gloves and a mask to go to the buffet
Tables will be covered with a single-use tablecloth
Pools will have capacity limits and lounge chairs and umbrellas will be safely distanced apart.
Frequency of cleaning the pool and Jacuzzi areas will be increased, and water disinfectant products that are appropriate to the current situation will be used
Riu Hotels Include (Riviera Maya):
Hotel Riu Lupita
Hotel Riu Mexico
Hotel Riu Riviera Maya
Hotel Riu Playacar
Hotel Riu Tequila
Hotel Riu Yucatan
5. Velas Resorts
Velas Resorts have made a 'Stay Safe' commitment to all its guests and have also created new post-COVID-19 hygiene protocols for your assurance.
The new guidelines include special training, physical distancing measures, touchless sanitizer stations, sanitizing mats, frequent hand washing, and personal protective equipment for staff members.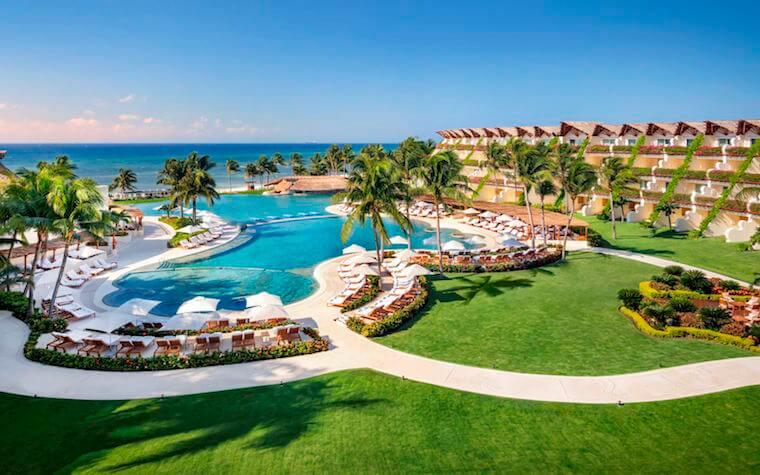 In addition to enhanced cleaning of guestrooms and resort areas, the hotel will take guest temperatures and ask guests to use the sanitizing mat, wash hands, and use hand sanitizer. Velas will sanitize luggage, high-touch points, and provide guests with personal protection kits
For full details visit their official statement here – they cover a lot, which I personally find very reassuring.
What to expect: 
Increased sanitizing
Touchless hand sanitizing dispensers
Physical distancing
All staff members before and after their day pass through a sanitizing booth
Temperature checks of staff and guests
PPE kits for everyone
All vehicles sanitized with steam (maximum of 5 passengers)
Velas Resorts Include (Riviera Maya)
6. Barcelo Group
Barcelo Hotel Group has introduced their We Care About You commitment to safety.
These new health & safety measures are in place for every facet of the company from digital experiences and communication to sanitization and sterilization.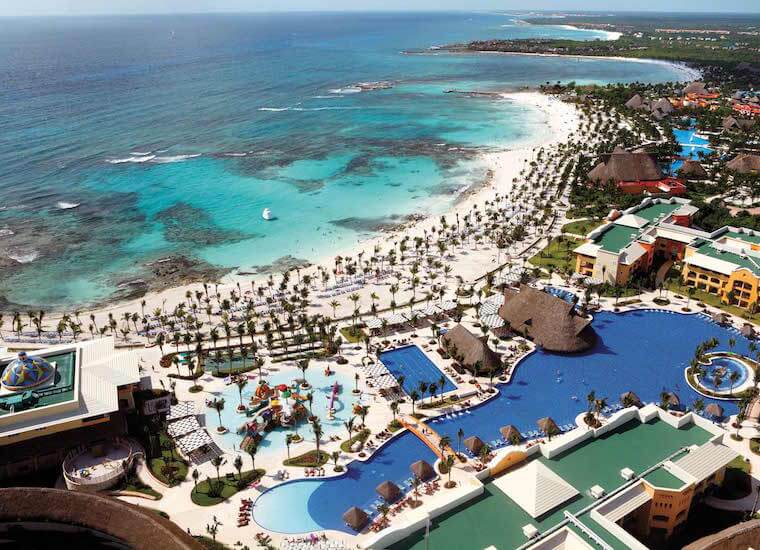 The resort company announced that it would have "a continuous awareness program for self-protection of employees and training on the new operative protocols against COVID-19 and other infectious-infectious diseases. These programs will be reinforced by our expert team/hygiene collaborators' modules."
They've always prided themselves on offering the highest level of service and hygiene but in recent events, they are doing everything they can to ensure guests' safety.
Read Barcelo's We Care About You Commitment.
What to expect:
Reimagined common area safety
New food and drink protocols
Digital experience
Training and awareness
Barcelo Group Hotels Include (Riviera Maya):
Barcelo Maya Palace
Barcelo Maya Riviera
Barcelo Maya Caribe
7. Iberostar Group
Iberostar is one of the biggest players in the region and are very popular with our clients.
They have a number of resorts in Cancun,  Riviera Maya, and around the world!
Iberostar has been working on hygiene, security, and health for its different destinations and on its promise to take care of the customer, collaborators, suppliers, commercial partners, and also the environment.
For over 60 years they have been operating with the highest standards, and now in times of COVID, they are enriching and strengthening their procedures and protocols with a holistic view, scientific rigor, and without taking a step back in caring for the ecosystem.
Now more than ever, we need responsible tourism that cares for people, the environment, and is committed to creating healthy environments –  and they get the thumbs up of approval from us.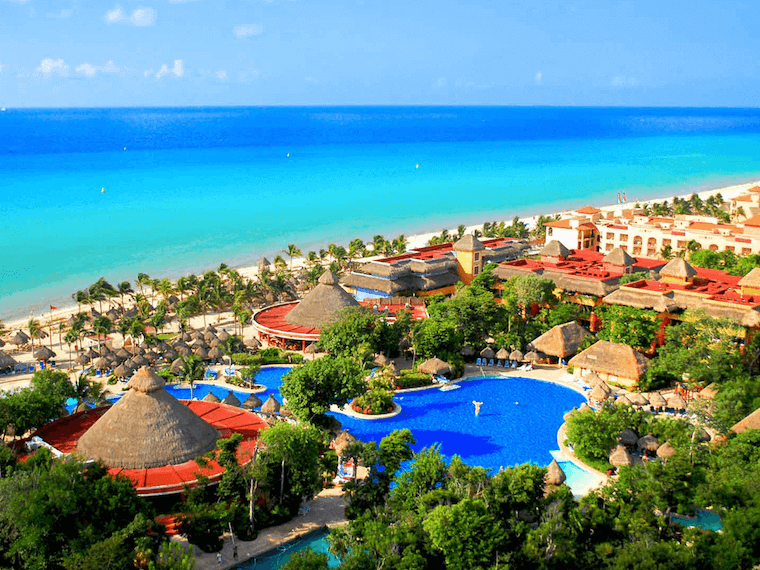 In light of recent events they created a whole new team to work on post-COVID policies.
"As an international hospitality company, people and the environment have always been a priority for Iberostar Group," says Vice Chairman and CEO Sabina Fluxa. "We face new times and we need new solutions to promote circular economy policies in this scenario. Only resilient companies that are capable of meeting these challenges will be able to compete."
The hotel group now has a Medical Advisory Board that includes experts in public health and safety in the tourism sector.
What to expect:
New cleaning measures and protocol
Safe buffet with a single touchpoint
Hotel occupancy max of 70%
Large natural spaces
Fewer tables
Focus on room service
Entertainment and activities with limited capacity and reservation only
Digital check-in
Touchless experiences
Read their full statement about the new changes here.
Iberostar Hotels Include (Riviera Maya):
Iberostar Paraiso Lindo
Iberostar Paraiso Maya
Iberostar Paraiso del Mar
Iberostar Paraiso Beach
Iberostar Cozumel
Iberostar Tucan
8. AMResorts
Last but not least it's AMResorts…who may I just say have been very good at keeping us apprised of their new protocol progress.
They recently announced the new CleanComplete Verification program.
It's a comprehensive, 360-degree quality, safety, and hygiene system that is backed by one of the industry's highest-level, third-party certifications for quality and safety—Cristal International Standards.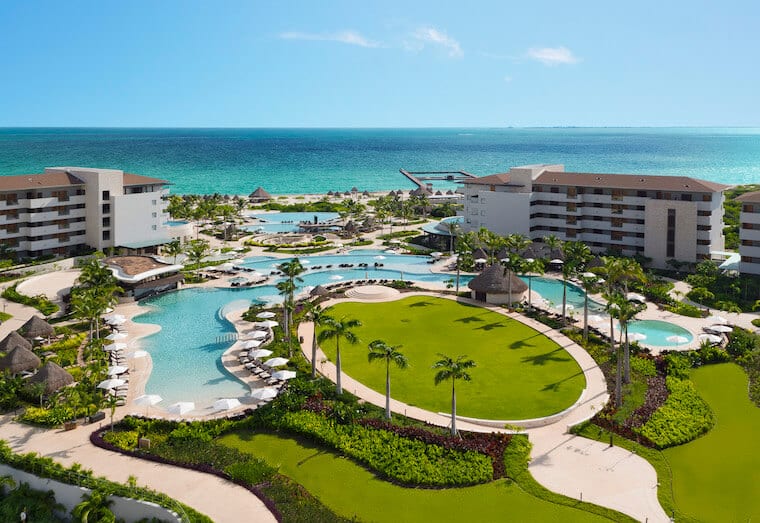 "As the world reopens to a new normal and travelers begin to plan vacations once again, the health and safety of guests remains a top priority through these elevated efforts," said Gonzalo del Peón, AMResorts' President. "Guests should feel well-informed and reassured knowing that AMResorts-branded properties have implemented best-in-class practices."
What to expect:
Temperature checks on arrival
Hygiene check-in station
Increased deep-cleaning hourly
Sanitization of luggage
Highest standard of hygiene for room-cleaning
Social distancing
Reimagined dining experiences
New staffing to oversee new health measures
Express check-out
AMResorts Include (Riviera Maya):
Zoetry Resorts
Secret Resorts
Breathless Resorts
Dreams Resorts
Now Resorts
9. Airport Screenings
One of our team members (Alison) recently traveled from her birth country (the UK) back to Mexico and upon arrival at Cancun International Airport, she was temperature checked.
Travelers around the world should prepare for airports with health screenings as well as temperature checks and thermographic imaging.
While this may feel a little daunting at first, it's actually a really good thing when you think about it.
Me personally, recently traveled through Canada to the UK and wasn't temperature checked at all at either airport – slightly worrying!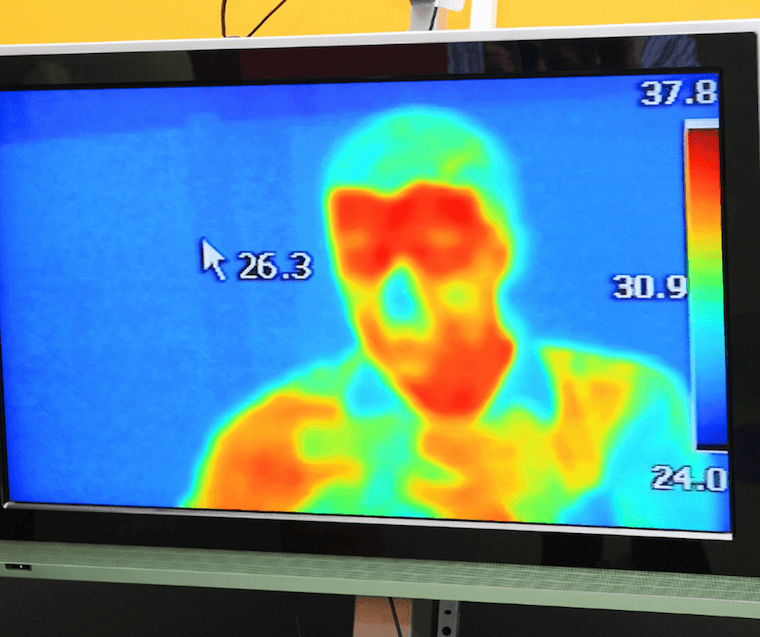 Mexico really are going above and beyond to do what they need to do to minimize the spread.
Most hotels have also implemented similar measures too.
Your temperature will be checked on arrival to make sure you are in good health before enjoying the region and the hotel.
10. Transport
Transport is just as important as the hotel as you will be riding in it from the airport to get to your destination.
We highly recommend using private transport wherever possible and AVOIDING public transport.
Our transportation services are implementing some of the same hygiene standards of the hotels to ensure you arrive in a virus-free environment.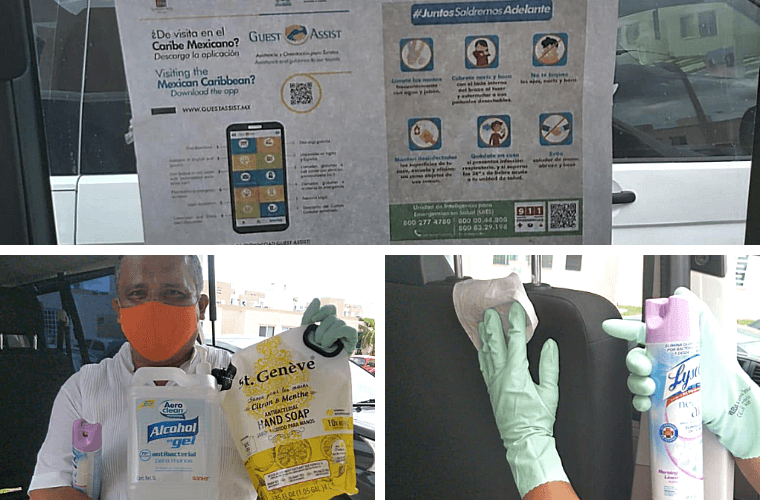 This includes:
Sanitizing wipes and gel in the van for your use
All drivers have medical certificates and have had training on the virus so they know what to look out for
Full deep-clean after every trip
Drivers and passengers to both wear masks for the entire journey
All services are private and are a direct service to the hotel, airport,  or excursion
5 passengers maximum per van
A lot of the hotels also have their own private in-house transport who have adopted the same measures as the resort.
You Deserve a Vacation
It's been months since you well and truly enjoyed yourself. It's your time now.
Although these new measures may feel a little weird as we transition into the new norm, I believe it's going to be like this for a while and it's largely for your safety and assurance.
Plus, there's never been a better time to steal a great deal, of course.
If this global situation has taught me anything, it's that I need to start living my best life and I need to start now!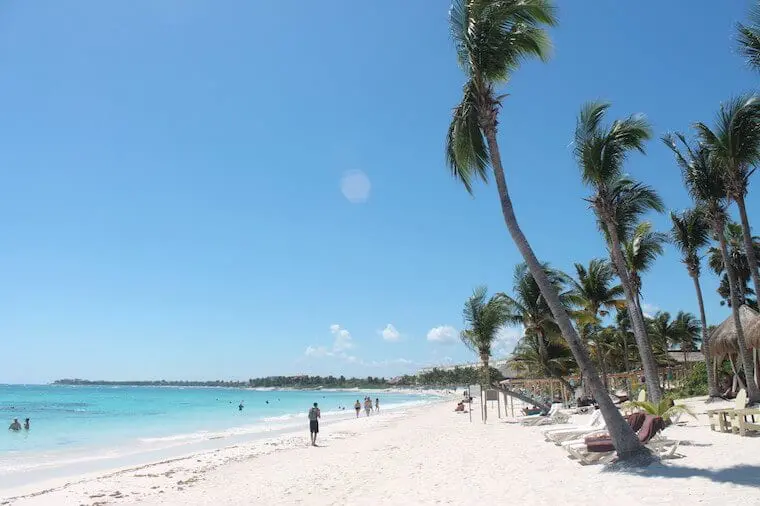 So, you can stay in your hometown with similar health and safety measures OR you can join us here in sunny paradise and laze in all-inclusive luxury.
The choice is yours! If you have a question please feel free to leave it in the comments section below I'll reply ASAP.
If you're ready to book call us on 888-537-9797
OR
email at customercare@playadelcarmen.com
We look forward to welcoming you to paradise once again. Until then, stay safe! With love, the PlayaDelCarmen.Com team.
---
Trending Now