Average Cost of an All-Inclusive Destination Wedding in Mexico
---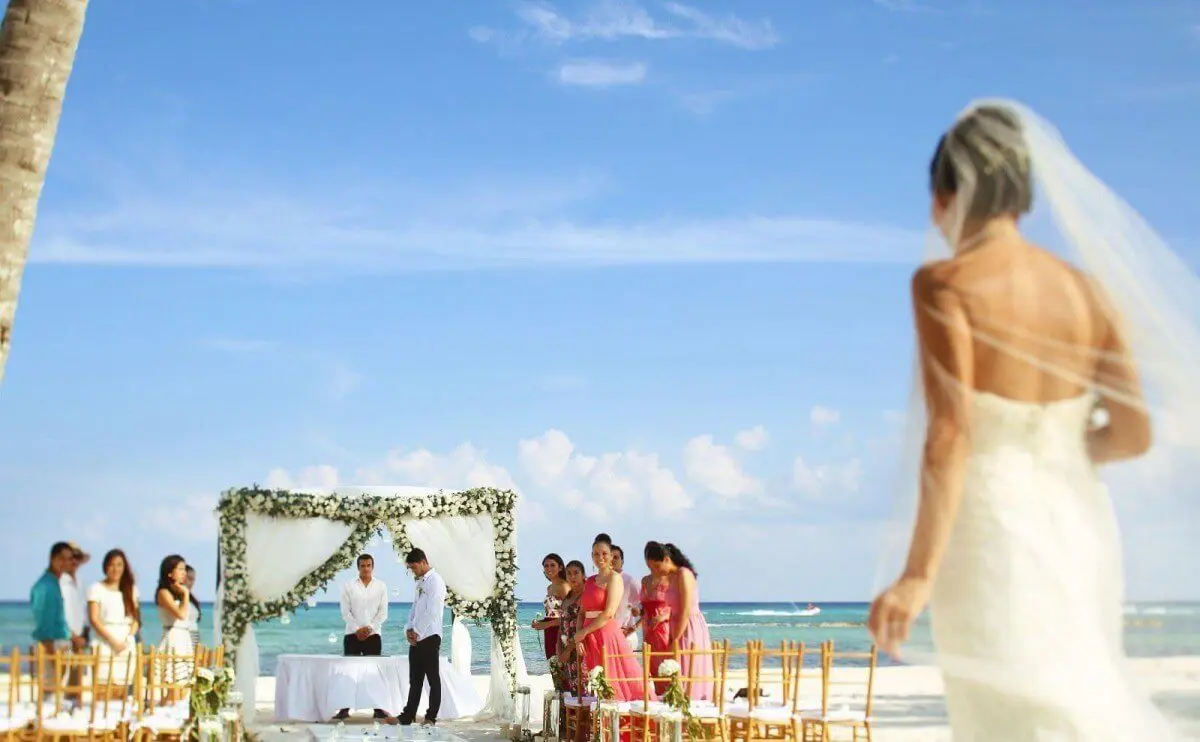 You found the gold mine 👏
I've organized 100's of destination weddings as a wedding coordinator.
Covering all-inclusive wedding resorts in Cancun, Playa del Carmen, Tulum & Cabo.
Planning your own destination wedding is super exciting!
….but it can also be overwhelming.
So, I'm here to help you, along with our experienced wedding planners!
How much will an all-inclusive wedding in Mexico cost?
You'll find out below 😉
Lets get started..
---
What is the Average Cost of a Destination Wedding?
You're looking at $5000-$7000 as the average cost of a destination wedding in Mexico at a 4.5 star all-inclusive resort.
$5000 wedding with 30 guests (4.5★ resort)
$7000 wedding with 60 guests (4.5★ resort)
$10,000 wedding with 100 guests (4.5★ resort)
$15,000 wedding with 200 guests (4.5★ resort)
So are destination weddings more expensive?
No, destination weddings in Mexico are cheaper. $5000 – 7000 for a destination wedding VS $30,000 is the average cost of a traditional wedding in the USA in 2022.
You're looking at saving a lot of money! 👏
That covers top destination wedding locations like Cancun, Playa del Carmen, Tulum, Cabo San Lucas, and Puerto Vallarta.
Pretty sweet right?
It gets better…

What's Included in an All-Inclusive Wedding Package?
All the "essentials" for your wedding are included in the resort wedding packages.
What are the essentials?
Breakdown of what's included:
Symbolic ceremony on the beach
Private cocktail prior to the wedding
Private buffet dinner on the beach
Sparkling wine for your toast
Reception area
Open bar!
Wedding cake
DJ, lighting
So that's generally what most all-inclusive resorts offer, but it varies from resort to resort.
Your wedding is included, so is a buffet for 30 guests, FREE accommodation for wedding couples staying 5-7 days but excludes accommodation for guests.
Here's the deal…
You can spend more.
The main difference between a $5000 wedding and a $10,000 wedding is the following:
more guests are included
you'll be upgraded to an ultra-luxurious suite for your stay
live music for the ceremony
premium drinks
romantic candlelight dinner for a night of your choosing
etc
What you get really depends on the resort you choose and what you can negotiate. Our wedding team can help with that because we're local and know the managers so we can squeeze for more, ha!
Your wedding package can be personalized and tweaked to match your vision with "Extras", such as photography, flowers, décor, furniture, lighting etc.. It can be as specific as you want it (extra costs usually apply).
Cost Breakdown for Your Wedding:
$6000 average all-inclusive wedding package (5-7 nights)
$250-$450 per person for flights (USA)
$100 transportation to and from the airport
$50 gratuities
$500-$3000 in wedding extras (they can add up quickly)
The prices above cover all popular coastal cities like Cancun, the Riviera Maya (Playa del Carmen, Tulum, Puerto Morelos etc), Puerto Vallarta, Cabo and Huatulco.
You can also explore our post on the best wedding packages in Mexico.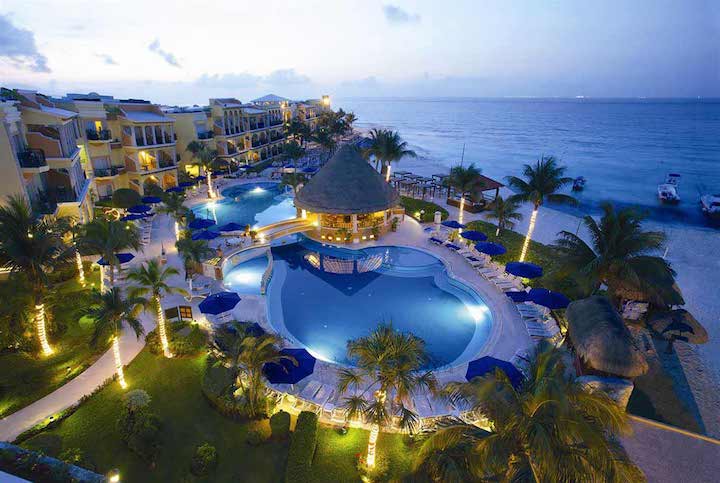 First, your guests need to get to Mexico 😉
Flights from the U.S. are in the $350-$550 per person range.
I would say all-inclusive accommodations cost around $200/person per night for a 4 star+. This can vary depending on the season (we´ll get to that in a bit).
A general rule to remember is that roughly 80% of wedding guests MUST stay at your Hotel.
Guests staying off-property can purchase "Wedding Day Passes" which cost around $50 – $100 USD per person.
Your wedding package includes guests, so it's FREE for your guests to attend your wedding! (meals, drinks etc are included in your wedding package)
Cost Breakdown for Guests:
$350-$550 per person for flights (USA)
$200 per person per night (4 Star resort)
$100 transportation to and from airport
$50 gratuities
So… $1200 is the average cost per person for guests to attend your destination wedding in Mexico.
That includes 4 days/3 nights in a gorgeous 4-star+ resort.
Not too shabby! Champaign anyone?
Wedding Photography Costs
Destination wedding photographers offer packages ranging from $550-$8,000.
If your wedding is at an all-inclusive resort, each resort will have its preferred list of vendors, which includes photographers.
Resort photography packages range from $750-$3500+.
More expensive packages will include
drones
videography
photo booths
offsite photography with elaborate "trash the dress" shoots
If you decide to hire an "outside vendor" the resort will charge an outside vendor fee between $400-$1000 per vendor.
If a family member is a photographer you're in luck. Typically, resorts won't charge an extra for that 😉
Perks & Discounts
Discounts may occur with volume, so if 30+ guests stay with you at the hotel, the resort may offer you upgrades and $ discounts.
You might be able to get anniversary nights for free or at very discounted rates if you get married at their hotel.
Our destination wedding team can help you figure all that out.
Types of Wedding Ceremonies
You'll notice a BIG difference in the cost of Symbolic Ceremony vs Legal Ceremony.
Here's why:
Legal/Civil Ceremony:
Couples (and their witnesses) must arrive several days prior to the ceremony to finalize documentation, so this will incur extra nights booked at the Hotel.
Bloodwork is needed for all Legal ceremonies in Mexico.
Judge/courthouse fees. These are extra and not included in the cost of wedding packages.
Translation and Apostille stamps for documents may be needed to validate the Wedding Certificate in your Country of Origin.
Symbolic Ceremony:
Couples get married in the Court House at home and have the event here.
No extra costs of paperwork and bloodwork are needed.
If you are looking for a Catholic Wedding, there are some all-inclusive resorts with their official Catholic Chapel within the property.
See our Guide to Catholic, Symbolic & Legal Marriages in Mexico
Indian Weddings are available as well in many resorts.
Indian Weddings tend to be more expensive. This is because the celebration is spread over 3-4 days with various events each day (Sangeet / Mehendi / Ceremony / Gala Reception) Décor costs vary, particularly depending on guest count.
Gay Weddings are legal in the Riviera Maya (state of Quintana Roo). See our best-rated resorts for Gay weddings.

High Season and Weather
We're lucky to have all-year-round sunshine in the Riviera Maya which includes Playa del Carmen, so Weddings take place every day.
The month of MAY is the most popular month for weddings.
 In May, it's cheap to fly in, hotels are decently priced, and the weather is still great (not too hot like summer months).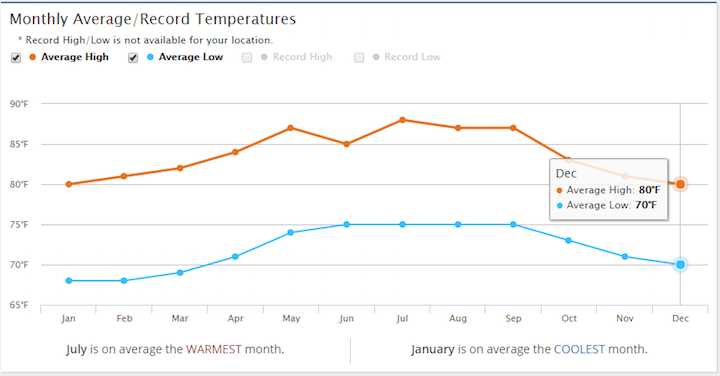 Since May is such a popular month for weddings, it tends to book out pretty quickly and a long time in advance. (some hotels are close to being sold out for May 2020)
Can you believe that Hotels will even have different pricing depending on each day of the week! They also price based on the Ceremony time.
4pm or 5pm is considered the most popular ceremony hour, as it's a little cooler.
Rain on Your Wedding Day?!?!
All of the hotels and venues have backup plans in case of bad weather.
During the rainy season (sep, oct, nov) it can get unpredictable so keep away from those months.
Need Some Help?
As you can see, there's so much to consider when planning your Destination Wedding in Mexico.
You'll find over 100 hotels offering weddings in this region. It's VERY difficult to decide without some help.
The best advice I can give is to connect with experienced wedding coordinators like us.
Hate to plug but we know our stuff.
Based on your vision we'll guide you to the right venue or resort and save you a bundle since we know the ins and outs.
And here's the kicker…
Want more info on Weddings in Mexico now?
You can talk to a real, live, friendly wedding planner at PlayaDelCarmen.com to help you with your destination wedding!
Call our wedding consultants at 888-537-9797 or weddings@playadelcarmen.com.
You can also learn more about our destination wedding services here.
Now It's Your Turn to Comment
What did you think of our post? What's missing?
Have questions? How can we help?
Comment below now.
---
Trending Now
You may also like