10 Tips for Planning Your Weddings in Mexico During COVID
---
Planning your wedding or celebrations in Mexico during COVID-19?
Fear not, we're here to help!
We all hoped the pandemic would pass quickly…
But it's been around long enough now for us to know that we're probably going to be stuck with it until there's a vaccination, right?
We've been waiting it out for 10 months now… and it's got to the point where most young, fit, and healthy people have decided…Life is for living!
With strict health and safety protocols now in place across the world and in the Riviera Maya, with our help, it is possible for you to enjoy the worry-free wedding you deserve.
Here's how:
How to Safely Plan Destination Wedding During COVID-19:
---
1. COVID Testing For You and Your Group
I added this section of the blog on 25th Jan 2022… as new rules in USA, Canada, and the rest of the world mean you will have to have a negative PCR test or Antigen test in order to gain re-entry to your country.
Before you have a panic attack thinking "how on earth am I meant to get this organized for me and my wedding group."
Luckily, most of the resorts have onsite testing facilities to assist you and your wedding group with organizing the required tests.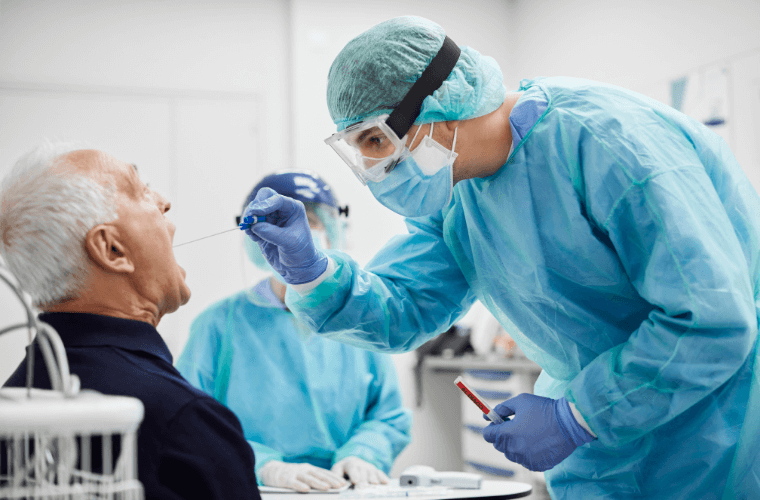 Even if they don't there are PLENTY of options for you to choose from to organize your own test. But chances are, your resort is offering this service. 🙂
Some of the hotels are offering it for free, some for a cost. Read all about it here…
Easy peezy!
Any questions, you know what to do… leave them for me in the comments section below and I will get back to you ASAP.  🙂
Now that's out of the way read all about how to plan your dream wedding during COVID. The show must go on!
2. Getting the Right Insurance
With lots of you now ready to move forward with your travel and wedding plans,  the first thing to cover all bases is to get the right insurance.
If you cancel your trip due to COVID, but your flights are flying and your hotels are open for business, then it's very unlikely you will be able to get your money back.
Please keep this in mind before making any big decisions.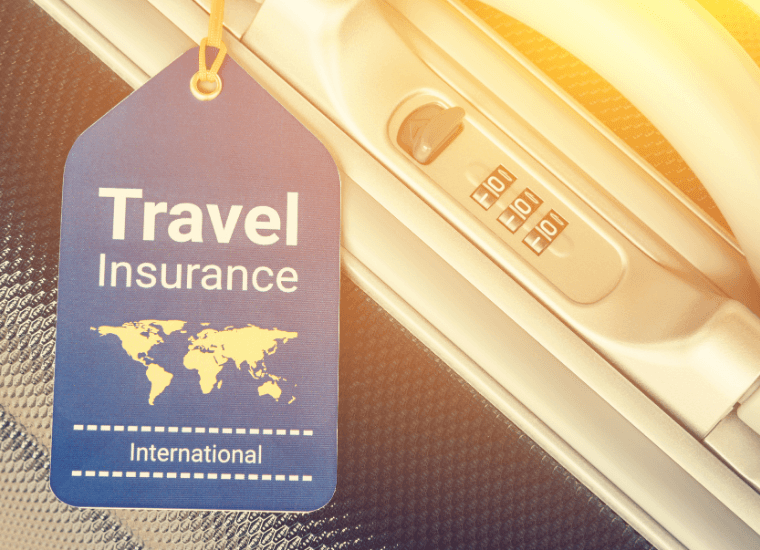 What we recommend is purchasing travel insurance which covers a 'cancel for any reason' waiver so that you can change your mind closer to the date of travel and keep credits for land and air.
Learn more about worldwide flying travel regulations here.
3. Is It Safe to Fly Right Now?
One thing is for sure…airports, airlines, and hotels are all doing the most right now.
Hats off to them because they haven't had an easy year but they have certainly stepped up to the challenge.
Although sitting in a small space with other people for a few hours during these uncertain times may feel risky the chances of you actually catching COVID on a plane are relatively slim.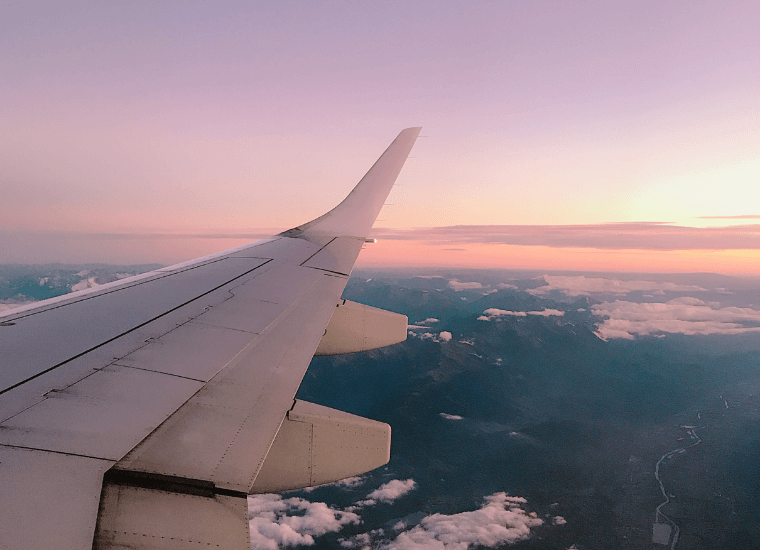 …We're talking surgical grade air filters and being gifted full PPE kits as soon as you step foot on the plane.
At Cancun International Airport you should expect temperature checks and thermal image scanning upon entry to the country.
…Which may feel a little daunting at first but just remember this is to ensure the safety of yourself and everyone you traveled with. 🙂
I've gathered a list of all the major airlines flying into Cancun and provided links to their site and videos that detail the changes they have made in response to COVID-19, I hope you find them useful.
AMERICAN AIRLINES: 
https://www.aa.com/i18n/travel-info/travel-alerts.jsp…
Video of disinfecting measures:https://player.vimeo.com/video/412832150?autoplay=1;color=9da6ab&title=0&byline=0
DELTA AIRLINES: 
https://www.delta.com/…/othe…/coronavirus-travel-updates
Video of disinfecting measureshttps://www.youtube.com/watch?v=lpBPuSKxLWk&t
UNITED AIRLINES: 
https://www.united.com/ual/en/us/fly/travel/notices.html
Video of disinfecting measureshttps://www.youtube.com/watch?v=inDP0M8URpA
AERO MEXICO:
https://www.aeromexico.com/…/notifications-for-passengers
AIR CANADA: 
New government-imposed entry requirements to the United States and other countries
https://www.aircanada.com/…/new-entry-requirements.html
Customers traveling to/from the People's Republic of China and other countries https://www.aircanada.com/…/trav…/2020/china-travel.html
AIR FRANCE: 
https://www.airfrance.us/…/news-air-traffic-air-france…
Video of disinfecting measureshttps://www.youtube.com/watch?v=CRqjFzfh3VE
AIR NEW ZEALAND:
https://www.airnewzealand.com/travel-alerts
AIR TAHITI:
https://www.airtahiti.com/coronavirus-information-travelers
AIR TAHITI NUI: 
https://www.airtahitinui.com/…/covid-19-flight-and-re…
ALASKA AIRLINES: 
https://www.alaskaair.com/…/advisories/travel-advisories
Video of disinfecting measureshttps://www.youtube.com/watch?v=pCc0JWfBUDg
ALITALIA
http://alitaliaagent.com/travel-exceptions.cfm
BRITISH AIRWAYS
https://www.britishairways.com/travel/flightops/public/en_us
CATHAY PACIFIC
https://www.cathaypacific.com/…/information-and-updates…
EMIRATES
https://www.emirates.com/ph/english/help/travel-updates/
Video of disinfecting measureshttps://www.youtube.com/watch?v=oKxfL6t93c8
FIJI AIRWAYS:
https://www.fijiairways.com/…/flight…/travel-alerts/…
HAWAIIAN AIRLINES:
https://www.hawaiianairlines.com/coronavirus
Video of disinfecting measureshttps://www.youtube.com/watch…
JAPAN AIRLINES:
https://www.jal.co.jp/cms/other/en/weather_info_int.html
JETBLUE:
https://www.jetblue.com/travel-alerts
KLM: 
https://www.klm.com/…/up_to_date/flight_update/index.htm
LUFTHANSA: 
https://www.lufthansa.com/xx/en/flight-information.html
QANTAS: 
https://www.qantas.com/au/en/travel-info/travel-updates.html
SINGAPORE AIRLINES: 
https://www.singaporeair.com/…/media…/newsalert-listing/
SWISS:
THAI AIRWAYS: 
https://www.thaiairways.com/…/ticketing-procedures…
Video of disinfecting measureshttps://www.youtube.com/watch?v=HAAzPS80yDQ
VIRGIN ATLANTIC:
https://flywith.virginatlantic.com/gb/en/news.html
VUELING AIRLINES:
http://vuelingnews.com/?lang=en
WESTJET:
https://www.westjet.com/en-ca/travel-info/advisories
4. Which Hotels Have The Best COVID Safety Standards
If you've been to this blog before and read any of my reviews you will know that I consider myself somewhat of a hotel conoseuir… hard life, right?
Based on my research and the information given to me by the resorts I've put together a full in-depth guide on "The Hotels With the Best COVID Health & Safety Standards".
Here you will all of the hotels that get the stamp of approval from me.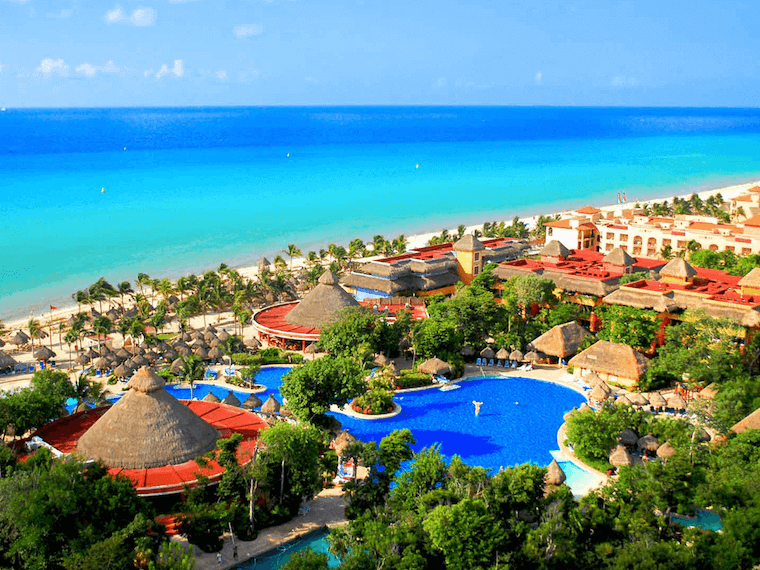 The aim of the game is for you and your group to feel safe on your travels so I've only listed those hotels that I believe to have the most science worthy strategies.
For the purpose of this blog here are my top 3 recommended options:
1. AM RESORTS
In response to COVID AMResorts released details of their comprehensive, 360-degree quality, safety, and hygiene system that is backed by one of the industry's highest-level, third-party certifications for quality and safety—Cristal International Standards.
Read all about it here.
AMResorts Include (Riviera Maya):
Zoetry Resorts
Secret Resorts
Breathless Resorts
Dreams Resorts
Now Resorts
Below I've detailed just some of the measures you should expect as part of the "new normal" phase at this resort.
What to expect:
Temperature checks on arrival
Hygiene check-in station
Increased deep-cleaning hourly
Sanitization of luggage
Highest standard of hygiene for room-cleaning
Social distancing
Reimagined dining experiences
New staffing to oversee new health measures
Express check-out
2. AIC HOTEL GROUP
As part of the AIC Safe and Sound program, every AIC resort around the world is required to pass the Safe + Sound 272 point inspection independently assessed by NSF International.
Read all about it here.
The AIC Hotel Group includes all-inclusive such as:
Hard Rock Hotels
Unico 20
What to expect:
Hand-Sanitiser stations throughout the hotel
Additional reminder signage for social distancing and hand-washing
24/7 onsite doctor
Staff training on global standards of sanitation
Ecolab cleaning products
Increased frequency of deep-cleaning and disinfecting in common areas
Physical distancing
Transport sanitation
Luggage disinfection
Non-invasive temperature checks
No-buffet
In-room dining is contactless
3. IBEROSTAR GROUP
Iberostar has put together a Medical Advisory Board, made up of biologists and doctors specialized in public health in the tourism industry.
The experts who make up the new team are Sebastián Crespí Rotger, founder and CEO of the Biolinea Internacional consulting firm, and Dr Javier Pérez Fernández, a specialist in intensive care and Medical Director in the best hospitals in Miami (USA).
Following their recommendations and those from the public authorities and health institutions, they have developed measures to safeguard their employees and guarantee their customers' experience, implementing new procedures in restaurants and during check-in, wearing masks made from recycled and recyclable materials, and adopting measures that encourage frequent hand washing to minimize the use of gloves.
Read all about it here.
Iberostar Resorts Include (Riviera Maya):
Iberostar Paraiso Maya
Iberostar Paraiso Lindo
Iberostar Tucan
Iberostar Paraiso Beach
Iberostar Paraiso del Mar
Iberostar Cozumel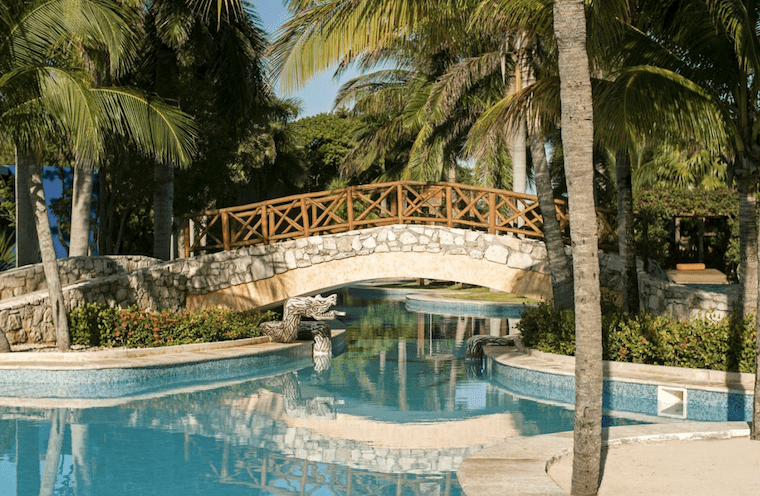 What to expect:
New cleaning measures and protocol
Safe buffet with a single touchpoint
Hotel occupancy max of 70%
Large natural spaces
Fewer tables
Focus on room service
Entertainment and activities with limited capacity and reservation only
Digital check-in
Touchless experiences
5. Poll Your Guests
What do I mean by this?
Well, you might be okay with travelling during COVID but how do your friends and family feel about it?
If you have your heart set on having all your nearest and dearest at your event you need to find out who is game before the major planning begins, right?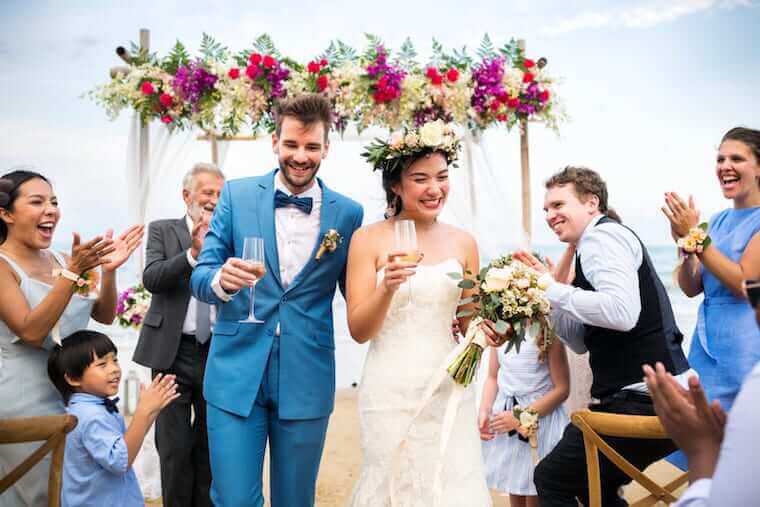 There are two easy ways to do this: 
Using either of these tried and tested methods will easily help you create a simple poll with a yes and no RSVP option to send out to all your guests via email in bulk.
You can have a response in minutes!
6.  Planning Your Activities
As the world opens back up for business tours and activities in the region have all had to change how they do what they do.
The details are ever-evolving and the best thing to do would be to call us directly on our toll-free number 888-537-9797 or email us at customercare@playadelcarmen.com.
Top tours as of October 2020 include: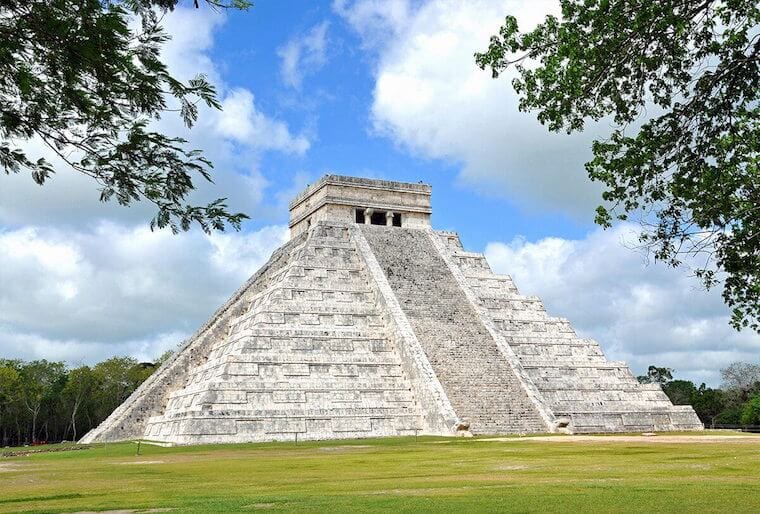 With reduced capacity, it's more important than ever to book things to do in advance to get organized.
Our Travel Liaisons will help guide you through the creme de la creme of tours for you and your group.
Don't let Rona' rain on your parade… because she certainly isn't raining on ours anymore. It's all sunshine and good vibes on our end.
Read my "Tours With The Best Safety Standards" blog here.
7. How To Plan Your Beach Trips
If the resort you are looking at booking has its own private beach, then, of course, you will get to enjoy the lush sands it has to offer no questions asked.
However, if you want to venture out to explore some of the public beaches there may be different rules in certain areas – so it's just something to be aware of.
Most public beaches in the region reopened on Aug 20th, 2020 as part of a test program after months of being in complete lockdown.
This includes: 
Playa Paraiso (Tulum)
Xcalacoco (Playa del Carmen)
Punta Esmeralda (Playa del Carmen)
Playa 88 (Playa del Carmen)
As far as our team is aware:
Some of Cancun's public beaches are still shut
Some of Playa's public beaches now reopen for tourists
And Tulum's public beach is completely reopened for tourists
Parts of the Quintana Roo's shoreline are still under review but we expect this to change over the coming weeks.
For the latest please contact us via customercare@playadelcarmen.com
8. Mask Rules & Regulations
All of the hotels have different rules so to be 100% sure I would advise reaching out to us directly to confirm with the hotel as things are changing all the time.
Generally, when exploring, locals and tourists here are wearing masks in public spaces such as the supermarkets and shared spaces (public transport, hotel lobbies, etc).
You do not have to wear a mask at the pool or in restaurants and bars when you are sat down at your table.
Pools will have capacity limits and lounge chairs, umbrellas, and seating, etc will all be safely distanced apart.
The frequency of cleaning the pool and Jacuzzi areas will be increased, and water disinfectant products that are appropriate to the current situation will be used.
9. Quarantining Information
Currently, you do not have to quarantine in Mexico for two weeks when you arrive.
However, I will say that there are different rules for different home countries on your return trip…
So you need to check with your ruling government which countries are on the quarantine list and which aren't as you may still need to quarantine when you return home for 2 weeks.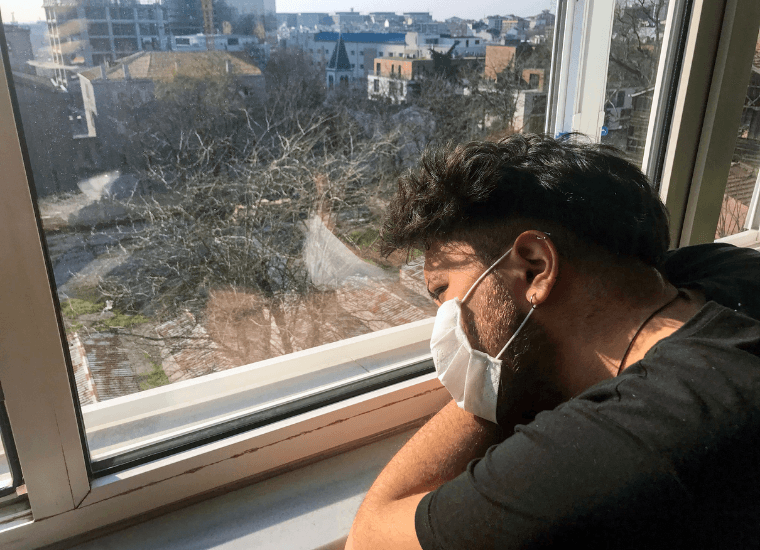 Which of course would mean booking some extra time off, etc.
10. Additional Regional COVID-19 Information You May Find Useful
I think that's everything for now?
I'll make a habit to update and edit the post as new information comes in.
If you have any questions or comments please leave them down below I'd be happy to answer them for you ASAP.
Here are some extra bits of regional information that I believe you will also find useful, I hope it helps! 🙂
11. Choose A Wedding Planner Who Has Your Back
We want our wedding couples to know that whatever happens, we're here for you.
When the news of the pandemic came, we were just as devastated as our brides and grooms to see how many people had to postpone, rearrange, or cancel their special day altogether.
We worked closely with the hotels to offer our wedding couples to simply keep the rate and change the date.
Because we know how close you hold these occasions to your hearts, and all the planning efforts that go into them… we're not here to add more stress to your life, our job is to make it the most enjoyable and memorable day of your life. 🙂
So, just know, that whatever happens in this crazy life…we've got your back.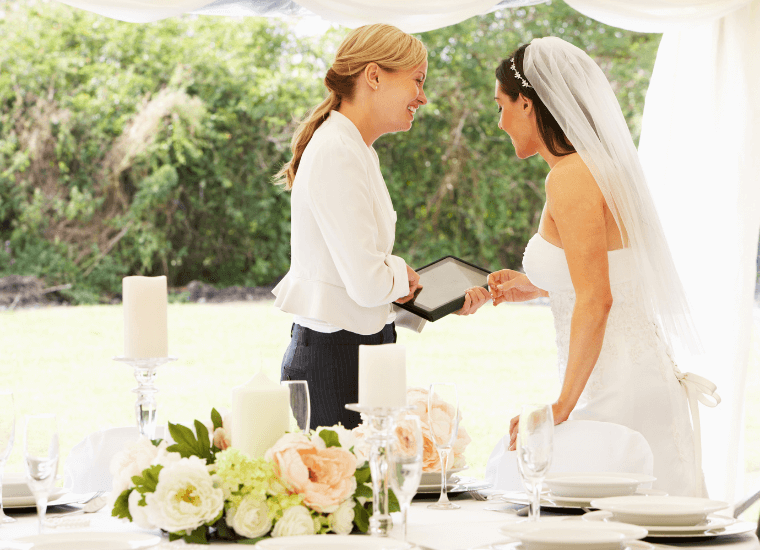 Destination weddings are at the heart of everything we do here at PlayaDelCarmen.Com.
Whether you want a: 
Symbolic Wedding
Legal Wedding
Same-Sex Wedding
Catholic Wedding
We've got you covered!
With an endless array of customizable packages on offer, our expert wedding coordinators are excited to help you plan the wedding of your dreams – stress-free!
It's time to bring your vision to life.
I mean, what better way to distract yourself from all the crazy than getting stuck into magical wedding plans?!
The Reviews Speak For Themselves
Why choose us?
Over the years we have helped to plan 100s of special events in the region, and the reviews really do speak for themselves.
We know the lay of the land and the resorts better than anyone!
Follow us on Facebook to find out more, or visit the wedding section of a blog for tons of updates and useful information.
If you prefer to speak to an actual human and want to get to know us we are only a phone call away 888-537-9797.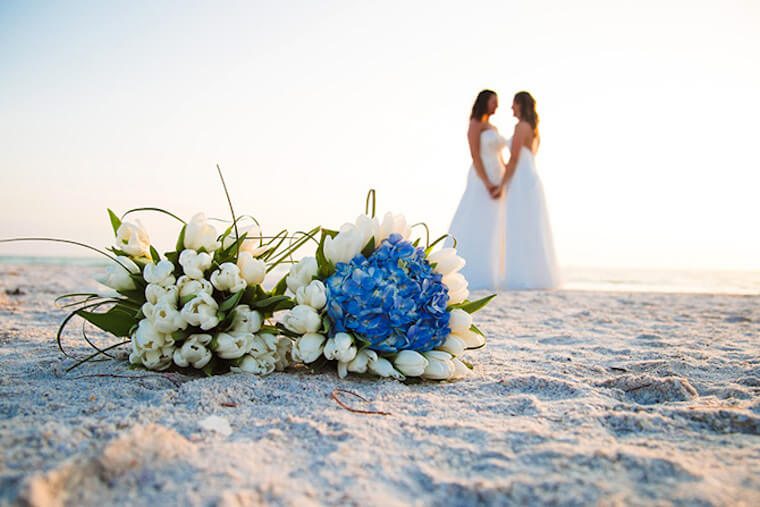 Our team of dedicated destination wedding coordinators is made up of: 
Mexican Nationals
USA nationals
British nationals
Ukrainian nationals
French nationals
Canadian nationals
So rest assured we will assign you a planner who "gets you" and your vision.
Don't Let Miss Rona' Rain On Your Parade
If you're ready to take a stand and get on with your life we are here to help guide you through the destination wedding process.
Whether you're looking to book a last-minute wedding for 2023, or are planning for the future in 2024 and beyond, our team of an incredible wedding, coordinators are here to help.
You deserve the perfect day! 🙂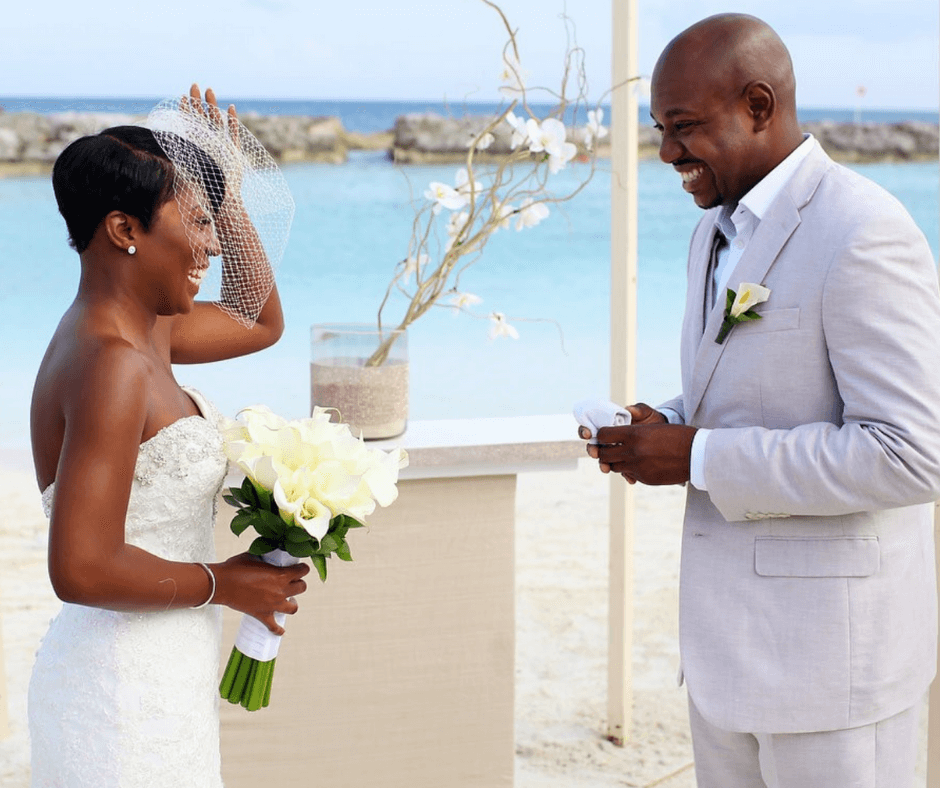 And at PlayaDelCarmen.Com our dedicated wedding coordinators can help make that happen.
There are an endless array of packages and optional extras to choose from at each of the hotels, based on your vision and your budget our experienced team can help you choose the right one for you and your group.
We've planned 100s of spectacular events in the region. As locals, we are unbias and know the lay of the land better than anyone.
We'll be with you every step of the way.
Call us toll-free 888-537-9797.
Or
Contact us via email at weddings@playadelcarmen.com
Add Your Comments
What did you think of our post?
Did we answer all of your questions?
Share your thoughts with us in the comments section below, we would love to hear from you.
---
Trending Now