The Ultimate 1-Day Guide to Playa Del Carmen – What to Do in 24 Hours
---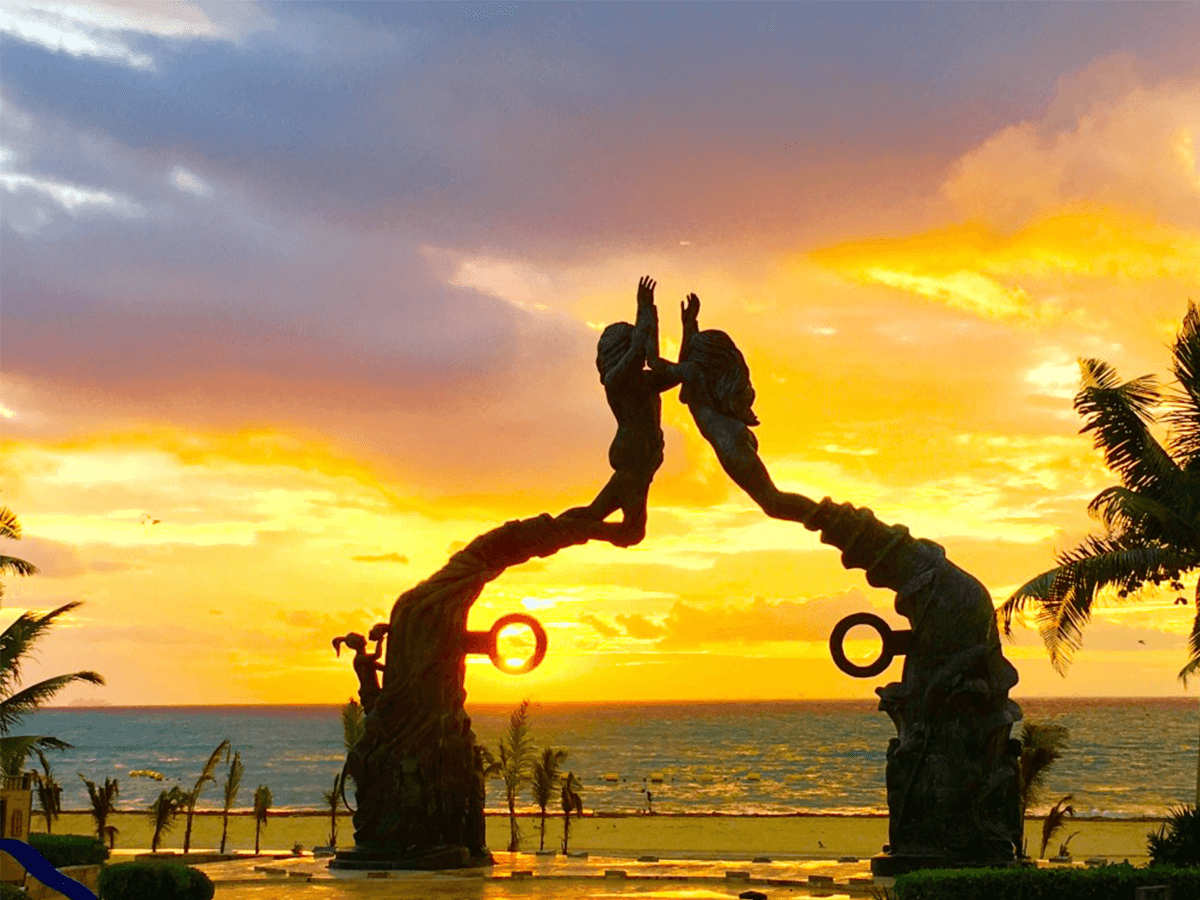 You only have 1-day in Playa del Carmen?
Not to worry!
Here's how to spend it well.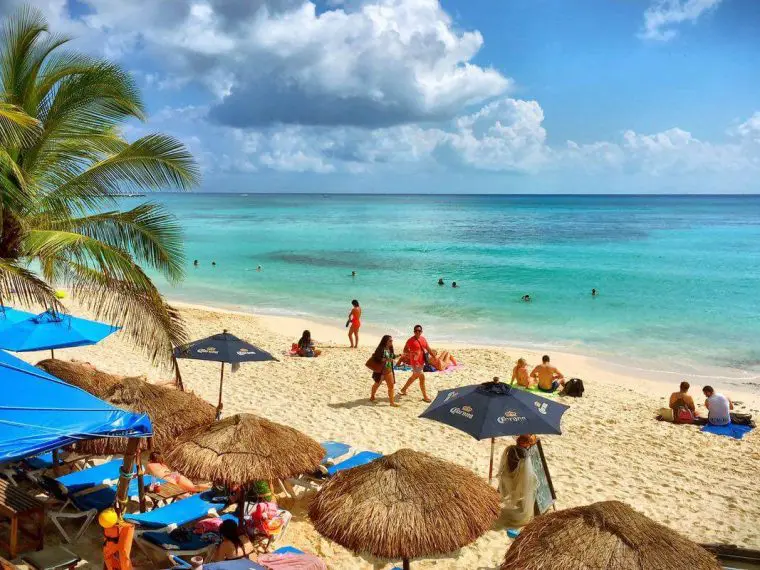 The Time Crunch
Obviously, we would love to have more time with you to show absolutely everything this beautiful slice of paradise has to offer!
I've done these 1-day trips and live in Playa del Carmen.
I understand you want to pack as much into your trip as possible, which means navigating and moving around the stretch of coast called the Riviera Maya.
Many people visit Playa on a 1-day trip from Cozumel, or as they are passing through on their way from Cancun–Tulum.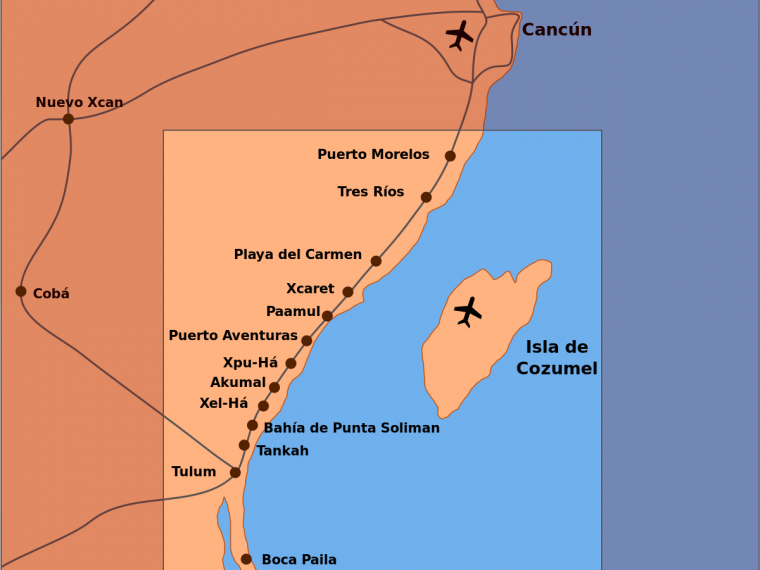 With so much to see and do and in such little time, we thought we'd help you out a little by outlining the highlights of our beautiful city.
In this convenient itinerary that you can bookmark on your phone, we'll cover everything you need to know.
My 1 Day Guide Covers Everything
Food and beverage (best places to eat and drink).
Accommodation, guide, tips, and recommendations.
Experience, tour & activity guide, tips, and recommendations.
Shopping.
Transport.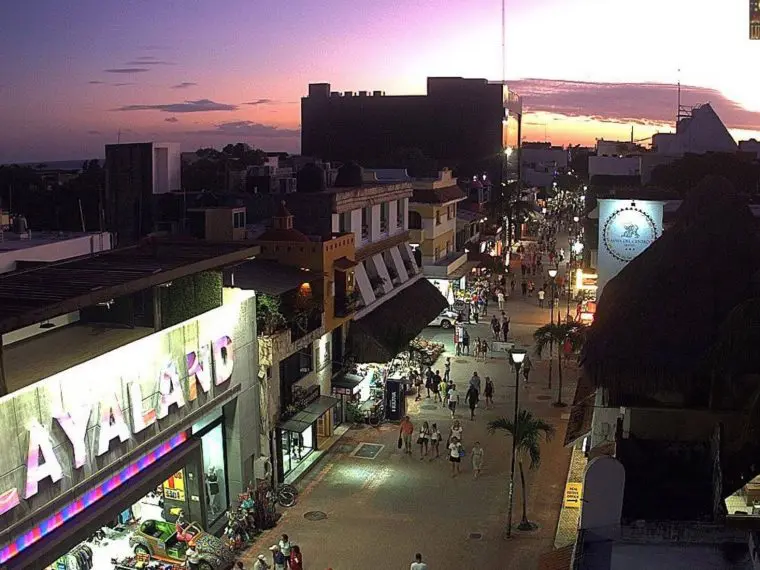 Well Done!
I give credit where credit is due.
So firstly, let me congratulate you on venturing outside your comfort zone, it's easy to become mesmerized by the impressive resorts that overlook the crystal clear waters of this turquoise ocean.
Trust me, you'll be rewarded in abundance.
When you decide to explore the landscape beyond your hotel walls, that's where the real magic happens.
Mexico has such much to offer, and yes it's safe! Probably safer than your hometown, so stop letting the media scare you into submission otherwise you are going to miss out.
You'll soon discover the lush greenery of the tropical Mayan jungle and coastlines of the Carribean like never before.
Here's What the Perfect 1-Day in Playa Del Carmen Would Look Like
Follow this express itinerary step-by-step to ensure you get the very best out of your 24-hours in Playa del Carmen.
At the end of this article, I will leave the full breakdown of the optional tours, places to eat or drink, and shopping attractions that you can choose from at your own free-will.
Navigating a new city can be overwhelming (especially in just 24 hours).
With my help, you'll marvel at some of the world's most incredible natural wonders, tantalize your taste buds with delicious new flavors, and of course, find out where to take some well-deserved RnR to soak up the glorious sunshine of the Caribbean.
The Fun Starts Here!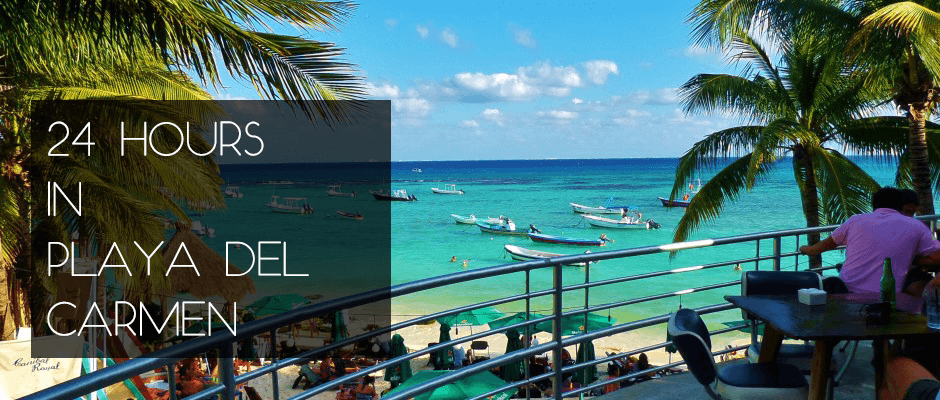 First off, welcome! 🙂
Morning (6 am – 12 pm)
7.00 am – Breakfast
Fuel up for the day ahead at Imprevist!

There's no better place for breakfast in Playa del Carmen. Here you can get a 3 course breakfast for just over 200 pesos. ($10.50 USD)
Here's what's included:
freshly squeezed juices
coffee
fruit platter
yogurt, and granola
a basket of sweet bread
plus a main dish from the menu.
I would highly recommend trying the Mexican 'Sopes'.
One word, delicious!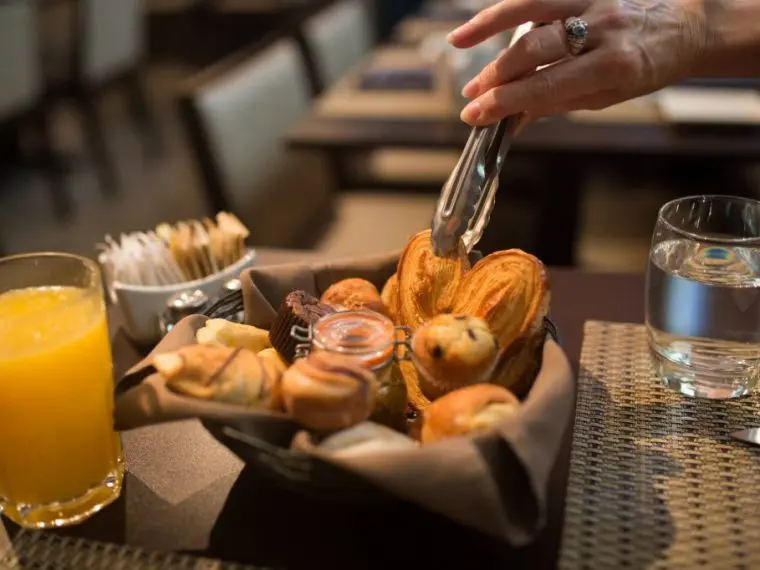 8.30 am – Jungle Buggy Adventure
From there make your way to the Jungle Buggy HQ (please note you will have to book this tour at least one day in advance).
Take a taxi from Imprevist ( which takes roughly 6 minutes), and head to Constityentes where Jungle Buggy HQ is located.
You have to be there by 8.30 latest so please allow enough time.
The address of Jungle Buggy HQ:
Avenida Constituyentes calle 65
Playa del Carmen, Quintana Roo 77710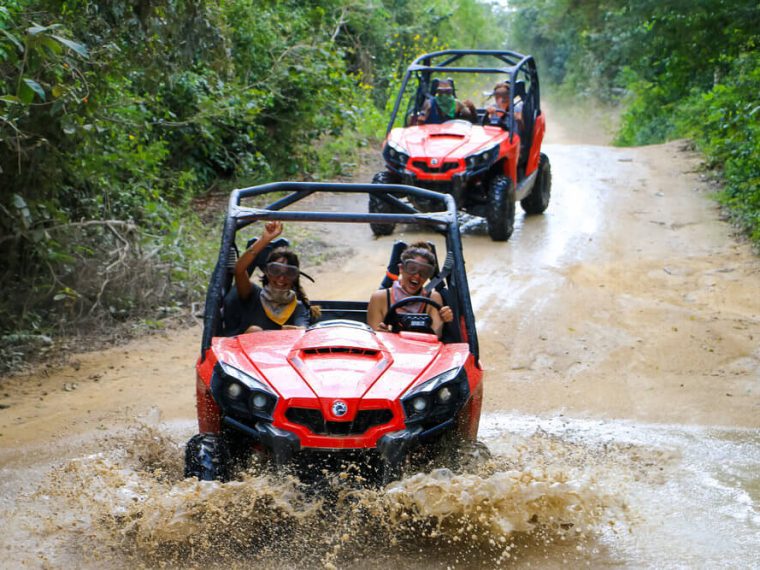 On this tour, you'll race your way through the jungle, see a beautiful cenote, and visit a Mayan village.
More details + video in the full breakdown at the end.
Things you'll need to bring: 
 a change of clothes
swimwear
eco-friendly insect repellent
towel
extra money for gratuities
Afternoon (12 pm – 6 pm)
2.30 pm – Shopping on 5th Avenue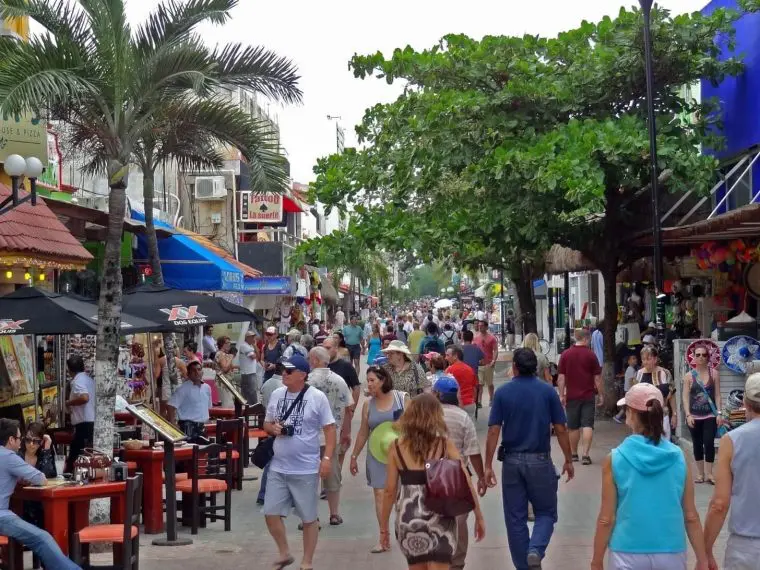 This is your time to wander and get all your souvenir shopping done.
You'll find all kinds of different shops lining the streets, so don't worry there is something for everyone (even your husband who probably hates shopping).
You can rest assured you won't get lost because it's just one long 5-mile strip that runs in a straight line dedicated to all your touristic needs.
3.30 pm – Sightseeing
Things to keep your eyes peeled for along 5th Avenue:
Frida Kahlo Museum.
3D Museum Of Wonders.
Playa del Carmen's iconic statue.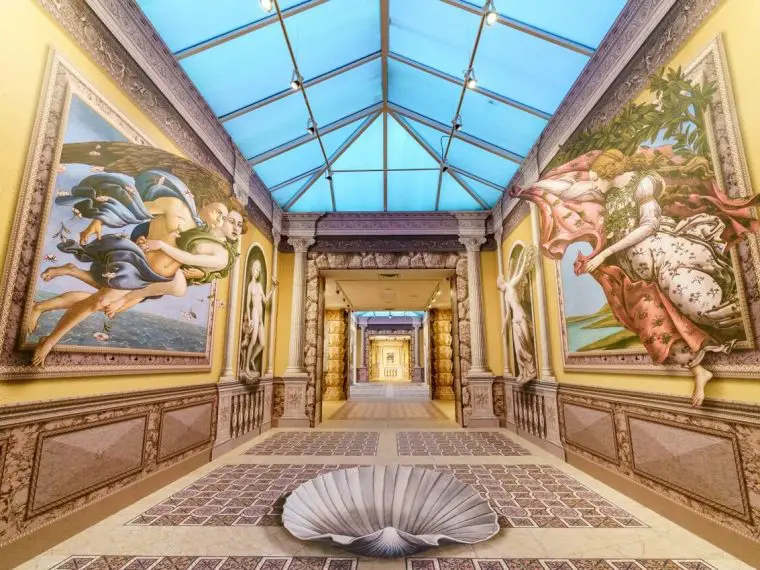 Depending on the season, the sun will be setting soon be sure to head to the beach to see this!
It is also a great photo opportunity.
Totally gram-worthy!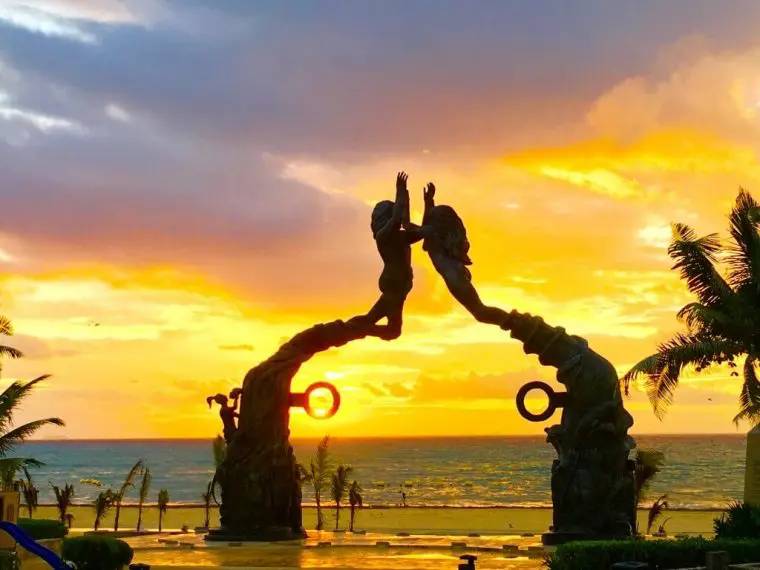 We told you. 😉
Evening (6 pm – 12 am)
7.30 pm – Dinner at  Las Hijas De La Tostada
After all that walking you are sure to have worked up an appetite! It's time for food.
Las Hijas De La Tostada is one of the tastiest eateries along 5th avenue.
Don't worry if you haven't had time to go back to your hotel to freshen this place is super chilled and casual but does not by any means compromise on value and flavor.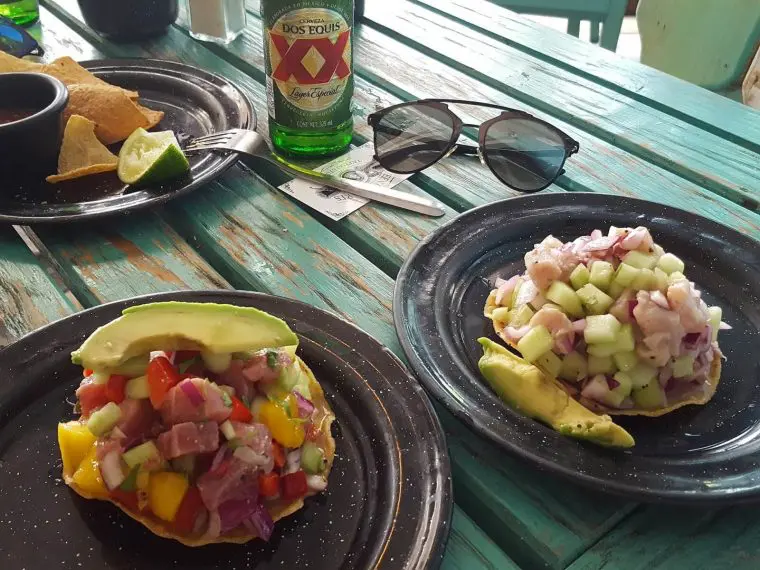 You can expect the finest ingredients all carefully crafted together to create interesting, flavorsome, and unique Mexican dishes.
9.00 pm  Stroll / Freshen Up
After your meal, it's nice to witness Playa del Carmen at night, it's a completely different vibe and you'll get to see the city in a new light.
Take a leisurely stroll back to your accommodation where you can freshen up for the evening's events.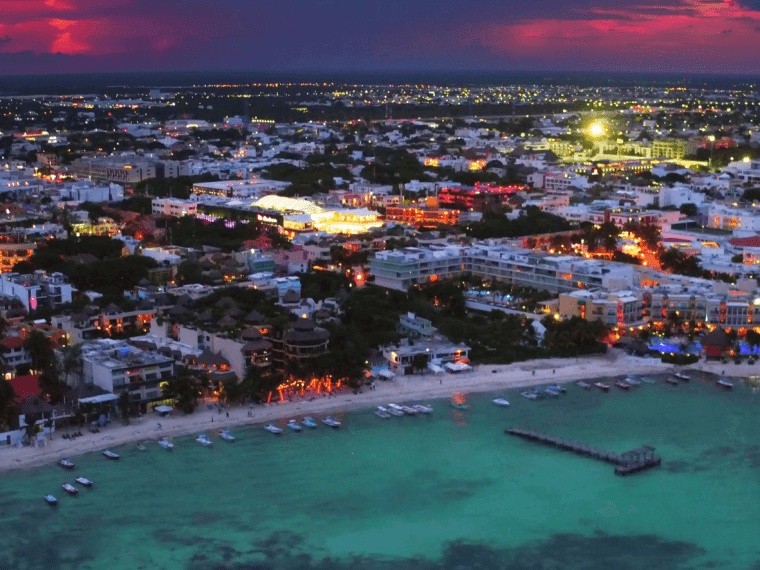 Breathtaking!
10.30 pm – Coco Bongo
Time to experience the party phenomenon EVERYONE raves about!
Book your tickets here: Coco Bongo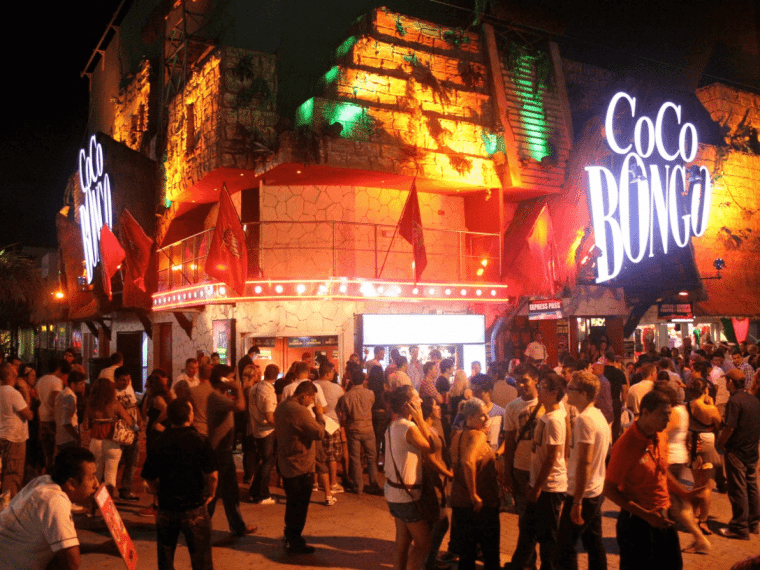 You can find more on what to expect detailed below, but this is one tour you can't miss out on, no matter your age!
You're guaranteed one hell of a night and you can expect to leave covered in confetti. There is a range of ticket options available depending on whether you want your own table or not.
Food & beverage guide, tips, and recommendations
You're in Mexico. One thing is for certain, your diet has been compromised!
But hey ho! That's fine, you're on vacation and everything in moderation, right?
Okay, good.
Because Mexico is famous for having some of the tastiest food in the world for dirt cheap prices. It's just knowing where to look.
For inexpensive food and beverage: Head to a roadside taco stand. I know what you're thinking, hear me out! You 'don't want to get food poisoning', right? It's a myth. I have lived here just over 7 months and not once have I gotten ill and I live off tacos. Do not be put off by the exterior, the food here is guaranteed to be delicious, and it will cost you under 100 pesos,  a measly 6 dollars. Just be wary of anything that says 'Picante', it means up spicy! The trick…choose a busy taco stand 😉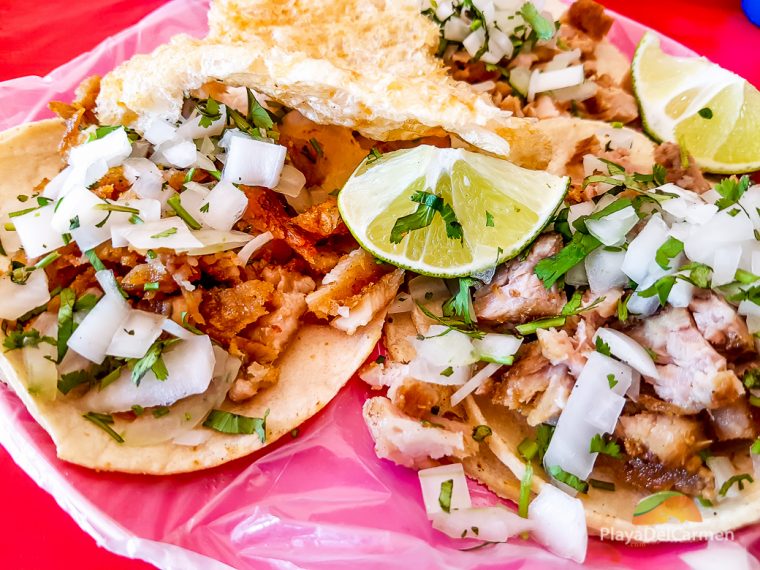 Staying at all-inclusive is great, but you need to escape the confines of your a la carte buffet at least once, I don't care how darn good you deem it. Go and taste the real Mexico, you won't regret it. Also, you have to try horchata it's a traditional Mexican vanilla flavored soft drink, try it!
I can't give you a list of my favorite taco stands as they move around, but don't worry they are not in short supply, keep your eyes peeled,  you'll find one.
Moderately priced meals: My guess is that you've probably heard of 5th avenue, and we'll get to that later. But we're looking for moderately priced food and beverage right now, and you can find that on any street that tangents slightly off from 5th. Don't worry, you're not going to get lost, it's impossible. Playa is one big grid.
For moderately priced meals, you're looking to pay anything upwards of 200-400 pesos (10 dollars).
Top picks:
Choux Choux (vegan and organic options).
Imprevist (great for breakfast).
Rey David (Italian).
Expensive meals: 5th Avenue is famed for having some the best restaurants line its street. Although we categorized these restaurants as 'expensive', let's be honest, it's really nothing compared to the food you'd pay for back home.
It's expensive for Mexico.
Top picks:
Harry's Bar & Grill (meat lovers).
Oh La La (Mediterranean).
Passion (Spanish)
Drinks
While you're here,  I don't care if you 'don't like it', you have to try Tequila and Mezcal, you may be pleasantly surprised.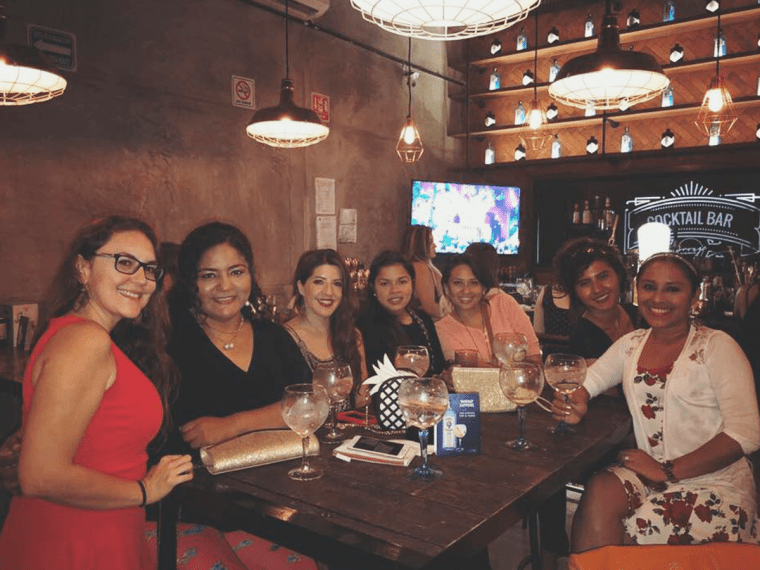 Top tip: Ladies, you're in luck. You can drink for every night in Playa for FREE! Yes, that's right for FREE!
Check out our guide to ladies night to find out where.
Accommodation, guide, tips, and recommendations.
You're in Playa for one night and you need a place to rest your head, where do you go?
Obviously, if you are visiting spontaneously you might want to stay in a hostel depending on the season because most hotels may be booked up.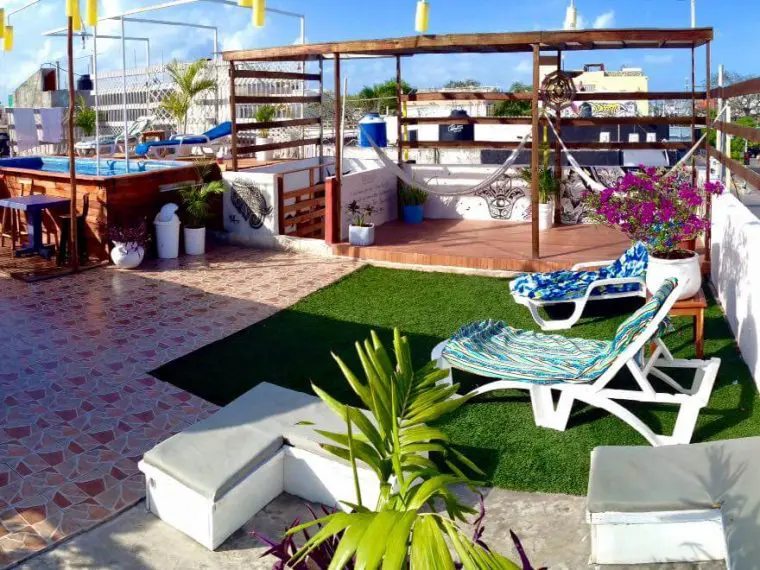 If you've never stayed in a hostel before you may be thinking 'whoa, I don't know if I can do that', trust me you can, and the ones here in Playa will exceed all of your expectations, and they are SUPER cheap. Read our full guide to the hostels here in Playa here.
Another option would be to check out this Facebook page. If you post on here you're guaranteed a response in a matter of minutes/hours and you'll be inundated with messages offering you to rent a room for the night.
Hotels definitely are an option if you're planning in advance.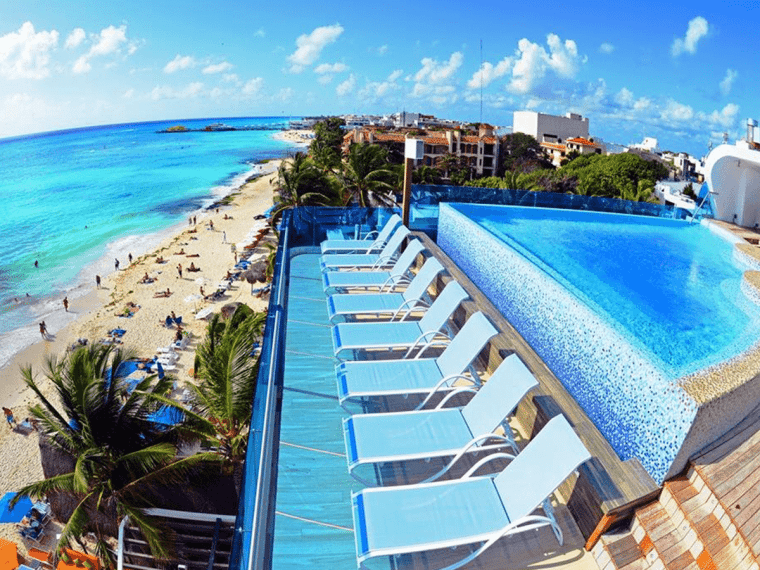 Top picks (for staying downtown):
Not all-inclusive:
The Thompson ($$$)
The Carmen Hotel ($$)
Aldea Thai ($)
All-inclusive:
Experience, tour & activity guide, tips, and recommendations.
With just 1-day in Playa del Carmen, you don't want to spend all day elsewhere doing tours without actually exploring the city. What's the point of that?
That's why I've personally selected my two favorite tours unique to Playa, one is in the morning, and one is in the evening, and they will only take up a few hours of your time. They're awesome!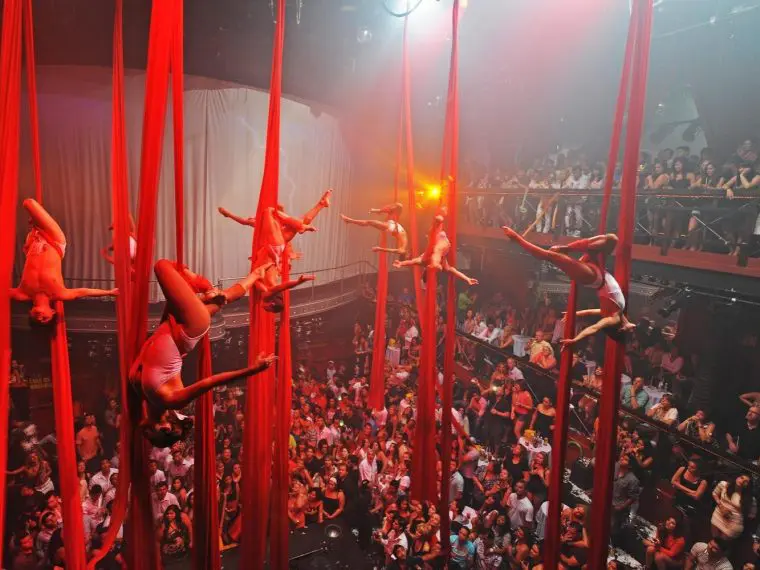 – Jungle Buggy
(4 hours – action-packed tour).
The jungle trails in Playa del Carmen are unlike anything you will see anywhere else in the world.
Spend the morning racing through the lush tropical greenery, before arriving at one of the most stunning cenotes in the world.
Here you'll enjoy a bite to eat before exploring the magical underwater world of Mexico.
Be enchanted by the series of caverns and learn about the fascinating history of how they came to be.
From there, you'll head to a poverty-stricken Mayan Village. This part of the tour is a real eye-opener and is sure to leave a handprint on your heart for life.
Read my latest jungle buggy review from 2017 here.
– Coco Bongo
If you like to party, then look no further!
Coco Bongo is a must while you are here. Experience the event that everyone raves about!
The doors open at 10.30 pm and the party continues into the early hours of the next day.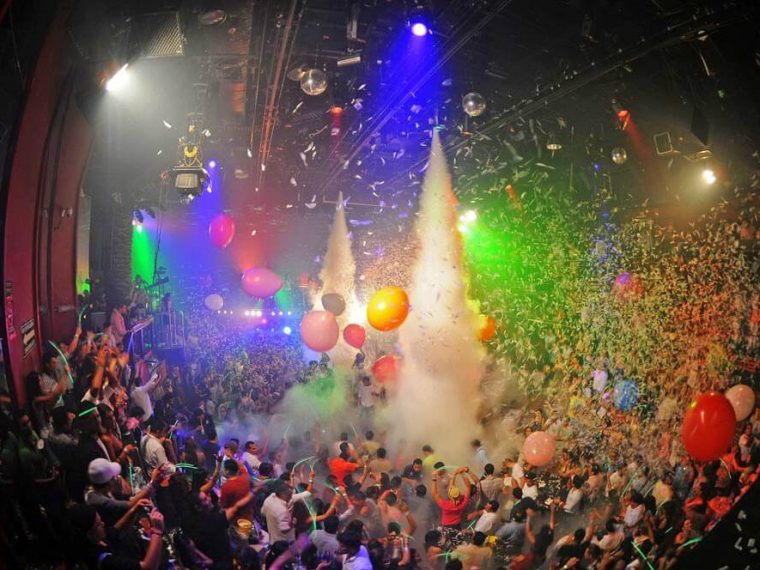 It is more than just your average nightclub – it is a Las Vegas-style show in a disco-like environment.
Prepare for extravagant visuals on giant screens, the latest music, as well as the favorites from the 60's, 70's and more.
There is something to suit all ages.
Confetti, bubbles, and balloons also add to the incredible ambiance. See what Coco Bongo is like.
Expect to leave covered in confetti!
Shopping
Unlike other areas of the Riviera Maya, Playa del Carmen is celebrated for boasting some of the best shopping in Quintana Roo, and the best bit is that it is all within walking distance.
The pedestrian only-treasure known as 5th Avenue is enough to satisfy all of your shopping needs.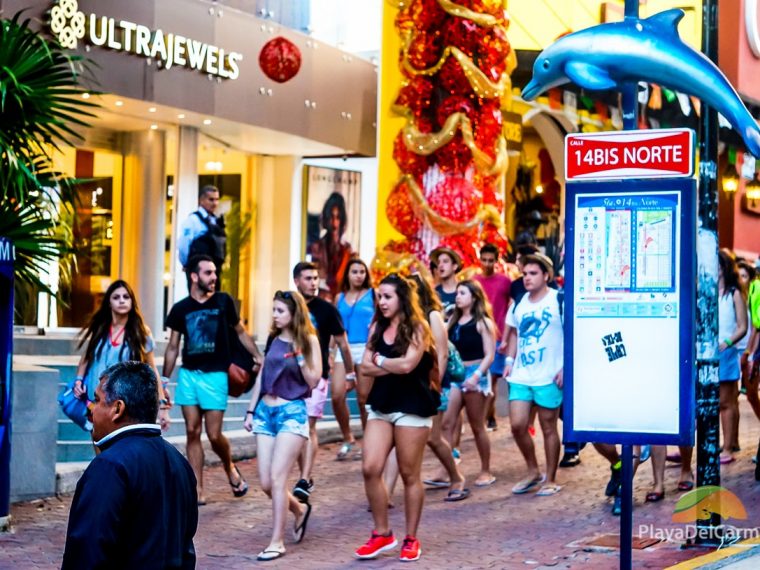 You'll find everything from high street fashion, to local souvenirs and gift shops.
Read our shopping tips for 5th avenue for a full breakdown.
Transportation
There are 3 main modes of transport in Playa del Carmen:
Taxis
ADO buses
Collectivos
The only thing you'll need for navigating the downtown area is taxis, you don't have to prebook them, you can just holla one down in the street and shouldn't expect to pay any more than 30-40 pesos for a short 5-minute journey.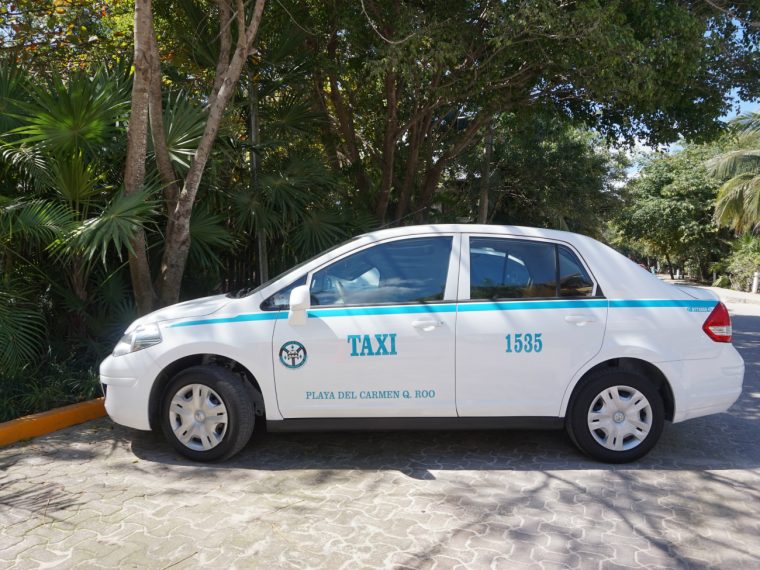 Read our 5 tips for getting a taxi in Playa del Carmen for more information.
You will need the ADO service if you plan on getting from Playa del Carmen to any of the other cities in the Riviera Maya.
Plan your trip on their website.
Navigating Playa del Carmen is very easy, even if you've never been here before. The entire city is completely walkable, however, taxis are the most popular option if you fancy a little break. If you are worried about the cost negotiate your price before you get in.
However, in general, they are extremely cheap.
We hope you enjoyed our 1-day guide to our beautiful city! Happy discovering…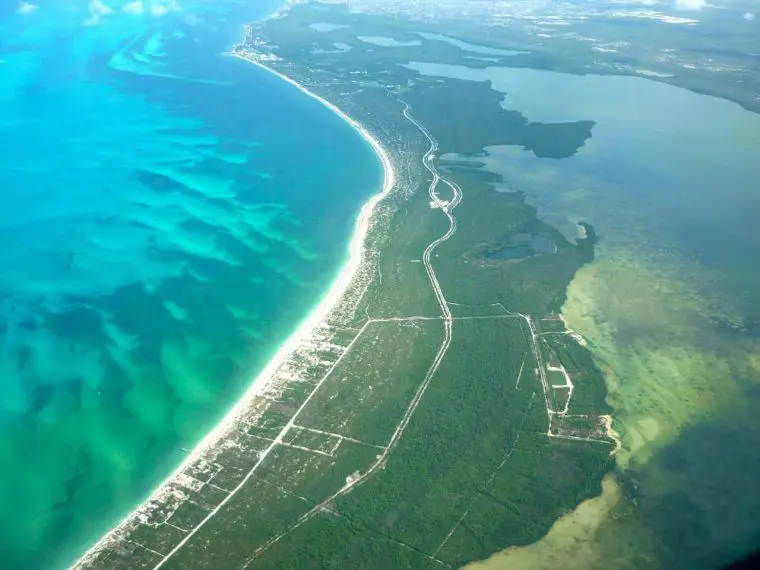 Need your questions answering?
That's what we are here for. Call us today at our toll-free number +1 888-537-9797
Or, alternatively, you can email us at customercare@playadelcarmen.com 
We hope to hear from you soon.
Playa del Carmen is an amazing place we hope you enjoy it as much as we do.
---
Trending Now