The Best Wedding Packages in Mexico | Our Top 10 Resorts
---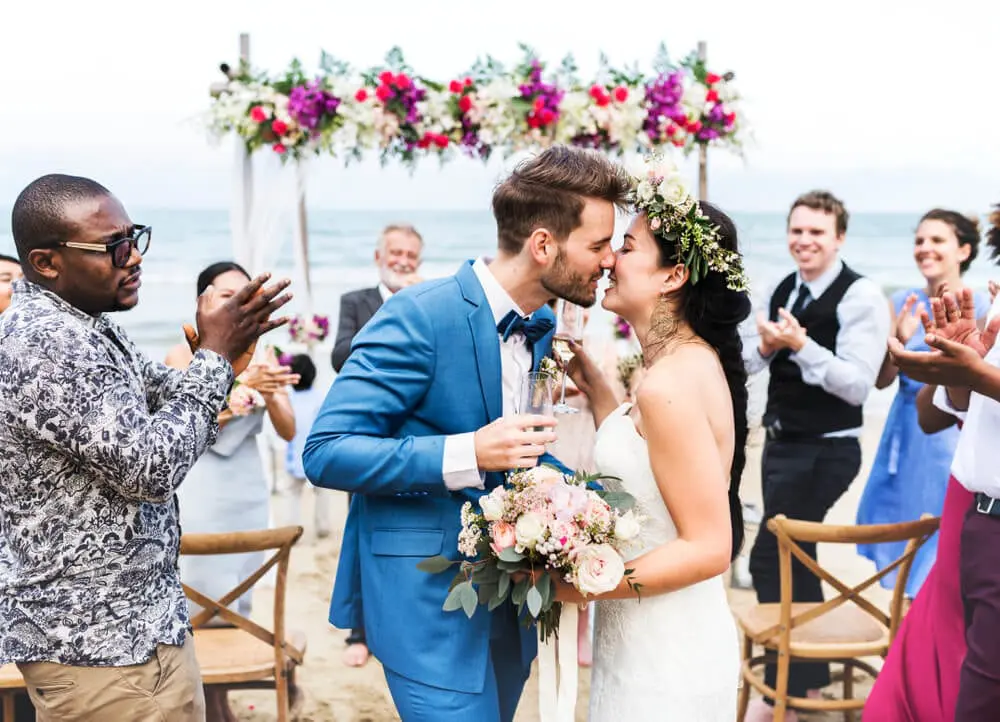 You're engaged! Congratulations! 👏
And now you want to have your wedding in beautiful Mexico,  right?
Well…
You're in good hands because we've helped organize 100's of weddings in Mexico.
Our team at Playa del Carmen Weddings have lined up the best wedding packages in Mexico just for you.
Trust me, with literally 1000's of hotels to choose from… this was no easy feat.
You'll get the best wedding packages from all the hottest locations: Cancun, Playa del Carmen, Akumal, Cozumel, Isla Mujeres, and Tulum.
After careful consideration, we managed to whittle them down into our Top 10!
Get ready……
---
10 Best Wedding Packages in Mexico
Our expert wedding planners organized this list by resort. (4 & 5 stars only)
→ See resorts & prices on our Google Map.
Don't forget…
If you have questions, just leave them in the comments section below and we'll have one of our expert wedding planners respond ASAP.
Keep calm and continue reading, we'll be with you every step of the way.
1. The Royalton Riviera Cancun
Adults only section + Kid Friendly Section | ★★★★★
Location: Cancun
Price: $4900 USD – Refined Wedding Package
Perfect for couple's who have guests with children but also want to enjoy the romantic intimacy of their commitment in a lush secluded Caribbean setting.
The Royalton Riviera Cancun is all about lavish luxury!
The hotel offers 5 destination wedding packages around $6000 + an array of wonderful custom experiences to add on if you so wish to do so at an additional cost.
The property boasts 9 restaurants, 13 bars, a children's waterpark, a casino, a gelato bar,  and much more.
At the Royalton Riviera Cancun, there really is something for everyone.
Great food options, lots of activities, luxurious rooms and a great stretch of beach. You will never want to leave.
It's sure to be an unforgettable event for everyone.
Included in the Refined Wedding Package: 
Includes 20 guests!
Additional Adult Fee (13+) – $100 USD per person
Additional Child Fee (4-12) – $50 USD per person
Refined wedding package can be upgraded to a civil ceremony with the addition of the notary fees
Wedding Stay
Personal wedding planner & onsite coordinator
VIP welcome & late checkout for bride & groom
Bride & groom room upgrade (based on availability)
"Getting Ready" refreshments & fruit platter for the bride & groom on the wedding day
10% discount on spa services for the entire wedding group
Breakfast in bed for the morning after the wedding
Ceremony
Ceremony location (excluding Sky Terraces)
Symbolic ceremony
Chairs included
Sound system for ceremony
Ceremony table with linen & tropical centerpiece
1 tropical bridal bouquet, tropical bridesmaid bouquet, tropical groom's boutonniere, 1 tropical groomsmen boutonniere
Sparkling wine toast
Cocktail Hour
3 cocktail tables with white linen
3 appetizers from our signature cocktail menus
1 hour of standard open bar service
1 hour of sound system

 

Private Reception
3-hour private reception (select plated or family-style options)
Includes 3 hours of standard open bar
Round tables with white linens
2-tier wedding cake
Cake table dressed in white linen
Personalized menu card
Read our recent Royalton Riviera Cancun Wedding review here. 
2. The Hilton Resort
Adults Only | ★★★★★
Location: Playa del Carmen
Price: $4745 USD – Lavish and Opulent Wedding Package
Most hotels in this region are remote, secluded by jungle and not much else going on around them.
Meaning you have to take a taxi to reach a nearby town or city.
Not at this hotel!
The Hilton Resort, used to be called The Royal, is just footsteps away from the famous 5th avenue located in the charming town of Playa del Carmen just 40 mins south of Cancun Internation airport.
It's teeming with quaint bars, shops, restaurants, museums, and more. Playa del Carmen is much smaller than Cancun. It's a walkable town, offering a much more relaxed and tropical vibe.
The Hilton offers a total of 4 wedding packages starting from just $455 upwards.
Although this hotel is adults-only guests with children can stay in the neighboring sister resort Panama Jack just across the road and will be allowed access to the Royal for the wedding ceremony.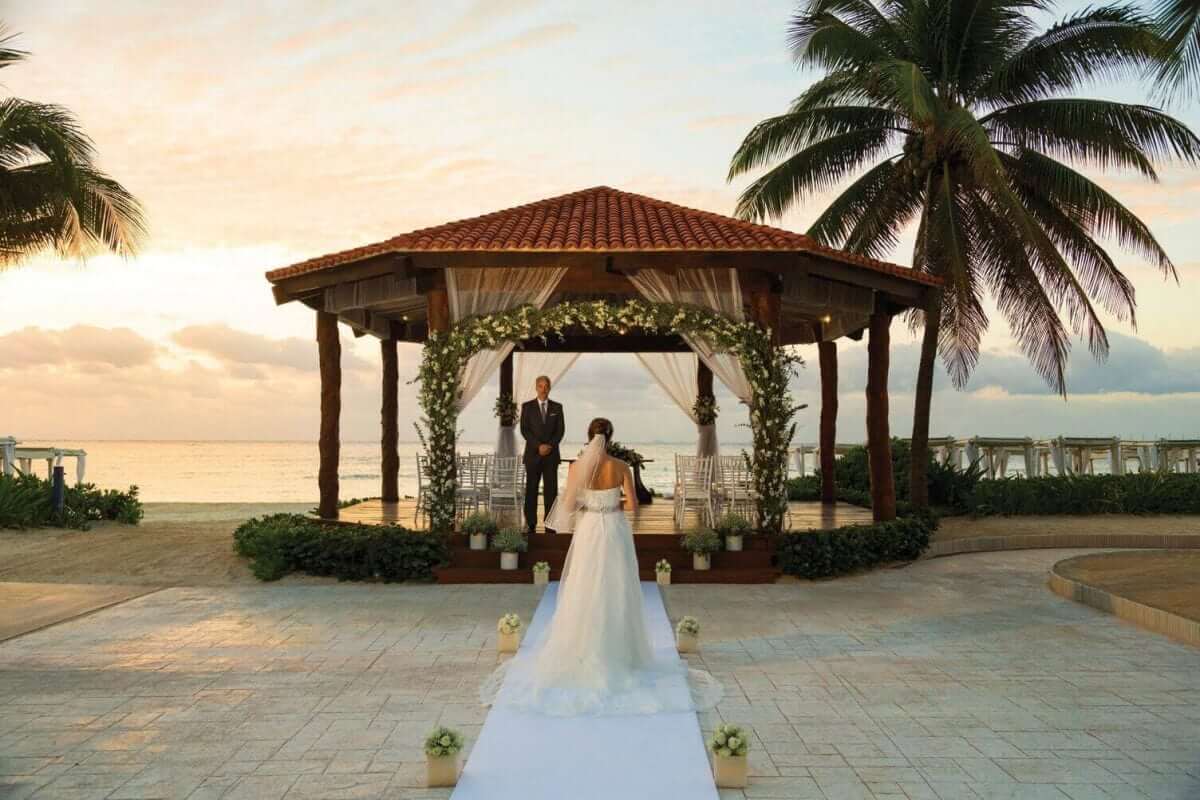 Included in the Lavish and Opulent Wedding Package: 
Professional services of an onsite Wedding Specialist.
Symbolic Ceremony / Secular Officiant & certificate Included.
Wedding Location & Aisle Runner.
Tiffany or folding chairs.
Sound system for the ceremony.
Bridal bouquet, Boutonnière, a natural floral centerpiece for the altar at the ceremony.
Champagne toast after the ceremony for the couple & up to 20 Playa Resorts guests.
Cocktail hour with appetizers and open bar (1 hour) for couple & up to 20 Playa Resorts Guests.
Private wedding reception (3 hours – 3-course menu) at select locations for couple & up to 20 Playa Resorts Guests
Wedding cake.
Special decoration of the couple's suite.
One bottle of sparkling wine in the couple's suite.
"Honeymoon" (full) breakfast.
Bottle of champagne and chocolate strawberries.
Late check-out for the Couple up to 3 PM(subject to availability).
One complimentary night for the couple when celebrating their first Anniversary.
Couples Massage (by appointment at the spa).
Hairstyling and make-up for the Bride (by appointment at the spa).
Regular manicure and pedicure for the Bride (by appointment at Spa).
10% Discount on spa services for the wedding guests (Must be booked through wedding coordinator).
Read my recent review of The Hilton here (hint) I absolutely ADORE this hotel, find out why.
3. Cabanas La Luna
Kid-Friendly| ★★★★
Location: Tulum
Price: $1500 USD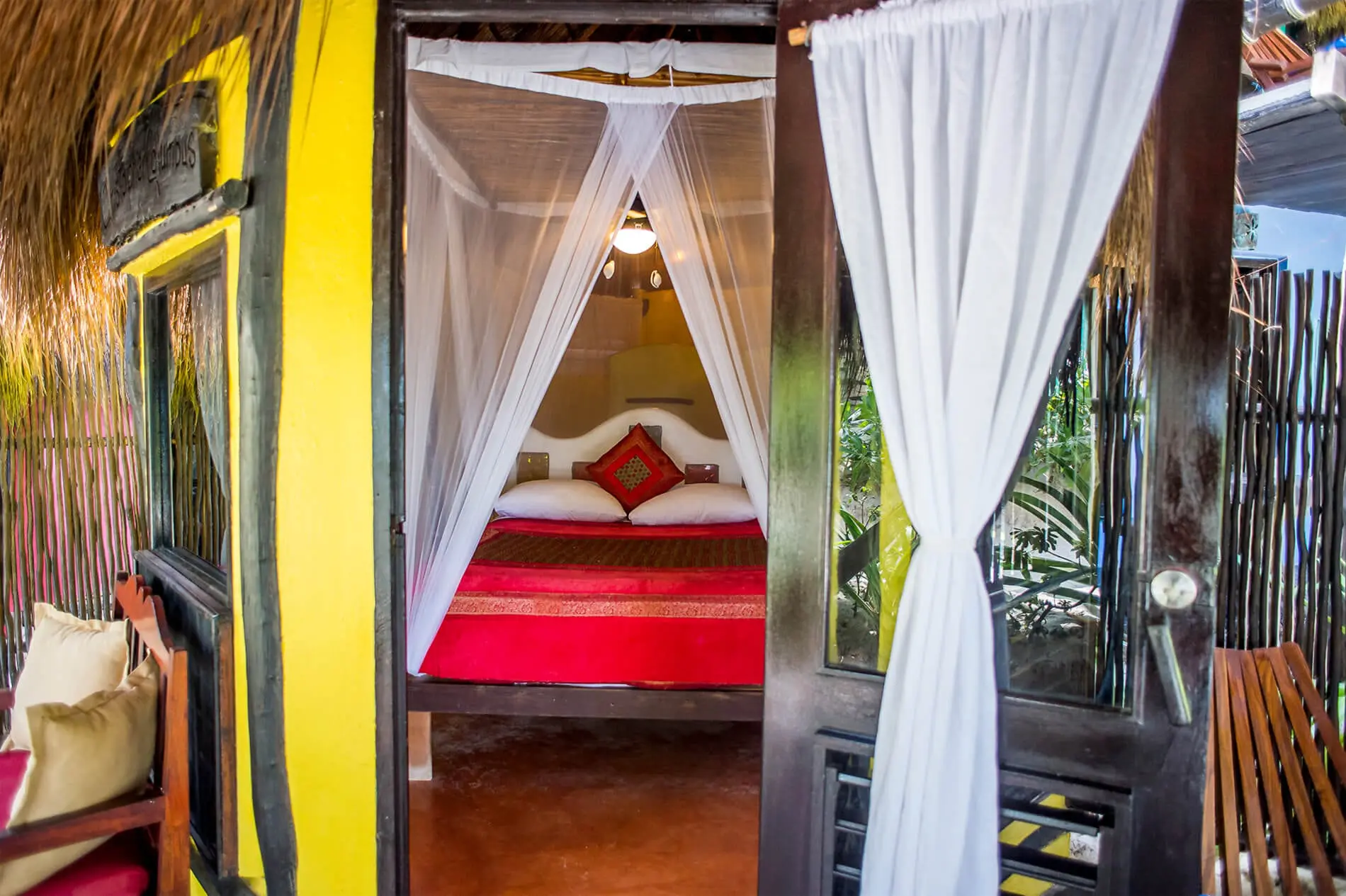 Not including a wedding permit and music permit (more details below).
In order to have a wedding on the beach in Tulum, you must obtain a permit. The additional costs of this are around $400 USD for the wedding on the beach, and if you want music on the beach this is $200 USD.
Tulum is an undeveloped town offering true tropical bliss. If you're one of those slightly bohemian couples or enjoy an eco-friendly environment there's no better location for you.
Cabanas La Luna is a fairytale come true! 
Picture a cozy settlement of colorfully decorated wooden houses on a stretch of powdery white beach where the local chef prepares food with fresh ingredients.
This property is completely self-sufficient, creating its own electricity and water supply. Pretty neat, huh?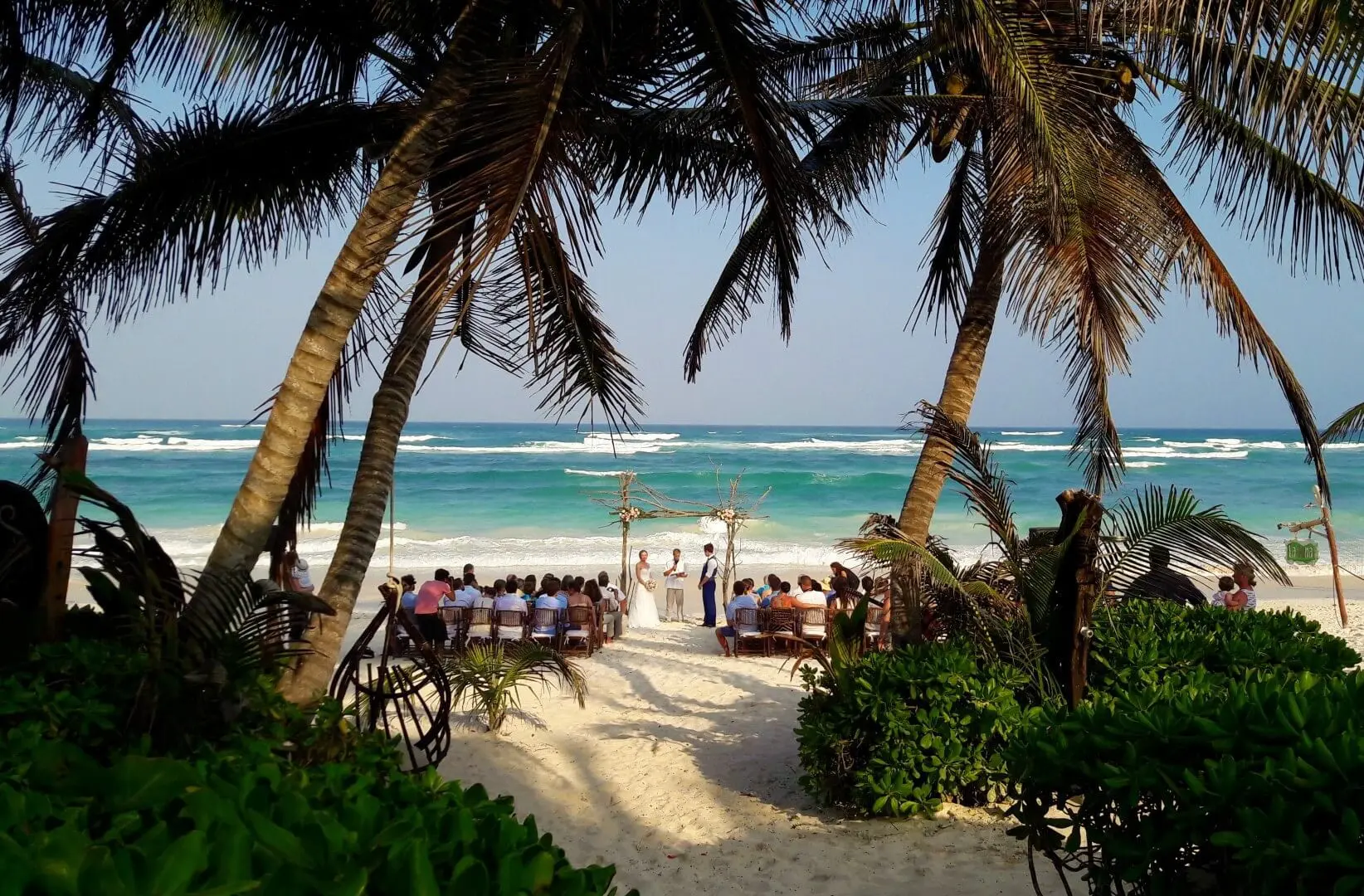 What's included: 
A ceremony on the beach.
Reception.
Dinner and party (Beach, Stone Garden, Sand Terrace, and Restaurant).
Cleaning of toilets during the event.
Maintenance and cleaning of common areas before and after the event.
Security.
Please note this pricing doesn't include:
Decoration, table linens, napkins and or runners.
Chairs for the wedding ceremony and dinner.
Flowers (centerpieces, bouquets, etc.),
Arbour
Special lighting
Entertainment
Photographers,

  V

ideographers,
Hair, makeup…
Setup and breakdown
4. Blue Diamond
Adults Only | ★★★★★
Location: Playa del Carmen
Price: $4445 USD – Blue Hope Wedding Package
The Blue Diamond Luxury Boutique Hotel is a 5* exclusive, adults-only haven!
This remarkable properties layout is unique, laid out over 36 acres you can ride your bike or golf buggy through the lush tropical jungle, manicured gardens, and palm-filled white sandy beaches.
Built along peaceful river waterways, a mystical Mayan cenote, and the turquoise blues of the Caribbean Sea, it's a unique natural sanctuary promising relaxation and rejuvenation.
At this hotel, you're guaranteed an unforgettable service, exquisite food, nightly entertainment, and activities for you to enjoy as a couple.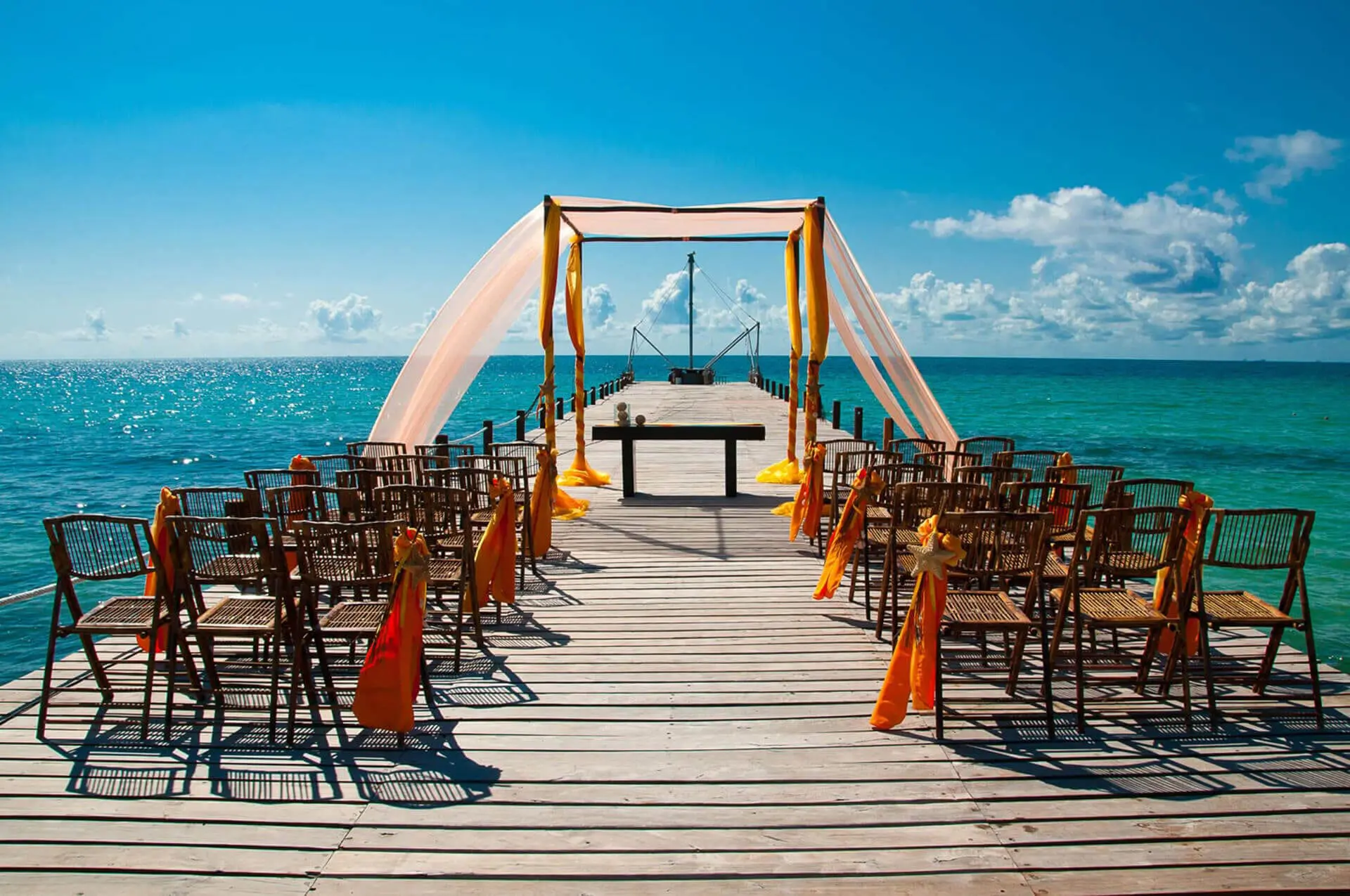 Included in the Blue Hope Wedding Package: 
In-room champagne check-in.
Wedding organization by a wedding specialist.
Room upgrade for bride and groom depending on availability.
Room upgrade for parents of the couple based on availability.
Personal dressing assistant.
Preparation and ironing of wedding dress and groom's tuxedo.
2 Wedding Menu tasting for the bride and groom.
Rehearsal Dinner at one of the A la Carte Restaurant for 12 guests.
Complimentary room for the groom the night before the wedding.
30 min relaxing couples massage.
Makeup and hairdo for the bride.
Legal or symbolic ceremony.
Beach Ceremony location.
Gazebo Decor with Tiffany or bamboo chairs.
Brides bouquet and groom's boutonniere.
Toast for 24 guests after the ceremony.
1 hr cocktail reception with Hor'Doeuvres for 24 guests.
A 2hr dinner reception for 24 guests.
3 centerpieces for the reception.
Audio equipment for 2hrs.
Wedding Cake for 24 guests.
10% discount on Spa Services for your group.
Turndown service the night of the wedding.
Strawberry tuxedos the night of the wedding.
You & Me Honeymoon package.
Late check-out for bride and groom.
I recently stayed at the Blue Diamond hotel, read my review here.
5. Akumal Bay Beach Wellness Resort
Kid-friendly | ★★★★
Location: Akumal
Price: High season $4399 / Low Season $3999 – Caribbean Dream Wedding Package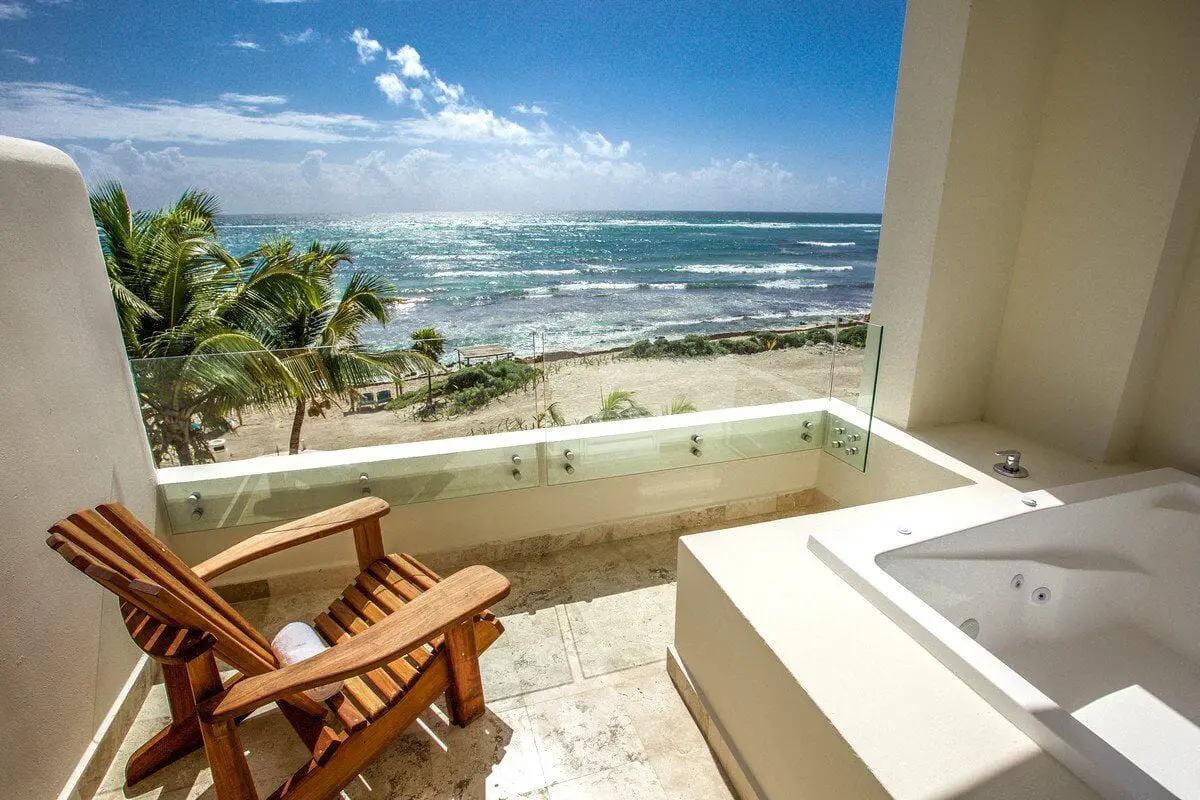 Akumal Bay Beach Wellness Resort is located in one of the Rivera Maya's most picturesque locations. It's a small town nestled beautifully between Playa del Carmen, and Tulum.
Chances are those idyllic Caribbean pictures you've stared at in awe over the years were taken here.
Akumal AKA place of the turtles is a haven for snorkeling and nature lovers.
This hotel is made up entirely of oceanfront junior suites, meaning you're guaranteed a great view! 
There are lots of family-friendly activities and services at the resort include bike-riding, a kid's club and kid's pool and organized entertainment and games.
Plus multiple pools, restaurants, and a large wellness center. It's a medium size resort but still maintains a personalized and charming ambiance.
Included in the Caribbean Dream Wedding Package: 
20 guests (including the bride and groom).
Symbolic Ceremony
Minister  (English / Spanish / French spoken)
Decorated Canopy/ Huppa with colored fabrics and two flower arrangements.
Ceremony table to harmonize your décor.
Burlap runner or wood aisle.
Toscana or bamboo chairs or benches (white or brown)
Exclusive beach venue (Labná).
Rehearsal ceremony.
Sound system for ceremony and cocktail (Microphone, Speaker & Technician)
Private cocktail after the ceremony for the newlyweds and their friends with margaritas, mojitos or sparkling wine.
Exclusive Lounge Setup for the Cocktail.
Flowers.
Bouquet and boutonniere for the wedding couple.
2 bouquets & 2 boutonnieres for the wedding party.
Flower decoration on chairs of the wedding couple.
A centerpiece for head table & 2 additional centerpieces for the reception.
A private dinner reception and international bar service in our beachfront wedding salon, sushi bar or pool area with 4-courses menu.
Candles & Holders ( lanterns, candlestick, glass votive, etc.
Charger plates.
Personalized menu card.
Wedding cake with options of the cake stand.
Sweetheart table for the wedding couple.
2 round tables or 2 rectangular vintage tables with runner or tab
Semi-private rehearsal dinner. (2 hrs.)
Private romantic dinner on the beach for the wedding couple only.
Relaxation massage for the couple (30 min)
Hairstyling & Makeup for one of the wedding couple.
Special Turndown service on the wedding night with one bottle of sparkling wine.
15% discount on the spa services for the wedding couple
Certified service of wedding planners.
Floral designers service.
Personalized wedding decoration with all that is included in the package.
Late checkout for the couple only subject to availability
Like the sound of Akumal? Discover everything you need to know about Akumal before visiting.
Back to top
6. Finest Playa Mujeres
Kid-friendly | ★★★★
Where: Isla Mujeres
Price: $2400 – Gold Excellence Wedding Package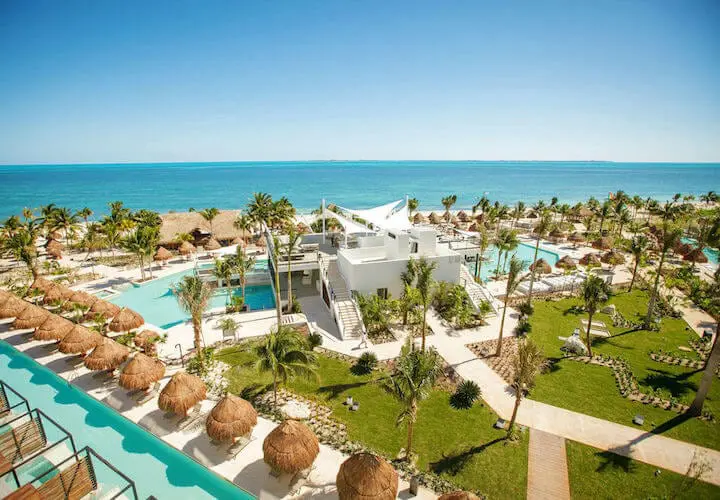 Eager to explore the islands that make this region so great?
Jet off by boat to an island just 30-40 mins from Cancun to experience true tropical bliss. Time starts to slow down the moment you step off the boat (ferry tickets are remarkably cheap and run on a regular schedule).
At this resort, you will be encapsulated by the color blue and escape the chaos of the mainland. A place you can truly enjoy your celebration.
The hotel oozes romance with options to relax in an oversized Jacuzzi for two or your very own private plunge pool,  take a sunset yacht cruise or indulge in a couples massage at ONE Spa.
Included in the Gold Excellence Wedding Package: 
20 Guests
Everything the basic packages offer and more.
Additional decor. ƒ
Up to 20 ribbons for the chairs, or a small bag of rose petals for aisle runner or fabric at the bamboo gazebo.
Upgraded Floral Bridal Bouquet and groom ́s boutonnière (Gold Section)
Upgraded boutonnieres or corsages for the wedding party (Gold Section)
Romantic or Caribbean Music trio (45 min).
Includes a set of 45 minutes of Caribbean or Romantic Trio during the Cocktail hour.
The Mexican Trio plays Mexican folklore and the Caribbean is like the Boleros.
Natural floral centerpiece during the dinner. (Gold Section)
Gold Private Reception (Standard white set up)
Private Dinner/Reception for 4 hours
Table set up:
Banquet round tables with white tablecloth and chairs with white covers. Square, long table, U shape. Banquet chairs with white covers are also included.
Menu:
Must be selected from the Love & Gold Menu.
In case of any food allergy, vegetarian or dietary restriction we will be able to prepare something different for them.
Beverages:
A premium open bar will be set up, including brands offered at any of the bars at the resort.
Video of the ceremony (15 minutes).
One Duet Balance Massage 50 min.
Harmonize and unwind with your loved one, in a balancing reflexology massage for feet and back.
Learn more about charming Isla Mujeres and what there is to do there here in my 1-day itinerary.
Trust me this island is definitely worth a visit!
7. Iberostar Quetzal or Tucan
Kid-friendly & Adults Only | ★★★★
Location: Playacar
Price: $1999 –  Silver Star Wedding Package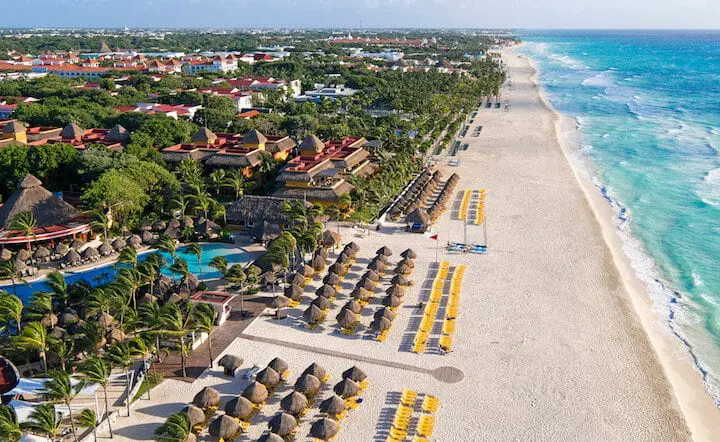 Playacar is a stone's throw away from the hustle and bustle of Playa del Carmen but is in a gated community with a much more exclusive beach and atmosphere.
Considered a place to be where the elite stays this hotel offers affordable luxury! 
The Iberostar Quetzal and Tucan are located next to one another.
With an array of ceremony locations for your big day, you will be spoilt for choice.
Both hotels offer a gorgeous stretch of beach which is very wide meaning even in peak season it never feels overcrowded.
Take a kayak or catamaran out for a spin, join a volleyball game on the beach or get in a game of tennis. The fun is endless at Iberostar resorts.
Included in the Silver Star Wedding Package: 
Price is based on up to 20 guests.
Wedding Service.
Professional services of an on-site wedding specialist.
Minister, judge or priest.
Witnesses (if required).
Venue Set-Up & Ceremony Items.
 Setup of the wedding venue (canopy, chairs, and table with white linen).
Champagne toast after the ceremony.
Flowers.
Bride's fresh floral bouquet and matching groom's boutonnière.
A fresh floral centerpiece for the head wedding table during the ceremony.
Music.
Sound system and CD player for the ceremony.
Live music (45 minutes)*.
Reception Dinner.
Traditional white frosting cake decorated with a fresh flower.
Wedding dinner in a specialty restaurant (one hour and a half).
10% discount on spa services for wedding guests (boutique purchases excluded).
8. Secrets Cozumel
Adults-Only | ★★★★★
Location: Cozumel
Price: $3299 – Secrets Ultimate Wedding Package
You've probably heard of Cozumel…and for a good reason too
Celebrated worldwide for its exceptional diving and snorkeling it's definitely an island most travelers are keen to tick off from their bucket list.
Secrets Aura Cozumel is easily accessible from Playa del Carmen where you take a short ferry journey from the pier to the island.
This gorgeous adults-hotel luxury resort offers spacious accommodations made up of a variety of ocean view and garden view room options, all with private terraces and balconies offering spectacular tropical views of the property.
It's the perfect hotel for your event, guests at your wedding who have children can stay in the neighboring, family-friendly Sunscape Sabor Cozumel.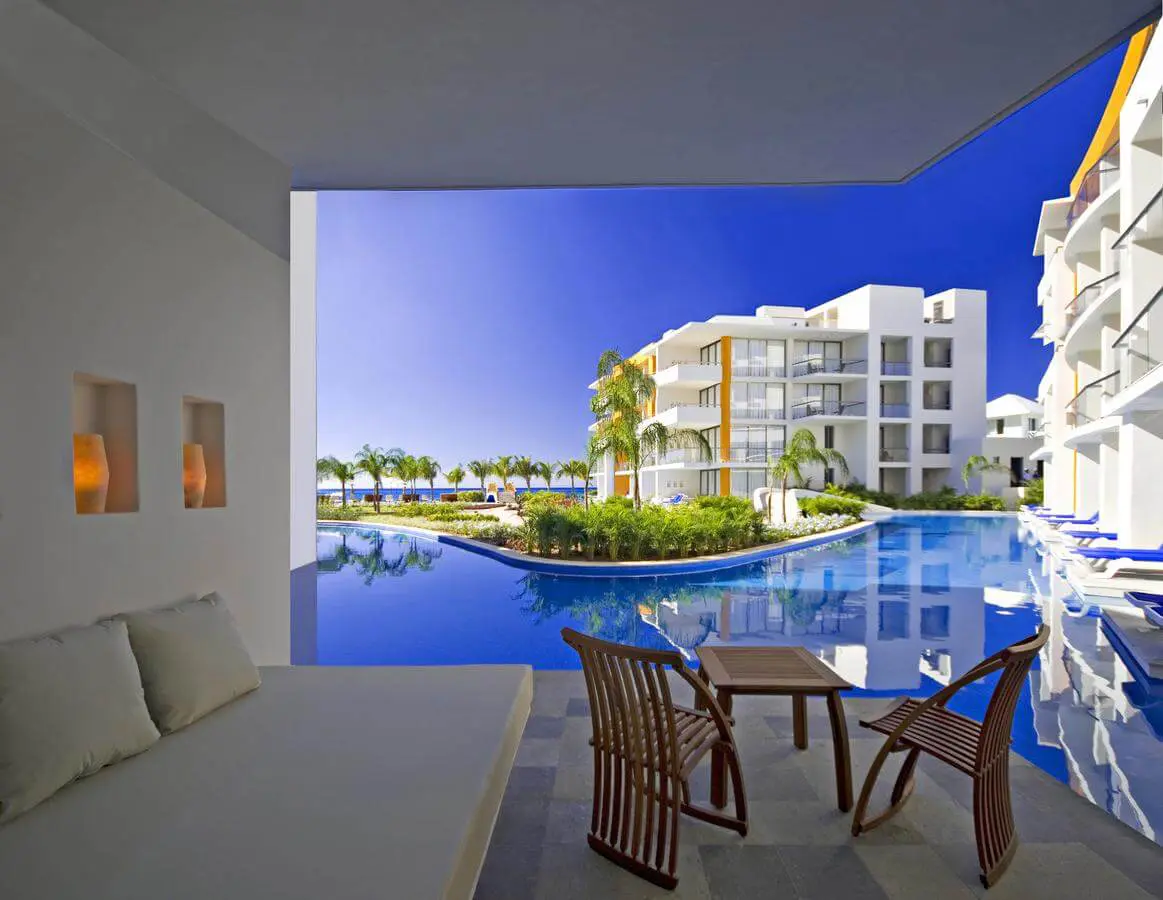 Included in the Secrets Ultimate Wedding Package: 
Wedding organization and personal touch of on-site wedding coordinator.
Service of judge or minister.
Preparation and ironing of the couple's wedding day attire.
Hairstyling and makeup application for one member of the wedding couple day of the ceremony.
Live Mexican music trio (1 set, during cocktail hour) OR guitar player for 45 minutes.
Use of the wedding gazebo or beach for the ceremony.
One natural floral centerpiece for the sweetheart table.
Natural floral centerpiece for the ceremonial table.
Gazebo décor.
20 chairs with white covers, ceremonial table, and aisle runner.
Wedding cake and sparkling wine toast (up to 20 guests).
Cocktail hour with hors-d'oeuvres with Gold Menu.
Complimentary room for one member of the wedding couple the night before the wedding.
50 full-color photos taken during the ceremony and wedding album.
Video of ceremony  (30 minutes).
Bouquet(s) and/or Boutonniere(s) for wedding couple.
Two boutonnieres and two corsages for the wedding party.
Wedgwood Vera Wang Love Knots toasting flutes.
Choice of a couples spa treatment (options to be provided by the resort).
15% discount on all spa treatments.
Boutique purchases not included.
Free Anniversary Night.
Curious about Cozumel learn more about the island here.
9. Moon Palace
Kid-friendly & Adults Only | ★★★★★
Location: Cancun
Price: $1500 – Nautical Wedding Package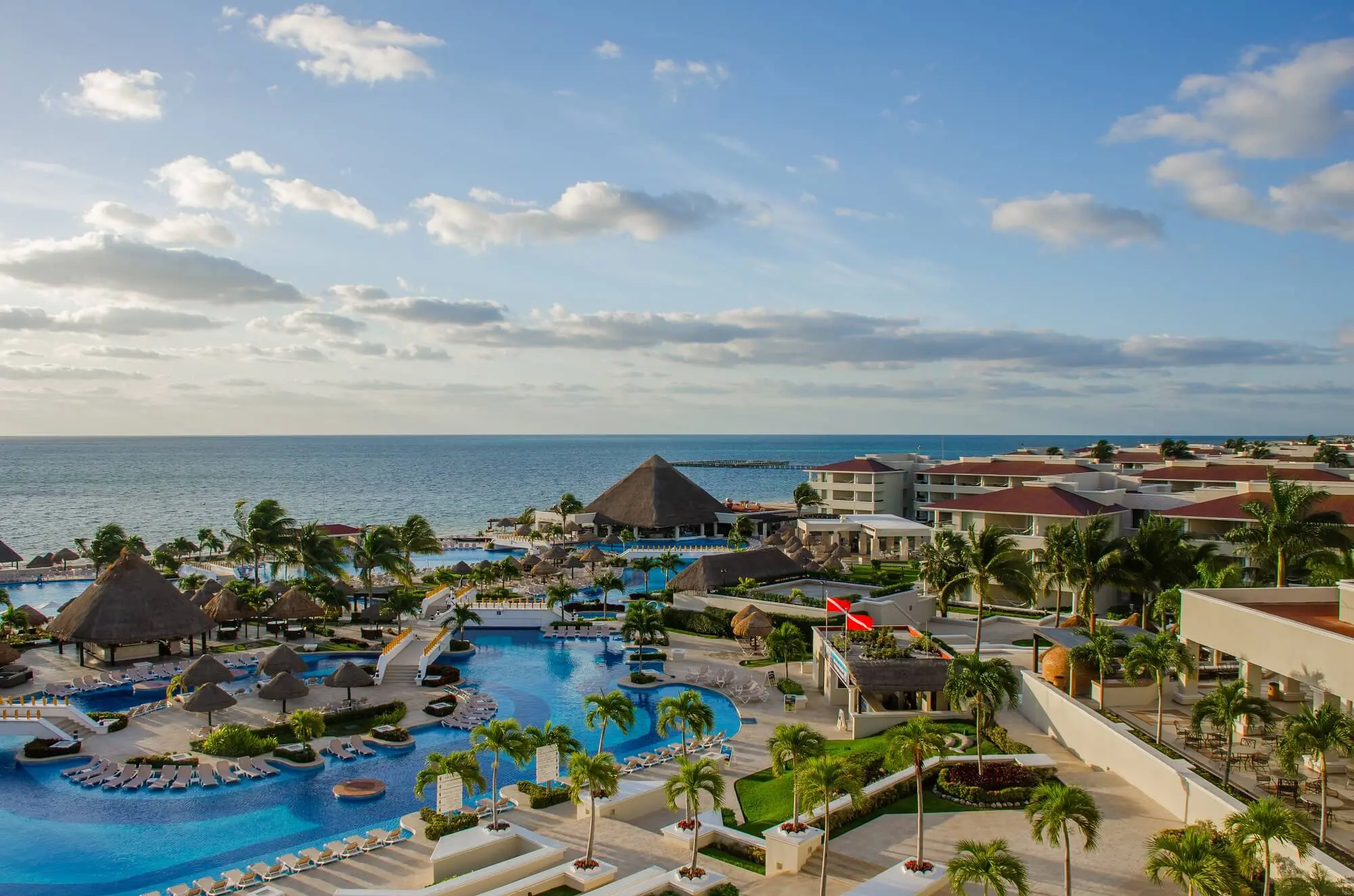 The Moon Palace is undoubtedly one of the most popular hotels in Cancun.
It's been voted by USA Today as one of the top 10 all-inclusive hotels in the world. 
On top of being a fabulous resort, Moon Palace makes your experience even better by including resort credit. This credit can be used for room upgrades, select tours, golf, spa services, select wedding packages, romantic dinners and more.
You Get Resort Credits
Stay 3 nights and receive $500
Stay 4 nights and receive $750
Stay 5-8 nights and receive $1500
Stay 9 -11 nights will receive $2000 resort credit.
The credit is allocated per room.
It's fun for all ages at The Moon Palace with an array of stunning venues, incredible activities, room choices, and more.
You'll definitely near our help when it comes to narrowing them all down.
But heck, that's what we're here for.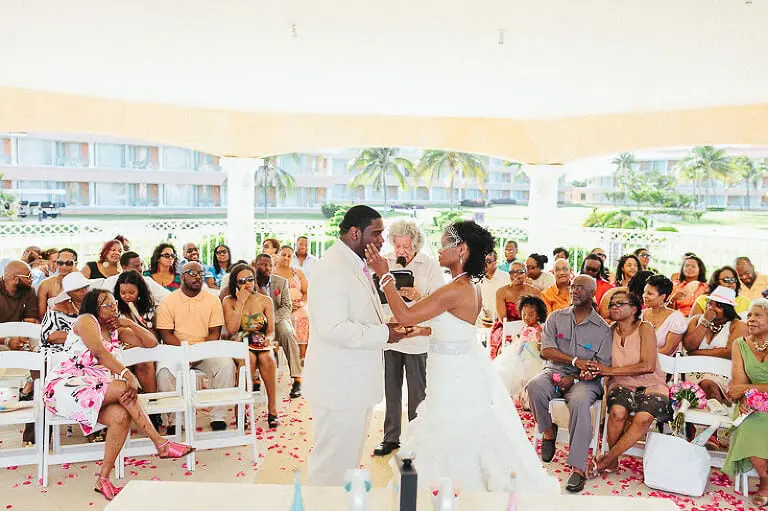 Included in the Nautical Wedding Package: 
Wedding Ceremony Location.
Wedding Coordinator
White Pergola Structure.
White hanging ceremony podium with 1 large rectangular glass case with white Hydrangeas.
30 seating pods in variation drapery.
6 white Shepard's pergola hook placed down the aisle.
6 white Hydrangea floral spheres with white ribbon hanging from Shepard's hooks.
Themed Bridal Bouquet.
Yellow Calla Lily Boutonniere.
Themed wedding cake with natural flowers.
Justice of the Peace or Minister to perform the legal or symbolic ceremony.
Sparkling wine during the ceremony.
One dinner reservation with standard restaurant decor.
Complimentary suite for the groom 3 hours before the wedding when the ceremony is scheduled at 11 am.
Breakfast in bed the morning after the ceremony.
CD system available for the ceremony.
Witnesses if required.
Complimentary Honeymoon Package.
Read our review of the Moon Palace here.
10. Xcaret
Kid-friendly  | ★★★★★
Location: Playa del Carmen
Price:  $5440 Deluxe Package
Hoping for a Catholic wedding? Then Xcaret has you covered you'll find two chapels at Xcaret, the "St. Francis of Assis" or the "Chapel of Guadalupe".
Hotel Xcaret is a hotel unlike any other. It offers a unique 'All-Fun Inclusive program which allows guests unlimited access to 7 of the region's top attractions: Xcaret, Xel-Ha, Xplor, Xplor Fuego, Xoximilco, and Xenses, as well as deluxe Tours to Xenotes and Xichen, with round-trip transportation, included.
That means endless fun for you and all your guests!
The resort is luxurious and eco-friendly, designed with the principle of sustainability in mind. You'll find coves, rivers, caves and jungle present throughout the hotel.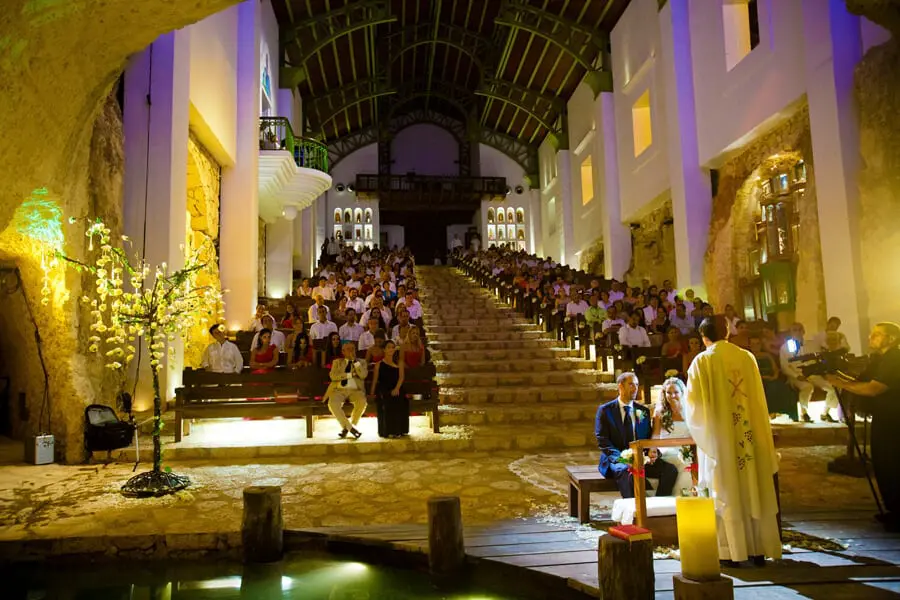 Included in the Deluxe Wedding Package:
Service for Wedding Coordinator.
Makeup and hairstyling for the bride.
Bouquet for the bride.
Boutonniere for the groom.
2 Bouquet or bouquets for the bridesmaids
2 Boutonnieres for the groomsmen.
CEREMONY
Minister for a symbolic ceremony.
Venue for the ceremony.
Basic Gazebo.
Set up with Tiffany Chairs.
Wedding cake
Toast with Sparkling Wine.
Recorded music (ceremony).
COCKTAIL
The venue for the cocktail event.
1 Hour of a Premium bar.
Chef's Selection of Appetizers.
RECEPTION
Private Dinner.
3 course plated menu or Specialties bar.
4 hours of Premium Bar.
One of our expert wedding planners actually chose to get married herself at Xcaret, read about her Xcaret wedding review here.
Map of Hotels offering Wedding Packages
Not sure where any of these hotels are in Mexico?
Click on our interactive Google Map to discover the hotel's location and wedding package price.

We've chosen hotels on the east coast of Mexico's Caribbean coastline because you're guaranteed great weather, sublime turquoise waters, and powdery white sands.
Don't forget to let us know in the comments section, which hotel you're the most interested in. We would love to hear from you. 🙂
Other Useful Resources When Planning a Destination Wedding in Mexico
You're welcome 😉 ! You can thank me in the comments section below.
Need Some Help?
We know what you're thinking. There's A LOT to consider when planning your Destination Wedding in Mexico.
With so many hotels offering weddings in this region it's VERY overwhelming without some help.
The hotels listed in this article offer a number of different packages, we can help you choose the right one for you.
Connect with one of our team of experienced wedding coordinators today.
We know our stuff.
Based on your vision we can narrow down your search. Present you with hotels, venues, and resorts right for you while simultaneously saving you money and making sure you get all the best perks.
Call our wedding consultants, actually living in sunny Mexico at 888-537-9797 or weddings@playadelcarmen.com.
You can also learn more about our destination wedding services here.
Time to Comment & Ask Questions
Ok…what did you think of our Best Wedding Packages in Mexico post?
Was it what you were expecting? What's missing?
Leave a comment below!
---
Trending Now
You may also like