My Honest Review of the Moon Palace Hotel & Spa in Cancun (2023)
---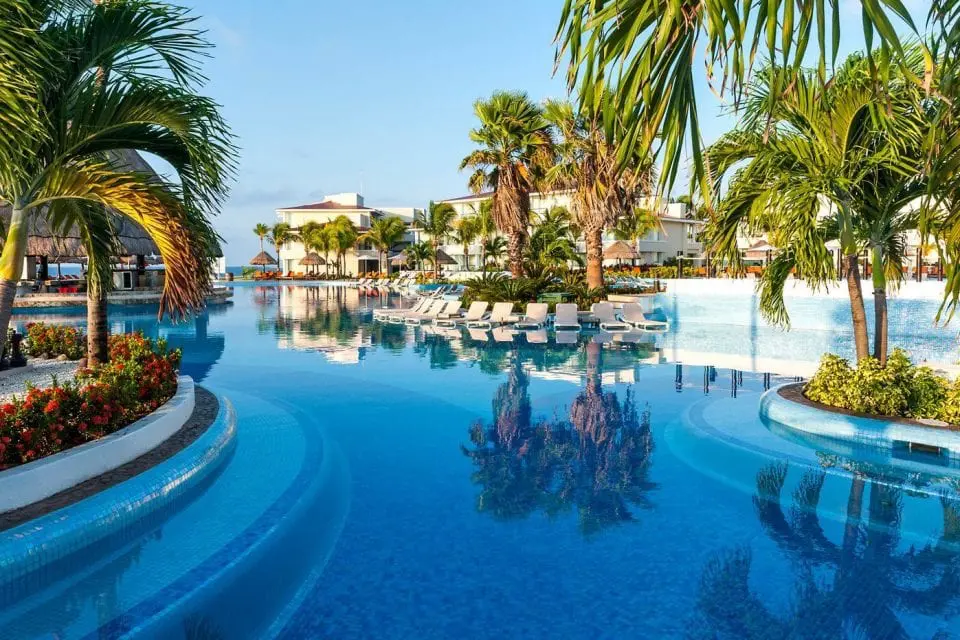 Thinking about staying at the Moon Palace hotel,  but need an honest review?
I've stayed and worked in 100's of all-inclusive hotels over the years.
You'll like this review if you:
appreciate sheer honesty
like being prepared
want to make the most of your stay
I was lucky enough to spend a few days at the Moon Palace recently.

First was for a girly weekend getaway, and second with my 10-year-old son – so I have 2 perspectives of my stays at the Moon Palace Cancun.
My Moon Palace Review includes:
---
The Moon Palace Cancun has to be one of the largest resorts in the Riviera Maya and Cancun area.
With over 2000 rooms and 4 complexes, it offers something for everyone.
1. Location and Layout
The quick overview is that the resort is fabulous, but not for beach lovers. Read on for more details…..
The site is enormous! Take the map given to you at time of check-in and familiarize yourself with the layout if you want to take full advantage of what is available.
There are 3 lobbies
Sunrise
Nizuc
The newly re-opened and more luxurious Grand.
When you stay at the Sunrise, Nizuc all services are interchangeable. This means you have access to all restaurants, bars, and services in both resorts.
For those guests staying at the Grand, you have access to all services at the Grand plus the services at the other two resorts.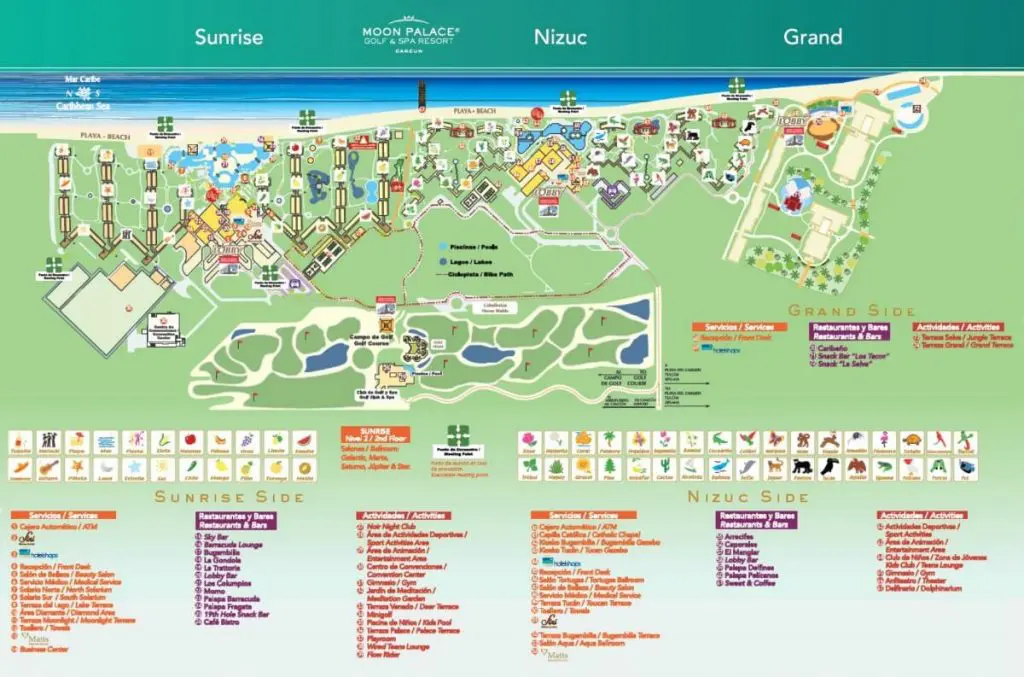 Only about 10 minutes from the Cancun Airport, the hotel is fabulous for a quick getaway if you don't want to spend a lot of time on transfers once you arrive.
2. Beach
The Moon Palace property sits along the beach. The beach is long and wide enough, but you need to know that the water offshore is quite dark.
There were very few people swimming (I did not go in either). It is swimmable but far from the typical Caribbean water you would expect.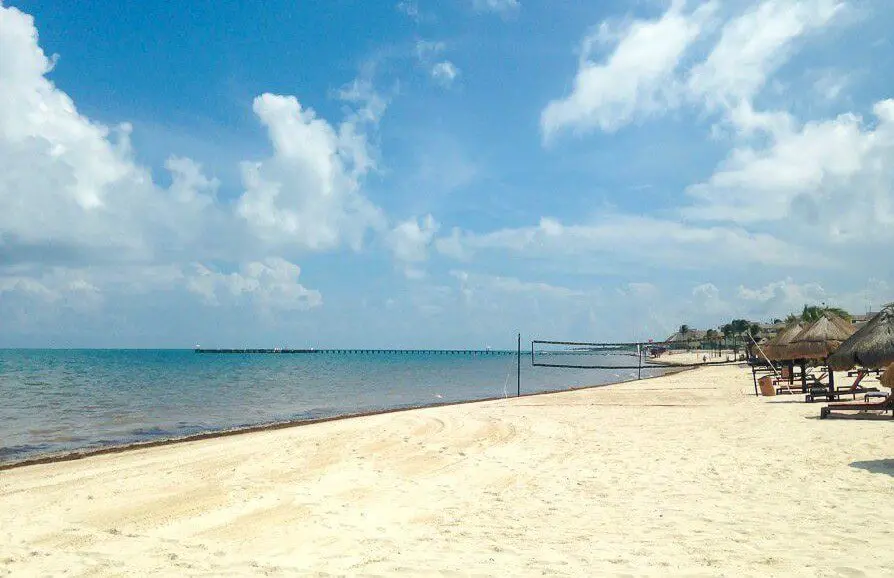 However, as guests of the Moon Palace, you can visit other Palace resorts in the area.
Transportation is not included, but if you want to spend the day at any of the following sister resorts, you can enter with your existing wristband and use their services and beach.
In Playa del Carmen, you can visit the Playacar Palace which is located on a fabulous stretch of beach.
If you want to take the ferry over to Cozumel, you have access to the Cozumel Palace. This resort has no beach, but there is a lovely dock area where you can swim and snorkeling is close by.
If you prefer to head into Cancun, the Sun Palace and Beach Palace are also available for use and both have great beaches.
If you want a little adults-only time, guests aged 18+ can also visit the Isla Mujeres Palace.
3. Food and Drink
I was very impressed with the range of selection and the quality of the food.
Over 10 restaurants, 24-room service (I always feel like this is a treat!), a coffee/ dessert bar, and snacks galore. There are buffet options as well as a-la-carte restaurants most of which do not require reservations.
The drinks are top-shelf alcohol, and there are at least 8 bars to choose from, from the lobby bars featuring live music to the pool bars with swings where you can enjoy a few drinks.
You have options out the wazoo.
If anyone complains about not having enough to eat or enough options at this resort, I will have a hard time believing them.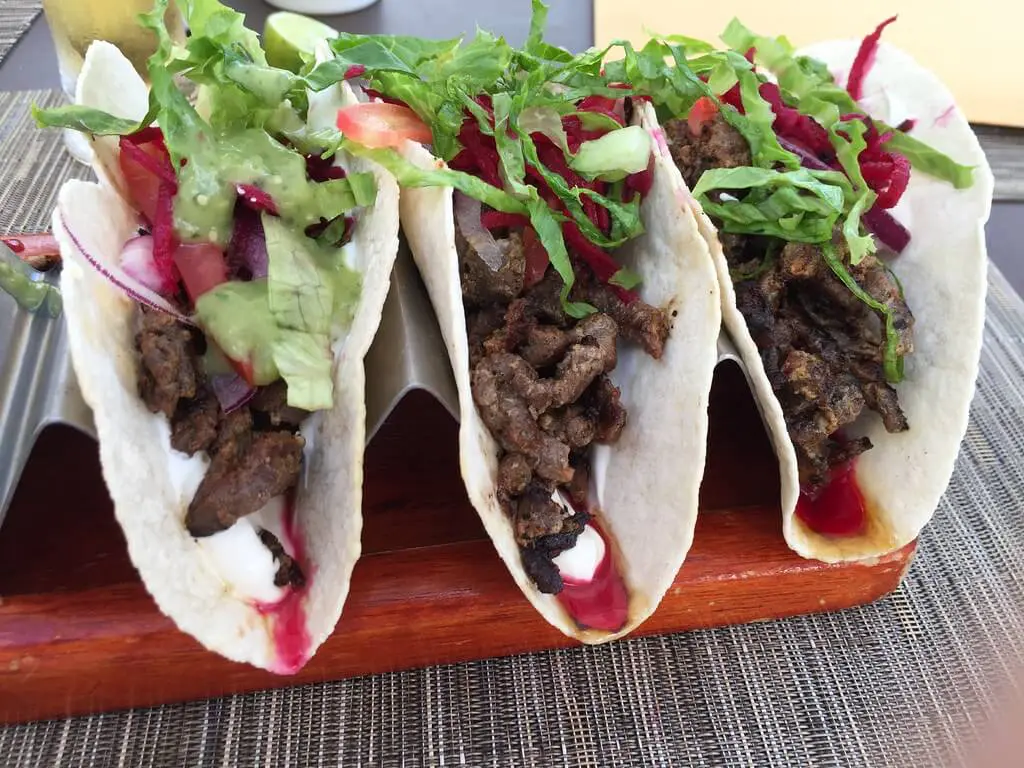 4. Rooms
The rooms are great. You can get either a king bed or 2 double beds and all feature a double Jacuzzi.
They all have balconies with varying views.
Mini-bar with liquor dispenser (yeah), coffee maker and 24-hour room service is included, so you never have to leave the room ?.
The square footage of the room is not that big, so families of four may find it a little tight.
The Moon Palace does offer the option for Family Suites, which connect one king-bed room with one room that has two double beds. This is a great option for families that want more living space or have 3 children.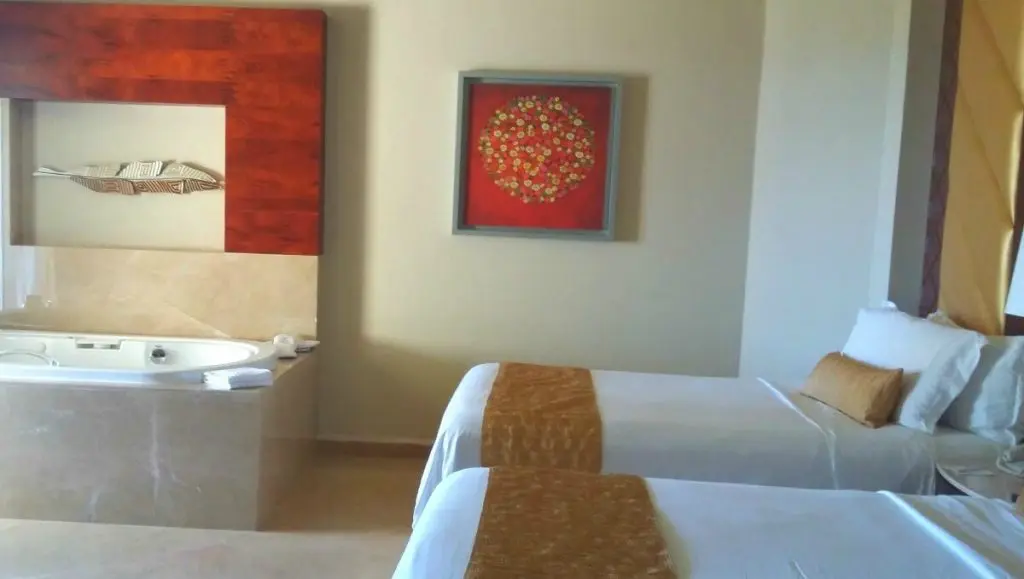 5. Internet
We can't live without it even when trying to getaway.
Wireless is available and included resort-wide including the rooms. A business center is also available in the Sunrise lobby.
6. The Kids Clubs
KIDS CLUB
The kids club on site is available for your little ones that are aged from 4-12.
Offering activities ranging from arts and crafts to a small movie theatre, the kids will not want to leave.
The Nizuc Playroom is open daily from 10 am until 10 pm and the Sunrise Playroom is open daily from 8 am until 10 pm.
TEENS CLUB
I spent a lot of time here with my son. Located in the Sunrise lobby, the teen lounge has a video game center, a small area for movies, games such as air hockey, pool tables, and foosball.
It also has an arcade and an ice cream parlor. My kid never wanted to leave. Open daily from 9 am until 10 pm.
NIGHT CLUB
Guests 18+ can enjoy the on-site disco.  Open 4 days per week from 10 pm through until 3 am, you can dance the night away and drinks are all-inclusive.
7. Activities
Flowrider – Surf Simulator
This awesome addition allows kids and adults to attempt surfing. They also have a boogie board open for those that prefer it. Open daily from 9 am until 6 pm.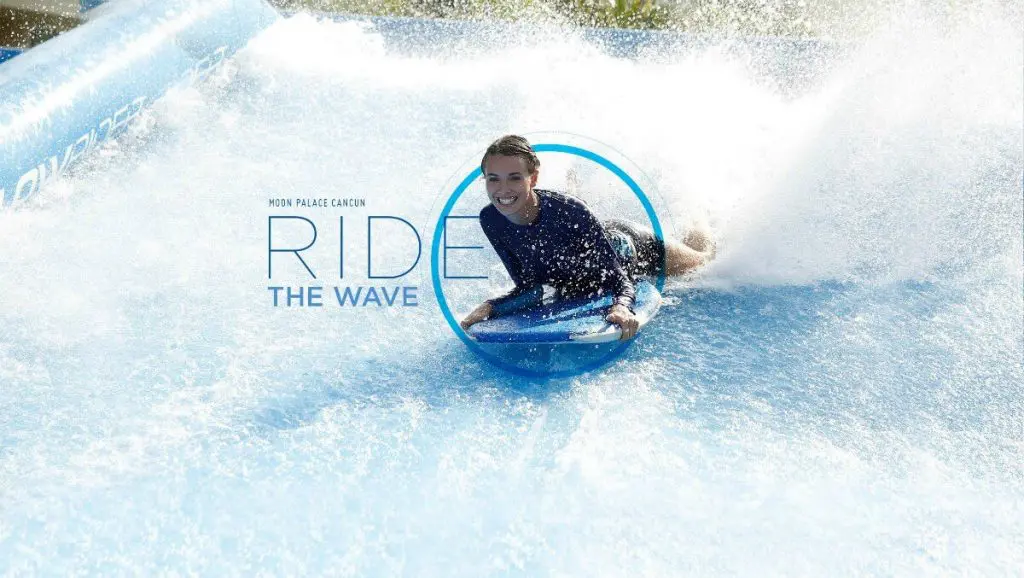 Mini-Golf
They have a game of 18-hole mini-golf available as well.
It can get very hot midday, so aim for early morning or late afternoon/evening if you plan on playing.
Equipment is provided. Located between the Sunrise and Nizuc lobbies. Open daily from 8 is until 10 pm.
Swimming Pools
The swimming pools at the Moon Palace are enormous and cover most of the property between the ocean and the buildings.
They have a kids pool area, which includes water slides. Activities such as water aerobics and volleyball take place at various times throughout the day.
You can easily find food and drink close by, but they do have waiter service so you never have to move from your beach chair.
Fitness Centers
Both the Sunrise and Nizuc have fitness centers open daily from 6:00 am to 11:00 pm.
Sports Areas
Tennis and basketball courts are available at both properties. Bicycles are also available at the mini-golf so you can explore the grounds.
Daily Activities & Nightly Entertainment
Activities take place both at the beach and pool areas. Nightly entertainment including live music and shows are varied.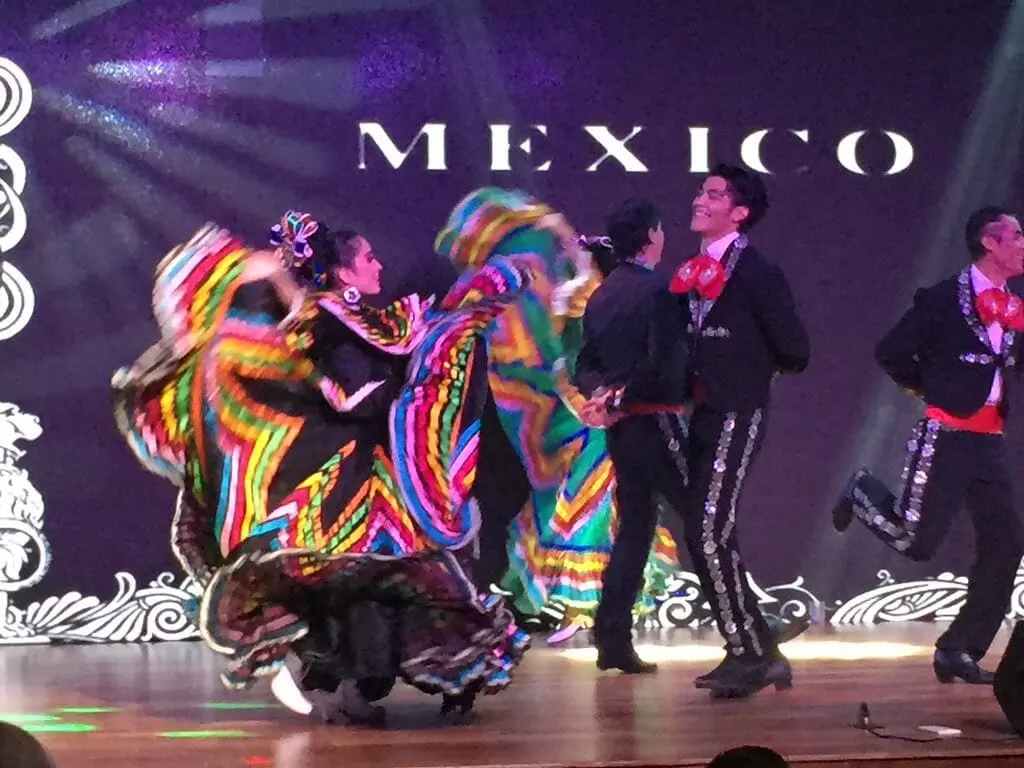 8. Wheelchair Accessibility
Having audited this hotel for accessibility, I can safely say that it is one of the most accessible in the Riviera Maya.
There are ramps for access to every service in the hotel.
They have 16 rooms that have been fully adapted.
Accessible toilets are spread throughout the resort, which makes things easier and the resort is quite large.
The golf cart transport, which is available to guests from the lobby to lobby or to the golf course area/ spa area, has no special adaptation.
9. Resort Credit
The Palace Resorts offer each booking of 3 nights or more resort credit.
The credits can be used towards tours (they do have a selection), spa services, golf and even put towards wedding packages.
All guests have to pay a 16% tax on the total amount of credit used, but in the long run, this amount works out to much less than you would have paid for the services.
As of today, resort credits are allotted in the following amounts:
3 night stay $500
4 night stay $750
5-8 night stay $1500
9-11 night stay $2000
and if you stay 12 nights or more you receive $2500 in resort credit.
10. Spa
The Awe Spa is just that! With a wide range of amazing services and a hydrotherapy circuit, it is a great way to wind down and really relax during your getaway.
My secret spot: right outside the spa there is a swimming pool area overlooking the golf course.
It is very quiet and the best place to lounge by the pool if you want to get away from the main pools at the resort. But, this will be our little secret.
There are also two additional a la carte restaurants here: The Italian Trattoria and the Mayan Cuisine.
Reservations are required (see Public Relations), but going here for dinner will almost feel like you are leaving the resort. Well worth a visit.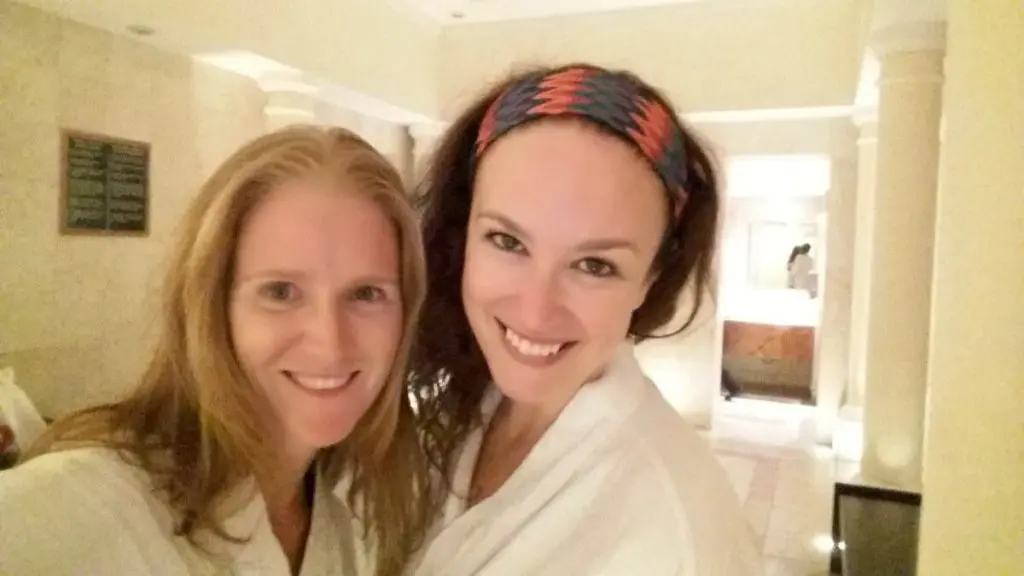 11. Golf
The Moon Palace also has the infamous 18-hole Moon Palace golf course on its grounds
This course was designed by Jack Nicklaus and is in a 7,165-yard 72-par course. It offers 27 holes and was built in compliance with USGA and PGA regulations.
The gorgeous course includes landscapes typical to the region including jungle, lakes and dunes. Resort credit can be used towards golf green fees.
If you are a golf group, we can help you book a group golf package, where the entirety of your resort credit can be used towards unlimited golf.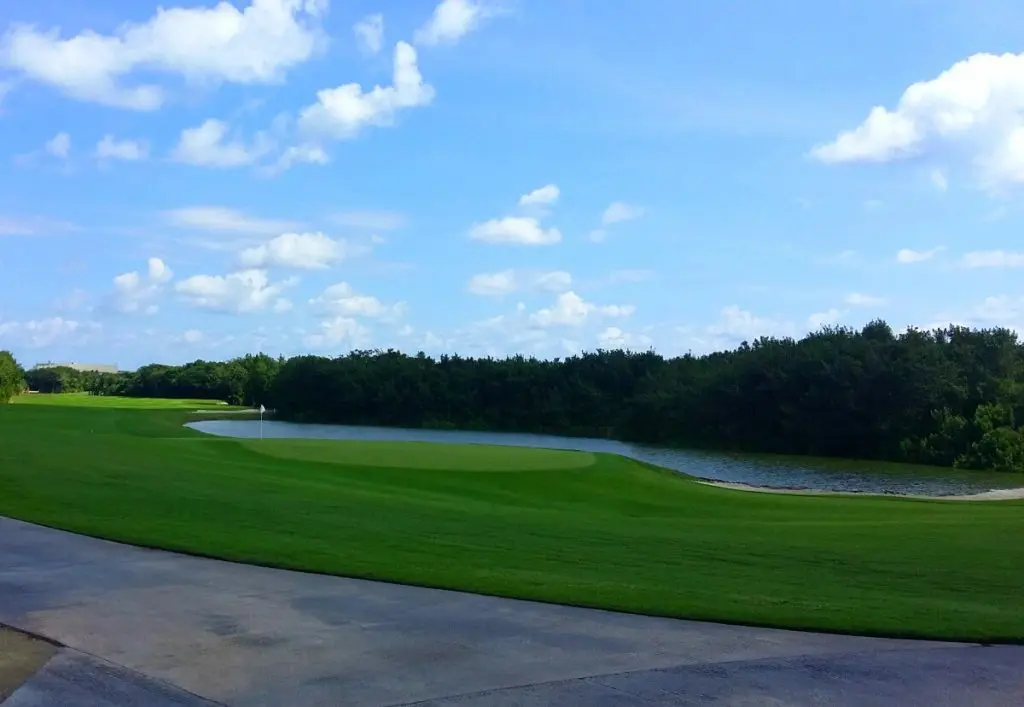 12. Weddings and Groups
If you are looking to have a destination wedding, the Moon Palace offers many options for you and your guests.
From free wedding ceremonies to great group discounts and perks.
As mentioned, the resort credit can be used towards your wedding package.
They offer garden, beach and gazebo venues. They even have a horse-drawn carriage and other options you cannot find at other all-inclusive resorts.
We can also help you organize your destination wedding in Playa del Carmen at the Moon Palace.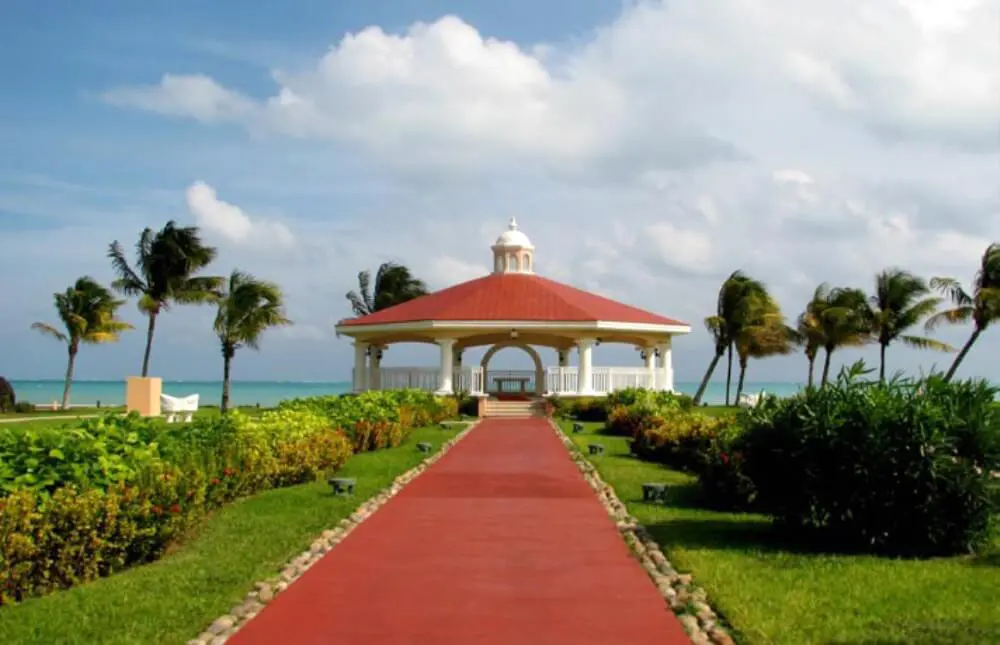 13. Convention Center
The Moon Palace Convention Center has a surface area of over 140,000 square feet of multi-functional space and can host events with up to 10,000 attendees.
Offering services from audio, lighting, projection, and equipment, this venue is an excellent choice for your corporate event.
The ballrooms have the capacity for up to 3600 people and several smaller breakouts are available in either banquet, school, horseshoe and theater-style events. Catering is available for cocktails, banquets and more.
Being the largest convention center in Cancun and the Riviera Maya, it has been used to host events from Mexico Showcase & Travel Expo to COP 12 and Mainstreaming Biodiversity Expo.
You can also get help organizing your corporate event.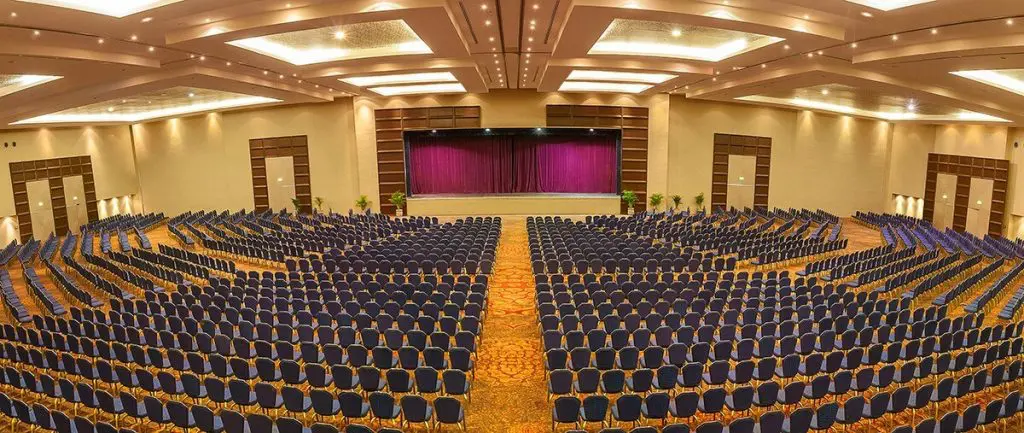 14. Day Passes at Moon Palace
Want to check out the resort for the day? Day passes are available at a cost of $107 per adult and $51 for children. This allows you access to all their services with food and drinks from 7:00 am through until 11:00 pm.
15. Conclusion
2 Things I didn't like
This resort offers and pushes timeshare. I do know many people that are happy with their timeshare. However, I know how bothersome it can be when you are walking around a resort and you are constantly being pushed and invited to a presentation/breakfast/ whatever they are trying to call it to get you signed up. Not a deal-breaker, as the resort is great, but you should be aware of it.
Dolphin swims. We (PlayaDelCarmen.com) don't promote it. We don't sell it, ever. Being a leader in the industry, Palace Resorts should think twice about having this facility on-site and promoting this type of activity. There are so many other fun activities to discover without needlessly pushing activities that are morally questionable.
As long as you can forego the ocean swim (which can easily be solved but taking a few excursions or visiting a sister resort), this resort is fabulous.  Fantastic food & drink options, a great range of services.
They have really found a way to have enough for every time of vacation: family, singles, weddings and groups, golf and spa vacations….
There are very few resorts in the area that have successfully offered this range of services and maintained excellent quality throughout.
Save on the Moon Palace
Thinking of booking the Moon Palace?
I'm part of a team of agents here at PlayaDelCarmen.com. Get the best prices on this hotel with us!
We'll help you organize and book your flight, transportation, hotel, and activities + answers all your questions 😉
Reach out to us, toll-free at  888-537-9797 or customercare@playadelcarmen.com.
Hope you enjoyed my review of the Moon Palace Cancun!
Have you stayed at this resort or have questions?
Comment below!
My Moon Palace Review Cancun
Layout

Beach

Food

Rooms

Internet

The Clubs

Activities

Wheelchair accessibility

Resort credit

Spa

Golf

Weddings and Groups

Convention Centre

Day Passes
Summary
As long as you can forego the ocean swim (which can easily be solved but taking a few excursions or visiting a sister resort), this resort is fabulous.  Fantastic food & drink options, a great range of services.
They have really found a way to have enough for every time of vacation: family, singles, weddings and groups, golf and spa vacations….
There are very few resorts in the area that have successfully offered this range of services and maintained excellent quality throughout.
---
Trending Now
You may also like