Everything You Need to Know About Xcaret Weddings (2020)
---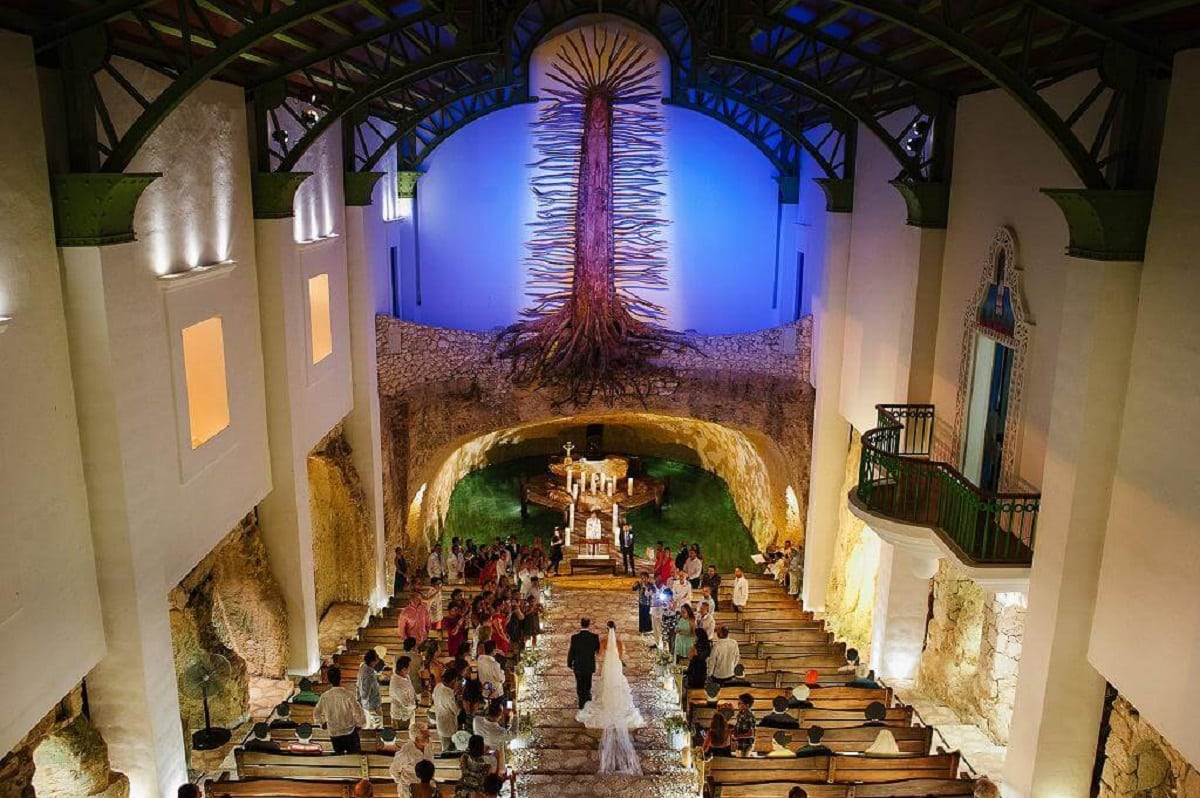 The words on everyone's lips? "Xcaret weddings"!
If you and your beloved are naturists then there really couldn't be a hotel more suited to you.
With an array of stunning locations to choose from at this resort, our Expert Wedding Specialists here at PlayaDelCarmen.Com will be on hand to help bring your vision to life.

Your Ultimate Guide to Xcaret Weddings:
---
1.  What is Xcaret?
Xcaret is an Eco-Archaeological Park located about 15 minutes south of Playa del Carmen.
It's nestled in the lush tropical jungle and right along the Caribbean coastline.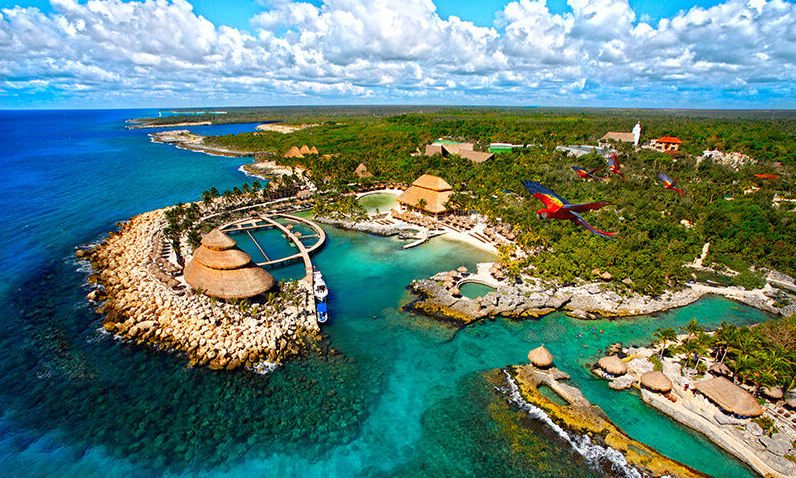 Known as "The Pride of Mexico", Xcaret offers a wide range of activities such as swimming in underground rivers, an aquarium, Mayan ruins, a beautiful beach, observing wildlife and much more.
2. Why Get Married at Xcaret?
With its natural beauty, Mayan heritage, culture and traditions, its an ideal location for wedding ceremonies.
Ceremony locations include:
Beach
Chapel
Cove
Cuevas Restaurant – stunning venue carved out of natural limestone.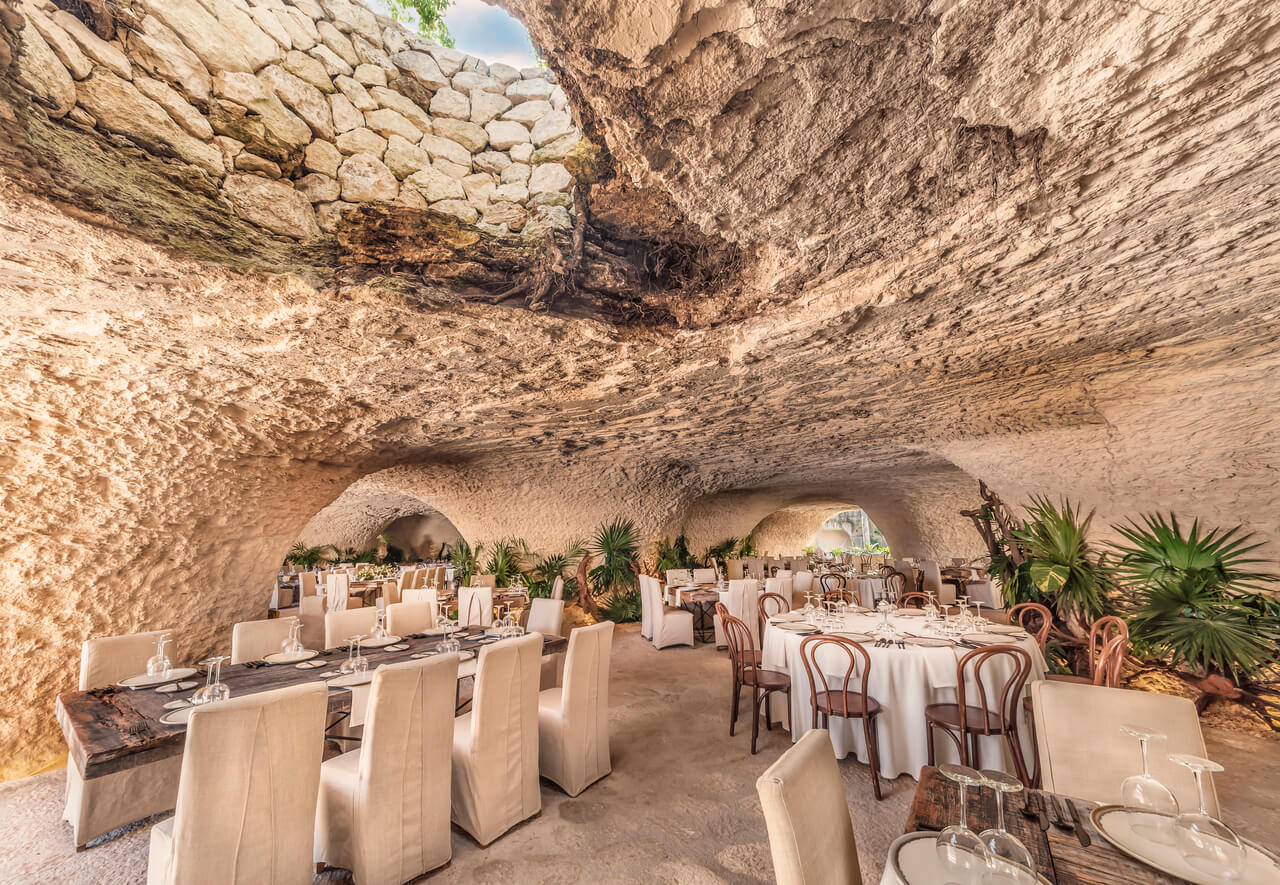 With the option to have either a:
Legal
Symbolic
Catholic
Prehispanic
Ceremony.
The only hard job for you will be choosing from the hotel's incredible range of customizable packages that have been curated to cater to groups of all sizes and budgets.
3. Ceremony Options
Xcaret have various types of Wedding Ceremonies available.
It's important to remember that the requirements vary depending on the type of Ceremony chosen.
The wedding coordinators will be able to provide all the information needed so documentation can be prepared ahead of time.
Civil Ceremony – Performed by a Judge from the Registry Office.
Catholic Ceremony – Xcaret has 2 Catholic Chapels, both of which have the decree of official recognition to the Catholic church.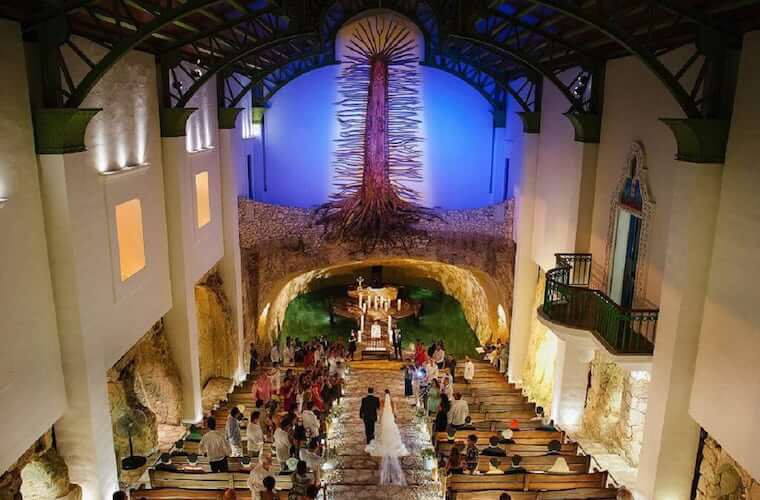 Symbolic Ceremony (non-denominational) – Performed by a Minister/officiant.
Mayan Ceremony – A symbolic yet spiritual ceremony performed by a Mayan Shaman.
4. Location Options
Just as Xcaret offers many ceremony options, it also boasts numerous locations for Wedding ceremonies, cocktails, and Receptions.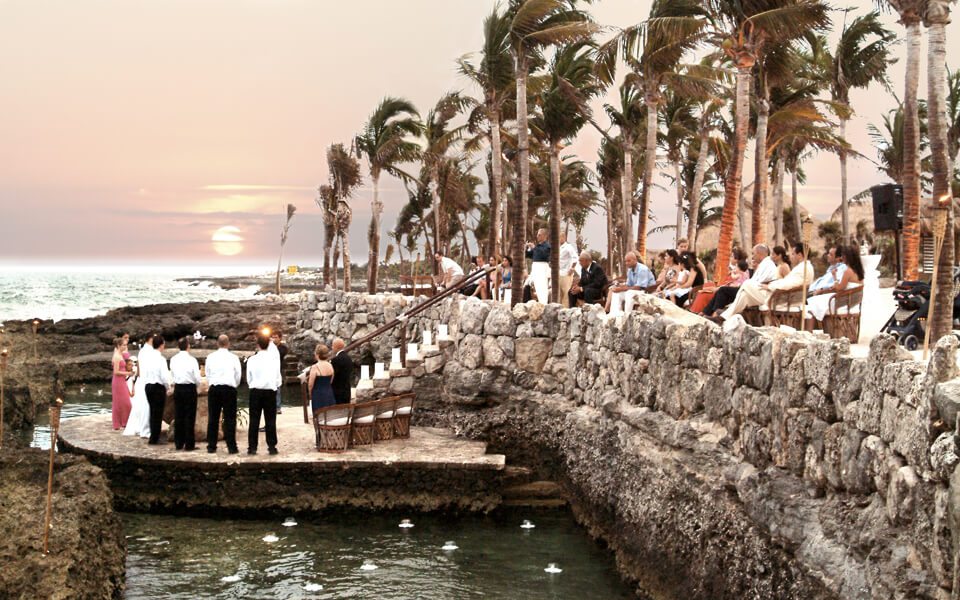 Las Pozas
Or "Natural Pools", are the perfect location for a Civil wedding ceremony.
With a beautiful backdrop of the Caribbean sea and the warm breezes, this unique setting has a special charm about it.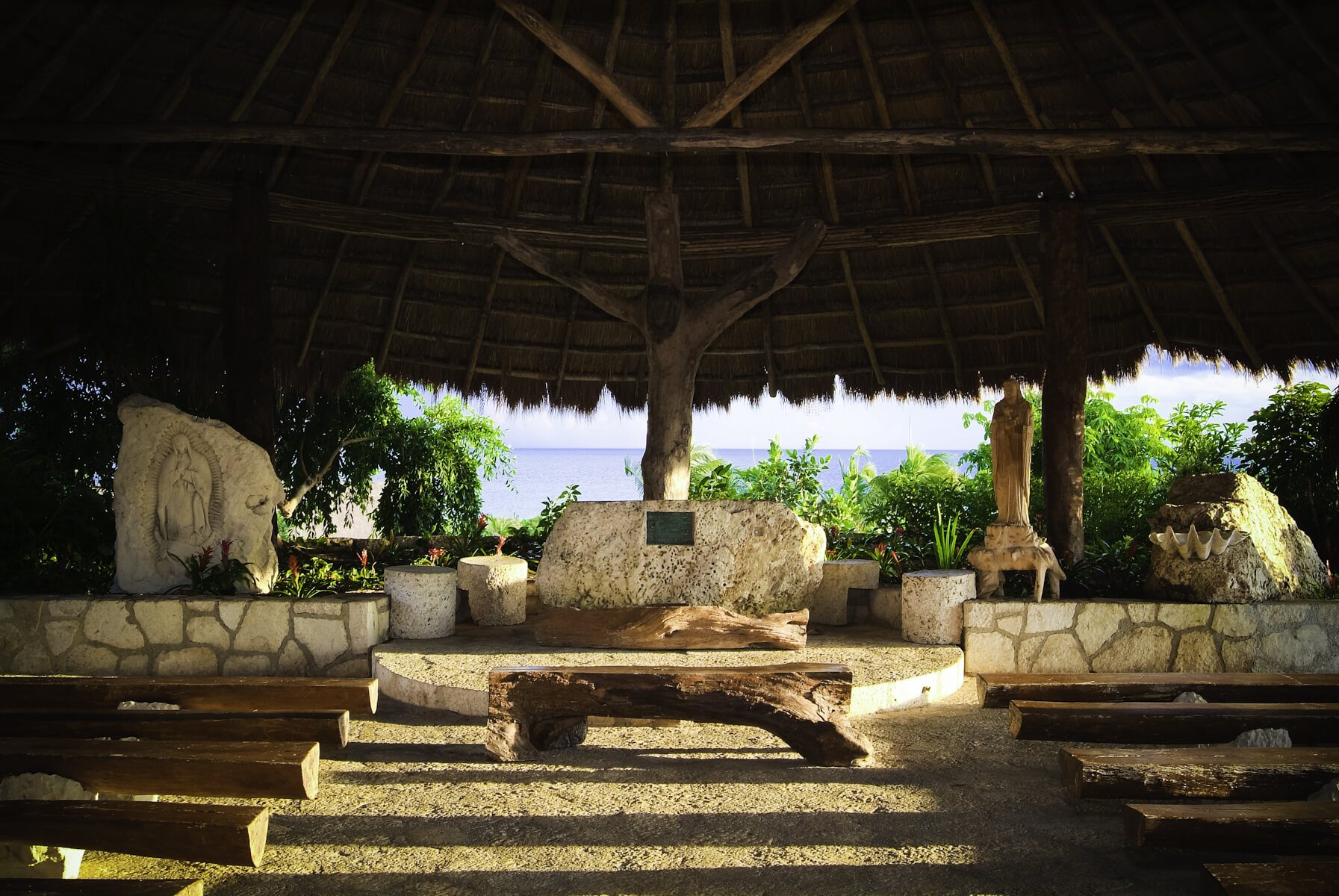 The Chapel of St. Francis of Assisi
This is a beautiful Chapel located at one of the highest points of Playa del Carmen. The Chapel is situated on top of a hill and has breath-taking views!
The Chapel of Guadalupe
Outstanding architecture combined with a beautiful Alter, this is a stunning Chapel that includes an image of "Our Lady of Guadalupe" carved on a 39-foot tall tree trunk.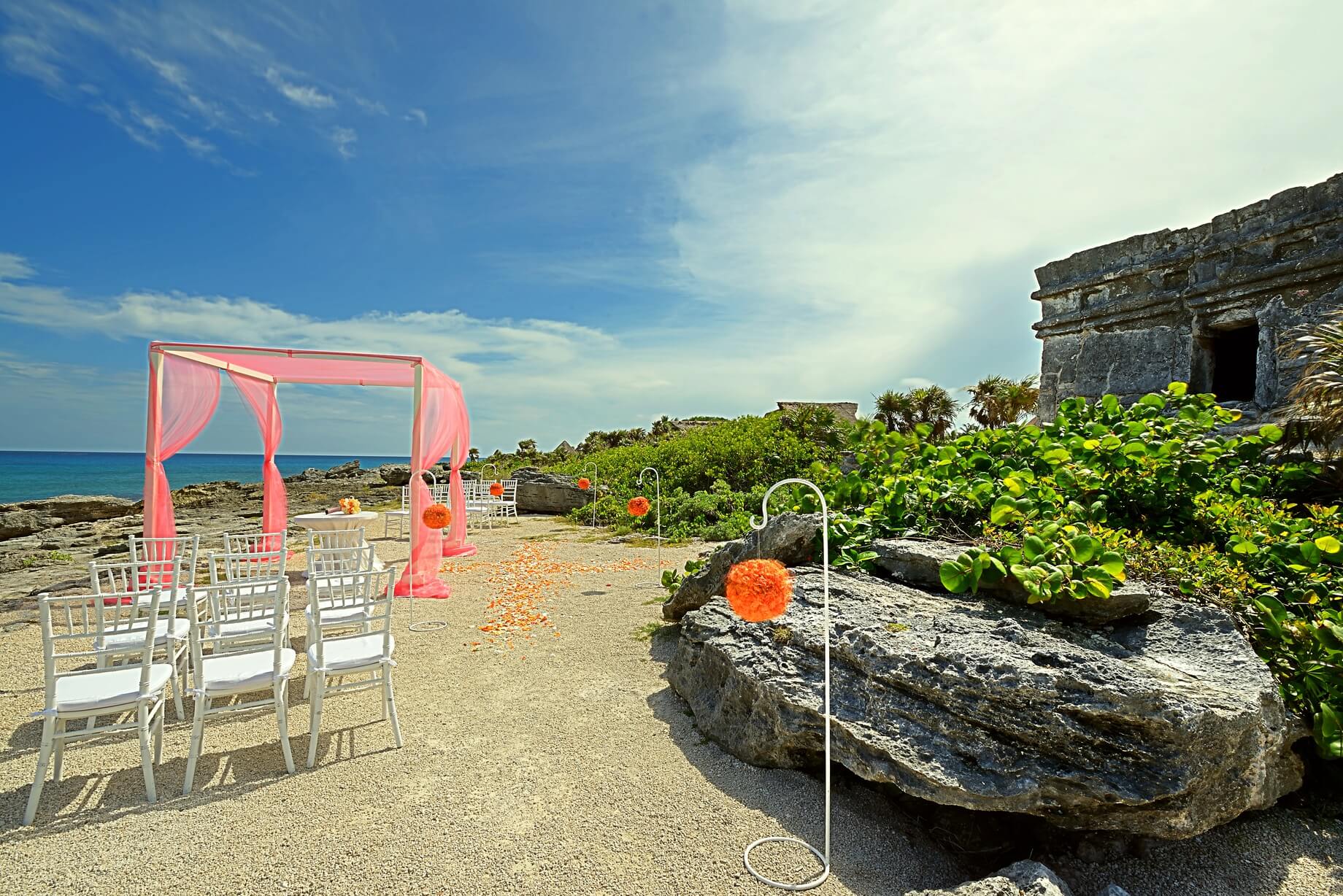 Archaeological Sites
A fitting location for a Mayan Ceremony, surrounded by historical ruins. A wedding location like no other.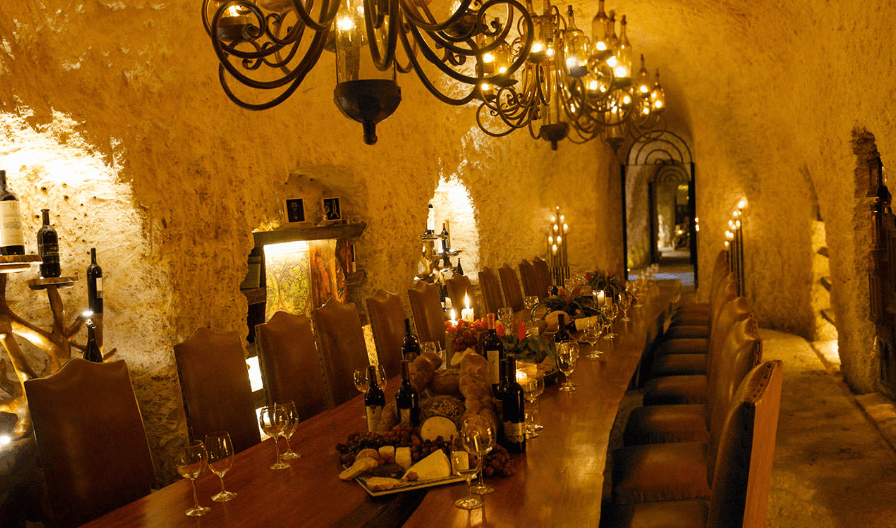 Wine Cellar "Wines of Mexico"
A one of a kind location for an intimate wedding celebration.
A great idea for a small Wedding Reception, the Wine cellar can accommodate up to 22 people.
La Isla Restaurant
The Restaurant is inside a cave and surrounded by water. It's an extraordinary location and has the WOW factor Wedding couples look for. It's a big space, some events here have had up to 600 people!
Other Locations
There are other locations such as Restaurants with ocean views or Hacienda courtyards.
5. The Wedding Team at Xcaret
I can confirm from first-hand experience!
I got married in the Chapel of St. Francis of Assisi.
It was a beautiful day and it was just how I imagined and wanted it to be.
Whether the communication is via email or in person, everything is made clear and explained step by step so all details get covered.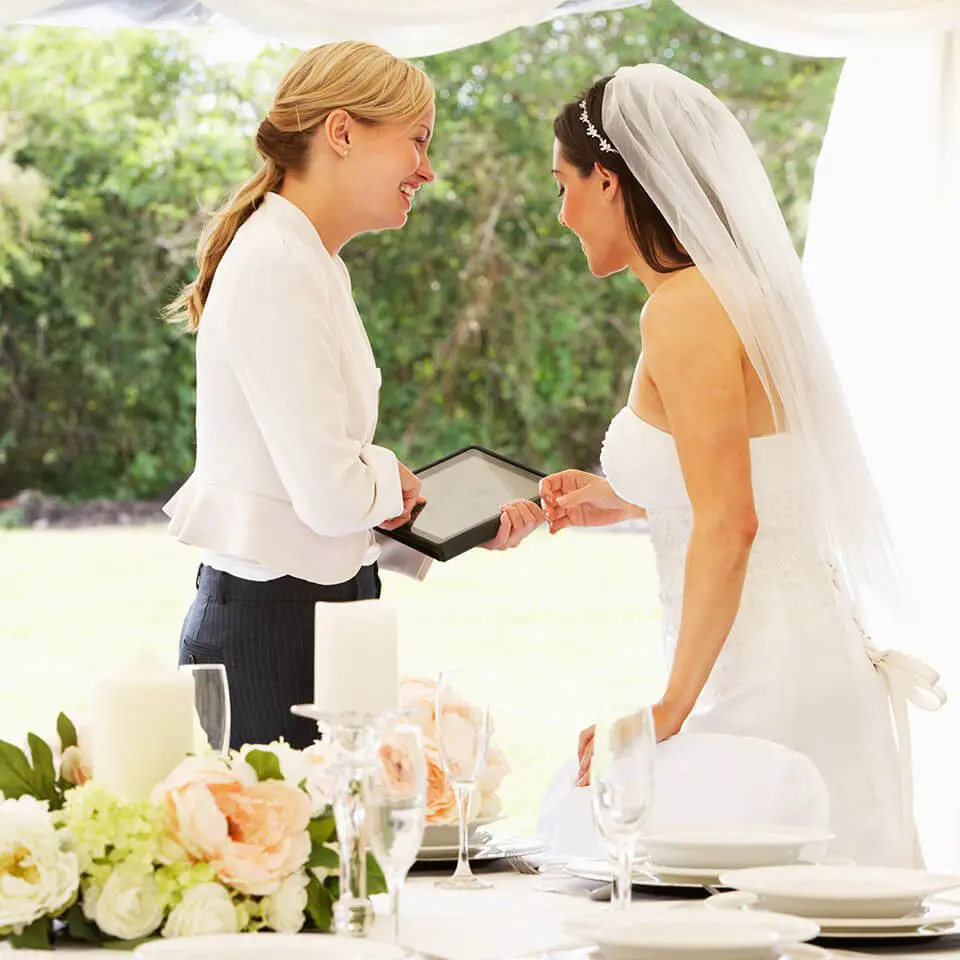 The Wedding Coordinators will go the extra mile to make sure couples have the wedding they dreamt of and really care about making everything just perfect.
I had a very special request when booking my wedding at Xcaret.
I wasn't sure whether or not the staff would be able to pull it off or if they would just think I was crazy!
It was really important for me to have my 2 Chihuahuas with us at the Wedding Ceremony.
6. Pets at Xcaret Weddings
My dogs are part of my family and they had to be part of our special day.
I knew that the park had a No Pets policy, and also considering that my wedding would be in a Catholic Chapel, this was definitely a tough request.
But guess what… The Wedding Coordinators got special permission from the park management so we were allowed to bring our 2 Fur Babies with us for the Ceremony and Cocktail hour!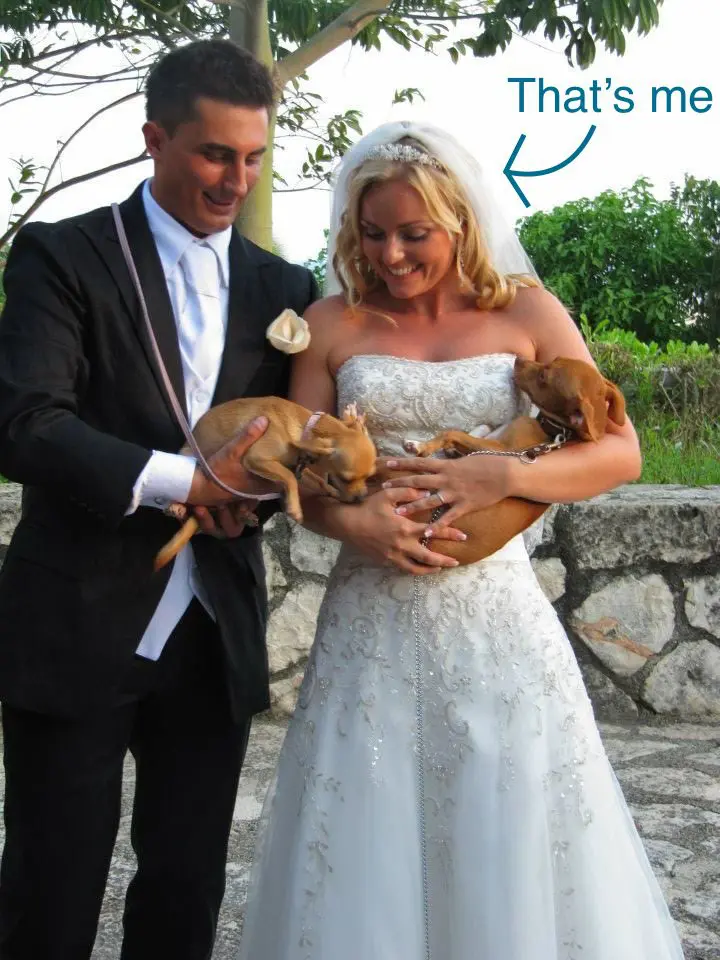 It's details like this that make Xcaret so special.
7. Wedding Packages at Xcaret
Xcaret has an array of exciting and customizable packages that you can discuss with our Wedding Specialists.
$5440 Deluxe Package
For your reference and just to get an idea of what to expect here is a rundown of the 'deluxe package' and what's included:
Included in the Deluxe Wedding Package:
Service for Wedding Coordinator.
Makeup and hairstyling for the bride.
Bouquet for the bride.
Boutonniere for the groom.
2 Bouquet or bouquets for the bridesmaids
2 Boutonnieres for the groomsmen.
Ceremony
Minister for a symbolic ceremony.
Venue for the ceremony.
Basic Gazebo.
Set up with Tiffany Chairs.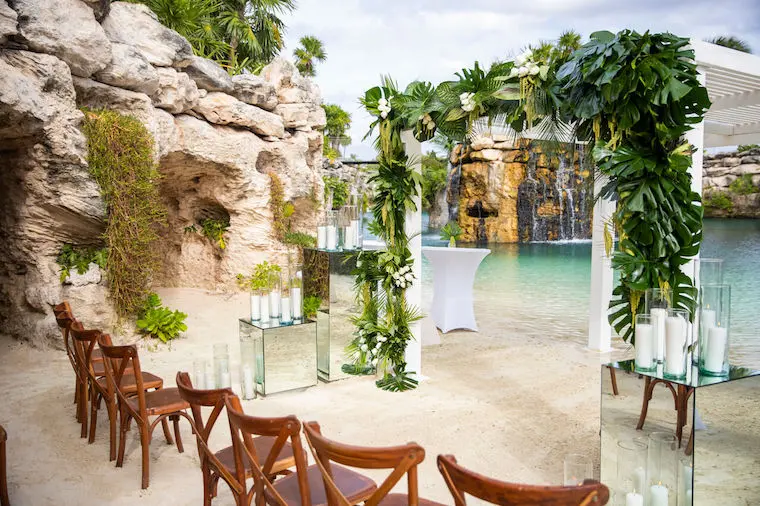 Wedding cake
Toast with Sparkling Wine.
Recorded music (ceremony).
COCKTAIL
The venue for the cocktail event.
1 Hour of a Premium bar.
Chef's Selection of Appetizers.
RECEPTION
Private Dinner.
3 course plated menu or Specialties bar.
4 hours of Premium Bar.
8. Want Help Getting Organized?
Talk to a real, live, friendly wedding pro to help you organize your destination wedding.
Call our wedding specialists, at PlayaDelCarmen.com, actually living and breathing in sunny Playa del Carmen at 888-537-9797.
Or, learn more about our destination wedding services here.
Alternatively, you can email us at weddings@playadelcarmen.com.
Got any questions? Leave them in the comments section below, I'll get back to you ASAP.
---
Trending Now
You may also like