25 Unique Destination Wedding Ideas for a Standout Occasion
---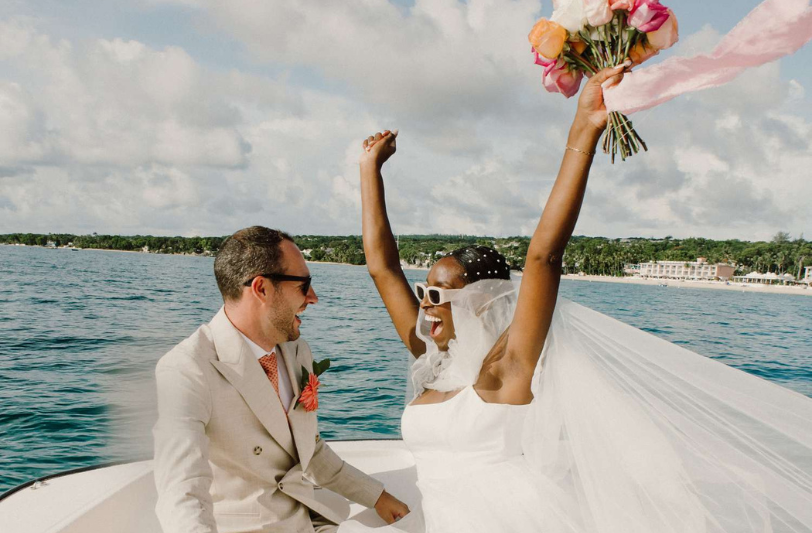 This isn't just any 'destination wedding ideas' blog that some AI bot could write.
This blog is written by REAL planners 🙂.
ANYONE bot could tell you that you might want to give out guest welcome bags…
Or, to showcase your destination on your invitation…(duh).
Only WE tell you things you may not have heard before!
So, sit back, relax, and prepare to be really inspired.
After gruelling over 4k words of unique ideas, we would very much appreciate hearing which ideas were your favorite in the comments below. 🙂
25 Unique Destination Wedding Ideas for a Standout Occasion
1. Book Out The Hotel or a Section of The Hotel
For a long time in places like Mexico, Jamaica, and The Dominican Republic, destination weddings came in the form of packages at all-inclusive hotels.
Now, as more and more people seek a 100% private weddings (ie. not having to share the hotel with non-wedding guests) the most popular wedding resorts are tweaking their approach…
They're offering couples like you to book out the hotel or section of the hotel via what they're calling an "Enclave Package", which guarantees an exclusive invite-only occasion WITHOUT the price tag.
"Tell me more", I hear you say…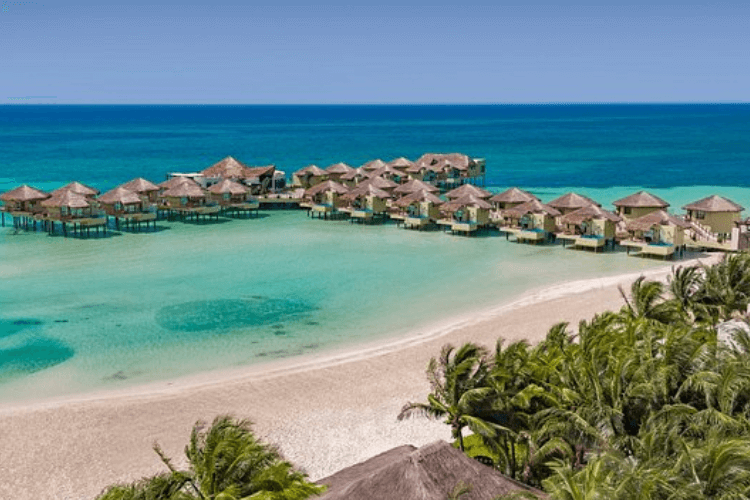 For example, The El Dorado Casitas Royale, located in Riviera Maya, Mexico, is made up of a number of luxury suites arranged in a horseshoe shape, forming an enclave complete with a pool.
Or, if you're an ocean lover, there is even an option to book out the overwater bungalows at El Dorado Maroma (super dreamy)!
You and your guests will feel like you're in your own private resort with a private beach.
The private enclave package includes a welcome cocktail of refreshing sparkling wine, a Jackson Family wine and cheese tasting, and a group dinner; you can even host a memorable private fiesta beach party with a live mariachi band and DJ.
Call our award-winning Destination Wedding Specialists on 888-537-9797. to learn more! 
2.  Hire a Boat for a Swoon-Worthy Pre/Post Wedding Celebration Shoot
If you're choosing to get wed on the coast like many of our couples,  chances are you're a beach lover, right?
Be sure to make the most of the scenery on your special occasion!
By choosing to have a destination wedding in Mexico, Jamaica, or The Dominican Republic, you're already saving THOUSANDS, so why not invest some of the spare cash into a local photographer (you can find the best ones online or via social media).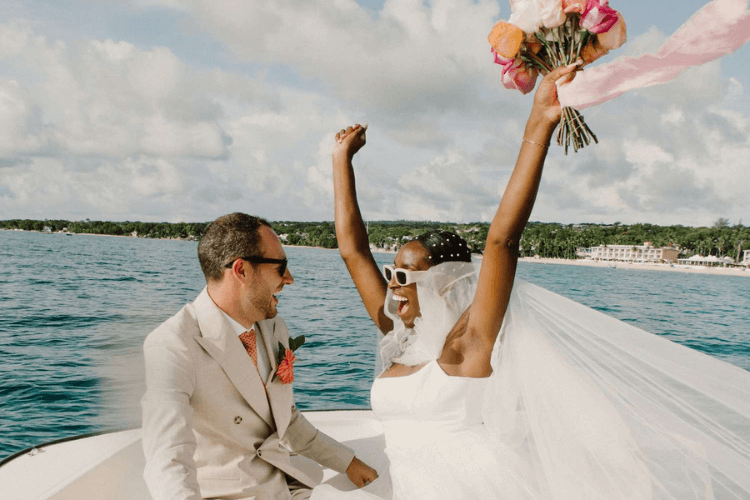 Your wedding photographs are arguably one of the most important parts of your big day; they stay with you forever.
We recommend booking a boat pre or post-ceremony and taking it just for some quiet alone time or with your whole group to get pictures of everyone celebrating and having a great time in the moment.
Call us 888-537-9797 to discuss the best yacht options for you. 
3. Opt for a Non-Saturday Ceremony
Did you know if you choose to have your wedding NOT on a Saturday and opt for midweek instead in places like Mexico, you could be opening yourself up to a whole host of extra benefits?
Let's face it; it's just a day of the week.
Chances are, if you're having a destination wedding, you're planning way ahead…12-18 months at least; your guest are going to have to fly out and book time off anyway, so what does it matter?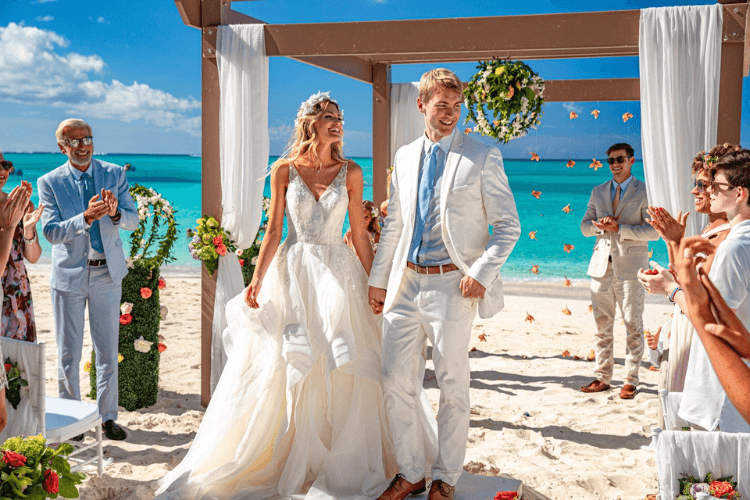 Karisma Hotels offer "Cash for your Bash" credits.
These credits are based on how many rooms you book for you and your wedding guests.
For example, you can benefit from a wedding discount of $1,500 if you book 25 rooms.
This is how the credit system works.
For a booking of 10-15 rooms, you receive a $20 per room credit towards a cocktail party.
Book 16-20 rooms, and you receive a $40 per room credit towards a dinner event.
You'll get $20 credit per room for a cocktail party and $40 per room for a private dinner if you book 21-29 rooms.
Opt for a 30-49 room booking, and you'll get $20 credit per room towards welcome cocktails, $20 per room for a cocktail party, and $40 for a dinner event.
If your wedding party is big, and you book 50 rooms or more, you get $22 credit per room for welcome cocktails, $22 for a cocktail party, and $43 for a dinner event.
If you'd like to discuss the options at Karisma Hotels, call us today on our toll-free number 888-537-9797.
4. Consider a Cenote Ceremony
Are you being called to Mexico for your destination wedding, and you're the type to do something a little different?
Consider a cenote wedding! You can have a beach wedding pretty much anywhere in the tropics!
Cenotes are unique to this slice of paradise.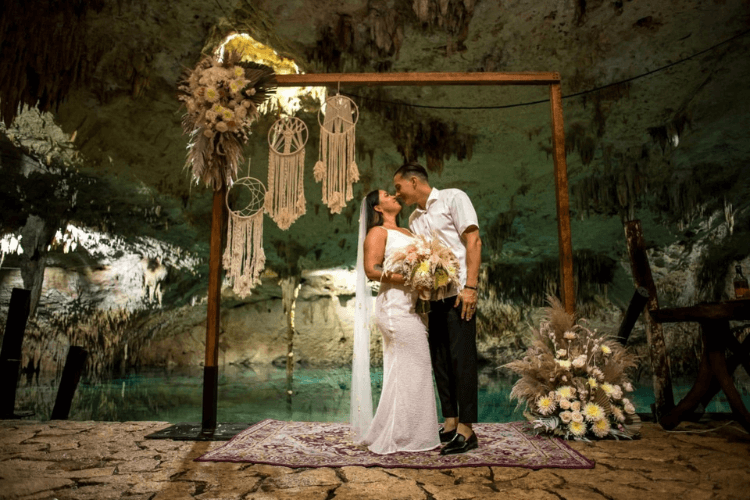 Mexico's coast is dotted with THOUSANDS of STUNNING natural underground reservoirs characterised by crystal clear waters and limestone stalactites.
They make an INCREDIBLE backdrop appearing to be something straight out of a fairytale.
You'll even find cenotes at some of the resorts, such as Sandos Eco Caracol!
Call us at 888-537-9797 to learn more about potential cenote venues for your destination wedding in Mexico. 
5. Book Your Ceremony at A Place of Worship
Places of worship are synonymous with absolutely breathtaking architecture, especially as different places around the globe have been influenced by different cultures and artistic techniques over time.
If a place of worship aligns with your beliefs at your destination, consider hosting your ceremony there.
It doesn't mean you won't get the beach shots you dream of. It just means you'll have more diversity in your photos.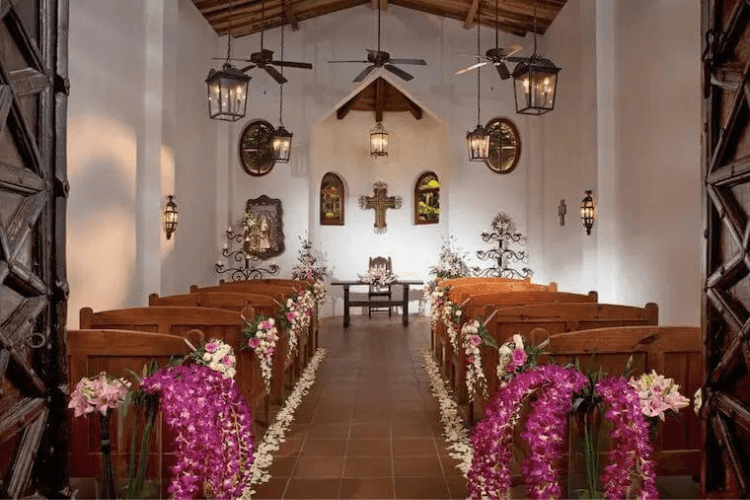 For example, you could host your ceremony at a place of worship, cocktail hour on a stunning roof terrace, and reception/after-party on the beach.
Many of the best wedding resorts in the tropics boast ornate Catholic chapels, churches, mosques, and more!
Call us at 888-537-9797 for more details on weddings at this resort. 
6. Opt For a Complimentary Wedding
Not many people know this, but if you don't care about all the frills, your destination wedding in paradise doesn't have to cost you a penny.
You can invest the rest of your budget in the things that really mean something to you and that you'll remember forever.
Many of the top wedding resorts in Mexico, Jamaica, and The Dominican Republic offer complimentary packages based on the number/nights you book.
For example, the "Always and Forever" package at Karisma Resorts could be just perfect for you.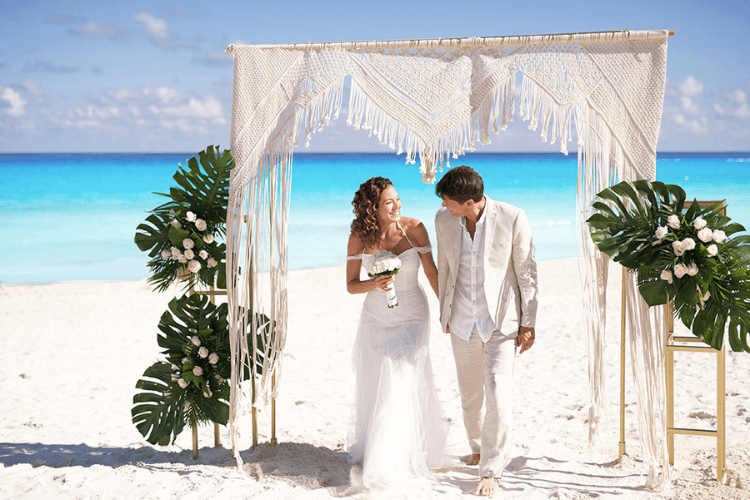 The normal price for this package is $950 but you can also get it for FREE when booking a minimum of three rooms at the resort.
It includes:
Decor for the ceremony
Services of a Signature Wedding Designer™ and an onsite wedding team
Sound system for the ceremony
Justice of the Peace or non-denominational Minister
Wedding certificate
Filing of documents and translation services
Witnesses if needed
Semi-Private dinner reservation
Groom's room with gourmet bites
Free wedding website and honeymoon registry
Free Memorable Moments Honeymoon and Anniversary package.
If you'd like to discuss the options at Karisma hotels, call us today on our toll-free number 888-537-9797.
7. Have a Shaman Bless Your Occasion
If you're hoping to put a spin on your ceremony, we recently saw one of our wedding couples have a local shaman bless their ceremony and their marriage. 
The photos were poignant!
Mexico is an incredibly spiritual place, as are many tropical destinations around the world.
Honouring the local traditions means a lot to the local and indigenous communities who have always lived here.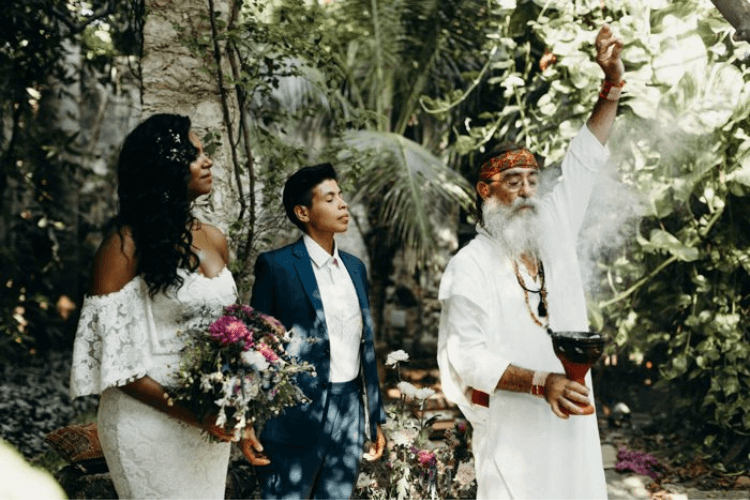 If you're spiritually inclined, it's a lovely way to deepen your relationship by honoring each other as individuals and in the union.
We are all on our own journey in life, and when we marry, we are acknowledging our commitment to support another on their journey.
Shamanic ceremonies usually take place in a sacred space such as a cenote or place of worship.
Call us at 888-537-9797 to explore this option with us. 
8. Drive a Getaway Car Through Town
If you or your partner is car lover, getaway cars are a great way to surprise your significant other.
Not only is it an amazing photo-op, but it's also fun to speed away together after the ceremony for a moment alone, and especially enjoyable when you get wed somewhere particularly scenic.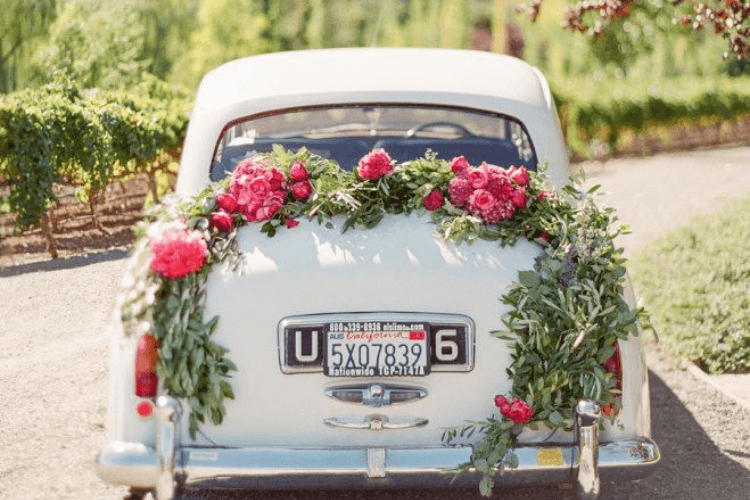 Wedding days are often said to pass by in a blur; with this in mind, we encourage our couples to create as many moments of stillness or quiet with throughout their day as possible to truly appreciate and remember the occasion forever.
Call us at 888-537-9797 if you'd like to discuss weddings at this resort.
9. Hire a Local Painter or Artist
With so many great artists in this part of the world, why not hire one to capture a special moment at your wedding? 
We recently saw this idea on Tik Tok and LOVED it!
Art often captures what photos cannot.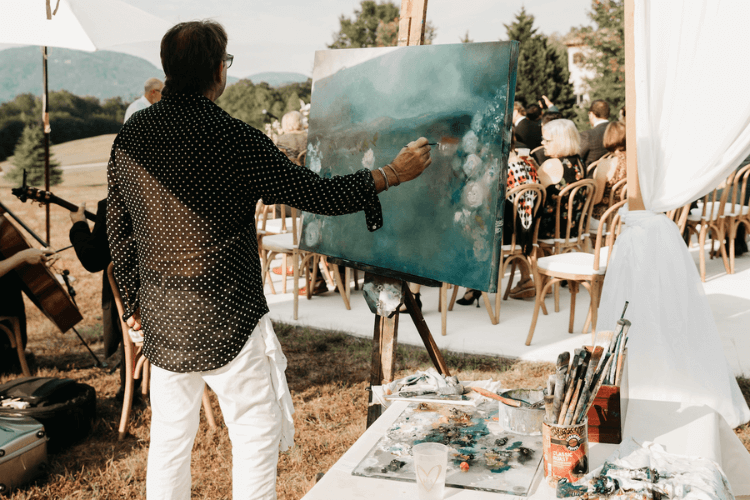 Choose someone based on your own style and preferences to create a piece of art that will work in your home.
It's something you can keep hold of, cherish, and will be passed down through the generations.
Remember – be sure to check out the portfolio before going ahead and check with the resort how much it will cost to have an outside vendor enter the premises just for your special day.
Call us at 888-537-9797 to start planning your destination wedding in Mexico, Jamaica, or The Dominican Republic. 
10. DON'T Chop Down Your Guest List Because You're Worried About Costs…
What do we mean by this? It may sound a little sneaky, so bear with us…
This rule generally applies to destination weddings in the Caribbean.
Oftentimes, we hear our couples worrying about dramatically chopping down their guest list because they're worried about costs (which makes sense if you're getting married in Italy …or somewhere similar).
However, one of the best things about a destination wedding in this part of the world is that the more people you bring,  the more your chosen resort will love you.
Why?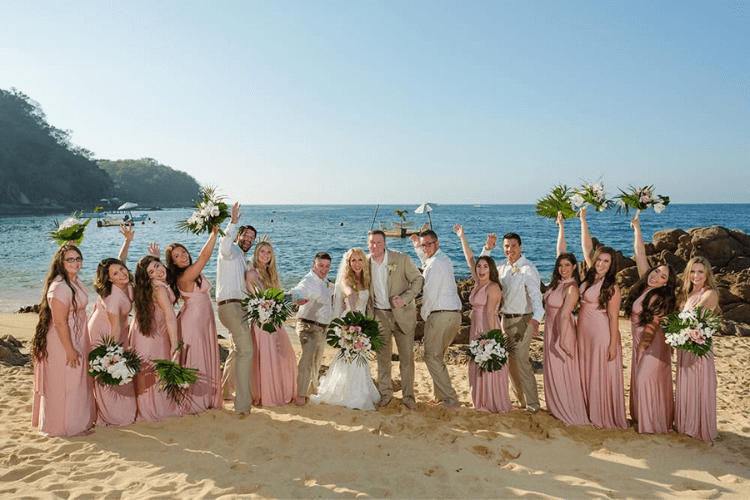 Think about it; the resorts make the big bucks based on guests staying at the hotel and how long for.
If you've got a lot of friends and family and want a big wedding, HECK, invite them all.
They're the ones paying for flights and hotel rooms.
We can help you strategise which hotels and packages offer the best perks for big weddings.
You could end up getting 15k credits to spend on your wedding if you play it right.
Plus, we organise your group and room blocks, so you have nothing to worry about.
TOP TIP: sell your destination to your guest list, encourage them to stay as long as they like, and make a holiday out of it for the biggest returns on your wedding.
Call us at 888-537-9797 if you'd like to discuss weddings at this resort.
11. Host An Event at A Landmark
ICONIC is a word that springs to mind!
How many couples can say they've got wedding photos at Chichen Itza or Bacalar?
Imagine getting a photo at a Wonder of The World or an iconic landmark for your albums!
ICONIC.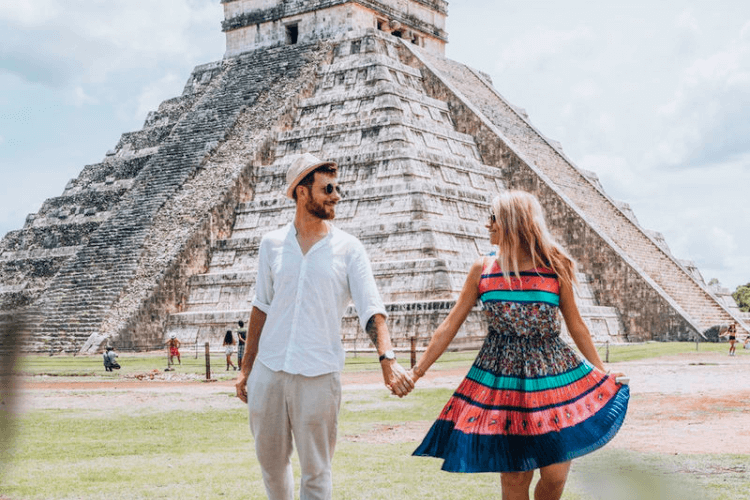 Hosting a casual or formal event at a landmark helps you channel the locale for your occasions and means your guests can experience what you made you feel in love with the country too.
It's something you will all remember forever and a nice way to kick off or round out the occasion.
Call us at 888-537-9797 to start planning.
12. Make Use of A Sole Guarantee so Your Special Day is ALL About You.
If you're a bride or groom who doesn't want to share their special day with any other wedding couples at your accommodation, you need a sole wedding guarantee.
Our award-winning specialists can make this happen.
If you have over 100 guests' attending at some resorts, we can guarantee your wedding will be the ONLY wedding all weekend.
There's nothing wrong about making it all about you for your wedding.
It's a once-in-a-lifetime event that requires careful planning, investing, and energy.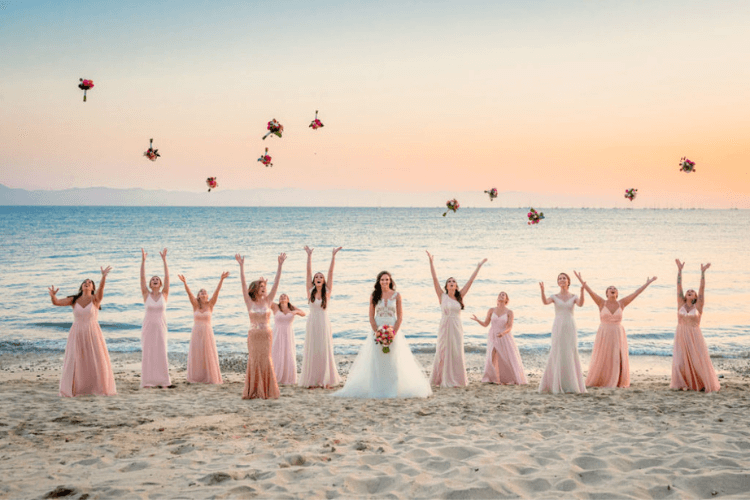 If you'd like to discuss ensuring a sole wedding guarantee, call us on 888-537-9797. 
13. Channel The Locale in The Decor
In 2023, we're seeing more and more couples wanting meaningful, symbolic and intentional events.
What they say is true; it IS all in the smaller details, such as spices, linens, ceramics, artwork etc.
To elevate your occasion try to pull pieces, colors, materials etc local to the region for the best results.
If your wedding is in Mexico, for example, chances are it's because you love love love it there, right?
So, Mexi-fy it as much as possible for a coherent and luxury-looking occasion.
It doesn't have to cost the earth either.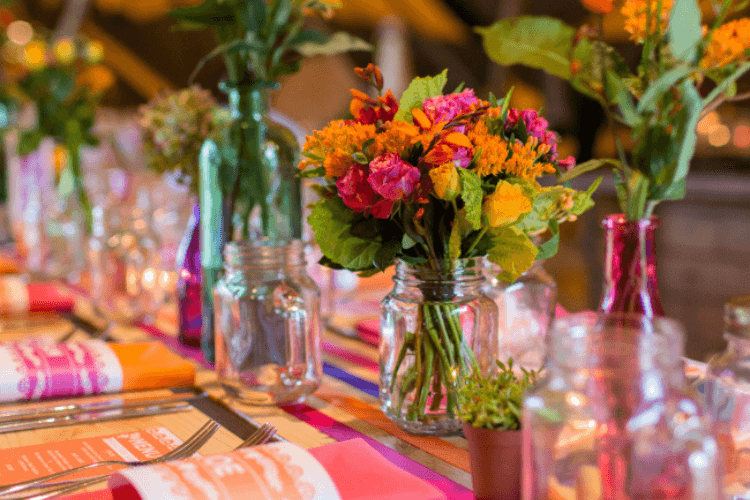 Amazon is going to be your best friend!
It may just require a little more planning or research.
Our team are always here to help with any questions too!
Call us at 888-537-9797 to start planning your destination wedding.
14. Organize a Group Tour with Your Wedding Party
Organizing a group tour with your wedding party is a great way to make memories with your loved ones that will last a lifetime.
Some of our favourite options that we've seen over the years include yacht hire or more cultural/foodie events.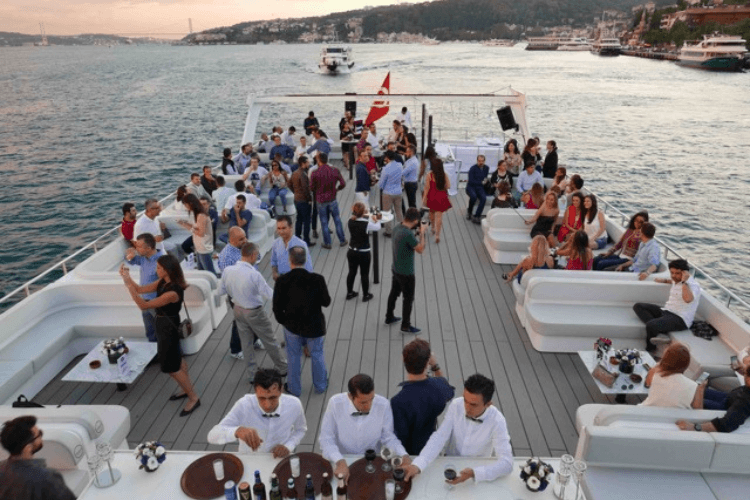 If you've got a large group, you may be thinking, HECK no, that sounds too stressful, but our team is here to help you organize it all; all you have to do is sit back, relax and get excited.
If you've got the cash to pay for the tour yourself, it's a nice way of saying "thank you" to everyone for making the trip for your wedding.
Call us at 888-537-9797 to start planning.
15. Play Some Games
Is your group of friends the competitive type?
Consider hosting a field day or scavenger hunt around your destination.
TEAM BRIDE or TEAM GROOM!?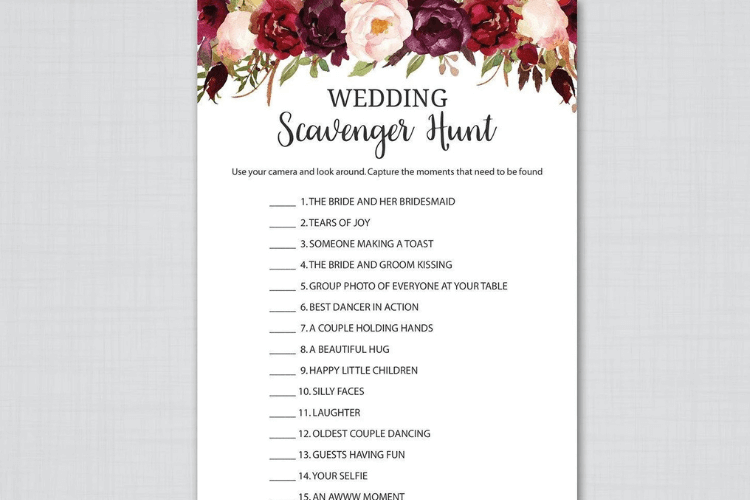 These types of activities are a fun way to start a long weekend and get guests that may not know each other as well as you'd like, acquainted with one another.
Wedding events always flow much better when the group feels comfortable together.
Call us at 888-537-9797 to start planning your destination wedding in paradise.
16. Create a Show-Stopping Photo Moment
There are wedding photos, and then there are wedding photos that REALLY had some thought put into them.
It's so worth spending a little time planning a special photo moment for your group to get involved with.
Some of the best ones we've seen recently have been LGBTQ+ related!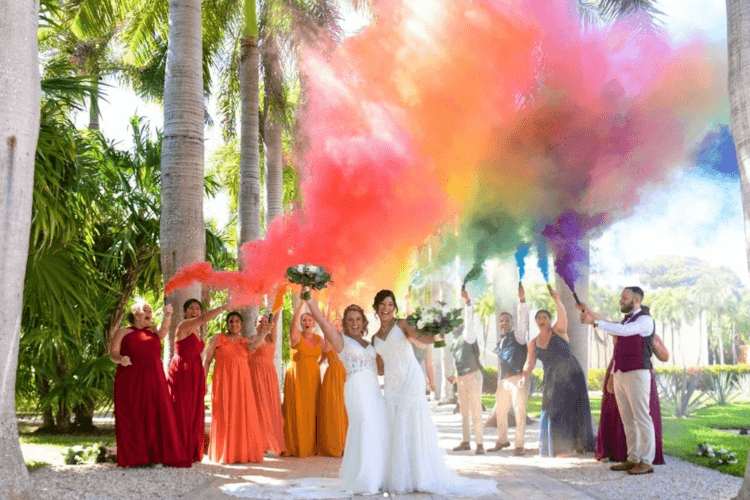 One of our lesbian couples recently decided to take rainbow colourful eco-friendly flares for their wedding shoot, the result?
A rainbow of EPIC-ness!
Not only is it a celebration of equality, but it's also a moment of pride, and an image that will turn heads forever.
Call us at 888-537-9797 to start planning your destination wedding.
17. Set Up a QR Code On Wedding Table for Photos
There is LITERALLY nothing worse than not being able to take any photos at an event and then TRYING to get all the best photos from your friends afterwards.
Am I right?
The same applies to you on your wedding day.
Sure, you'll have a wedding photographer, but what about all the moments in between with your guests…you don't want to miss out on that!
You want full visibility on the photos from your special day because, let's face it, some people are better at making content than others.
We've got a solution.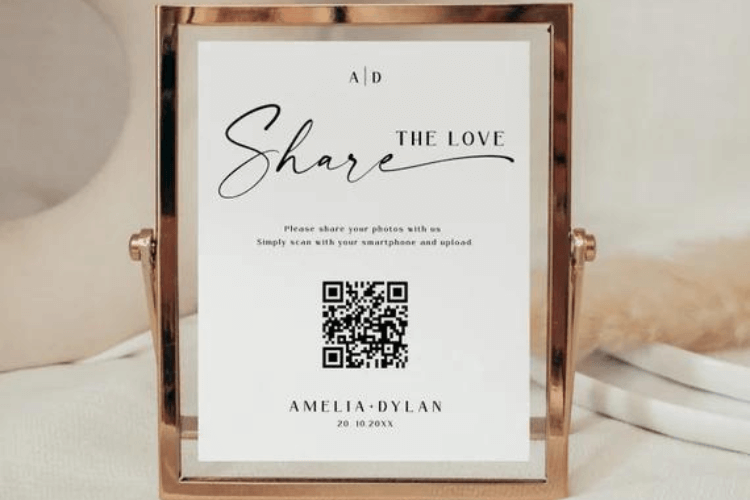 Create a Google Drive on a new email to store all your friend's wedding photos from your special day.
Next, create a QR code for sharing photos that link to your newly created drive.
Voila!
Print it off, slot it between a double sided clear acrylic table topper and put them all around your event so guests can upload any photos they've taken with you at their leisure.
That way, you won't miss a beat!
Call us at 888-537-9797 to start planning.
18. Handwritten Letter in The Seating Chart with a Personal Photo
Total transparency…we stole this one from Tik Tok, but we love it so much we had to share.
Seating charts are arguably one of the hardest parts of planning your reception.
Some people are meticulous, others…less so.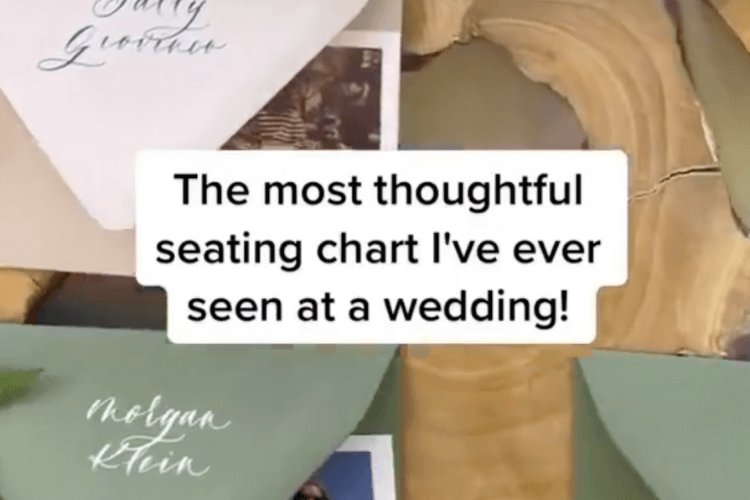 Creating a handwritten letter for guests to pull out their seating chart coupled with a personal photo of you and them is a really thoughtful way of saying thank you for making the trip.
Sure, it takes a little time to create, but it's SO worth it to see the look on their face and it is sure to get everyone totes emosh before the speeches begin.
Call us at 888-537-9797 to start planning.
19. Swap a Wedding Guest Book for Wedding Guest Jenga
Wedding guest books are one of those things that, once the event is over, most likely get put in a drawer only to be pulled out once every few years, less and less so as time goes by…
Why not opt for something more fun?
Stock up on plain Jenga blocks and ask your guests to sign or add a small note to each on arrival.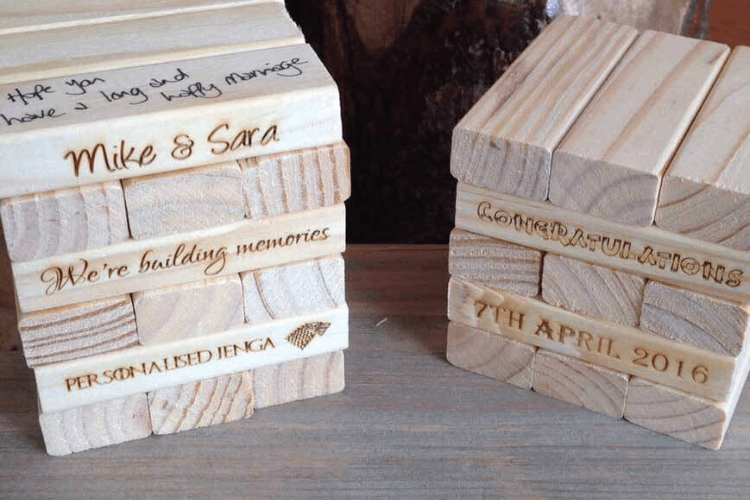 That way, not only have you got a fun game to play forever, it will be a great way to reminisce every time you get it out.
Call us at 888-537-9797 to start planning.
20. Take Fun Floats
Post covid, not nearly as many wedding resorts have fun floats anymore, so take your own.
We recently saw one of our brides take cute unicorns and flamingo floats for the bridesmaid shoot.
The result?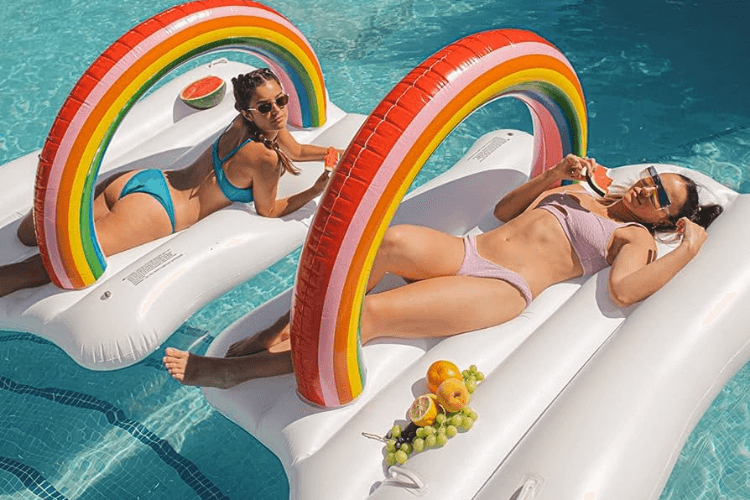 Fun, cute photos FULL of personality.
Call us at 888-537-9797 to start planning your destination wedding.
21. Take a Steamer
This is only something the experts would warn you of.
TAKE A STEAMER; hotel irons can NOT be trusted.
Are you really willing to risk everybody's expensive outfit?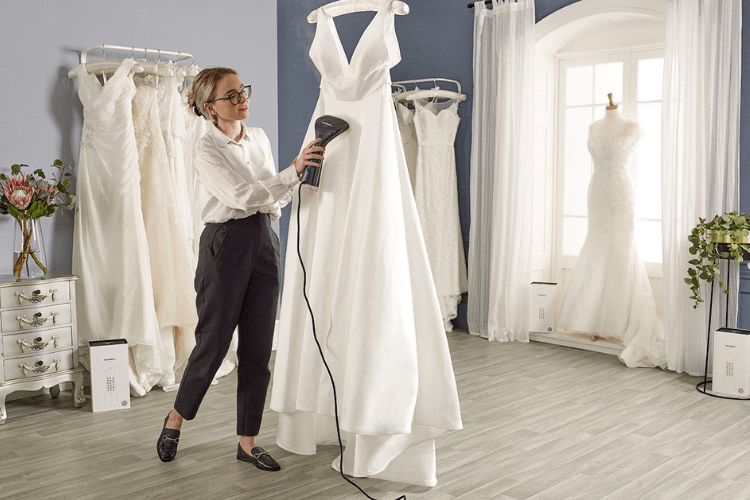 We thought not. 😉 Trust us; your bride squad will thank you later.
Call us at 888-537-9797 to start planning your destination wedding.
22. Book a 360 Photo Booth
If you were thinking about it, just do it!
The results are so worth it.
360 photo booths are no longer reserved for the likes of celebs.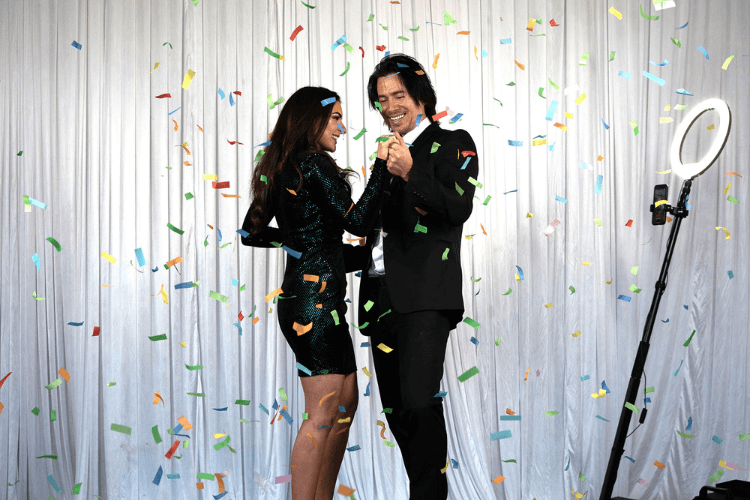 You can make yourself and your guests feel like an A-Lister too.
Many of the wedding resorts in Mexico offer these for rental during your reception.
They are a great way of capturing the raw and uncut emotions of the evening.
We couldn't recommend them enough.
Call us at 888-537-9797 if you'd like to start planning your destination wedding.
23. Practice Your Wedding Dance Entrance
Often overlooked, your wedding dance entrance often sets the tone for the rest of your event.
Whether you are aiming to get the party started, create something funny and viral-worthy, or opt for pure elegance…start with the entrance.
Not sure where to begin, you'll find lots of help on social.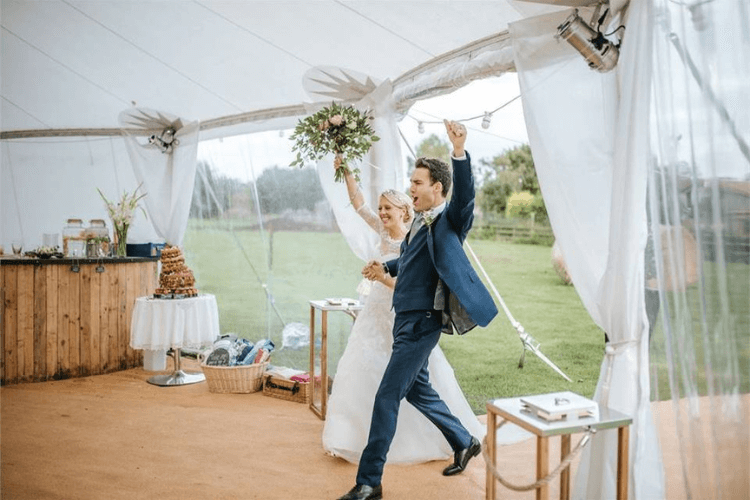 The first dance at a wedding has recently become a BIG thing, especially for US couples.
It's worth practising ahead of time so you feel confident and make the most of those wedding photo ops.
Call us at 888-537-9797 to start planning.
24. Instead of Flowers Girls Have Beer Boys
Adult-only wedding?
But what about the flower girls?
Meh, get the party started and opt for beer boys instead to help everyone cool off in the heat as you say your "I dos".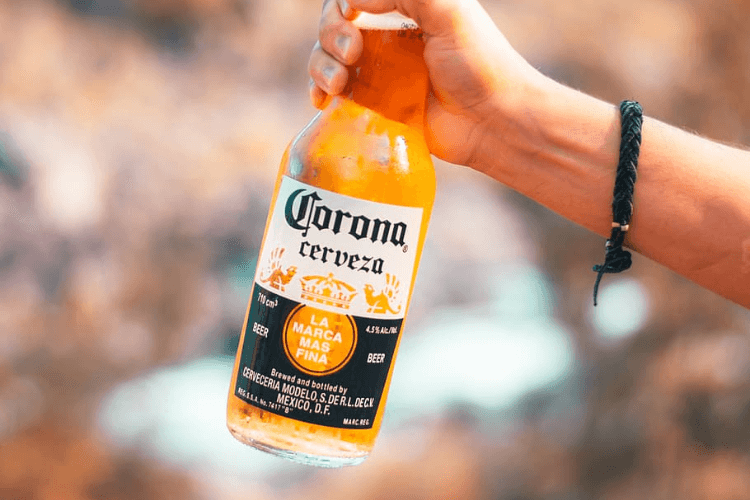 Choose two of your groom's closest friends and have them hand out ice-cold beers as they walk down the aisle.
Couple it with a funny/suitable soundtrack, and you have yourself an iconic wedding aisle moment right there!
Call us at 888-537-9797 to start planning and hear more of our ideas.
25. Bring a Power Strip
Picture this, you're getting ready in the bridal suite with your girls (10+ people in total), and you've got a very limited amount of plugs to work with.
It can be carnage!
Phone chargers, curling tongues, straighteners, hairdryers, steamers etc…
Take a few power strips.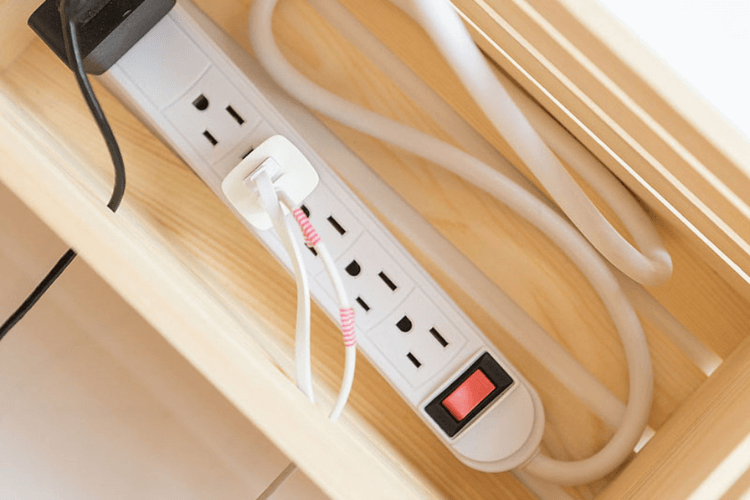 You can thank us later. 😉
On this topic, we also recommend brides take lint rollers, pretty hangers for their wedding photos, and trash bags to keep things tidy.
Call us at 888-537-9797 to start planning your destination wedding.
Feeling Inspired?
We hope you enjoyed our ideas; we dug deep for our most unique to help inspire your destination wedding in paradise!
If you're feeling ready to plan, we'd love to hear from you.
Our award-winning Destination Wedding Specialists will be here every step of the way.
Based on your vision and budget, they can help breathe real life into your occasion.
Call us at 888-537-9797 or complete the contact form on our website to start your wedding planning journey.
Destination Weddings Blogs You May Find Useful
---
Trending Now