My HONEST Review of the Blue Diamond Luxury Boutique Hotel in Playa Del Carmen
---
If this review of the Blue Diamond Luxury Boutique Hotel doesn't make you want to visit the Riviera Maya this year, nothing will!
I'm an avid traveler and let me tell you something, this hotel holds the top spot in my top 3 hotels I've EVER had the pleasure of staying at.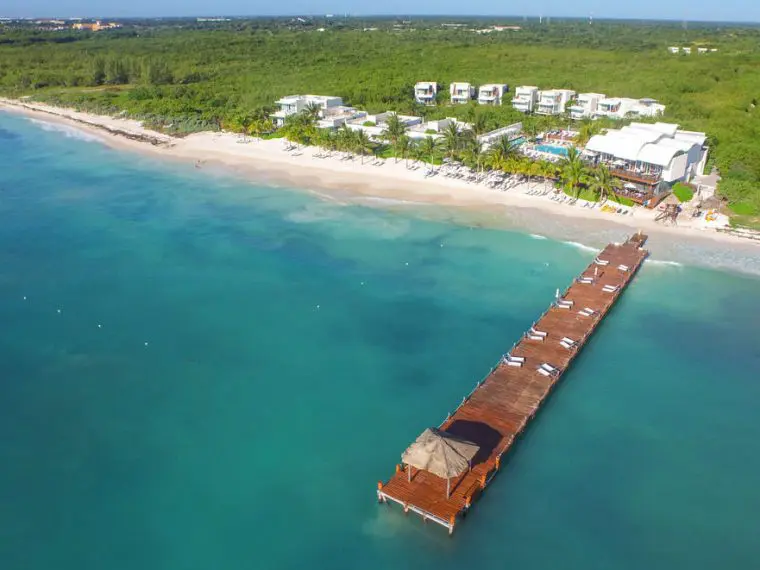 Blue Diamond Playa del Carmen Review:
---
The Blue Diamond Luxury Boutique Hotel is a 5* exclusive, adults-only haven,  laid out over 36 acres of lush tropical jungle, manicured gardens, and palm filled white sandy beaches.
Built along peaceful river waterways, a mystical Mayan cenote, and the turquoise blues of the Caribbean Sea, it's a unique natural sanctuary promising relaxation and rejuvenation.
Location
If you're searching for a peaceful tropical getaway look no further!
Encapsulated by lush greenery you can enjoy a serene ambiance lightyears away from the hustle and bustle of your ordinary life.
You will feel like you are in a world of your own…when in reality, you're just 40 minutes south of Cancun International Airport and just 10 minutes north of downtown Playa del Carmen.

Choosing Playa del Carmen for your next vacation puts you in a perfect position to enjoy all of the very best that the Riviera Maya has to offer.
It lies at the heart of the Yucatan Peninsula meaning you'll be in close proximity to all of the regions top attractions.
At this hotel, you get the best of both worlds.
The tropical setting and a private beach give you the intimacy and seclusion that you desperately crave from a vacation in the Caribbean.
But if you do want to mix things up a bit you are minutes away from the heart of the action.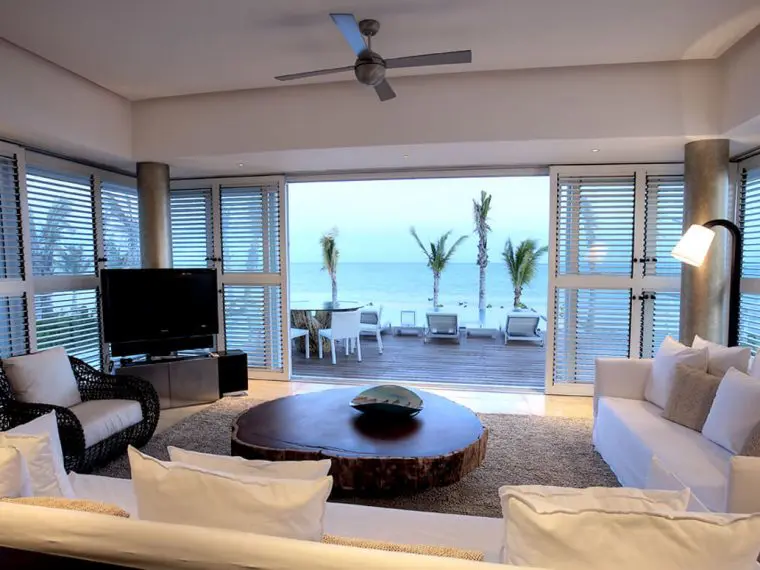 You can explore downtown Playa, and visit neighboring areas such as Tulum and Puerto Morelos.
A taxi into downtown Playa will cost you around $10-$15, you can always confirm the price with the receptionist in the lobby when they request the vehicle to avoid any surprises.
Beach
The Blue Diamond Luxury Boutique Hotel is included in our top 5 hotels in the Riviera Maya with the best beaches.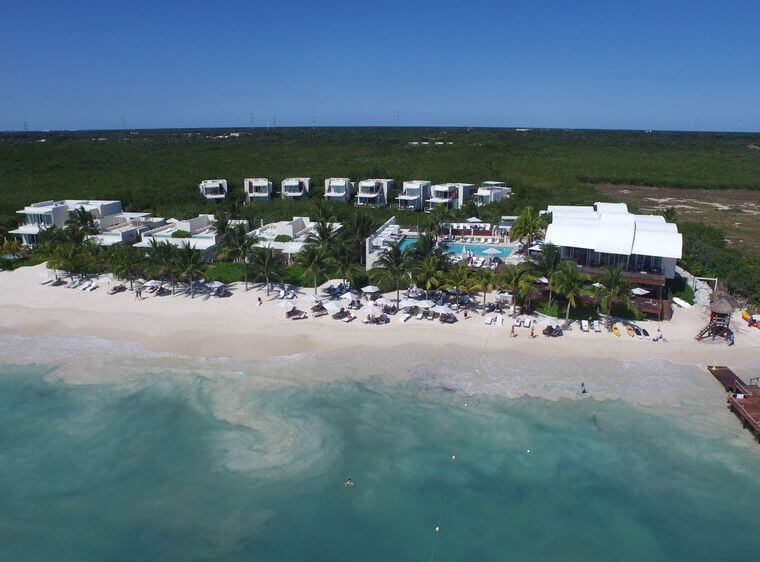 My favorite thing about this beach is that it is a private beach exclusive to visitors staying at the hotel. 
This means it is never busy or overcrowded and it's well maintained.
Unlike many beaches in Playa del Carmen, it is a relatively wide beach, there's lots of space before the beautiful white sands meet the water.
You don't need any footwear to enter the ocean because the seabed is soft and sandy (no rocks).
You can enjoy the blissful sound of the waves from the sunbeds (which are wonderfully shaded by the tropical palm trees) while beach butlers attend to your every need.
What's not to love?
Nature
The owners of the property have made outstanding efforts to produce a luxury hotel that is in harmony with its natural surroundings.
As soon as you step foot into the lobby you are greeted by the tranquil sounds of running water and impressive natural decor.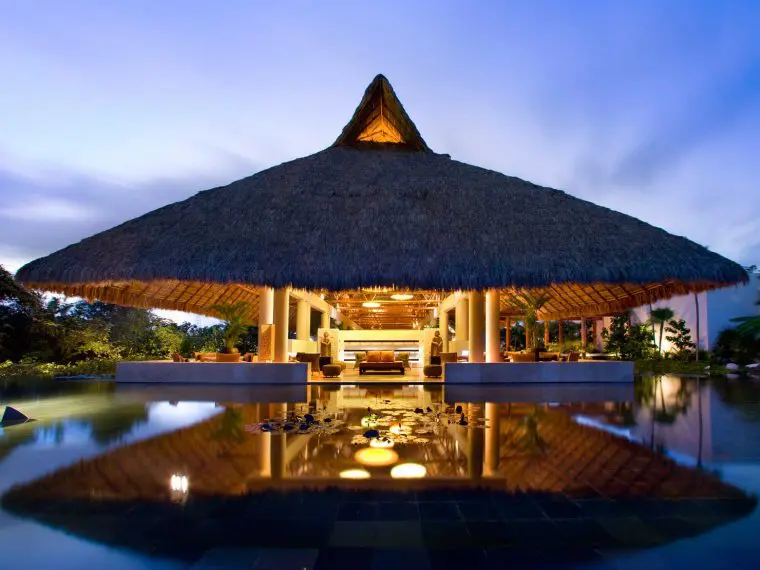 The resort as a whole is the perfect blend of limestone, wood, and luxury amenities.
Unlike many resorts in the touristic areas of Mexico, The Blue Diamond Luxury Boutique hotel doesn't want to dominate the coastline with tall impressive buildings, it wants to fit seamlessly into the surrounding jungles, causing as little natural damage as possible.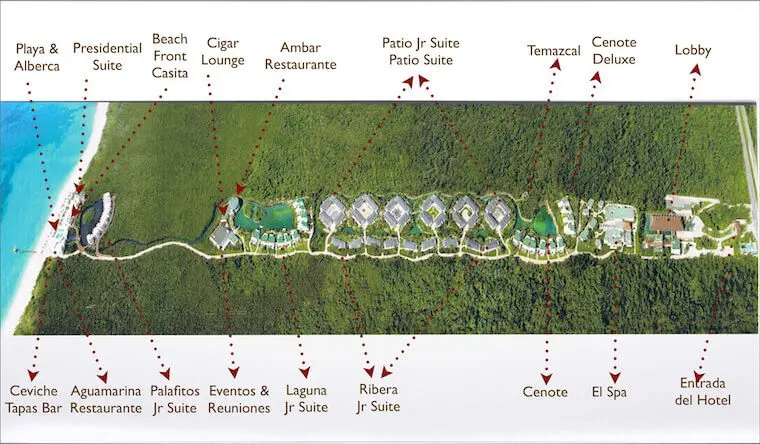 As you can see in the resort map above, the layout of the property is unique and runs in a straight line from the highway down to the beach.
The hotel is built around a series of beautiful waterways and there is even a mystical Mayan Cenote onsite. 
Read our blog 'What is a cenote?' to find out more.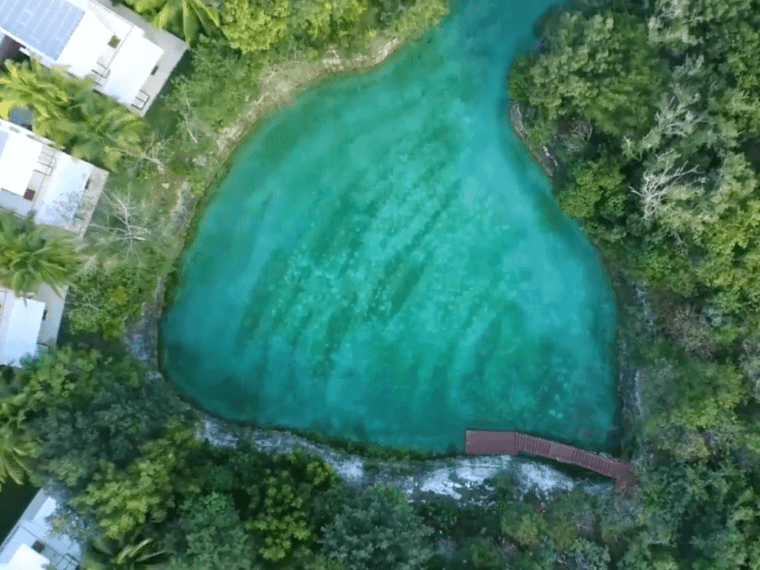 You can expect to see a range of wildlife during your stay at the Blue Diamond.
When I was there I had an up-close encounter with a monkey (not sure which species), but it was super friendly, and we even got to feed it fresh fruit.
Luckily I caught it on camera for you guys.
Food & Drink
Prepare for a taste sensation at the Blue Diamond Luxury Boutique Hotel!
Escaping to this resort is an extremely sensory experience. I assure you your palate will be pleased.
The hotel is all-inclusive but the food you can expect to receive here is top notch, something you'd pay very good money for at a flashy restaurant back home.
There are 3 al la carte restaurants at this hotel, plus 24-hour in-room dining.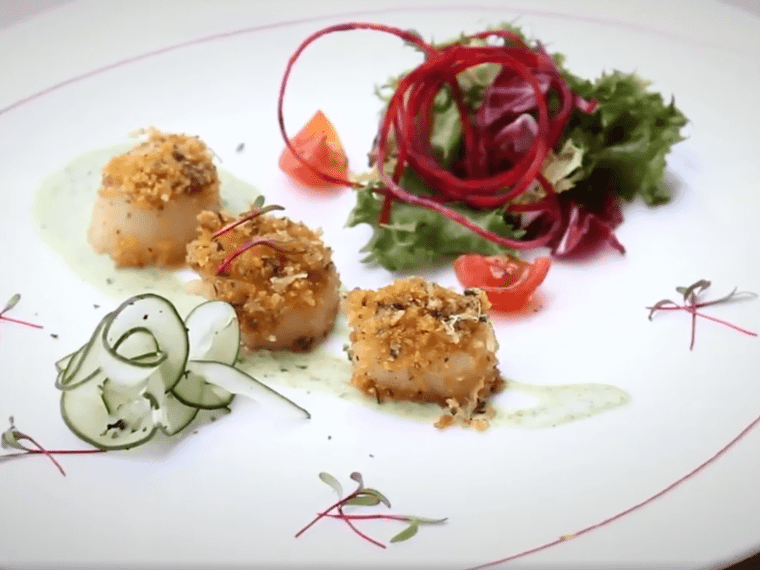 Aguamarina
Specializing in International cuisine, my favorite place to eat was Aguamarina this exclusive A la Carte restaurant invites you to savor a world of flavors, with indoor and al fresco dining options overlooking the ocean and pool below.
Here you can expect international cuisine with panoramic ocean views.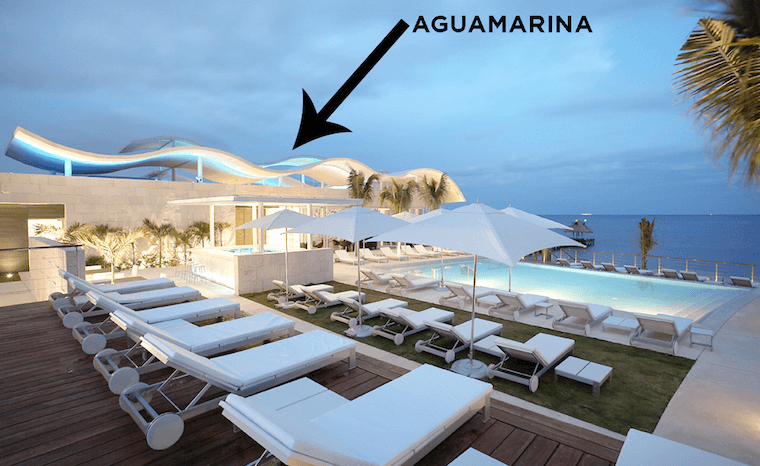 Capacity: 82 pax
Dress code: casual elegance.
Opening hours:
Breakfast: 7:00am – 11:00am
Lunch: 12:00 pm – 4:00pm
Dinner: 6:00pm – 22:00 pm
No reservations needed.
I recommend the seared tuna steak and shrimp skewers.
Ceviche and Tapas Bar
Savor a quick bite any time of the day at the convenient ceviche and tapas bar.  The ideal beachfront location offers daily fresh seafood and fish ceviche dishes, plus a huge selection of world famous tapas.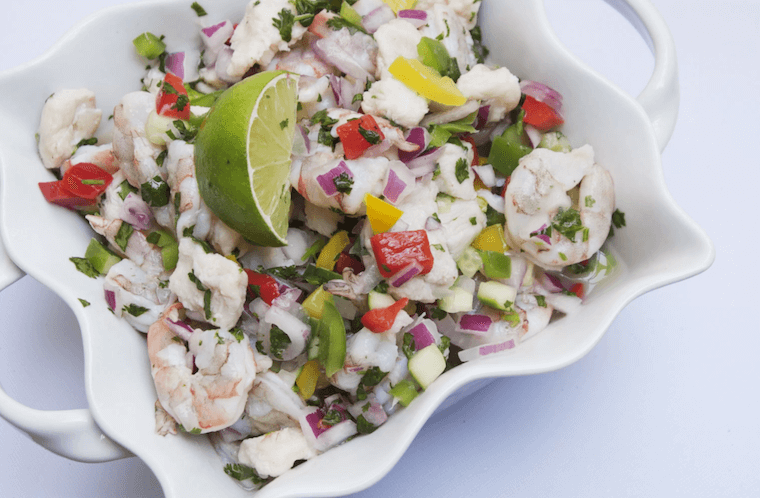 Opening hours:
Continental Breakfast: 9:00am – 12:00 pm
Lunch: 12:00 pm – 6:00pm
Snack: 10:00 pm – 7:00am
Dress code casual no reservation needed.
Ambar
Dine and indulge in this exclusive setting overlooking the central lagoon and please your palate with innovative fusion cuisine from the exceptional team of chefs.
Fully a/c restaurant with additional open-air terrace.
Capacity: 68 pax
Dress code: casual elegance (long pants, polo shirts).
Opening hours:
Dinner: 6:00pm – 10:00pm (a la carte).
No reservations needed.
Pool Bar
Enjoy your favorite cocktail or drink all day and night at the stunning oceanfront location – the Pool Bar.
Here you will find a variety of international and local long drinks, margaritas, and cocktails. The mojitos are to die for!
Opening hours: 9:00am – 1:00am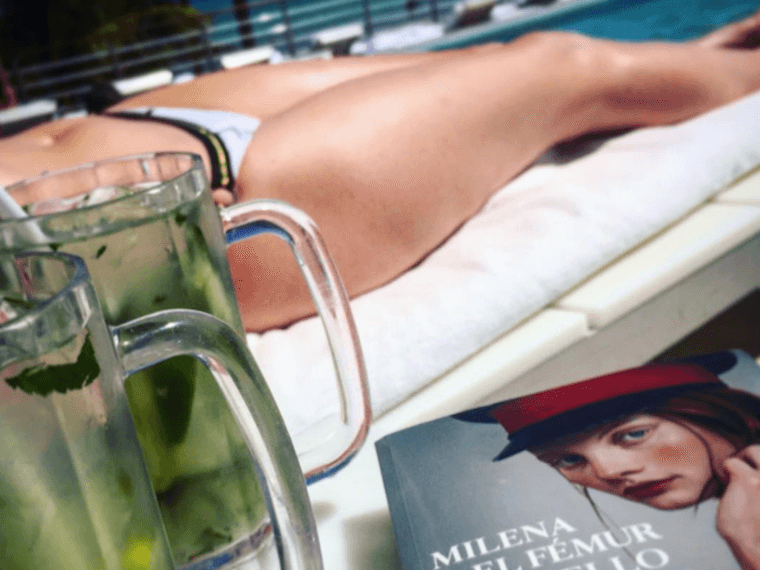 Cigar Lounge
Enjoy world class cigars, wines, and spirits at a chic rooftop bar and lounge.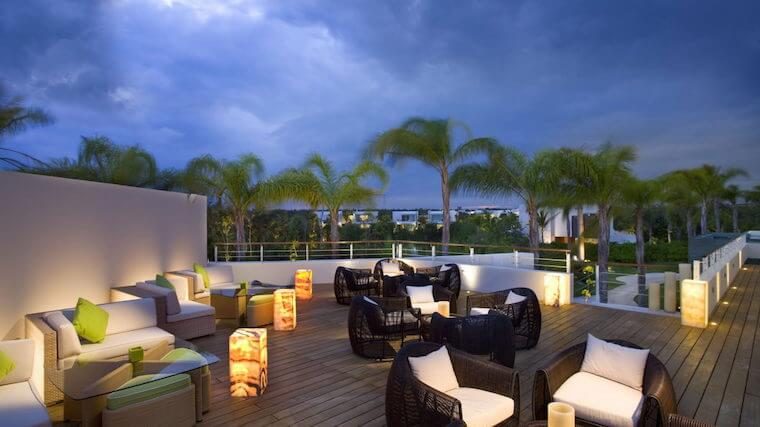 Opening hours: 9:00am – 1:00am
Additional costs may apply.
Cafe Brulee
Savor selections of some of the finest tea and coffee specialties in the Caribbean as well as home-made pastries.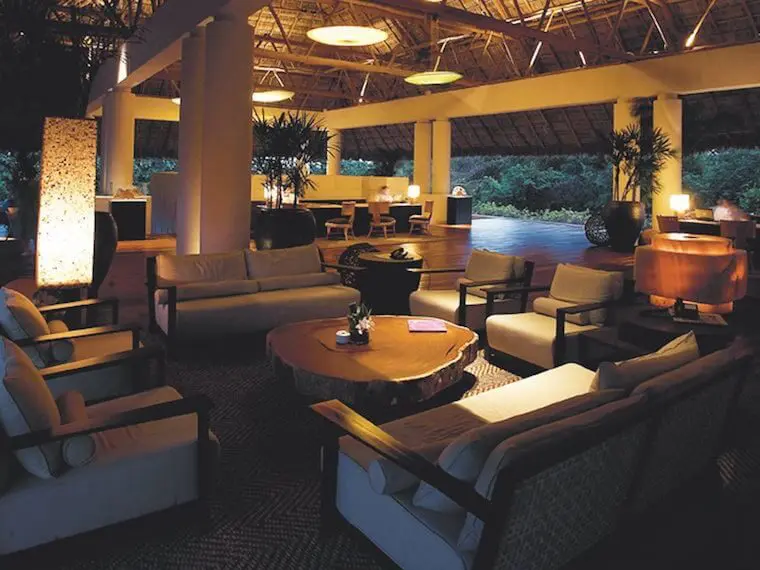 Opening hours: 7:00 am – 11:00 pm
In-Suite Dining
Who doesn't love the luxury of having food ordered to your room?
When you see the rooms you'll understand why many guests choose to dine in the privacy of their suite at least once during their stay.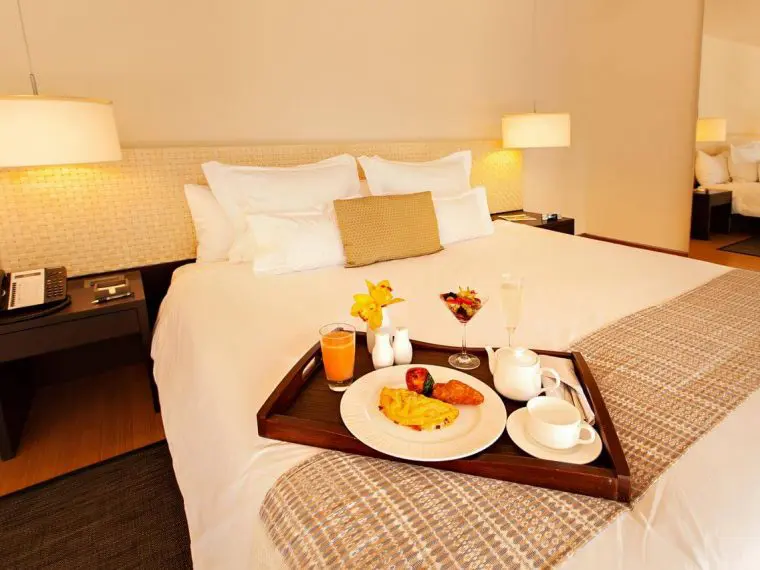 Choose from the hotel's extensive breakfast menu – including their signature 24-hour Champagne Breakfast – and a fine selection of enticing entrees for lunch and dinner.
Each In-Suite Dining experience is served by a personal In-Suite Waiter (service charges apply).
Rooms
Hands down one of the most comfortable rooms I've ever stayed in.
At the Blue Diamond Luxury Hotel by Bluebay, there are 128 luxurious junior suites and suites.
Each suite features unique characteristics from which you can choose – including spectacular beachfront casitas; private docks, ocean view rooftop terraces with sun chairs, rooftop infinity pools, private pools and more.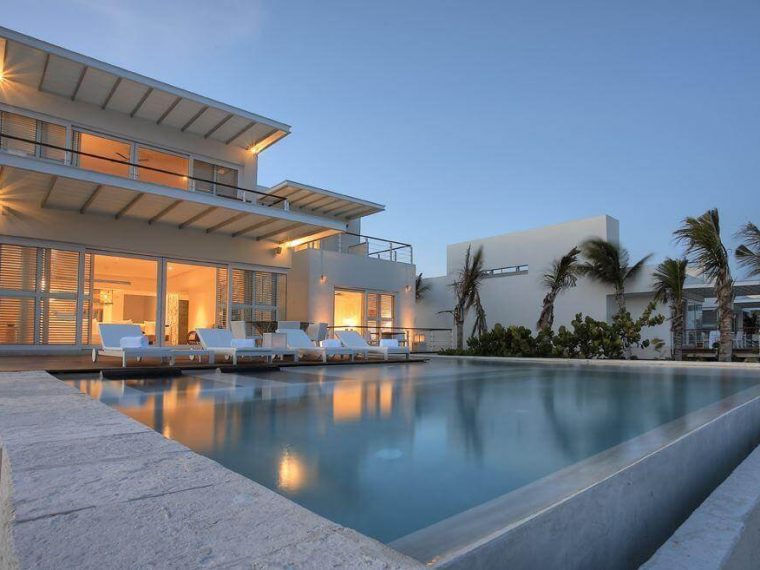 There are 3 main room categories at the Blue Diamond Luxury Boutique Hotel in Playa del Carmen:
Beachfront Casitas
Presidential Suite
Patio Junior Suites
Each luxurious suite features floor-to-ceiling windows and CD / DVD players.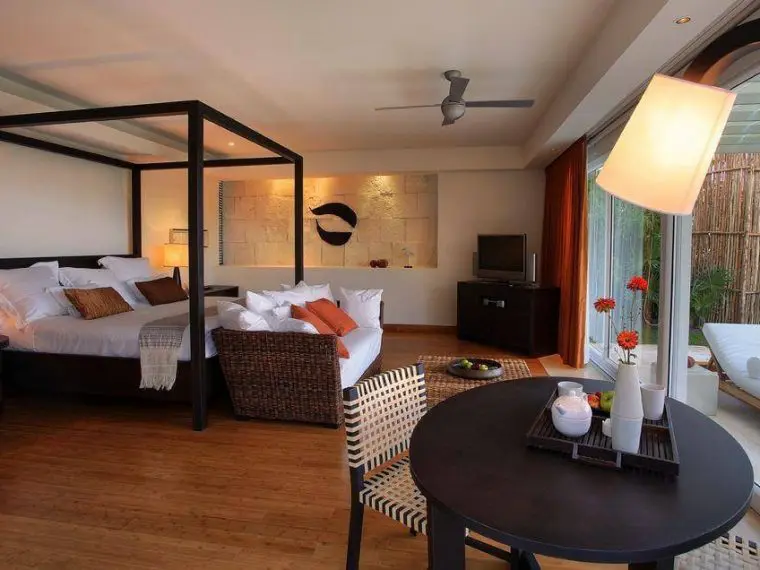 All of the rooms open to spacious balconies or terraces, beds feature premium bedding and plasma flat-screen TVs that come with premium cable channels.
Bathrooms include separate marble bathtubs and showers, bathrobes, slippers and makeup/shaving mirrors.
Internet
Rooms do come equipped with wireless internet access. However, during my stay I found the WiFi a little temperamental, and speaking to other guests they were having the same problems in their suites too.
The rooms also come with other business-friendly amenities including a work desk and multi-line phone with voice mail.
Activities
A whole host of fun awaits you at this hotel, and the best bit is that many of the amenities are completely included in the cost of your stay.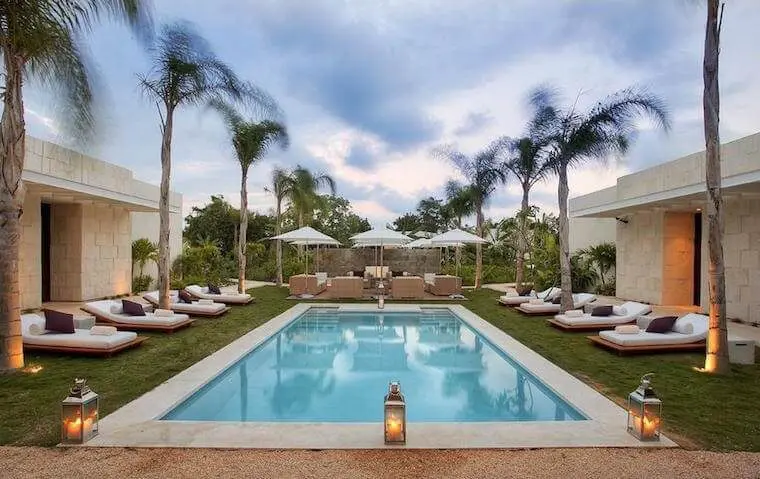 Complimentary activities at this hotel include:
Wine tastings
Cooking classes
Yoga classes
Table tennis
Board games
Temazcal ceremonies
Windsurfing
Kayaking
Sailing
One scuba diving clinic in the pool
One ocean dive or snorkeling tour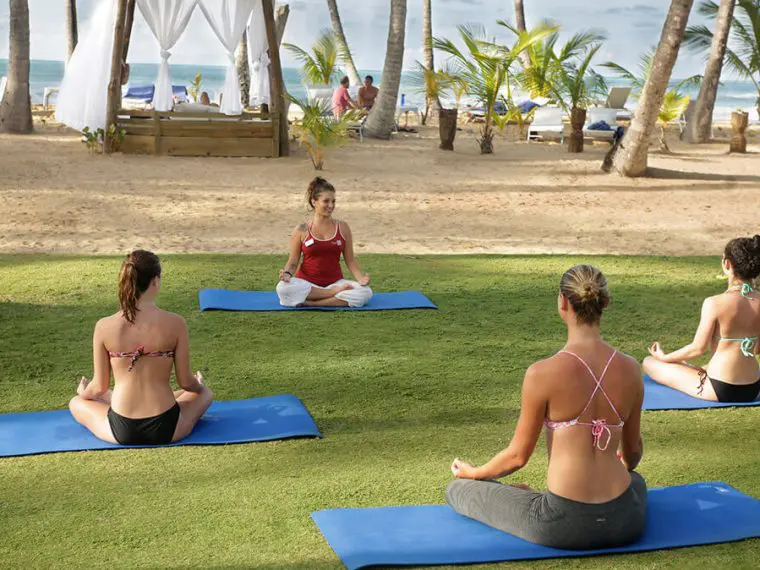 Available at an additional charge you can even try…
Horseback riding
Helicopter excursions
Scuba diving & Diving center
Fishing
Parasailing
Jet skiing
Which one will you definitely be trying out? Be sure to let us know in the comments section, we would love to hear from you.
Spa
If you and your amigos are looking for a long spa weekend away,  it really doesn't get much better than this. Every element of the spa at The Blue Diamond Hotel has been designed to evoke a sense of peace and calm.
Therapists here elegantly merge Mayan philosophies with ancient Asian healing rituals.
Choose from a careful selection of rejuvenating treatments for health and beauty, invigorating activities like Yoga, Janzu, plus the latest and best equipment in Kinesis.
Manicures and pedicures
Aromatherapy
Body scrubs
Hydrotherapy
Body treatments and wraps
Massages
Yoga
Janzu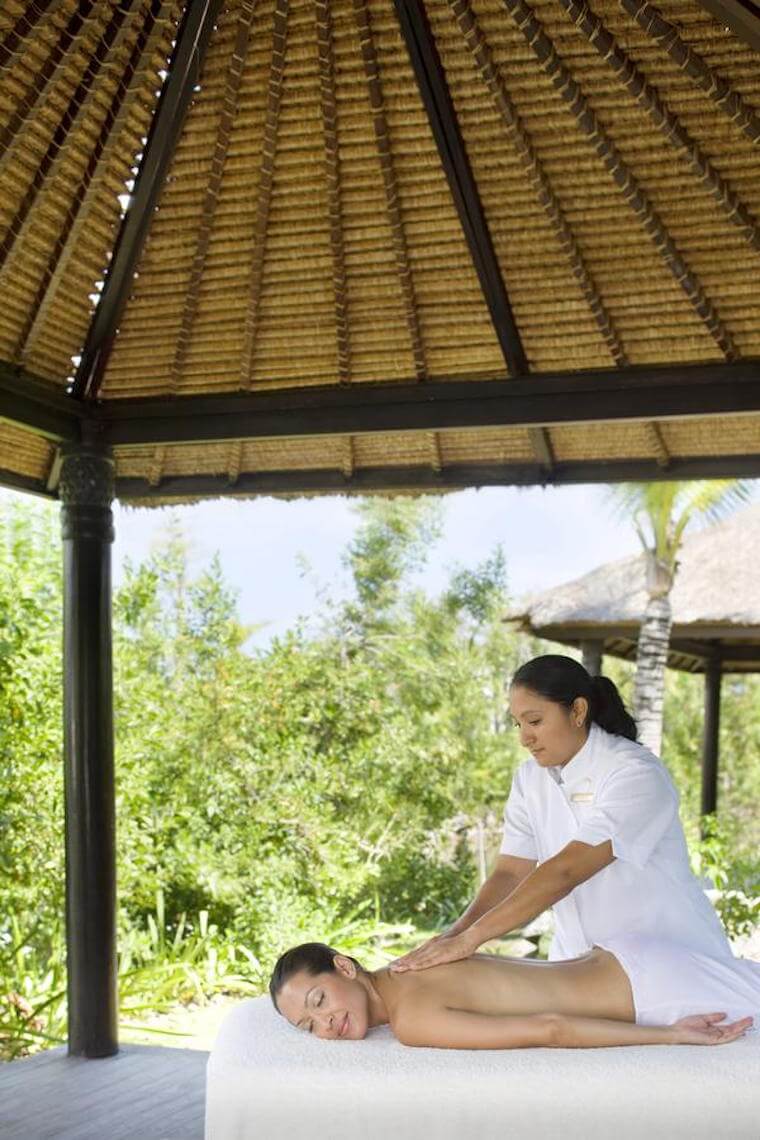 Sauna
Kinesis equipment
Fitness center/gym
Experience shower
Exclusive indoor swimming pool for men and women
Relaxation outdoor swimming pool
Spa boutique
Temazcal ceremony
Weddings and Groups
When it comes to planning a wedding in the Riviera Maya,  we're the experts! Last year we organized 100s of weddings for people like you and saved them a ton of money on different hotels and room rates.
The Blue Diamond is the perfect location for guests who appreciate the finer things in life.
If you've always dreamt of having a wedding on the beach and being pampered like a goddess it's worth enquiring today about this hotel and the packages they offer.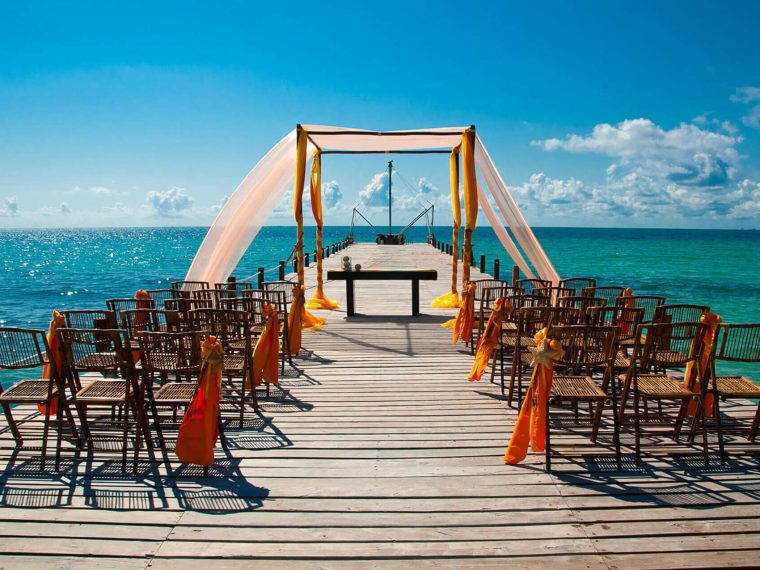 They have 3 different packages starting from $1945 + 1 honeymoon package.
Our expert Wedding Planners will be with you every step of the way completely free of charge to ensure everything runs smoothly.
Email us at weddings@playadelcarmen.com 
Golf
The Golf Club Grand Coral Golf Riviera Maya, designed by the legendary Nick Price, is a wonderful and challenging field with first-class facilities and excellent personalized service, just 45 minutes from Cancun International Airport.
Settled within the natural jungle of the Riviera Maya, this championship, the par-71 golf course offers 18 holes on 6,990 yards of the deep green.
Its eight lakes and 71 traps are worthy obstacles for golfers of all skill levels.
See for yourself and take advantage of additional amenities and services, including the pro shop, driving range, equipment rental, transportation, spa, gym, snack bar and restaurant.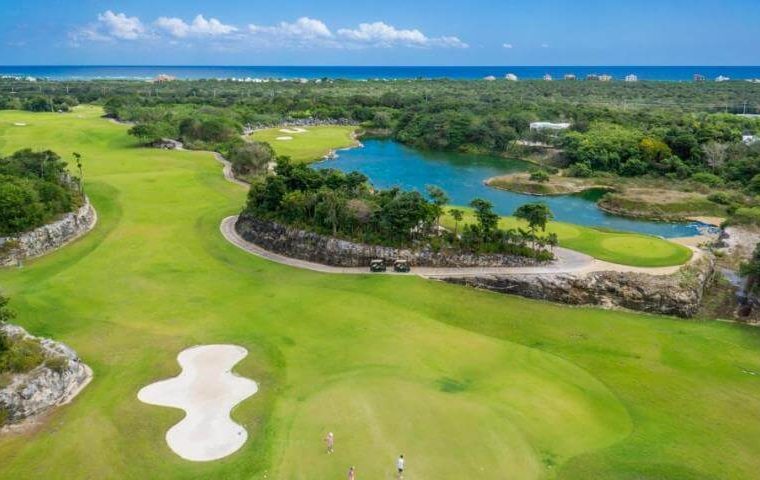 Depending on the room category and minimum nights booked, guests are able to enjoy green fees per person per stay. The use of a golf cart is mandatory for a fee of $60 USD.
Tee times are subject to availability and must be arranged with the Concierge at the hotel, providing a credit card at the time of booking.
Canceling or rescheduling tee times requires at least 24-hour notice in order to avoid no-show penalties.
Fees subject to change without previous notice.
Day Passes
Day passes are available for this hotel and they cost $120 USD and can be used from 9 am to 6 pm.
Conclusion
I would highly recommend this hotel to couples or singles seeking some refuge from their ordinary lives.
For me, it felt like a retreat and the epitome of Caribbean luxury. The highlights for me were definitely the food, the beach, and the level of service.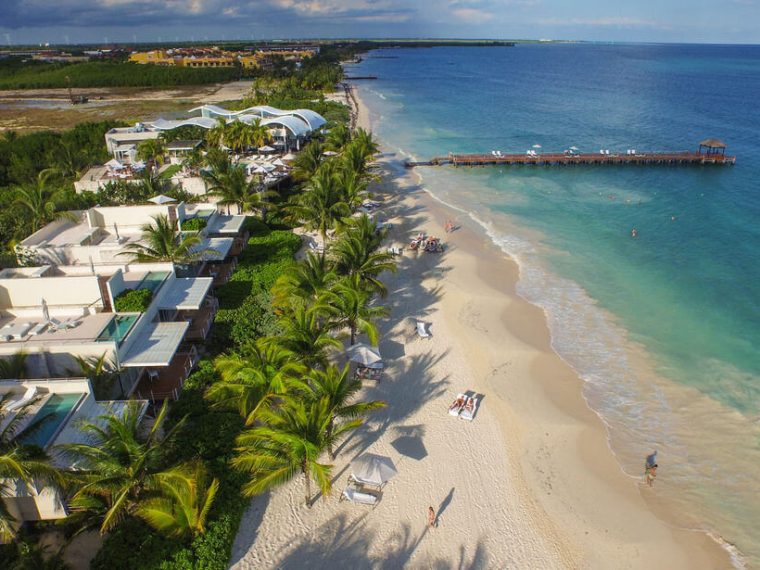 I stayed in the patio suite, and although it was a short walk or golf-buggy journey away from the main pool area,  I enjoyed the element of nature and it added to the overall experience of being secluded away from the hustle and bustle of surrounding towns.
I also really enjoyed the option to rent a bike within the resort. 
The only area I would say needed some improvement was the reliability of the WiFi.
Save on the Blue Diamond Luxury Boutique Hotel
Thinking of booking the Blue Diamond Luxury Boutique Hotel?
I'm part of a team of agents here at PlayaDelCarmen.com. Get the best prices on this hotel with us!
We'll help you organize and book your flight, transportation, hotel, and activities + answers all your questions?
Reach out to us, toll-free at 888-537-9797 or contactus@playadelcarmen.com.
Don't forget to follow us on Facebook, Twitter, and Instagram!
Hope you enjoyed my review of the Blue Diamond Luxury Boutique Hotel!
Have you stayed at this resort or have questions?
Comment below!
The Blue Diamond Hotel Review Playa del Carmen
Location

Beach

Rooms

Food & Drink

Service

Activities

Weddings & Groups
Summary
This hotel is sure to impress! Sure… it's at the top end of the budget range but you definitely get what you pay for here. It's one of my favorite (if not my favorite hotel) in the region. The private beach here is wide with powdery soft sands, rooms are extremely spacious and luxurious with different room options to suit different guest, food is impeccable, service is world-class, you will NEVER want to leave!
---
Trending Now
You may also like