Ultimate Guide – Best Things to do in Playa del Carmen at Night
---
When the sun goes down on Playa del Carmen, things are just starting to heat up!
It's always fun to explore a city's nightlife, especially when that's part of its claim to fame like in Playa del Carmen.
Located halfway between Cancun and Tulum, no other town in the Mexican Caribbean offers such a wide diversity of exciting evening activities for a fun tropical night out for all ages.
Here's our ultimate guide to things to do in Playa del Carmen at NIGHT!
Things to do at Night in Playa del Carmen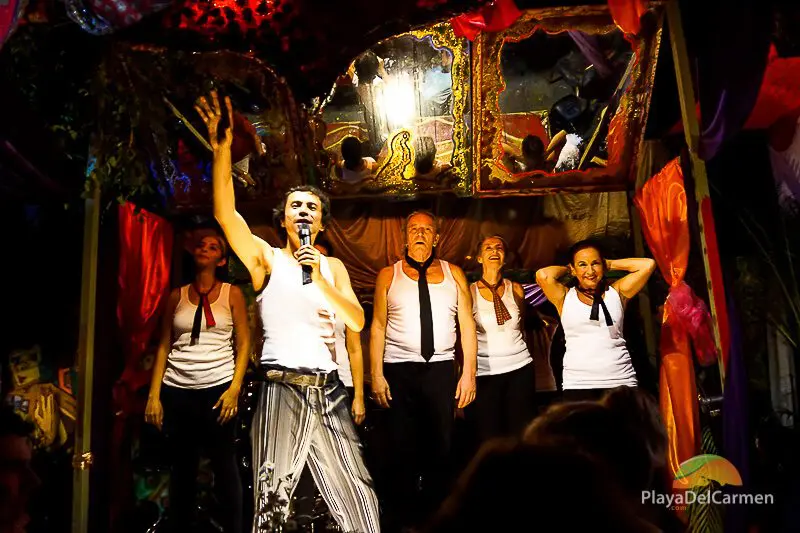 With so many great options, no one blog post could ever do justice to the many great things to do in Playa del Carmen.
But this one can give you some good ideas…
Let's get started.
Best Things to do at Night by Category:
4 Playa del Carmen Restaurants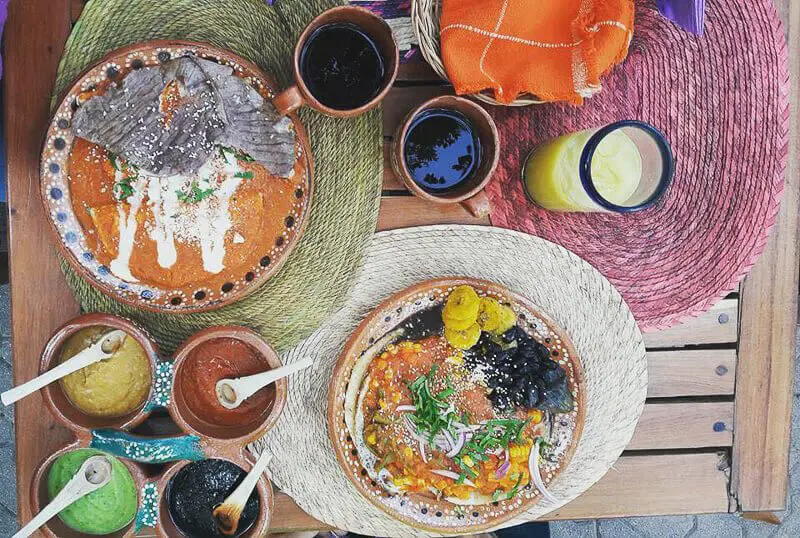 For some, a nice night out might be simply straying away from the hotel for a nice dinner and dose of people-watching along Playa del Carmen's Quinta Avenida (5th Avenue).
If that's your plan, don't just expect to find great Mexican food.
The influx of people from all over the world means that many Playa del Carmen restaurants boast some incredible international cuisine.
1) La Perla Pixan Mezcal & Cuisine
Not many people outside of Mexico are aware of the incredible variety of dishes and flavors which exist in this country, much less the amazing array of pre-Hispanic ingredients.
La Perla Pixan specializes in authentic Mexican food. Experience the tantalizing taste of this wonderful cuisine, and don't forget to wash it down with a splash of mezcal or pulque as you enjoy the nightly live music!
---
2) Le Lotus Rouge
Le Lotus Rouge is the eccentric restaurant, bar, and live venue set under a circus tent surrounded by a host of eccentric colors, paintings, dolls, and everything in between.
The ambiance here is second to none in Playa del Carmen, and the nightly program provides a venue for many artists in Playa who may otherwise be without one. Plus, food and service here are awesome, too.
---
3) La Finísima Caguamería de Esquina
Spanish speakers will automatically recognize that this is a joint whose target market is made up of hipsters. Translated into English, La Finísima Caguamería means something like the "Fine 40 oz. on the Corner."
This joint has a great atmosphere and the food and drinks to match those slick beards and hip tattoos of their patrons.
Plus, they are putting out some great weekend programs as of late, including a night of cabaret on the last Friday of this month (April 26, 2017).
---
4) Punto 115
Punto 115 is the place where the locals go.
In fact, it's one of the few places outside of the downtown area which creates an upscale casual vibe for those of us who call Playa del Carmen our home.
There are several good restaurants here and live music most nights of the week, including lots of rock, salsa, and mariachis
You'll need to taxi to get here, but if you want a more authentic Playa experience outside of the tourist zone this is a great place to go.
---
5 Playa del Carmen Nightclubs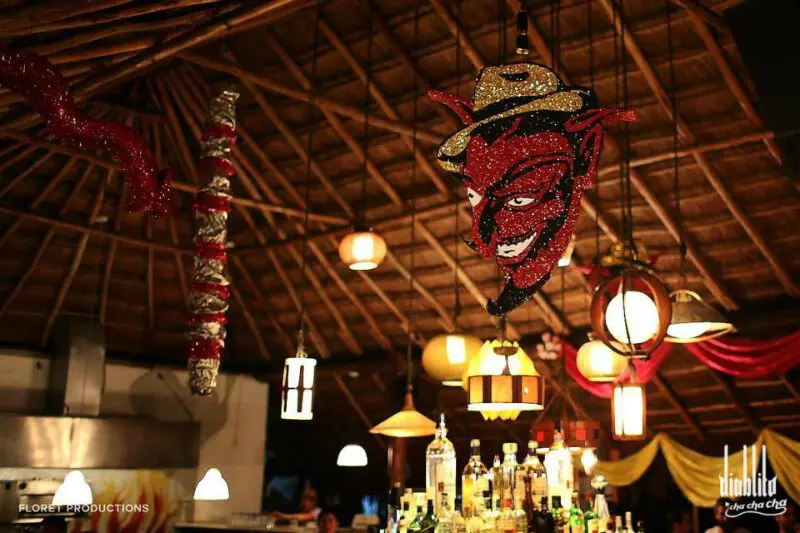 There's no two ways about this one: Playa del Carmen's nightclubs rock.
If you're looking for a wild night of loud music, top tunes from Latin America, Europe, and the United States, plus some beautiful people showing off their fancy dance moves, don't miss a night out (or two or three) to check out some of Playa's many great nightclubs.
For instance:
1) Club Cero Uno
With the recent closing of several nightclubs, it was a question of time before someone filled the void.
However, Club 01 refused to wait and has already established itself as the premier nightclub for dance and electronic music in Playa del Carmen. Chic and sexy, this is the place to see and be seen for lovers of the nightlife scene.
This is the place to welcome the morning sun after a delicious night of sights, sounds, and all-night dancing.
---
2) Diablitos Cha Cha Cha
While Club Cero Uno may be the new school version of the Playa del Carmen nightlife scene, Diablitos Cha Cha is a testament to the cool vibes which put Playa del Carmen on the map as a great destination for clubbing.
The ambiance is deliciously low-lit with a beautiful well-lit center bar standing out as a sort of oracle to the alcoholic spirits and 50's style tiki ambiance which keeps at the pinnacle of the Playa del Carmen nightclubs.
---
3) Patio 8
Patio 8 is another newcomer to Playa del Carmen. Its 2 story open space ambiance definitely gives this restaurant and nightclub a sexy boost in terms of where to go at night in Playa del Carmen.
As with the other nightclubs, the focus here is on all-night electronic music keeping the crowd pumped up and dancing the night away.
According to the talented The Salty Fern, who recommends this place to see live DJs in Playa del Carmen, the menu here is just as outstanding as the view.
---
4) Gummo Art Bar
Playa del Carmen is a place of transitions. Restaurants, bars, and nightclubs come and go almost every year.
Enter Gummo Art Bar used to be called La Culpa Gastrobar. This is still an awesome place to go for great DJs, live shows, and some pretty tasty food to boot.
Plus, they are active in supporting the local arts scene, which in and of itself is a good reason to show them some Playa lovin'.
---
5) Coco Bongo
Coco Bongo is the iconic Caribbean nightclub par excellence.
With venues in Cancun and now Punta Cana in the Dominican Republic, it's an experience you'll want to add to your list of things to do at night in Playa del Carmen.
The already lively atmosphere is electrified by a series of stunning theatrical productions only rivaled by Las Vegas. Consider purchasing a gold member ticket to ensure an express entrance, preferred seating and better views of the shows.
For more information, see our blog post on what Coco Bongo is really like.
---
Live Music in Playa del Carmen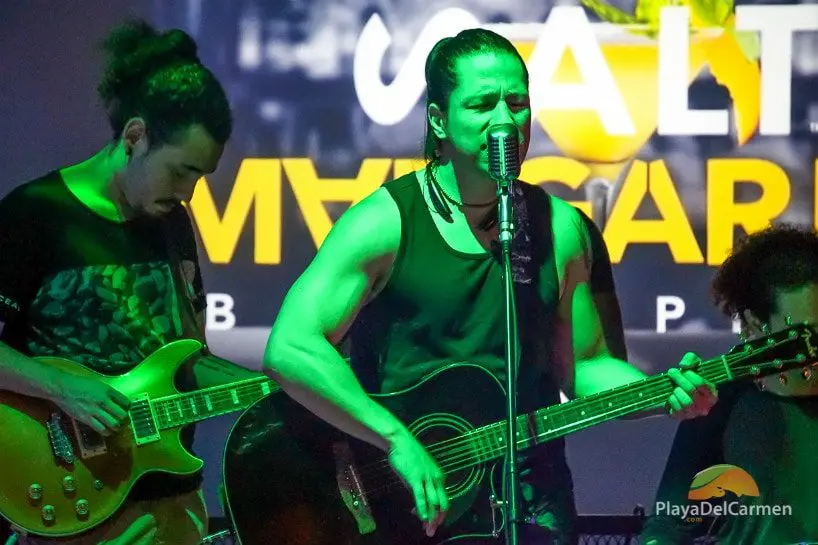 There's always something magical about seeing a live show.
The raw talent, the energy of the crowd, the flow of inebriating drinks and the electric atmosphere. And in the case of Playa del Carmen, of course, you'll have to add in a dose of palm trees, thatched roofs and the tropical surroundings to those rhythmic beats.
Check out our guide to live music in Playa del Carmen for all the rockin' details of over 20 different venues.
---
3 Rooftop Clubs in Playa del Carmen
There are only a handful of rooftop clubs in Playa del Carmen, but those that exist are all worthy of a visit in their own right.
Each boasts its own vibe, and some are more party-oriented than others, but if it's a nice evening out with a great view of the town under the cover of dark, be sure to check out one of the following clubs.
1) Thompson Hotel
Thompson Hotel has the most upscale of all the rooftop clubs in Playa del Carmen.
Fancy is the first word that comes to mind, and once you step out of the elevator and onto the stunning rooftop, you'll see exactly what I'm talking about. This is a great place for a romantic dinner or for sharing a bottle of wine under the stars by night. During the day, they also have a pretty sweet pool area that you can enjoy in all its glory.
---
2) The Roof Club
Located in the Palm at Playa hotel just off 5th Avenue in The Palm at Playa, the Roof Club is a great place to go for an after-dinner soiree with friends or that special someone you just met on Tinder.
Offering a great view, cool vibes, and some inebriating tropical goodness, The Roof Club ups the ante with some live DJs and refreshing Caribbean breezes.
---
3) Be Playa Hotel
The smaller and more modest of the rooftop bars, Be Playa Hotel stands out because of exactly that.
The vibe here is more laid back, making it a great place for those who are looking for a rooftop bar where you can go and actually carry out a conversation without breaking the bank.
---
5 Things to do Near Playa del Carmen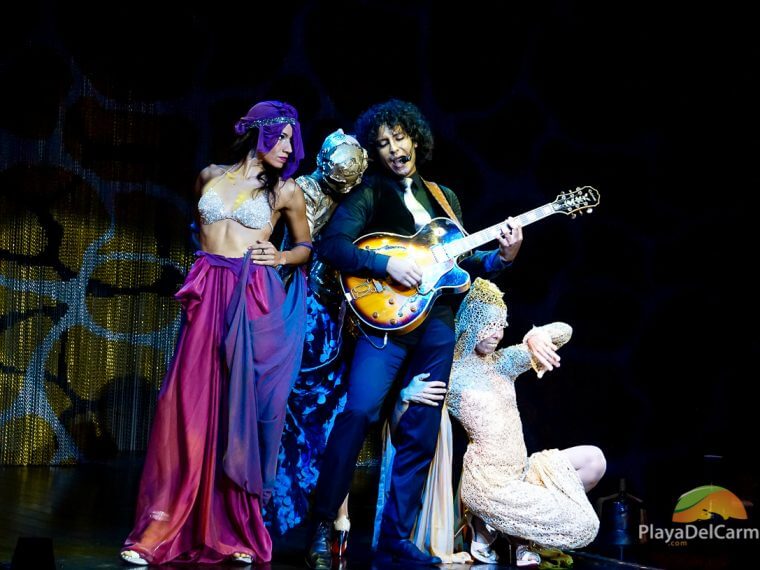 While there is more than enough to keep you busy and entertained in downtown Playa del Carmen, there are also a few nearby attractions that are great alternatives for a night out for the entire family.
From a spectacular display of Mexico's finest folklore to experiencing the breathtaking beauty of a Cirque du Soleil show or the majestic history of the Maya projected on the walls of the great Kukulkan Pyramid in Chichen Itza, here are just a few of your options:
1) Rauxa Restaurant & Dinner Show
At the beginning of the summer, Catalonia Royal Tulum inaugurated a new concept of theater in the Riviera Maya.
Called Rauxa Restaurant & Show, this latest addition to the Mexican Caribbean cultural scene presents a 1920's vaudeville show in a fittingly retro ambiance. Read our blog for our review of Rauxa Tulum.
---
2) Spectacular Mexico Dinner Show at Xcaret
Mexico is a country with an amazing array of cultural traditions.
With 32 states in the Republic, each with its own folkloric traditions, the many expressions of song and dance are as diverse as they are mesmerizing.
At Xcaret Park, guests can not only enjoy the many different nature and adventure activities but a pleasant evening of some of Mexico's most entertaining traditions. For an additional fee, you can also enjoy the México Espectacular show with an 8-course gourmet dinner.
Contact us and RSVP your spot for this beautiful display of Mexican folklore.
---
3) Cirque du Soleil JOYÀ
To say that a visit to Cirque du Soleil's JOYÀ is a magical experience is an understatement.
Set off in the jungle of Mexico's Riviera Maya, this special 600-seat theater, custom-built for Cirque du Soleil, welcomes visitors into a fantastical universe inspired by the natural beauty of the surrounding landscape.
The story of JOYÀ revolves around an alchemist and his granddaughter who go on a whimsical quest to discover the secrets of life. With the option of accompanying the show with a gourmet meal as beautiful and inspiring as the show itself, JOYÀ is, to say the least, an exquisite treat to top off your next visit to the Mayan Riviera.
For more information, check out our Cirque Du Soleil review!
---
4) Xoximilco
Xoximilco Cancun is an evening dinner cruise in colorful wooden, gondola-style boats down jungle-lined channels.
The creation of the Xcaret group, Xoximilco offers a great opportunity for those looking for a (mostly) family-friendly party atmosphere that combines food, music, dance, and unlimited drinks.
A tribute to Mexican folklore, you'll experience traditional Mexican meals, regional musical varieties from throughout Mexico, and your chance to finally eat chapulines, a.k.a. grasshoppers on this floating fiesta.
---
5) Chichen Itza at Night
Okay, okay. We know. Chichen Itza is is a bit far away from Playa del Carmen. We confess. But we felt it important to include this incredible evening program in your bucket list of nighttime things to do in Playa del Carmen.
Chichen Itza at night is a 40-minute mapping program projected on the stunning Kukulkan Pyramid.
Take the family and learn about the fascinating history of one of the New Seven Wonders of the World. You'll need to either rent a car or organize a private transportation through our local travel experts. Believe us, you'll be glad you did.
And no matter whether you consider a day trip to Chichen Itza or an evening excursion to see the night program, make sure you read our tips on Chichen Itza tours from Playa del Carmen.
Looking for more things to do in Playa del Carmen? Check out our complete guide to the top 30 Playa del Carmen tours and excursions!
Save on Your Trip
We, Playadelcarmen.com, can save you a bundle on your trip.
Save on hotels, tours and fun things to do. Just call us at 888-537-9797 or customercare@playadelcarmen.com.
Get all the answers to your questions because we know everything there is to know about Playa including which hotels you'd like best.
What's your favorite bar or nightclub in Playa del Carmen? Would you like to see us write about somewhere or something else? Send us a line and we'll do our best to get something published!
---
Trending Now
You may also like