5 Things You Need to Know About the Coco Bongo Show (2023)
---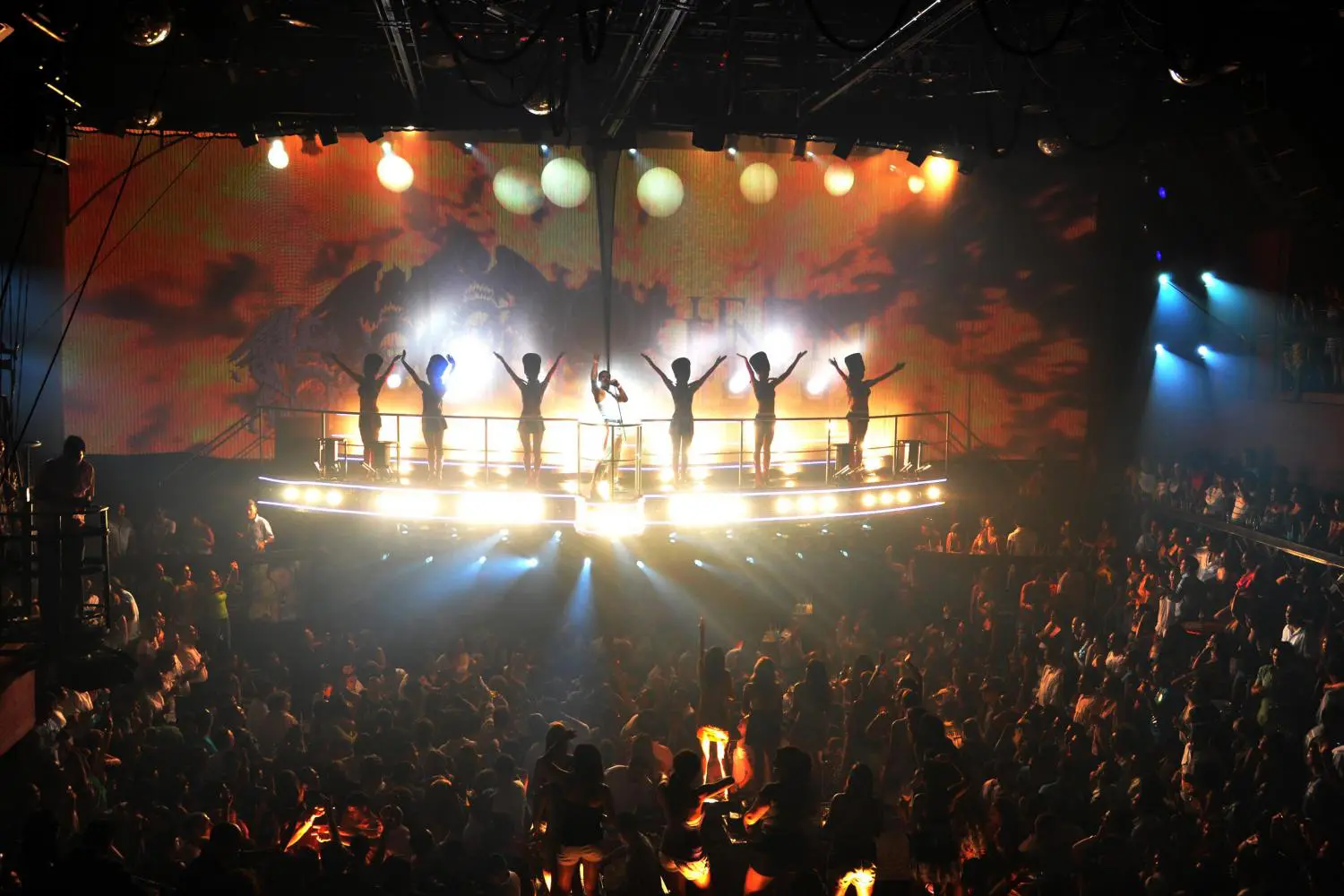 Coco Bongo tickets are a hot item in Playa del Carmen.
It easily one of our towns's more popular things to do in Playa del Carmen.
While it's not for everyone, those looking for Las Vegas-style entertainment in a Mexican fiesta ambiance will have a ball here.
And why it may seem cut and dry, in reality, we get a lot of questions about Coco Bongo tickets and what they include.
So, alas, we decided to take one for the team and visited Coco Bongo on a recent open bar site inspection.
Our Coco Bongo guide includes:
---
5 Things to Know About Coco Bongo Playa del Carmen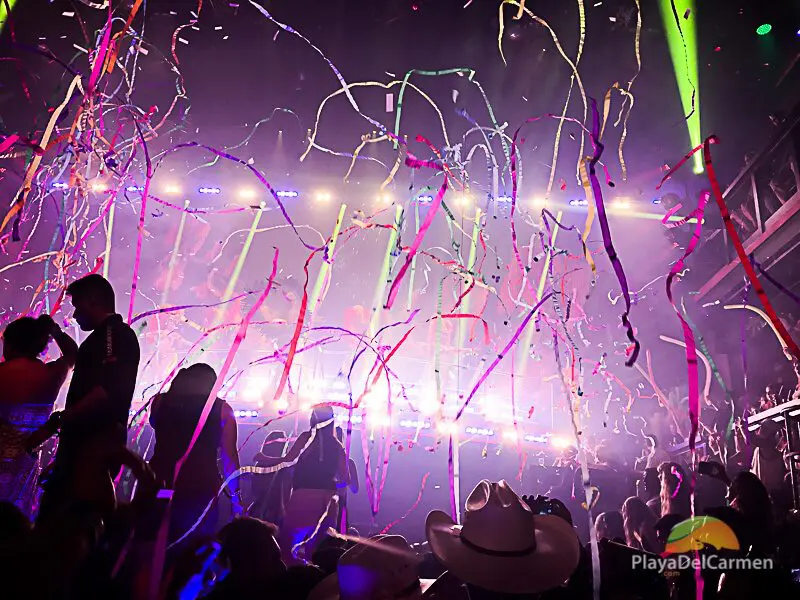 Drinks in hand and ever aware of our festive surroundings, we set off to discover for you, our readers, all there is to know about Coco Bongo.
Here are the answers to our 5 most frequently asked questions about Coco Bongo.
And remember, what happens in Coco Bongo stays in Coco Bongo.
1. Getting to and from Coco Bongo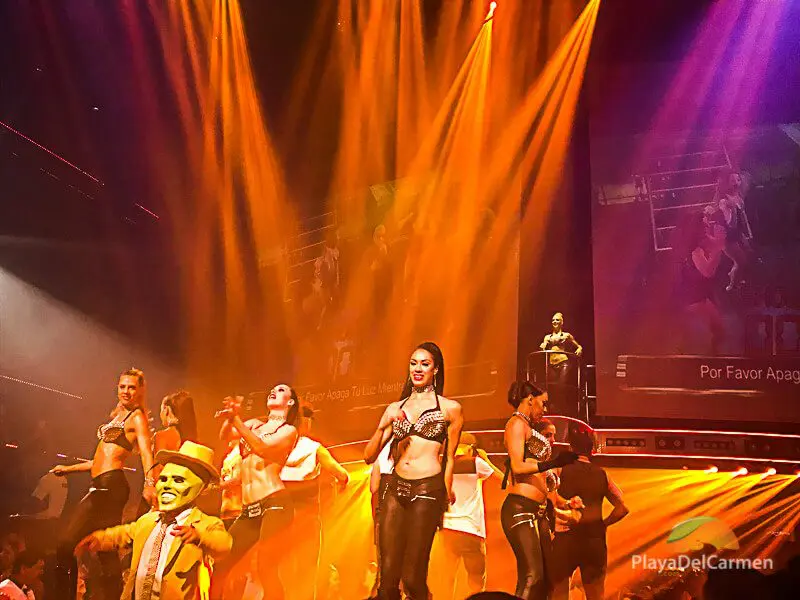 Is there a pick-up to take me to Coco Bongo? Is transportation included in the price of admittance? How do I get back to my hotel?
These are just some of the more common questions we get about Coco Bongo transportation.
Here's what you need to know about getting to and from Coco Bongo.
Pick-up is included in the price of admission and is available for most hotels outside of downtown Playa del Carmen.
In other words, if your hotel or resort is located within the area considered "centro" then you'll need to put them feet to work.
The return-trip is easy-peasy.
There isn't one.
Luckily for you, legions of taxi drivers are waiting outside to whisk you to your hotel.
2. Coco Bongo Show Hours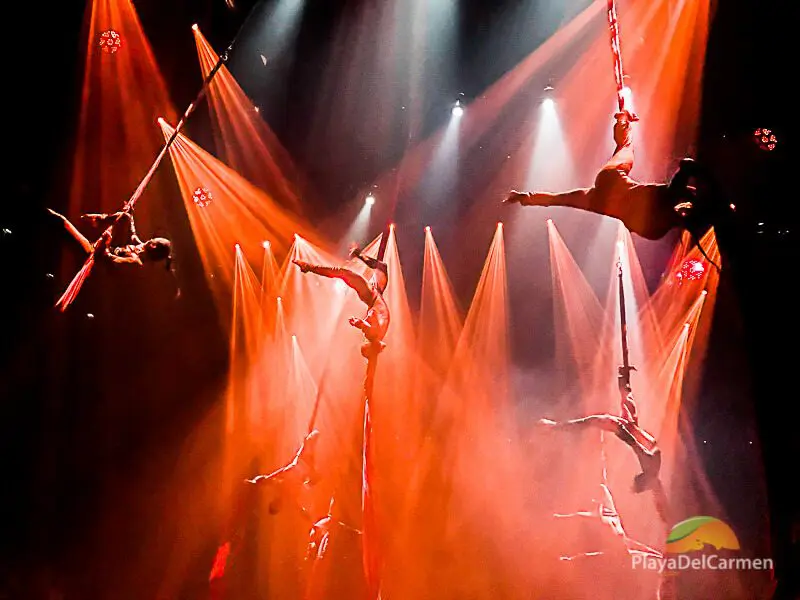 Of course, getting there and back is only part of the equation.
When does the show start? How long does it last?
Doors open at 10:30 p.m. for gold member tickets (more on that later) and once the créme de la créme (or those willing to pay more) are inside, the rest of the peasantry is allowed entrance.
The show gets started at around 11:00 p.m. and goes until around 3:30 a.m.
In other words, don't plan your Chichen Itza tour or whale shark swim on the next day.
Get there around 10:00 p.m. to stake your place in line, especially if you have general entrance, a.k.a. standing room only.
3. What's the Difference Between the Gold Member and Regular Tickets?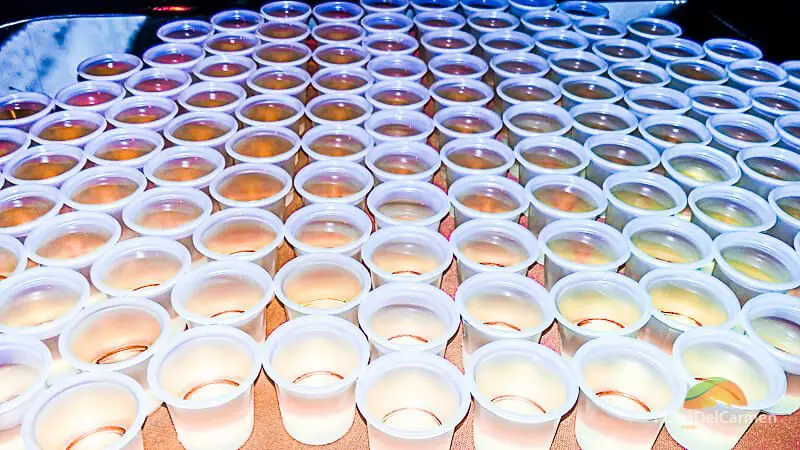 There's a world of difference between the two.
Most importantly, one is standing room only and the other comes with a table.
Take into consideration that this is a four-hour show.
Unless you're going full of energy and just looking to get drunk on cheap liquor, you really should splurge and go for the Coco Bongo Gold.
Here's the difference between Coco Bongo Regular & Coco Bongo Gold:
Regular entrance:
Admission
Shows
Transportation to Coco Bongo (where applicable)
Open bar (domestic drinks) until 3:30 a.m.
Liquors included in the open bar: rum (Bacardi Gold, Contemporary), vodka (Barton), whiskey: (J.B.), gin (Barton), tequila (Jimador), brandy (Don Pedro, Old Vergel), beer (Dos Equis), cocktails, water, soft drinks, juices
Coco Bongo Regular Prices: Mon.-Fri. – $70 USD; Sat. – $75 USD
Coco Bongo Gold  Member:
Admission
Shows
Open bar (intl. drinks) until 3:30 a.m.
Transportation to Coco Bongo (where applicable)
Preferential entrance
Exclusive area limited to 120 people per night
Personalized service
Liquors included in the open bar: rum (Captain Morgan, Bacardi White), vodka (Ketel One), whiskey: (Jack Daniels, Johnny Walker Red & Black), gin (Tanqueray), tequila (Herradura Blanco, Reposado), brandy (Torres 10), cognac (Martell VS) beer (XX Lager, XX Ambar, Tecate, Tecate Light, Bohemia Obscura, Coors Light), cocktails, water, soft drinks, juices
Coco Bongo Gold Member Prices: Mon.-Thurs. – $130 USD; Fri., Sat. – $150 USD
Is there bottle service included?
You can order a bottle with your regular-priced tickets and get bumped up to a table if when and there are any available tables.
In other words, why the stress?
Go easy on yourself and go Gold from the beginning.
4.  Where is Coco Bongo and What Should I Wear?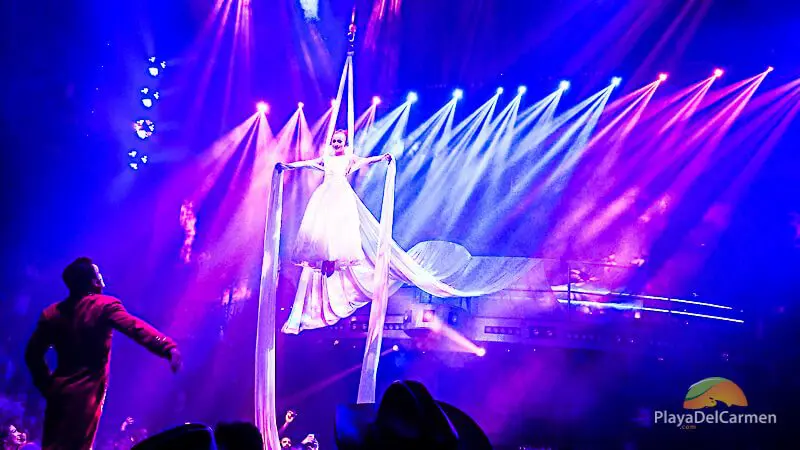 Location, location, location.
This one's important to avoid any confusion.
Coco Bongo has locations in Playa del Carmen, Cancun, and Punta Cana (Dominican Republic).
Coco Bongo Playa del Carmen is located on the corner of 10th Avenue and 12th Street.
In other words, in the heart of downtown Playa del Carmen.
If you're staying anywhere near the Quinta Avenida (5th Avenue), you can easily walk to and from Coco Bongo and won't really need any other transportation besides your two feet.
Speaking of two feet, dress comfortably.
A night at Coco Bongo means a long night mostly on your feet.
There's no need to wear uncomfortable shoes or clothes.
Remember that you'll be in a tropical environment with lots of people, i.e. you won't get cold.
5.  Coco Bongo or Señor Frogs?
This is a little like comparing a Hard Rock Cafe to some beach bar in Fort Lauderdale during Spring Break.
Señor Frogs is a great place to go if you'd like to hang out at a bar on the beach, maybe catch some live music, eat some American and/or Tex-Mex style food, and drink yourself crazy.
It's fun, and it's something you can do day or night.
But it's not Coco Bongo.
Coco Bongo is unique in that it combines a Las Vegas-style show with a dance club/Mexican fiesta ambiance.
A large part of the night will be dedicated to seeing a parade of talented performers mimic the stars while DJ's make jokes and crank up the noise to keep the party going.
Likewise, if you're looking for simply some place to go hear some good music, be sure to check out our live music guide.
And if you're looking for more evening entertainment, you may also want to consider the vaudeville-style Rauxa Dinner Show located in the Royal Tulum hotel just 25 minutes south
of Playa del Carmen or the "Mexico Spectacular" show by Xcaret.
Bonus Question: Which Coco Bongo was The Mask filmed at?
The Mask came out in 1994 and featured a club by the name of Coco Bongo, supposedly located in Cancun.
However, it didn't exist.
Based on the idea from the movie, however, a real-life Coco Bongo did finally open its doors in Cancun, but not until 1997.
In other words, Coco Bongo turns 20 this year (as if they needed another reason to celebrate).
Coco Bongo Reviews by Our Travel Specialists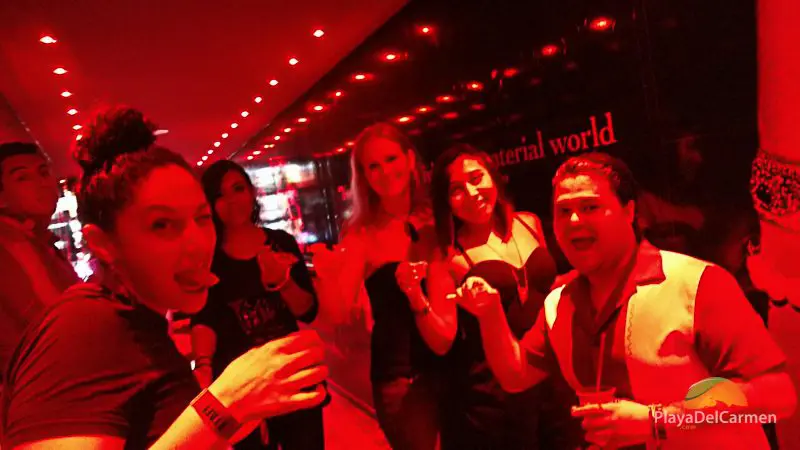 A final thought from some of our travel specialists and what they think about Coco Bongo:
Sarah Barlow says:
"I have been to Coco Bongo a few times over the years and I still enjoy it. The music, the vibe, the show – it is a thoroughly entertaining night and doesn't cease to impress!"
Rosa Chuc says:
"It exceeded my expectations. Service was great and the show continues to surprise. I'll definitely return. Don't stop the party!"
Suzy Moustafa says:
"Coco Bongo surprised me on many levels but mostly  I was thoroughly impressed by the dancers and entertainment team.  Romantic, Sexy and fun :)"
Luis Farfan says:
"I absolutely LOVED it.  The show was so dynamic, there was comedy, action, drama and music of all genres, of every age and nationality… I was yelling, laughing and having a great time. Before entering I thought I would be bored and out of there at 1:00 a.m. tops, but I couldn't have been more wrong!"
Additional blogs and resources you may find useful
Book your Coco Bongo tickers with us today and get the best deal
Ready to show off that mojo in Playa del Carmen?
Our talented team of dancing travel specialists has great deals on vacation packages!
Give them a shoutout toll-free at 888-537-9797 today!
---
Trending Now
You may also like