The 5 Best Places to Hear Live DJs in Playa del Carmen
---
Playa del Carmen isn't just known for its beautiful white sand beaches, it's also famous for its amazing nightlife.
As the town has grown, the nightclub scene has worked its way off the infamous 12 street, and has now spread all across Playa.
You can find countless clubs, bars and restaurants here, but with the recent closing of Santanera, Blue Parrot and Mezcalina, people are asking, "Where can we go to see good live DJs anymore?".
That's where I come in. I have scoured the streets, spoken to hip young locals and interrogated DJs, and have created this list of the 5 best places to hear live DJs in Playa del Carmen.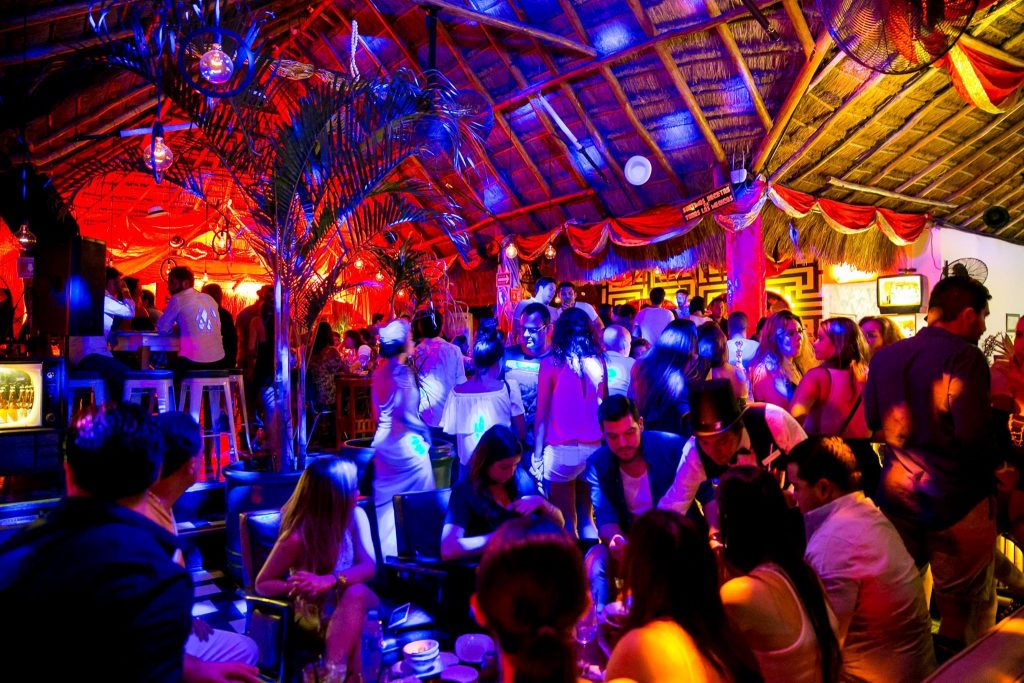 1 – Diablito Cha Cha Cha
Open 7:00 pm – 3:00 am
This is one crazy Palapa!
Not only can you chow down on some of the most deliciously creative sushi, or sip on some of the most tropical cocktails in Playa del Carmen, but this is also one of the best places to hear live DJs.
The music in Diablito always has a funky-Disco edge, and will keep you dancing until the club closes.
Every day of the week they have DJs from 22:00 until 2:00, and they switch up the rotation regularly, so there's always something fresh to hear.
Chill out at the bar, have a chat at a table, or bust a move on the dance floor. Diablito pride themselves on their unique look and vibe, and just want you to feel at home.

2 – Almirante
Open 6:00 pm – 2:00 pm
This upscale bar-come-restaurant is the perfect place to relax and enjoy an eclectic music mix.
Almirante picks only the finest DJs from in and around Playa del Carmen, who will serenade you every night of the week.
As the evening creeps in, people move from the tables to the bar, and the drinks start flowing. This is when the DJ really starts to shine.
You'll hear a mixture of Hip-Hop, Disco, Funk, Afrobeat and even a bit of Northern Soul thrown in for good measure.
Almirante doesn't have a dedicated dance floor, but that's never stopped anyone from grooving the night away. Feel free to dance around your table, at the bar, or even on the bar (yes, it's been done… more than once).

3 – Patio 8 
Open 12:00 – 2:00 am
Patio 8 is the new kid on the block, and they definitely like to make it known.
If their humongous bar with ceiling to floor liquor cabinets doesn't get your attention, then the fantastic music definitely will.
You can rock up to Patio 8 any night of the week and enjoy the classy party atmosphere, as the DJs here take it to a completely new level. By adding in live musicians, such as bassists and saxophonists, they make every night truly spectacular.
What makes this place even sweeter, is the fact that they have a truly outstanding menu too.
So, whether you want a delicious meal while listening to the perfect DJ mix, or if you want to party into the wee hours, then Patio 8 has got you covered.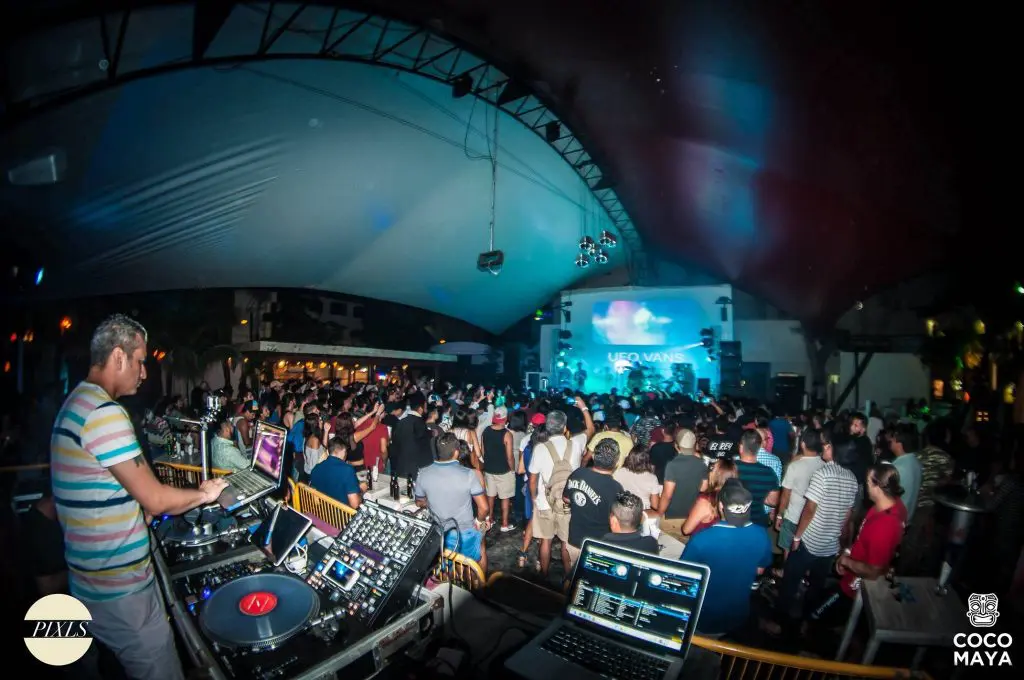 4 – Coco Maya 
Open 10:00 pm – 6:00 am
This is the place to go if you want a truly wild night out while listening to some crazy live DJ tracks.
With their gigantic dance floor, late opening hours and blaring music, Coco Maya isn't the place for a quiet night out.
This beach front club showcases both local and international DJs, but they always guarantee the best in Chart, Hip-Hop and Dance music every night.
Coco Maya is usually a little quiet during the week, but as soon as the weekend arrives, don't expect the leave the club until sunrise!

5 – Thompson Rooftop
Opens 6:00 pm – 3:00 am
The Thompson rooftop has to be one of the most beautiful places in Playa del Carmen.
Who doesn't want to dance the night away while staring out at the ocean and glittering skyline of Cozumel?
Thompson have live DJs most night's of the week, and every Friday they have a weekly Hip-Hop night, where you can hear the best old-school, new-school and street tunes.
At Thompson, the vibe is luxurious, the music is world-class and the drinks are adventurous, making it the perfect place to have a legendary night out any night of the week.
Have you been to any of these Live DJ places? Let us know your favourite in the comments below!
---
Trending Now
You may also like