Cancun vs Playa del Carmen? Your Ultimate Guide to Deciding
---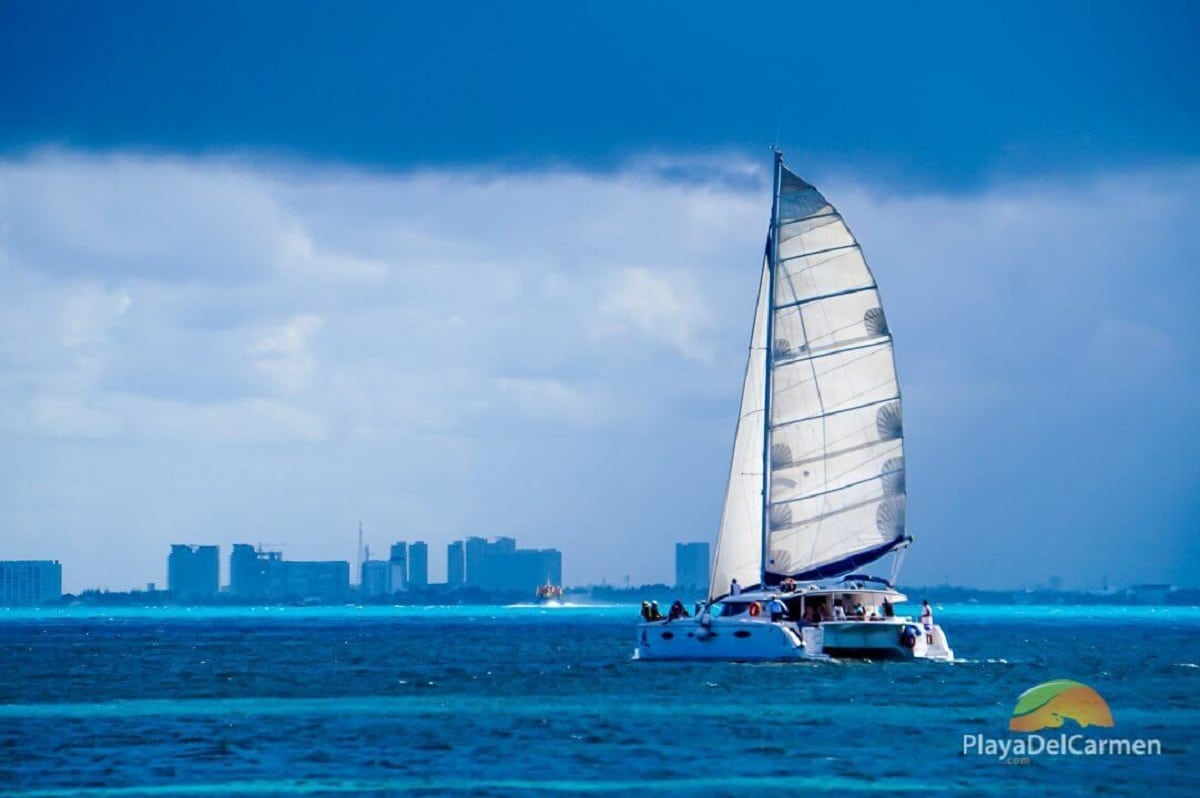 Your vacation is BIG DEAL.
So choosing between Cancun or Playa del Carmen is as well.
You're probably having a hard time deciding on the 2 towns. (rightly so)
Will it be Cancun? Infamous for its Hotel Zone and wild Spring Break parties?
or
Playa del Carmen? A more cosmopolitan sister city just 1 hour south.
Obviously, I'm partial to Playa del Carmen. But only a little.
You see, I lived in Cancun for a few years prior to moving to Playa del Carmen and found a lot to like about the city.
Allow me to begin by dispelling a few misguided notions about this Caribbean hotspot.
But first…
Cancun vs. Playa del Carmen
So how does Cancun stand up to Playa del Carmen where it matters most?
What are the defining factors that would make you choose one destination over the other?
Let's have a look at the areas where it counts:
---
The Myths About Cancun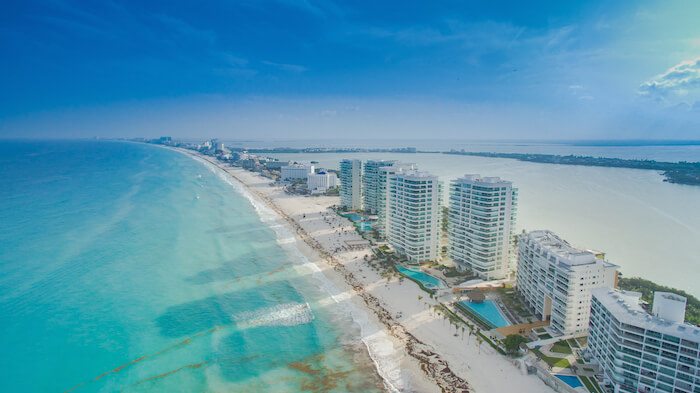 By Dronepicr – Own work, CC BY 3.0, Link
Only a touch over 40, Cancun is a young town that real estate developers began to construct in the 1970s with the backing of the Mexican government.
Now with over 1.5 million inhabitants, Cancun is divided between the town on the mainland and the approximately 13-mile 7-shaped Hotel Zone that extends out between the Caribbean Sea and the Nichupte Lagoon.
For many, Cancun is associated with the wild parties and uncontrollable throngs of horny Spring Breakers, free from the confines (and laws, or so they think) of the United States.
Likewise, Cancun is often cast as a highly Americanized city that is only considered Mexican because it is in Mexico.
Both are as true and as false as you perceive them to be.
For instance, I once read about the story of the mad Spring Breaker who destroyed the lobby of a hotel because they wouldn't let him go to his room. Only after the police came and took him away did it dawn on him that he was at the wrong hotel!!!
But I digress.
Cancun is something special, and it is becoming even more so by the day thanks in large part to today's youth.
You see, Cancun has its first generation of millennials who have started to open their own restaurants, bars, and shops, transforming the city in their likeness.
It's a testament to the beauty, creativity, and spirit of Mexican culture.
WINNER: Cancun for breaking away from its stereotype and creating its own identity
---
Cancun's Hotel Zone vs. Playa's 5th Avenue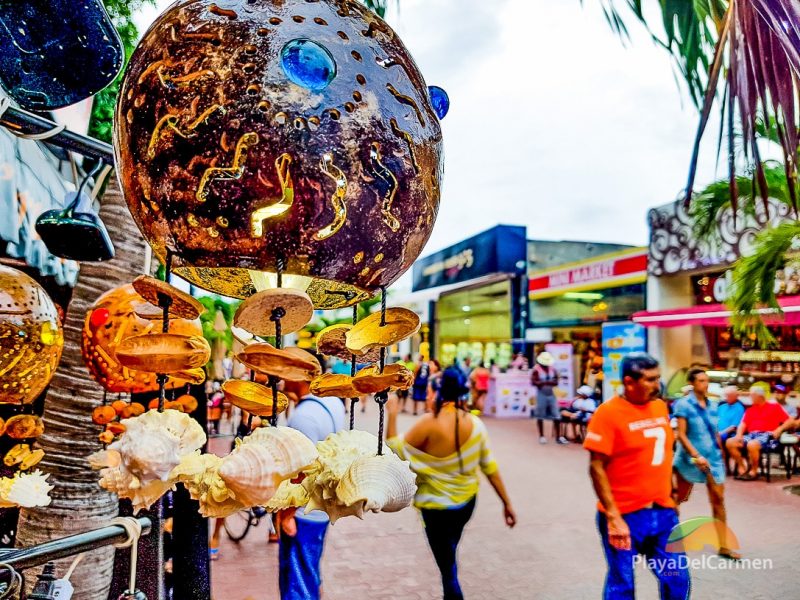 Unfortunately for Cancun, this isn't the town's strong point.
Don't get me wrong.
There are some nice attractions in the Hotel Zone.
It's a great place to take a walk or go for a jog along the pedestrian path that runs the length of the L-shaped half-peninsula.
You can catch some pretty awesome sunsets on the lagoon side of the strip.
There are also a few great restaurants and of course a bevy of quality Cancun hotels.
However, Playa del Carmen's 5th Avenue has one big advantage: its downtown, easily accessible to all, and it's only a block away from the beach.
Plus, unlike Cancun's Hotel Zone, which has big swaths of walking paths and not much else (other than the hotels which don't allow access to the beach and mostly block the view), Quintana Avenida as Fifth Avenue is lined with restaurants, bars, nightclubs and shops up and down about 20 pedestrian blocks.
In other words, this one is an easy choice.
WINNER: Playa del Carmen
---
Cancun Beaches vs. Playa del Carmen Beaches

By dronepicr – Cancun Strand Luftbild, CC BY 2.0, Link
As much as I love Playa del Carmen and the town that easily took the crown for best shopping-hanging-out-restaurant-bar hip strip, I have to admit that the Playa del Carmen beaches have a hard time competing with those of Cancun.
The beaches in Playa del Carmen are beautiful, especially to the south in the residential area of Playacar.
However, the fact that many stretches of beach are much narrower in Playa del Carmen then they are in Cancun, makes it's hard not to give the latter the nod.
Cancun boasts 9 different public beaches.
The north-facing beaches tend to have more shallow waters which are ideal for families and children.
Their proximity to the lagoon and the underlying sea grass give these waters less of a stunning blue hue and more of a dark green appearance, but Playa Langosta, Playa Tortuga, and Playa Caracol are all good choices if blue is not your hue.
Further down the road, however, and the Caribbean Sea begins to display its mesmerizing colors, showing off a kaleidoscope of blue and green tones which change with the position of the sun and the presence, or lack thereof, of clouds.
Chac Mool and Playa Delfines are the two most popular places for a day at sea while resting on the white sand beaches.
For their part, the sometimes narrow stretches of powdery white sand make Playa del Carmen beaches the best choice for a day enjoying all the comforts, amenities, and music of some great beach clubs.
While Mamita's Beach Club and Blue Parrot are the most well-known, the smaller Canibal Royal, Lido's and Wah Wah Beach Bar also make great choices.
WINNER: Cancun
---
Playa del Carmen vs. Cancun for Foodies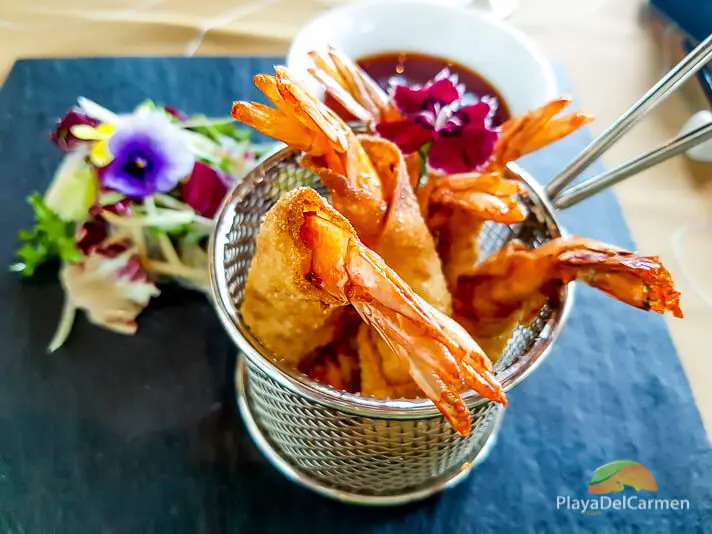 Anyone whoever reads this blog knows my penchant for food goes beyond normal.
I don't know if I would go so far as to qualify it as a disease, but food for me is definitely a passion.
I find it at the essence of a place's identity and the most sincere expression of our common humanity.
And I have a nose for good restaurants. Luckily, I'm almost always spot on.
Even though I have lived in both cities, I feel unqualified to pick a winner.
This is because I have found quality restaurants that I love in both Cancun and Playa del Carmen.
So rather than crown a queen, I'm going to force myself to make only three recommendations per city.
No comparison between them needs to be made. Each stands out for the excellence of the cuisine and the love that goes into the food and the space itself.
---
3 Cancun Restaurants
No particular order, just damn good.
#1 El Pocito
It's almost impossible to find good Yucatecan cuisine outside of the towns and cities of the state of the same name.
Why is beyond me, but it's extremely hard to find people that get it right.
When they do, it's mind-blowing good.
Meet, El Pocito.
Located in a very non-touristy region of Playa del Carmen, this thatched-roof gem is nothing short of spectacular.
Traditional recipes done right.
I've tried most of the dishes here, and all I can say is that they haunt me in my dreams and make me wake up hungry.

#2 Mora Mora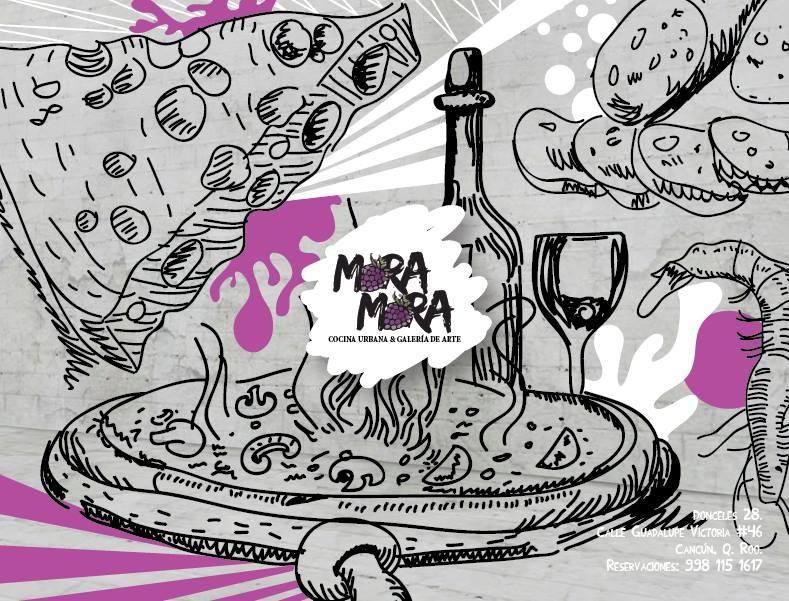 Remember at the beginning of the article when I said that the millennials are transforming the city in their image?
Mora Mora is a tribute to that rebellious youth culture that is creative, proud, and brilliant.
With the only identifying characteristic the giant mural painted on the building outside, a knock on the door will result in you being invited into the deliciously hipster and downright cool vibes of Mora Mora.
Part art gallery, part restaurant, and part live music venue, this is the place to go and chill, eat like your in heaven, and soak up all the goodness that is Mora Mora.
And I said all that without even mentioning just how much of a culinary bad-ass is Mora Mora's gastronomic mastermind, Chef Christian.
Just go.

#3 El Galeon del Caribe
This place makes the list for several reasons, but I wouldn't say it's the best place you'll go to find food.
Don't get me wrong, I love eating here. It's good.
Fried quesadillas (called pescadillas) filled with fish are the restaurant's specialty. They also do a great cevice and have fried fish and shrimp dishes as well.
Located at the far end of the Hotel Zone, about a mile past Playa Delfines, you'll find a small parking lot that leads to a set of steep wooden stairs that descend upon the Nichupte Lagoon.
Below are a series of wooden and plastic tables set out overlooking the water and surrounded by mangroves.
Mostly locals visit this restaurant, probably because you won't hear about it in many tourist guides.
Oh, what they're missing.
On top of the good food, cold beers, and great atmosphere, a very sweet and talented old man is there to keep you in that tropical rhythm.

---
Playa del Carmen Restaurants
The same goes here: it's not the size of the boat, it's the motion of the ocean.
#1 El Pirata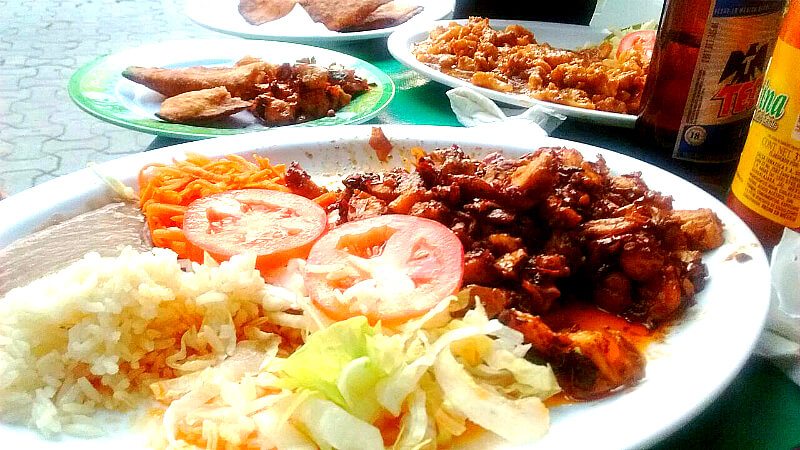 Every time I go here this place is packed.
No exceptions.
Many times I've had to wait for one of the 20-odd tables to become free.
Is it worth it? Most definitely.
Although El Pirata is located right off 5th Avenue, the vibe here is more old school Playa than gentrified 5th Avenue.
El Pirata serves up a pretty typical menu of fish and seafood.
Nothing too out of the ordinary in that sense.
But that's about as far as they go with ordinary, as the food here is delicious, well-served, and inspiring.
Put simply, these people know their seafood, and they know how to run a restaurant and keep customers coming back for more.
To add that special touch of "this place rocks", roving musicians take turns entertaining the audience with the talented displays of musical virtuosity.

#2 Las Hijas de la Tostada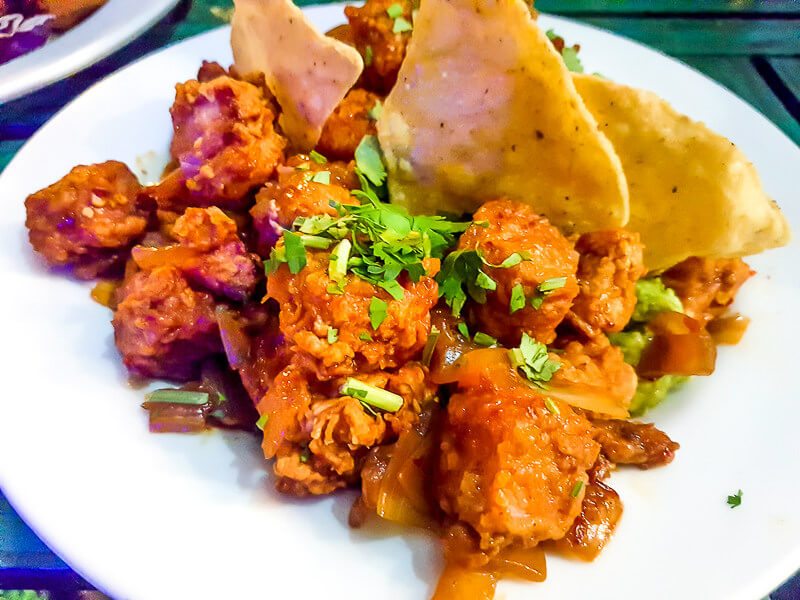 This is the perfect example of a simple concept done right.
As you can imagine by the name, Las Hijas de la Tostada sells, well, tostadas.
But as we mentioned above, it's about "the motion of the ocean".
What these people do with the tostadas is other-worldly.
Las Hijas de la Tostada takes shrimp, fish, and octopus and turns them into works of culinary art.
My favorite tostada is called Carnitas, which is a freshly made tostada with a base of guacamole and onions and topped with a heaping portion of breaded and cubed tuna fish.
Crunchy and juicy at the same time, these succulent bite-sized chunks of deliciousness are so addictive they should be illegal.
Pictured above is the plate of Carnitas I grudgingly shared with a colleague.
Sometimes you got go take one for the team.

#3 Le Lotus Rouge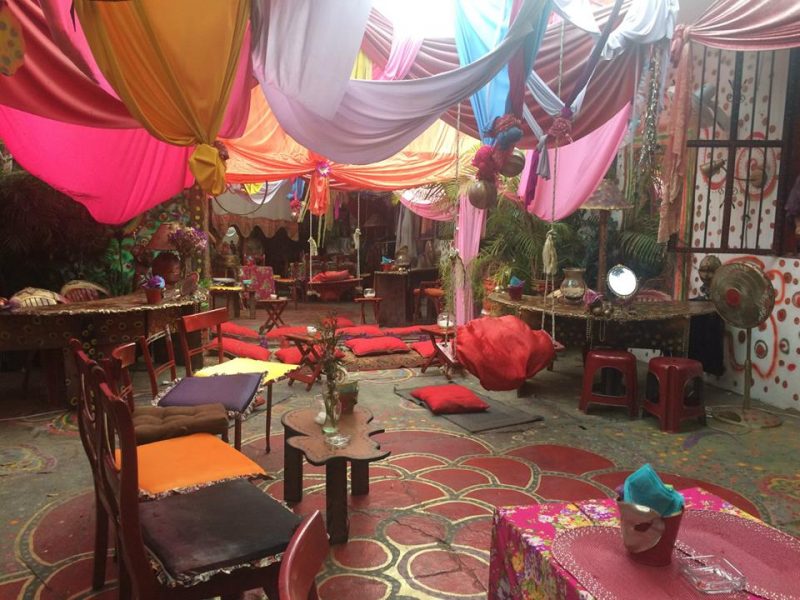 One of the reasons I mentioned Mora Mora above is because I love the atmosphere.
The same goes for Le Lotus Rouge.
In fact, for this one I even have to make a confession: I've never eaten here.
But…
I love the craziness of this place. It's one of my favorite places to go and have a drink to remind myself that us crazies are normal and the normal people are the crazies.
It's my refuge.
In other words, I feel right at home in this circus-like tribute to the beautifully outlandish.
As soon as you walk into this place, nothing and everything makes sense at the same time.
Plus, the music is good, the staff is always friendly, and rumor has it that the food is really good.
Certain nights of the week will even have special gastronomic tributes to faraway lands, with the most recent being Japan and India.
In other words, come for the craziness and then be sure to let us know how the food is!

WINNER: All us crazy foodies!
---
Who Has the Best Nightlife: Cancun or Playa del Carmen?
This is another tough one.
Like many things in life, the answer to who has the best nightlife will in all likelihood depend on your tastes.
The good thing about Playa del Carmen is that the large majority of venues are concentrated in one walkable area.
If you don't like the music at one place you can also go to another by foot.
Plus, Playa del Carmen nightlife is starting to expand its musical repertoire beyond electronic music, which I can only describe as an act of god!
Cancun, on the other hand, has a vast array of great options.
The only downside to Cancun nightlife is the distance between venues.
However, taxis exist for a reason, and albeit with threats and confiscations on the order of the day, Über Cancun continues to function as well.
In our live music guide for Playa del Carmen, I divided the venues in terms of musical genre: rock, latin, eclectic.
I'll do the same here.
Rock Music in Cancun – Pizza del Perro Negro
There are several good options, Mora Mora among them, but the coin toss here falls in favor of Pizza del Perro Negro.
This rockin' joint with truly awesome pizza and a great selection of beers just so happens to be one of the best venues in Cancun to hear some bitchin' rock-n-roll.

Latin Music in Cancun – Mambo Café
Of all the venues where you can go to show off your dance moves to live salsa, Mambo Café is the largest and most accessible.
With a large orchestra playing mostly commercial hits and mixing it up between salsa, merengue, bachata, and reggaeton, this place offers a great ambiance to strut your stuff without having to look too professional.
This is purely a nightclub, so be sure to eat before you go.

Eclectic Music in Cancun – Espacio 42
Yaxchilan Avenue used to be the vibrant artery of Cancun's non-Hotel Zone nightlife scene.
However, the proliferation of the all-inclusive resorts, the bird flu and concerns about crime dealt a crippling blow to this important stretch of Cancun commerce.
Slowly, the strip is starting to come alive once again, and it is here that you'll find Espacio 42.
A great place to go for good food and drinks to wash down backed up by a variety of different live music acts.
Mora Mora also deserves a big shout out here as well.

---
Rock Music in Playa del Carmen – La Culpa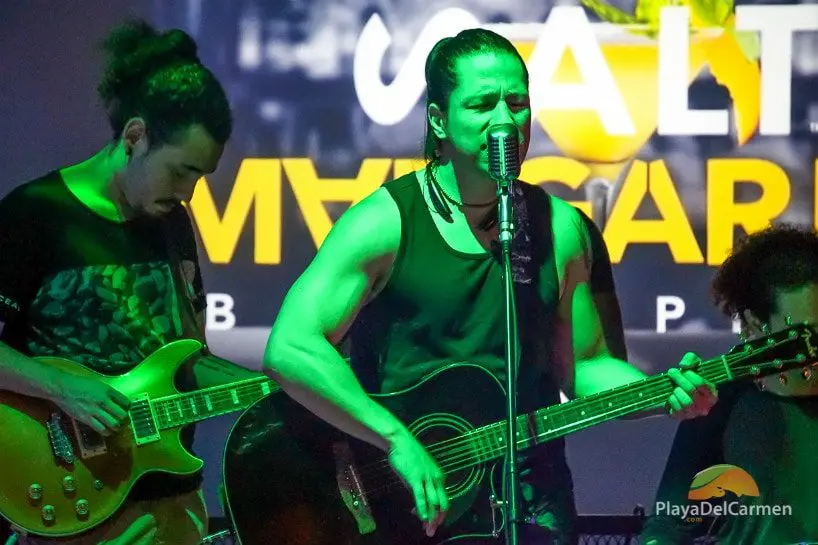 La Culpa deserves a lot of credit.
They've established themselves in the heart of the Playa del Carmen nightclub district, and instead of falling prey to the tendency to do what everybody else is doing, they've carved a niche and created a crowd for themselves by dedicated their space to promoting other musical genres.
From rock and rockabilly to spoken word and techno-cumbia, La Culpa continues to make a quality contribution to the live music scene here in Playa.
Plus, their cheese crust filled with mushrooms is munchies heaven.

Latin Music in Cancun – Salón Salsanera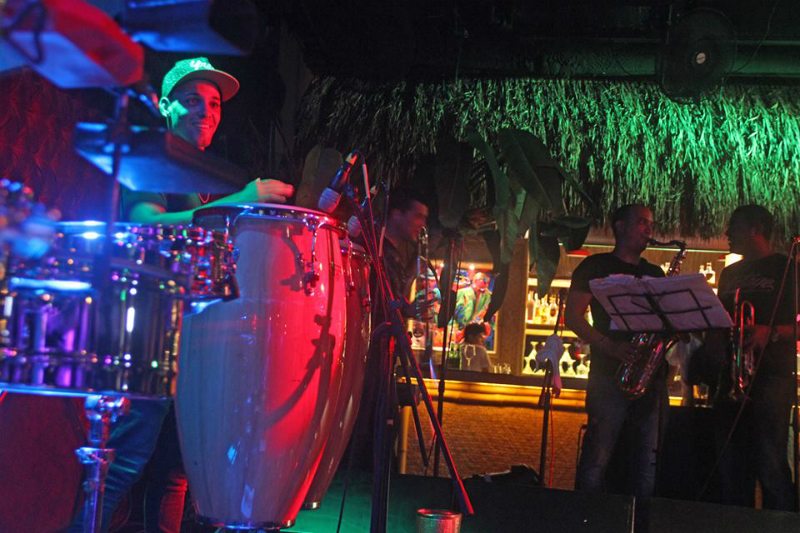 Right next door to the twangs and percussions of La Culpa you'll find yet another great place to get in some live music.
Instead of rock, pop, or punk, however, you'll be hearing cowbells and congas.
La Salsanera is a perfectly spaced Latin nightclub with nightly bands and some good DJs.
There's no food here to feast on, so do so before coming, but if you're in to dancing or would like to try out your moves in a friendly environment, La Salsanera is a great place to do it.
And if you get there early enough, you'll even be treated to some free dance lessons.

Eclectic Music in Playa del Carmen – La Perla Pixan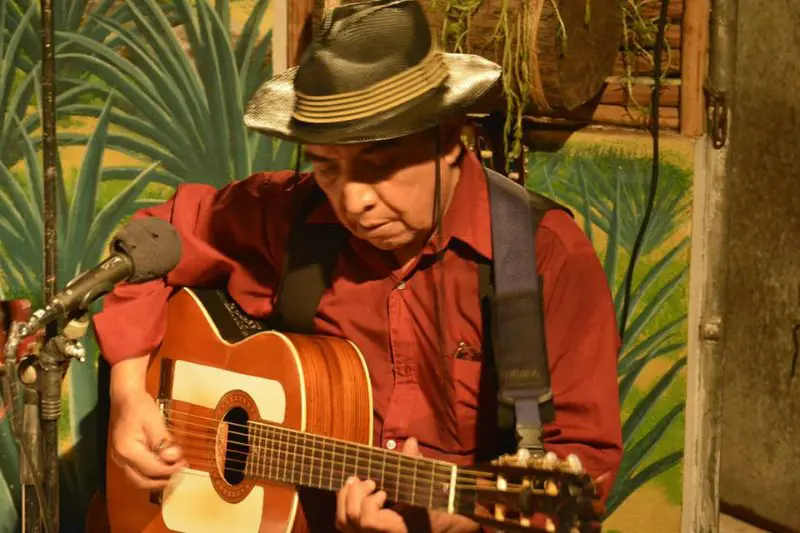 I often recommend La Perla Pixan as a great place to eat.
This restaurant bar serves up a unique menu like no other you will find in Playa del Carmen.
Combining pre-Hispanic ingredients with the tantalizing diversity of Mexican regional cuisine, La Perla Pixan guarantees to entertain your palate with gastronomic fusions you've never experienced.
But, on top of that, each night they have great live music. Folk, Latin, and mariachi can be found here, depending on who plays that particular evening.
Don't forget to try the mezcal and pulque!

WINNER: We all win when there's live music around
---
Things to Do in Cancun and Playa del Carmen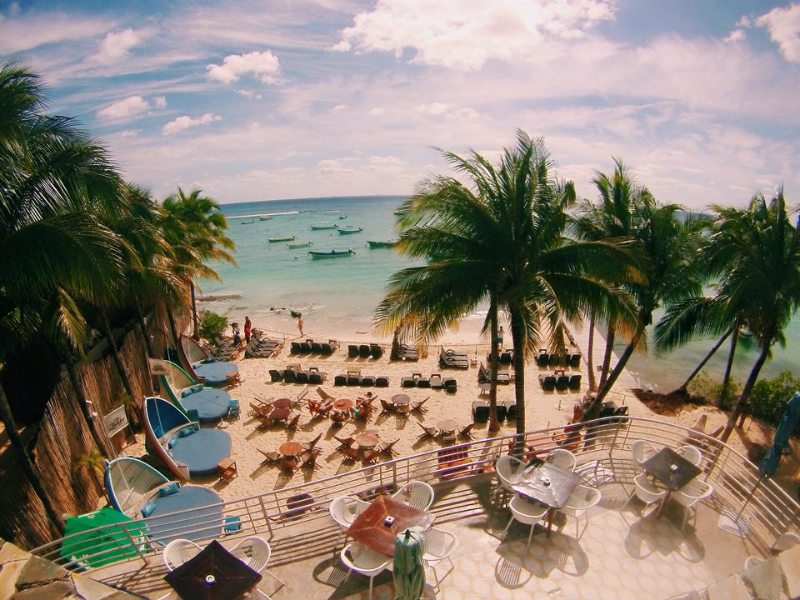 My final point.
Here is where I bring the closing arguments.
Up until now, I would say that things are pretty even Steven.
Hopefully by now I've cured you of your anti-Cancun bias.
But now it's down to the final round.
Things to Do in Cancun
Forget Coco Bongo and the main tourist circuit.
To be honest, there's nothing wrong with it at all if that's your type of entertainment.
However, it's not something I can write about from experience.
#1 Parque Las Palapas
Take an evening stroll at this centrally located park and be sure to save room to try some of the food that you'll find at the numerous stalls and stands.
On weekends there is usually some kind of event going on at the park's stage, and numerous handicraft vendors offer their wares on the outskirts of all the family fun.
Also, be sure to try a marquesita (a type of rolled crepe filled with Edam cheese) and the quesadillas at D'Luis (photo above).
#2 Museo Maya
Add the Museo Maya or Maya Museum to your list of things to do.
This makes a great option even if you just want to take a day trip from Playa del Carmen to see some of these sites.
In addition to the numerous pieces and rich history told at this great museum, there are also some nice local ruins to visit as well.
Plan to spend a few hours between the museum and the site itself, and make sure to make some room for those awesome "pescadillas" at El Galeon del Caribe.
#3 Trip to Isla Mujeres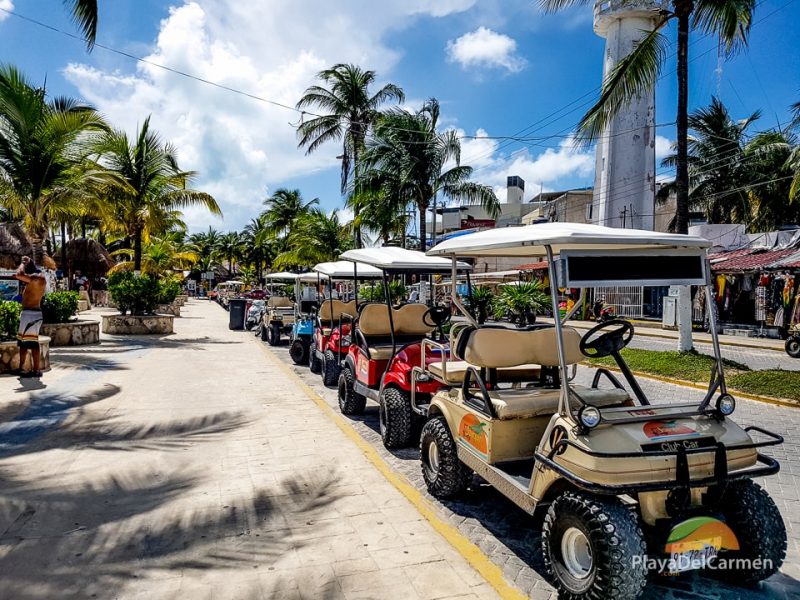 Okay, so this one is kind of cheating.
One, it's not technically Cancun. Two, it's a tour. But… when in Rome…
This deserves a mention simply because it's a fun way to spend a day.
The Isla Mujeres tour is a catamaran tour to Isla Mujeres.
Along the way, you'll stop for some mighty fine reef snorkeling before continuing on your journey to this Caribbean pearl.
Once on land, you'll enjoy a buffet lunch before taking around one to two hours to discover the island on your own.
If time is tight and you won't have time to make a return visit, consider skipping the buffet lunch and take a taxi into town where you can rent a golf cart, moped or bicycle and have a little more time to enjoy Isla Mujeres.
---
Things to Do in Playa del Carmen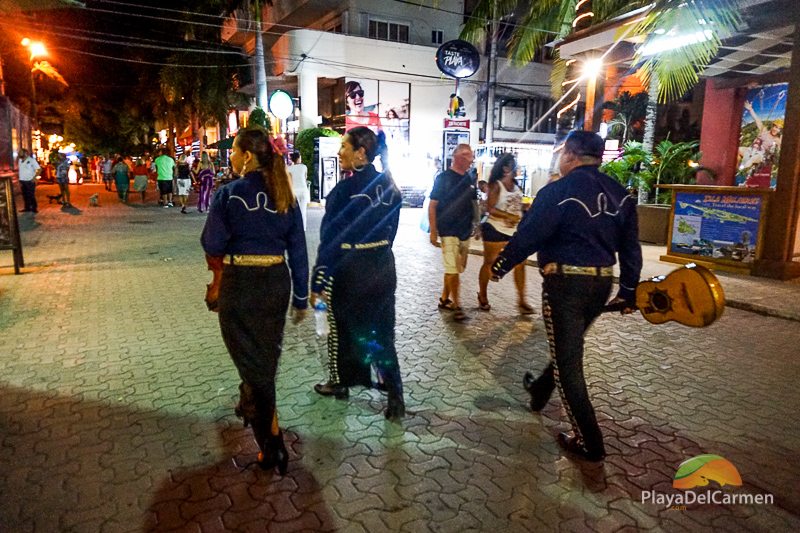 These are things I write about every day.
Cancun is a bit more tricky just because of the fact that I no longer live there.
But Playa del Carmen…
Here are some of my suggestions:
#1 Cine Club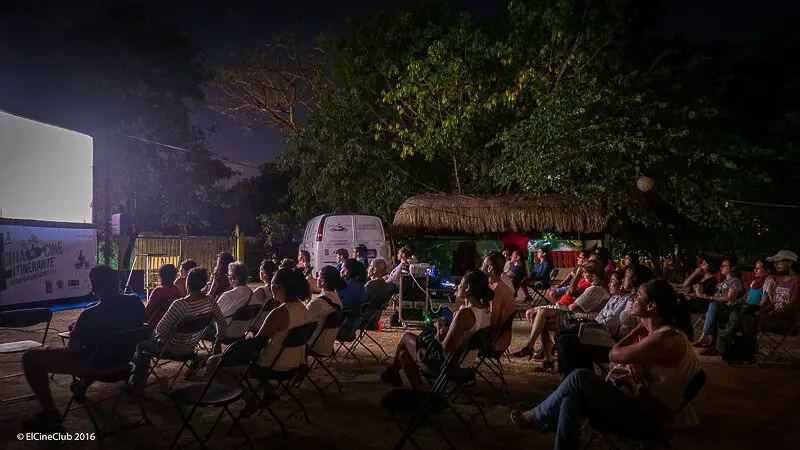 Cine Club got a mention in my article about things to do in Playa under $10 USD.
Their celebrating five years of bringing great cinema to an ever wider public either free of charge or for a minimal fee to recover the costs.
And not only do they show great movies, but they also have fantastic locations at the beach, in bars, and in La Ceiba Park.
With showings taking place at least three times a week, sometimes more, you'll get to have an authentic cinematic experience in Playa del Carmen.
Nice.
#2 Parque La Ceiba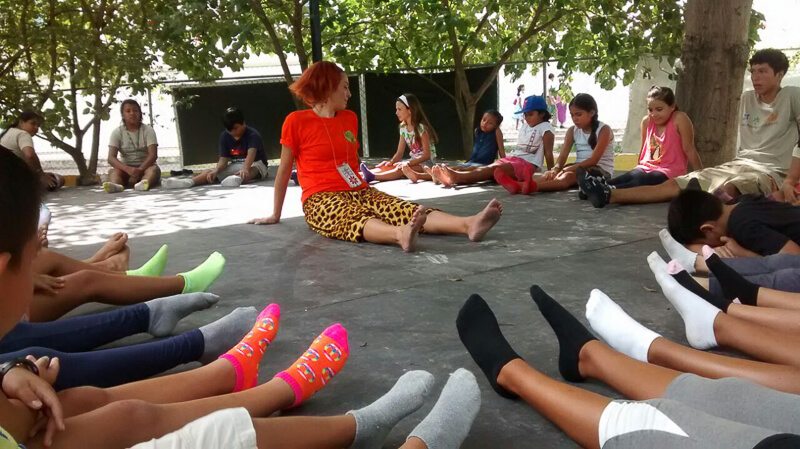 It's only fair to mention a park in Playa del Carmen since we mentioned two in Cancun.
Parque La Ceiba is a wonderful little park located just on the other side of the federal highway.
During the week the place is fairly calm, although there is almost always something going on at some point in the day.
The weekends, however, are when the park comes alive.
Depending on the day you'll find markets, workshops, cinema, and some really nice people always.
Tip: right across the street is a used bookstore with lots of titles in English.
#3 Mayan Village Tour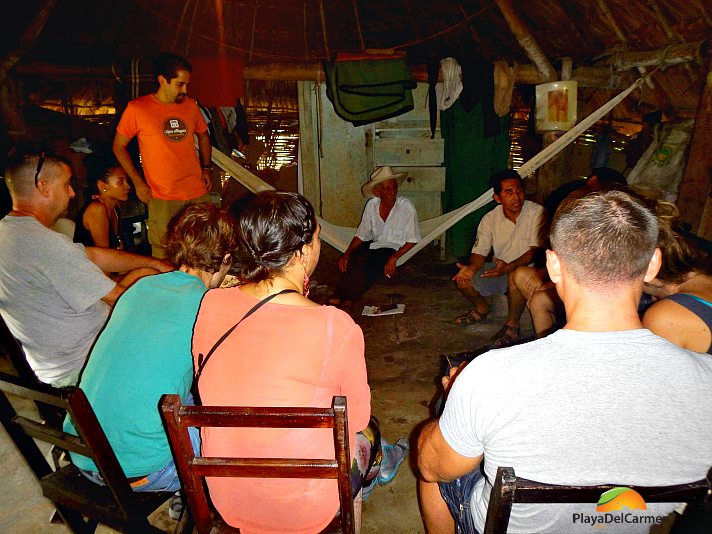 Okay, so we did a commercial for Cancun and we'll do one for Playa.
And like Isla Mujeres, this one isn't directly in Playa del Carmen.
However, it's definitely a good way to get out and see what life is like beyond the confines of the tourist reality.
The Mayan Village Tour allows you to get to know a local community without it being too patronizing.
You'll have the opportunity to learn and hear from the people and see what rural life is like in the area once ruled by the Mayan people.
WINNER: Playa del Carmen
Did you make it with us all the way until the end?
If so, thank you.
You deserve a pat on the back.
Now let us know how awesome you are in the comment section below and tell us whether you prefer Cancun or Playa del Carmen.
And speaking of awesome, have I mentioned our travel specialists?
They know all the tips, deals, and secret handshakes.
Call them today toll-free at 888-537-9797!
---
Trending Now
You may also like