The Weather – 5 Things You Need to Know…
---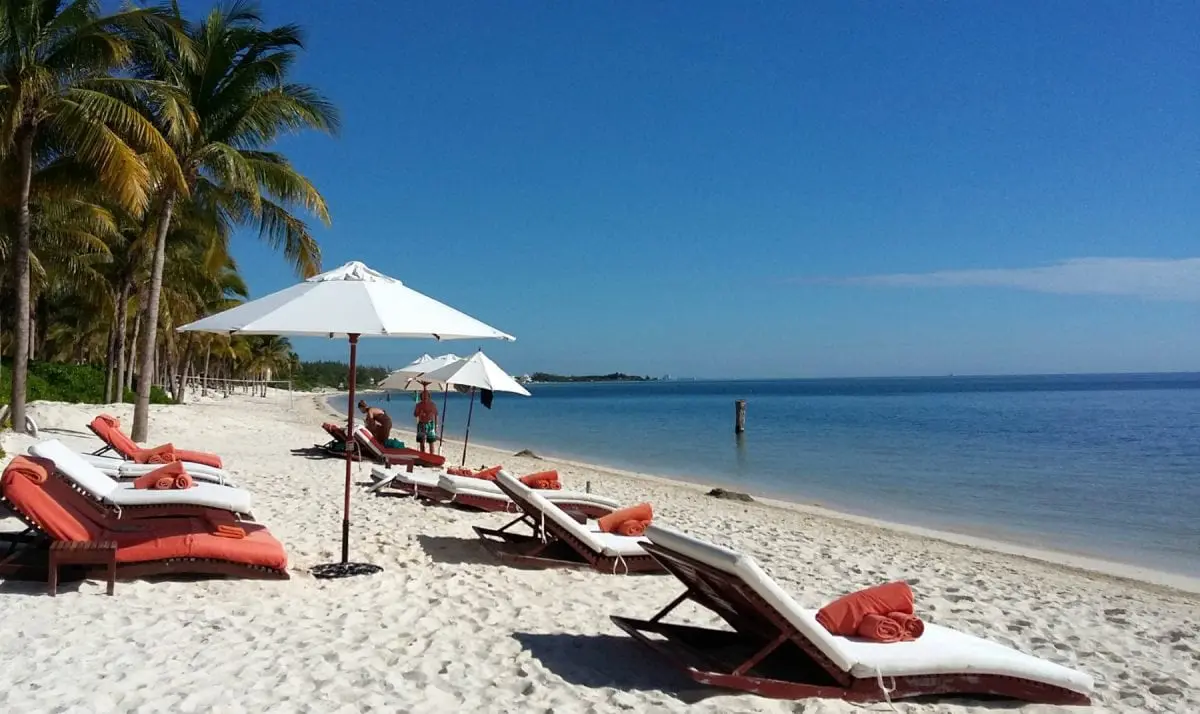 What will the weather be like in Playa del Carmen?
This has to be one of the most common questions asked… Will it rain? Will there be a hurricane? What happens if it rains?
While there is no simple answer, we have listed the TOP 5 things to know about Playa del Carmen weather.
1 – A rainy forecast does not equal rain
Does it seem like every single time you check the weather for Playa del Carmen, it says it is raining?

Don't trust the forecast and dig deeper!
You'll get an overview of the day with the forecast. It may say it will rain, but the percentage may be very low and the amount of rain minimal. It may rain a couple of millimeters, only at night.
Always check the amount of rain, the hours of sunshine, and you can even check more detailed forecasts which will give you the weather by the hour. These will give you a much more accurate idea.
A few sites that give more detailed weather information are:  The Weather Network, World Weather Online, and WindSpecialist.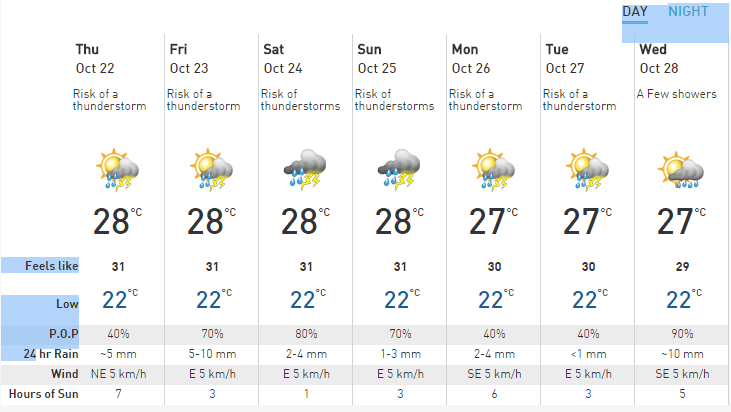 Also, the weather is always changing.
You can't check the weather 2 weeks in advance and expect it to be accurate. Please note that the above screenshot was taken during rainy season, at one the rainiest times of the year…
2 – We haven't had a major hurricane in 10 years
Today marks the 10th anniversary since Hurricane Wilma, a category 5 hurricane, that crossed over the Yucatan Peninsula in 2005. Playa del Carmen is located in the peninsula, and in an area where we are susceptible to hurricanes.
Hurricane season is quite long and lasts for months.
Officially it starts in June and ends in November. That being said, it is similar to winter in some of the northern areas of the United States and Canada. You are more likely to get snow in January and February (although it could happen that you get a major snowfall in April).
Hurricane season and rainy season coincide.
Just like you can get snowfall in the winter, we can get rain during rainy season…. But even in the winter, the chance of an all-out full-blown major snowstorm is slim, so is the chance of a hurricane.
I live here, it is second nature to those of us to check the National Hurricane Center for updates, just to keep on top of things.
Again, forecasts are likely to change, but at least we can keep tabs on whether or not a hurricane is likely, and what its course might be.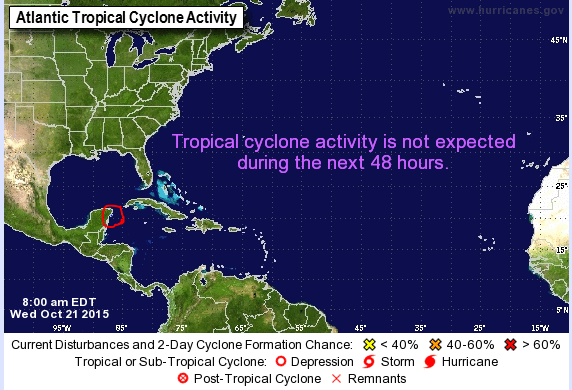 Travel insurance is always a good idea – especially if you are traveling during hurricane season. Again, the chances are slim, but at least if you are insured, you have peace of mind.
3 – We can get 'cold' fronts
And by cold,  we mean that you will need to use a light sweater and maybe throw on some jeans.
The Yucatan peninsula is quite close to Florida.
Just like Florida can have 'colder' weeks, during our winter months, we can have colder temperatures.
The coldest months in Playa del Carmen are January and February – but like anywhere else, it is warmer during the day and colder at night.
The warmest months are the summer months, July and August.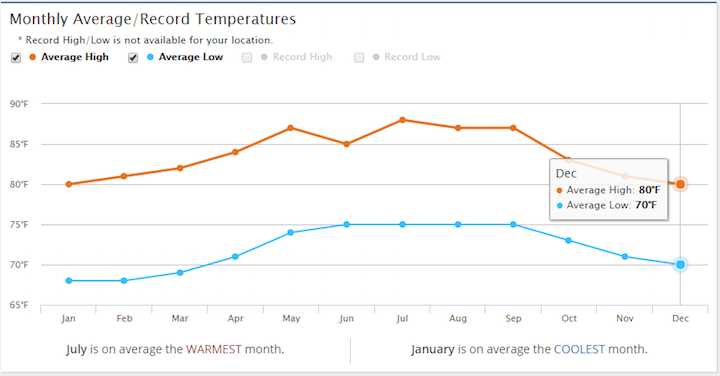 4 – We get 340 days of sunshine per year
What do you come to Playa del Carmen for? Sunshine, white sand, turquoise sea and all the charm that comes along with it!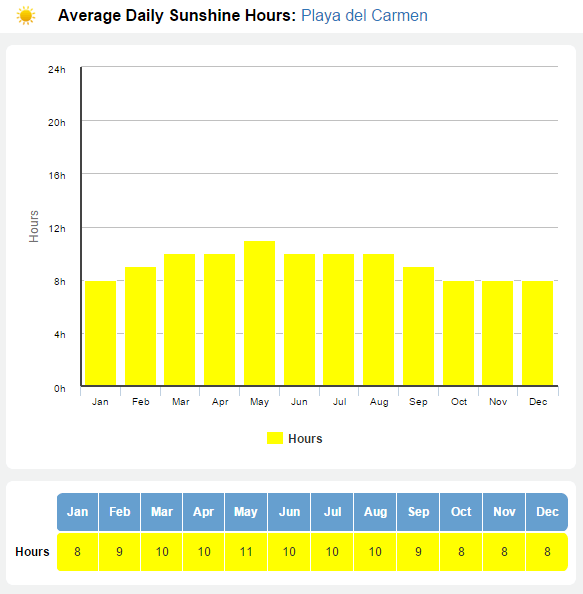 A whopping 340 days of sunshine is what you'll enjoy with the average hours of sunshine at 8-10 hours a day!
In 2015, a decision by the government in the state of Quintana Roo, that Playa del Carmen is located in, created a new time zone for the state. The intention of creating longer, lighter evenings during the winter months. See the pull you have, dear tourists?
Essentially, we are forever on UTC-5, meaning we don't fall back or spring forward.
During the Daylight Savings Time, we are on Eastern Time, and during the summer months, we are on Central time. Confused yet?
5 – You are on vacation – stressing about the weather is pointless
Take a breath. You are here to relax and enjoy.
Make the best of it if it does get rainy. Get a massage. Play a drinking game. Do a fun activity where you can get muddy and dirty. Order room service and watch a movie in bed. heck, you can even try singing in the rain.
Point is… you can't control it, so make the best of it.
You can check out our live webcam and see the weather for yourself. Or give us a call, we'll look out the window!
If you are in Playa del Carmen and get a few rainy days, you can always check out our list of rainy day activities.
Be sure to check out our other blog post for more information on Riviera Maya weather!
---
Trending Now
You may also like