My HONEST Review of The Jungle Buggy Tour in Playa del Carmen (2023)
---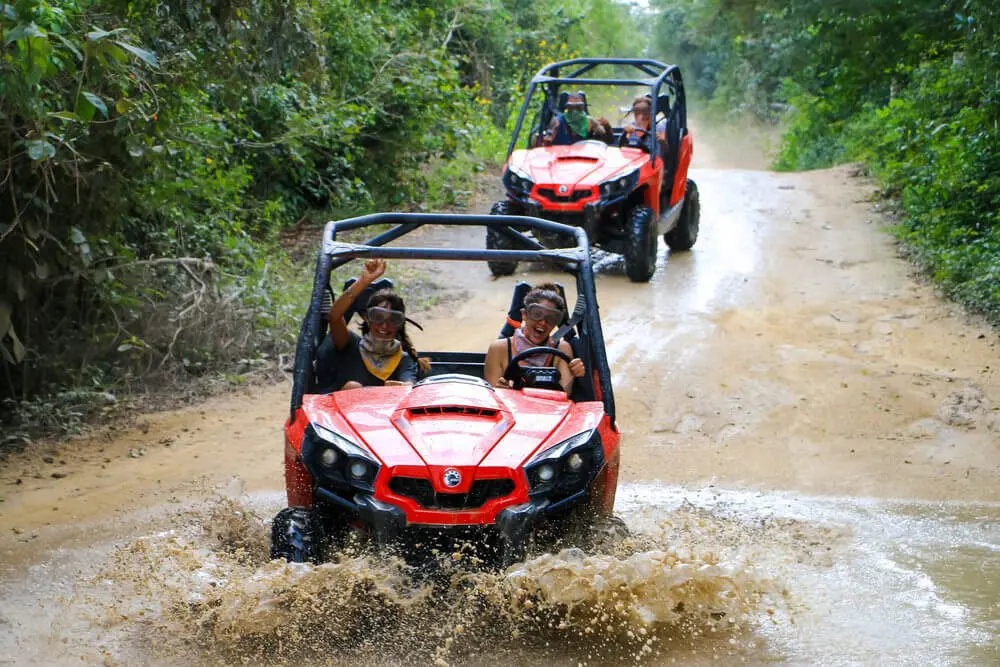 After embarking on this tour for myself (again) this weekend I was excited to give you the (updated) scoop and bring you my Jungle Buggy Review!
It's what I do best.
My mission is to help YOU  decide which tours/hotels are worth your hard-earned dollar on your next vacation.
With Jungle Buggy being one of our most popular tours on PlayaDelCarmen.Com (being the investigative soul that I am) I was keen to know WHY!
Straight off the bat, this tour surprised me in more ways than one…
My Jungle Buggy Review (Playa del Carmen)
---
You should expect the unexpected.
What I had envisioned in my head for this day was so far from the truth.
I love Playa del Carmen, and you know why?
Because unlike its sister destination of Cancun it has maintained it's Mexican authenticity even during the rise of tourism.
It will forever possess an unshakable Caribbean charm!
When thinking about visiting Mexico it is easy to become mesmerized by the glistening sands and turquoise colors of the sea, as you flick through your travel brochure.
However,  there is another lush side of paradise that often goes unnoticed.
I believe it deserves YOUR attention.
The thick, tropical, greenery that colors this beautiful country houses many secrets and sights we simply can't let you miss out on.
Our Mission
Here at PlayaDelCarmen.com, our mission in life is to help you create unforgettable trips!
Oftentimes, this means going beyond mainstream tourist attractions and bringing you something REAL and WORTHWHILE!
We don't do 'average' we do 'exceptional'.
This means going out of our way to find you the very best tours and experiences happening here in Quintana Roo.
Jungle Buggy Adventure Tour definitely fits that bracket. It's been 'Sarah' stamped and approved.
1. Why is Our Jungle Buggy Tour Different?
So, what sets our Jungle Buggy Tour apart from the rest?
The most amazing thing about this tour, in my opinion, is the last part.
Where not only are you given a new perspective on life but offered the chance to do some good in the world and give back.
It's the perfect blend of adventure, discovery, and kindness.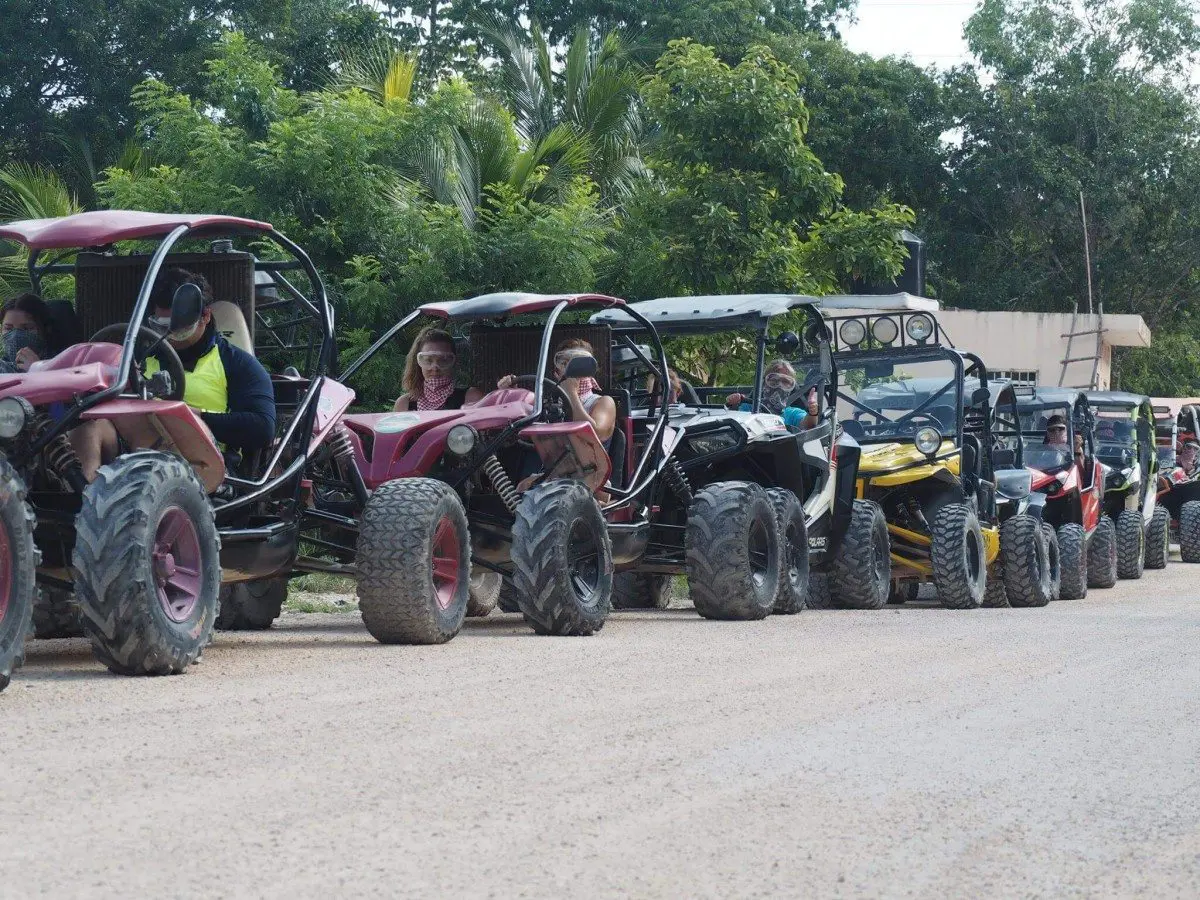 The day's itinerary (subject to change):
1. First off,  you get to explore the dense Mayan Jungle as you drive your own buggy through the fascinating trails of the jungle.
You do this in small groups guided by a friendly and dedicated team.  The tour feels intimate and personal.
Perfect for petrol heads. It's guaranteed to fill you with just the right amount of adrenaline for an unforgettable action-packed day.
2. Secondly, discover one of Playa del Carmen's best-kept secrets. Guided by the Jungle Buggy team you head off into the hidden corners of the jungle to one of the most sacred and beautiful cenotes I have ever seen!
Discover what lies beneath in the mystical and magical underwater world, unique to this part of the world.
(I should note the last time I did this tour the cenote location had changed.  It used to be a cavernous underground site but is now a semi-open cenote with both shallow and deeps parts. Good news if you're a claustrophobic like me as the new cenote is way more open and light). 
3. Lastly, just when you think your day couldn't get any more memorable open your eyes up to a whole new side of Mexico.
The side of Mexico that not every average traveler gets to see. Far removed from the luxury of your hotel it will feel as if you have been transported into another world.
Less than ten minutes from downtown Playa, get involved with a local community and provide food to an impoverished neighborhood.
This tour is unique because it gives you the opportunity to become more by giving something back. I promise you it is an experience that will leave a handprint on your heart forever.
The people you meet are so grateful that you came to see them. When I visited, the children of the village had made us all bracelets using the materials that they had spare.
It's a memoir I will treasure forever.
For those of you reading this that want to experience something a little different from conventional tours, this is the excursion for you!
2. What to expect?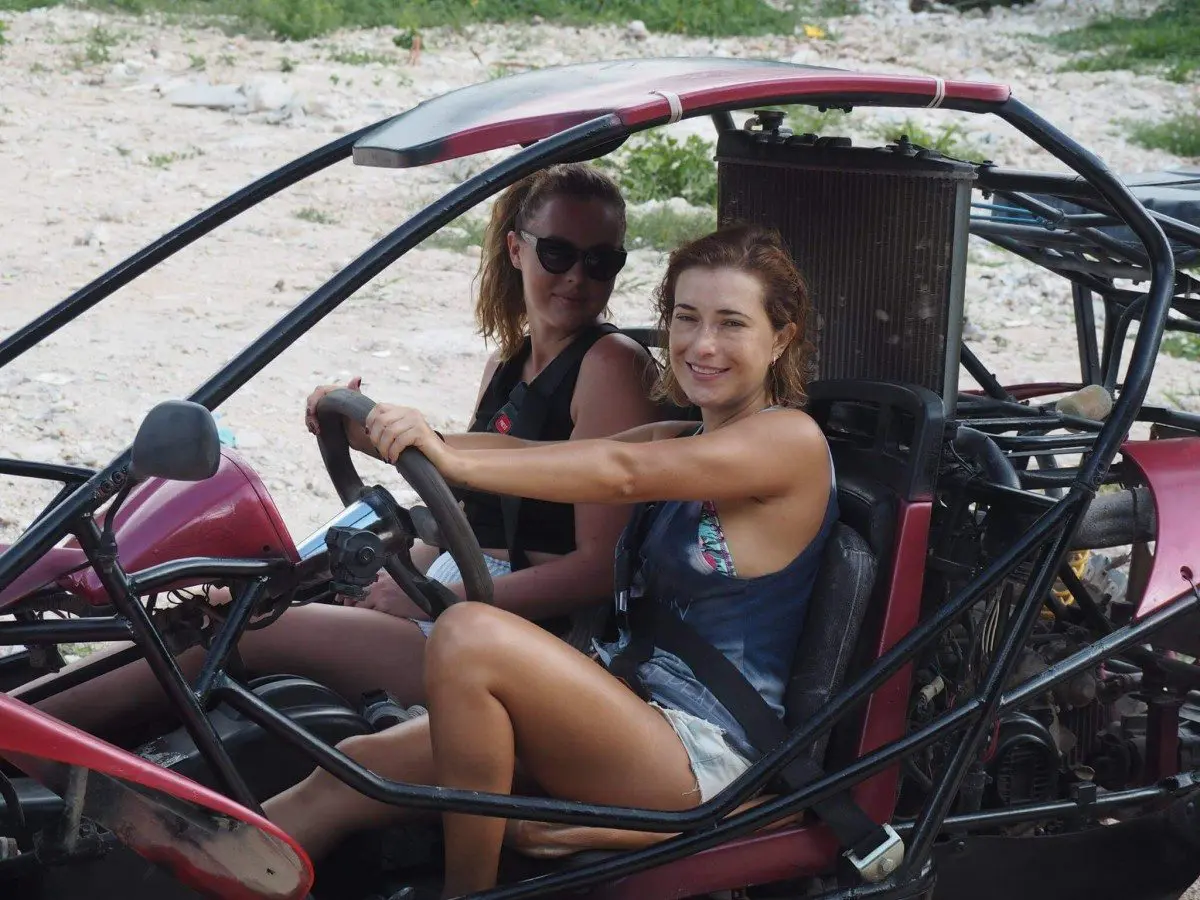 3. Pricing of Jungle Buggy Tour
Adults (11+ yrs) – $92.65 USD
Kids (age 10 and under) – $55.25 USD
Please note this tour is not recommended for kids under age 8.
To drive the buggy you must be 16 years old with a full drivers license.
Duration = half-day tour 4-5 hours so it doesn't take up a full day of your vacation but is still jam-packed with adventure and fun!
Roundtrip transportation is provided if your hotel falls within the Playa del Carmen 10 mile radius zone. If it doesn't, don't worry, transport can be arranged for an extra cost of around $15.
Once you meet with your group (a maximum of 8 buggies) you can choose from a 2-seater or 4-seater buggy (perfect for families) with basic insurance.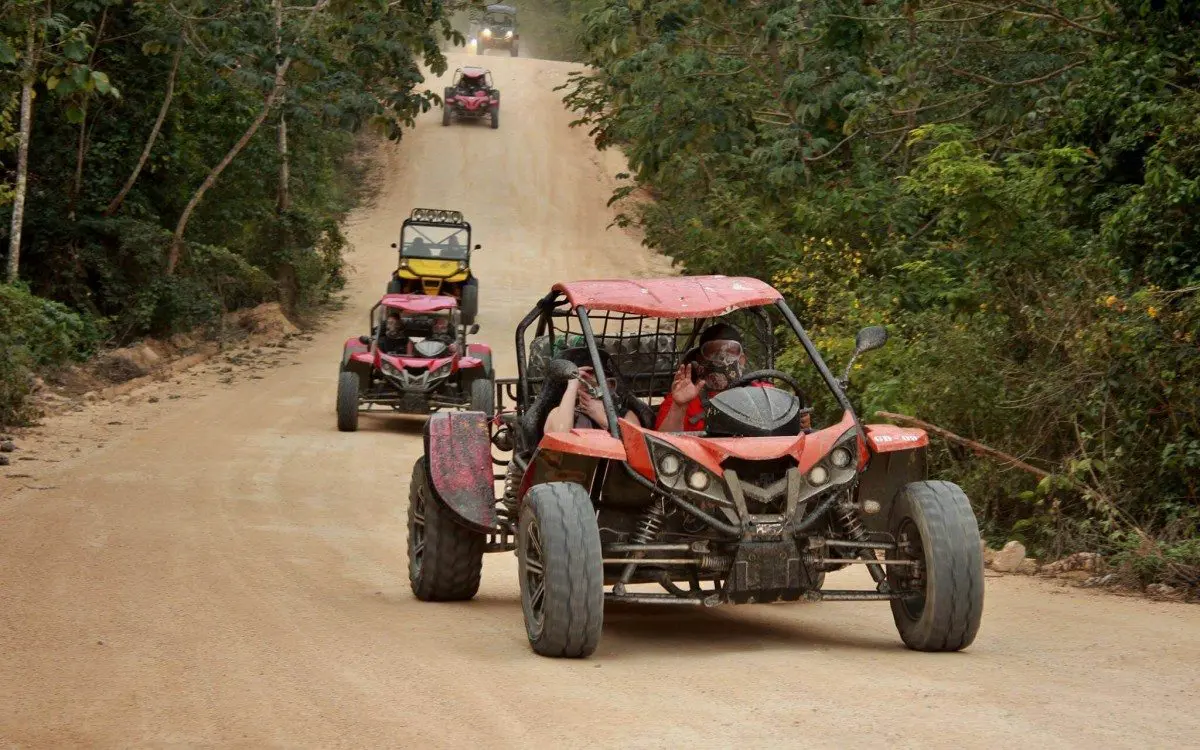 From there, it's time to buckle up and zoom off into the depths of the jungle accompanied by your professional guide.
The buggies are incredibly fun to drive, on and off road.
TOP TIPS
Wear clothes you don't mind getting dirty.
Choose sturdy shoes.
Although, you may feel like a complete nerd, be sure to wear the bandana and eye masks (as the roads can be quite dusty) if it hasn't rained in a while.
4. The Cenote Visit on the Jungle Buggy Tour
Below is a picture of the Jungle Buggy team showing us around a sacred and mesmerizing cenote!
I should note they are completely dedicated to creating change in Playa del Carmen. When I spoke to the team members after the tour he told me of his desire to try and set up a school in the neighborhood we had just visited.
He said: "it breaks my heart that these children will never have an education of the same opportunities as most other people".
Support the growth of these less-privileged communities by choosing to do your Jungle Buggy Adventure.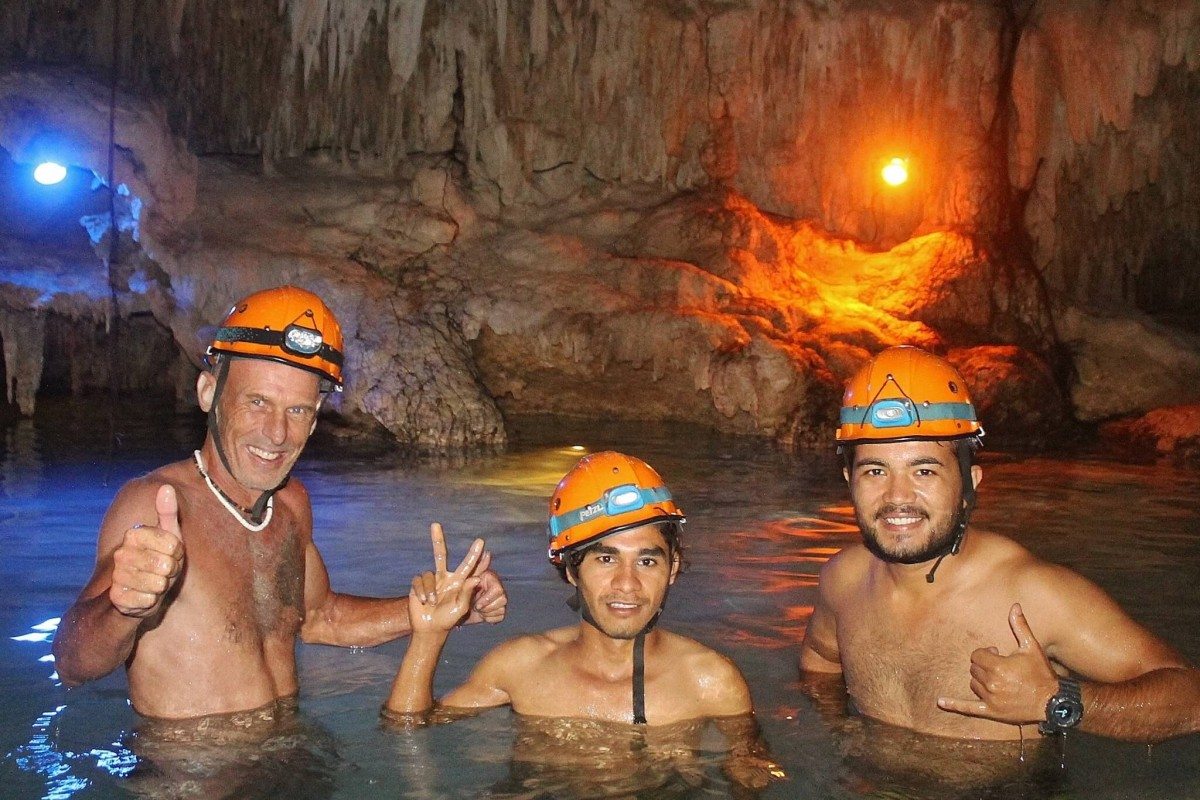 Once you have explored the many jungle trails of the forest you will arrive at a truly stunning location. Prepare to be blown away as you venture into depths of the underwater world.
If you are unsure about what a cenote is, be sure to check out our blog here.  They are truly fascinating natural phenomenons unique to this part of the world and not to be missed!
I don't want to give too much away because it really is a real treat to behold. This particular cenote is a network of caverns, which connects many of the aqueducts along the Yucatan Peninsula.
You can either swim or walk through them while marveling at the underwater caves submerged in water.
For small children, there may be areas where they won't be able to touch the floor. Basically, swimming skills are desirable, life jackets are provided.
The crystal-clear waters make for an incredible snorkeling experience. All helmets and snorkeling gear is provided.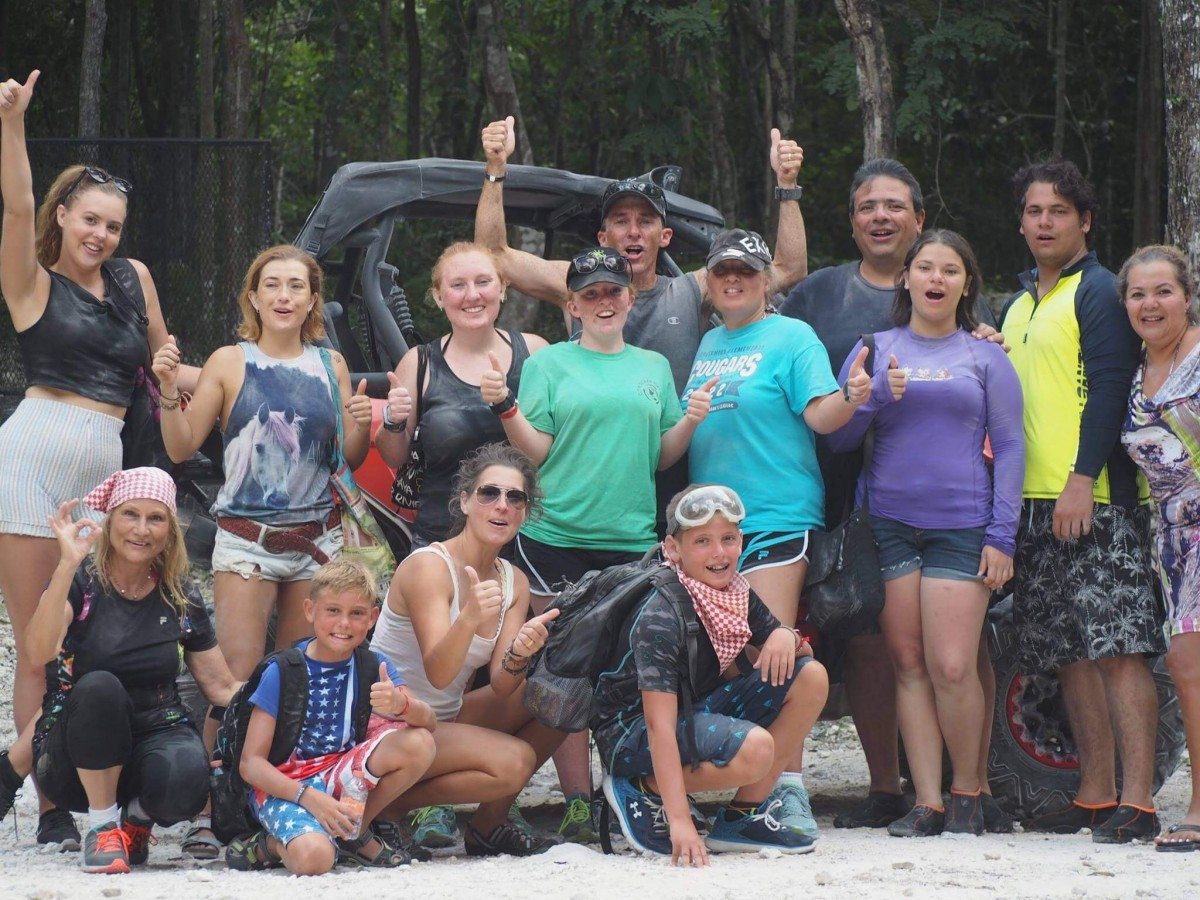 TOP TIP: 
Water shoes are provided as the terrain is quite rocky in parts, but if you prefer to bring your own, feel free to do so.
Bring extra snacks in case you get hungry after swimming (I always get hungry after being in the water).
5. Visiting a 'REAL' Mexican Neighborhood
By far my favorite part of the tour! You can see in this photo of me and the village just how grateful and thankful the people are that you came to visit.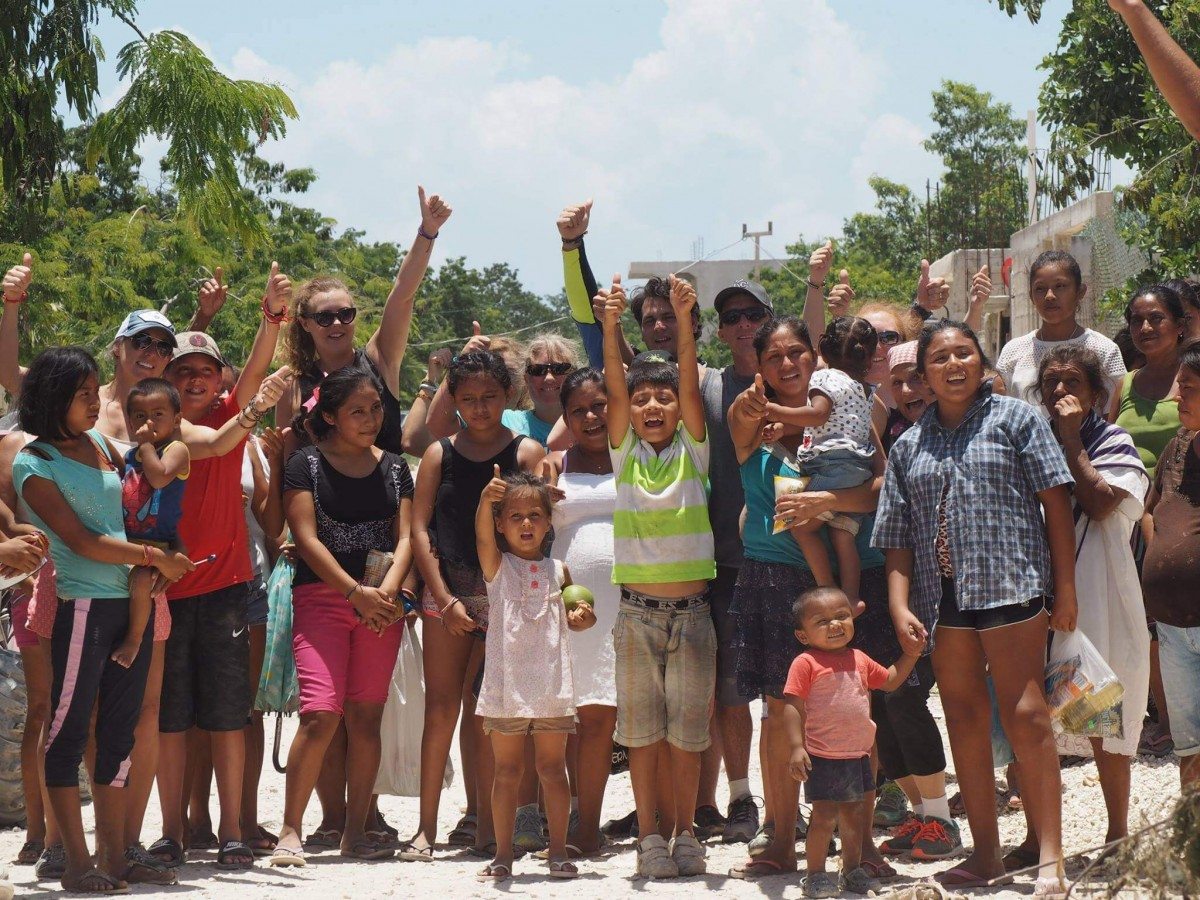 Patrick, the man behind this wonderful tour, is extremely passionate about helping others and doing his bit for society.
After drying off from the cenote you will continue your trip through the jungle before arriving at a typical village to witness what Mayan family life is REALLY like.
This is a real eye-opener and makes you super grateful for all the blessings you have in your own life.
Just before you enter the heart of the village you stop off at a market. Here you have the option to purchase bags of food for families in the village.
Each bag consists of a mix of rice, pasta, crackers, fruit, and milk. The cost of each is around $5 dollars but is enough food for a family to survive on for a few days.
It is not obligatory but very appreciated if you do choose to buy it.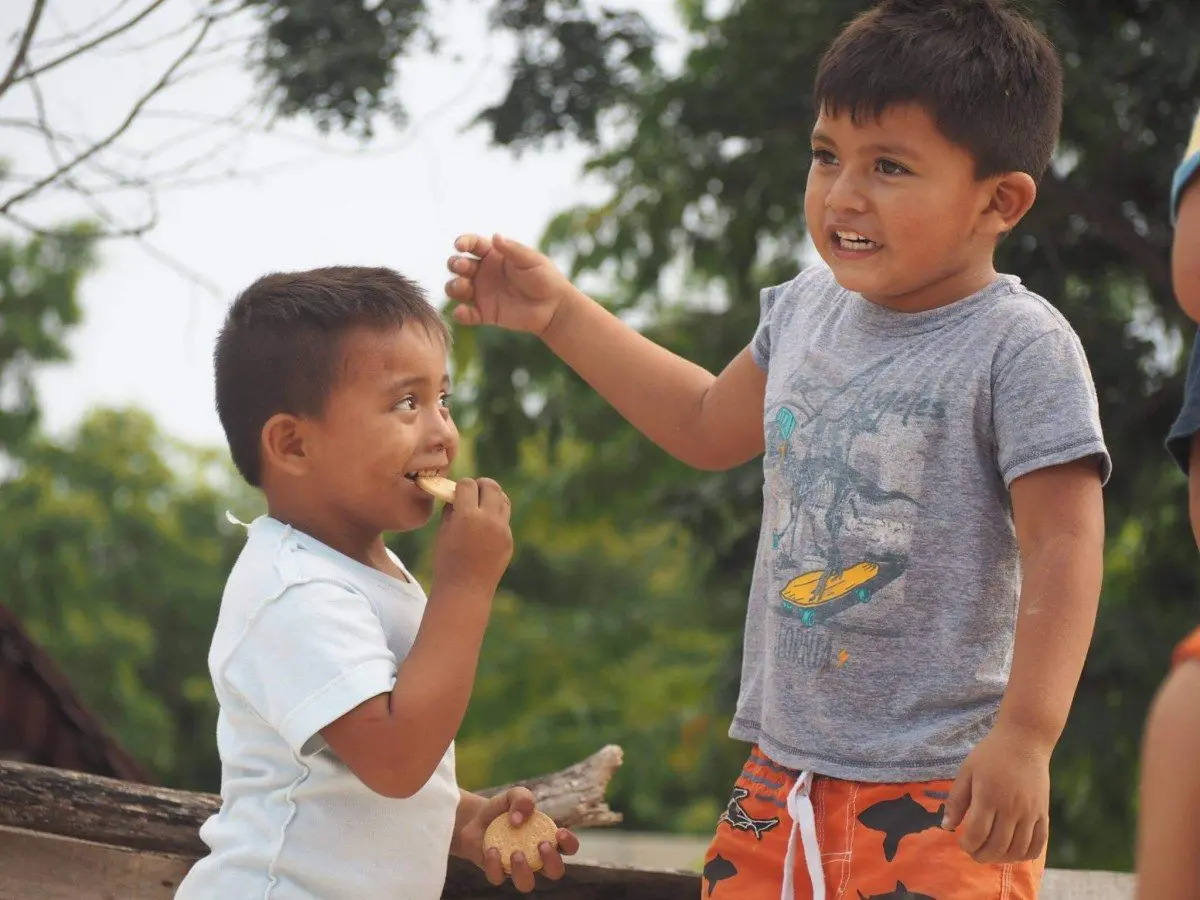 Places often considered paradise often have two sides to the coins, they aren't always sublime beaches and 5-star hotels, that's for sure.
Although it is heartbreaking to see families with so little, or children who don't have the opportunities to go to school, you will be overwhelmed by their kindness.
You can see in their faces just how truly grateful they are for your visit.
To say thank you for sharing food with the entire village, the children made us all bracelet and came round one by one to offer a choice to us before fastening them on our wrists (thank you, Natalie, for mine, I will keep it forever).
Even long after you return home and your trip has ended, I can guarantee you'll never forget the look on their faces.
You won't forget them, and they certainly won't forget you.
If this sounds like a tour you simply can't miss out on BOOK ONLINE NOW to save 15%!
6. Additional Resources You May Also Find Useful
7. Book the Jungle Buggy Tour and Save 15%
Book the Jungle Buggy Adventure Tour online and save 15%! 
If you have any questions you'd like me to answer feel free to let me know in the comments section below, I'd be happy to give you my two cents.
Alternatively,  if you would prefer to speak with someone over the phone, feel free to call us on our toll-free number +1 888-537-9797 (U.S number)
Or
Email us at customercare@playadelcarmen.com
Help to make the world a better place! Choose to Jungle Buggy with Patrick and his awesome team.
Jungle Buggy Tour Review Playa del Carmen
The Quality of the ATV experience

The Cenote

Tour Guide Professionalism

Safety

Family-Friendly

Local Experience
Summary
I think it's safe to say this tour exceeded all of my expectations. The buggies were an absolute dream to drive, so much fun!  Definitely not glorified golf-buggies but REAL state of the art ATV's, surrounded by lush jungle, I mean, what more could I have asked for. The cenotes we visited is one of the most stunning I have seen in the region. The service was outstanding Patrick and the whole team are a credit to the region not only do they offer a great tour but they are really trying to give something back to the community and make a difference. I felt safe on the tour and thanks to a few 4-seater buggies I would also say this is suitable for families as long as your kids can swim. The highlight of the whole tour was definitely the ending. I will never forget it.
---
Trending Now