Isla Mujeres – Garrafon Park Fun
---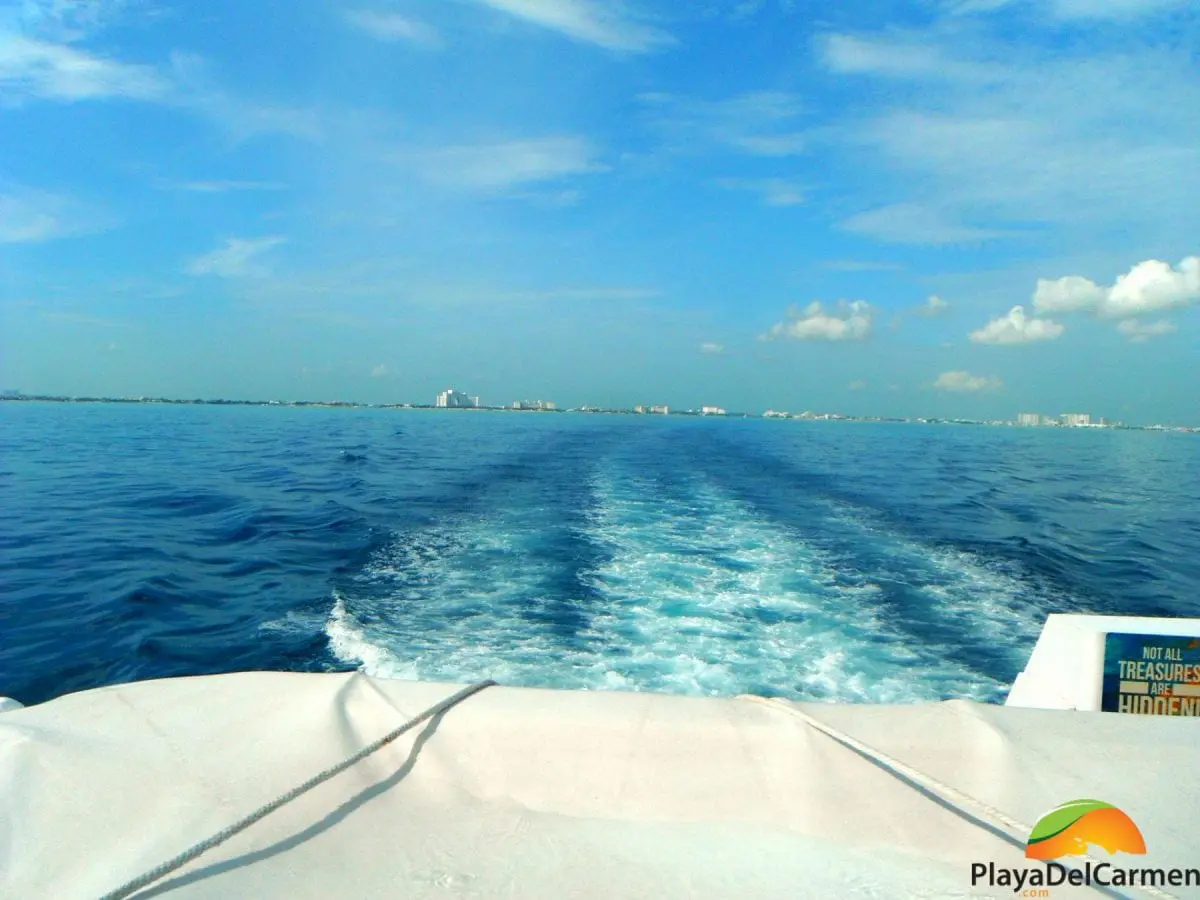 Today I did something so terrifyingly scary, I am surprised I made it out alive.
Yes, future clients, I risk life and limb to bring you first-hand knowledge of everything that is fun and adventurous in the Riviera Maya area. What was it that was so scary you ask… I took a tour out of Cancun!
For those of you who don't know, Cancun and Playa del Carmen are very different. Cancun is a very busy, hectic city, whereas Playa del Carmen is still a relatively calm, laid back city.
If you're a passenger, and find yourself heading towards Cancun, it's best to just close your eyes and hold on (okay, this may be just a bit of an exaggeration).
The driving habits here can be a little on the offensive side and a bit faster than what we are used to. That being said, the tour I took was totally worth the risk.Today I had the pleasure of going to Garrafon Natural Reef Park in Isla Mujeres. Isla Mujeres is a tiny island off the coast of Cancun that is only accessible by ferry and boat.
The last time I went to Isla Mujeres was 1994, on a catamaran tour, which involved a little incident involving too much spicy food, and a LONG sail back to Cancun. But that is a story for another time.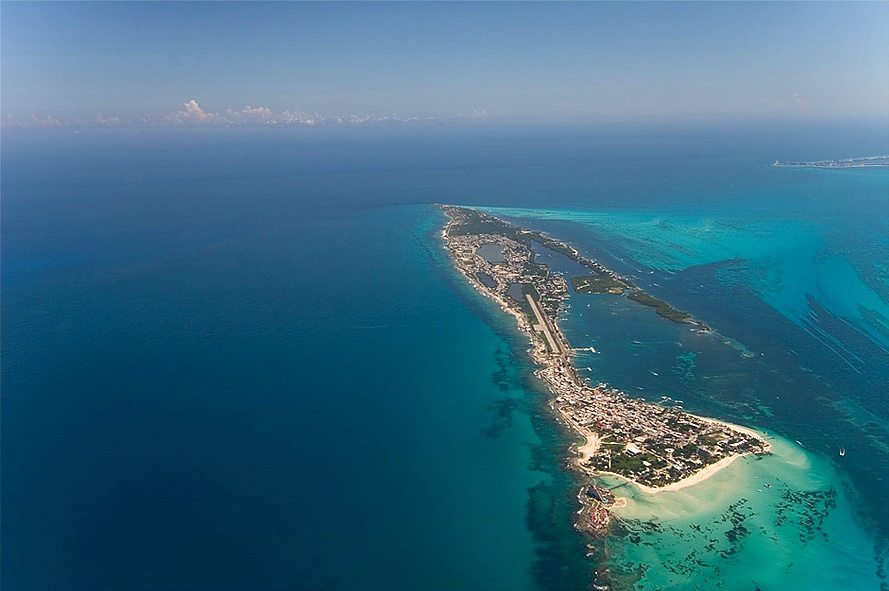 Anyway, the van picked us up bright and early at 6:55am.
It took us about an hour to get to Cancun, as he had to pick up another couple along the way. Your transport time does depend on how many other people are taking the tour, and where they are staying. The van was very nice, air conditioned and could hold 12 passengers.
We arrived at the ferry terminal about 8:15am, and the ferry to the park left at 9am.
There are many different options within the park, so you can spend the whole day just relaxing, or you can choose to do something more adventurous.
Tip #1 – Meals are included, during set times
On our ferry they offered complimentary water, juice and a choice of sweet breads and rolls. This is important, because the early ferry leaves at 9am, but the restaurant and snack bar doesn't open until noon.
Of course there are outlets in which you can purchase snacks and food, and once the included food outlets open, you can eat until 4:30pm. The snack bar offers hamburgers, hot dogs and french fries.
The restaurant is buffet style, with a nice variety of food, which was actually very tasty. There are 2 options for dining, the regular plan, or the VIP plan.
With the VIP plan you get upgraded food choices, air conditioning in the restaurant, as well as your own private lounge with hot tubs and a swimming pool. Both plans include alcohol and soft drinks.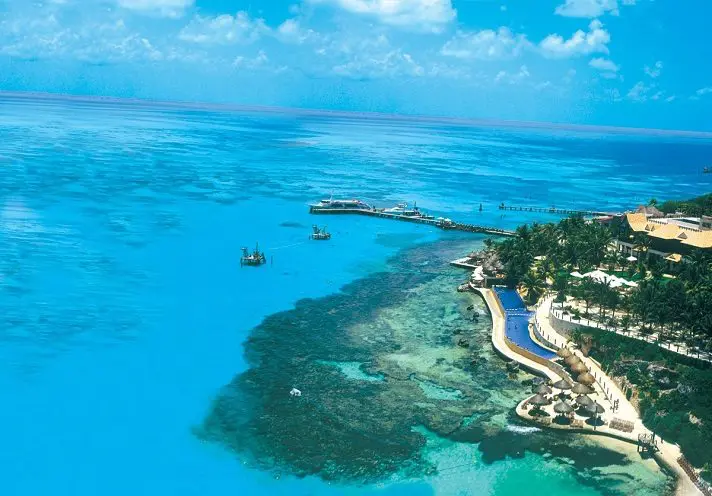 Tip #2 – Pack for an all day tour
This is an all day excursion. Of course there are different ferry times from Cancun to the Isla Mujeres, however there are only two return ferry trips. One leaving at 2:30pm and the other leaving at 5:30pm.
The park has everything you need, towel rental, lockers, showers and ample bathroom space. So ideally you could pack your swim wear, and an outfit for travel. Personally, I just put on a sundress over the bathing suit, the less stuff I have to carry the better.
The park is really very beautiful, with more than enough space to accommodate everyone.
There are hammocks, sun chairs, canopy beds and chaise lounges. None were full while we were there.
As stated, meals and drinks are included in certain venues, and of course there is a gift shop and an ice cream shop, to purchase any extras.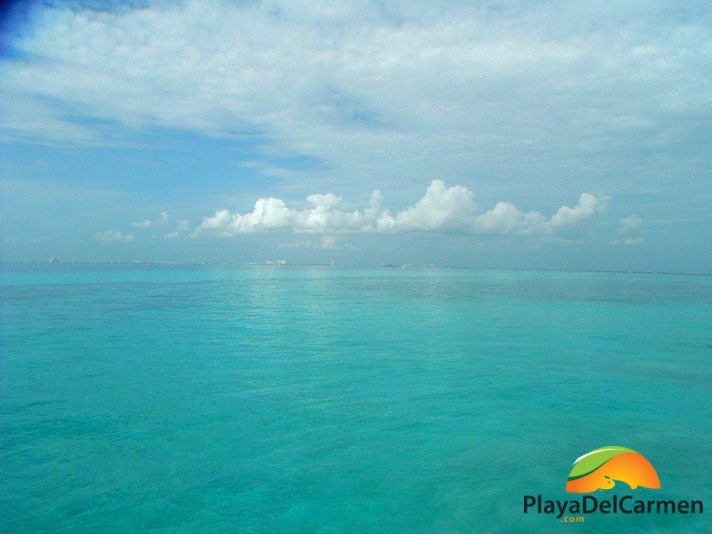 Tip #3  Ziplines, kayaks, snorkeling and more…
Probably the biggest draw to this park are the dolphins, which we don't recommend for moral reasons, however they have a zip line (it costs extra, unless you purchase a VIP ticket), snorkeling, kayaking, swimming and bike tours.
Of course, if you choose to relax they do have hammocks, canopy beds, chaise lounges and lounge chairs.
If you choose to go off property, you can walk to Punta Sur, which has one of the most breathtaking views I have ever seen, as well as a sculpture garden, and little shops and restaurants.
They also have the Temazcal sweat lodge which has a whopping 300 5 star reviews on TripAdvisor.
If you don't know what sweat lodge is, it's basically a round structure, heated by water thrown on lava rock, which produces steam. It is used to purify and heal, as a shaman performs the ritual. Ours took 30 minutes, however I have heard a traditional Temazcal healing takes 2 hours. Half an hour was plenty for me, and although I don't really speak Spanish, it was a very humbling experience. I sweated a lot, and came out feeling great.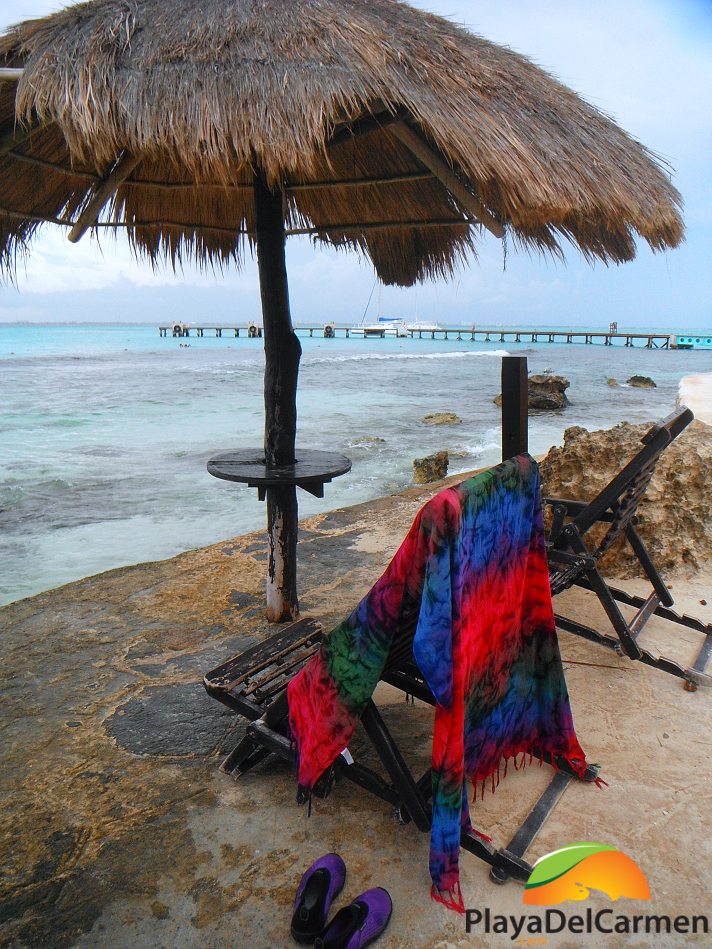 Tip #4 For unlimited zip line tours, buy the VIP ticket
The zip line is not included with general admission. If you want to do it, you will pay an extra $12 per tour.
The VIP ticket is only an extra $30, so it would basically pay for itself with 2 tours on the line. In addition to unlimited zip line tours, you do get an upgraded dining option. The dining rooms in the VIP section are air conditioned, with better food choices, their own private lounge with a swimming pool and hot tubs (the only ones on property). So it is a great value, for those of you who want upgraded amenities, or just want unlimited zip line tours.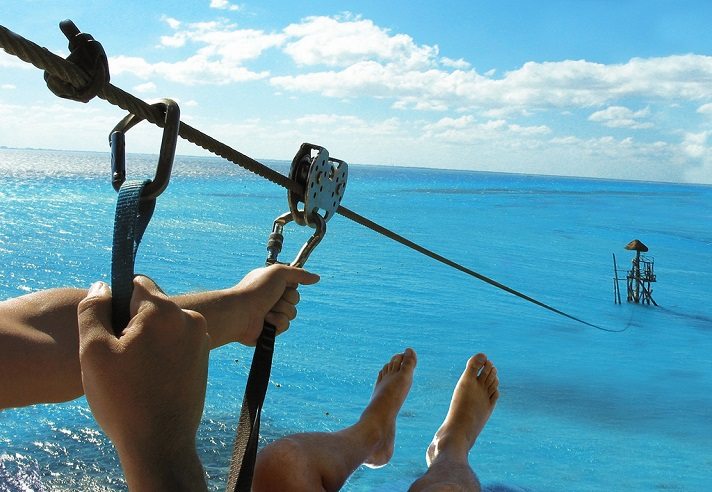 Conclusion
This park is really great for everyone, families, singles and couples. You can be as adventurous, or as relaxed as you want.
In addition to the park, Isla Mujeres is a beautiful island on its own. The scenery from the park, and Punta Sur were breathtaking. Even the ferry ride over provided a beautiful view of the crystal clear waters of the Caribbean Sea.
So as the day ended, I loaded into the van, closed my eyes and hung on, for my return trip from Cancun. I made it back home to Playa del Carmen, feeling relaxed, happy and glad I could experience the wonders of Garrafon.
Want more information about Garrafon Park?
Do you have a question for me (Linda) about my experience? Contact me
Have you been to Garrafon? Or to Isla Mujeres? Tell us about it in the comments below.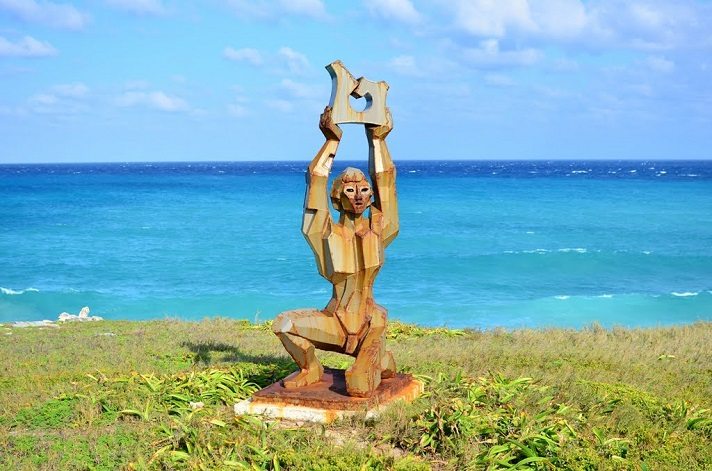 ---
Trending Now
You may also like