---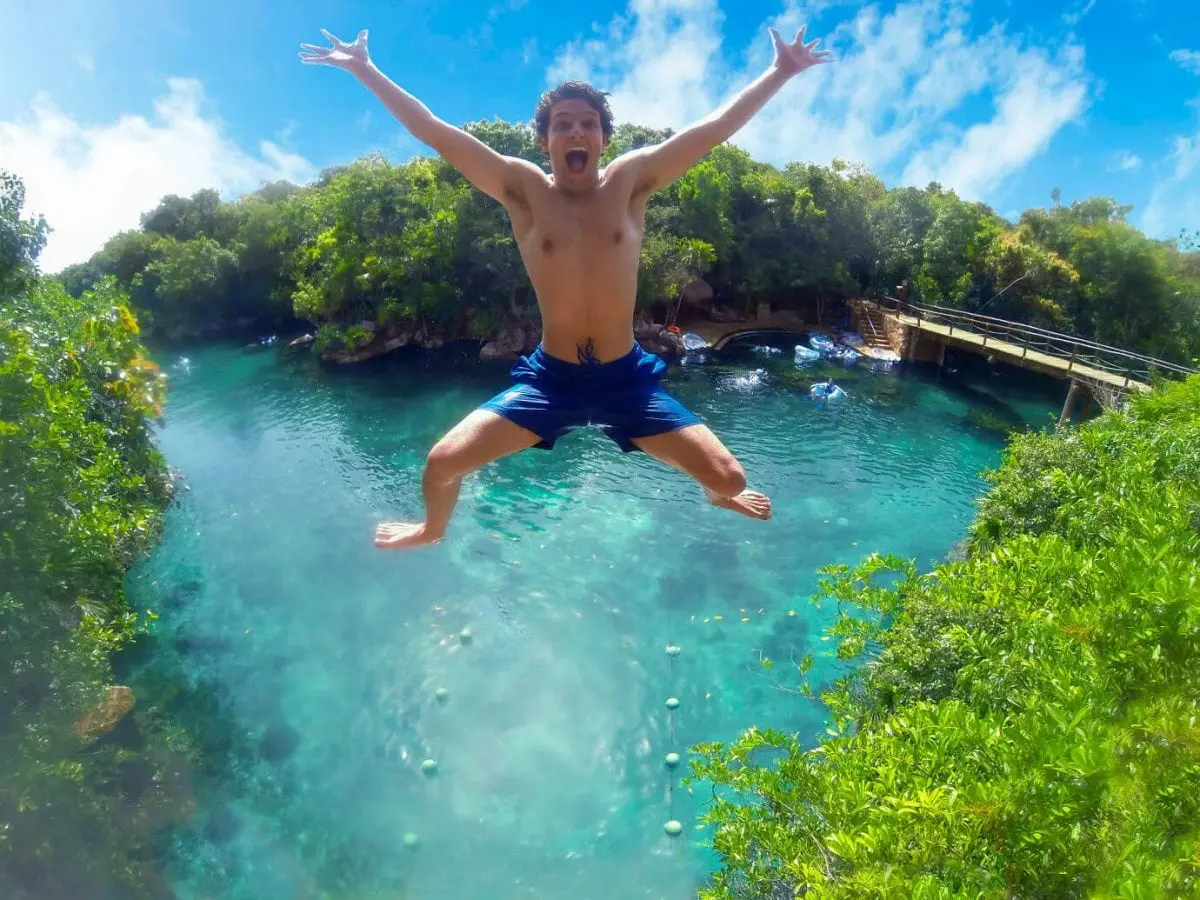 Xel-Ha (shell-ha) is one of my favorite places in the Riviera Maya.
It is not somewhere I go very often, but when I do visit Xel-Ha. I LOVE IT. The eco-park has so much to offer, it makes for a great day off for the whole family.
Here is my Xel-Ha Review of my most recent visit to one of many amazing Playa del Carmen activities.
XEL-HA REVIEW
If you like snorkeling, adventure, a family-friendly day out and a lot more, then Xel-Ha Park is for you. I hate to call it a waterpark, as you imagine a Wet N' Wild sort of environment, but for lack of a better description, this waterpark offers a lot of bang for your buck and can please all ages.
I snorkeled, floated down an amazing river in the inner tube, I ate at a very tasty and varied buffet (twice!) AND I slept in a hammock. This is my idea of a perfect day!
ABOUT XEL-HA
Imagine a giant inlet from the Caribbean Sea, that leads to a series of freshwater channels. Xel Ha's over 200 acres also include a lagoon area, cenotes, jungle and more. Where the ocean saltwater meets the cenote freshwater, not only can you feel two different water temperatures but you will get to see many different species of fish.
When you arrive, you check in and get your "all-inclusive bracelet". Essentially this allows you to access the park, a couple of restaurants (all you can eat food / drink), gives you access to snorkel equipment, inner tubes and a slew of free activities.
WHAT ACTIVITIES ARE AVAILABLE AT XEL-HA
These activities are the ones included in the price of the ticket and have no extra cost.
You have access to the main inlet area for snorkeling, swimming or just floating about. If you want to head up to the "top", you can ride bicycles, grab the train, or walk. Once at the top of the river, you can get inner tubes and float down the river into the main area.
There are a few cenotes for swimming and snorkeling, as well as a couple of grottos to explore.
For the more adventurous, there are two high "cliff" jumps, the 'trepachanga' a type of challenging rope bridge as well a few small zip lines where you land in the water. The little ones will love the kid's world which comes with a small water play area, a playground, a water obstacle course, a tree house series of tunnels, and a water slide.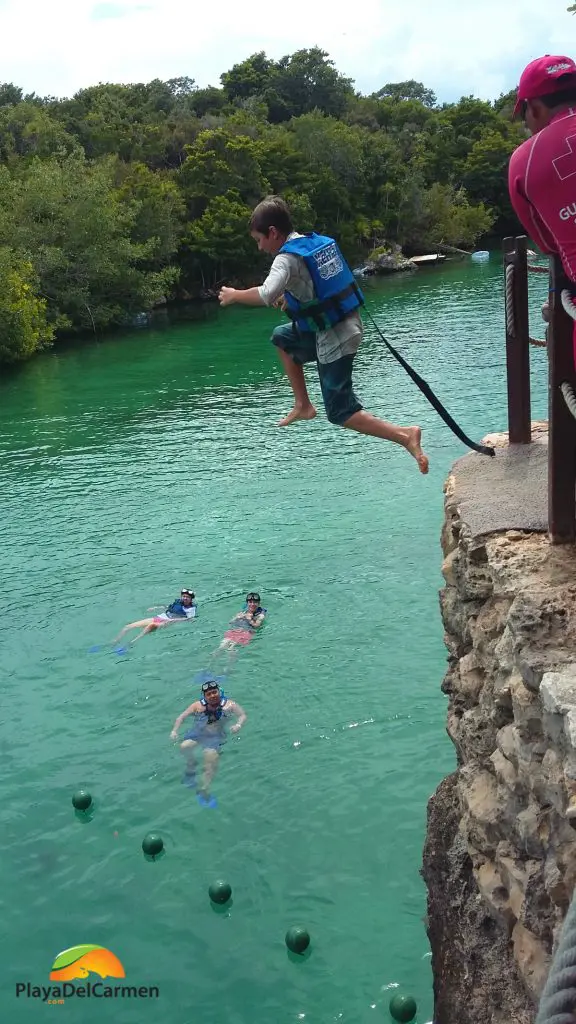 If you want to add to all of this, they do have optional activities that you can pay for and add on to your package. They do have dolphins, manatees and stingrays on site for encounters and swimming (please reconsider, and read Better than Swimming with Dolphins), the option for Snuba, an Adrenaline speed boat tour, a spa and more.
In my opinion, there is more than enough to do with the normal admission and no need to pay for additional activities.
MY FAVOURITE THINGS TO DO AT XEL HA
SNORKEL AT XEL-HA
I love to snorkel. LOVE IT. It is probably one of the things that relaxes me the most. The lack of noise, the soothing of the water and all the cool things to see once you immerse yourself.
The snorkeling at Xel-Ha is great. There are so many different areas to explore and many different species to see. The claim that they have over 300 species and while I can't confirm that amount, I always enjoyed the variety of fish I saw.
HAMMOCK GARDEN
Really. Xel-ha is a place I go to on my days off. What's better on a day off than a nap? A day off with a nap in a hammock.
"LAZY" RIVER
We normally grab the bikes and head up to the top of the river. You can get a double or single inner tube. Taking the river down is fun and just being in the crystal-clear waters surrounded by mangroves is incredible.
Put your fins on your hands to help you get down the river. The lazy river name is deceiving; it does take quite a bit of effort to make it down.
ZIP LINES
There are 4 small zip lines that all land in the water. Short, fun and a nice little burst of adrenaline on a lazy day. The kids loved it!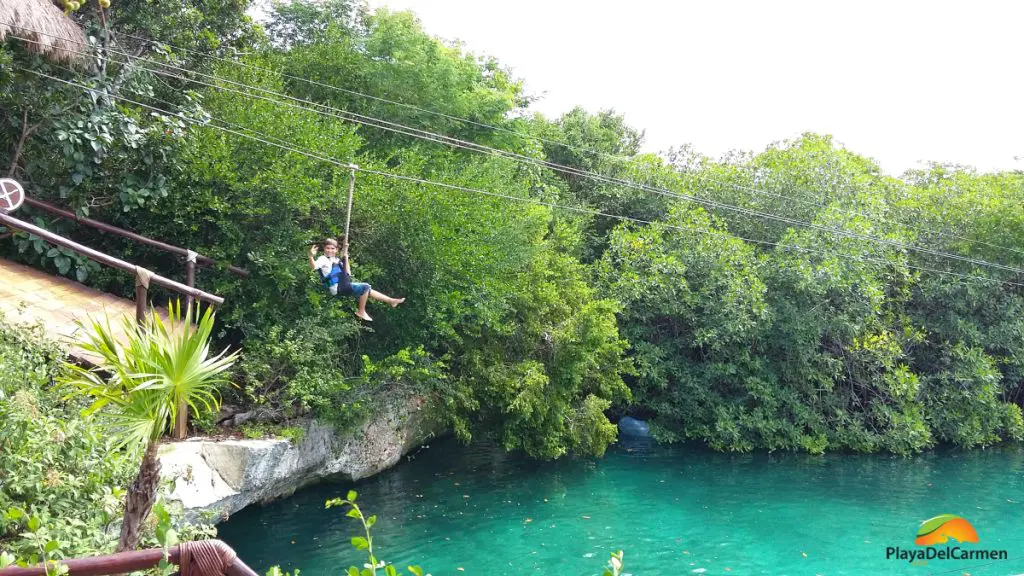 XEL-HA TIPS
Lockers, towels and equipment
The park does allow you access to lockers and provides towels so avoid over packing the beach bag. They will scan your bracelet and write down what equipment you sign out to ensure they get it back, but you have access to masks, tubes (new), and fins.
There are several different points where you can access lockers and equipment. If you are headed up to the top of the river, wait and sign out the equipment at the top. Also, if you do have valuables with you, they will put them in a secure bag at the top of the river and you can pick up at a kiosk near the main restaurant. Very handy.
https://www.instagram.com/p/BMLHoY-DFhQ/?tagged=xelha
Sunscreen
Biodegradable, biodegradable, biodegradable. Can't say it enough. They don't want the waters polluted by the chemicals in the popular sunscreens. You can buy biodegradable at your hotel shop, at many pharmacies in Playa del Carmen, or even there at Xel-Ha.
Food and drink
You have access to food and drink from 9:30am through until 5:30pm so no need to bring snacks or worry at all about refreshments. If you love Mexican food, they also have a second buffet with Mexican specialties that open for lunch.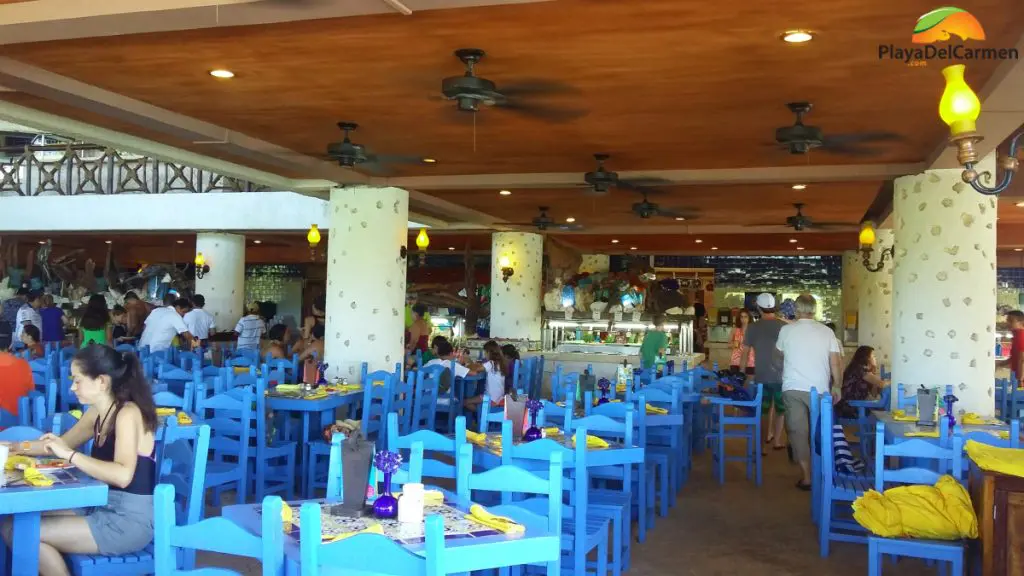 Feed the fish
As you are walking up the main path towards the area where you can get the bikes /grab the train there is an area where you can feed the fish. This is after the kids area, right before a bridge. Look to your right and there is a feeder there. Even the big kids like me love it.
Xel Ha Photos
Xel-Ha has several areas set up for pictures. You can scan the barcode on your bracelet and have images taken throughout the park. Very handy. But, also very pricey. It was upwards of $80USD for the images they took throughout the day.
I only had my cell phone with me, so I have very little pictures, but had I known in advance, I would have purchased a waterproof case for my phone or an underwater camera.
Kids
All equipment including life jackets come in child and baby size. There are highchairs available in the restaurants and they also have jogging strollers available for rent (300 pesos rent, plus 300 pesos deposit) so it is an accessible day if out with the little ones.
Wheelchair Accessibility
The park claims to be accessible and there are ramps throughout the main area. Wheelchairs are available for rent, although they do not have amphibious wheelchairs for rent on site (these can be arranged in advance). Please notify the park prior to your visit and they will assist with an alternate map of services on site and additional help if required.
Want even more info and tips on Xel-ha? Check out Xel-Ha Tour: A Complete Guide to Attractions and Pricing
HOW TO GET TO XEL-HA
Located in the area known as the Riviera Maya, Xel-Ha can be found on the main highway 307 which connects Cancun to Tulum. An easy day trip from Playa del Carmen (or anywhere in the Riviera Maya, really), but you will want to determine where you are staying first to see if it is worth purchasing the tour with or without transportation.
If you rent a car, it is easy-peasy. There is only one highway connecting Cancun to Tulum (with Playa del Carmen in the middle) and Xel-Ha is well marked.
Taxis can be quite pricey, so you need to determine how much the cost would be versus just purchasing with transportation.
Even the ADO bus has service to Xel-Ha, from Playa del Carmen city center to the park.
If you are headed to Xel-Ha from Tulum, it is only 13 kilometers (8 miles) to the south.
From Cancun, your best bet is to purchase Xel-Ha with transportation as it is 120 kilometers (76 miles) to the south of Cancun.
If you are headed to Xel-Ha from Playa del Carmen, chances are the tour with transportation will also be the easiest and least expensive route. Xel Ha is located about 50 kilometers (31 miles) from Playa del Carmen.
If in doubt, contact your trusty travel specialists.
HOW MUCH DOES XEL-HA COST
Well, this can get a little confusing depending on the package you want. Kids prices apply for kids as of age 5 through until 11. Best to bring along the child's ID to prove their age if there is any doubt about the size of your 11-year-old (or 4-year-old). Kids pay ½ price. Kids 0-4 are free. So, this is a great option tour for families with young children.
Admission only for Xel Ha the adult price is $89 and kids are $44.50. If you want to add on return transportation to and from your hotel to the park, then the cost is $119 per adult, and $59.50 for the kids. If you are trying to pack two top Riviera Maya attractions into one fabulous day, you can opt for the Tulum & Xel-Ha Tour, which also allows for a morning visit to the famous Mayan ruins. That tour will be $139 per adult and $79.50 for the kids.
You can save on Xel- Ha and book it at a discount here.
Xel-Ha for Locals
If you live in Playa del Carmen or the state of Quintana Roo and have official ID (IFE, temporary or permanent residence card issued in the state) the park does offer significant discounts.
Quintanrooense price for Xel-Ha is 823 pesos for adults and kids aged 5-11 are $412 pesos.
WHAT IS BETTER, XCARET OR XEL-HA?
Well, they are totally different.
I always say that if you love the water and snorkeling, and want to spend the day doing various water-based activities then Xel-Ha is for you.
Xcaret is different. The sheer size of the park is several times the size of Xel-Ha, and although you can experience the underground river there, the focus is on activities outside of the water such as the animals on site and the different cultural shows available. So instead of swimming all day, you are walking all day.
CONCLUSION
My conclusion is pretty simple: I love Xel-Ha. I think it is well worth the cost. If you have a full day, I wouldn't combine it with anything else. They have enough activities to keep the whole family happy. Even on TripAdvisor, Xel-Ha rates #6 on things to do in the Riviera Maya.
SO, if you are headed to Playa del Carmen on vacation, make sure Xel-Ha is on your to-do list.
Have you been to Xel-Ha? Do you have your own Xel-Ha review? Feel free to comment below!
Have questions about Xel-Ha? Reach out!
Want to book Xel-Ha? I don't blame you.
---
Trending Now
You may also like