My Honest Review of the Sandos Caracol Eco Resort (2022)
---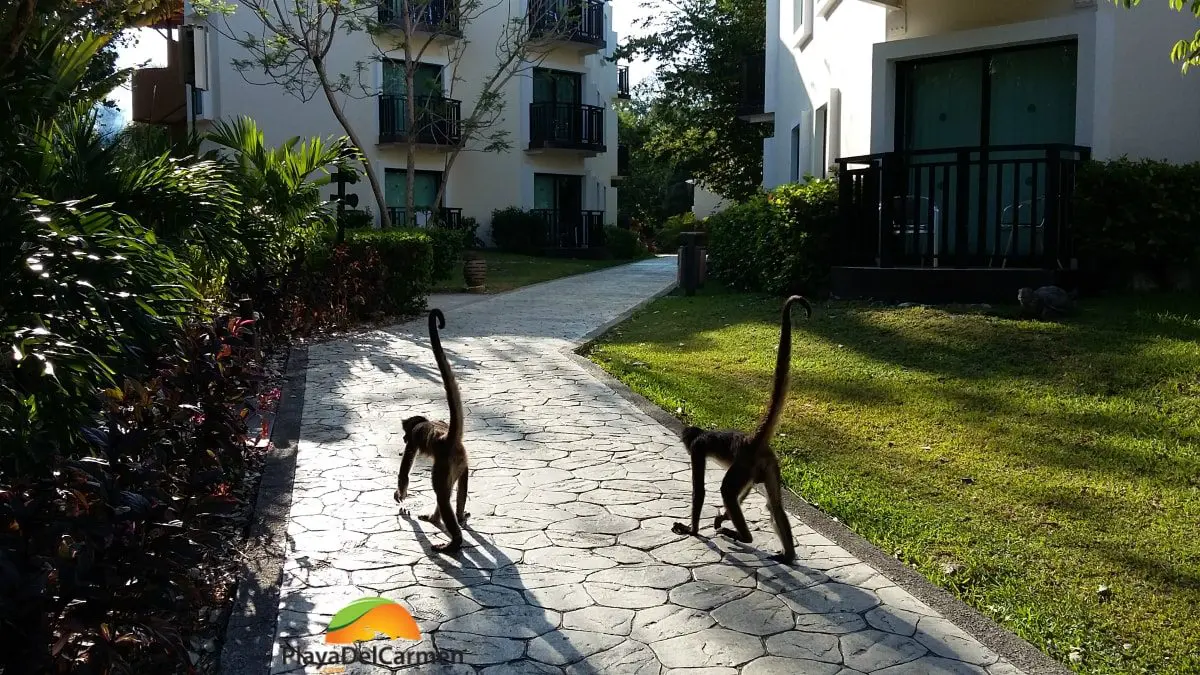 Behold, my honest review of the Sandos Caracol Eco Resort in the Riviera Maya!
Alright, I admit it. I LOVE my job.
But honestly, who wouldn't?
One of the best parts is that I get to stay in the hotels that PlayaDelCarmen.com offers.
That way, I get to know first-hand what the experience is like. Pretty tough job, right? Well, read on for my Sandos Caracol Hotel Review.
---
Top 5 things to know before Booking the Sandos Caracol Eco Resort
Before considering this hotel for your next vacation I've listed out 5 things you should know before booking. Check them out below.
1. The size of the resort
The Sandos Caracol has almost 1,000 rooms. It is separated into different sections for different preferences and budgets.
I'll get into the different areas in a moment, but my main point is this: GET ready to walk. If you like compact resorts, Sandos Caracol is NOT for you. If you have young kids, bring a stroller.
I love the fact that that site is spread out. You can explore a different area every day and still find something new.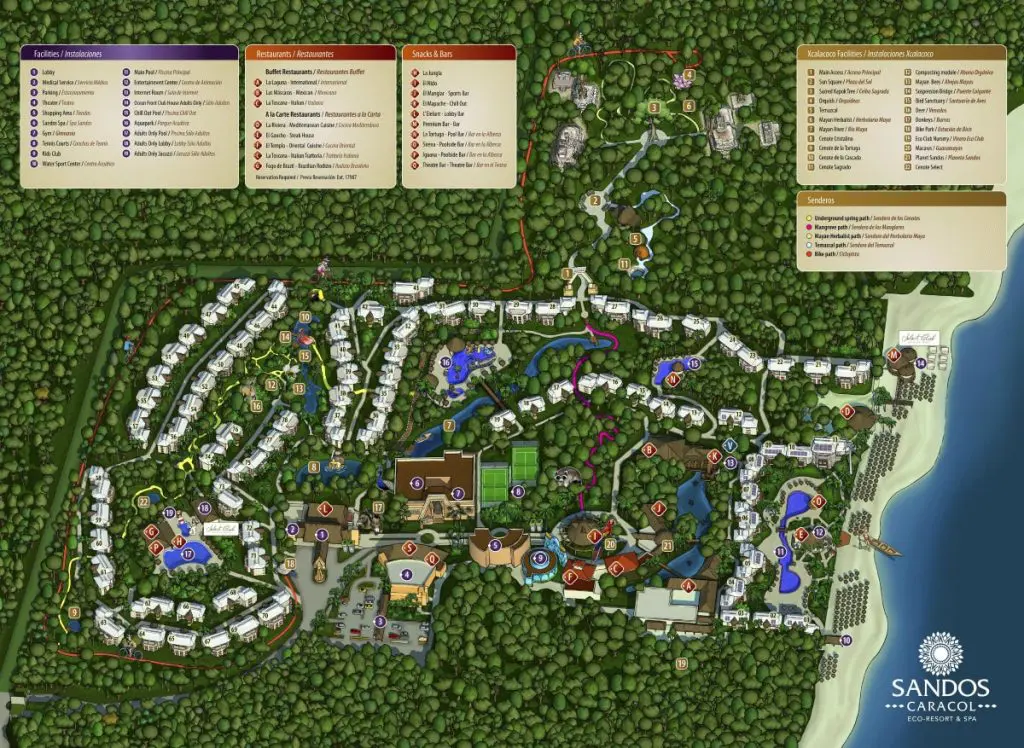 Select Club
The Select Club is an exclusive adults-only area. You must book this category to gain access. Not only are the rooms and area for 18+, but you'll also have special access to an adults-only pool and one restaurant in this area.
This area is the furthest from the beach. That being said, it is away from the noise and hustle bustle around the rest of the resort. If you book the select club, you have access to the rest of the resort AND an exclusive beach club with waiter service and a few other perks.
Family Section
The family section buildings are spread throughout the grounds. They are villas with 3 floors and 12 rooms each. Within the villa, there are a few different room categories ranging from Junior Suites (which accept families of 5) to deluxe rooms and standard rooms.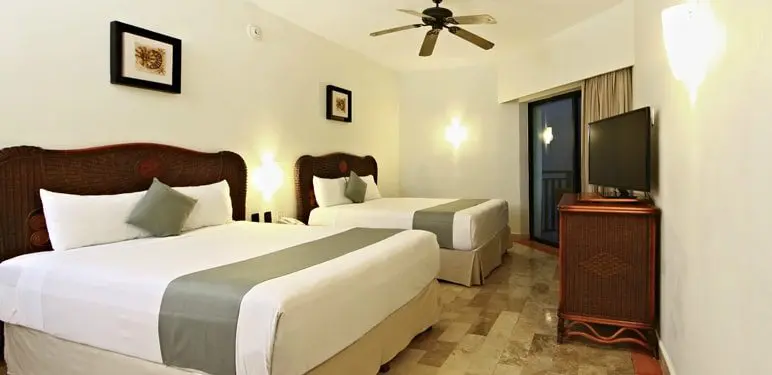 Royal Elite Ocean Front
These rooms are closest to the beach. They have been modernized as eco-rooms using solar panels. They also have access to the Select Club areas, which is a bonus.
2. The beach is rocky
The beach is long (you can walk for miles) and wide and white. Nature being what it is and erosion is inevitable, there are areas when entering the water. Bring water shoes. The sea is turquoise, the water is clear, but expect a few rocks here and there.  This did not seem to stop anyone from swimming. The water was amazing!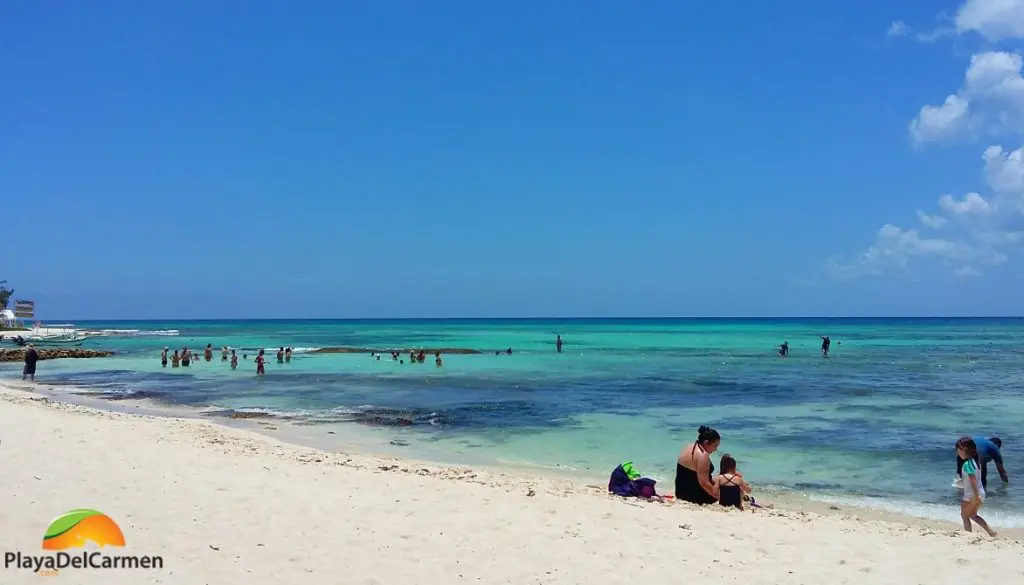 3. Timeshares
We've all heard of timeshare and most of us cringe upon even hearing the word. Well, Sandos has what they call a vacation club, or membership.
They do invite all guests on their "vacation club" tour, but in a tricky way. You check in at the front desk and are directed to guest services. Your guest services representative will sit you down and go over the map of the resort and its services. It is actually quite informative, and if you want to make the most of your time there, it's a great intro to what's available. What the representative also does is slip in all the key questions during this intro to see if you 'qualify' for a timeshare presentation (marital status, do you have a credit card, occupation, etc.). Without you even realizing that the helpful, friendly guests services guy or gal has done so they have, making you think nothing of their invitation for a tour.
Watch out. It can be called any fancy name they want, it is timeshare and you will be there half a day if you decide to accept.
4. LUSH vegetation
The Sandos Eco Hotel concept is that they have only developed 30% of the land. This means that the existing vegetation has been left to grow as nature intended. This area has mangroves, which grow in water. The result is dense vegetation that is extremely lush and tropical.
One of the natural occurrences is mosquitos. Now the hotel does do everything possible to combat them, including regular fumigation and offering free biodegradable mosquito repellent in many areas of the resort. Mosquitos were not a huge problem when we were there, but if you can't handle any at all (or tend to react badly to bites) you may want to consider this.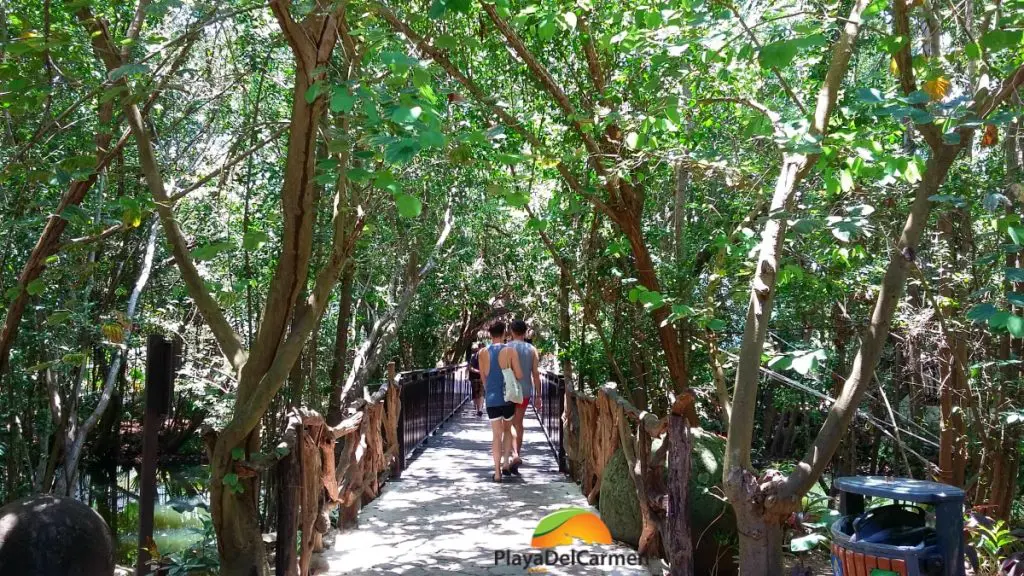 MY FAVORITE THINGS ABOUT SANDOS CARACOL
Activities galore
Kids Club, Baby Club, Teens Club, sports bar, water sports, water slides… You name it, Sandos Caracol beach resort has it.
One of my favorite things to do with my son is play games. Board games, sports, it really doesn't matter. It seems to bring us together in a way that many other activities cannot. Well, we played ping pong and pool, played beach sports together, tennis, went for a bike ride, snorkeled, and even headed out to sea on a kayak……

Sandos has a Cenote
One of the top attractions in Playa del Carmen and the Riviera Maya are the cenotes.
The sinkholes come in many shapes and sizes, and most tourists do pay for at least one visit to a cenote. Sandos has a cenote on site. You can swim, snorkel and explore this area and it is absolutely stunning.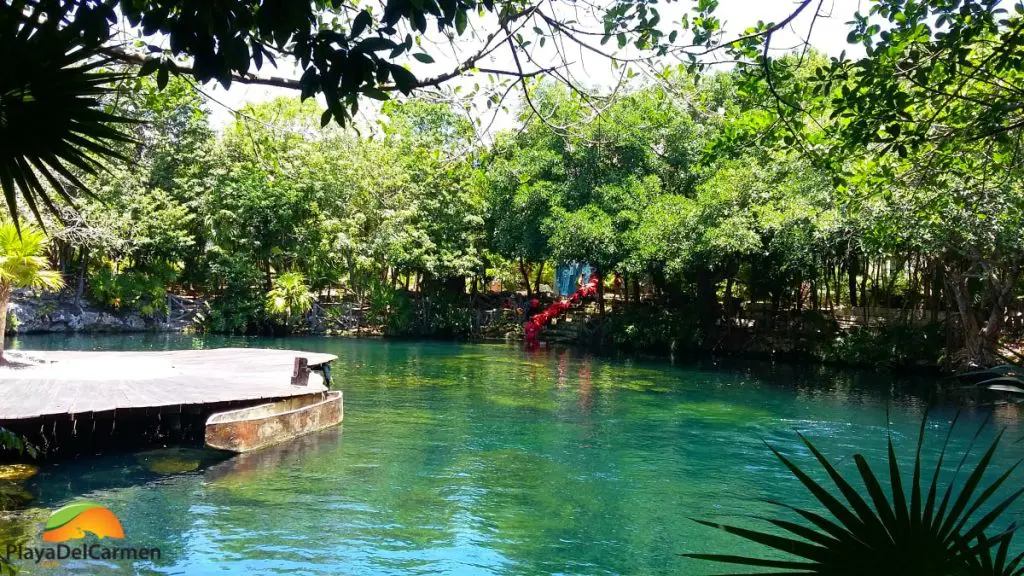 Animals
Self-proclaimed crazy dog lady, right here (if you have called our toll-free number, chances are you have heard our PlayaDelCarmen.com mascots). I am also a nature lover and when it comes down to it, any other animal around, too.
The Sandos Caracol works with Coco's Animal Welfare to offer cat cafés (where the strays have access to food, water, shelter, and veterinary care), and they let the naturally occurring wildlife be where they are supposed to. We saw sereques throughout the site (aka agouti's they are harmless, like jacked up guinea pigs), many coatis are similar to raccoons so watch out they will steal your food if given the chance. We even saw monkeys! It was incredible. Nothing gives you a wow moment like seeing a wild monkey up close.
They also have a kind of petting zoo area with donkeys, chickens, and a few pigs. Not really my cup of tea, but I was impressed that the other wildlife was left to be.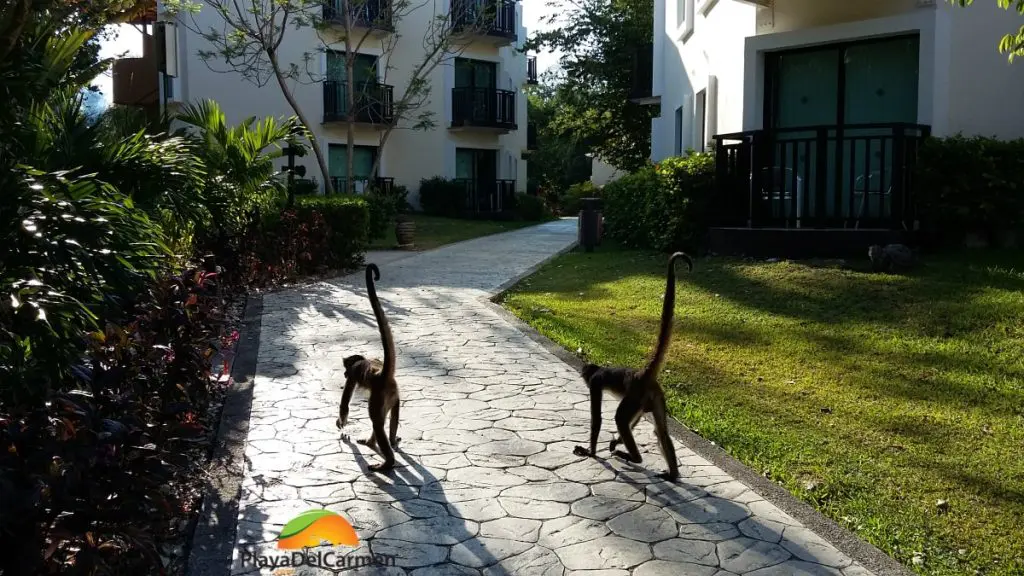 Waterslides
We were at Sandos Caracol eco resort a few years back and they had this great little waterslide area with a dozen or so slides for the kids.
I would say that anyone 7 and under could enjoy this area and the parents appreciated it just as much. Since then, Sandos Caracol has added two new areas with bigger water slides.
The next 'jump' was for kids I would say 6-8 (based on height) with 3 larger slides. Once you are past that height, you move on to the even bigger ones which had as many adults as kids. FUN!
And the best part, all of it is included. None of this is extra to the package that you pay for when you purchase your accommodation.

Eco Concept
We live in an area where recycling is still not the norm, and where Styrofoam and plastic are rampant. There is a serious lack of education when it comes to sustainability here.
Sandos Caracol Beach Resort is going in the right direction.
They do not provide bottles of water in the rooms, but instead a garrafon (large jug).
They discourage the use of straws.
They have options for compostable waste, areas for recycling, and provide reusable glasses rather than the disposable ones.
A percentage of the rooms have been redone to be more energy efficient.
They have left the vegetation and wildlife in the area unharmed.
They do not allow photo vendors to walk around asking you for pictures with animals in captivity.
And on and on and on.
All in all, they are easily one of the most eco-friendly hotels in Playa del Carmen.
AREAS FOR IMPROVEMENT
Eco-marketing
As much as they are ahead of the other resorts, they can still make improvements. The cleaning products used are toxic and they were even used on the waterslides as the children were around. The towels were replaced, even though I asked for them not to be.
Service
The service was touch and go. For the most part, the staff was friendly and available but it was spotty at times in the buffet and the front desk seemed to always be short staffed and busy regardless of the time of day.
Conclusion
I've done many hotel reviews and Sandos Caracol has my vote. It is easy on your pocketbook, offers a LOT of bang for your buck, and is a fabulous family-friendly resort with a ton of activities for kids.
It is an amazing option for a destination wedding, with different room categories for your different guests and offers really original options for the ceremony, such as by the cenote.
If you are a hardcore foodie, this may not be the resort for you. But then again, I never went hungry 😀
The kids were happy. I was happy. I would go back to the Sandos any day.
Do you have questions about the Sandos Caracol resort?
Want prices and info to see if it works for your family?
Feel free to contact our Travel Specialists today. 
---
Trending Now
You may also like