5 Best Resorts For Your Sweet 16 Party in Mexico (2023)
---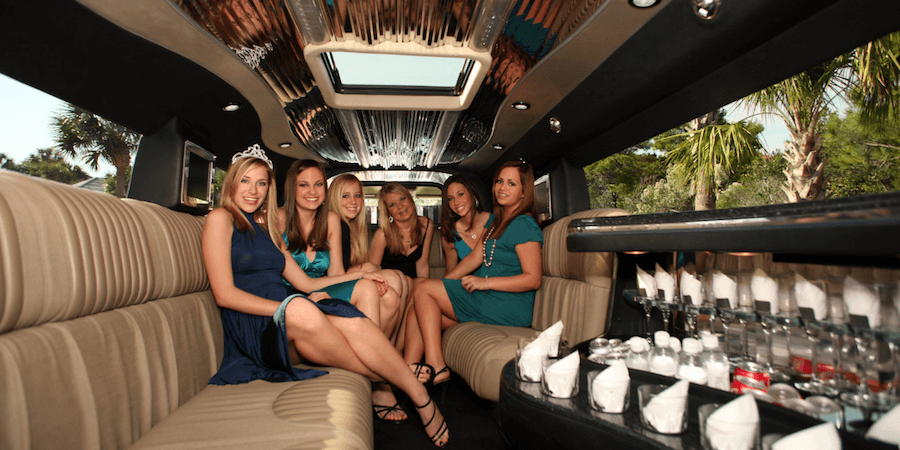 A sweet 16 (for Americans) or Quincenera (15th birthday party for Mexicans) is a rite of passage.
It only happens once in our lifetime!
If the last year has taught us anything it is that memories matter.  🙂
So, what are you waiting for?
Time to plan an epic sweet 16 to remember in Mexico.
The best part?
Many of the top resorts offer great deals on these type of events.
Your Sweet Sixteen Resort Party:
---
1. Iberostar Hotels
At Iberostar Hotels planning your Sweet 16 has never been easier.
After receiving multiple leads asking us if we could help plan this type of event, we reached out to the hotels to find out what they had to offer.
Iberostar got right back to us detailing a specific package they already had designed for this type of event.
Who knew!?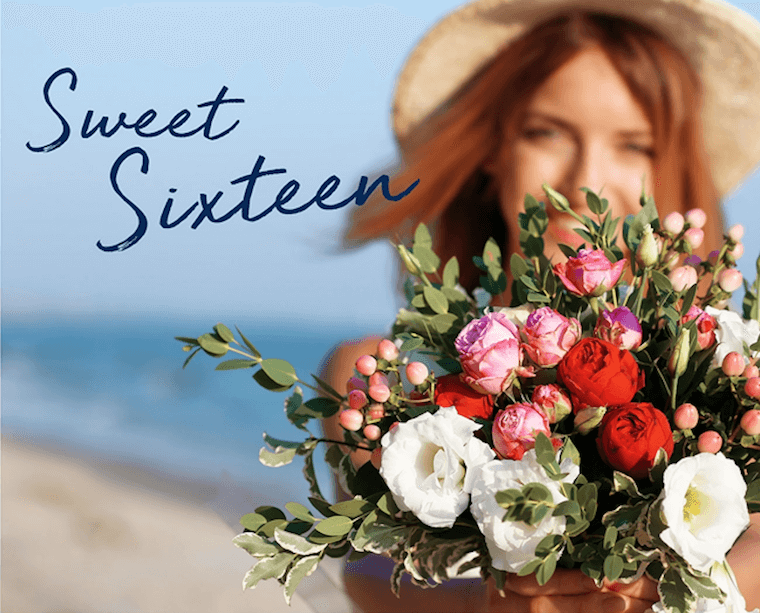 Click the image above to open the full package details in a new tab. 
The value is insane… for up to 50 people your sweet 16 at Iberostar Resorts could cost you just 3910 USD (prices subject to change yearly).
This includes: 
Events coordinator
Minister
Venue set-up
Sparkling Wine
Bouquet
Centrepiece
Sound system
Private dinner with open bar
DJ
Cake
Spa discounts
Room upgrade for the birthday girl
Hair updo and makeup for the birthday girl
Keep these inclusions in mind as you read through the rest of this blog because although the other hotels listed in this blog don't have specific packages for this type of event (yet),  we can confirm they do organise them.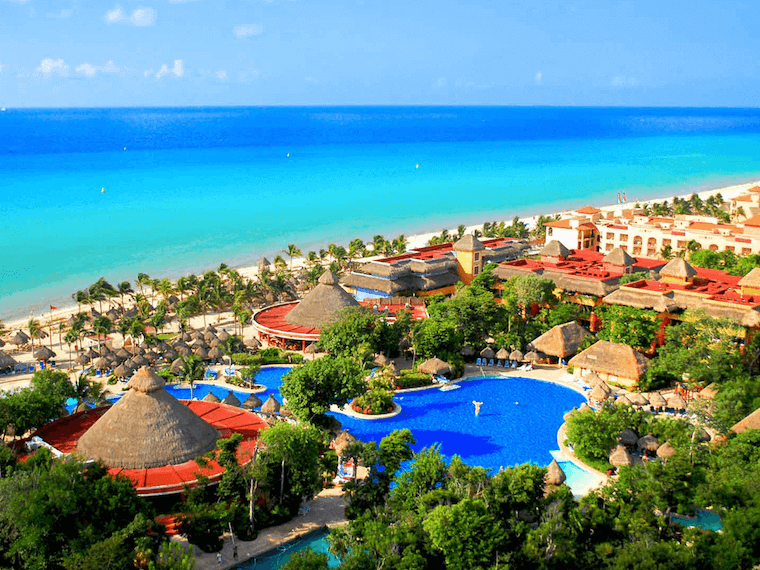 Our Travel Liason Nadiya went through the details and requirements with each hotel and can confirm and they do offer largely the same inclusions, details of which can be confirmed and organized when you make your inquiry with us.
Top Iberostar Resorts in this region include: 
Iberostar resorts can range between anything from 3-5 star.
Talk to our travel team to discover the best option for you and your group today.
Start planning your Sweet Sixteen at Iberostar resorts today.
2. The Paradisus Playa del Carmen
We weren't sure how it would go when the Paradisus merged both their adults-only and kid-friendly resorts into one huge kid-friendly resort.
However, I can confirm it hasn't lost its appeal.
We love this place so much at PlayaDelCarmen.Com it's one of our top spot for our annual Christmas parties.
It's a got a youthful sophistication about this place with great nightlife, bars, food, pools, room, spa and more!
It's lux, but it's lively.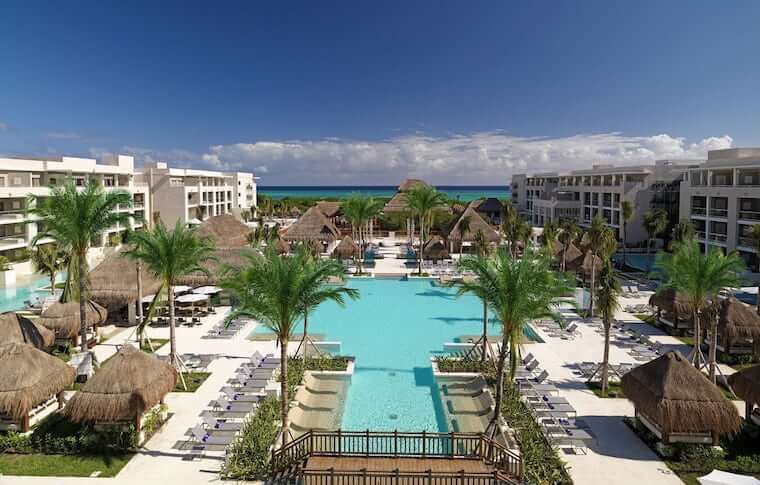 Everything you'd want for Sweet 16 and a celebration of transitioning into adulthood.
I wrote a blog about this hotel not so long ago you can check it out in-depth here.
Did you know it's one of the most Googled hotels in Playa del Carmen?
A stay here puts your right in the heart of downtown… well just on the outskirts…I'm not a huge fan of the surrounding area of the Paradisus.
Inside the hotel it's wonderful, yet the outside is still up and coming… it's a little dilapidated.
However, if you jump in a taxi from the lobby it's a 5-7 minute car journey into the best parts of downtown.
Here you'll find an abundance of shops, cafes, taco place, bars, restaurants, nightlife, etc.
Check out my blog best things to see and do on 5th Avenue Playa del Carmen.
There are so many pluses when it comes to having a Sweet 16 in town rather than at a hotel surrounded by nothing but a jungle.
What stands out for me at the Paradisus is the level of service you will get from hotel staff, the decor, the FOOD, and finally the Yhi Spa!
Other highlights include: 
Multiple swimming pools
Tennis
Aqua Aerobics, water volleyball
Stretching & Pilates
Fitness Center
Spinning
Snorkelling
Meditation
Tango lessons
Wine & Tequila Tasting
Evening entertainment including live music
Your sweet 16 at this hotel would cost approx 5k USD for 35 people.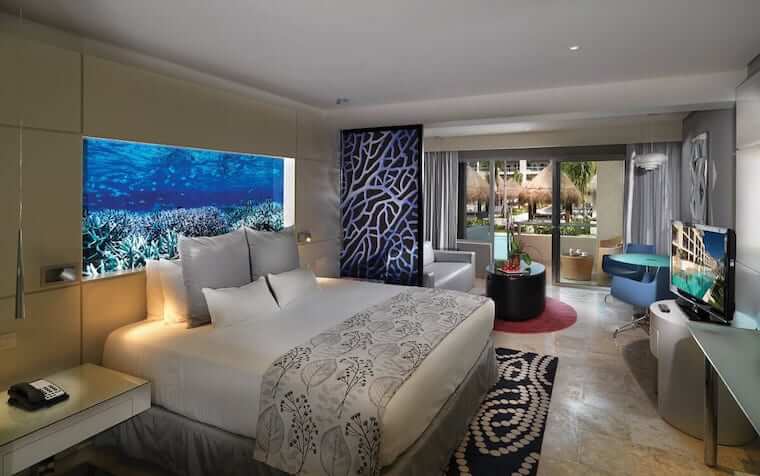 Exact prices will be confirmed based on your requirements upon inquiry.
This is a 5-star resort and a great bang for your buck.
Start planning your Sweet Sixteen at the Paradisus today.
3. Dreams Resorts
Anyone that knows the area would have guessed that the Dreams Resorts would make the cut.
Why?
They are renowned in this region for planning some of the best destination weddings…like ever!
Naturally, their excellent party planning skills can be transferred to your sweet 16.
For a 3-hr reception, dancefloor+DJ, photographer, food & beverage, and cake you're looking at around $5k based on 30-40 pax.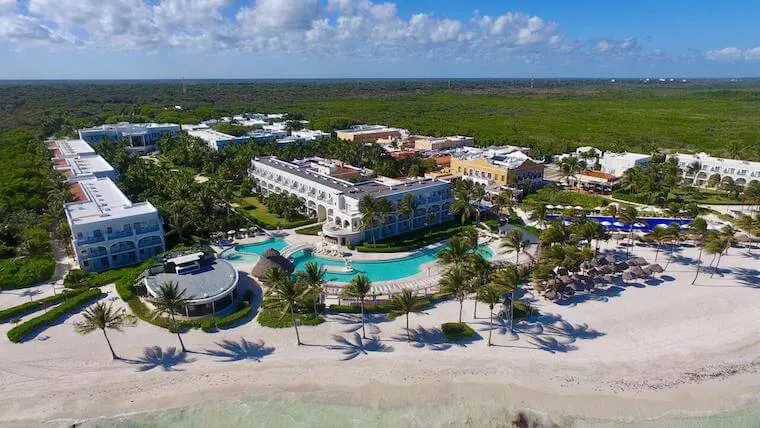 Prices to be confirmed upon inquiry with us, of course.
A stay at any of their resorts means high-level luxury service coupled with beautiful beachfront settings.
With an array of stunning locations to choose from, there's no doubt you will need our help whittling down your options.
Personally, I think Dreams Tulum is a great option because it sits in a prime position not far from downtown Tulum,  but also offers all the comforts of all-inclusivity.
Boho vibes, and creature comforts at the same time…what's not to love about that?
If you love the beach it really doesn't get much better than Tulum down here.
It's young, hip, and beautiful!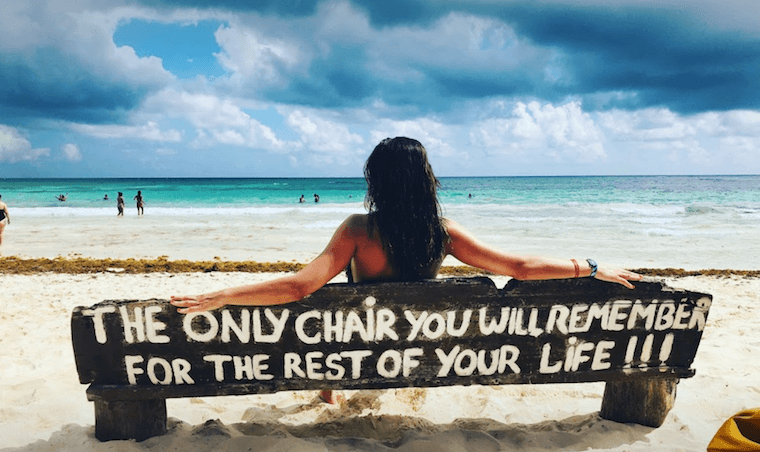 We have a great relationship with all of the Dreams resorts when it comes to planning your perfect event.
Contact us today to start planning. We will make sure you get as many perks and discounts as humanly possible.
Top Dreams Resorts Include: 
Dreams Tulum (one of the only all-inclusive in Tulum)
Dreams resorts can range between 4-5 star offering a wide range of options for every budget.
Start planning your Sweet Sixteen at a Dreams resort today.
4. Generations Riviera Maya by Karisma
Sweet 16 groups of all kinds will find their personal heaven in the oversized offerings at this resort.
Located right on the coast of the stunning Riviera Maya, Generations Resorts features accommodations of all sizes, Gourmet Inclusive cuisine, incredible amenities, and concierge service.
Daily adventures await you and your group here.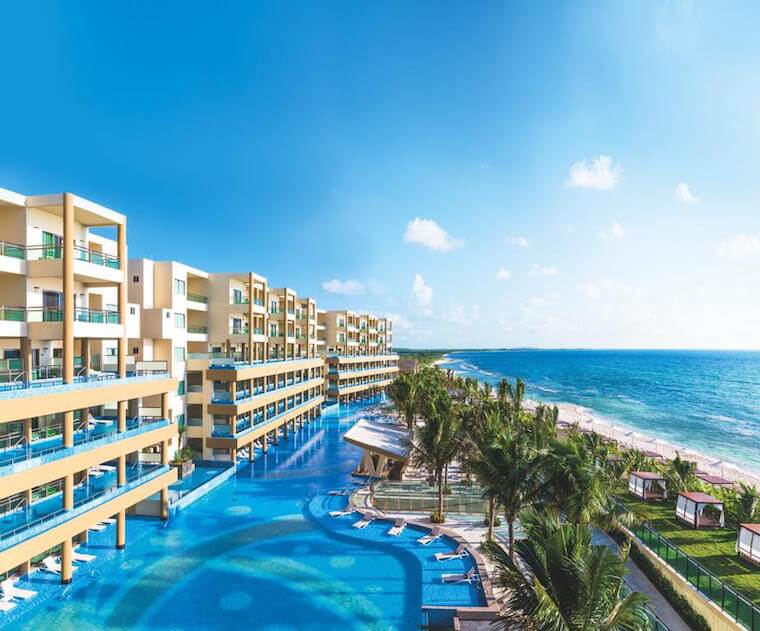 "Bring the Fancy One, the Foodie One, the Active One, the Chill One and — of course — the Fun One."
It is the perfect spot for a fabulous friends getaway.
Our team can help you plan an incredible party to remember here.
Located close to Puerto Morelos the Generations resort offers a more relaxed vibe than Playa del Carmen.
The location offers an opportunity to discover the 'REAL' Mexico, a country permeated by an old-world ambience. 
However, if your group wanted a trip to either Cancun or Playa it wouldn't take you long via taxi or transfer to get there either about 20 minutes each way.
So, don't worry you will still be able to fit your shopping trip in.
I love how this hotel has really honed in on girls trips. They even have a signature hashtag #GENGIRLS!
Enjoy: 
Yoga classes
Greenhouse tour (this hotel prides themself on sustainable produce)
Snorkelling adventures
Volleyball
Dance classes
Ping pong
Kayaking
and so much more!
This 5-star resort is well regarded for its friendly staff (who will get to know you on a first-name basis if you want to interact with them), gourmet food, and environmentally conscious ethos.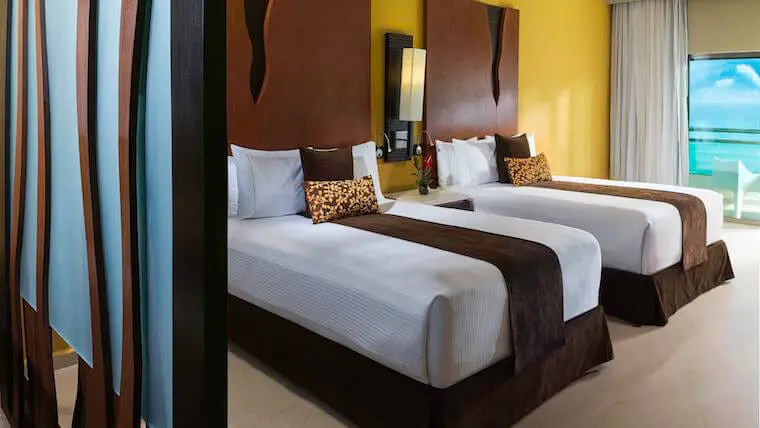 Not only do they grow all their own vegetables on-site in their own greenhouse, but they are also always looking to build and integrate new ecological programs within the resort, as a way to give back.
For example, they have even built a man-made ocean reef to create a protected haven for local marine life.
It's nothing short of amazing what they have achieved here.
It's reasons like this that this hotel comes into my personal top 3 within the area.
Start planning your Sweet Sixteen at the Generations Riviera Maya resort today.
5. Riu Resorts
At Riu Resorts you can be entertained day and night with activities, shows and music, have adventurous experiences like learning to windsurf or choose to be pampered with a relaxing massage.
They offer the perfect settings for young adults, with just enough luxury for everything to feel incredibly special and help the group to make memories for life.
Yet, the resorts aren't over the top or flashy.
The best part?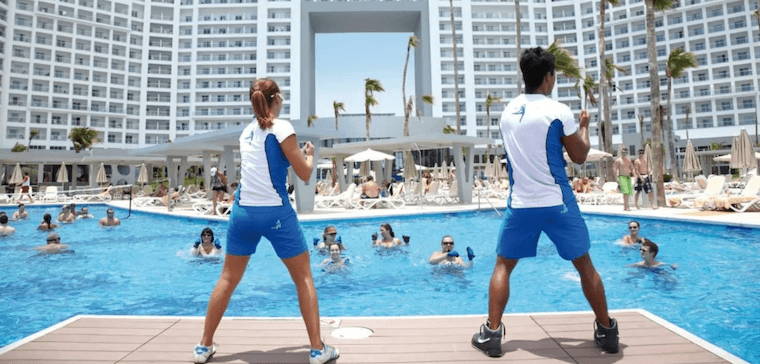 Many of the Riu Resorts are located in the Playacar region of Playa Del Carmen which is one of my personal favourite places to be!
It's a gated community and has such an exclusive vibe to it.
There's even restaurants and shops in this area too if you wanted to eat out.
Because it is a gated community, if I had kids, I would be comfortable letting them dine out by themselves one night if they wanted some "grown-up" time.
At the Riu Palace Riviera Maya, we can package your airfare from the US or Canada and we will even provide free private airport pick up on any stays that are 5 nights or more.
Sweet 16s and Riu Resorts go together like margaritas and guacamole!
Top Riu Resorts in the region include: 
Riu Palace Peninsula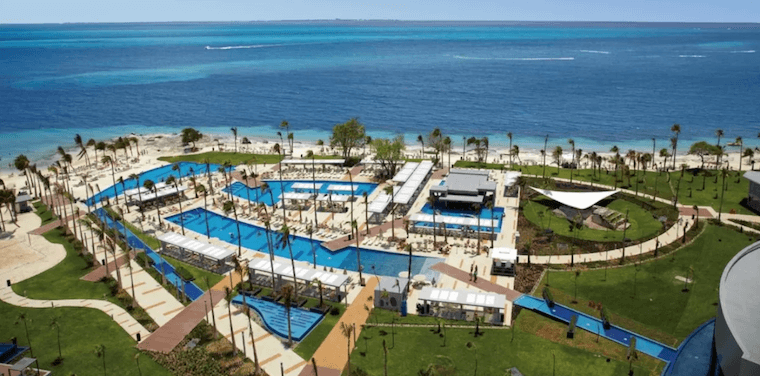 Daily activities include things like: 
Tennis courts
Table tennis
Fitness centre
Sauna
Volleyball
Catamaran and kayaks
Windsurfing and boogie boards
Snorkelling
Intro to scuba classes
Day and evening entertainment
Riu resorts range from anywhere between 3-4.5 stars which mean this resort chain has some incredibly affordable options.
Start planning your Sweet Sixteen at a Riu resort today.
Start Planning Your Sweet 16 Party Today!
Our team can't wait to hear from you to help you plan the vacation of dreams.
Call us at 888-537-9797 or email our team at customercare@playadelcarmen.com.
We will help you handle everything from pickups to hotels, to party packages and everything in between.
As a local agency, we will make sure you get the best deals and discounts available to you.
If you have any question please feel free to go ahead and leave them for me in the comments section below I'll be here to answer them ASAP.
Additional Resources You May Find Useful
---
Trending Now