Everything You Need to Know About Playacar – Mexico (2023)
---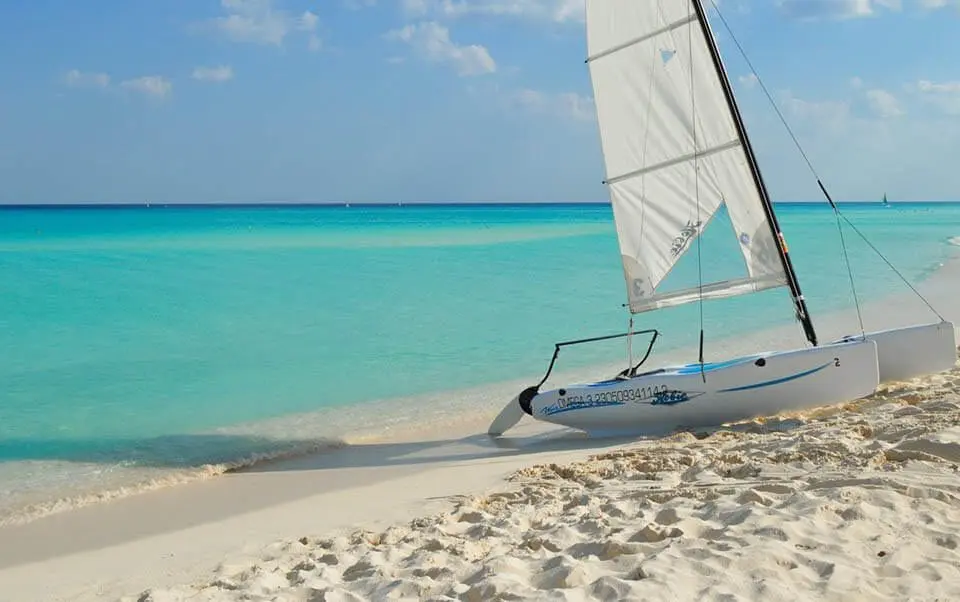 Have you heard of Playacar?
When I first moved to Playa del Carmen I didn't even know this place existed.
Crazy, right? It was right under my nose!

You're gonna wish you had known about it sooner too.
Hang tight, because I'm about to enlighten and brighten your next vacay prospects.
You can thank me later. 😛
Everything you need to know about Playacar:
---
Once I learned of Playacar I was compelled to return time and time again.
I've stayed at multiple hotels in the area, eaten at the best restaurants, and swam in its glorious waters.
It's my favorite spot to hang out on weekends in Playa del Carmen.
Now, I'm here to bring you the inside scoop. 🙂
Whether you're planning to stay in Playacar,  or just want to explore for a day or two while you are here, it's highly recommended from yours truly.
The beach alone is worth a visit.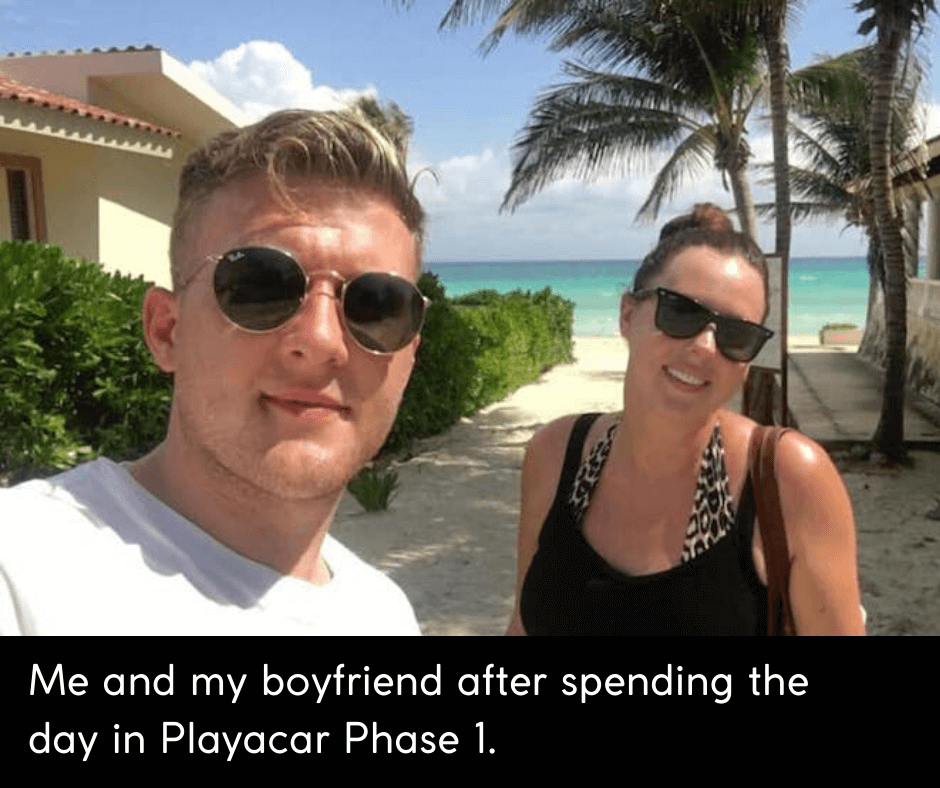 1. Location
Almost everyone has heard of Cancun.
Most people know about the Riviera Maya.
And some people know about Playa del Carmen…
But Playacar?
Not so much. Weirdly.
Located on the south side of Playa del Carmen this gated community is known for its upmarket residential villas, all-inclusive resorts, and luxury golf clubs.
Each year it draws a curious mix of visitors for vacations, who for the most part,  tend to return time and time again hailing it as their 'favorite spot in the Playa del Carmen area'. Myself included.
The beach here is pretty spectacular compared to downtown, but I'll get to that later.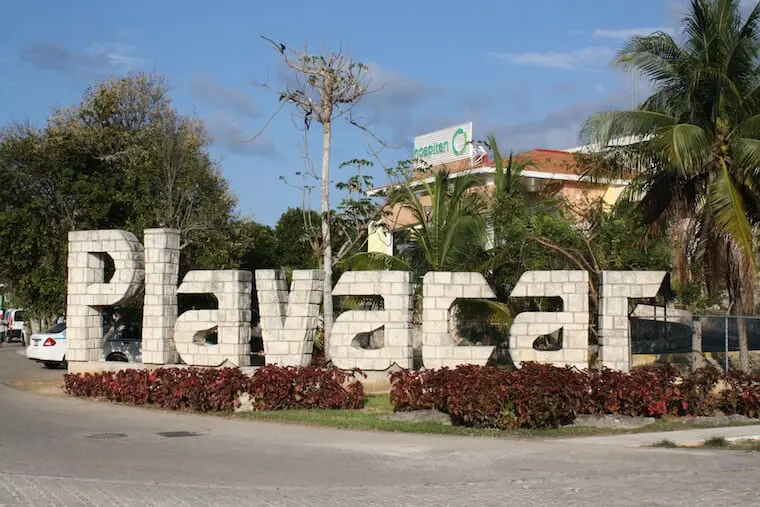 Located just minutes away from the famous 5th Av, tucked away in the jungle's lushness Playacar is the lesser-known place to be on your next visit to Playa del Carmen!
2. Phase 1 & Phase 2
Somewhat hidden Playacar is actually made up of two phases.
If you're just visiting for the day or want to explore the ruins and beach in Playacar, the best entrance for you is Phase 1.
Phase 1 – is much smaller, comprised laregly of residential houses and a few small hotels.
The entrance can be found towards the south end of 5th Avenue.
Take a walk down the pedestrian-only walkway of 5th, and when you reach the end of 5th Ave close to Parque Fundadores, keep going and head towards the iShop.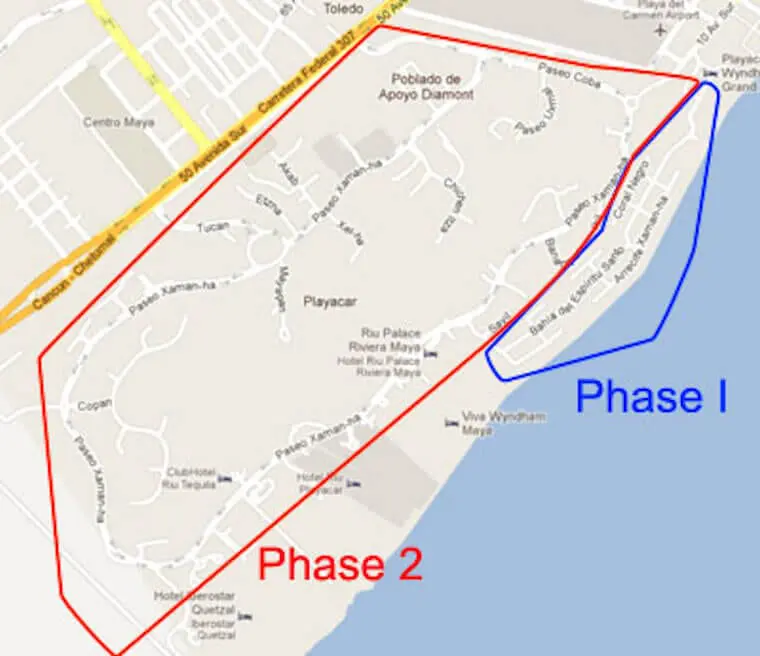 Then, turn left out of the shopping mall and you'll immediately see the white barricades of the gated entrance to Playacar Phase 1.
Follow the signs and you'll be taken on the road towards the ruins and the beach.
Or, if you're not much of a walker, you can always grab a quick taxi from downtown Playa to Playacar Phase 1 entrance for around 70 pesos ($3 USD).
If you're looking for an all-inclusive resort to stay in Playacar,  it's highly likely you will be entering and staying in Playacar Phase 2.
Phase 2 –  is much bigger and includes a large golf course, houses, condos,  a bird park aviary, a small shopping area, and several all-inclusive hotels.
Both areas are easy to access for visitors and well-known to taxi drivers, tour companies, and hotel transport services.
You won't have any trouble finding them, however, for your reference…
Phase 1 has just one entrance,  which is the same as the exit.
Phase 2 has 4 entrances and exits but the main one is at the end of 10th avenue close to the southern end of 5th Avenue.
3. The Best Resorts in Playacar
Due to Playacar's prime location, many quick-thinking resorts built their properties here.
That said, I love how Playacar retains its quiet and calm ambiance. In other words,  it's not overdone and NOW is the perfect time to visit.
If you want to stay in the Riviera Maya on your next vacay, Playacar, in my humble opinion is a champion choice.
That's not me being bias, that's just truth.
For the purpose of this blog, I've hand-selected 3 of my favorite resorts in Phase 2. 
However, if you want to access all of your options with one of our professional Travel Liaisons here at PlayaDelCarmen.Com please contact us via customercare@playadelcarmen.com.
We can help you get the best deal for you or your group, while simultaneously handling your booking, and making sure you get all the perks/discounts available to you.
Royal Hideaway Playacar
Are you searching for seclusion without isolation?
Look no further!
The Royal Hideaway is an adults-only resort perched neatly on the pristine white sand of Playacar.
At this hotel, you can expect to be treated like royalty with personalized service and sumptuous surroundings.
Each villa has its own concierge.
It's a small and intimate resort with just 200 Mexican style rooms offer luxury, comfort, and a list of amenities.
Choose from 6 elegant restaurants and 3 bars.
The resort also offers 6 swimming pools, tennis, entertainment and activities as well as a world-class spa.
It's the perfect spot for a romantic getaway.
Riu Palace Playacar
Guests of all ages will be wowed by the Riu Palace Playacar.
This family-friendly resort boasts daily and nightly activities,  entertainment, shows, and music.
Enjoy everything from windsurfing to a relaxing massage.
We even have the ability to package our rock bottom rates at the Riu Palace Playacar with airfare from the US and Canada.
The best part?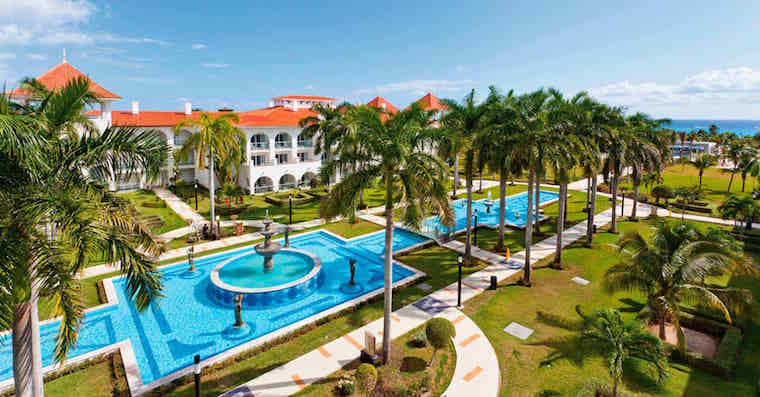 We even provide free private airport pick up on any stay of 5 nights or more.
Just one of the many incredible reasons to stay at the Riu Palace Playacar for your next vacation.
Iberostar Quetzal
The best 5*, affordable all-inclusive resort in the area? The Iberostar Quetzal.
Family fun in the sun awaits!
Iberostar resorts around the world have earned their much-deserved credibility for their unrivaled activities, world-class service, and incredible room options.
At this amazing resort, you can take a kayak or catamaran out for a spin, join a volleyball game on the beach or get in a game of tennis.
Or for a more relaxed experience why not get a drink delivered to you poolside, indulge in a seaside massage or relax in the comfort of your deluxe room and order room service?
The Iberostar Quetzal has it all!
There are many more hotels to choose from inside of Playacar to discuss some more contact us at customercare@playadelcarmen.com, we'd be happy to help.
4. The Beach at Playacar
For me, the beach in Playacar is one of the biggest draws to the area, I spend many weekends on this particular beach because it's close to home and one of my favorites in the entire of the Riviera Maya – and that's saying something.
The beach at Playacar is unusually wide for this region and rarely overcrowded.
It's the perfect place to watch the sunset or top up your tan.
You used to be able to walk straight up to Playacar from downtown, however, due to the erosion of the beach, it's difficult to do it in one straight run in parts.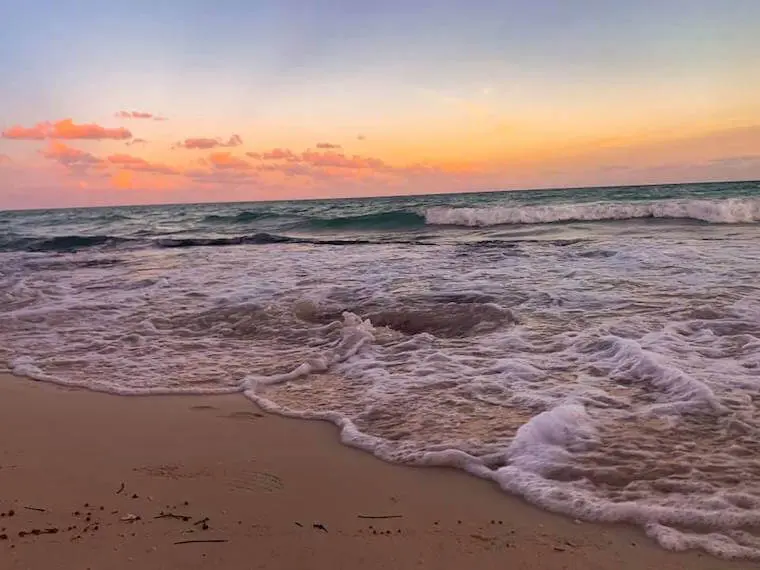 It's better to head into Playacar and then find a small entry on to the beach.
Playacar Phase 1 tends to be less populated because there are not as many hotels nearby.
Phase 2 is still gorgeous it's just a little more crowded because of hotel guests.
I took this photo on my iPhone at sunset, pretty amazing, huh?
5. Mayan Ruins in Playacar
Mayan Ruins in Mexico are not limited to just Chichen Itza and Tulum,  there are in fact thousands of these fascinating structures located across the Yucatan.
Many of them still yet to be discovered.
I was astounded to discover the Mayan ruins inside of Playacar Phase 1 the first time I visited, mainly because I was unaware of their understated existence.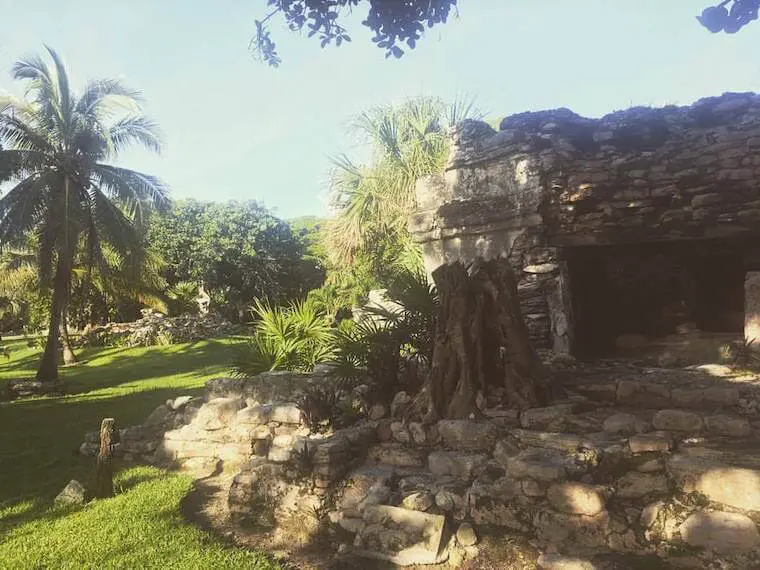 These particular ruins are called Xaman-ha and consist of a cluster of crumbling stone buildings used by the Maya until the 16th century.
You can't touch or climb on the ruins but you can get up close for pictures.
One thing I've noticed every time I visit these ruins and other ruins in the region is that there always seems to be a suspicious amount of iguanas guarding the structures and clambering in and over the rocks – keep your eyes peeled on your next visit and let me know in the comments if you see them too!
I'm onto them.
6. Best Restaurants in Playacar
Don't be fooled by Google's lack of food recommendations when researching Playacar.
I'll be honest, during my first stay in this area, I wasn't expecting much, exactly for this reason. I just didn't think much was there.
The best bet?
Ask the locals as I did, or take up some of my suggestions from experience below…
Casa Sofia – Italian
Love Italian? This place is a must!
It's a cozy and quaint setting that has become a local favorite.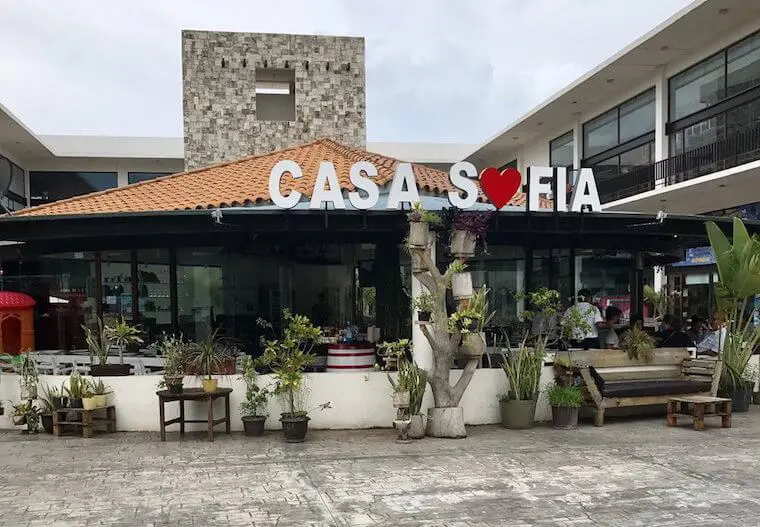 Enjoy homemade pasta and sauces made without artificial additives or preservatives.
Dishes are cooked fresh with imported and local fresh ingredients. The true taste of Italy right here in Playacar!
Curry Omm – Indian
Now I will be honest, as a Brit, my home boasts some of the best curries outside of India.
So, I will say that this place, if you're from the UK or India, this will probably disappoint, but for Mexico's curry standards, it's about as good as it gets.
If you're sick of tacos and want to spice it up a little, look no further Curry Omm can be found in Playacar Phase 1.
El Bistro – Mexican
Laregly regarded as the best restaurant in Playacar! I highly recommend trying this place for yourself.
This meal was my favorite from my time spent at a nearby hotel in Phase 2. Enjoy exciting cocktails,  delicious menu options,  and fabulous service all for a reasonable price.
7. Getting around in Playacar
One of the main reasons I love Playa so much is that the vast majority of the downtown and Playacar area is entirely walkable.
So, for those of you who like to traverse on foot, you're in luck! It's entirely doable and recommended.
The main roads in both Phases are nice to bike and run next to.
In Phase 2 you even have the luxury of sidewalks on both sides. Oooooo.
For your reference, biking is supposed to be limited to the inside loop of the sidewalk,  so be sure to follow the rules while you're there.
What I love about Playacar is how well-looked after and manicured it is.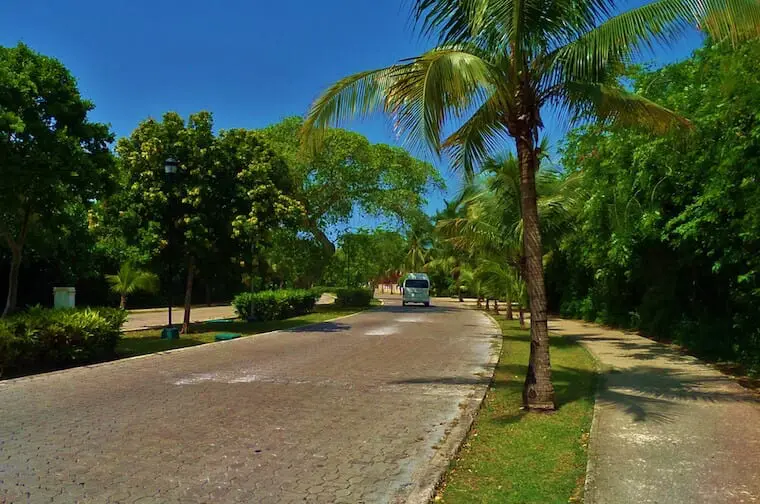 Playacar has private security that drives around and you will see them scanning checkpoints (often markers on trees) to indicate they have passed a certain point.
There are also cameras on every corner, which makes you feel very safe indeed.
The area is peaceful, quiet,  and secluded without being too far removed from the hustle and bustle.
This location is the best of both worlds in my opinion.
8. Shopping
Playa del Carmen, in general, is every shopper's haven.
You'll find all the creature comforts you've become accustomed to back home such as Sephora, Victoria Secret, H & M and so on.
There aren't actually any stores inside of Phase 1, however, you are just minutes if not seconds away from 5th Avenue where you'll be spoilt for choice with an array of fashion stores, bars, restaurants, and even an Apple store.
In Phase 2, you'll find a small tourist shopping Plaza that has a Starbucks if you need to get your morning coffee fix.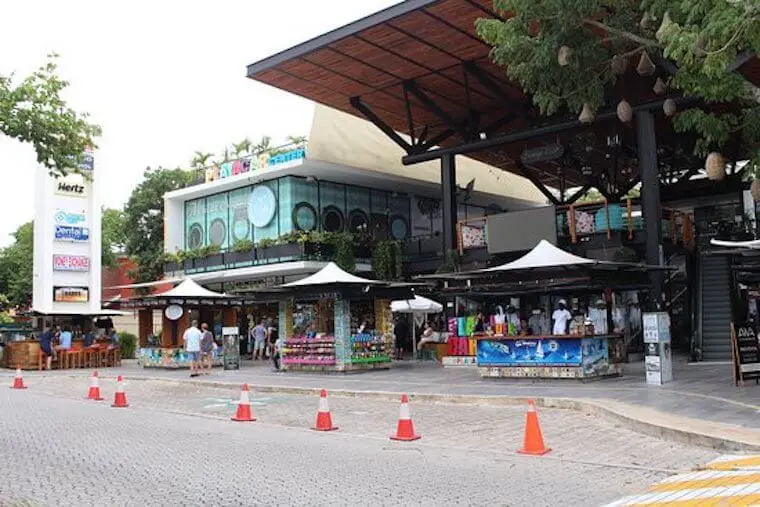 Here you can shop typical last-minute souvenirs often finding many of the same things downtown has to offer but possibly a little cheaper.
9. Housing and real estate
For housing and real estate in Playacar, you can find options that start here as low as 300,000's but go up into the millions.
Just by taking a look around for yourself you'll see plenty of million-dollar mansions perched pretty overlooking the ocean up for sale.
There are also plenty of Airbnb or rental options for longer-stay vacations.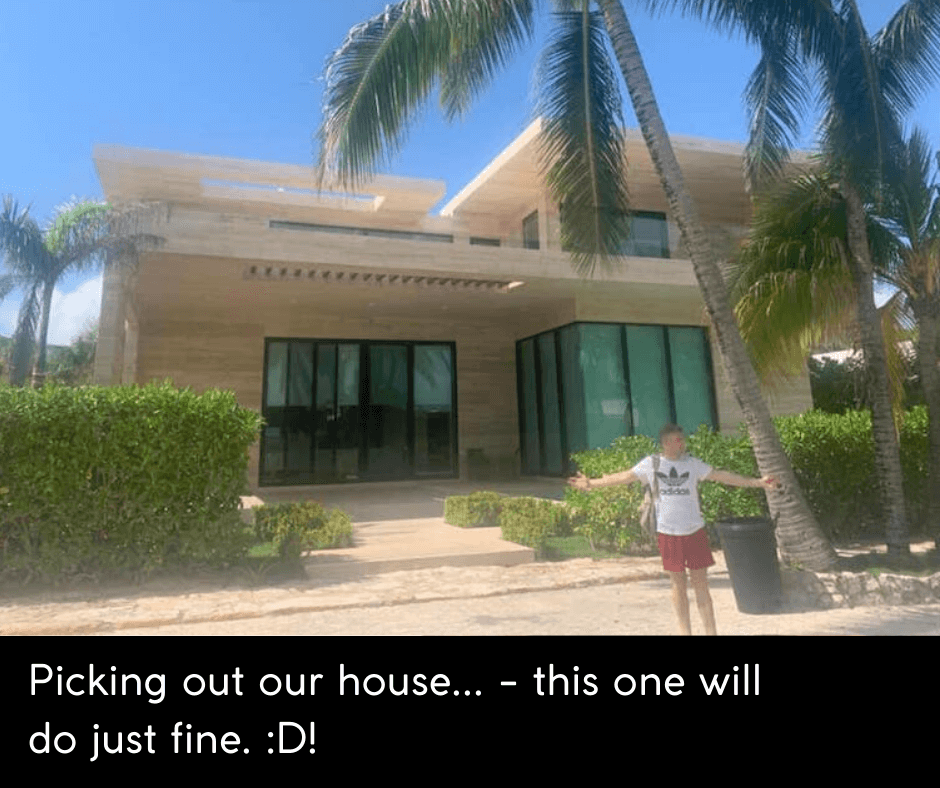 If you've got the cash it's a stunning place to invest, I predict it's only going to get busier over time as the area develops and becomes more popular.
10. Weddings in Playacar
Due to its seclusion, incredible beach,  and world-class resorts,  we're noticing more and more couples talk to us about planning their destination wedding in Playacar.
Our team of expert wedding planners here at PlayaDelCarmen.Com has helped plan 100s of unforgettable events in the region.
Based on your budget, the size of your group, and preferences we'll present you with the best options and ensure you get all the discounts and perks available to you.
Planning something spectacular away from home doesn't have to be daunting.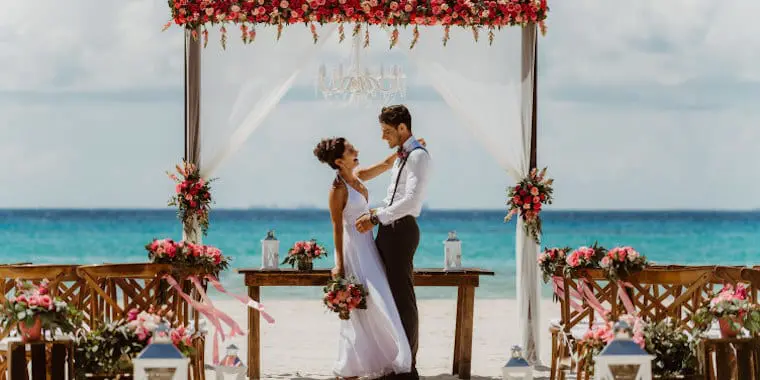 We have a group of local, American, Canadian, English, and European wedding planners who care about your wedding.
They can help you decipher the best packages, explain the ins and outs of the destination wedding process to you, and help you handle group bookings without any of the stress.
Talk to us today at weddings@playadelcarmen.com and get the ball rolling…
OR
Call us now on our toll-free number 888-537-9797.
Have you visited Playacar recently? What were your thoughts? I'd love to hear from you in the comments section below. 🙂
---
Trending Now