My Honest Review of The 'Iberostar Paraiso del Mar' in Playa del Carmen 2022
---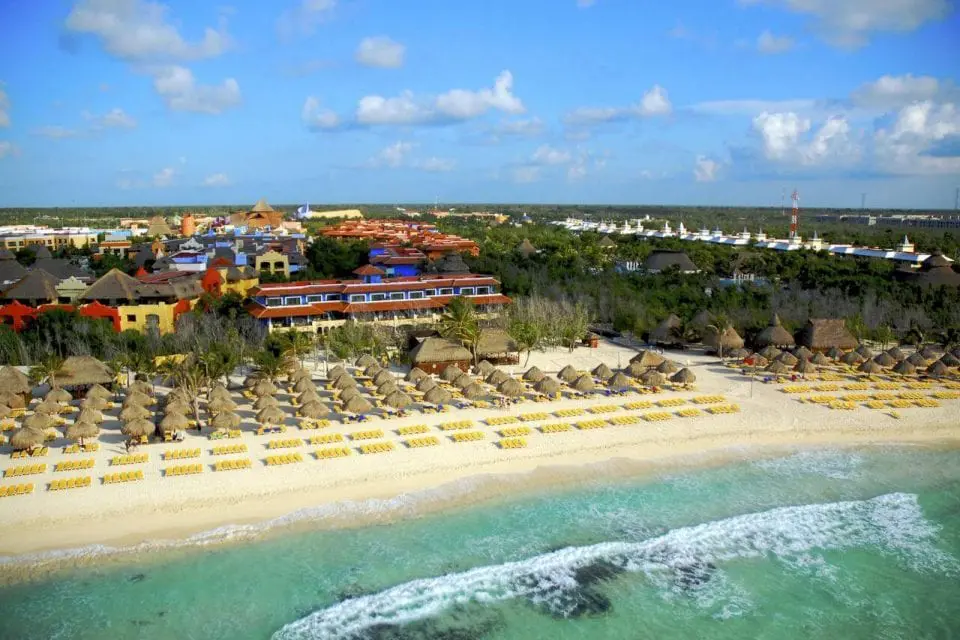 How would I sum up the Iberostar Paraiso del Mar resort in Playa del Carmen? Trusty and affordable! 🙂 
***AH! MUSIC TO YOUR EARS!?***
Planning an unforgettable vacation with the kids this year?
Awesome!!!!!
…That is until you realize the dent it's about to make in your bank account. Ouchie.
Yup, traveling with kids two or more kids in tow is not cheap.
Luckily, I'm here to save the day. 😉
With so many resorts in the region to choose from my job is to bring you the very best, within your budget.
I'll leave no stone unturned in this review so that you can decide if this imaginatively designed resort is the one for you and your group!
Ready?
My Review of The Iberostar Paraiso includes:
---
1. location
Located exactly halfway between Puerto Morelos and Playa del Carmen, a stay at this hotel means you can enjoy the best of both cities!
The Iberostar Paraiso del Mar is around a 25-30 minute journey from Cancun's International airport.

It's perched neatly on  "Playa Paraiso" a gorgeous stretch of beach hailed for its powdery white sands and turquoise waters.
If you wanted to venture outside of your hotel I would highly recommend visiting downtown Playa.
5th avenue is a short taxi ride from this hotel and you could explore the 5-mile long pedestrian highway dedicated to all of your touristic needs.
You'll find shopping malls, cute beach shacks, restaurants, art stores, cigar stores…the list goes on.
2. Decor and Layout
The Iberostar Paraiso del Mar is part of the Iberostar Complex in Playa del Carmen.
This complex is made up of:
So, you may be wondering what on earth the difference between all the hotels on the Iberostar complex?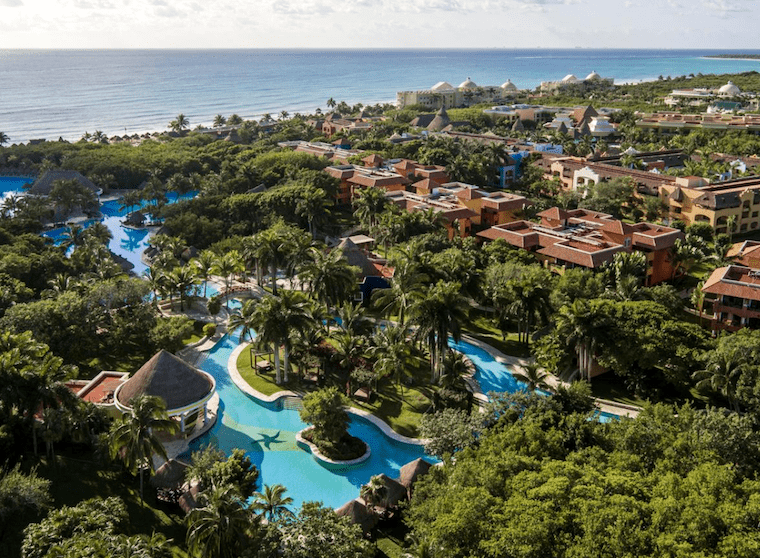 Iberostar Paraíso Maya and Iberostar Paraíso Lindo, are upscale resorts for families who want it all!
Staying at either of these resorts allows you access to any of the common areas and to explore and enjoy ALL of the resorts.
Then, we have Iberostar Paraíso Beach and Iberostar Paraiso del Mar which are the economy resorts of the chain. They highlight family-friendly indulgence and allow access just to one another.
The only downfall for me (because I'm a big kid) if you stay at Del Mar as opposed to Maya or Lindo is that you won't have access to the wave pool and lazy river.
The good news?
They are all connected, sharing a convention center, golf course, shopping center, Spa Sensations, and the Starfit & Fun Gym.
This means guests can get lost in the best way possible and enjoy a variety of entertainment and relaxation options.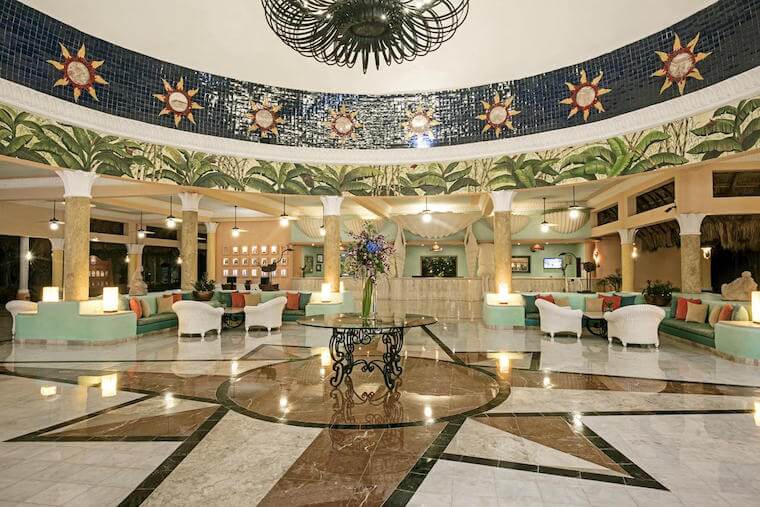 So, what about this particular hotel Iberostar Paraiso del Mar?
The first thing that will strike you is all the colors, it's gorgeous, from yellows to blues, pinks and more!
It's never a dull day here.
Not to mention the flamingos that just casually hang out in the water of the lobby area. 🙂
Yes, you read that correctly, it's pretty cool!
The layout as you can see in the picture is imaginatively designed around the long flowy pool that guides you to arrive at the beach.
I really enjoyed the wooden bridges that connect either side of the pools it felt lush and in harmony with the natural surroundings.
3. Rooms
Rest easy in the comfort of your deluxe room at Iberostar Paraíso del Mar.
Each of the 388 rooms opens to a large balcony or terrace and includes an air conditioner, mini-bar, coffee service, hairdryer, safe, iron, and television.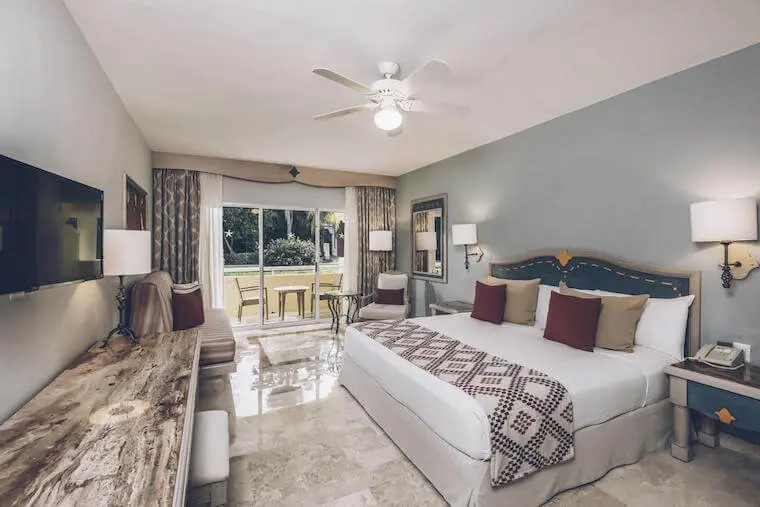 For those open to splashing a little extra cash (it's worth it ;))…upgrade to a junior suite or oceanfront junior suite and you'll find a larger room with a separate living area.
Compared to other hotels in the region the rooms are pretty basic in terms of decor but comfy enough to feel like home and to accommodate your kids.
They are spacious and airy providing everything you need for an unforgettable vacation.
4. Beach
Ahh, look at that!
A nice WIDE beach in Playa del Carmen. Yippee!
I'm not sure whether it's climate change or seasonal changes but recently I've started to notice a real decline in the width of the beaches in Playa del Carmen.
So, whenever I visit a new hotel I make it my business to see what the beach looks like currently.
I'm happy to report at this complex the beach is one of the best I've seen.
Nice and wide, perfectly maintained and shallow waters for your kids to play in safely.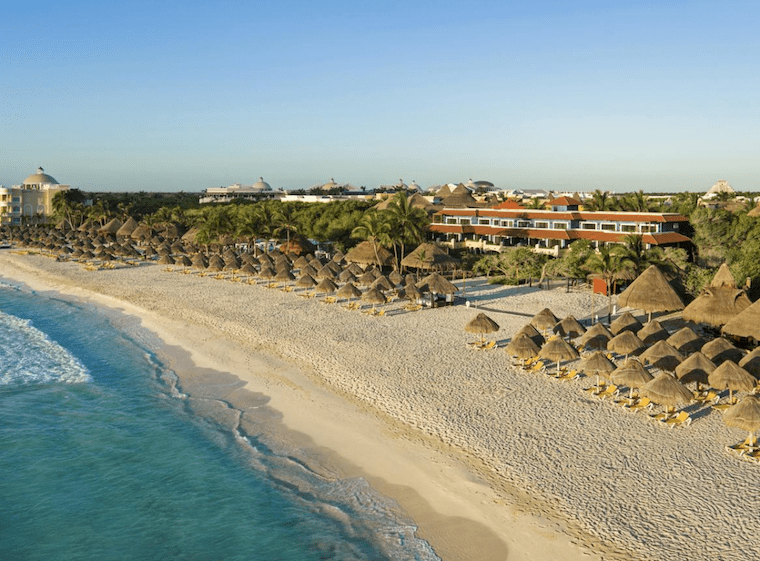 I hate it when the resort barely accommodates the bed to guest ratio on the beach but Iberostar has done a great job of maximizing the space and ensuring there is enough room for everyone without feeling crowded.
5. Food & Drink
Traveling with kids?
You better hope there a wide variety of options. 😉  We all know how fussy they can be at the best of times.
Revolving themed dinners at the 2 international buffets ensures variety and diversity at each meal.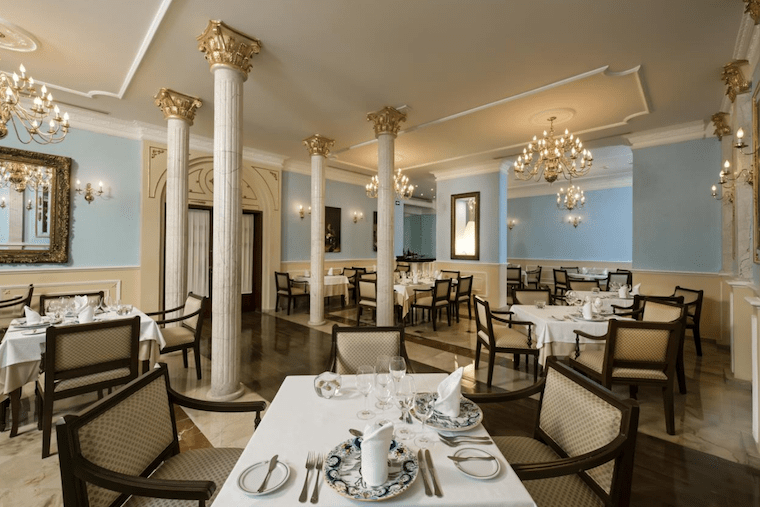 Or visit one of the 7 a la carte restaurants offering everything from appetizers to dinner to desserts from Brazil, Asia, the Mediterranean, Italy and more.
Enjoy a delicious drink over dinner or at one of the multiple bars located throughout the resort.
The resort requests that guests comply with the specified dress code at each restaurant.
So, be sure to check dress codes before heading out.
If you read my blogs regularly you will know I am not a fan of dress codes on vacay ESPECIALLY when you have kids, I mean, c'mon who has time for that?!
To avoid disappointment and being turned away or waiting unnecessarily,  book in advance and check the dress code.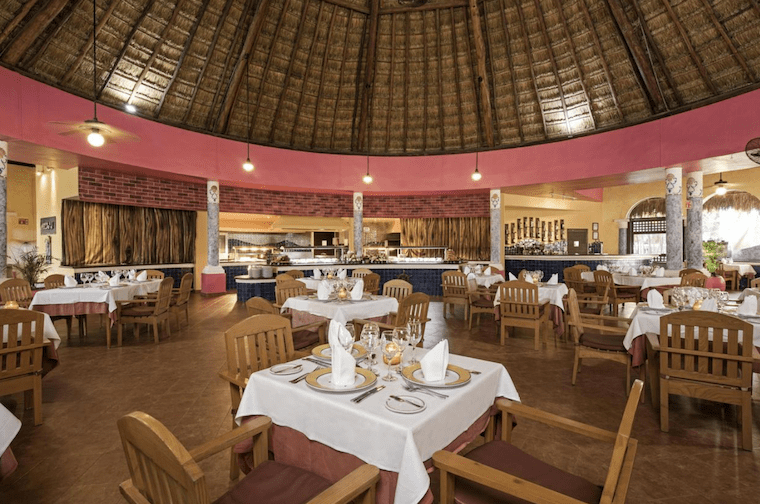 6. Pools & Activities
There are four pools at this complex and one pool dedicated just for children.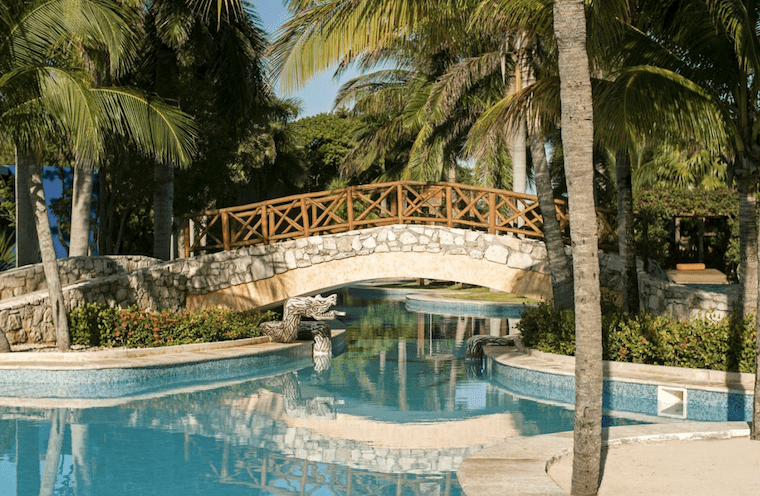 Ongoing activities and sports are available every day at Iberostar Paraíso del Mar including:
4 pools
Fitness center
Kayaks and catamarans
Yoga
Windsurfing
Target shooting
Archery
Aerobics and aqua-aerobics
Bicycling
Basketball
Beach volleyball
Tennis court
Ping pong
Snorkeling
Evening entertainment
The only real trouble you will have is deciding which activity to tick off first.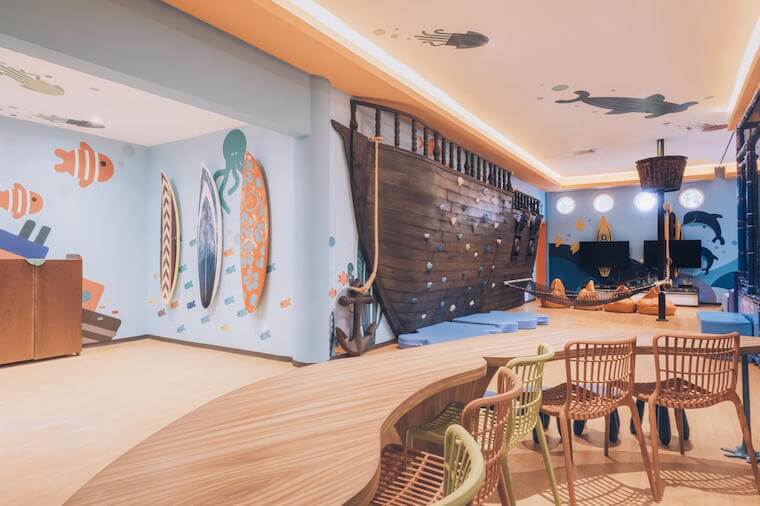 Kids & Teens Club
Perhaps what makes the Iberostar complex in Playa del Carmen such a stand-out contender for me is the dedication to keeping kids happy.
The kids center is unbelievably well equipped and designed – just wait till you see it!
Lucy's Club is available for kids ages 4-12 to hang out, have fun and make new friends.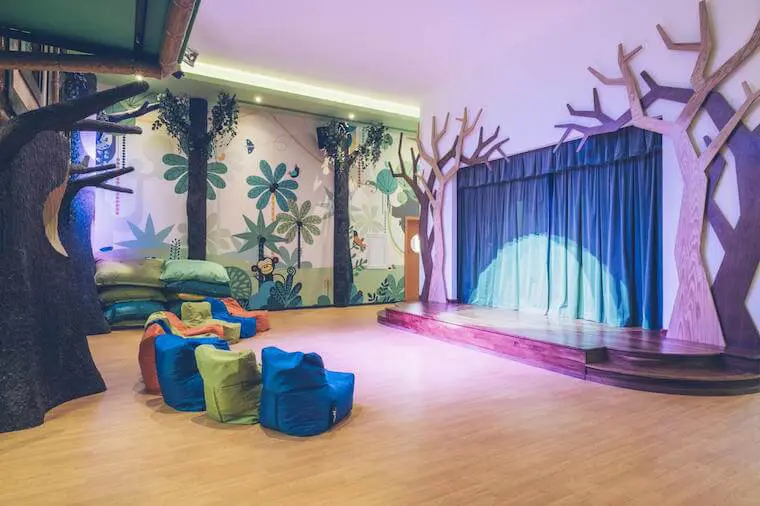 While the teen's area was absolutely buzzing when I visited, music blaring, kids playing Playstation, and cozy pods neatly designed on the wall for the perfect chill-out stop.
I wanted to stop right there and take a nap in one of the pods but unfortunately, I am way too old to pass as a teen now. Darn.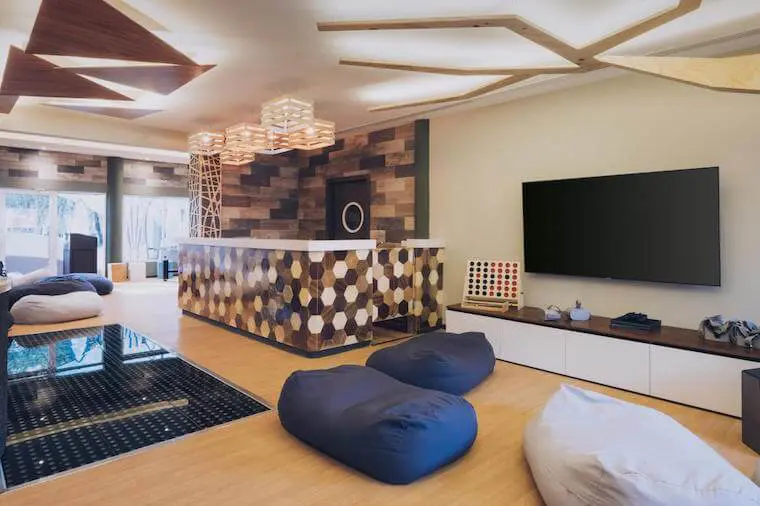 7. Nightlife
Was this place made for the kids or adults? Who knows really.
I was pretty blown away when I saw it.
Nightlife at this resort can be as exciting as you want it to be.
Some folks simply hang out just at the lobby bars.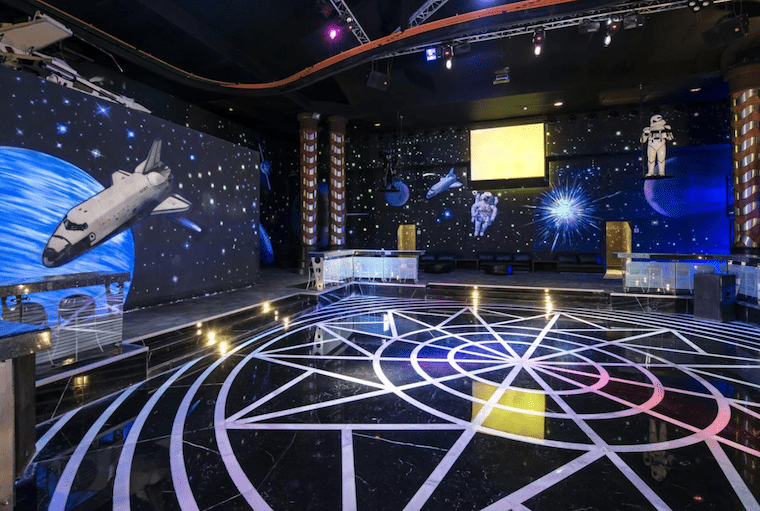 Others enjoy the nightly shows put on by the entertainment staff.
And here, at the commercial center, the party can be fun and wild as you want it to be depending on the guests that show up.
It opens later on in the evening around 11 pm and goes on till the early AM.
It's a kind of disco-tech vibe.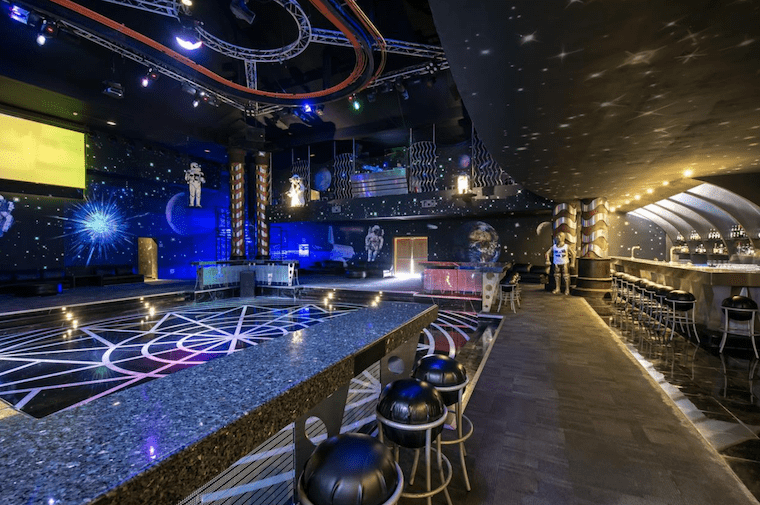 If that doesn't really sound like your thing, I would definitely suggest adults looking for some fun to head down to downtown Playa del Carmen for a night out.
The nightlife here is great and there's something for everyone. Check out my full guide to nightlife in PDC here.
8. Golf & Gym
Golfers, rejoice!
Tee off at Iberostar Playa Paraiso Golf Club, a championship course designed by P.B. Dye overlooking the Caribbean Sea in Mexico's stunning Riviera Maya.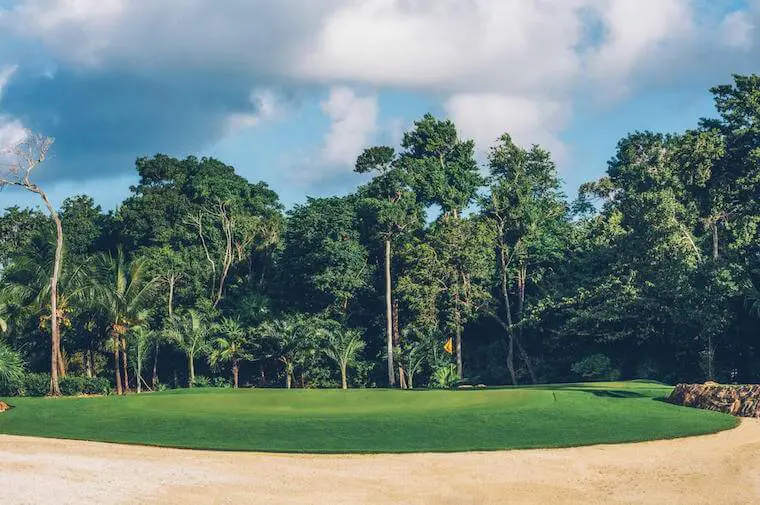 Experience the stunning beauty of this area!
The beauty of the picture-perfect landscapes of the tropical jungle branching out to embrace the blue waters of the Caribbean Sea provides the perfect backdrop for an exciting round of golf.
P.B. Dye designed the Iberostar Playa Paraiso golf course, which Iberostar inaugurated in 2005.
Since its grand opening more than 13 years ago, the Playa Paraiso golf course has been one of the premier choices for golfing in the Riviera Maya.
Just 30 minutes south of Cancun and 30 minutes north of Playa del Carmen, this world-championship golf course at Iberostar is one of the regions premier greens for golfing in the Riviera Maya.
Course architect: P.B. Dye
Year built: 2005
Holes: 18
Par: 72
Turf: ·Paspalum
Course length and slope rating
Length: 6,800
Rating: 136/72.4 B: 130/69.7 M: 121/67.4 F/Lds: 120/67.7
Tee times: 7:00 a.m. to 2:50 p.m.; 3:00 p.m. – 7:00 p.m. (Twilight)
Intervals: Every 10 minutes.
Average playing time: 4:30 hours.
After some practice on the putting green or a full round of 18 holes of golf, enjoy the on-site food and drinks that are included.
Gym
Of course, with any 5* complex, there will always be a state of the art gym onsite so you can keep your fitness goals alive and enjoy an extra taco without the guilt.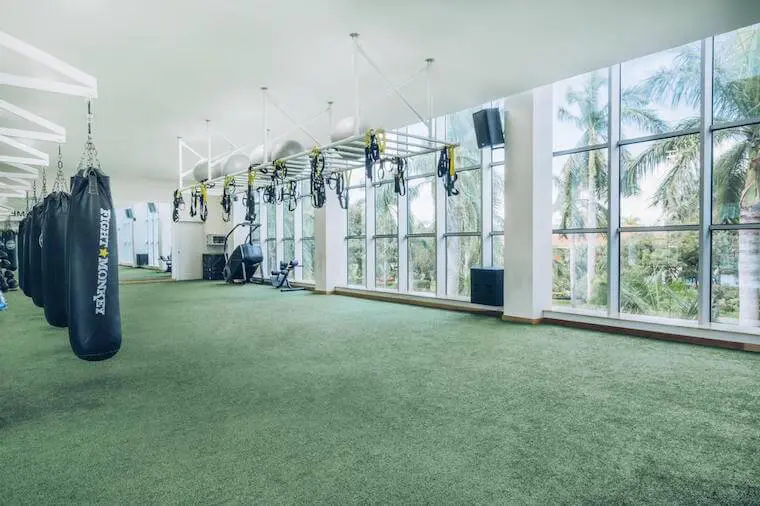 9. Spa
You deserve some rest and relaxation!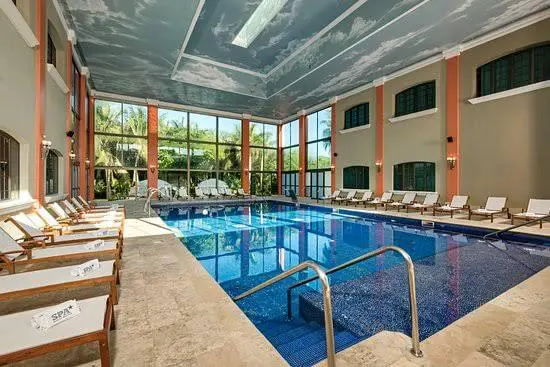 EL SPA (only for adults) is located in the Commercial Center.
The facilities consist of the humid areas on the ground floor with Sauna, Turkish Bath, Roman Bath, Jacuzzi, Bubble Beds, the Pediluvio and a great swimming pool with jets.
El Spa is a magnificent 32,000-square-foot pleasure palace for those who want to be pampered every which way.
There's everything from an authentic Turkish hammam to a Mexican temazcal. I highly recommend the clay massage.
On the first floor are located in the cabins the treatments.
All a range of massages, exfoliations, and treatments with water are offered.
In addition, there is a hairdressing salon with modern equipment for the care of feet and hands, the Health Bar and the store.
The access to the humid area costs USD 35 a person. In combination with a massage or beauty treatment, access is free.
The full-service El Spa features 28 treatment rooms, a large saltwater swimming pool with an underwater music system and an enclosed courtyard with a shallow moat of moving water for hydrotherapy treatments.
Guests of the Iberostar Paraiso Maya have free access to the spa's wet areas, while guests of the Iberostar Paraiso Lindo, Iberostar Paraiso Beach, and Iberostar Paraiso del Mar can use the wet areas if they book a spa treatment or pay an entrance fee.
Some of the Iberostar Playa Paraiso El SPA Treatments include:
Aromatic Bath
Thermal Reflex therapy
Shiat-Su
Reflexography
Hot Stones Massage
Relaxing Massage
Lymphatic Massage
Massage with Clay
Massages for Couples
Four Hands Massage
Grape Bath
Marine Thalaso Bath
Chocolate Wrap
Tired Legs
Sport Massage
Therapeutic Deep Massage
And more.
10. Weddings at Iberostar Paraiso del Mar
Thinking about a destination wedding in paradise?
Iberostar is one of our preferred partners simply because of their attention to detail!
There are several stunning locations to choose from such as the garden gazebo, beach, and the hotel even has a gorgeous catholic chapel onsite.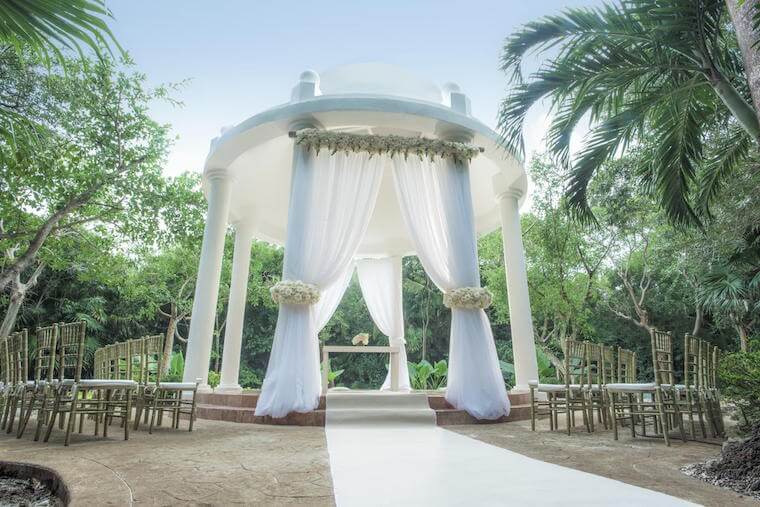 So, if you want a religious wedding but don't want to compromise on a lush tropical setting we've got you covered. 😉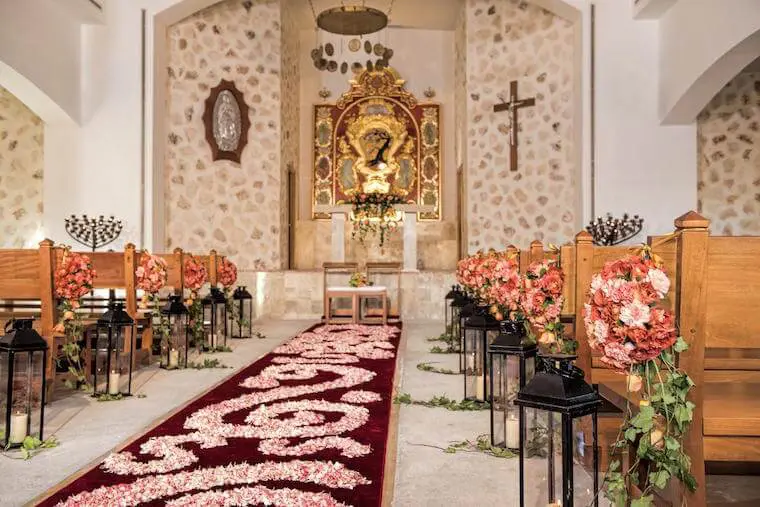 If you head on over to the weddings section of our blog you will lot of articles written by me that will guide you through the step by step process, I detail different packages and what's included, as well as help you price up the average cost of a wedding in Mexico.
Be sure to check it out.
Start Planning Today
Our dedicated wedding team plan 100s of special events in the region each year.
You need the experts on your side.
We will be with you every step of the way and best of all it comes at no extra cost to you.
Our team simply works hand in hand with the hotels to ensure that everything runs smoothly with no detail overlooked.
Not only that, but we can help take care of the logistics for your group helping them with accommodation, transport, and more!
Talk to us today
Start planning your big day email us at weddings@playadelcarmen.com  or alternatively you can call us directly on our toll-free number +1 888-537-9797.
Save on Iberostar Paraiso del Mar
As a local agency based in Playa, we offer exclusive rates at this hotel!
Discuss your next vacay with one of our expert travel consultants here at PlayaDelCarmen.com.
We know these hotels like the back of our hand and will only ever provide you with honest and unbias advice.
Give us a call on our toll-free number +1 888-537-9797
Or
Alternatively, contact us via email at customercare@playadelcarmen.com
Have you stayed at this hotel before?
Don't forget to leave your thoughts in the comments section, we would love to hear from you. 🙂 Tell us what you thought of the Iberostar Complex in Playa del Carmen.
Paradise awaits…
My Honest Review of Iberostar Paraiso del Mar Playa del Carmen (Mexico)
Location

Value for Money

Rooms

Food & Drink

Nightlife & Activities

Pools

Golf

Weddings

Beach

Kids Club
Summary
A trusted and affordable hotel perfect for families with a few kids. A stay at this hotel means you will be able to save on accommodation and have more budget for experiencing the tours and wonders of the Riviera Maya. All round a solid contender for your next trip. Got a question? Let me know in the comments section and I will get back to you ASAP.
---
Trending Now