The Ultimate Guide to Spring Break for Families (2023)
---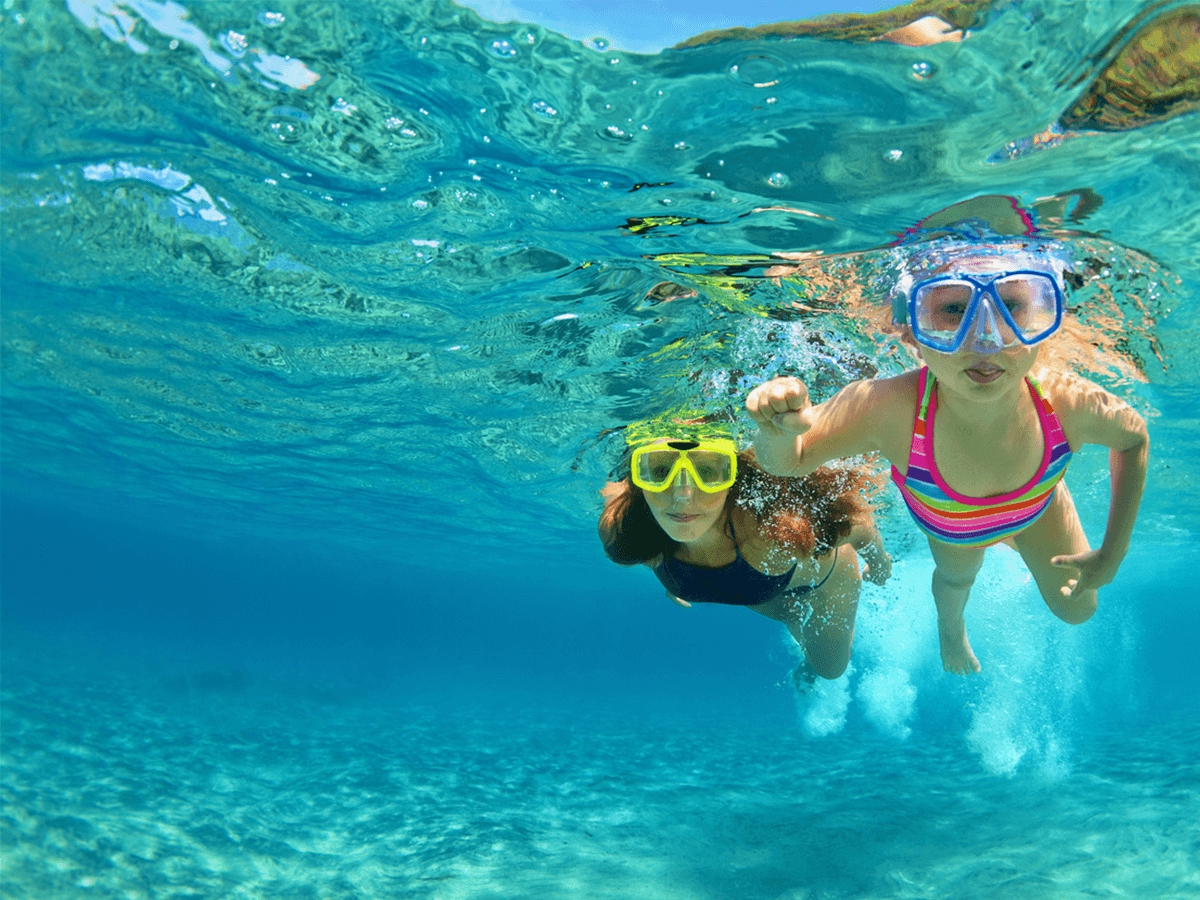 You don't have to be a raving teenager to enjoy spring break.
Spring break is the perfect opportunity to get together for some good old fashioned family time!
Traditionally, Cancun has always been synonymous with spring break, but do you want us to let you in on a little secret?

Playa del Carmen is a haven for families wanting to get a slice of the action too!
In this Spring Break guide for families, we'll cover:
---
Why is Playa del Carmen great for Families?
It's a walkable coastal town which sits in the heart of the Riviera Maya, so you can easily enjoy all the magic this place has to offer.
It has spectacular beaches.
Plenty of shops, restaurants, and nightlife along 5th Avenue.
You'll find a fantastic selection of family-friendly hotels. (all ages)
Adventure, snorkeling, and cultural tours your kids will LOVE.
In short, it has everything you could ever want or need for the vacation of a lifetime.
Away from the partying scenes in Cancun, Playa del Carmen boasts a much more friendly, family-orientated vibe.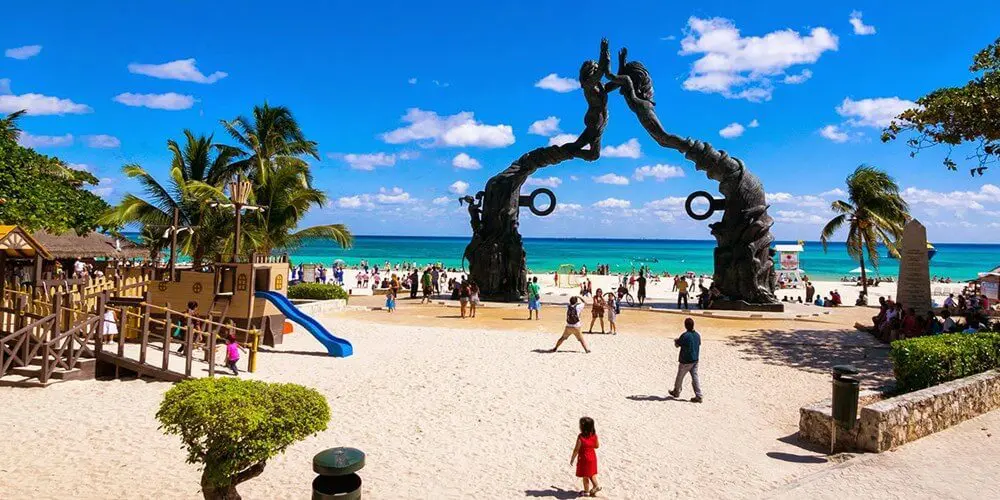 What dates to avoid Spring Breakers?
Although Spring Break is the perfect opportunity for families to get together we totally understand that many of you planning your next vacay here may want to avoid Spring Break all together.
In which case…we can help you choose a hotel away from the hustle and bustle of busy areas or you can avoid the dates listed below.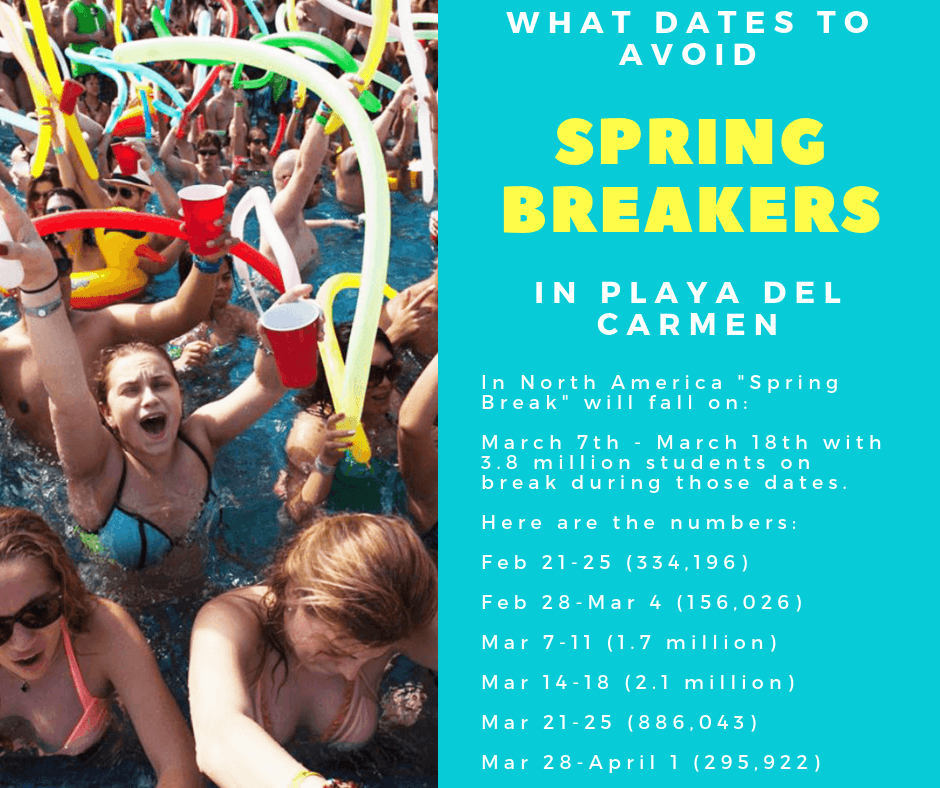 In North America "Spring Break" will fall on:
March 7th – March 18th with 3.8 million students on break during those dates.
Here are the numbers:
Feb 21-25 (334,196)
Feb 28-Mar 4 (156,026)
Mar 7-11 (1.7 million)
Mar 14-18 (2.1 million)
Mar 21-25 (886,043)
Mar 28-April 1 (295,922)
The Ultimate Guide to Spring Break for Families
Perhaps your kids aren't quite old enough to go and party by themselves but you still want them to have a great time?
Look no further.
In this ultimate guide to spring break for families, we'll break down the best options for accommodation, tours you can enjoy together, and the best places to eat!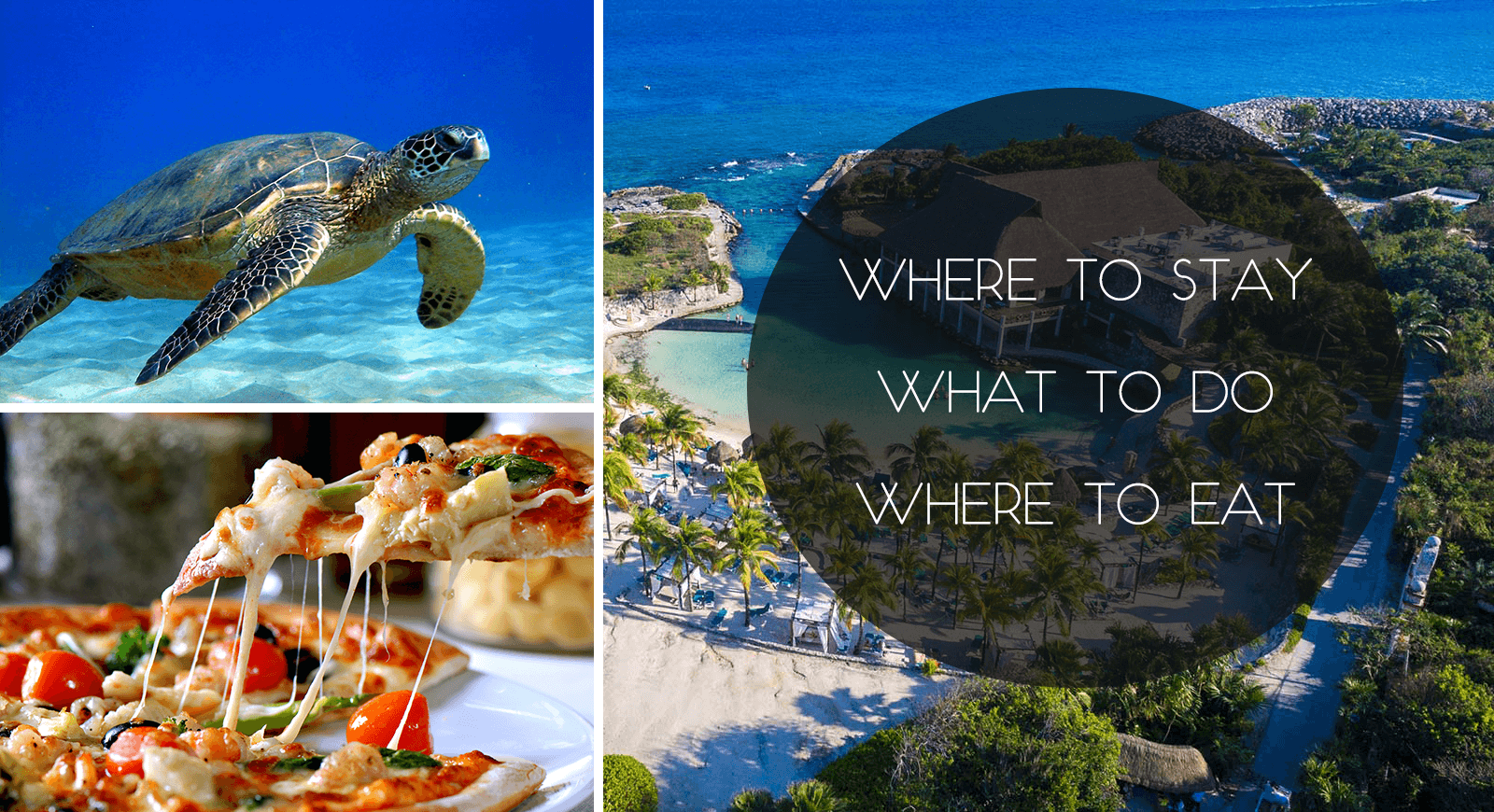 My Top 5 Family-Friendly Hotels in Playa Del Carmen
Luckily for you, Playa del Carmen is home to some of the most spectacular, stunning, and affordable family-friendly resorts this side of the globe.
Whether you want to be in the heart of town or secluded by jungle, you needn't worry, we've got you covered!
Here are my top 5 most family-friendly hotels in Playa del Carmen, Mexico!
1. Sandos Caracol
★★★★★ | All-Inclusive
An eco-adventure awaits for all the family at the Sandos Caracol Eco Resort!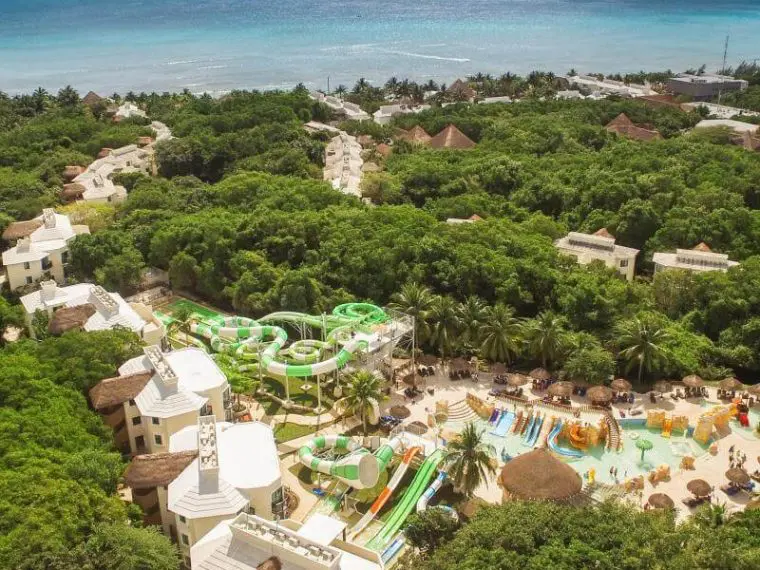 Experience the best of the Riviera Maya at the Sandos Caracol: beach, cenotes, wildlife and lush vegetation.
Designed for nature lovers and explorers, this hotel is nestled in amongst the jungle, surrounded by cenotes, mangroves, and natural lagoons.
Perfect for family fun the Sandos Caracol resort has a specific family section specially dedicated to daily activities, nightly entertainment, and sports that are readily available and include snorkeling, kayaking, tennis, and more.
Their newly renovated rooms are great for accommodating large families. They feature a large double bed for mom and dad, two bunk beds in a separate room and a pull-out double sofa bed.
Read our honest review of the Sandos Caracol here.
2. Mahekal Beach Resort
★★★★| Self-Catering
Mahekal Beach Resort is a rustic hotel in the heart of Playa del Carmen located right on the beach front.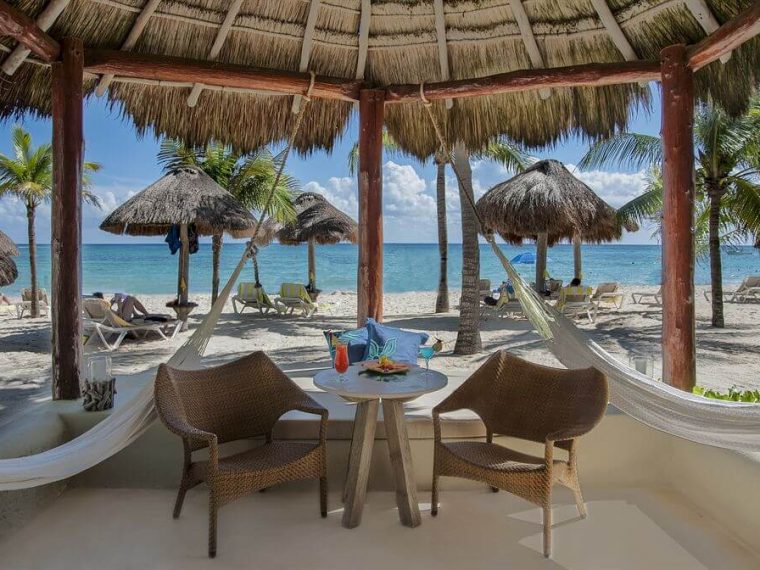 This gorgeous resort enjoys a privileged position on the shores of the beach in Playa del Carmen.
It's a short walking distance from Mamitas Beach Club and Coco Beach as well as the colorful shops and restaurants that line the town's vibrant 5th Avenue.
Although located amongst the hustle and bustle of the city, this hotel has a somewhat surprisingly secluded feel to it.
Nestled away under the beachfront palms, the natural decor only adds to the tropical and Caribbean vibes.
Stay in palapa style accommodations, enjoy the recently revitalized Vida Aquatic Dive Center which offers expert-led dive tours, lessons, and expeditions, and the oceanfront view.
Although this hotel is not all-inclusive the money you save on booking you can use on eating out and making the most of 5th Avenue, there are so many places to choose from all for great prices and the food in Playa del Carmen is divine!
Click here for more pricing and information. 
3. El Taj Oceanfront & Beachside Condo Hotel
El Taj Oceanfront & Beachside Condo Hotel offers five-star amenities, a prime beachfront location, excellent service and decor, and furnishings that are evocative of a tropical paradise.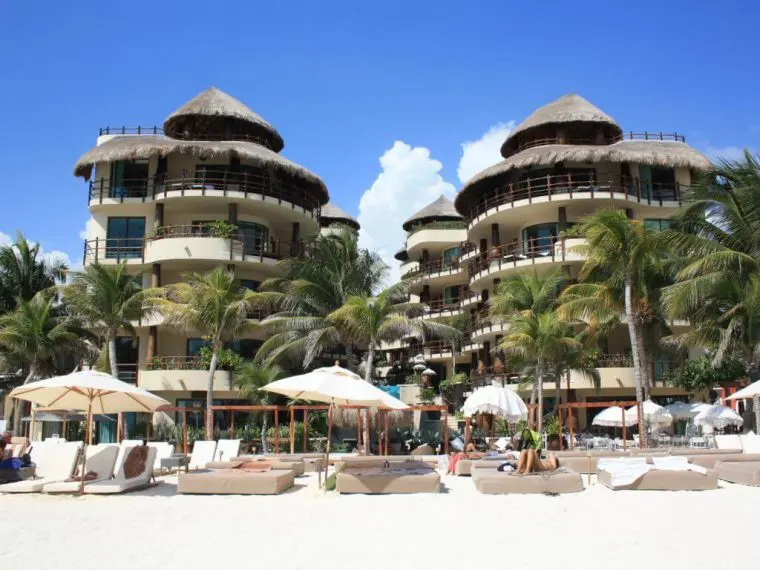 This is another property located in the heart of all the action. Just a few streets away from 5th avenue, you'll find an endless amount of bars, restaurants, shops, and clubs to keep you busy.
On-site you'll find Indigo Beach Club, one of the trendiest hangouts in the area. This hotel is not all-inclusive but there are many delicious eateries in close proximity to the hotel.
Click here for more pricing and information. 
4. The Royal Haciendas
★★★★★ | All-Inclusive
The Royal Haciendas is a great hotel for families as they offer all-inclusive plans and impeccable service.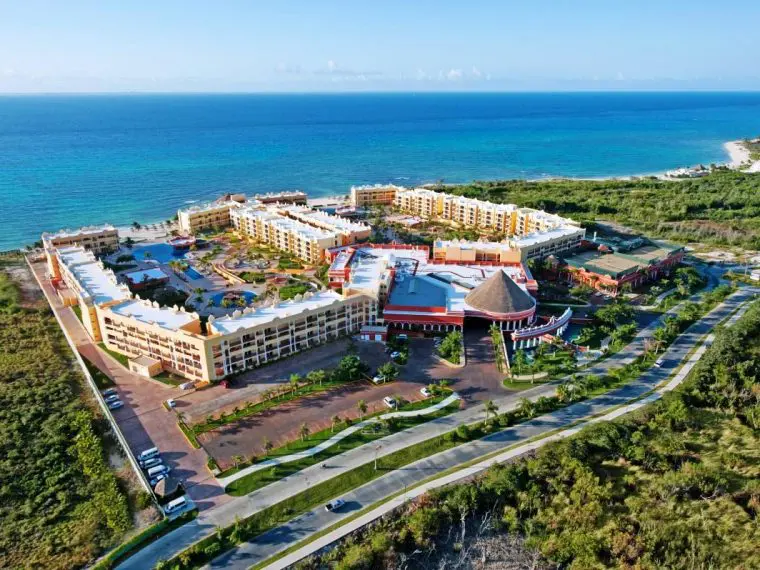 We've noticed that this hotel can get very busy during Spring Break but according to a review on Trip Advisor "The resort is immaculately maintained, and the service was very good".
During peak seasons some hotels can crumble under the extra pressure of added guests. However, the Royal Haciendas is well-known for maintaining great service all year round.
So, if you want your kids to make friends on vacation, heck, why not you too, The Royal Haciendas would be a good choice!
Click here for more pricing and information. 
5. Occidental at Xcaret
★★★★★ | All-Inclusive
Set within an ecological reserve, Occidental Grand Xcaret is a 5-star hotel that boasts well-kept grounds together with amazing customer service and amenities.
The nature around this hotel is simply stunning.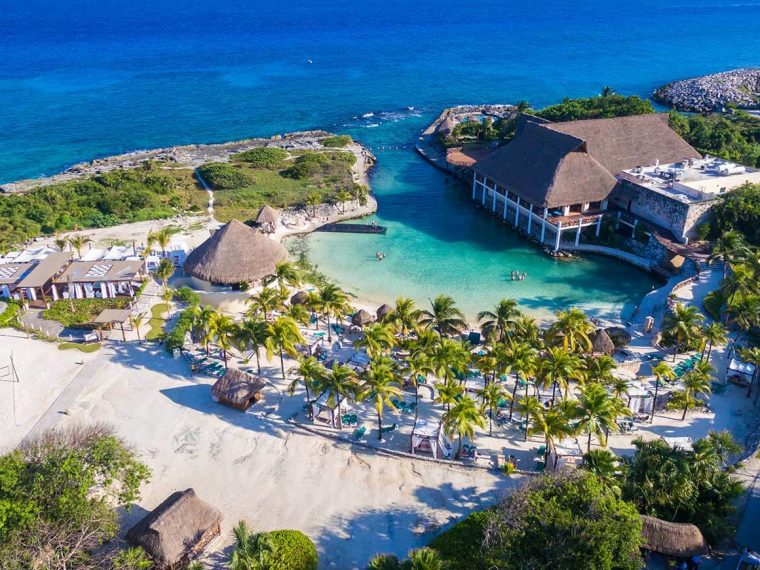 Xcaret is considered somewhat the Disneyland of Mexico, it's an extremely popular attraction and being in such close proximity to it is just one of the many benefits of staying at this hotel.
There is always something to do!
The resort boasts 11 restaurants meaning that there will always be something to suit all tastes.
You and your kids will never want to leave.
Click here for more pricing and information. 
If you would like to browse my family-friendly hotels in the Riviera Maya that we recommend be sure to check out our blog post 6 best family-friendly hotels in Playa del Carmen. 
Hotels with Waterslides in Playa del Carmen
When I vacationed lots with my family when I was younger the make or break of the vacation for me was dependant on if the hotel had waterslides or not.
It's always a safe bet as a parent, because if you've got nothing planned for the day at least they have the slides to keep them amused.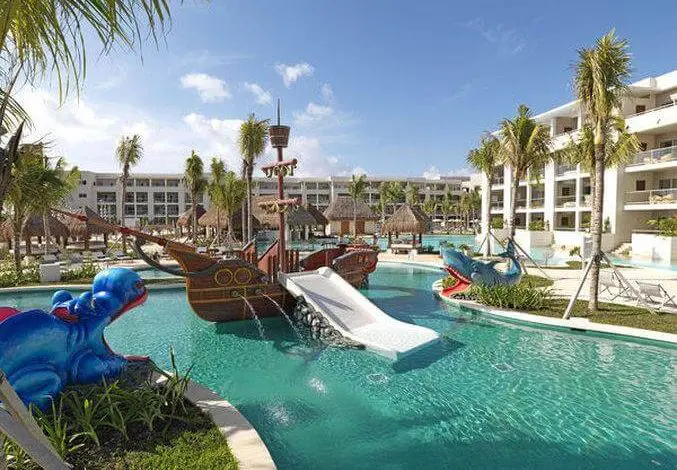 Hotels that feature waterslides and are worth checking out include:
Luckily for you, we blogged a whole post dedicated to the best hotels in waterslides in Playa del Carmen, you're welcome. 😉
Things to Do as a Family in Playa Del Carmen?
We all know how easily our kids can get bored, regardless of their age.
But, with so much to see and do in the Riviera Maya we assure you keeping them entertained won't be a problem.
Some tours are better done as families and some tours are better done as singles. To help point you in the right direction I've rounded up my top 3 tours that I guarantee your entire family will love!
1. Jungle Buggy
The Jungle Buggy Adventure is one of our most popular tours here at PlayaDelCarmen.Com and for a good reason too!
Prepare to plunge yourselves into the true rhythm of the tropics as your race your way through the jungle on your own ATV.
The ATVs fit up to 4 passengers perfect for families (and come with basic insurance).
Follow the trails through the jungle before arriving at a stunning cenote where you will enjoy a quick bite to eat before exploring the magical underwater world of Mexico.
Learn about the cenotes history and be fascinated by the enchanting series of caverns.
To round up your excursion you will visit a typically Mayan village, these communities are extremely poor and here you will have the chance to give back by providing a small donation of food to those in need,  it's a real eye-opener for your kids.
To say thank you, the Mayan children usually make gifts such as bracelets to show their appreciation for your generosity.
Read my latest jungle buggy review from 2019 here.
2. Fat Cat Catamaran
The Fat Cat Catamaran tour is the best quality/value for money catamaran tour in the Riviera Maya.
The boats are available for a 4-hour morning or afternoon tour.
What you can expect:
You'll sail the incredible Caribbean coastline whilst marveling at the spectacular view.
Snorkel the crystal clear water, and make friends with the local marine life (snorkeling gear is provided).
Enjoy the open bar and food.
For you and your kids, the snorkeling experience you'll have on this tour is outstanding, you'll get to see all kind of colorful fish, and maybe even a sea turtle or two if your lucky, whilst swimming around in the crystal clear waters.
The water is pretty shallow, you'll have life jackets and a professional guide, but it helps if you and your kids have the basic swimming skills down to get the most from this tour.
Read my Fat Cat Catamaran Review – here's what to expect.
3. Tulum, Cenotes, & Turtle Explorer
Explore the wonders and beaches of Tulum on this educational / adventure  Tulum, Cenotes, & Turtle Explorer tour. 
Mexico is a wonderful country shrouded in magic and mystery because of its enchanting past. So, it would be completely rude to visit this place and not to at least learn something about the fascinating ruins and Mayan culture. 
Plus, you get to explore another beautiful area along the Riviera Maya, TULUM! 
In the morning you'll visit the world-famous ruins and journey back in time as you learn about their magical history.
These are the only ruins situated on the coast of Mexico's shores. You'll even get the chance to enjoy and soak up one of the most stunning beaches in the whole of Mexico, heck, why not put your swimsuit on underneath and take a dip while you're there, I did!
From there you will head to another stunning beach where you'll set off to the reef close by to go swimming with sea turtles!
Again, it also helps if you and your children have the basic swimming skills down to get the most out of this tour.
Read my Tulum, Cenotes and Turtle explorer review here.
But that's not all!
If you are really interested in choosing the best tour for your kids but you haven't found anything you like the look of here, we've dedicated a whole post to 13 things you can do with kids in Playa del Carmen!
So be sure to go and check it out.
You'll find activities like:
Where to Eat in Playa Del Carmen?
We all know how fussy are kids can be at the best of times, so finding somewhere with great options for them, where you can also still enjoy a delicious meal can often be tough.
Luckily 5th Avenue and the surrounding streets have it all!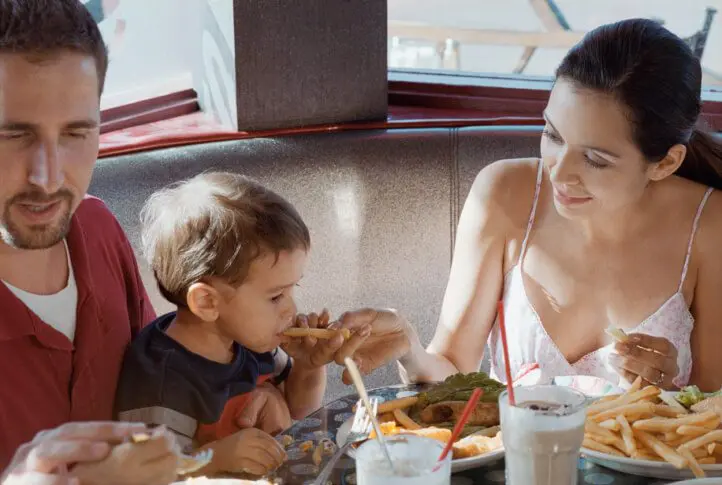 1. Harry's Bar and Grill (overlooking 5th Avenue)
This is a spectacular restaurant overlooking 5th avenue from the shopping mall. Not only do they boast great food you can enjoy an amazing view too, so if you're a people watcher then look no further.
Compared to other diners on 5th avenue it may seem a little pricey, but if you only plan on eating out once or twice this place definitely won't disappoint.
Great options for both kids and adults. The meat here is world-class!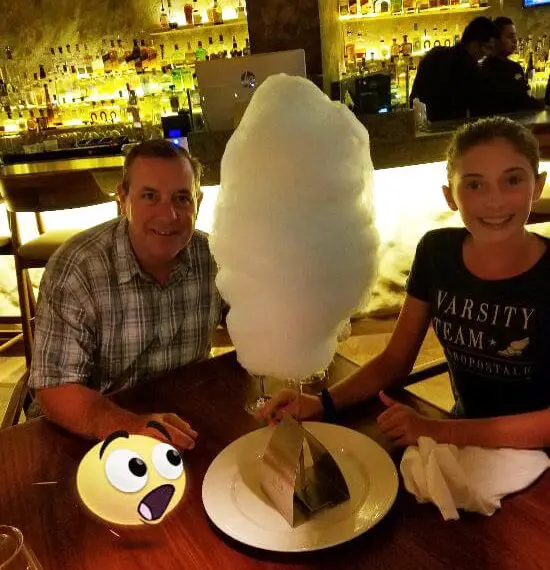 2. El Tenedor
This cute Italian sits just off 5th Avenue on 10th street. Pricing here is outstanding and the value for money is just insane.
After all, who doesn't like pizza?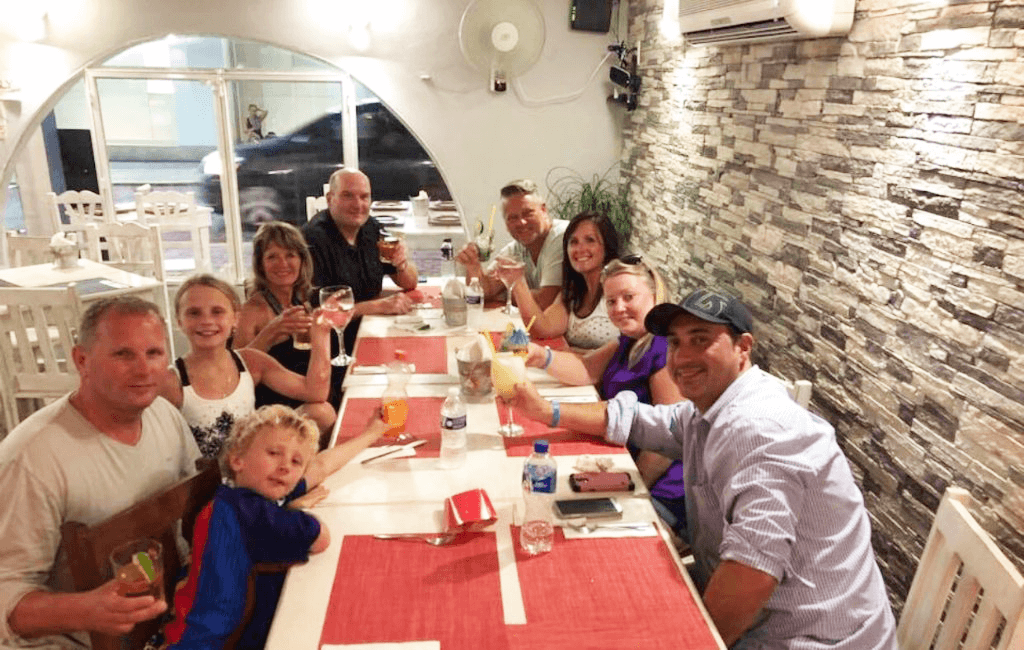 It's open 7 days a week and boasts crazy good pasta, pizzas, and delicious Italian meals all at an affordable price. Couple that with outstanding friendly service this place is a real hit with families traveling to Playa del Carmen.
The chef's specials change every day so be sure to check those out too!
I definitely recommend trying the pork shank and tiramisu for dessert. Provecho.
3. La Senda
La Senda is also just off 5th Avenue close to 10th street. Here you can enjoy Mexican food, with vegan and gluten-free options!
If you are looking for a true burst of flavor for a cheap price this is the place for you and your family.
It's a casual restaurant, so you don't have to worry about going back to your hotel to scrub up after a day at the beach.
It's extremely relaxed, with a friendly warm atmosphere, and has a delicious range of dishes to choose from on the menu.
The creativity in putting the food together at this place is extraordinary, you're in for a real Mexican treat!
Let us know if you try any of these places, we would love to hear from you.
Even if you are staying just outside of downtown Playa del Carmen, we highly encourage you to at least visit once and eat out of your hotel at least once, otherwise, you're missing out.
Mexico and places like Playa del Carmen boast some of the best food I have ever tasted. Seriously, it's dangerous if you live here, it's just so cheap and so yummy (not so great for the diet).
Don't to forget to read our 'do's and don'ts for shopping on 5th Avenue'.
If you're a foodie like me, then you may be interested in reading our ultimate guide to the restaurants here in Playa del Carmen.
You're lucky because Playa del Carmen boasts some incredible options, with great standards of food at low low prices, it's just knowing where to look.
3 Beaches in Playa del Carmen
Playa del Carmen is celebrated for its white powdery beaches and warm crystal clear waters.
What's the best, most affordable day out with your family on vacation?
A day at the beach!
Here are 3 of the best beaches in Playa del Carmen:
1. Parque Fundadores
This is probably the most iconic beach in Playa del Carmen.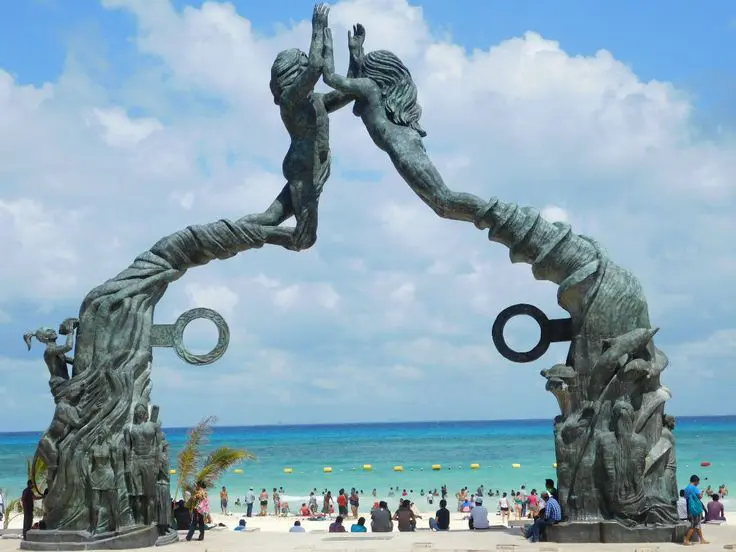 Located at the of 5th Avenue 5th Avenue, and you will see the gigantic 'Playa del Carmen Arch' right in front of you.
On this stretch of beach, you will find a real mix of people, from tourists to local families.
This area of the beach is pretty busy and a little noisy, but what makes it unique is that there are no beach clubs, so you get a true community feel here.
There are plenty of stalls and stands if you do feel like something to eat and drink and produce is significantly cheaper than it is at the beach clubs in Playa del Carmen. Try fresh fruit and juices.
You will also find a full-sized volleyball court, which anyone can use. Create your own game or join in with the locals it's a great way to meet new people.
2. Playacar Beach
If you want to escape the hustle and bustle there's no better place than Playacar beach.
It's part of a residential area, so it's quiet, clean, and there are no sneaky rocks hiding under the waves waiting to stub your feet.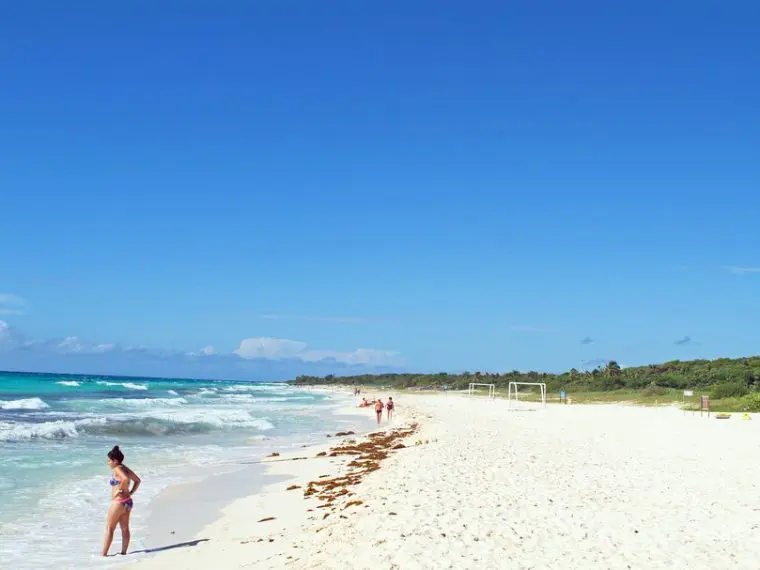 The waves here are more substantial but nothing too crazy, and the water tends to be a little bluer here.
There are no beach clubs along this stretch so it's important to bring drinks and snacks as well as towels.
3. Mamitas Beach
Expect plenty of people and beach clubs in abundance.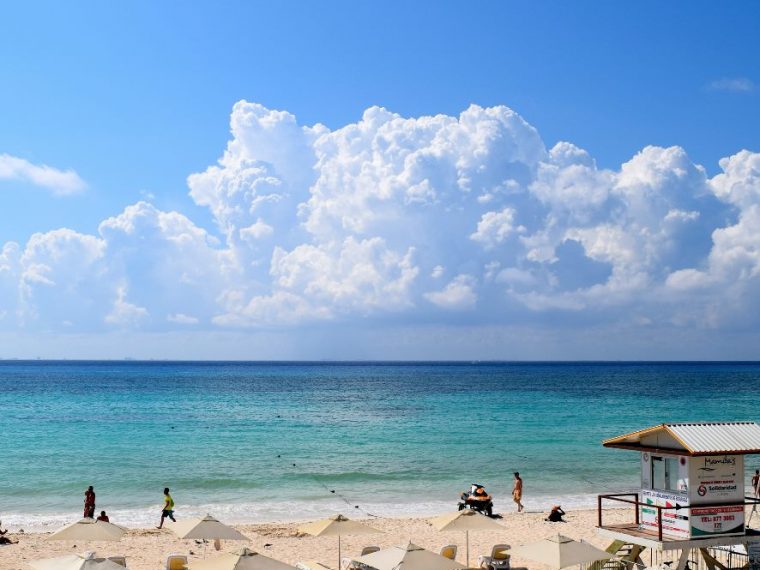 If you want somewhere where your kids can play but you can also enjoy some alcohol and music then this is the place to be.
you can expect regular DJs at Mamitas, and there are plenty of sun loungers to go around.
Mamitas has recently refurbished, and now has a refreshing pool to cool down in too.
Happy vacationing!
Create memories that last a lifetime with your loved ones over this spring break! What's better than some quality time with the ones you love in paradise?
We hope this blog helped you with planning your next trip. Don't hesitate to get in touch I would happy to answer any questions you may have in the comments section below.
Do you need help getting organized?
Get Spring Break Deals Here
We, PlayaDelCarmen.com, get the best spring break deals hands-down.
Reach out to our Travel Agents at 888-537-9797 and we'll do the digging and get everything organized for you!
You can also contact us via email at customercare@playadelcarmen.com
The hotels are booking up quickly! It's time to start reserving your spots!
---
Trending Now
You may also like