My Honest Review of the 'Tulum, Cenotes, & Turtle Explorer Tour'
---
NOT doing the Tulum, Cenotes, & Turtle Explorer Tour at 15% off would simply be a tragedy.
I say this with all my heart.
If you have a desire for adventure and to experience what life has to offer, you NEED to do this tour.
It's an unforgettable experience.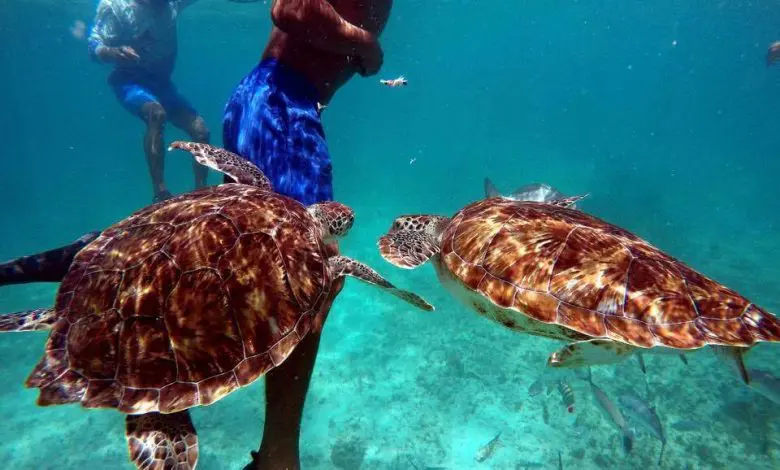 I consider myself pretty internet savvy. Like you, I like to do my homework before going somewhere or doing something, some call it cautious, I call it instinctive.
Whether it's booking a vacation or even something as trivial as trying a new hair salon, I think as humans, we like to know what we are getting ourselves in for. Unless, of course, you are a COMPLETE maverick.
But….
Let me tell you something, nothing can prepare you for this!
It doesn't matter how many pictures you've seen, videos you've watched, or TripAdvisor reviews you may have read, this experience is incomprehensible until you experience the real deal for yourself.
Ooof! I got shivers reliving the moment I recalled whilst writing that. 
This is one of our best-sellers here at PlayaDelCarmen.com, so when I got the opportunity to go along and experience it for myself, safe to say I was nothing short of psyched!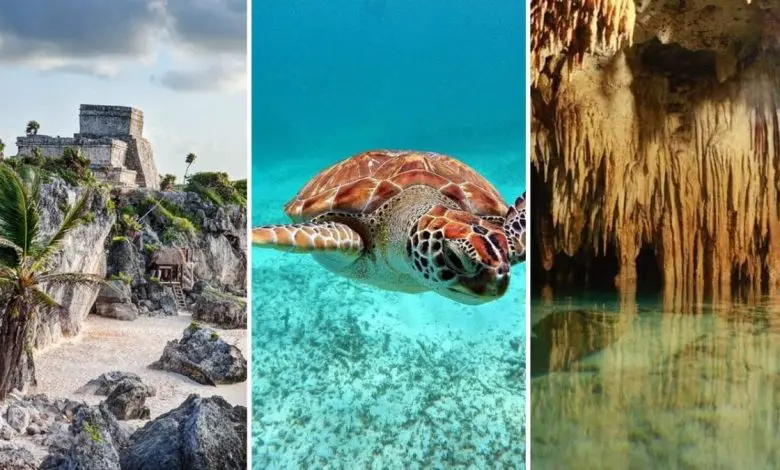 When I first began to pen this review, I'll be honest, I was worried about ruining it for you guys! I didn't want to give anything away because I imagine if you are a maverick and book this tour on a whim (with no clue of what to really expect), you would be blown away!
You'd 100% look back on it as one of the greatest decisions you ever made.
However…
I'm a cautious Carrie, and even still, after all of my research, my breath was snatched away from me at every turn of this tour.
Just when I thought it couldn't get any better, we were swept off to the next location, where my eyes widened, and I had to take a minute to really absorb my surroundings.
Pick Up
The day began at 8.00am, which if you are not really a morning person we realize can be a little tough, especially on vacation! However, it's totally worth it!
Our pick up arrived on time, and we were met with a smile from JJ (our tour guide for the day).
JJ is incredible at what he does, I've never met a more dedicated and passionate tour guide. He knew his stuff, had a great sense of humor and was polite and respectful throughout.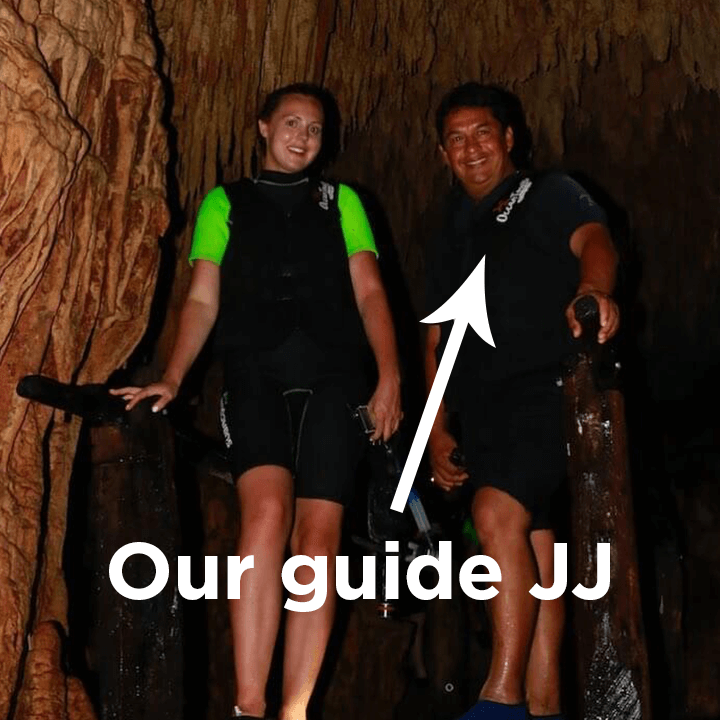 I was in a little bit of a hurry before leaving the house so I had skipped breakfast, but JJ was one step ahead and offered up some bananas and breakfast muffins (which were delicious).
As we munched our way through breakfast we began the short drive to the Tulum Ruins in our comfy and air conditioned transport. 
JJ passed some time by fascinating us all with his incredible knowledge of the archaeological site we were about to witness.
To get the most out of your trip my advice would be to pay attention here, and I guarantee that you will get goosebumps as you roam around the ancient city.
Once we arrived at the ruins the sun was blazing hot.
JJ and our driver Ricardo offered up umbrellas for those of us who wanted to seek some shelter from the sun as we journeyed around the ancient city.
I would suggest taking one just in case, as it does get a little hot under the collar while you are walking around because there isn't much shade.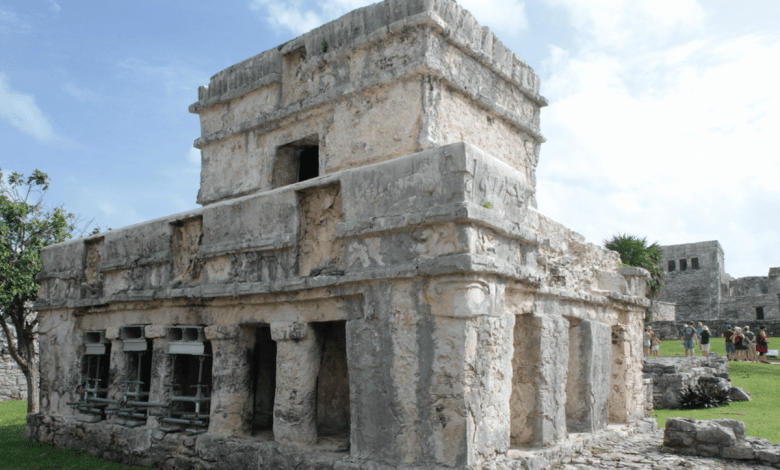 Whether you're a history buff or not you can't help but be fascinated by what you are witnessing.
You could clearly tell which couples had convinced their other half to come along to this part of the trip, but by the end of it even they were in high spirits, amazed by what they had just seen and learned.
The Tulum Ruins also boasts one of the most beautiful beaches I have ever seen, so if you have time I would definitely recommend wearing your swimsuit or shorts under your clothes so you can take a dip to cool off.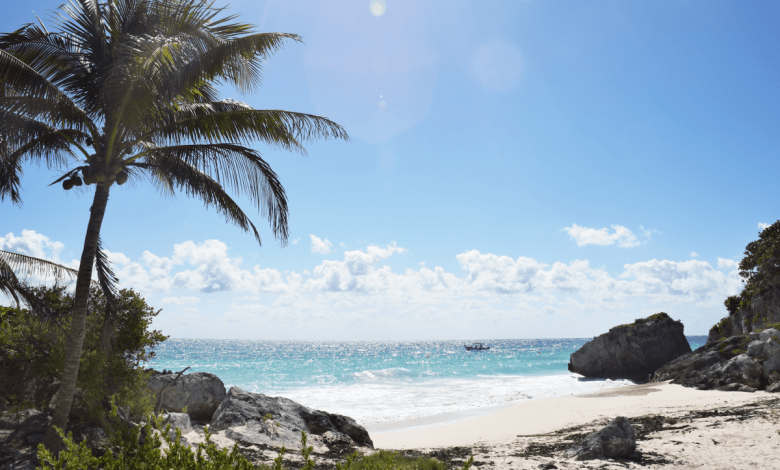 Swimming With Sea Turtles
From the ruins, you head back to the van where you will be offered up ice cold water before taking less than a 5-minute drive to another sublime beach of Tulum.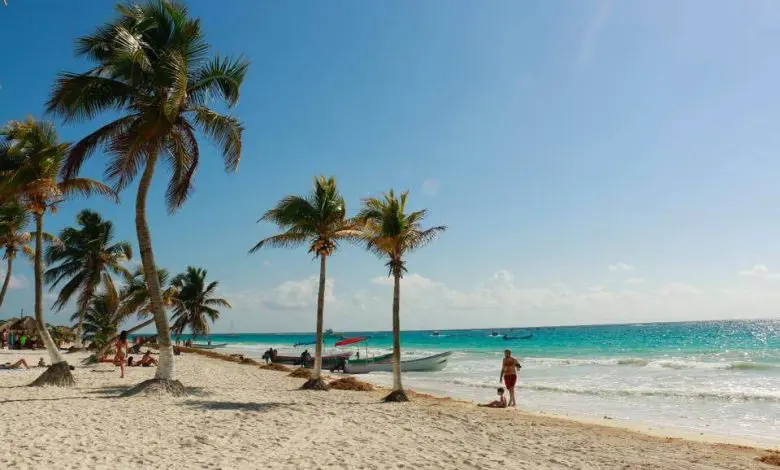 Following a short safety briefing by JJ, we set off on our snorkeling adventure.
I've always had a bit of anxiety when it comes to getting in the water, especially the ocean, but I felt safe.
Whilst we snorkeled along the 2nd largest coral reef in the world I was stunned by the tropical fish I was able to observe up close in the wild. As I marveled at the beautiful fish and rock/coral formations that's when I spotted it in the corner of my eye…
A SEA TURTLE! Not just one, but three, I couldn't believe it!
These amazing creatures are equally fascinated by humans as humans are fascinated by them.
They came right up close and were extremely agreeable to letting us swim alongside them, being careful not to use our flippers as to avoid touching or startling them.
When we left the water I was so pumped with excitement and glee I truly consider this to be one of the best moments of my life.
Time For Lunch
By this point, we had definitely worked up an appetite. Back at the van, we were provided with freshly prepared sandwiches and refreshments, before heading deep into the depths of the jungle for the final leg of our trip.
Relaxing In A Fresh Water Cenote
Pictures really don't do this place justice!
The road to this particular cenote is a long and bumpy one but luckily our driver maneuvered it well.
I loved how authentic this place felt.
It was away from the hustle and bustle of common tourist ridden cenotes. It was simply bliss. It was just us, and nature. Totally worth the ride. I had never seen anything like it.
The only thing I could moan at (being a Brit) was the mosquitos but it was my own fault for not packing any repellent, so just a heads up pack some mosquito repellent, and you'll be fine.
Here we ventured into a mind blowing underwater world. In case you are unsure of what a cenote actually is read our blog here for more information.
I don't know what it is but there is something extremely magical about swimming in a fresh water cenote.
The pristine water makes for an incredible snorkeling experience. All water related equipment is provided for you on the tour so you don't have to worry about taking your own.
Dinner In The Jungle
This was the perfect end to the perfect day.
After returning to the real world from the depths of the cenote we made our way over to the cutest jungle hut you have ever seen (I forgot to get a picture, but it is featured in the video below) where the people who worked there were busy preparing the food.
Tortillas were freshly made on-site over an open fire.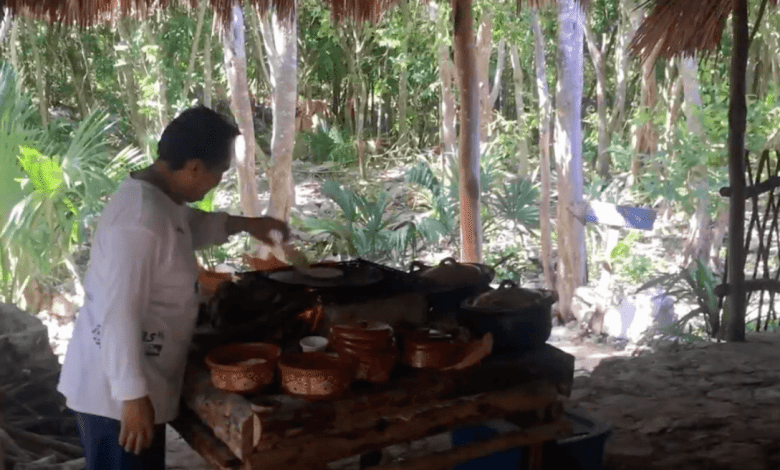 I didn't really have many expectations for the food here, but I was majorly impressed by the quality and standard of what we received.
The food was of the same standard as some of the Mexican restaurants on 5th avenue, if not better. It was THAT good. It was authentic, tasty, and filling.
We enjoyed cochinita, rice, vegetable salad, fruit, guacamole, totopos, salsas, and tortillas.
There was even the opportunity to go back for more (if you could fit it in).
Below is a short video I made for you guys, just to show you the sort of thing you can expect if you book this tour, enjoy!
Booking this Tour
You can book the Tulum, Cenotes, & Turtle Explorer Tour at 15% off online or to speak to one of the team members at PlayaDelCarmen.com at 888-537-9797.
Don't forget to SHARE this with friends and family on social media.
We hope you found this review to be helpful, if you have any questions be sure to comment below, we would be happy to answer them. 🙂
Have a great day!
---
Trending Now