---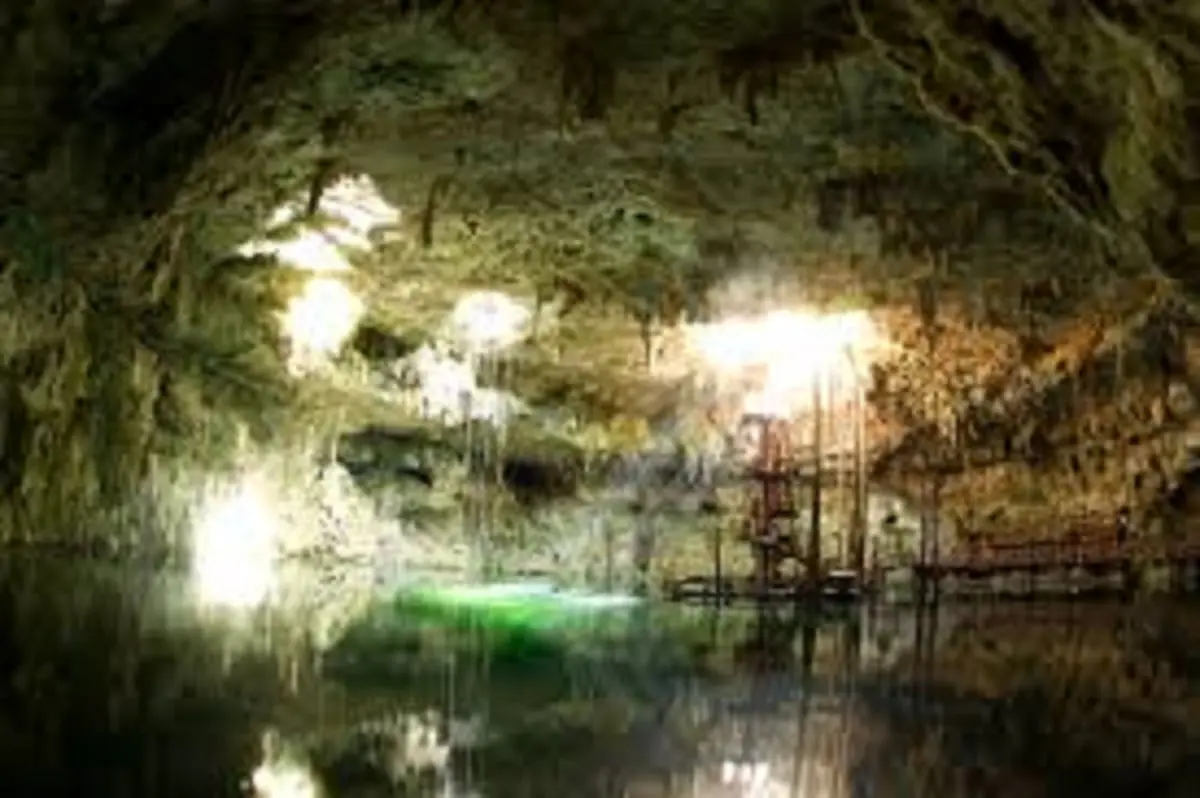 If you have never been to the Mexican Caribbean or are just learning about the beauty and attractions in this corner of the globe, you're likely to have never heard of the word.
Cenote, pronounced say-NOH-tay, is a sinkhole. Sort of.
It is. But it's also so much more than that.
---
What Are Cenotes?
According to Wikipedia, "A cenote is a natural pit, or sinkhole, resulting from the collapse of limestone bedrock that exposes groundwater underneath.
Especially associated with the Yucatan Peninsula of Mexico, cenotes were sometimes used by the ancient Maya for sacrificial offerings."
To the ancient Maya, they were "dzonot," which the Motul dictionary translates as "abysmal and deep."
The ancient Maya understood the cenotes to be much more than simply a place to deliver their sacrificial dead. They were, in fact, considered to be the portal to Xibalba—the Netherworld.
With all of the knowledge that the ancient Maya possessed, they no doubt knew or suspected that thousands of such cenotes interconnected to form the underground labyrinth of Xibalba.
Both then and today the Maya considered the cenotes to be a sacred place protected by a Mayan sprite known as an Alux or Aluxob in the plural. They are considered to be playful creatures that like to play tricks on people.
When entering a cenote, it is a common practice to ask the Aluxob for permission to do so.
What are the different types of cenotes? 
There are several different types of cenotes, and thousands are spread out all across the Yucatan Peninsula. Here are the main types of cenotes you will come across:
Semi-Open Cenotes
Semi-open cenotes are common to find throughout the region. They are places where erosion and Father Time have eaten away at the limestone bedrock, exposing patches of these natural wonders at the surface.
Underground cenotes
Underground cenotes are the hardest to reach and, as a result, the lesser researched of the cenotes. Often times access is limited by geography and only experienced divers and guides have made it down to their depths.
Open Cenotes
These cenotes may seem like ponds, but they form part of the underground labyrinth that connects the region aquatically. They vary in size and like human beings, their beauty is particular to each one.
Open cenotes are the perfect places to soak up some sun with your family or fellow travelers.
They are often very beautiful and surrounded by lots of lush vegetation.
Cenote Azul (just ten minutes from downtown Playa) is considered an open cenote.
It's particularly great for families as the cenote is quite large and offers a lot of different depths.
There are shallow parts so you can relax and sit down on the rocks, or there are deeper parts where you can actually dive in from a height.
Due to all the light and crystal clear water in this area, it's a thriving hub for wildlife and fauna.
Nature lovers will never want to leave.
Most open cenotes have a circular shape.
Entrance fees start at around $7-8 per adult at Cenote Azul and the site is located here.
Cavernous Cenotes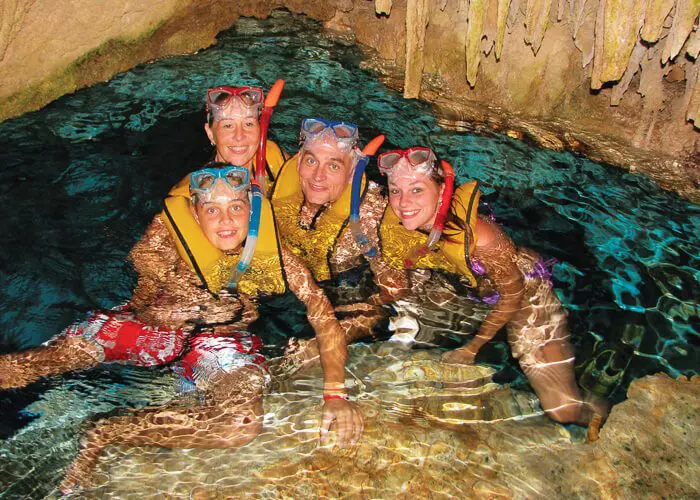 The cavernous cenotes can normally be accessed through a land-level entrance and then open up to an underground body of water that fluctuates between shallow and deep areas interspersed with dry sections.
Where are the cenotes located?
As mentioned above, cenotes can be found throughout the Yucatan Peninsula. However, there's no way you'll ever be able to visit them all.
The following list will provide you with a list of several great cenotes to visit.
Cenote Ik' Kil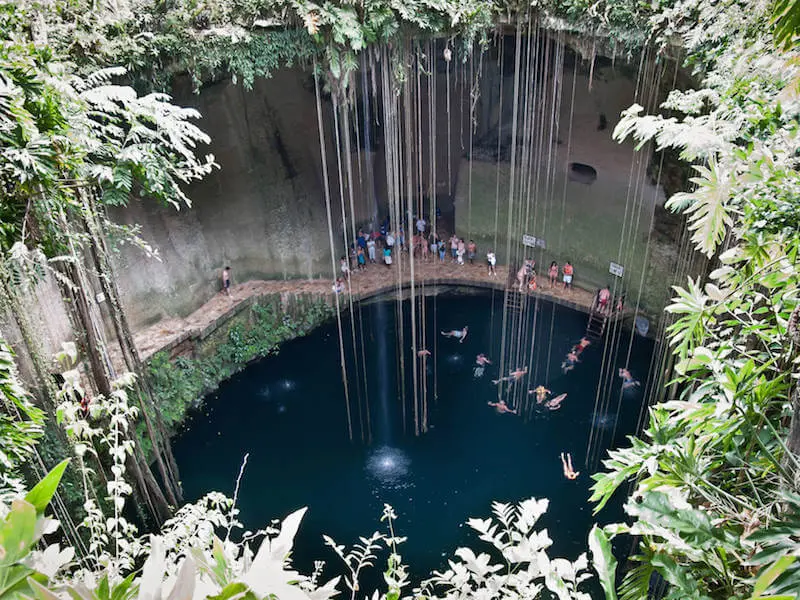 Perhaps the most famous of all cenotes, Ik' Kil is as beautiful as it is overcrowded.
It's definitely worth a stop if you are in the area or have decided to go on a guided tour of Chichen Itza, but otherwise, there are other options which are just as breathtaking.
Tip: if you would like to visit a similar cenote with the ovular opening and the high vertical walls that extend up to the surface, pay a visit to the cenote at Hacienda San Lorenzo Oxman right outside of Valladolid. It may be a bit of a challenge to reach, but it has much fewer visitors than the sacred well of Ik' Kil.
Cenotes Samula and Dzitnup (Xkeken)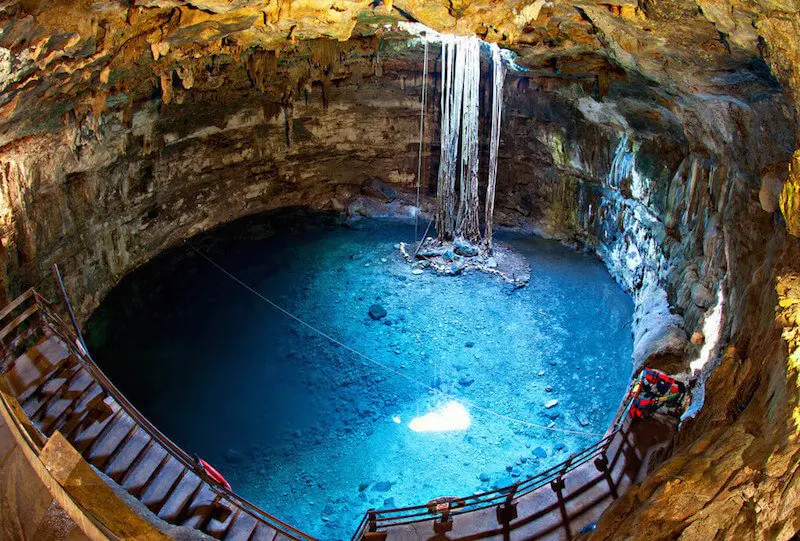 These 2 cenotes are located right next to each other on the outskirts of Valladolid. In other words, you can easily visit both on a half-day trip and still have time for other activities (or more cenote-seeing).
Samula and Dzitnup are underground cenotes with very little sunlight. The rays that do enter, however, provide a spectacular light show on this underground wonder of the ancient Maya.
Cenote Azul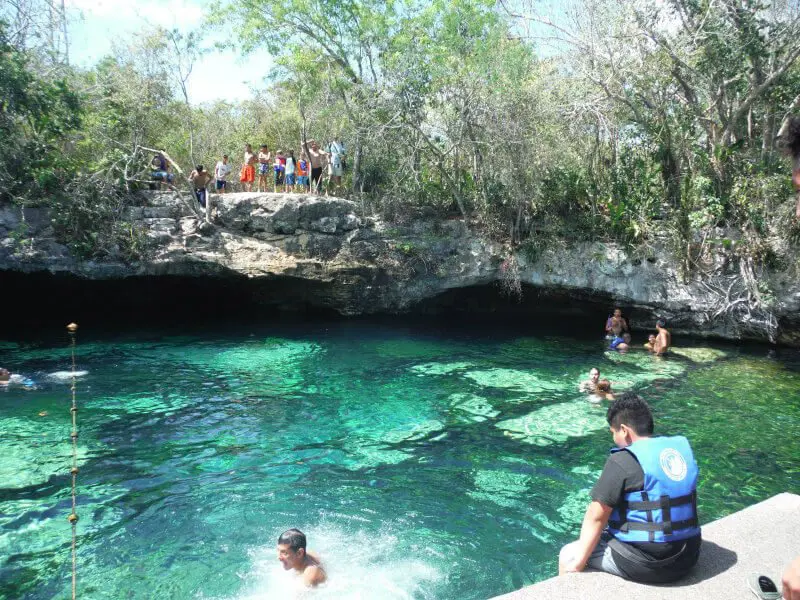 Cenote Azul or Blue Cenote is just a 20-minute drive south from Playa del Carmen.
Located right off the highway, Cenote Azul is a beautiful open water cenote that is a great place to spend some time with the family. The cenote's diverse areas allow for swimmers of all skill sets to feel safe and have a good time.
Tip: Cenote Azul is just one of four cenotes right next to each other. If you have time and are wanting to just enjoy a day of cenotes, also make sure you pay a visit to Cristalino, Kantunchi, and Jardin de Eden cenotes as well.  For more information, check out our blog post about our day at Cenote Azul.
Cenote Dos Ojos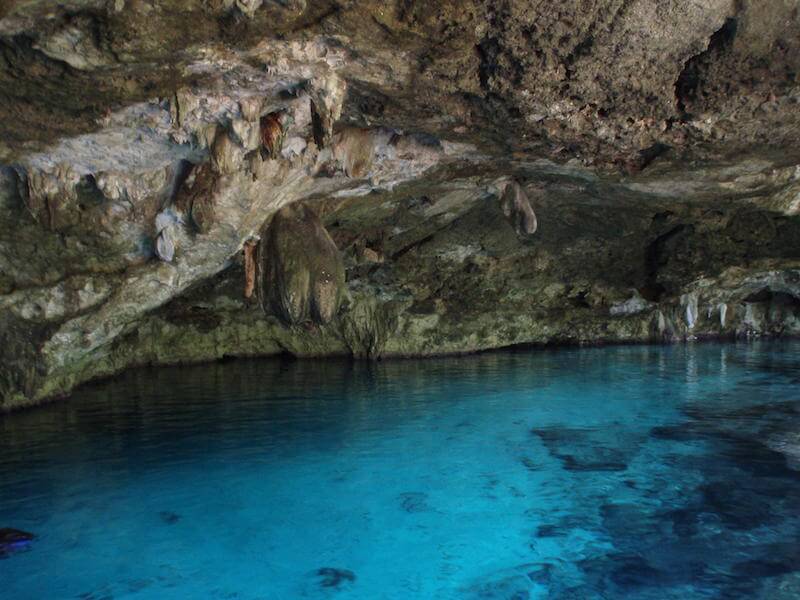 This world-famous cenote located just north of Tulum has earned the admiration of many. And for good reason.
A massive water-filled cavern, visitors can either dive or snorkel above and under this otherworldly subterranean world of stalactites and stalagmites that are Dos Ojos.
If adventure is your type of thing, this is likely one of those "been there, done that" places you'll be happy to add to your list.
Gran Cenote
A stunning example of a semi-open cenote, Gran Cenote is one of the most popular cenotes in the region.
Located just south of Tulum, Gran Cenote offers some quality snorkel time in a beautiful setting. As it also has a cavernous part, the cenote is famous as well for divers.
And if you're going as a family, not only is it a completely safe and calm place to take your kids to learn how to snorkel, they'll also have the added bonus of being able to feed the local turtle population that also calls Gran Cenote their home.
Rio Secreto
If you've ever seen any pictures of the striking beauty of the Riviera Maya's underground cenotes then in all likelihood they were taken here.
This Rio Secreto tour takes you through an amazing underground world where a kaleidoscope of colors are on display amidst ancient stalactites and stalagmites.
Perhaps the best part of this journey, however, are the guides. Competent, knowledgeable and always professional, they'll take you through the fascinating history of the region as you walk, swim and snorkel through the underground river.
Cenote Chikin Ha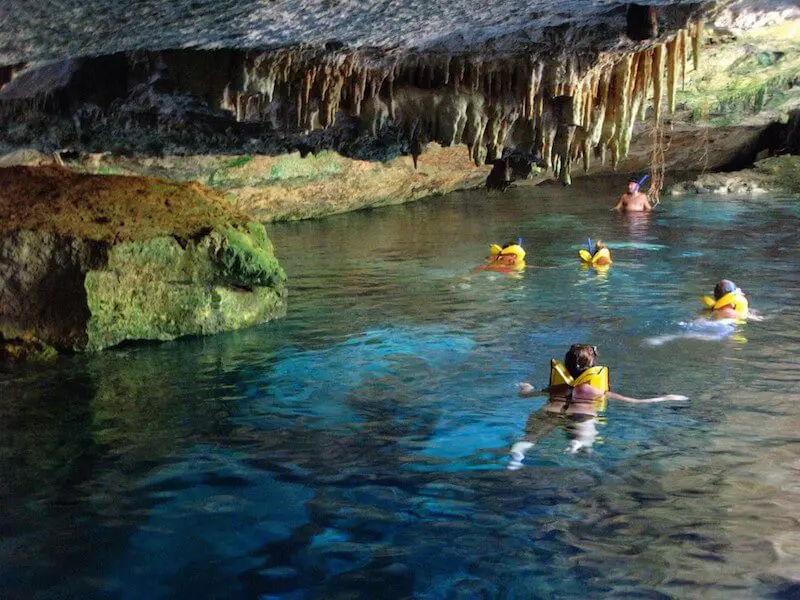 If you're looking for a three-in-one cenote combination that also lets you snorkel with sea turtles in the Bay of Akumal, look no further than Chikin Ha.
This tour, appropriately named Sea Turtles & Cenotes, allows you two swim in two of the cenotes at Chikin Ha (one open water and one cavernous) as well as visit the third.
Combine that with some sea turtle sightings in the beautiful Bay of Akumal, and you'll definitely find you had a day well spent.
Xenotes
Okay. So this next example talks about tours to cenotes and not so much the cenotes themselves. We confess.
That said, however, we include them because they are more than worth your consideration when planning your next trip to the Mexican Caribbean.
Xenotes is an actual cenote park comprised of four beautiful cenotes. The operation is run by none other the Experiencias Xcaret.
Yes, the same people who bring you Xel-Ha, Xplor, Xcaret, and Xoximilco.
In other words, if you're looking for quality and professionalism alongside a visit to the stunning beauty of Mother Nature… may we suggest Xenotes?
Xcacel
You're on your own if you want to visit this beach, but you'll sure be glad you did.
On the one side, you have a pristine beach that is under federal protection as a sea turtle reserve.
Take a short walk through the verdant foliage and you're suddenly standing in front of an awe-inspiring cenote. Getting here is easy, so don't sweat that one.
Just hop in a collective bus going toward Tulum from Playa del Carmen (or vice-versa of course) and tell the driver that you want to get off at Xcacel. Voilá! Paradise lost to found.
Casa Cenote

This is another one where you'll either have to make your way here by car or collective.
Once here, however, all your mundane worries will wash away as you experience the beauty of Casa Cenote. Much like Xcacel, on the one side you have the majestic Caribbean Sea and on the other a beautiful cenote. The best of both worlds.
Tip: Take some time for a drink or lunch at the nearby Blue Sky Hotel & Restaurant.
Jungle Buggy Adventure
Granted, it may take a jungle buggy tour to get to this one, but hey, a little adventure never hurt anyone.
Yes, you can fly through the mud along jungle-lined paths as you make your way to a private open cenote before spending some time exploring an underwater river.
Hint: think Rio Secreto as seen from the other side. Ready to rumble?
Aktun Chen Cenote
Aktun Chen Park is a great option for those looking to combine a little more than a simple visit to a beautiful cenote.
At Aktun Chen you can do all that, plus add in some zip-lining and a stroll alongside the underground river. Then, once you work up an appetite, you can even pay a visit to the park's restaurant.
Tip: like Rio Secreto and some of the other enclosed cenotes, this is a great activity to consider on those rainy days in Playa del Carmen when you don't want to be sitting out on the beach.
Ready to submerge yourself into the Netherworld of Xibalba? Make sure you ask for permission first!
Need Help Getting Organized?
Our team at PlayaDelCarmen.com are based in Playa.
We can help you explore the many tours and things to do.
We can also get you incredible deals on hotels and all-inclusive stays.
Call us toll-free at 888-537-9797 or at customercare@playadelcarmen.com
---
Trending Now
You may also like