My Honest Review of The Fat Cat Catamaran Tour – What You Can Expect (2023)
---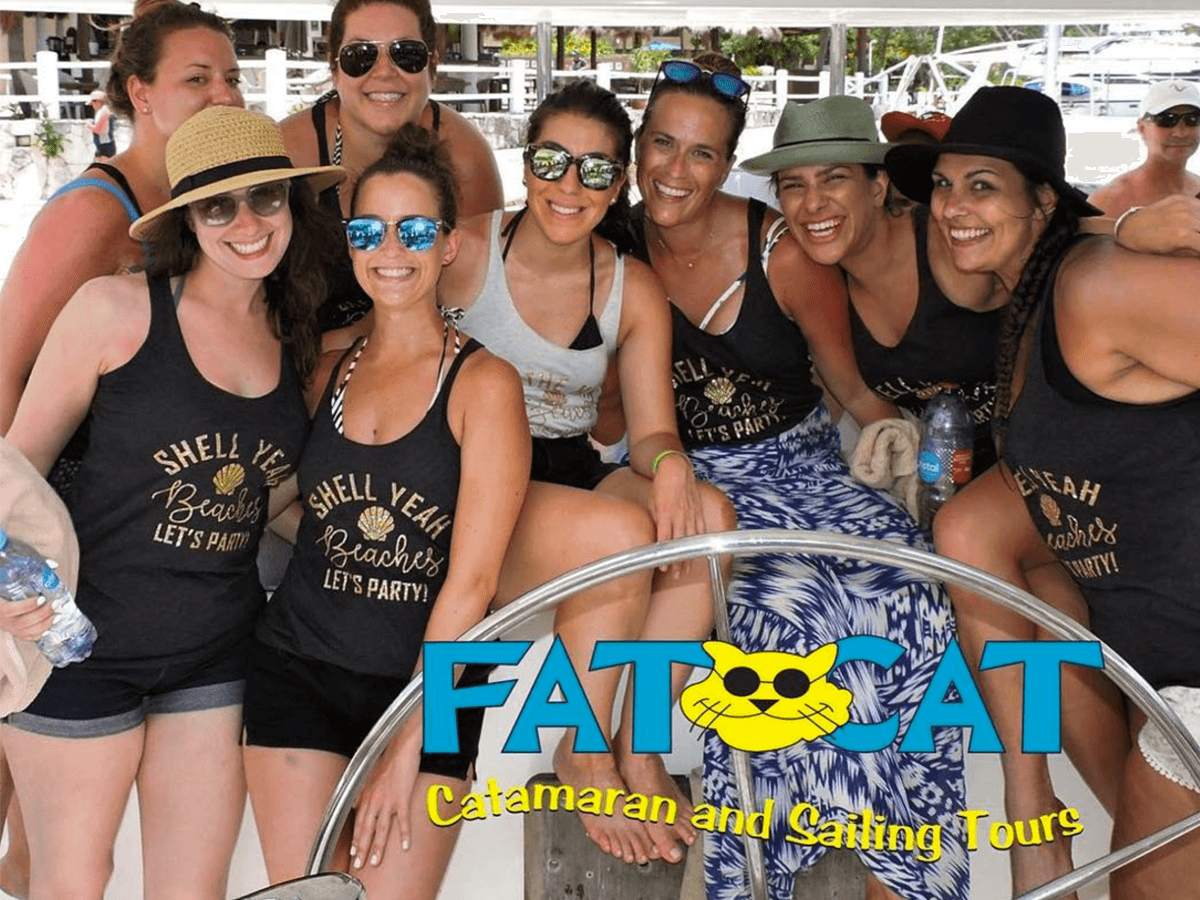 Are YOU thinking about booking a catamaran tour on your next trip to Playa del Carmen?
Good move!
Just you, the sun, and the open sea (plus a rum punch or 3) – you can't beat it!
Unfortunately, not all catamaran experiences are created equal.
Some have the WOW factor, some don't.
The Fat Cat tour was hailed as being 'epic' by my colleagues here at PlayaDelCarmen.Com, so when I got the chance to tag along I was keen to find out why it reigned so supreme!
With catamaran tours surging in popularity in the Riviera Maya, I realize it may be a little difficult deciding which one to pick.
We sell only the best.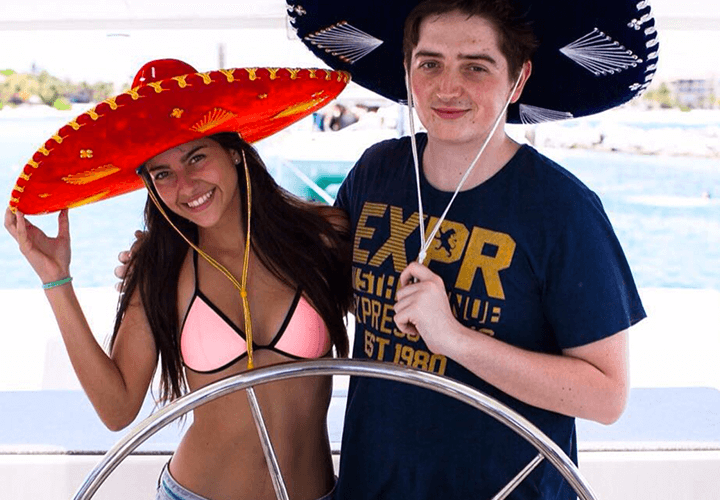 My Fat Cat Tour Review includes:
---
Here's my inside scoop on what to expect from the Fat Cat Catamaran Tour!
Tour Highlights
Roundtrip transportation (Riviera Maya)
Picnic lunch
4-hours of fun
Open bar
Great value for money
Snorkeling adventure
Pricing of the Fat Cat Catamaran
This particular Fat Cat tour that I went on was the 4-hour morning shared group tour, the pricing is as follows.
Adults = $110
Children (aged 3-11yrs) = $78
Save your spot and book online.
However, the Fat Cat Catamaran is also available for:
Private Tours (4 hours or 8 hours).
Private sunset tours  (2-hours)
Discuss your options with one of our expert Travel Specialists today!
Setting Sail From Puerto Aventuras
Ahhh Puerto Aventuras the little-known GEM of the Riviera Maya!
You've probably heard of Cancun,  Playa del Carmen, Tulum, and Akumal but the average traveler won't have stumbled across Puerto Aventuras.
Lucky enough for you this is where the Fat Cat Catamaran departs from, and the port here is extremely pretty.
If you are staying in the Riviera Maya the transport will pick you up from your hotel and take you to Fat Cat headquarters.
Here, you will meet with the rest of the group before hopping aboard the wonderfully looked after catamaran.
While you wait at the port take a minute to soak up the sights.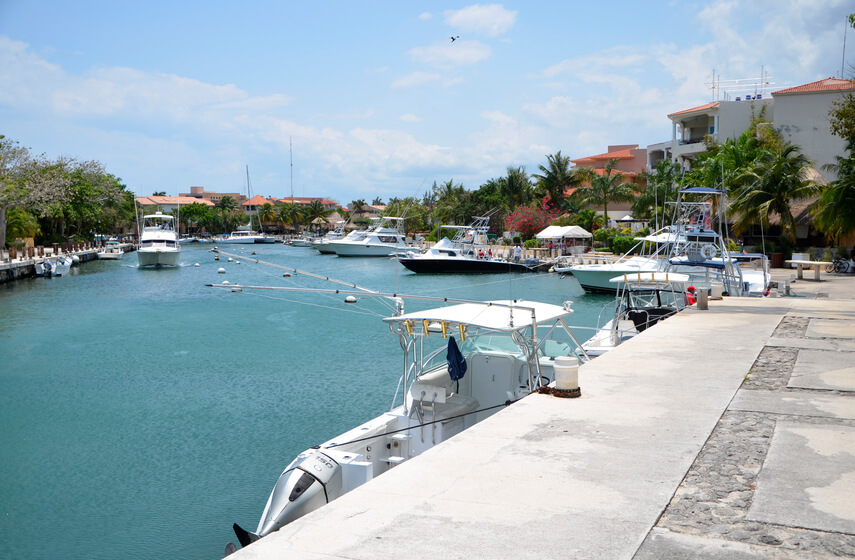 Puerto Aventuras is home to some very big and colorful fish, you will even see DOLPHINS, and of course lots of boats.
It's likely you will also meet some of the staff working for the Fat Cat Catamaran.
Arlene Heckledorn and her husband are the couple behind the magic, and some of the nicest people you will ever meet.
You can tell that they care deeply for their customer's waving you off just before you set sail.
The Crew & Catamaran
The Fat Cat crew are there to take care of you the moment you step foot on the boat.
They will welcome you on with a friendly helping hand, smile, and even a cold drink!
Winner!
You or your group will have your picture taken at the wheel of the catamaran available for you to take home when leaving the boat.
My first impressions of the catamaran were that I was surprised how much seating there was.
At the rear of the boat, there is plenty of seats and tables to sit down under shaded areas.
Towards the front, the catamaran opens up.
Enjoying the heat from the sun you can laze on the netting that almost touches the water or sit on the outer structures either side.
As we set sail the music began playing and I was excited for the adventure that was about to unfold.
For me, there is nothing more therapeutic than exploring the blue magic and wonder of the Caribbean ocean.
The Views
As we ventured further and further away from the coast to the first snorkeling area I was completely stunned by the views.
Puerto Aventuras is particularly beautiful because it is less built up than places such as Playa del Carmen.

At this point, the crew onboard were getting to know us on a first name basis filling up our drinks offering a range of beverages such as beer, rum punch, juice, and soda.
Obviously, I was making the most of the open bar, having a ball.
I was on my own on this particular tour and I would even go as far as recommending it for solo travelers as it is the perfect opportunity to meet new people over music, drink, beautiful scenery, and of course snorkeling.
I made at a real friendly bunch from New York who took me under the wing partying and dancing together.
It took around 45 minutes for us to reach the first snorkeling spot.
Snorkeling
On this tour you will stop off at two extremely beautiful snorkeling spots, what I loved about this is that both areas were VERY different.
It wasn't just like they were taking you to the same sort of place twice.
It's the best aquatic fun I've had in a while, and of all the snorkeling tours I've been lucky enough to go on this is the one where I saw the most colorful fish.
The crew will kit you out with all the equipment you could ever need, including a sterilized mouthpiece, and life jackets. Once you're in the water, it's time for some epic snorkeling.
Don't worry if you're a beginner the crew will assist you. For those less confident swimmers, there is even an inflatable ring for you to hold on to make it easy for the certified guide to pull you around the coral reef area.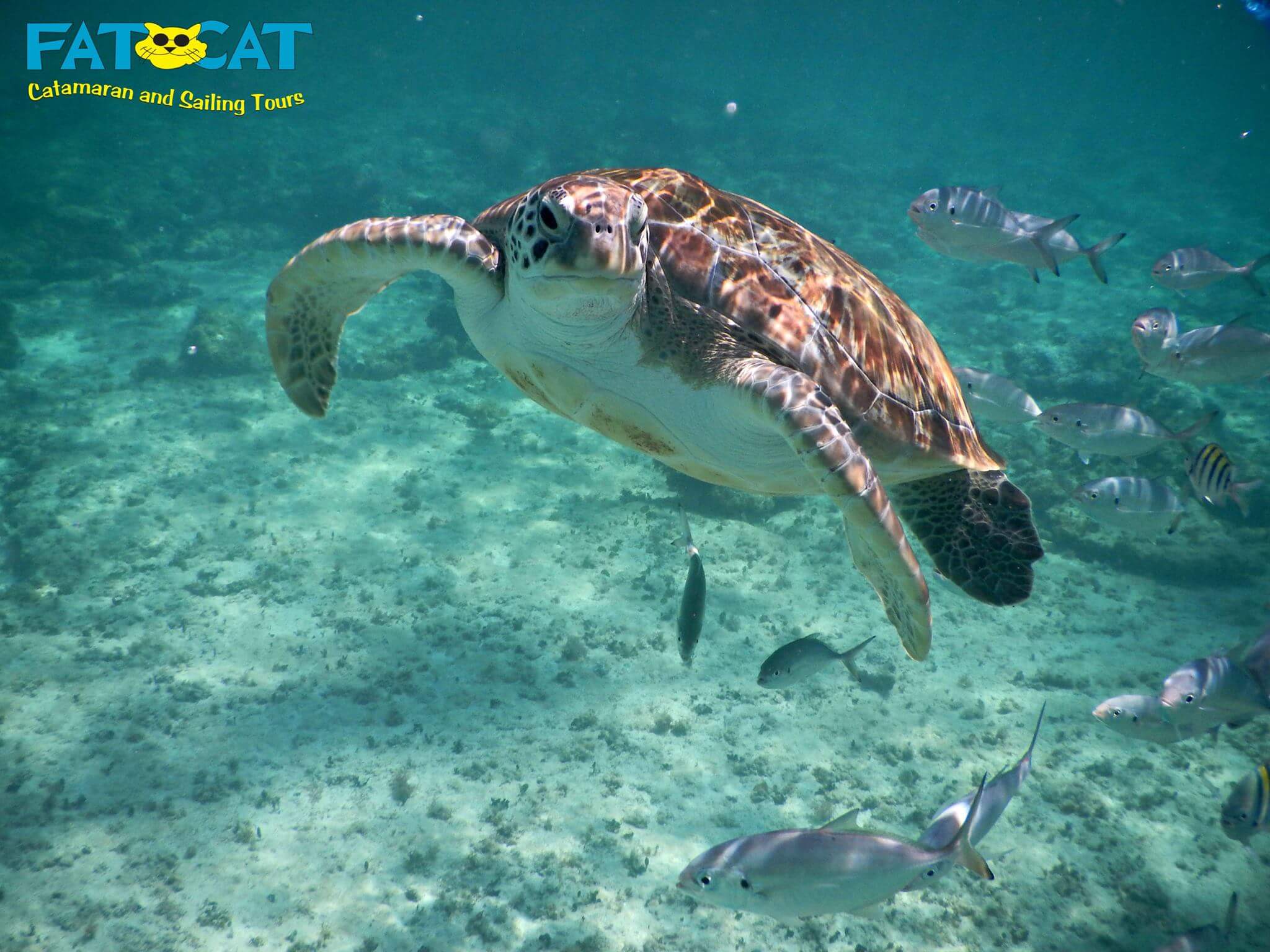 This protected area inside the coral reef is filled with all kinds of beautiful marine life. You will see lots of tropical fish, and nature-willing you may even have the chance to observe giant sea turtles in the wild.
A memory that I will treasure forever.
If you have an underwater camera available I highly suggest you bring it on this tour with you.
On the topic of snorkeling, I will just mention the second area that you visit on the way back to land.
South Bay as it's known is a protected swim area where you will be able to enjoy the warm sea water and the cooler cenote water that jets through the sandy floor.
Here you can soak up some final rays.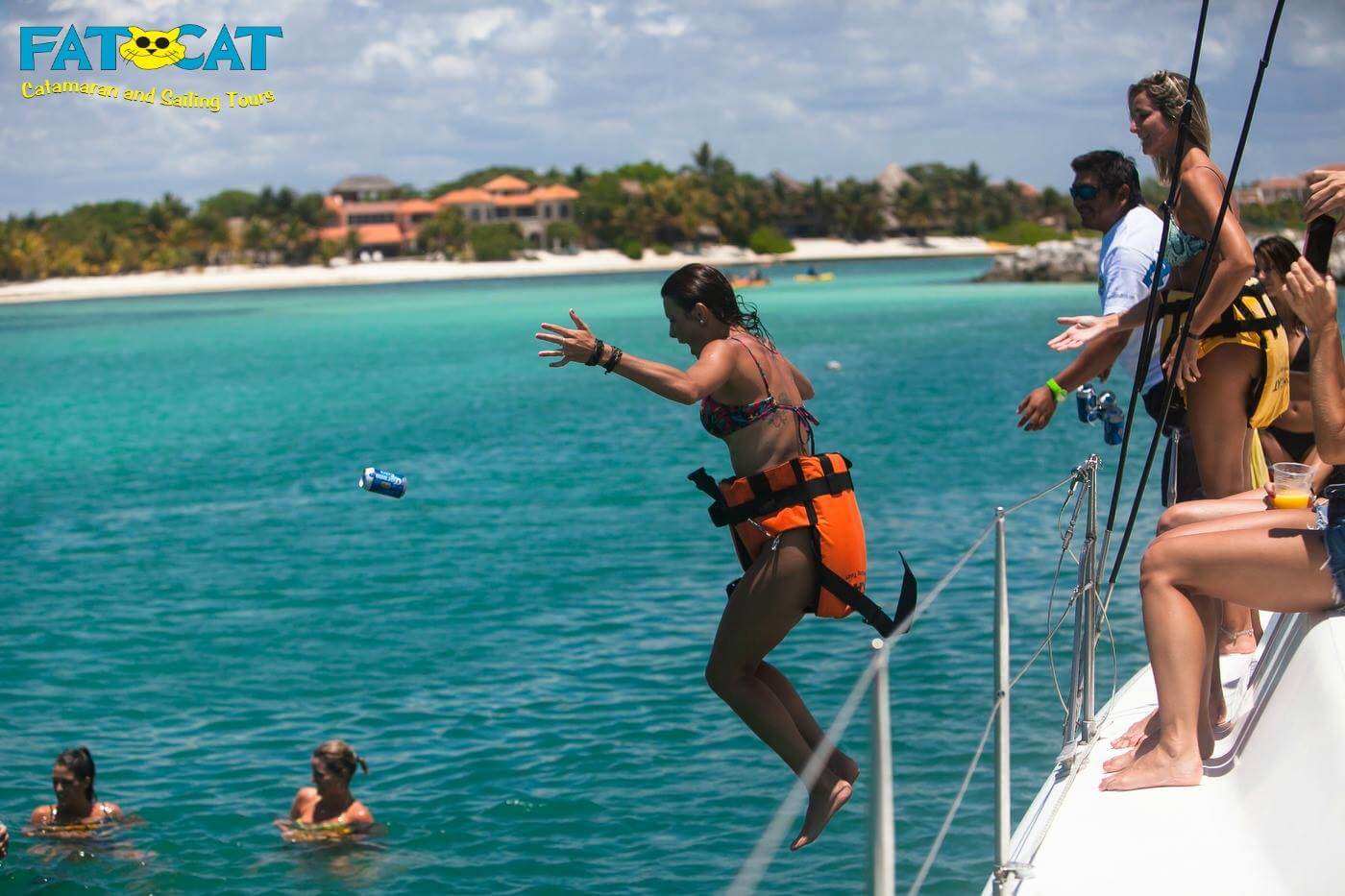 You can even jump in off the boat or simply float and enjoy the scenery as you talk to your new friends.
TOP TIP: Flip you life jacket upside down and put your legs where the arms would go, and buckle it around your waist. This is what they call the Fat Cat Diaper. Bob along the water effortlessly, enjoying the sunshine and a drink.
Lunch Onboard The Catamaran
This 4-hour tour does include a picnic lunch and an open bar.
The open bar offers up Corona brand beers, Coca-Cola brand soft drinks, rum, vodka, or their famously strong but delicious rum punch. You can also opt for tropical juices or filtered water.
Trust me, the captain and his sailing attendants won't ever leave you with an empty glass.
This is the time to make friends, listen to some good music, dance, and soak up the rays on deck.
At the front of the catamaran, there are actually nets where you can lay down and feel the spray of the ocean.
For those of you who prefer the shade, there are plenty of areas to sit under the roof, where you can enjoy the cool breeze and marvel at the stunning coastline.
After you've stopped off for a swim, you will have definitely worked up an appetite.
Swimming always makes me hungry.
The crew will provide you with a tasty picnic lunch consisting of, sandwich, chips and something sweet. It's not 5* food but it's enough to fill the hole until you return back to your hotel later that day.
TOP TIP: Bring extra snacks if you think you might still get hungry.
Things To Bring With You…
Like most tours, you have to bring the extras with you to get the most from the experience.
Extra money for gratuities and souvenirs
Biodegradable sunscreen
Bug spray
A hat
Swimsuit
Your own snorkeling gear if you prefer
Sunglasses
Towel
Change of clothes
Please note that the biodegradable sunscreen is very important as chemicals in regular sunscreen can be extremely damaging to the marine life and coral reef systems causing them to bleach and die.
Is The Fat Cat Catamaran Adults Only?
No, this tour is family-friendly.  However, if you wanted a tour that was just adults-only,  this can be requested as a private tour if you let us know when you make your booking.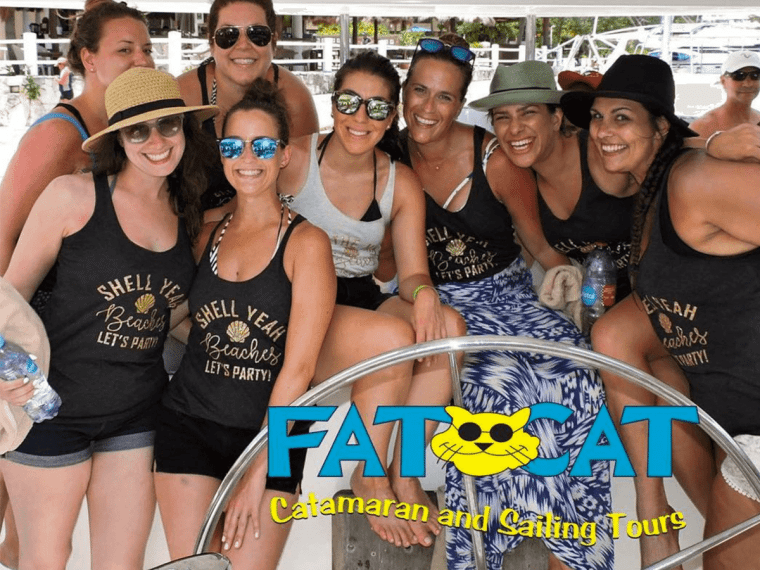 We understand that when wanting to party it's not always ideal with children around.
Who Would Enjoy This Tour?
This is the perfect tour for large families, a group of friends, or bachelor (ette) parties.
However, it can be thoroughly enjoyed by singles and couples too! I went on this excursion on my own and I made so many friends, we even continued the party in Playa del Carmen once the tour had come to an end.
It's the ultimate blend of fun, relaxation, and adventure!
Summary of what you can expect:
You'll sail the incredible Caribbean coastline whilst marveling at the spectacular view.
Snorkel the crystal clear water, and make friends with the local marine life (snorkeling gear is provided).
Enjoy the open bar and food.
The slogan of the Fat Cat Catamaran is that "you can't have too much fun", which if you ask me, pretty much sums up the entire tour.
If you're looking for the best quality/value for money catamaran tour, then you've found it.
The catamarans are available for either a 4-hour morning or afternoon tour and they set sail from Puerto Aventuras (round-trip transportation is included in the price).
Subscribe To Us On YouTube
Additional Resources You May Find Useful
Interested In Booking?
Hopefully, you enjoyed my review of the Fat Cat Catamaran!
If you're interested, you can book the Fat Cat Catamaran here.
If you prefer to speak to someone over the phone, then be sure to call us, PlayaDelCarmen.com, on our toll-free number 888-537-9797
Alternatively, you can email us at customercare@playadelcarmen.com, we would be happy to assist you.
---
Trending Now