My Honest Review of the Valentin Imperial Riviera Maya in Playa del Carmen (2023)
---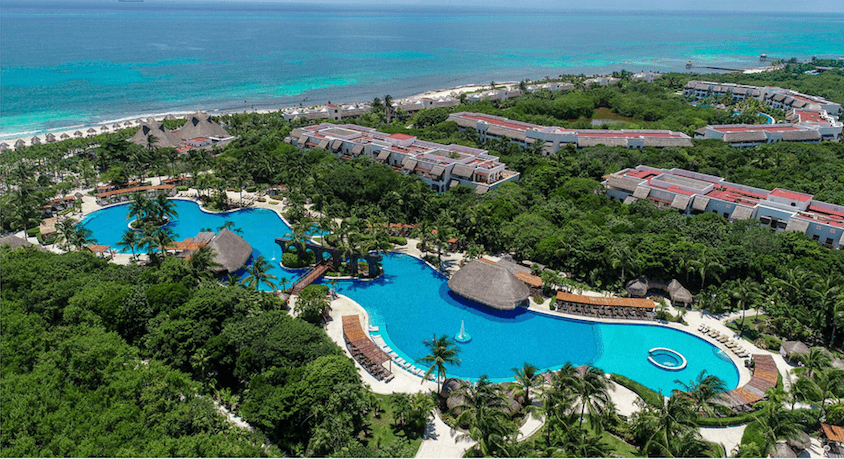 We were recently lucky enough to enjoy a little retreat to The Valentin Imperial Riviera Maya in Playa del Carmen!
(hard life we know, right)
After some well-deserved rest and rejuvenation, it's time to share our experience with you.
Straight off the bat,  if you value a resort's pool as much as it's location and service then look no further!
This adults-only, all-inclusive haven has been voted to have one of the most breathtaking pools in the Rivera Maya.
That's not all…
Our Valentin Imperial Riviera Maya Review includes information on: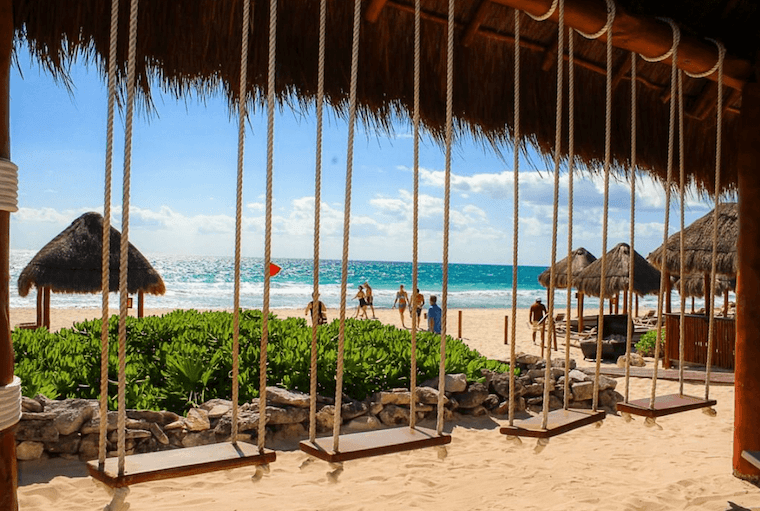 ---
Location
This 5* all-inclusive is perched neatly across Playa del Secreto's 1 kilometer of chalky white sands. 
Sun-drenched and bathed by the turquoise blue of the Caribbean ocean.

From Cancun international airport the drive to Valentin Imperial Riviera Maya is only around 25 minutes.
If you need help arranging a transfer, we're your team!
Call or email us today and we will give you a quote and get you all booked in.
A stay here feels secluded and tropical but in reality, you are just 20 minutes away from downtown Playa del Carmen and the hustle and bustle of 5th Avenue (if you wanted to explore the wonders of that 5-mile pedestrian-only walkway).
This hotel puts you in a prime position to enjoy all of the region's top attractions including Mayan Ruins, Selvatica, Xcaret, and more.
You can feel even better about your stay knowing that the Valentin Imperial Riviera Maya is committed to preserving the environment by reducing the consumption of natural resources.
Whooosh!
Rooms
It's all about comfort on vacation, and this resort takes the definition of paradise to another level.
Suites are spacious and stylish, possessing a somewhat colorful colonial vibe. 
It's almost like traveling back in time, yet things feel new and well looked after.
Rooms here serve as a home away from home…all of which face the tropical jungle, pool, or Caribbean.
Rooms Include
concierge service
24-hour room service
satellite TV
a pillow menu
free WiFi
private terrace or balcony
air conditioning and ceiling fan
mini bar
in-room safe
bathrobes and slippers
iPod docking station
Upgrade to the Valentin Privilege Package and receive additional amenities including a tailored bar, reserved Bali beds, daily newspaper delivery and access to the Privilege Lounge.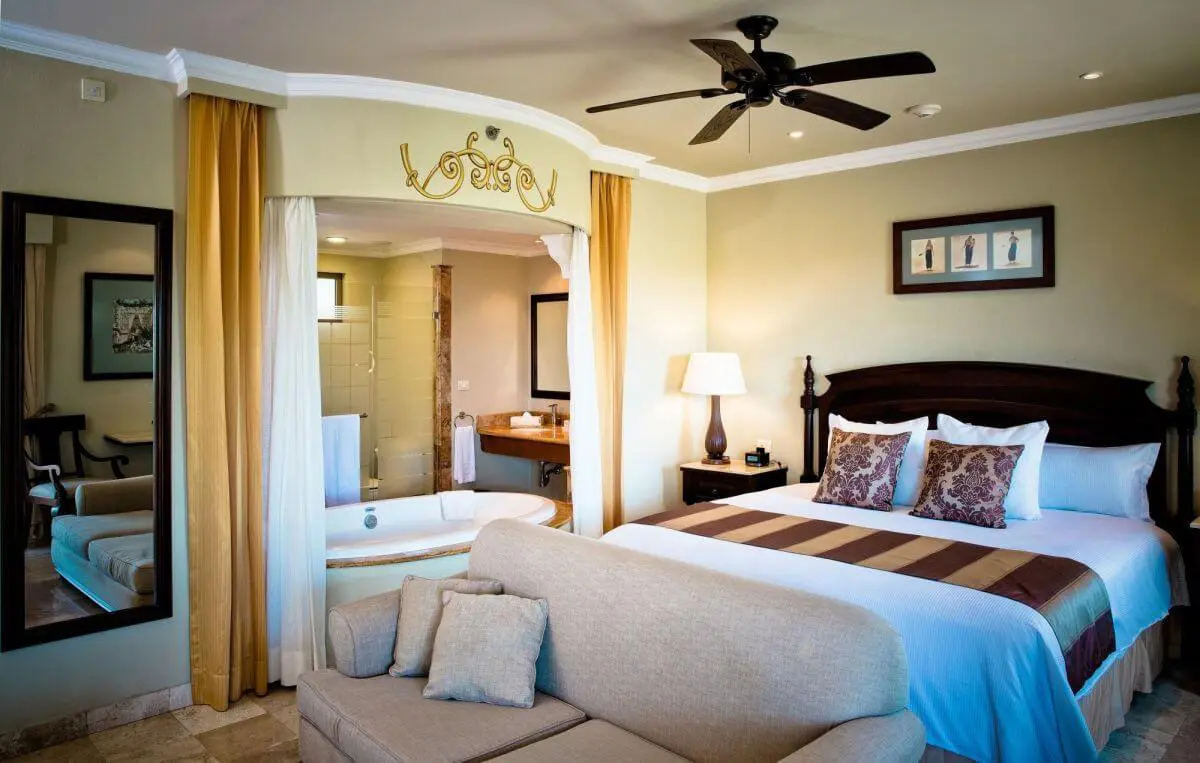 There are also several adapted rooms for people with disabilities,  just inquire with one of our expert Travel Advisors today for more information.
Room categories:
Deluxe junior suites
Emerald junior suites
Silver junior suites
Golden junior suites
Golden superior junior suites
Golden swim-up junior suites
Diamond suites (include Privilege Package)
Imperial privilege suites (include Privilege Package)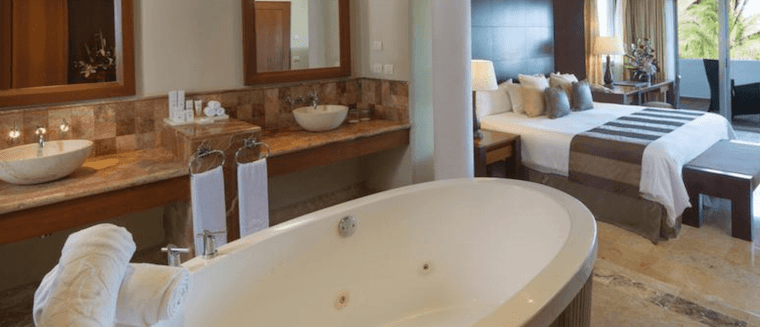 Yes, we understand that with so many options it can get a little confusing. Our travel specialists know this hotel inside out and will make sure you pick the right one for you and your needs.
Amenities in the rooms include things like: 
24-hour room service
Turndown service
Minibar restocked daily
Jacuzzi for 2 persons (Deluxe junior suites has jetted tub for 1)
Large balcony with table and chairs
Full marble bathroom
Pillow menu
Bathrobe and slippers
Hairdryer
Bathroom telephone
Alarm radio and iPod docking station
Safe Box – Laptop Size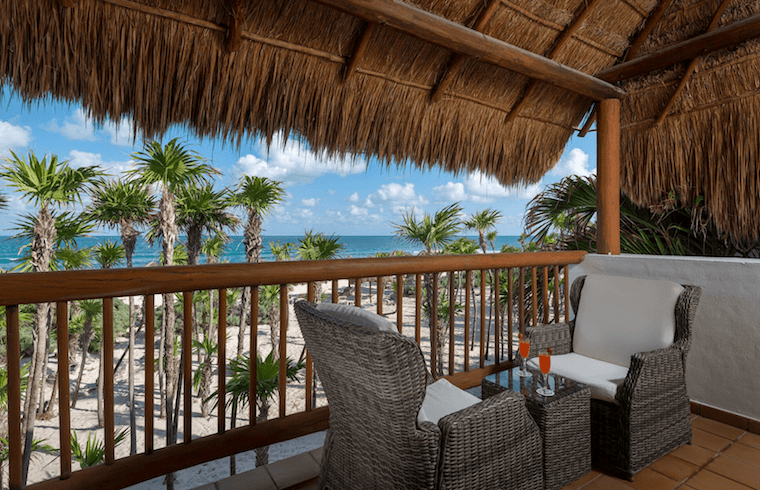 Beach
Turquoise beaches are often one of the biggest draws when it comes to vacationing in paradise.
So it's no doubt you're probably wondering what the beach looks like at this hotel, right?
If you enjoy long strolls along the sands with your loved one this is definitely the beach to do that. You can walk for miles!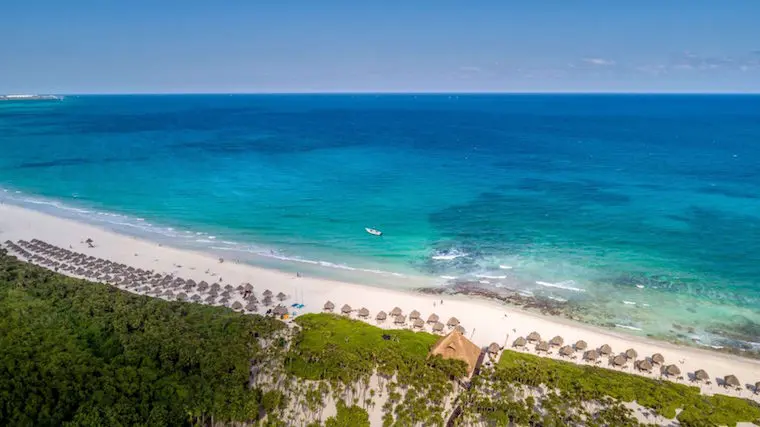 This particular stretch of beach boasts fine sands and swimmable waters. 
If you enter the beach area from the beach bar the only 'rocky' area you will find is on the right.
This is actually just coral reef and if you enjoy snorkeling I would highly recommend borrowing snorkeling equipment from the pool area and checking it out, it's super fun.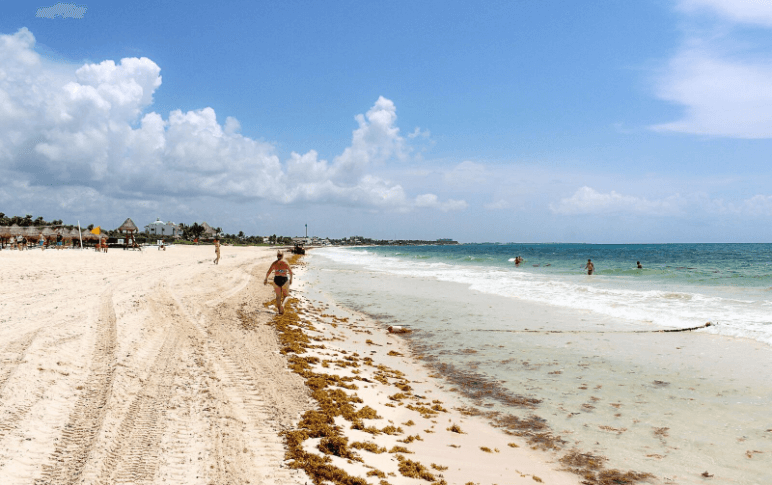 In recent months (June 2019) Cancun and the Riviera Maya have been affected by seaweed.
When we visited as you can see in the picture above there was a little seaweed on the beach but not enough to ruin the experience, it was still very pleasant and we probably spent most of our time here.
It was glorious.
To help you predict when and what is happening with seaweed before you get here, read our 2 most helpful posts on the subject here: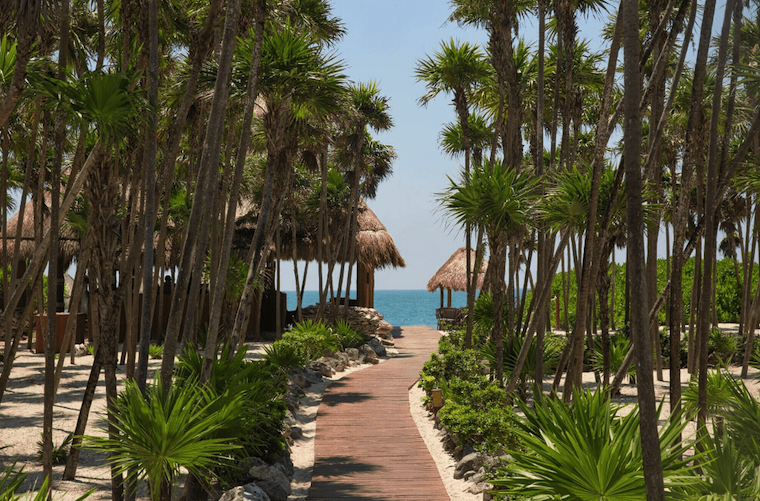 When it comes to seaweed, some hotels fair better than others. We can help you choose the best resorts to avoid seaweed at the current time.
Pool
As I mentioned in my intro this hotel has one of the most famed poolside/beachside resort areas in all of Mexico! It's huge.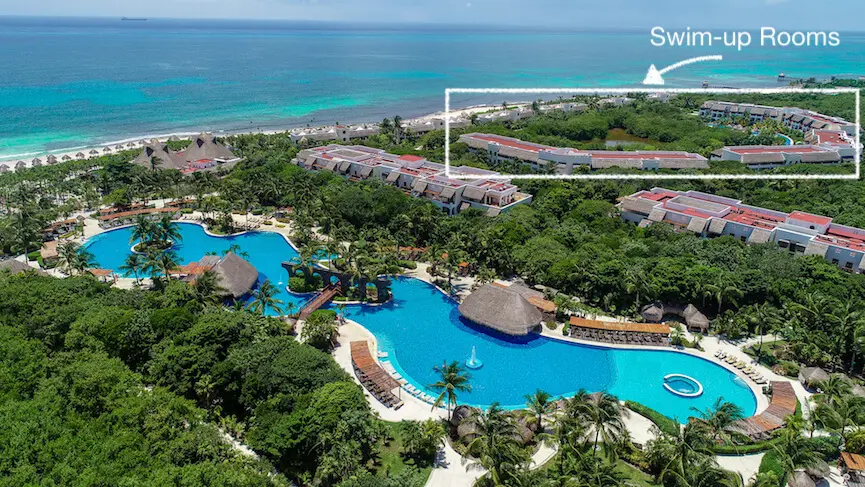 You have 2 main pool areas.
Main Pool (lively)
Swim-up room pool (quiet)
Yes, the most popular seats were usually occupied by mid-morning in the Main pool but I spend most/all of my time actually in the pool and swim-up bars 😉
Swim-Up Room
I was fortunate enough to stay in a swim-up room.
What are swim-up rooms you ask?
Swim-up or swim-up rooms, whichever you choose to call it, are rooms that open up to the pool. You simply open the sliding doors or your room, walk a few steps and there is the pool. See the image below.
It was my first experience in a swim-up/out room… but it won't be my last.
Being able to walk out of my room in the early morning and just sneak in for a dip was an absolute pleasure.
Need more sunscreen? Forgot your hat? It was just a swim away!
I didn't have any difficulty finding an open chair in this secluded area either. The Swim-up pool is a completely separate pool from the Main pool so there is a level of seclusion which I enjoyed.
The swim-up pool was heavenly.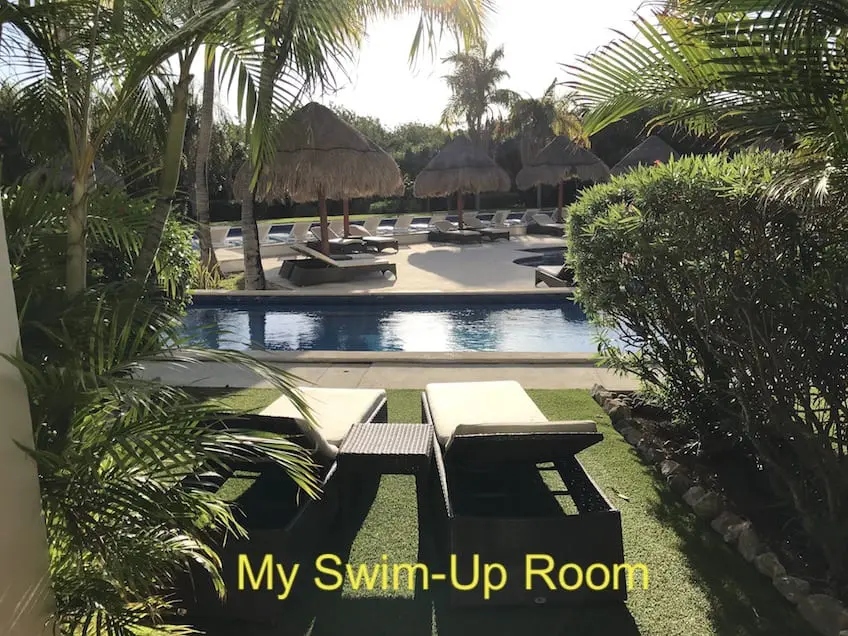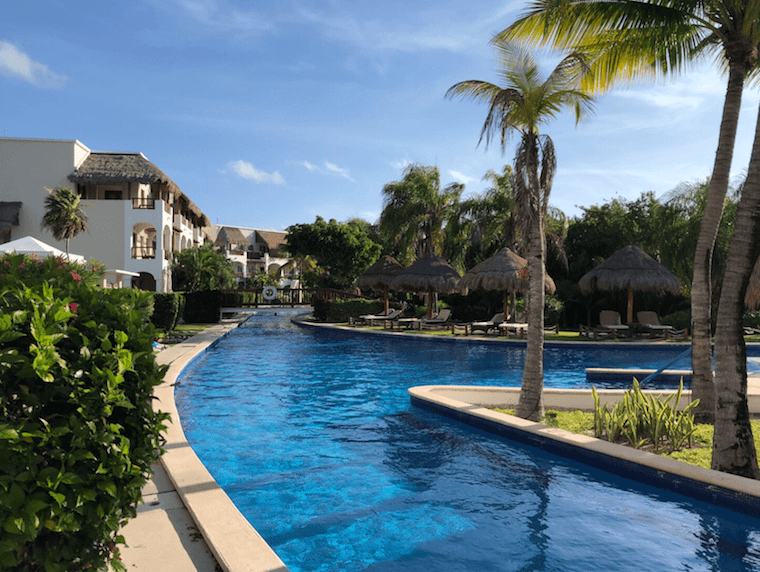 Aside from the large Main swimming pool, there are 2 jacuzzis and 2 pool bars. 
The resort even has the occasional foam party!
You definitely don't want to miss those. They are a lot of fun in the sun.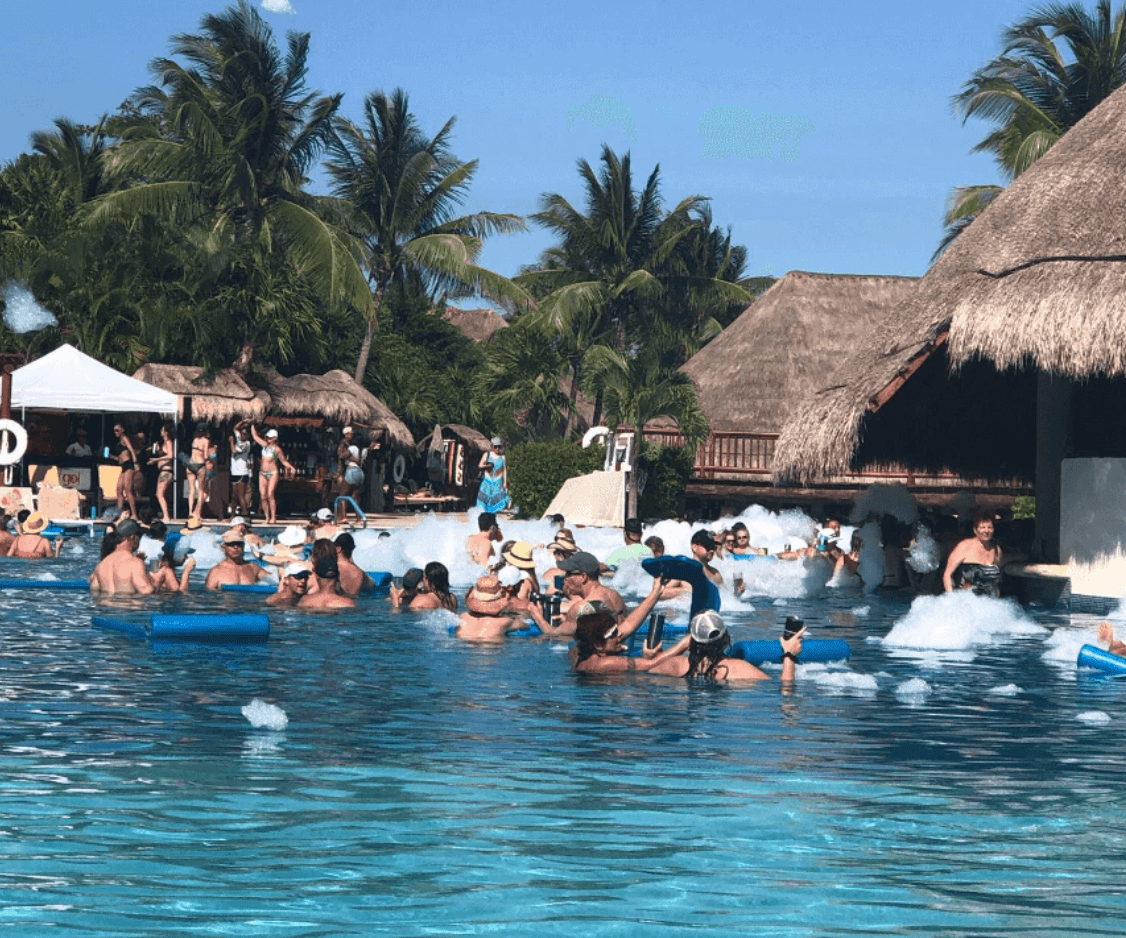 If you do upgrade to be a Privilege Member you are able to reserve cabanas near the pool as well as the beach.
The property is so large you will need at least 4/5 days to see everything. There is a garden where herbs are grown, a tennis court, a hidden beach area (less crowded), and fountains.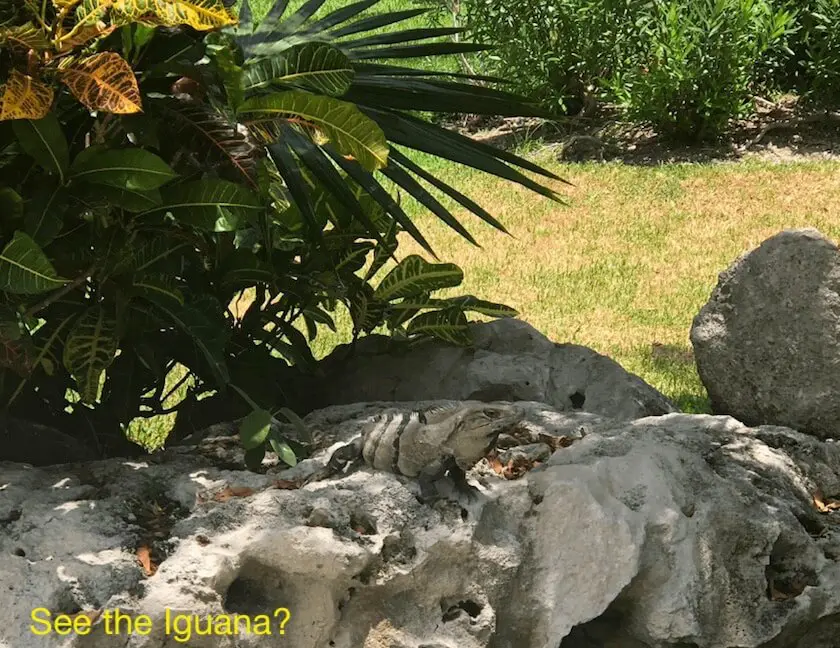 Have fun roaming around, keep your eyes peeled for the wildlife too. 😉 Check out this Iguana!
Food & Drink
In my opinion, the food at Valentin is ABSOLUTELY at a 5-star level.
Not all 5-star resorts are created equal, especially when it comes to food.
Foodies will never want to leave the Valentin Imperial Riviera Maya, I certainly didn't.
Here is a breakdown of restaurant options available at the resort.
Taman Sari
Love Asian cuisines? Savor the flavors of Thailand, Vietnam, India, Indonesia and more at this exquisite restaurant.
The restaurant bar offers a variety of original exotic drinks that vary slightly depending on the season.
Open from 6.00 p.m. to 10.30. p.m.
Dress Code: Night Casual-Elegant. Closed-toe shoes.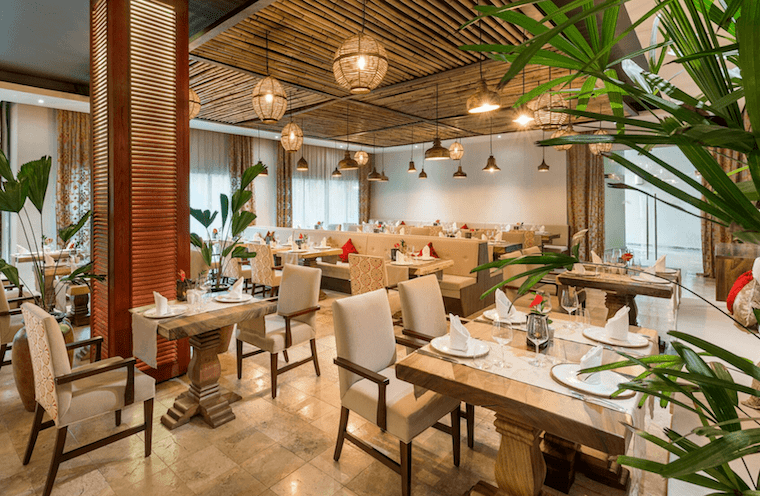 La Hacienda
A modernized interpretation of three Mexican specialties from the states, Veracruz, Puebla, and Yucatan, The hotel's chefs have removed the extreme spice to suit all palates.
Open from 6.00 to 10.30. p.m.
Dress Code: Night Casual-Elegant. Closed-toe shoes.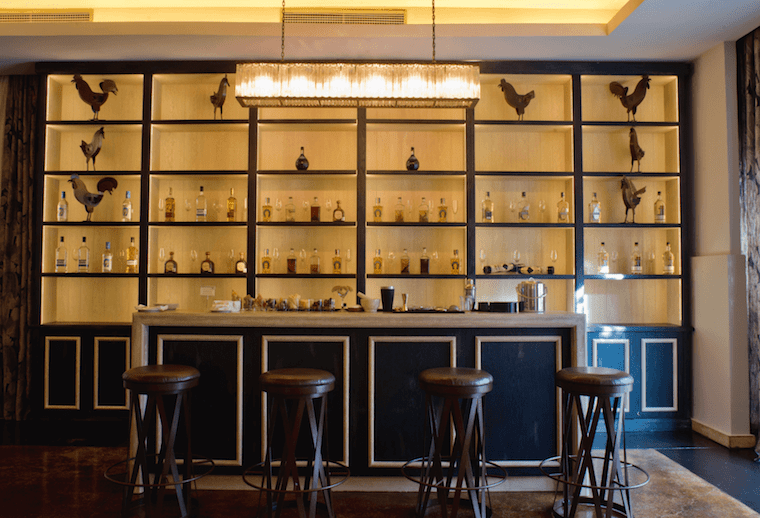 Ginger
Feel like being fancy for the evening? Head on over to this Japanese Restaraunt and tantalize your taste buds. Choose from an array of a la carte dishes, tables of Teppanyaki (reservation required), or a sushi bar.
Open from 6.00 p.m. to 10.30. p.m. Casual Dress Code: Night Elegant
You've GOT to try the Hibachi grill,  it's unreal!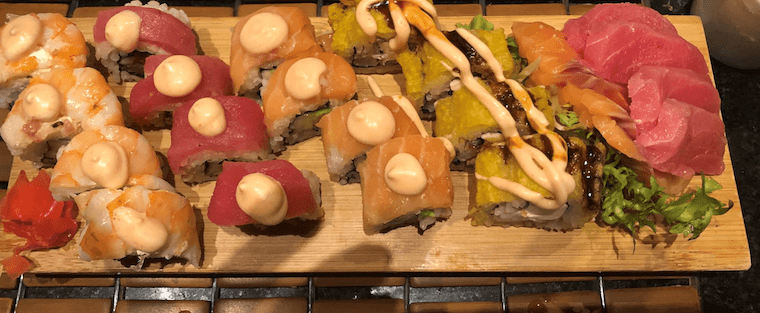 L'Alsace
Traditional French cuisines coupled with some of the best wines in the world. What's not to love about that?
Open from 6.00 p.m. to 10.30. p.m. Dress Code: Night Elegant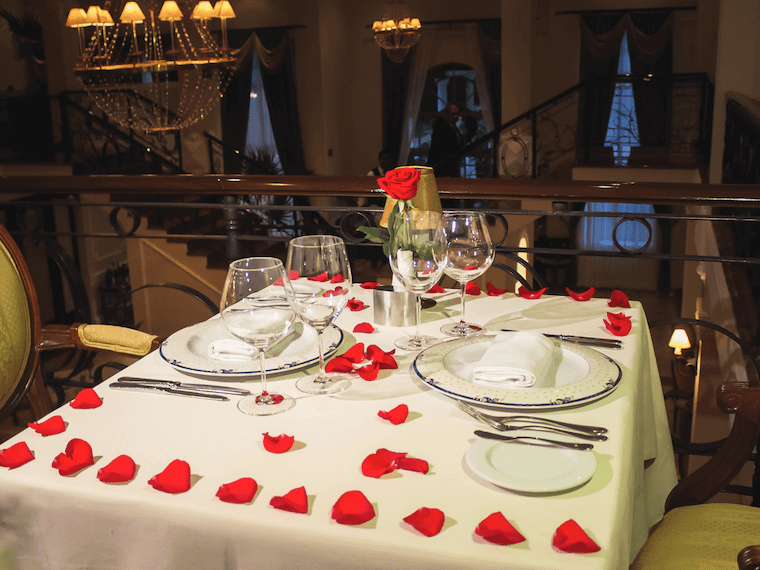 L'Olivo
Ahh, one of my all-time favorites…The Italian restaurant, L'Olivo!
You can't beat the comfort food of Italia after a long day experiencing some of the region's best tours.
Open from 6.00 p.m. to 10.30. p.m
Dress Code: Night Casual-Elegant. Closed-toe shoes.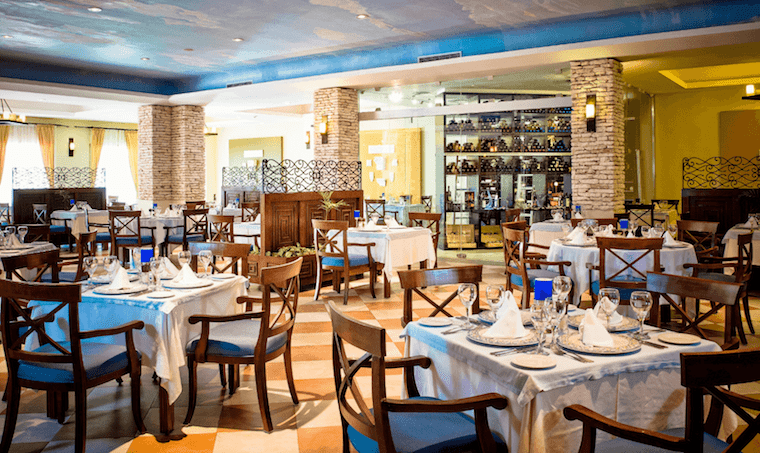 Le Marché
This is the best place for breakfast hands down!
Open between 7.00 am – 11.00 am you can choose from a wide range of cold and hot dishes.
Fresh eggs are prepared on request and accompanied with the most natural juices, fresh danishes, made-to-order crepes, selection of bread, meats, and refreshing fruits.
Lunch in this restaurant is also a pleasure with a wide variety of salads, fresh vegetables, and several 'show cooking' stations to taste that dish that you fancy.
With the opening times of 1.00 p.m. At 4:00 p.m, a-la-carte lunch from 4:00 p.m to 6:00 p.m.
Dress Code: Casual for breakfast and lunch.
I should note that if you are vegetarian, you probably know that hotels usually miss the mark on meat-free dishes. Not here. There were plenty of options at all the restaurants which were surprisingly delicious.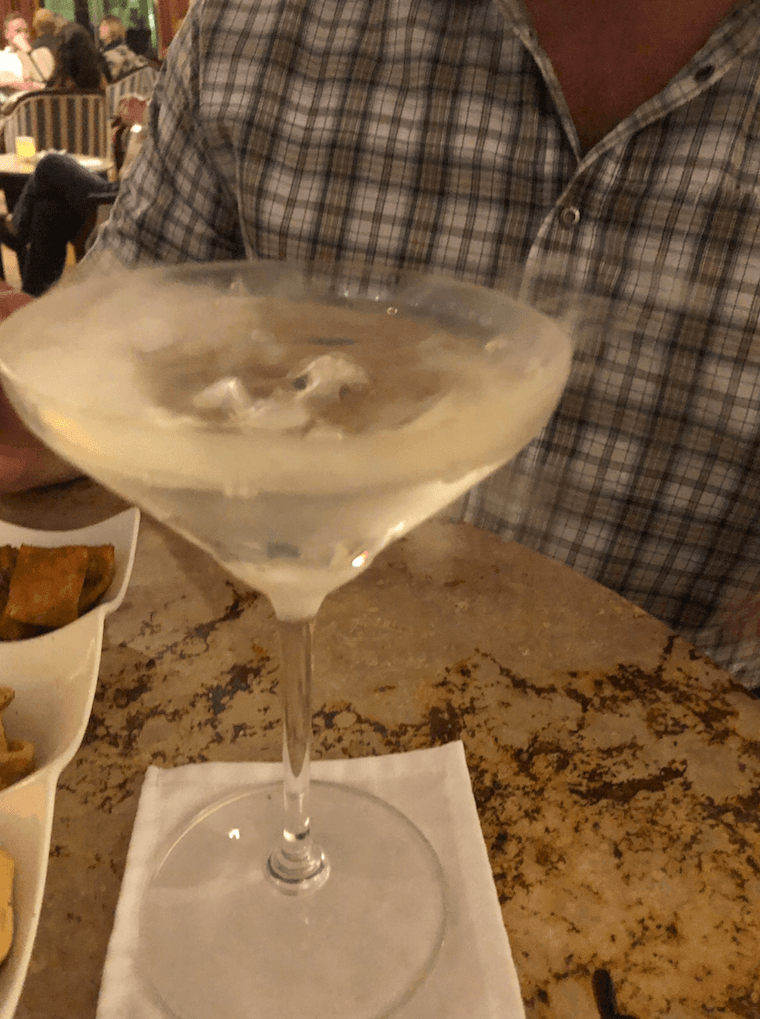 Definitely, take advantage of the 24-hour room service.
Keep in mind that the food takes roughly 45 mins to arrive which can be agonizing when you've had a few and really want to chow down on a quesadilla 😉
With that said, delivery is courteous, food was hot and tasty!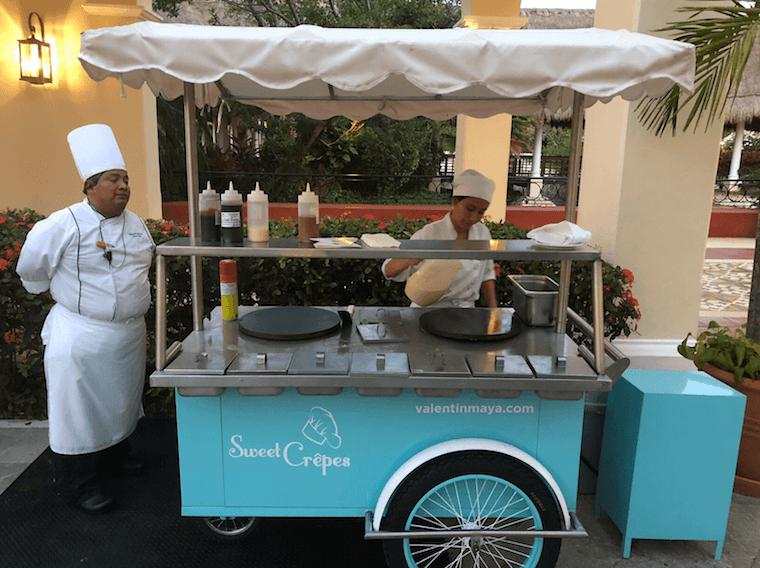 Gym & Spa
Nothing is more relaxing than a spa session during your dream vacation.
Cleanse the soul, spirit, and mind. Return home fresh, ready and vibrant!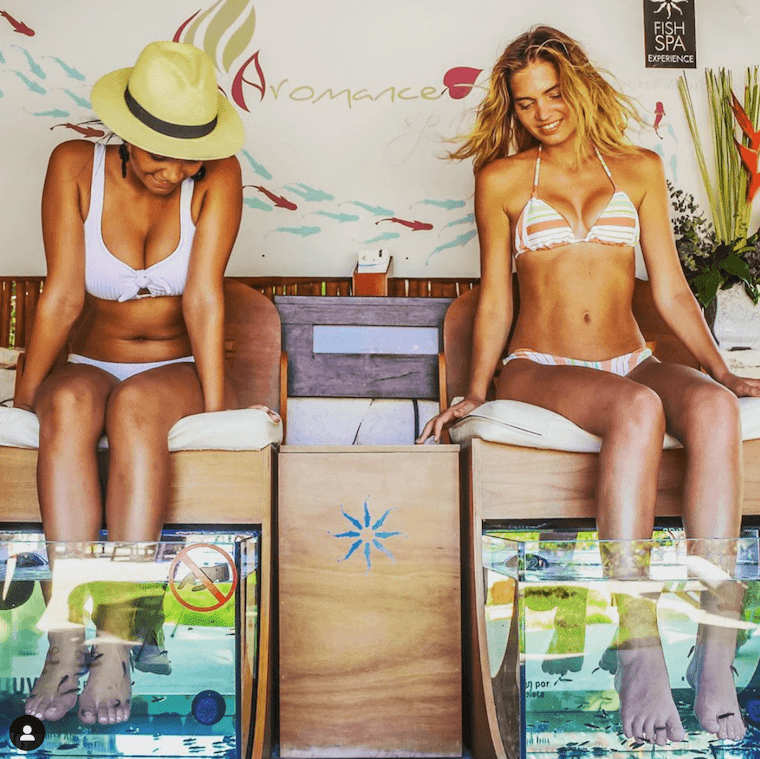 Why not indulge in a massage to recover your mental and physical balance next to the Mexican Caribbean?
Available massages include Asian to Occidental techniques, manipulation of tissues to improve health and well-being by relaxing muscles, relieving tension and improving circulation, and more.
Other Spa facilities and treatments include…
Hair design
Makeup
Nail treatments
Waxing services.
Aromatherapy
Reflexology
Pregnancy Massage 50min
Fish Spa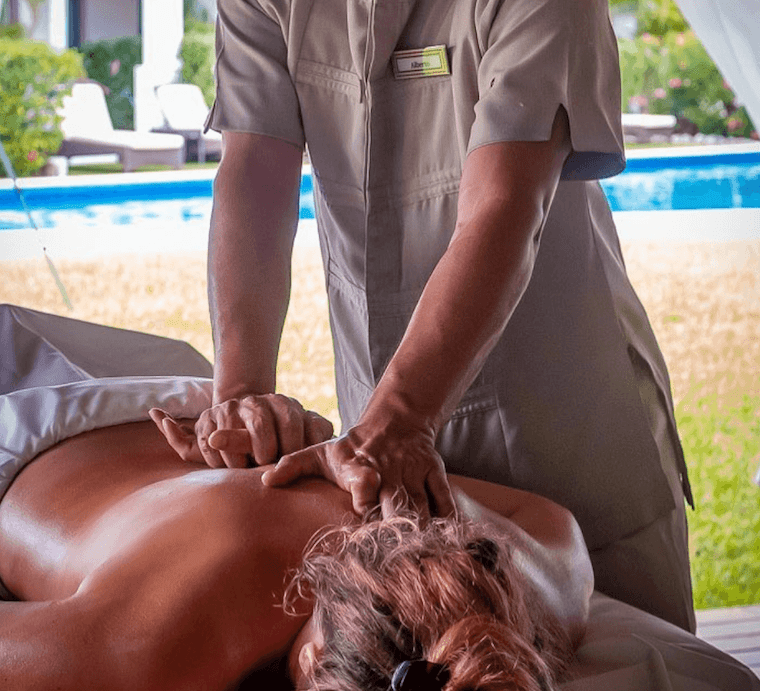 Gym 
The fitness center provides cardio-conditioning and exercise equipment, including treadmills, spinning bicycles, free weights and several classes of yoga & pilates.
Open daily from 5.00 am to 11.00 pm.
Activities & Nightlife
It's never a dull day or night for that matter at the Valentin Imperial Riviera Maya resort.
Dance, laugh, play, swim, and relax to your heart's content.
The swimming pools, white sand beach, live entertainment, themed parties are more than enough to keep you entertained.
Sporting activities available include aquaforce, pool spinning, water polo, aquatic volleyball, aqua Zumba, beach volleyball, beach soccer, yoga, Pilates, bike ride, rifle shooting, aqua aerobics, darts, petanque, basketball in the pool, pool tournament, table tennis, and more.
Not to mention:
Latin dance classes
Basketball court Paddle court
Parties in our pool with live Dj, shows, and games
Enjoy Mexican with Mariachi and traditional dances, Elegance, Michael Jackson, Fire Show, Burlesque, Magic, Latin.
Tequila and wine tastings are included 2x per week and given by sommeliers. (Wine tasting at an additional cost and with a minimum of guests required)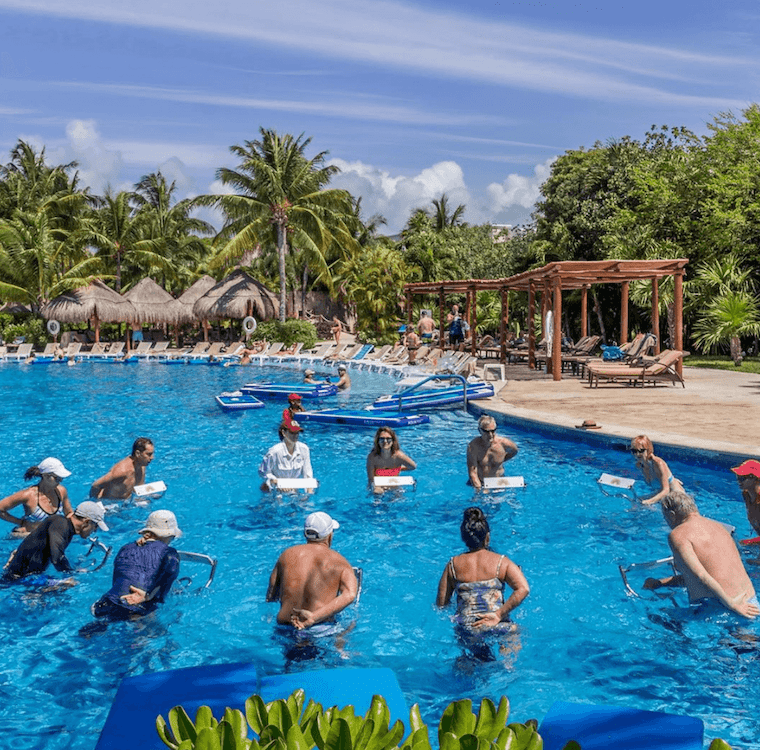 There is also no shortage of places to have a drink.
Beach Bar, Cigar bar sports bar with pool tables
Martini Bar with craft drinks and a piano player (Lobby Bar Don Miguel)
and an outdoor bar in the 'square' where the nightly entertainment played
This is not including the 5 bars
2 swim-up bars at the Main pool (close at 6)
1 at the Golden pool(close at 6)
2 beach bars
There were so many drink options, nothing was ever very crowded. PS, get an espresso martini in the Lobby Bar Don Miguel. You won't regret it.
Weddings
Destination weddings are surging in popularity and it's no surprise with the average wedding costing between $5000 to $7000 as opposed to the $35K average spend in the USA.
At this hotel, you can choose from an array of stunning locations including:
Garden location
Indoor chapel
Outdoor gazebo
On the beach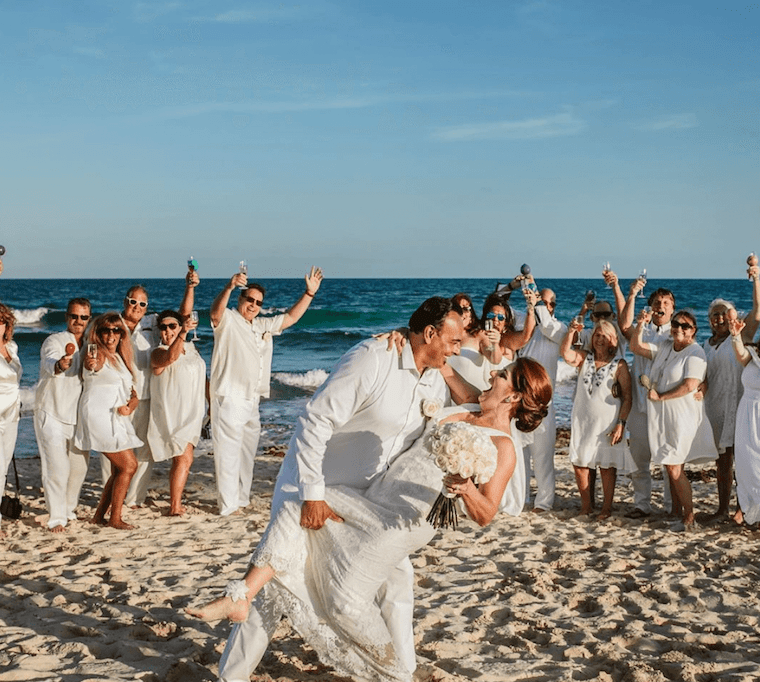 Are you considering a destination wedding at the Valentin? Our wedding specialists can help you get organized.
Or
Email the team at weddings@playadelcarmen.com
Want The Best Rates At This Hotel?
Need a vacation? Our expert travel consultants have visited this hotel and will get you the best rate! Give us a call, +1 888-537-9797
Or
Contact us via email at customercare@playadelcarmen.com
We will ensure you get the best price, perks, and discounts. 
Paradise awaits…
Have you stayed at this hotel before? Don't forget to leave your thoughts in the comments section, we would love to hear from you.
Valentine Imperial Riviera Maya Review Playa del Carmen
Location

Rooms

Beach

Pool

Food & Drink

Gym & Spa

Activities & Nightlife

Weddings
Summary
Our stay was relaxing and rejuvenating!  The Valentin boasts outstanding service and a pool unrivaled by any other. The staff were attentive, there was an array of food options. This is definitely an adults-only haven we would definitely recommend. This hotel puts you in a prime location to explore all the very best the Riviera Maya has to offer.
---
Trending Now
You may also like