10 Things to Do in Playa del Carmen Under $10.00!!!
---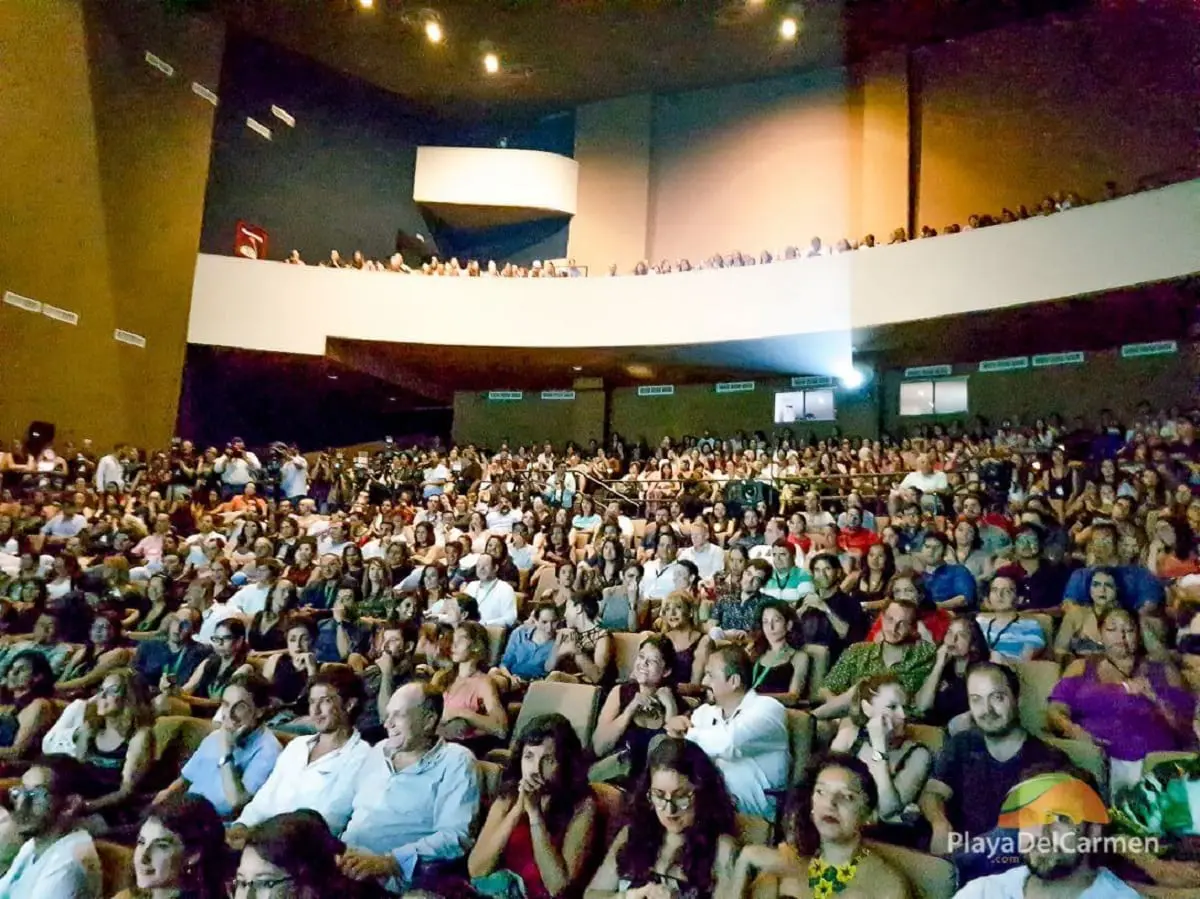 You like to have fun, right?
Especially if you can have fun and spend very little money! Whoosh.
It just feels good!
For a brief and all too infrequent moment, we can escape the vacuum of capitalist society to just smile and enjoy ourselves without it costing us an arm and a leg.
Here are 10 tips on how to ball on a budget during your next stay in Playa.
Things to Do in Playa del Carmen Under $10 USD
I am not going to put these in any particular order.
It's all good when your happiness doesn't count against your paycheck.
Plus, maybe one day you're in the mood for one thing, and something completely different the next.
We humans are fickle beings.
#1 Cine Club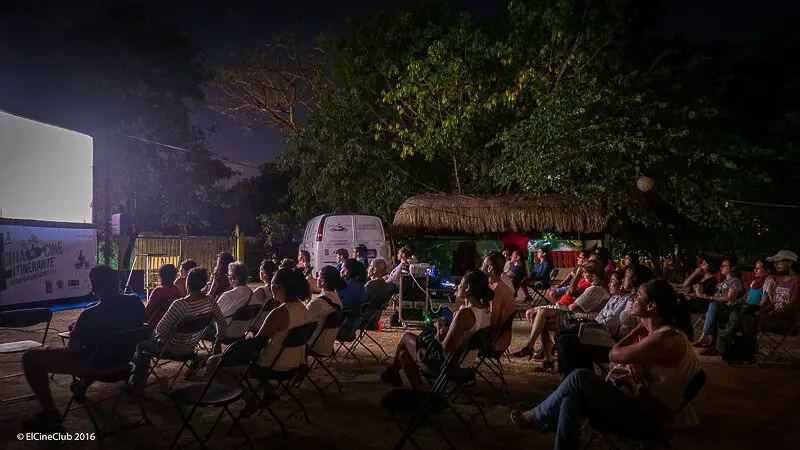 These people deserve a prize.
For over 5 years they have brought quality cinema to an ever-growing public.
Free of charge.
And no, these aren't your Hollywood blockbusters where large ships run into icebergs or a group of hyped up and coked out steroid freaks drive around in really fast and fancy cars.
No, señor.
At Cine Club you'll find quality flicks from around the world two to three times a week under the flickering night sky.
Did I say it's all free?
Unless, of course you want to enjoy a beer with that cinophile strut you took with you on vacation.
Where: Locations vary but include Blue Parrot, La Ceiba Park (see below), Thompson Beach House, La Culpa, and El Pueblito at Mayakoba
When: Generally every Wednesday, Friday, and Sunday evening
Find Out More: El Cine Club
Cost: Whatever drinks and snacks you want to accompany that great movie; donations are also welcome
---
#2 Gaze at the Stars at the Planetarium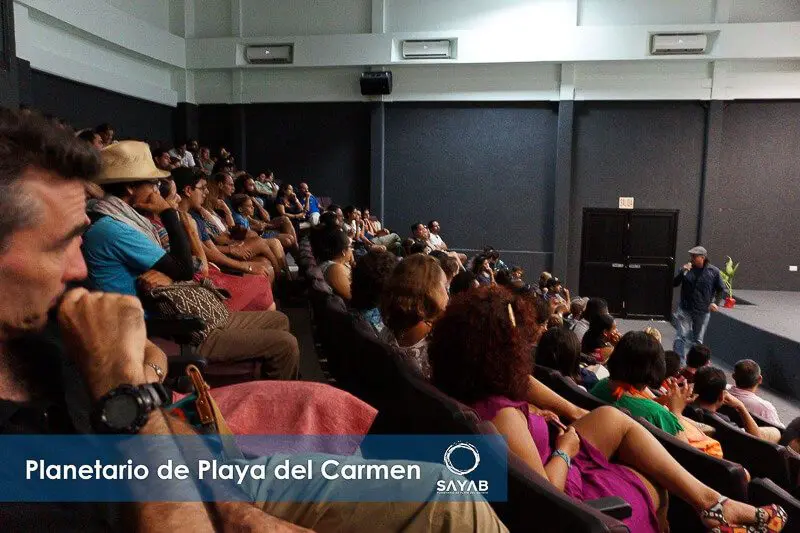 One of the latest attractions to built in Playa del Carmen has been a well-kept secret by locals.
Yes, we have something tourists don't.
However, sharing knowledge helps us all to grow, and Playa del Carmen's planetarium, called Sayab (vein of unending water in Mayan) does exactly that.
With a series of exhibitions, conferences, workshops, presentations, and observatory, Sayab allows us to come into contact and explore our terrestrial and celestial worlds.
Plus, it's all in Spanish so you can challenge your senses in a highly stimulating and forward-thinking environment.
Where: Av. Central entre Av. 115 norte y Av. 125 norte
When: Open Tuesday through Saturday from 11:00 a.m. – 7:00 p.m. (later for some events)
Find Out More: Sayab Planetarium
Cost: Varies per event; general admission is just $40 pesos (currently $2 USD, ouch!)
---
#3 Observe ancient Mexican traditions with an oceanview
Parque Fundadores (Founders' Park) is a photogenic social space in Playa del Carmen located just north of the ferry terminal that takes you to Cozumel Island.
It's a great place to just hang out for a while and observe the many different people and activities going on around you.
On the one hand, you'll find the Voladores de Papantla (Papantla Flyers), a group of colorfully dressed acrobats who sit on top of a pole high above us mortals performing a ritual before slowing swinging their way back down to earth head first all while playing a song on their flutes.
Likewise, you can also find a group of dancers who put on fancy costumes of indigenous (folk)lore and perform a series of conch-shaking dances while the sweet smells of copal incense drift out into the crowd.
Finally, at night you're likely to find groups of roving clowns (no, not the evil ones) out to make their money with often times less than savory jokes. Just don't get in the front row, you just might become a prop for their show.
Where: Benito Juarez Ave. and beach
When: Whenever suits your fancy
Find Out More: By going there and seeing for yourself
Cost: Just the tips for the hard-working and sweaty performers

---
#4 See where a cenote meets a beach and falls in love
Another local secret that you won't find in too many guidebooks on Playa del Carmen.
Why?
Beats the hell out of me.
Take a walk down to the north end of 5th Avenue and keep going until you can't go any further.
It's not a yellow brick road that will lead to an evil orange-haired carrot demon melting away into his pointy shoes, but it will take you to a place called Punta Esmeralda.
Here you'll find the place where a cenote meets the Caribbean Sea. It's not only beautiful, you won't find it filled with tourists either.
Where: 106th street and beach
When: During the day, mornings are best
Find Out More: By getting your feet wet
Cost: The tired soles of your tootsies

---
#5 Visit Parque La Ceiba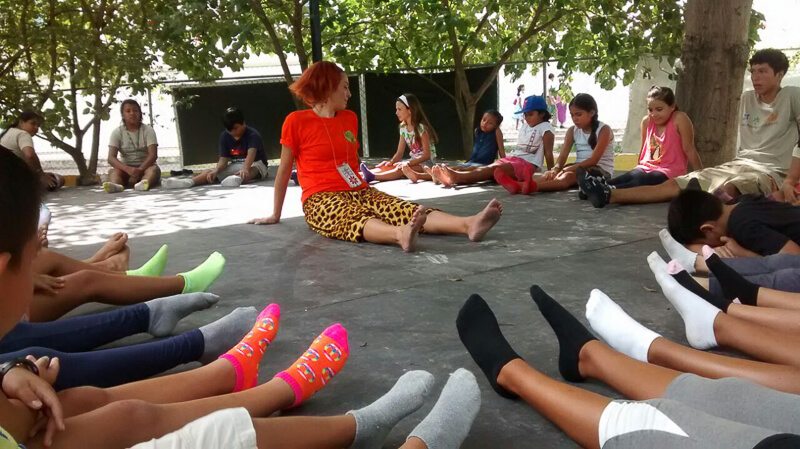 La Ceiba Park is a small eco-park located just on the other side of the highway in Playa del Carmen.
Set within an unusually hilly part of Playa del Carmen thanks to the fact that it is basically set over a series of interconnected cenotes, this area of Playa del Carmen known as Ejido Sur is home to a beautiful park that just so happens to have a lot to offer.
From a small little restaurant to hosting events and markets, La Ceiba is a great place to get away from the concrete jungle and/or white sand beach and pay a visit to the local vegetation as it would look if it weren't for us meddling humans.
Plus, this is also one of the venues for the Cine Club. Once you've finished taking in a breath of fresh air, quite literally, step across the street to one of Playa's only foreign language book exchange stores and pick up a good book to read while back on that hotel lounger.
Where: Av. 1ª Sur y Diagonal 60, Col. Ejidal Playa del Carmen
When: Tuesday through Sunday from 7:00 a.m. to 9:00 p.m.
Find Out More: Parque La Ceiba
Cost: Getting there plus whatever you want to consume or donate at the cool little café and restaurant

---
#6 See a function at the City Theater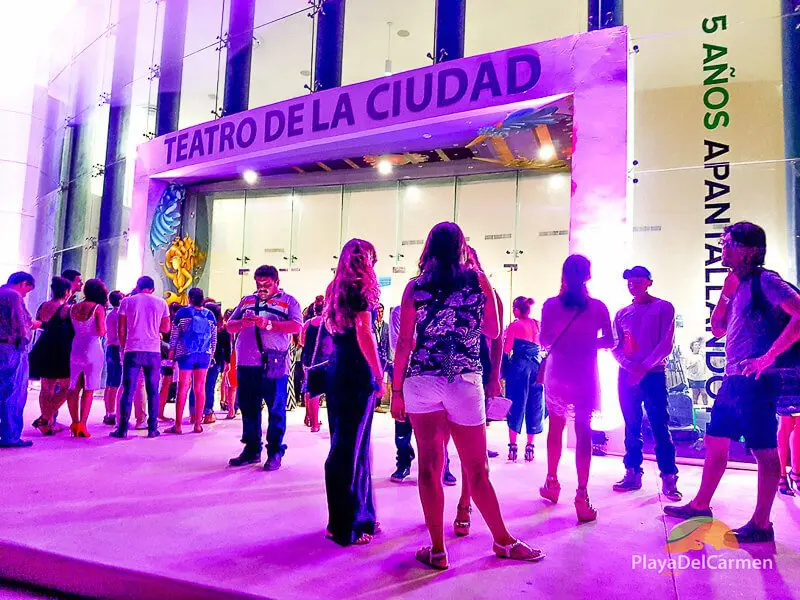 As Playa del Carmen continues to grow and expand, so too does the need to have a broader cultural program for the city's residents.
Thankfully, the town recently became home to a nice, modern theater known as Teatro de la Ciudad.
Located on the western edge of Playa del Carmen, in just a short time the theater has hosted a number of great events, the Riviera Maya Film Festival among them.
Shows and performances are generally free of cost at the theater, so really the only thing to keep you from paying a visit to this monument to the arts is the glue that keeps you bound to your all-inclusive beach bed.
Where: Circuito Chinchorro entre avenidas 115 y 120, next to Walmart la Cruz
When: Open 7 days a week from 12:00 p.m. to 10:00 p.m.
Find Out More: Teatro de la Ciudad
Cost: Whatever your taxi driver decides to charge you. See our tips and tricks for catching a cab in Playa del Carmen

---
#7 Pay tribute to the Mayan Gods at the ruins in Playacar
Yes, that's right.
There are Mayan ruins in Playa del Carmen and they aren't fake.
I admit, they pale in comparison to Tulum or Chichen Itza, but they are majestic in their own right as testaments to a brilliant culture whose modern-day descendants continue to call this piece of Caribbean paradise their home.
Take a walk around, get in some pictures, and then sneak off to the public beach that local security guards try to pretend is private and enjoy one of the best beaches in all of Playa del Carmen.
Bonus points if you can identify the style of architecture.
Where: Bahia del Principe Playacar Fase 1
When: During the day
Find Out More: By doing that tourist thing
Cost: Whatever your taxi driver decides to charge you. See our tips and tricks for catching a cab in Playa del Carmen

---
#8 Speaking of Playa del Carmen beaches…
We are talking about free things to do in Playa del Carmen, right?
I would be stupid not to mention the beach. Few other places offer such a great place to just go and hang out, go for a swim, people watch, and return to your hotel with the most painful-looking racoon eyes ever seen this side of the Caribbean.
And the best thing is, the beach is public.
No need to spend ungodly amounts of money for water-downed margaritas, bad electronic music or highly overpriced Coronas.
Just grab a cooler, fill it with your favorite drinks, put on the sunscreen, grab a towel and find a place to soak up the rays and the good vibes.
Where: Pick your poison, or beach
When: Whenever suits your fancy
Find Out More: By getting your feet wet
Cost: The drinks you buy to fill that cooler and the obligatory biodegradable sunscreen
---
#9 Go for a spin on two wheels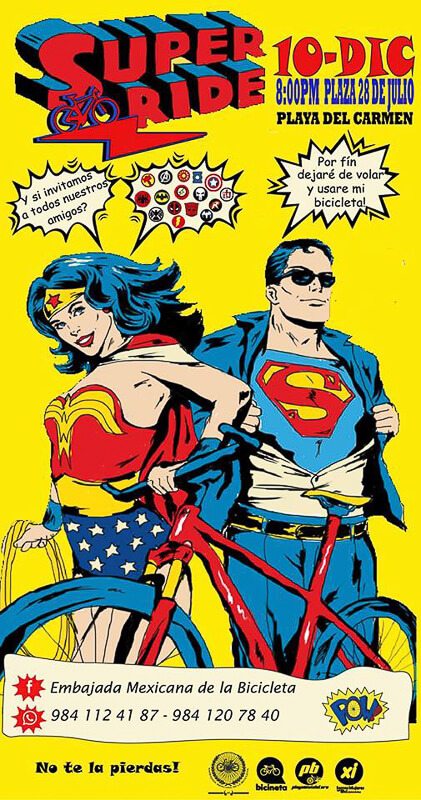 Why not see Playa del Carmen from the comfort of a bike seat? Going out for a spin on two wheels is a great way to see more of the city than you ever would just walking.
Plus, if you're a fan of superheroes and even more so of dressing up like one, you can don your cape and those tight leggings and head out for a superhero bike ride this upcoming December 10th.
Can you think of a better way to save the world from the forces of evil? Just be sure to wear your helmet, unless of course you have an invisible shield.
Where: Plaza 28 de Julio
When: Next event is the Superhero Bike Ride on December 10th
Find Out More: Embajada Mexicana De La Bicicleta
Cost: The $10 USD to rent a bicycle

---
#10 Give back to the community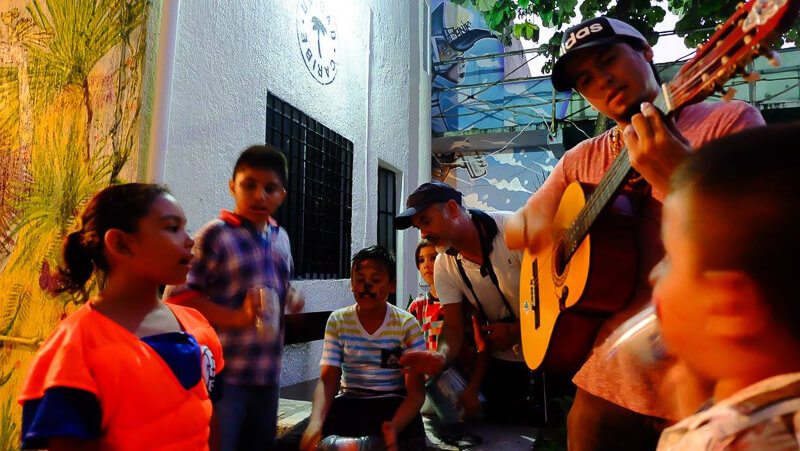 I get it.
You're on vacation in a foreign land, far away from the trials and tribulations of those election, that boss, and oh my god did you see the bill! So why take time away from your precious vacation to do something for the community?
Because you can, and the little grains of sand a beach doth make.
Plus, this last one actually pays you back more than whatever you put into it.
From environmental projects, animal rescues, and supporting kids in school to saving the reef and raising awareness, there are many possibilities to make your vacation in paradise a more holistic experience.
Want some ideas?
Unidad Caribe offers underprivileged children the opportunity to learn and grow through art.
SOS El Arca rescues dogs about to be put to sleep, nurses them back to health, and then helps to find the right families so that these best friends get some of that unconditional love back that they are so willing to give.
Likewise, yet another of the many options lets you combine scuba diving with conservation efforts to study and protect spotted eagle rays with Blue Core.
Something else?
Our travel specialists can help you find something based on how and whom you'd like to support.
Where: Your home away from home in Playa del Carmen
When: Whenever you can
Find Out More: The Playa del Carmen Travel Specialist Crew
Cost: Nothing. Benefit: Everything and everyone.
Have you any more ideas for how to have a good time in Playa del Carmen and not break the bank in the process?
Let us know in the comment section below!
Need some of that travel guru goodness to get your oriented?
Our festive band of Playa lovers are available toll-free at 888-537-9797!
---
Trending Now
You may also like