Traveling from Playa del Carmen to Cancun – Things to See and Do Along The Way
---
Cancun is the cosmopolitan hub of the Riviera Maya.
With its breathtakingly beautiful beaches, world-famous nightlife and amazing shopping opportunities, it's no wonder people are choosing Cancun as their day trip of choice.
However, one thing many people overlook when traveling from Playa del Carmen to Cancun is all the amazing places along the way among the many things to do in Playa.
Horseback riding, delicious locally grown food, virgin beaches, spectacular shows and adventures guaranteed to get the adrenaline pumping are all waiting for you along the highway.
So, if you planning a trip to the big city, then check out my guide to the best things to see and do then traveling from Playa del Carmen to Cancun.

Kuchitril Park
The first place you'll pass when making your way to the exciting city of Cancun is the Kuchiitril Food Truck Park.
This beautiful space is surrounded by woodland and is the perfect place to stop off for a bite to eat.
The food trucks in Kuchitril are unlike any other, they sell fresh sangria, ojo rojos, artisanal baguettes and delicious gourmet tacos.
A couple of times a month Kuchitril Park also hosts some amazing pop-up markets, including the fabulous Feria Trendy project.
Sample some locally grow treats, buy some beautiful handcrafts and relax at this unique food truck park.
Get directions to Kuchitril Park here
Playa Virgin
Hidden along the highway is one of the most beautiful beaches in the Riviera Maya.
As suggested by its name, Playa Virgin is a stunning virgin beach, with perfect white sand and glistening turquoise waters.
Take some time to relax under the swaying palm trees, take a dip in the refreshing water and listen to the mesmerizing sounds of the surrounding jungle.
It's the perfect place to unwind before the rest of your journey to Cancun.
Get directions to Playa Virgin here

Cirque Du Soleil
Cropping up on the horizon to your left you'll begin to see the gigantic theater of Cirque Du Soleil.
If you're traveling at night, this is one stop you don't want to miss!
The death-defying acrobatics, mesmerizing dancers and absolutely magical experience of Cirque Du Soleil has come straight from Las Vegas and has had a Mayan makeover.
A night watching the spectacular Joya performance is an experience you and your family will never forget.

Bonanza Ranch
This picturesque ranch is the absolute best stop for a day of invigorating family fun.
Take a relaxing horseback ride through the enchanting and ever changing landscapes of the Riviera Maya.
Even the most inexperienced horse riders will find the whole experience relaxing and easy with personalized training and advice from the friendly staff.
All the horses at Bonanza Ranch have been rescued and rehabilitated, so you can rest assured that your money is going to a good cause.
Get directions to Bonanza Ranch here
Puerto Morelos
This laid-back beach town is next up on your journey to Cancun, and it's one of the most friendly places in the Riviera Maya.
As Puerto Morelos has become somewhat of an expat town, the vibe there is completely different to anywhere else in the area.
Grab a bite to eat in one of the many seafront restaurants, take a boat trip out to the fantastic Mesoamerican Barrier Reef for some outstanding snorkeling, or soak up some rays on one of the many postcard-perfect beaches.
If seafood is your jam, then you absolutely must pay a visit to La Playita. They serve up fresh fish and outrageously delicious seafood caught fresh that exact morning.
Get directions to Puerto Morelos here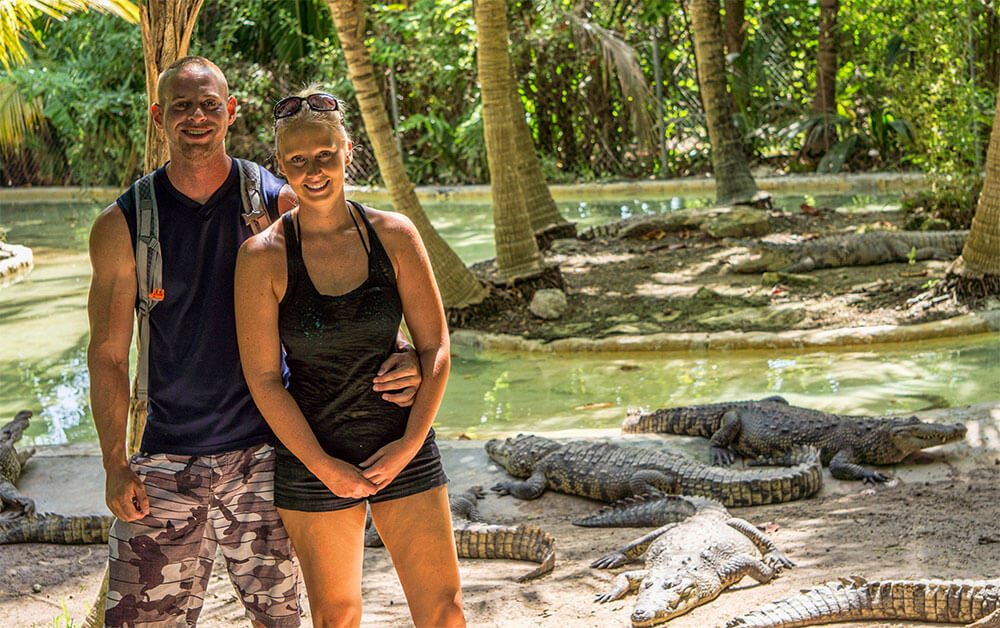 Croco Cun Zoo
The next stop on your journey from Playa del Carmen to Cancun is not one for the faint-hearted!
At Croco Cun Zoo you can take an interactive 70 minute guided tour of all the amazing reptiles of the region.
You can touch, feed and watch some of the most fascinating local wildlife, and for the adventure seekers among you, walk amongst gigantic crocodiles.
They also have an on-site cafe and gift shop, so you can grab a quick snack and memento before continuing on with your journey.
Get directions to Croco Cun Zoo here
Off Road Games
Coming up on your left is a messy adventure park you won't food forget.
Their slogan "Welcome to the MUD side of life" says it all.
At Off Road Games you can choose from three levels of craziness depending on the amount of time you have, and how messy you want to get.
Mud Driving allows you to jump on one of their extreme ATVs and race around the mile long mud track for 30 minutes.
Zip Games has been created for those of you that prefer to fly through the air rather than along the ground, but it's just as invigorating!
You can zoom along 5 different adrenaline filled zip lines, and take on their flying paintball challenge as you go down.
If you want to experience the whole package, then you can choose to do the Off Road Challenge and take on both the mile long ATV ride and the exciting zip line games.
Get directions to Off Road Games here

Ventura Park
The final stop on your journey to Cancun is an all in one adventure paradise.
Ventura Park houses 6 different exciting worlds all under one roof! Laser tag meets bumper car racing in the Underworld, where you can become a spy for the day and explore the intricate laser maze.
Zoom through the 275 yard serfdom track at crazy speeds in the Grand Prix world, and become a wordless racer for the day.
Do you want rollercoasters? The Fun World has the only rollercoaster in Cancun, amongst other fun packed fairground rides.
At Aaah! Ventura World you can transform into a soaring eagle and glide through the treetops on the innovative Tanzania roller coaster zip line.
After working up a sweat in the other worlds, head to Wet'nWild World to cool down on one of their many waterslides or pools.
Get directions to Ventura Park here
Have you visited any of these stops on the journey from Playa del Carmen to Cancun? Let me know which was your favorite in the comments below!
---
Trending Now
You may also like